Upselling and Cross-Selling For Digital Agencies
We've come a long way from the good ol' traditional business approach. This digital era requires fast solutions and great results.
But, classic strategies will always remain prevalent when it comes to business strategies. One such approach is upselling and cross-selling.
The book Marketing Metrics written by Paul W. Farris, Neil Bendle, Philip Pfeifer, and David Reibstein, shows the result of their research:
So, approaching your existing customer and utilising upselling and cross-selling techniques is more practical and fruitful than finding new customers.
A solid brand identity and upselling and cross-selling approaches can work wonders for your digital agency!
Before we dive into how you can implement both techniques, let's glance at the meaning of both.
What are upselling and cross-selling?
Marketers often get confused between these terms. I can understand why someone would be confused at first. But if you know the concepts, they are different.
Upselling and cross-selling are two entirely different terms targeting existing and past customers to sell advanced or related products or services.
To avoid confusion, let's first understand what upsell and cross-sell mean and how digital agencies can benefit from them.
Upselling
When you encourage your existing buyers to purchase an advanced and expensive version of the current product they're using, it's upselling.
Upsell technique includes the same product; you're just paying for its additional features and functionalities. This enables you to sell the upgraded version of the product or subscription that is a better choice for your customers.
The above example contains two pricing plans. The first is yearly access priced at $89, whereas the second plan has lifetime access for an additional charge. 
So, by choosing the latter plan, the customer gains lifetime access to the features and avoids paying yearly fees.
Cross-selling
You must have experienced cross-selling many times in your life. When you're offered a closely related item to the main product, it's a cross-selling technique.
Purchasing an add-on to any software or getting headphones along with your laptop are examples of cross-selling strategies.
This approach enhances the user experience and helps you sell more complementary products than the main product your customer has bought.
Above is an example of cross-selling by Adobe, where they've added "frequently purchased with" products that add value to the primary purchase during the checkout, so the customer can add that additional product to their cart if required.
Both these techniques are highly effective in increasing your revenue. In fact, as per McKinsey, cross-selling techniques increase sales by 20% and profits by 30%.
Importance of upselling and cross-selling for digital agencies
Since acquiring a new customer can cost 5 times more than retaining an existing one, upselling and cross-selling are practical and more beneficial approaches. If you want to generate revenue from your current buyers, this is the right path.
It's proven that upselling can accelerate revenue for any digital agency. The onset of COVID-19 has made people more inclined towards implementing upselling and cross-selling in their digital companies.
The below chart reflects how upselling can increase the profitability of a business: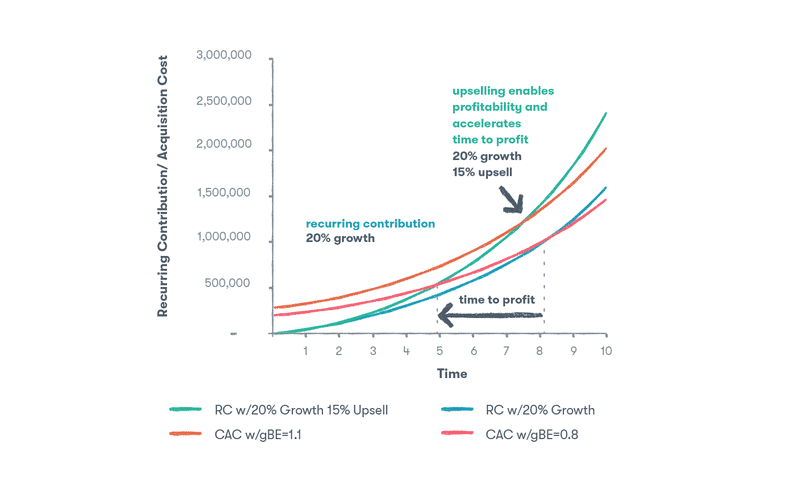 These two classic yet effective techniques can entirely transform your digital agency. So, let's glance at how impactful upselling and cross-selling are for an agency.
Improved profits & ROI
Buyers always look for better deals and benefits, even when not planning to purchase anything.
And now that you've already built a solid customer trust with consistent marketing and engagement, it's time to utilise it for your and your customer's benefit.
By giving them better choices related to services or offering a suitable combination, you are cutting down the cost of finding new customers and generating profit faster, plus getting a good return on your investment.
Build credibility
When I talk about upselling and cross-selling, it's more about customer satisfaction than pestering them to buy useless services.
By personalising the customer experience and offering them the best-suited services, you're increasing your chances of finalising that upsell or cross-sell offer to your customer.
This builds brand credibility among customers and helps you gain their trust.
Increase a customer's lifetime value
In addition to gaining profit once the customer agrees to an upsell or cross-sell, the lifetime value of a customer also increases as they stay with the company for much longer. 
Customer lifetime value (CLV) not only gives your agency a constant source of work, but you can also see the monetary benefits YoY.
Once you carefully execute these techniques and include them in your regular selling rituals, you'll easily track and see a jump in your accounts.
In eCommerce, the probability of selling to an existing customer is around 60-70%.
For instance, if you are offering business services covering multiple segments. A prospect reaches out to you for web designing needs.
Once you've completed the design, you might think there's not much to offer, right?
That's where most project coordinators or salespeople make a mistake. You can offer them digital marketing services and kickstart their marketing efforts. And there you have it!
You just made a cross-sell and increased the Customer's Lifetime Value. 
Customisable
Upselling and cross-selling benefit both parties, and since the customer has already developed trust with your agency, they're more likely to work with you.
So, when your client knows they can customise their company's needs, they'll come straight to you.
Personalisation helps you reach more clients and offer customised solutions according to their requirements.
How your digital agency can upsell and cross-sell in a proper way
Now that we're acquainted with the importance of upselling and cross-selling and how they can impact your digital agency, the next step is implementing these techniques and making the best out of your existing customer base.
Track the customer journey
You need to track your customer's journey throughout the entire sales process to know what your client wants.
A digital agency handles many clients daily, and interested prospects usually use multiple channels to communicate with the company.
Therefore, you need to follow a streamlined process for tracking your communication with each customer. Using cloud-based contact management software or CRM, you can benefit your digital agency as it'll keep a record of every interaction.
Create an undeniable offer
Before you approach any of your prospects, ensure that your upsell or cross-sell offer is the best and no less!
Create an offer that your customer doesn't want but needs!
Bring out the best and ensure that it complements the original service your customer has purchased if you're cross-selling.
Make sure the customer is happy with the addition to their bills. Once all is set, seal the deal with a well-designed invoice template.
Map personalised options
Effectively map personalised product or service options that add value to your customer's requirements.
79% of consumers say they are only likely to engage with an offer if personalised to reflect the consumer's previous interactions with the brand.
By tracking your customer's journey, you get an insight into their preferences; therefore, offering complimentary options becomes more accessible, and you can generate more revenue.
A digital insurance agency is a perfect example of personalising the options. When their client purchases a life insurance policy, they are offered many additional insurance policies.
If the customer has a recently bought car, the insurance agent will offer them vehicle insurance as a cross-selling strategy.
Therefore, know precisely what your customer wants, deliver that, and some more to enhance the customer experience!
Identify and utilise the latest trends
Technology keeps evolving, and every agency needs to implement new trends and keep up with the change to satisfy their customers.
"Don't find customers for your products; find products for your customer."

Seth Godin.
Yes, the customer's taste will keep changing, so it's up to you to transform your services according to the latest trends and offer products or services to be inclined towards purchasing.
A digital agency offers multiple services, so changing and modifying your approach with the latest trends is easy.
Offer discounts
People tend to be attracted to offers that provide discounts and incentives. 
Likewise, you're attracting more customers by offering discounts on your products or subscription plans.
For instance, if you have launched a package for logo designing services, you can offer a particular percentage discount to web designing services to upsell at the most effective price.
Pick the right strategy
There are various ways to upsell and cross-sell; from bundling the services (cross-sell) to adding comparisons between different plans (upsell), you will find many options.
Therefore, you must pick what goes well with your services or add-on products relevant to your customers.
For a digital agency, offering upgrades on monthly invoices or related services that add value to the businesses is highly effective.
Offer value
The client is more interested in knowing how your offer would benefit them. So, instead of explaining why they should purchase the service, show how it would help them grow their business.
Offer value with your products, and you're more likely to upsell and cross-sell without hassle. Focusing on their problems and providing solutions.
Suppose you're catering to SaaS clients and recently launched email verification services. In that case, you need to showcase how this service can help you get more qualified leads from email lists by removing useless data.
Reward your customers
You will only retain your customers by acknowledging and rewarding them in various ways.
Even a small reward can delight your customers.
For instance, sending a gift card is one of the most common and effective strategies for rewarding customers.
In fact, by providing the gift card, you are encouraging your customer to make another purchase, resulting in successful cross-selling.
Remain proactive and follow-up
"44% of salespeople give up after just one attempt."
Following up is the most crucial step in any sales process. And even when upselling or cross-selling, it's vital to stay proactive and keep the conversation going with your interested customers.
Your client might not be interested in an upgrade or add-on currently. However, they might need it after a couple of months. Or they may have just forgotten about your email or text.
In such a scenario, following up after a few days is essential to remind your customer of the offer. With an advanced CRM, you can also automate the process and set up a series of follow-up emails to your customers.
When to avoid upselling and cross-selling
Every customer is different, and not all would be willing to accept your upsell or cross-sell offers. So, it's also crucial to know when not to approach the customer.
When a customer repeatedly declines your offer. Aggressive marketing works, but not when the customer isn't interested. That's just over the top; you can even lose a customer!
Customers that constantly use the customer support portal, even when unnecessary, are not to be approached.
Customers who aren't happy with the services or find fault in your company aren't likely to go for an upsell or cross-sell.
In the above situations, it's better to avoid upselling and cross-selling. Instead, focus on your high-intent clients and approach them to build lasting customer relationships.
Wrapping up
Every digital agency adopts marketing strategies based on its company's requirements.
Upselling and cross-selling is one strategy that has remained effective over the years and has pulled through the evolution of business models.
So, implement these strategies and generate extra revenue from your existing customers.
Author Bio: Narayani is an enthusiastic digital marketing professional, having work experience in sales and the customer experience in the past. She enjoys having tea and walking on the grass when not working.