What is Responsive Website Design?
"Responsive website design" has become a buzzword in the web development world, with it being tossed about in engineering departments, extensively written about by tech bloggers, and liberally used to entice potential clients into new business.
But, what exactly is responsive website design, and how does it affect you?
It's vital to note that mobile devices, whether smartphone or tablet, account for more than half of all Internet searches, including Google.
Moreover, over 80% of internet users who conduct a Google search for a company will visit the company's website to make a purchase.
When its website isn't up to par, it risks losing out on this critical market. On the other hand, a responsive website design prevents this loss and instead leads to significant revenue increases.
If that assertion seems far-fetched, consider this: when you're looking at a restaurant's menu on your phone and the font is either too small to read or too large to read, what do you usually do?
You probably hit the return button in frustration and think less favourably of that company. Because, in today's world, experience is critical, your first impression of that bad internet browsing experience lingers with you.
Consequently, by using a solution known as responsive web design, many companies and organisations aim to make mobile web browsing an enjoyable and rewarding experience for users.
These businesses benefit from higher revenue from many customers seeking their services on a mobile device when they use this strategy.
The Meaning of Responsive Web Design
Responsive website design refers to the ability of a website to adapt to the screen size of any mobile device.
Everything fits the screen as perfectly as it would on a laptop or desktop computer: all of the text is readable, all of the images are clear, and everything fits the screen as well as it would on a laptop or desktop computer.
But what is the significance of responsive website design? Because it lets a company put its best foot forward and provide a fantastic browsing experience for site visitors.
Visitors enjoy and perhaps even expect a well-designed online presence while searching for a company on the internet, regardless people realise it or not. As a result, forward-thinking companies increasingly understand the significance of responsive web design.
How does Responsive Website Design work?
Responsive web design is built on percentages from a technical aspect. Using professional website design tools, a responsive website design business allocates variable percentages to the proportions and dimensions of items on the web page, such as photos, columns, and text boxes.
The layout of the responsive website automatically adjusts and scales everything on the original site to fit a mobile user's device screen according to the percentages they designate to these site pieces.
For example, on a desktop or laptop computer, a website may display three columns of information on a single page.
When viewing the same website on a mobile device, which often has less screen area, the viewer may only see two columns, allowing them to view the page's content comfortably.
When creating a mobile-friendly website, a responsive website design agency adheres to several crucial fundamental responsive web design principles. These are some of them:
A Flexible Grid System: This is a 24-column CSS grid system that is intuitive, responsive, and browser-compatible.
Flexible Images: A similar term for these photos is "adaptive images." Mobile websites require sizing considerations that would not be necessary for photos to appear correctly on a fixed-size monitor.
Media Queries: As the name suggests, this module allows content to be resized based on screen resolution.
A responsive website development business can use responsive web design testing to ensure that users get the greatest possible browsing experience by employing these features.
Why is responsive web design important?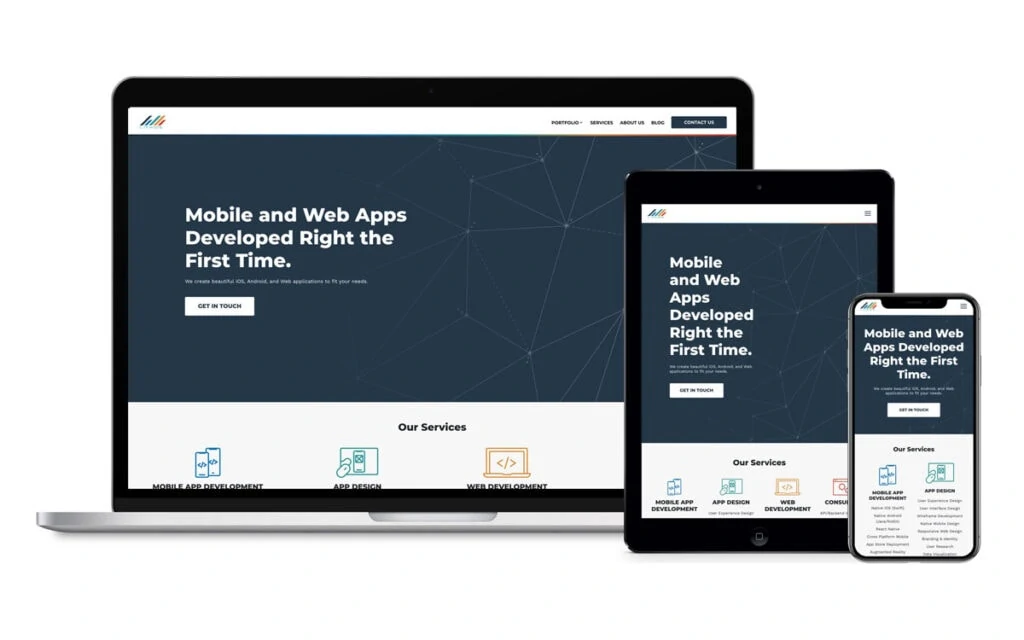 Many businesses spend a significant amount of money each year on Google or other search engines to improve the quantity of traffic to their websites, leading to higher sales and revenue.
You can contact consumers in more countries than you probably ever imagined possible, and they use a variety of devices, including smartphones, iPad, notebooks, and desktops.
Even though we live in a mobile age where fewer and fewer people acquire their information from desktop computers, many websites are still solely meant to be seen on mobile devices.
According to a study conducted by Statista Business Data Platform in 2021, over half of the consumers worldwide get information via mobile devices.
Read more: https://www.statista.com/statistics/277125/share-of-website-traffic-coming-from-mobile-devices/
Spending much money on a professional website design that only you and your team can see isn't going to help your business grow any faster than your previous website, and the benefits of responsive website design are clear when you consider that the majority of consumers use mobile devices the majority of the time.
Not only is having a mobile-responsive website surprisingly reasonable, but it also benefits both your website visitors and Google.
Because only about a third of all Internet users go past the first page of search engine results, businesses must emphasise responsive website design if they want to have a significant online presence.
For successful e-commerce, responsive web design is essential.
Tracking your customers' activity and knowing how they found your product or service is critical. It's also crucial to recognise market trends so you can take advantage of any new changes.
According to AdColony Research's 2019 survey, roughly half of the American population utilises their smartphone to make online transactions. Nearly 60% of individuals polled said they spent most of their time shopping on their mobile device rather than on a desktop computer.
Another example is restaurants. According to studies, restaurants with responsive website design attracts 80% more guests than those with non-responsive sites.
Most of these benefits went to online businesses that had the foresight to make their online browsing and purchase experiences as simple as possible.
Given these figures, it's evident that the cost of a responsive website is readily offset by the revenue generated. The return on investment justifies investments.
Understanding the ultimate aim of a responsive website is critical to monetising consumers' use of smartphones. People are always on the move. Thus we want information and experiences as soon as possible.
It's critical for eCommerce sites transacted on smartphones to load quickly and have a functional, responsive website design. According to Kissmetrics' data, visitors will leave and never return if a website takes longer than three seconds to load.
Today, instant satisfaction is king. We want it now, whether it's fast food or a ten-minute oil change.
This behavioural trait is responsible for the online industry's year-over-year growth, and responsive website design implies more pie for businesses with up-to-date websites.
What are the best tools for testing responsive web design?
Even if your website wasn't designed to resize to automatically fit a wide range of screen sizes, it's feasible that it can become a mobile-friendly website.
You can use various responsive website design testing tools to determine whether or not your site is mobile-friendly.
Google's "Mobile-Friendly Test" is one example. Type the URL of your website into the box, and Google will evaluate it to see how it loads on a mobile device.
It'll even show you how your homepage appears on a mobile device.
PageSpeed Insights by Google is another fantastic mobile-friendly checker.
You'll enter your site's URL again on this page, and Google will examine its content, including text and graphics, as well as the speed with which your page loads on a mobile device.
It will then make recommendations for how to improve the speed with which your site loads. Finally, the speed with which your site loads can significantly impact its ranking in Google search results.
Finally, Google Search Console is a must-have in any redesign approach if you want to know if your site is mobile-friendly. It tells you how to boost your SEO and which flaws and problems need to be addressed.
What should the dimensions of my website be?
There is no such thing as a "standard website size." There are hundreds of different devices available, and model sizes and screen resolutions are constantly changing.
And each website appeals to users on a variety of devices. For example, when you're in the kitchen cooking, you're more likely to look at a recipe on your phone, and when you're trying to figure out how to do something in CorelDraw, you're more likely to seek a CorelDraw tutorial on your desktop.
Google Analytics can help you figure out which browsers and page sizes are the most popular for your site. So, with so many different browser widths and devices, how can you design responsively without going insane?
Some more considerations
The user experience is crucial: the responsive design must switch a desktop to a mobile screen. While using a mobile device, we must consider the user's experience, engagement, and the crucial material they're looking for.
Don't create a design for the most recent mobile device with specific screen size. Your content should be the focal point of your website. Are there any differences in how the layout and elements seem on a desktop computer versus a mobile device?
Engagement: the layout hierarchy is crucial, especially on mobile. More often than not, less is more! Because the mobile experience is much more concentrated than the desktop experience due to the limited space available.
The way people read and navigate your site must be clear to convey your essential message and grasp what the site is all about.
Consider the page's primary activity as well. If the main purpose is to encourage people to click a "contact us" button, don't bury it beneath a mountain of text. Create content and a design that is tailored to that experience.
When it comes to developing a responsive website design, flexible photos are crucial. It would be best if you considered how an image would scale.
What will it look like on a large desktop screen, a tablet, and a small smartphone screen? Images will be scaled using a percentage value in the code, which is intended for developers.
When using a mobile device, navigation is crucial. Extensive menus and information can be compiled in a variety of ways. It could be in the typical hamburger menu format, a primary dropdown selection, expand/collapse fields, or horizontally scrolling tabs like YouTube.
Gestures open up new design possibilities. People enjoy reading with their hands and interacting with the content because it gives them more control over the topic.
Users may pinch to zoom or slide photographs across the screen on mobile phones and tablets. Interaction has a significant impact on the design. For example, if you have an image gallery, avoid utilising a typical carousel (tiny dots) to allow visitors to cycle through the images.
Consider the size of a person's finger and how that translates into a usable user interface.
The comfortable minimum size of tappable UI elements, according to Apple, is 44 x 44 px. The absolute estimation limit is roughly 25 px, and this limit is frequently broken.
Complex desktop designs must be able to adapt to a small mobile screen's basic intuitive UI. When designing for different devices, keep this in mind.
The design must be adaptable to ensure that users have a positive experience across all devices. Working closely with a developer will influence the design process to understand what is achievable on smaller screens.
Create at least three separate versions for different browser sizes. Under 600px, 600px-900px, and 900px+ are the sizes we use.
Your content can scale freely between those widths, or you can have three fixed layouts. Fluid scaling is frequently more challenging to design and implement than having three-set layouts and adjusting margins as needed.
On the other hand, Fluid scaling may provide a better experience in a broader range of devices.
Finally, the most significant thing you can do is stay up to speed on the newest UI/UX best practices, design your content, keep your pictures adaptable, think about navigation, and remember that user experience is everything.
Author Bio: Hermit Chawla is an MD at AIS Technolabs which is a Web/App design and Development Company, helping global businesses to grow by Global Clients. He loves to share his thoughts on Web & App Development, Clone App Development and Game Development.