Working at Home – How Freelancers can be Productive
Whether you are running an online business or a remote employee, you are not immune from a productivity slump.
Freelancers are prone to switch from one task to another. 
That's because many of them believe that multitasking will allow them to get more things done.
Moreover, freelancers tend to be working at home a lot. 
This means that they are prone to distractions. 
From a cluttered workspace to kids playing in the yard, this can hinder a freelancer from being productive.
Luckily, there are ways you can do so that your productivity will not suffer. 
That said, here are ten productivity tips that every freelancer needs to know when working at home:
1 – Have a Dedicated Workspace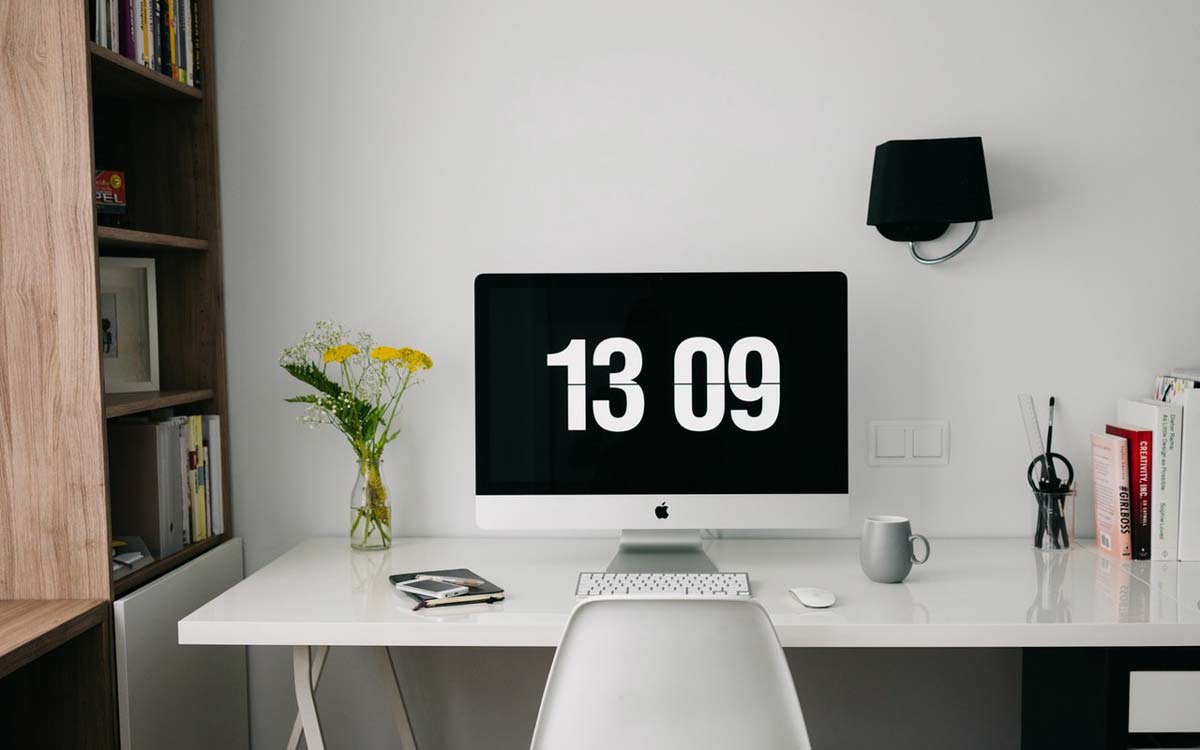 Depending on your line of work, it is vital that you have a workspace suitable for your needs.
If you are a graphic designer, you might prefer to work near a window in front of a massive computer screen. 
If you are an accountant, you would want a room that can help you shut out the noise while crunching some numbers.
Regardless, you can do the following tips when choosing your workspace at home:
Determine the space that is conducive for most productivity.
Figure out whether you prefer entertainment or a quiet space
Consider how you usually divide your day
The key here is to make your home office space cosy. 
Doing so encourages you to be productive while working at home.
2 – Keep it Clean and Clutter-free
Whether you have a home office or work on a kitchen counter, you should work in a clean space.
In case you do not know, clutter can hurt your productivity. 
That's because the mess is a great reminder that you have unfinished household chores.
That said, we recommend that you dedicate a day to cleaning your workspace. 
If you are too busy, you can hire a professional home cleaner in your area.
For example, if you live somewhere in Chicago, you can type in "maid service Chicago" on Google.
Besides, a messy workspace reflects your state of mind. 
This explains why you are often distracted in a chaotic work environment.
That's why at Maid Sailors Cleaning Service, we recommend that you declutter your home office before working.
Sale
3 – Have a Morning Ritual
Working at home does not mean you should work in your PJs.
Crate and Barrell's Sara Marie Hall recommends setting a morning routine, so you are off to a productive start. 
It can be as simple as waking up like usual, taking a bath, having your breakfast, and dressing up as if you will work. 
Doing so conditions your mind that you need to be productive for the day.
We also suggest that you dress up for work. 
Doing so sets the tone for your day.
That does not mean you should wear a full-on business suit. 
Instead, wear something comfortable yet presentable. A clean and decent sweatshirt will do.
4 – Start Your Day Early
Here's the thing: The natural office structure is out of the picture when working from home.
This means you do not have a supervisor who is breathing on your neck. 
Hence, you are responsible for how you spend your workday.
This includes knowing when to start your day when to take breaks, have your meals, and when you will clock out. 
It does not matter whether your work for hours or in batches. 
What's important is that you start your day early and stick to your schedule.
Following a routine gives you a sense of normalcy. 
Plus, it allows you to shift your mindset to work mode.
5 – Know When to Take Breaks
Aside from knowing when to start your day, it would help if you took meaningful breaks.
Mind you; many freelancers tend to overlook this part, thinking that break times are just a waste. 
They do not know that this is a great way to recharge and ensure that you are productive throughout the day.
That said, spend lunchtime with your family and have bathroom breaks. 
Consider taking a quick nap, and doing some short yoga or meditation instead of checking your social media feed.
Doing so allows you to recharge and ensure that you have enough energy to power through the workday.
6 – Have a Clock Out Time
Another critical aspect of working at home is knowing when to clock out.
When we say "clock out," we mean, turning off your laptop or desktop computer and stopping thinking about work. 
And to condition your mind that it is clock out time come up with a time out phase.
This is a phrase that you say to yourself to signal your brain that you are done with today's work.
7 – Spend Time With Your Family
With or without the COVID-19 pandemic, it would be best to have time for social interaction when working at home.
Instead of scrolling through your Facebook feed while taking a break, it would be best to talk with someone.
Break time could mean a quick playtime with your kids. 
If you have family overseas, consider giving them a call.
This is a great way to maximise your break time. 
That's because you get to relax for a bit while keeping in touch with your loved ones.
Spending time with your family prevents you from isolating yourself, which can lead to anxiety and depression. 
On the other hand, staying connected with your loved ones allows you to keep your sanity intact and be productive.
8 – Have Your Attitude in Check
Keeping your attitude in check is an excellent way for freelancers to stay productive while working at home.
What you can do is see the good in every situation, especially now that there is a pandemic.
And since you cannot go out willy-nilly, now would be a great time to catch on some sleep, weed your garden, or declutter your house. 
You might also want to take this time to attend webinars so you can upgrade your skills.
And most of all, be grateful that you can work at home.
9 – Know What Productivity Methods Work for You
Whether you are a freelance or an office employee, various productivity methods can suit your work style. Here are four of the common ones:
Getting Things Done (GTD)
Created by David Allen, GTD starts with clearing your head of all possible tasks for today.
Write them on a piece of paper, or start a Trello list where you can dump everything. 
Once done, categorise them based on the following:
● Current actions
● Current projects
● Areas of responsibilities
● 1 – 2 year goals
● 3 – 5 year goals
● Life goals
The next step is to get them done one by one. 
Any tasks that take less than two minutes should be done immediately. 
Major projects and large tasks should be broken down into a manageable to-do list.
Zen to Done (ZTD)
Zen to Done: The Ultimate Simple Productivity System
From Introduction: Much Of The Stress That People Feel Doesn't Come From Having To
Much To Do. It Comes From Not Finishing What They Started.
Babauta, Leo (Author)
English (Publication Language)
80 Pages - 03/30/2011 (Publication Date) - Waking Lion Press (Publisher)
ZTD is like GTD, only better.
For one, it focuses on building habits and taking action instead of systems. 
ZTD also emphasises structuring your day based on the three most important tasks (MITs).
Doing so allows you to simplify your tasks and focus on what is essential.
To know how you can implement ZTD in your life, check out a post by Leo Babauta.
Pomodoro Technique
Time Timer Plus 120 Minute Visual Countdown Clock Make Time Edition with Notepad — for Kids Classroom Learning, Teaching Curriculum, Exercise and Kitchen Timer
TIME MANAGEMENT — As featured in "Make Time" written by Jake Knapp and John Zeratsky, the visual timer will assist students, parents, teachers and professionals to manage their time wisely and keep organization among their tasks
SPECIAL NEEDS — The visual timer encourages organization and productivity for all ages, including those with autism, ADHD or other learning disabilities. The countdown timer enables a visual schedule to anticipate transition between rotating times
EASY-TO-USE — The silent ticking of the countdown timer enables students, parents, teachers and other professionals to perform basic tasks in a timely manner. The included notepad helps as a reminder to complete tasks Notebook Size: 5.75" x 8.25
OPTIONAL AUDIBLE ALERT — The countdown clock provides an optional alarm feature that signals when a time interval ends, ideal for learning activities such as reading, cooking, and working out
PRODUCT DETAILS — The 5.5 x 7-inch visual timer requires 1 AA battery (not included). It includes an additional 8.3 x 5.6 inch 20-page notepad to keep track of your ongoing and completed tasks, or transition onto your next activity
Invented by Francesco Cirillo, the Pomodoro Technique is a system that allows you to get things done within pre-determined time blocks. 
Doing so will enable you to work with time instead of against it.
Here's how you can practice the Pomodoro Technique:
Break tasks into 25-minute segments called Pomodoro.
After each 25-minute segment, take a 5-minute break.
After completing four Pomodoro cycles, take a more extended break.
For this to be effective, you will need to use a kitchen time, a stopwatch, or install a browser extension.
Don't Break the Chain
Don't Break the Chain is ideal for those in creative spaces like graphics and fashion designers. 
That's because this productivity method focuses on creative success.
The best part? This is straightforward to implement.
All you need to do is get a calendar, set a goal for the day, and mark the calendar with X if you can accomplish your daily goal.
For instance, you want to finish a novel within a year. 
This means you can have a daily goal of 1,000 words per day. 
If you can achieve it, mark your calendar.
If not, that's okay. What's important is that you pick up the pace tomorrow.
There is a plethora of productivity that freelancers can do while working at home. 
If you do not know which one to implement, we suggest that you take this productivity quiz by Todoist.
10 – The Key is to be Strategic
Whether you are a newbie or a veteran freelancer, being strategic is a great way to stay productive while working at home.
This includes having a distraction-free workspace, setting yourself up for a productive day, and knowing what productivity methods will work for you.
It is also imperative that you spend time with your friends and family, be it in person or through a video call. 
That way, you can remain productive, efficient, and focused on your work.
Working from home can take a toll on your creative spirit, and damage your productivity during winter. That is why the team at Bannersnack has gathered 11 tips from experts on how to beat the winter blues and get the job done on time.
Last update on 2023-02-01 / Affiliate links / Images from Amazon Product Advertising API