Top 14 Email Marketing Tools for Business Growth
Entrepreneurs are always trying to enhance their marketing efforts. With an ROI of $42 for every $1 spent, email marketing remains a powerful marketing technique. However, to fully utilise the potential of email marketing, you must first select one of the top tools that will allow you to take your strategy to the next level.
The term "email marketing tool" refers to a tool that does more than only send and track emails. Tools for expanding your audience, segmenting your lists, and combining your marketing channels make the program an excellent tool for growing your business and increasing revenue.
Here is a complete list of the 14 Top Email Marketing Tools we choose for you.
1 – Hubspot
Because it includes excellent email marketing tools and analytics for all your advertising strategies across multiple mediums, Hubspot is the most incredible all-in-one marketing suite (social media platforms, email marketing, blog websites, and more). With Hubspot's CRM, you can save all your contact details and reach potential customers via lead forms, online chat, and digital ads.
You can more readily link revenue to the advertising campaign, email newsletter, or blog post that drove each sale if you use HubSpot as the bedrock of your marketing and sales. HubSpot is more like a CRM that allows email marketing and automation than the other way around.
Pricing Plans:
Starter: $50/Month
Professional: $800/Month
Enterprise: $3200/month
Likes:
CRM, social networking, blogging, and email marketing skills are all included in the total marketing package.
The email health tab allows you to keep track of your deliverability rates.
Track prospects throughout their buying journey
Dislikes:
There is neither a free-for-ever nor a low-cost plan.
Not for companies searching solely for email marketing tools.
Integrating a different CRM, such as Salesforce or Pipedrive, is difficult.
2 – Mailchimp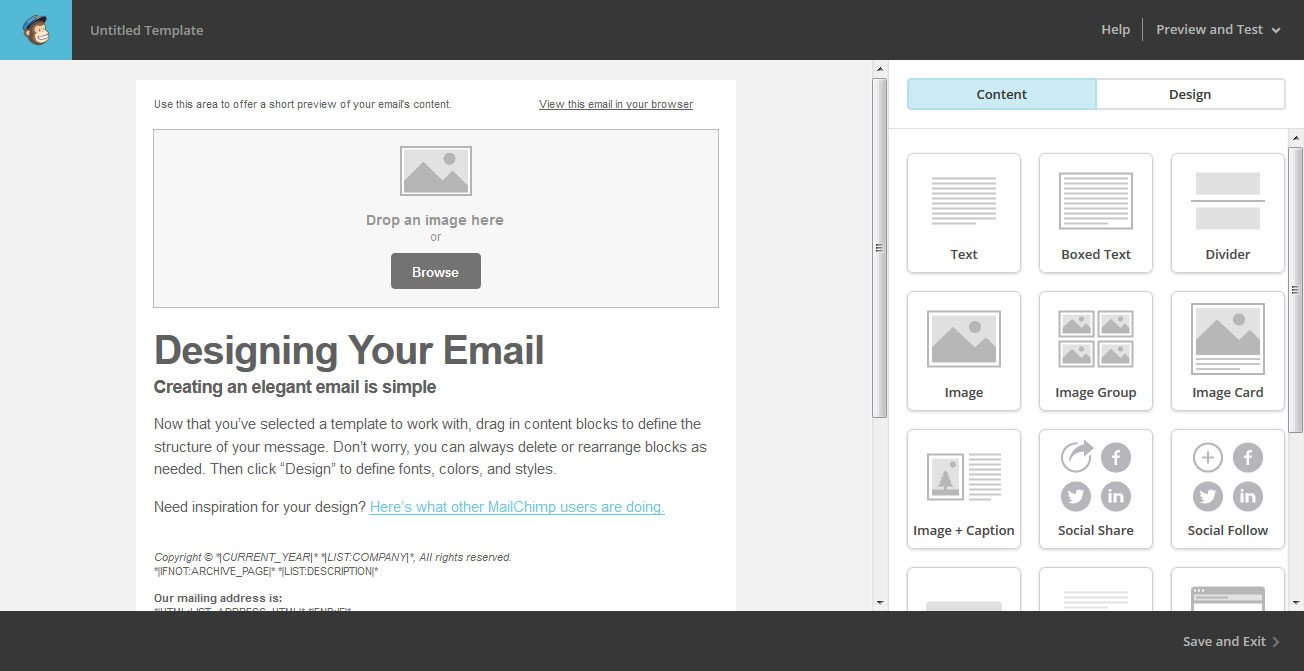 Mailchimp has all the functionality you'll need to create effective email marketing campaigns. In addition, the platform's straightforward UI makes it simple for email marketing novices to grasp complex capabilities.
With the drag-and-drop email creator and sophisticated templates, you can design gorgeous email campaigns in minutes. You can also expand your market by introducing signup buttons to your website or using predefined templates to create unlimited landing pages.
More complex email marketing features like prebuilt and custom list segmentation options, A/B testing, and send timing optimisation to make Mailchimp one of today's top marketing tools.
Pricing Plans:
Essentials: $9.99 to $270 per month
Standard: $14.99 to $540 per month
Premium: $299 to $1,190 per month
Likes:
Campaigns are simple to create and customise.
Transparent reporting that aids in the optimisation of future shipments
Hundreds of software platforms are supported.
Dislikes:
More extensive contact lists (above 15k subscribers) are more expensive.
Phone assistance is limited and not meant for advanced marketing teams.
3 – ConvertKit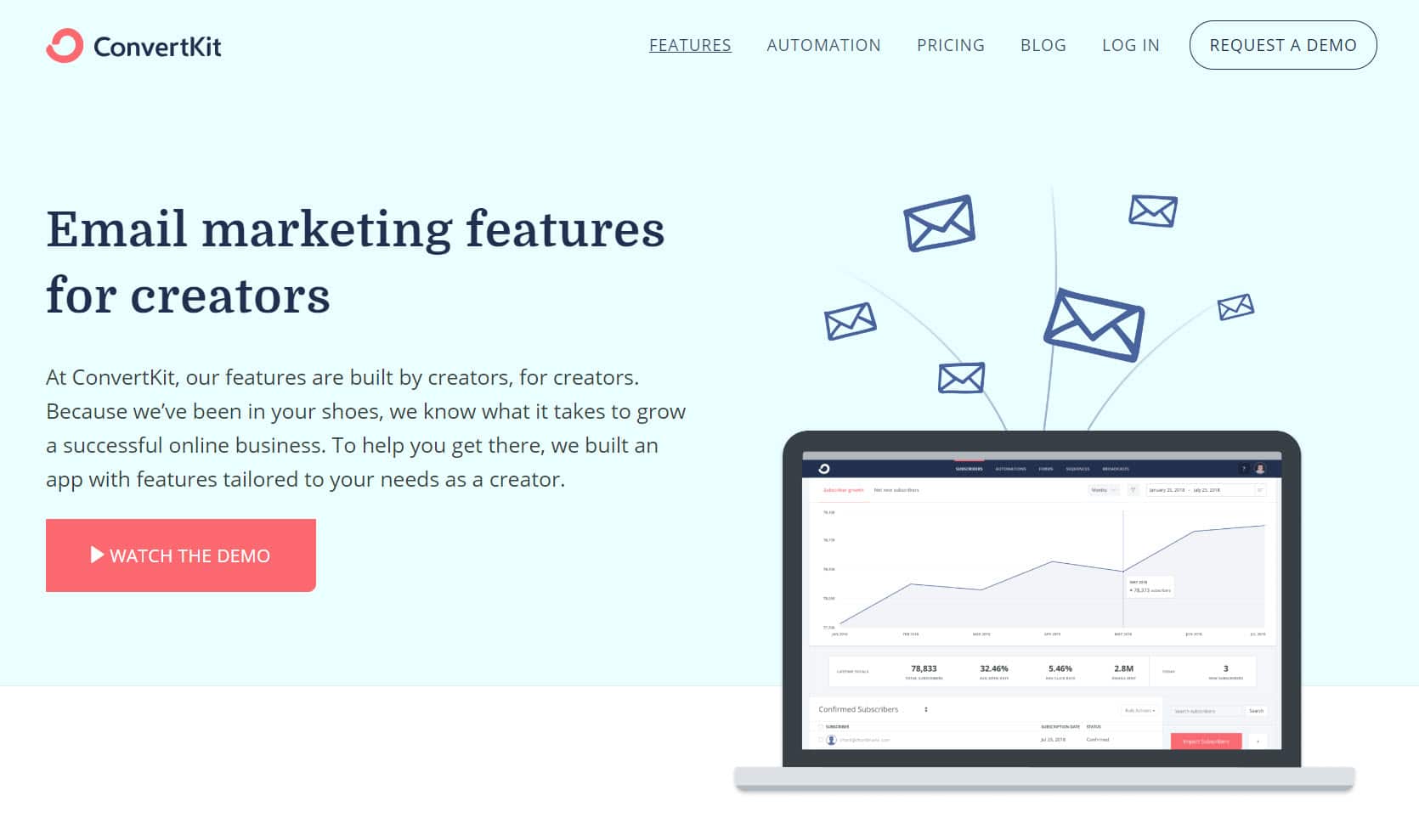 ConverKit will assist both eCommerce companies and creators. Its user-friendly layout makes for a pleasurable experience, and it's packed with enough features to make ConvertKit one of the top email marketing tools.
Landing pages, opt-in forms, email workflows, data management, tagging systems, list segmentation, email personalisation, email automation, and many other features are included.
ConvertKit also has functional interfaces with other systems that designers and developers are familiar with, such as PayPal, Stripe, Woocommerce, and WordPress.
ConvertKit encourages users to send plain-text emails; therefore, it doesn't offer email templates.
Pricing Plan:
$15 per month
Likes:
A robust tagging system for controlling funnels and sending targeted emails to users.
Provides automation to save time and money for business owners.
Customers can use a free postal address.
Dislikes:
There is no Google Analytics Integration.
Email templates and a modern email composition interface are both missing.
4 – ActiveCampaign
ActiveCampaign, which has over 130,000 customers, was the most often named tool among poll respondents regarding email marketing tools in 2022.
ActiveCampaign has gained its reputation as a premier email marketing tool by focusing on producing a world-class solution.
With computational learning and analytical features, it's the most advanced email marketing tool on our list, allowing marketers to work smarter and produce higher ROI.
ActiveCampaign's integrated CRM system allows you to manage your revenues and profits, live chat, and email marketing automation in one location.
Pricing Plans:
Lite: $15+ per month
Plus: $70+ per month
Professional: $159+ per month
Enterprise: $279+ per month
Likes:
Excellent automation features that make customer interactions easier
Customer service is helpful, courteous, and quick.
Dislikes:
The Lite plan has a lot of restrictions (and includes ActiveCampaign branding)
The cost of a plan swiftly rises as the number of contacts increases.
5 – AWeber
For newbies, AWeber's email marketing service includes some valuable capabilities. The platform includes an AI-powered design aid, a drag-and-drop editor, and an extensive library of email templates.
Using tags you may add manually or automatically, AWeber makes it simple to interact with individual clients at scale. You can tag followers based on their signup information when they open an email or click a link.
For example, email automation tools can conduct drip campaigns to greet new subscribers or release a new product on autopilot.
A drag-and-drop landing page builder with readily available templates and a collection of stock photos is available, allowing you to create stunning landing pages quickly. In addition, all themes have signup forms to help manage your lists, and you can auto-tag followers from each form.
Pricing Plans:
$19.99 per month
Likes:
It comes with many templates, far more than any of its competitors.
Support options are broader than those offered by several significant competitors and should be reasonable based on AWeber's Stevie awards for customer service.
Dislikes:
Less expensive choices are available that provide far more capabilities in the marketing automation field.
The RSS to email templates are terrible and aren't editable with Aweber's usual drag-and-drop email builder.
6 – Moosend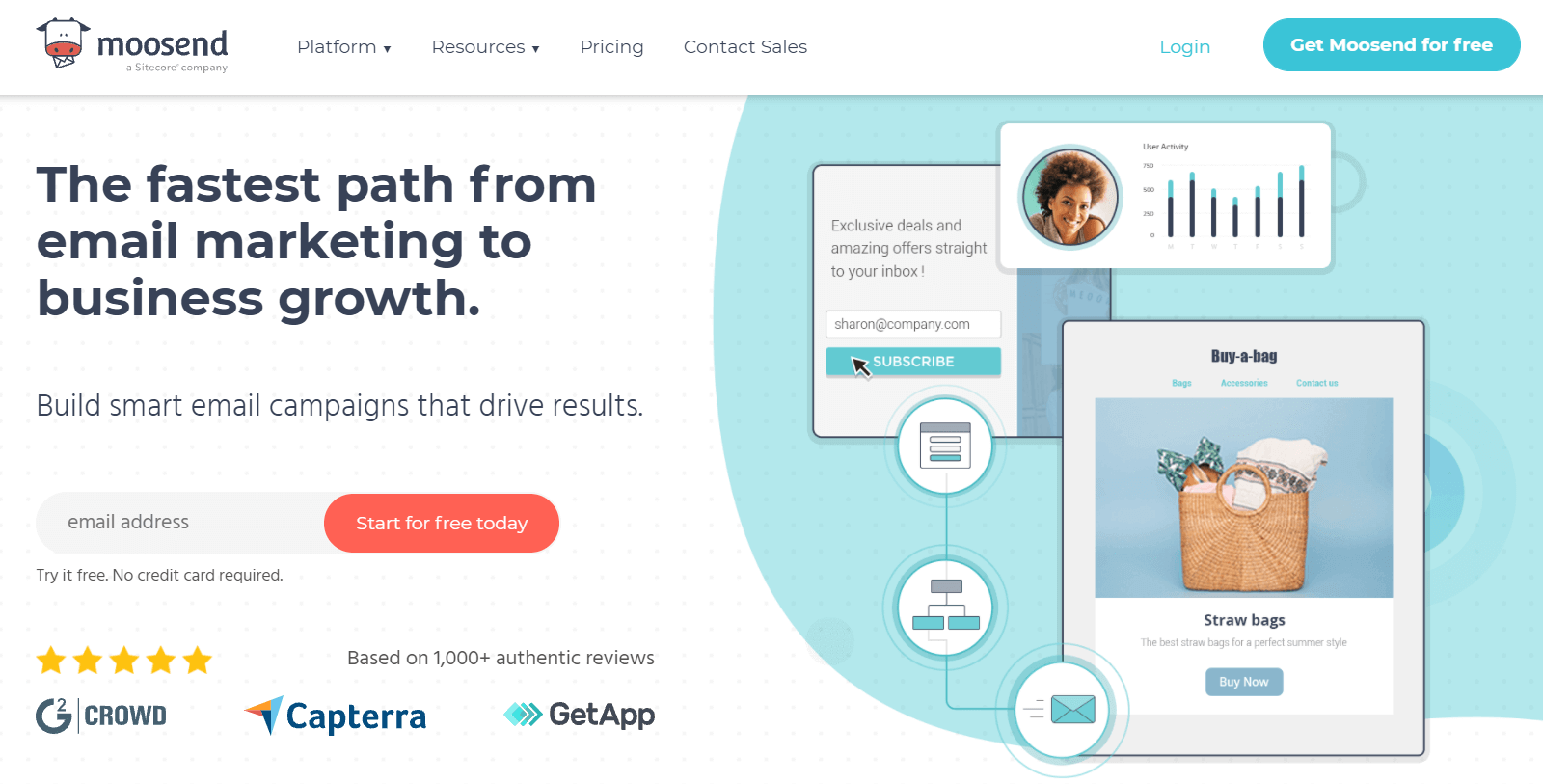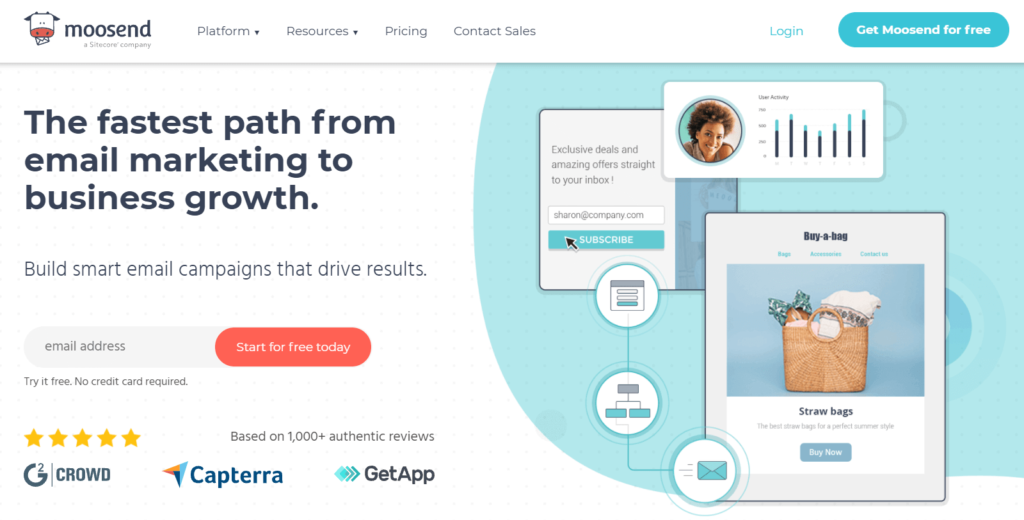 For small enterprises, Moosend is a cost-effective email marketing service. It includes various marketing automation tools, email list-building tools, segmenting tools, landing pages, and more features.
The wonderful thing about Moosend is that all their plans, including the free ones, include marketing automation tools. So, for example, you may create a personalised subscriber experience for your email subscribers using their automated workflow designer.
Moosend provides complete email analytics, including clicks, bouncing rate, email opens, product views, transactions, custom event tracking, and forecasted demographic data.
Pricing Plan:
$8 per month
Likes:
Cheap Pricing Plans
Paying just when you send emails is an option.
Templates are simple to alter or use from the template collection.
Dislikes:
You won't be able to send emails from a Gmail or Hotmail account.
The user interface isn't as complex as it could be.
Integrations are limited.
7 – SendX
SendX is a low-cost, user-friendly top email marketing tool that allows you to create, manage, and track email campaigns to increase sales. You can upload an opt-in email list, execute mass email campaigns, and generate reports to track clicks, opens, and conversions, among other things.
In addition, you can automate your email marketing with a robust rules-based interface based on user behaviour, audience segmentation, and more.
SendX is perfect for mass communication. It's easy to utilise the drag-and-drop email editor. You get pre-made elements such as a button, text box, image, divider, etc. The owners can customise everything to fit their brand and email type.
SendX has the technology infrastructure to optimise your email campaigns based on 30+ variables such as previous open behaviour, ISP, domain name, timezone, email client, etc. This ensures high email deliverability, ensuring your message appears in the inbox every time.
They have a free 14-day trial. No credit card is required to avail of that.
Pricing Plan:
$7.49 per month
Likes:
Affordable pricing
Easy UI
A High delivery rate
Dislikes:
8 – GetResponse
GetResponse offers a variety of marketing solutions for small businesses, including an email marketing service with all the bells and whistles.
The platform includes a collection of professionally customised email templates and a drag-and-drop editor, making it simple to turn emails into attractively branded messages.
Collect behavioural patterns and interest data, then customise your email marketing using advanced segmentation options. Alternatively, marketing automation can tag and evaluate contacts automatically, triggering customised mailings.
Besides email marketing, you can use the built-in tool and templates to build and manage Facebook advertising. Even options for hosting your webinars are available on the site. Moreover, the conversion funnel function helps you combine everything with automated sales funnels tailored for various sectors and purposes.
It's not always easy to decide which plan will work for you. With GetResponse's pricing guide, you won't have to worry about being overwhelmed with various options!
Pricing Plan:
$15 per month
Likes:
User-friendly interface
Conventional funnel feature
Webinar functionality
Chat functionality
Dislikes:
The basic package does not include complete automation.
The maximum number of individuals that can attend a webinar is 500.
9 – Omnisend
Omnisend is a marketing automation platform that helps e-commerce businesses manage their marketing across multiple channels.
It includes email automation, SMS, push notifications, and, most impressively, integrations with Google Ads and other social media platforms like Facebook Ads, Messenger, Instagram, and WhatsApp – all of which, according to the company, have 10X relatively higher click-through scores than email.
Omnisend has created creative email templates to minimise cart abandonment and encourage repeat purchases by focusing solely on e-commerce. Omnisend is created by a team that understands what works in e-commerce, from 'wheel of fortune' offers to digital scratch cards and special discounts.
Omnisend integrates with most e-commerce sites, namely Adobe Commerce, Shopify, and BigCommerce, as you'd expect from an e-commerce email marketing tool. However, when connecting with the review, loyalty, and support desk platforms, Omnisend goes above and beyond.
Pricing Plans:
$199 per month
Likes:
Omnisend is easy to use. Signing up and getting started is simple. It also has an immaculate and basic backend architecture.
It's simple to harness the power of automation, and you'll save time!
Users can send 2,000 complimentary messages every month with Omnisend.
Dislikes:
There are no holiday marketing themes that you can customise.
You must enter data from scratch whenever you create a social media campaign.
10 – Drip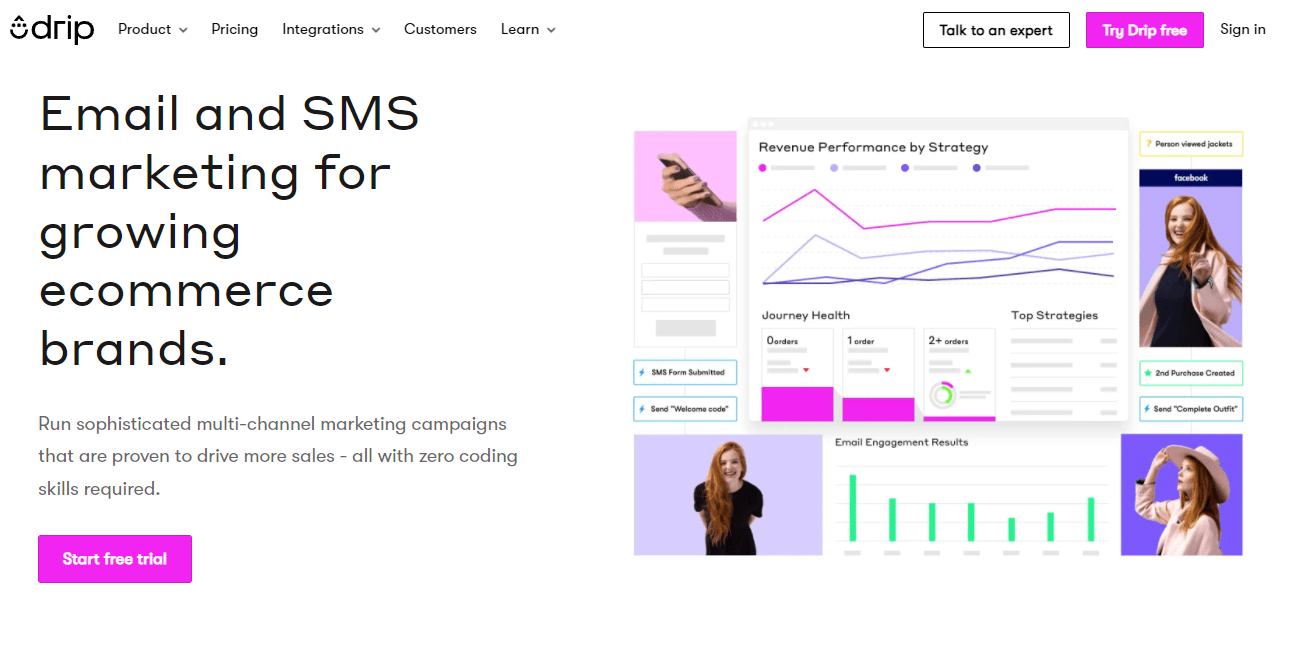 Drip is a robust enterprise email marketing tool for eCommerce, bloggers, and marketing professionals. They provide various solutions to help with automation in email marketing, sales funnels, and personalisation.
All famous web builders, namely WordPress and WooCommerce, have their email software integrated effortlessly. Adding popups and opt-in signup windows to your page and collecting more leads is a pleasure.
The impressive features, including more intelligent email segmenting, email grouping, email listing, the visual drag & drop editor, and split testing tools, make the workflow more automotive, making this top email marketing tool stand out from the rest of the junk. You can use these tools to increase sales to contact the focused business on your email list.
Pricing Plans:
Up to 500 contacts: $19 per month
501 to 2,000 contacts: $29 per month
2,001 to 2,500 contacts: $39 per month
2,501 to 3,000 contacts: $49 per month
Likes:
Drip campaigns are simple but effective.
Customer service is outstanding.
Contact list segmentation that is sophisticated
Dislikes:
Several necessary integrations are missing.
Designing templates do not have drag-and-drop capabilities.
11 – Campaign Monitor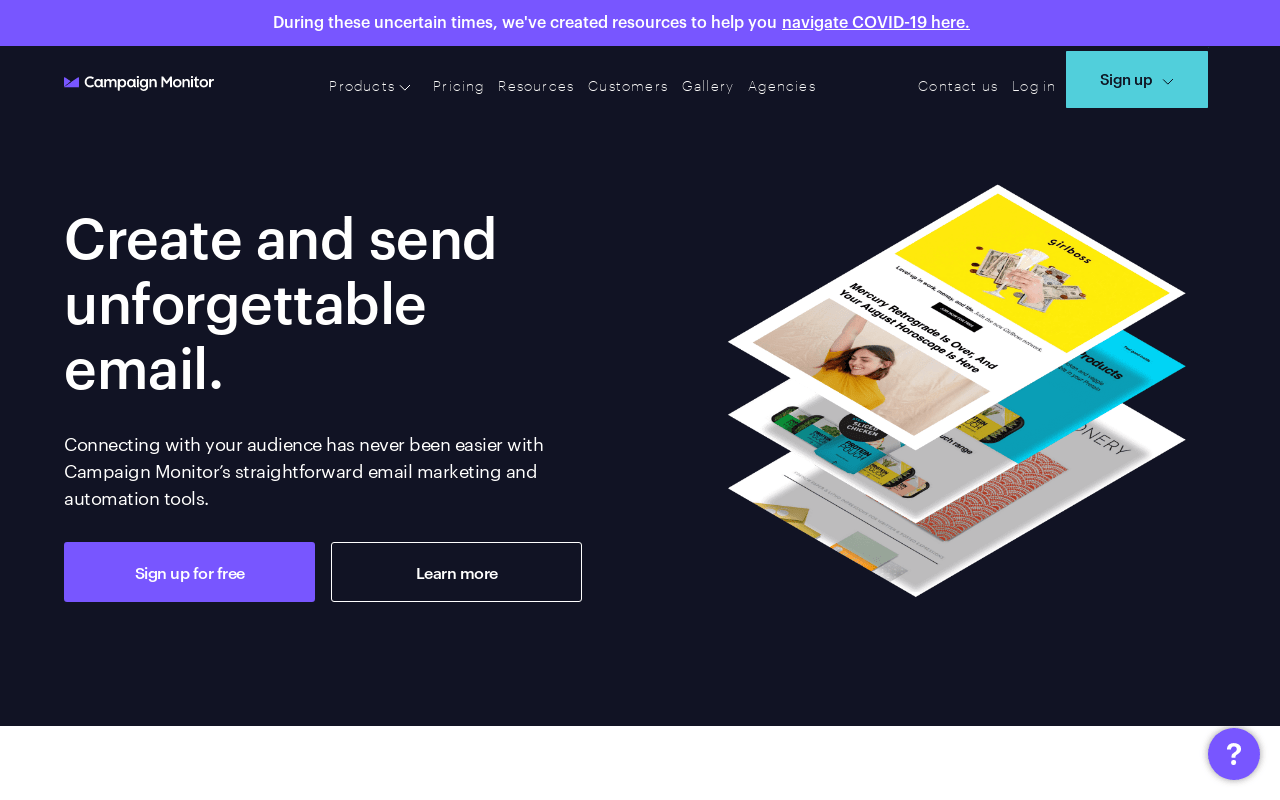 Campaign Monitor's stunning newsletter templates and customer support are two features. In addition, you may adjust aspects like colour combinations and fonts in its email builder to ensure brand consistency. 
You may also use Unsplash to access a wide range of free photographs to make your emails pop out more and more.
This is a terrific option if segmentation is integral to your email marketing plan. You build hyper-targeted segments and customised emails using your already acquired client data.
You may also build and send transactional emails with customised content from the same platform.
Pricing Plans:
$9 per month
$29 per month for an unlimited plan
Likes:
It has a fantastic user interface that is simple to use.
The templates are attractive, functional, and correctly replicated in all major email clients.
In templates, you have many online fonts to choose from – you aren't limited to boring web-friendly fonts.
Dislikes:
In comparison to its competitors, it is a very costly platform.
The number of versions that can be split-tested is restricted to two.
There is no such thing as a (genuine) free trial.
12 – Sendinblue
Sendinblue is widely known for being one of the most popular transactional email providers. As a result, they developed an email campaign automation tool based on this reputation.
We use Sendinblue to deliver email messages for two of our businesses because they're one of the few email campaign providers with databases in the European Union (which helps us comply with GDPR) and have high delivery rates (we're currently at 98 per cent).
While we don't have firsthand experience with their marketing automation tools, it's clear from our client surveys that it's good. Still, it lacks more complex functions (such as native integrations, goal tracking, and annotations).
Sendinblue's pre-built developer solutions make it a fantastic choice if you require an email marketing solution with a solid API to have your emails into mailboxes with a high compliance rate.
Pricing Plans:
$25 for 20,000 emails per month
Likes:
A free trial with a limited set of features is available. 300 emails every day
The cost is determined by the number of emails sent rather than the number of subscribers.
You can customise the look of your email.
Dislikes:
Free and Lite plans have limited features.
In the split test, there were just two versions.
In the first mail, a split test isn't possible.
The ability to create with drag and drop appears to be limited.
13 – MailerLite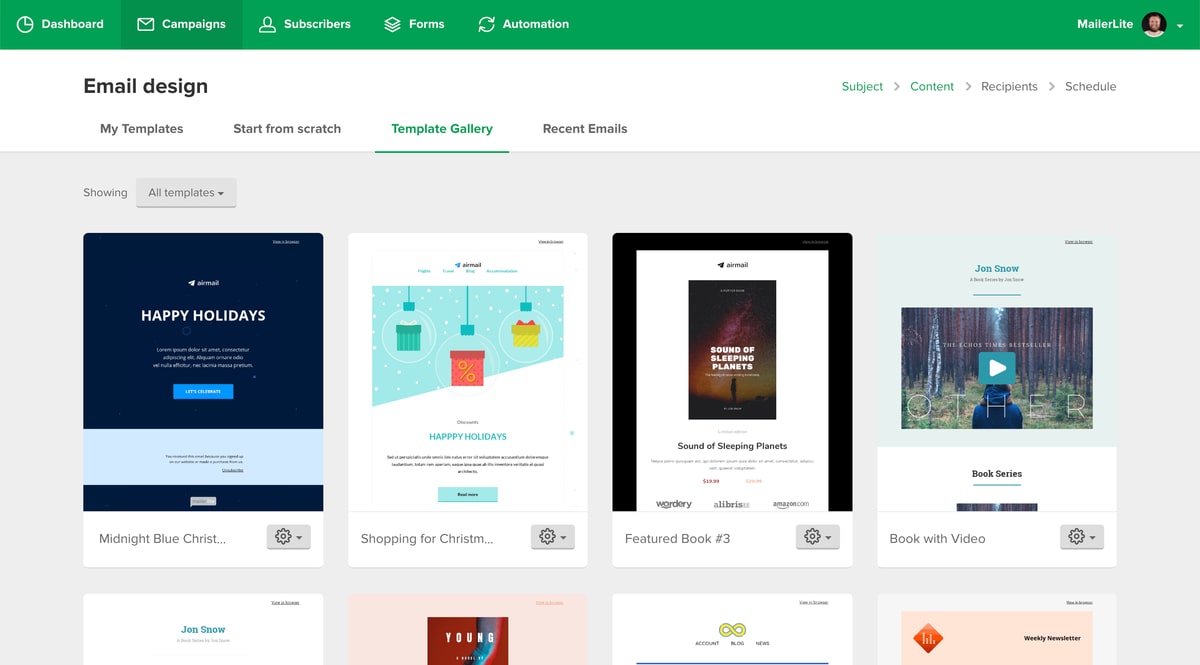 MailerLite is the most user-friendly email marketing tool since it offers a drag-and-drop feature that makes creating your desired design enjoyable and easy. In addition, the software has a clean and uncluttered look because clarity is at the heart of the company's aim.
MailerLite has created a premium user-friendly platform, making it the most user-friendly option. Users can contact email support for answers and troubleshooting if they have any issues.
Unlike other primary email marketing platforms, MailerLite is a tool for any business. MailerLite has everything you need to create bulk email marketing campaigns, whether running a small charity, a side business, or a new freelancer.
Pricing Plans:
Up to 1,000 contacts: $10 per month
1,001 to 2,500 contacts: $15 per month
2,501 to 5,000 contacts: $30 per month
5,001 to 10,000 contacts: $50 per month
Likes:
Designing emails is simple with the drag-and-drop interface.
Email assistance is available.
There are numerous email templates to pick from.
Dislikes:
CRM features that are not included (Though it allows for integration)
Integrations are limited.
You'll need to supply a lot of corporate information to open an account.
14 – Constant Contact
Constant Contact makes it easy to construct professional-looking email marketing campaigns. It comes with an intelligent email editor, making it simple to personalise and design beautiful emails that look fantastic on any screen.
Email automation, social advertising for generating leads, and the ability to develop websites and landing pages are other characteristics that make this top email marketing tool appealing to smaller businesses and nonprofits.
To help your online store flourish, Constant Contact offers specialist email marketing campaigns for eCommerce technologies. In addition, you may import contact lists from Salesforce, Outlook, Excel, and other contact management systems.
Additional capabilities, such as a multi-step automated email chain and facilities for polls and charitable donations, are included in the Email Plus bundle.
Pricing Plan:
$9.99 per month
Likes:
Compared to other products on the market, it is simple to set up and provides excellent support and security.
It's possible to categorise contacts into numerous groups.
Dislikes:
There is no free version; only the Email Plus edition contains all the campaign builder improvements.
It's possible to have a feature for recent photographs and the ability to generate templates via API.
Bottom Line on Email Marketing Tools
Sending out campaigns won't help you much unless you can keep track of your achievements and failures to make timely modifications.
Whether it's simple email open & click rate data, statistics, or even linkage with Google Analytics, all 14 top email marketing tools discussed here provide tracking to keep you updated with your campaign results.
Once you have some statistics on your marketing campaign, you can alter your content to discover what works by using options like A/B testing, which allows you to send the same email to one group of people and another.
Author Bio: Trevor is a managing partner of SendX, a powerful email marketing software for sending campaigns, building your list, and automating your marketing. SendX is a product of SendWorks, a software suite with tools that help send emails that hit the inbox.