How To Create An Email Marketing Campaign That Gets Read
Email marketing campaigns help you market your business to your target audience with the right message at the right time. They also give you insights into how people generally use email and what they like or dislike about your company's emails. It also allows you to measure the success of your email marketing campaign and optimise your email messages for future campaigns.
In any business, you will probably receive plenty of emails. Maybe you are building a customer base and want to ensure they get an email that will stay in their inbox. Or maybe you are using email marketing to generate sales leads. The important thing is always to ensure that your messages are relevant, engaging, and valuable to the recipient.
Any email marketing campaign aims to drive traffic and convert that traffic into sales. But it's not enough to send an email. You must also include relevant links and images to ensure people read your message and click through your website.
What is email marketing?
Email marketing is a powerful way to stay in touch with customers and prospects, which allows you to continue the conversation once they've interacted with your business.
Email marketing is one of the most effective ways to connect with potential customers, as they're more likely to respond if they know that they are receiving emails from someone they like. It's also one of the most affordable forms of direct mail, so you don't need a huge budget to send out messages.
Email Marketing Is Easy to Use and Cost Effective
The easiest way to get started is by signing up for an email marketing tool. You can sign up through a company website or a third-party provider like MailerLite, MailChimp, or Constant Contact.
Most companies offer free trial accounts, allowing you to check out the tool's functionality before investing in a paid service. Once you find a tool you like, you can build your list by collecting customer information through social media sites like Facebook and Twitter.
You can create valuable content for your audience, whether a blog post, podcast, or video. You can also use email to promote products and services.
It's a great way to introduce a product or service and can generate positive results. Email marketing is effective because it's a "top-down" approach. People tend to trust their peers, so if you reach out to people directly, they are more likely to open the message.
Why Should I Be Using Email Marketing?
Email marketing provides a low-risk way to generate new leads and get in touch with potential customers. It's also an excellent way to build relationships and loyalty with your existing customers, as they'll feel important to you and are more likely to return.
Email marketing is less expensive than traditional advertising, so it's a low-risk option for many businesses. It's also practical, as it has a more significant impact and can be used in multiple channels. It's an excellent way to get to know your customers and prospects.
Benefits of email marketing
When your customers use a shopping cart to purchase products or services from your website, you can send them a thank you or follow-up email to remind them about their upcoming order. These emails are called transactional or order confirmation emails.
These messages are important because they let customers know that their orders are complete and available to pick up at their convenience.
They also inform customers about additional promotions and deals, increasing customer retention and encouraging future purchases. Email marketing doesn't have to end after a complete transaction.
An email newsletter is an excellent way to regularly share relevant information with your customers. For example, a business may want to send a weekly email newsletter listing the week's specials.
This communication is helpful because it helps customers stay in touch with your company and its promotions, improving customer satisfaction and loyalty.
Do You Need an Email List to Send Out Your Emails?
Email marketing can be expensive to start, so it's vital to have an established email list before sending out the first email. This will enable you to get started at a faster pace and avoid a significant financial investment.
As you gain a foothold in your email marketing efforts, you can use a service like MailChimp or Constant Contact to build your email list. MailChimp and Constant Contact are free for the first 500 subscribers, and you can add a list of up to 2,500 emails to each account.
Once you have a list of subscribers, you can begin sending emails to promote your business. Depending on your business, you may need to set up a unique email address for your customers.
Your email address should be easy to remember yet difficult to guess—for example, your domain name, company name, or a combination of the two. Include your company's contact information (like a phone number) or website address.
How Do You Know If Your Email Campaign is Effective?
It would help to consider how well your emails perform when you set up your next campaign. You can check this using analytics software like Google Analytics or Omniture.
These tools will show how many people opened your email, which recipients clicked links, and who purchased products or services.
If your emails aren't bringing in enough revenue, there are several things that you can do to improve your results. Some of these include:
Increasing the frequency of your emails.
Sending emails with subject lines that are more descriptive and compelling.
Adding in more images or videos to increase your click-through rate.
Removing unnecessary links in your email, such as links to your homepage or product pages.
How to get started with email marketing
Email marketing can be a valuable way to connect with customers and offer them exclusive content, special discounts, or other ways to keep them coming back for more. However, it can also be a costly, time-consuming headache that doesn't always produce the results you hoped for. If you're unsure where to start with email marketing, here are three things to consider.
Make a plan for the type of content you want to send and the type of recipients you'd like to reach. Think about the goal of your email campaign. Is it to raise awareness of a new product or service? To sell more of something? To remind customers to do something? Once you know the goal, choose the content that will help you achieve that goal.
Before sending out any messages, determine your recipients. Decide if you want to send the same message to everyone or if you'd like to segment your list. For example, you could send a discount to all shoppers or only to loyal customers. Make sure that you're not sending multiple messages to the same person. That could be a spam violation, and it may also result in unsubscribes.
Set up a schedule for your campaign. You can set up an automated system that sends emails on a specific date or time or set up an alert to know when new emails are sent. This lets you see what's happening without returning to your inbox every few minutes.
Don't forget to test your messages. Once you've launched your campaign, ensure the email is working. Test your subject lines, calls-to-action, and links to ensure they function correctly.
Best Email Marketing Platforms
You can send and manage emails using a website or an app, but these aren't the only options. Here are a few options that might help you get started.
MailerLite
Mailerlite is a paid service that can help you create a basic campaign and track its success. It can also help you build your subscriber list and manage the content that goes out to your subscribers. Campaign Monitor also offers templates for standard campaigns, including welcome emails, opt-in requests, and subscription newsletters.
MailChimp
MailChimp is a free service designed to make it easy to set up email campaigns. There are a lot of features and options, but MailChimp is generally easy to use, especially for beginners. MailChimp also provides templates for many popular types of emails.
GetResponse
GetResponse is a more expensive option, but you can get lots of great features for your campaign, including the ability to track responses to your emails, use custom images in your emails, and use templates to build emails for your list quickly.
Tips for creating a successful email marketing campaign
Understanding the difference between your prospects and customers is vital before planning your email marketing strategy. You must first know who will respond and how to appeal to them.
To achieve this goal, you must:
Know your customer profile – it is crucial to determine your audience's demographic information, buying history, and preferences in terms of products and services. This way, you'll be able to decide what type of content would interest them, and you'll be able to target your audience accordingly.
Create segmented lists – based on these parameters, create lists of customers that match your prospects and send relevant emails to them. For example, if your prospects are primarily women between 25 and 35 years old, create a list with this demographic information. And, of course, you can always add segments based on other variables, such as income level or location.
Make sure your content is appealing – as you build up your lists, it's critical to have informative and compelling content. It would be best if you offered value to your audience, but you don't want to lose the readers' attention because your emails are too long or seem uninteresting.
Keep it short – getting carried away with ideas is easy, but you want to keep your emails to five paragraphs. That way, you'll be able to focus on offering value, and you'll still be able to include some helpful links and calls to action.
Test your messages – as soon as you start creating your list; it's crucial to test the content you're using in your emails. Before you send your first email, make sure that you've used it for a few days and that it's received positive feedback. If you have questions, use tools like Aweber to check out the analytics of your emails.
Autoresponders – set up automatic responses to your emails. If you receive many emails, having some autoresponder is helpful, especially if you're using it to offer your clients and prospects valuable content.
Flexibility – this is extremely important, especially when it comes to time zones. If your list is in the US, you must ensure you can deliver emails to them at all hours.
Optimisation – your ESP should be able to optimise your campaigns for mobile devices. That way, your messages will display on any device.
Track the success of your email campaigns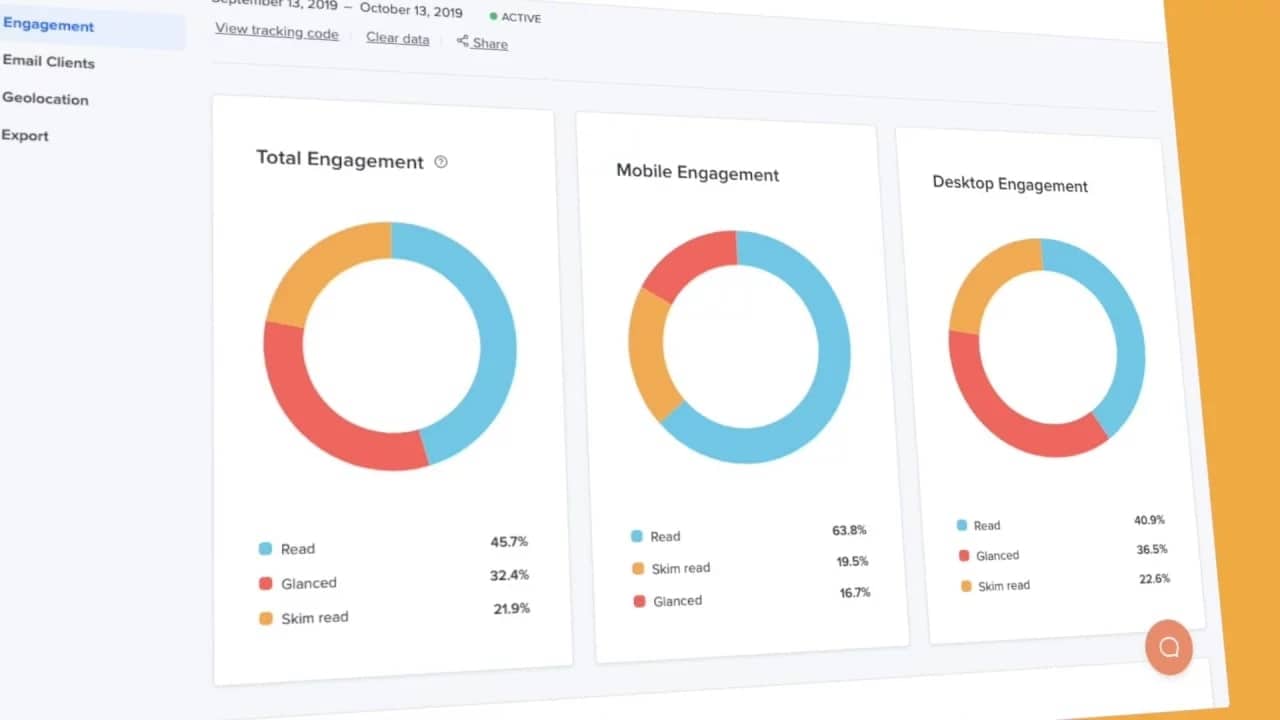 Knowing if you're getting an excellent response to your email marketing campaigns and how many people opened your emails is easy.
Email marketing provides a great way to get to your customers and keep them engaged with your business. If you aren't getting the response, you need to take action to improve your open rates.
You can do this by using an email analytics tool such as those provided by MailChimp. This allows you to track the number of people who open your emails, how many people click on links within your emails, and how many people complete the actions you want them to complete.
Using these metrics will give you a good idea of the effectiveness of your email marketing campaigns and improve your results moving forward.
It's also helpful to look at the success of your email campaigns over time to see how much they've increased in the past. Tracking your open and click-through rates will help you identify any patterns of behaviour in your customers that will enable you to create more effective marketing strategies.
A few tips to help you improve your open rates include:
Make sure your subject line is compelling.
Make your headlines concise, enticing, and informative.
Add a call to action that encourages readers to act on your message.
Include a relevant image with your email to help boost click-throughs.
Include links to other pages on your site to draw readers into the rest of your content.
Track your results to improve your strategy.
Using an email analytics tool is an easy way to track the success of your email marketing campaigns. You can use a tool to track the metrics you're interested in and keep your inbox clean.
What is the Best Time to Send Email Marketing?
It would help if you tried sending your emails at the best time for your recipients. This can vary depending on your target audience. For example, a doctor who sends an appointment reminder before the end of the day will be more likely to respond than a regular customer.
Generally, the best times to send emails are early in the morning and late at night. While the mornings are quieter, people are more likely to check their emails in the evening.
A few other times to consider sending emails include the following:
When it's a holiday, like Valentine's Day or Mother's Day
After a product launch or new service launch
On a special event, like a wedding or birthday
To welcome a new customer
When you want to remind people about a promotion or announcement
If you are using email newsletters or other types of email marketing, you may find that your most successful subscribers are those who subscribe during certain times of the week or month.
How Often Should You Send Emails?
Once or twice a week is a good goal. If you find that you have enough content and don't have too many subscribers, you may be able to send more often.
However, it's crucial to find a balance. Sending too many emails can overwhelm your subscribers, and they may unsubscribe. If you send out many emails, it's a good idea to send them out more frequently during the beginning of the week and less frequently on the weekends.
Choosing which email marketing is best for you is about finding what works best for your situation. Consider your goals, what types of people you want to attract, how often you plan to send emails, and what your business costs are.
Wrapping Up
Email marketing is one of the best ways to grow your email list. It's also a great way to stay in contact with your subscribers, which is one of the main goals of any email campaign.
But it's also essential to make sure your emails get read. There are many different ways to do this, but the key is to find out how your readers interact with email and use that information to craft your message.
The goal is to get people to open your emails and respond to your messages. You may want to rethink your email marketing strategy if you're not getting that.
There are plenty of tools that you can use to track and improve your campaigns.
You can also use those same tools to see if your readers are opening your email.
Learn more about Email Marketing here!
FAQs
What is email marketing?
Email marketing is sending promotional messages to a list of customers or clients.
What are the benefits of email marketing?
Email marketing has become a valuable tool for businesses because it helps them to stay in contact with their customers. It also lets them keep their customers informed about their products and services.
What is the best way to create an email campaign?
One of the best ways to create an email campaign is to write a short message to your subscribers. Tell them about what you're offering, what they'll get, and why they should care.
What is the difference between direct mail and email marketing?
Direct mail and email marketing are similar, but each has advantages. Direct mail is a method of reaching your customers through the mail, whereas email marketing is a digital form of advertising.
Why should I use email marketing instead of direct mail?
Direct mail is a popular way to reach consumers, but email marketing is more effective. For example, if you send an email to your customers and then ask them to click a link, they are more likely to take action.
How can I make sure that my email campaign is read?
When you create an email campaign, you can include links that allow people to sign up for your newsletter or opt-in to receive information from you. You can also ask people to "Like" your page on Facebook or follow you on Twitter.
What is the best way to measure the success of an email marketing campaign?
One of the best ways to measure the success of your email marketing campaign is to look at the number of people who sign up for your newsletter or opt-in to receive information from you.