How To Use SMS Marketing to Boost Sales: Discount Types with Ready-To-Go Templates
Driving customer loyalty is not always about dropping your prices to the ground. 
More often, the key lies in personal relations developed over time that go hand in hand with special deals and promotions. 
65% of your revenue is most likely to come from return customers. This is why healthy relationships with people who have already shopped with you are vital. 
What is the best way to turn regular shoppers into loyal customers? SMS marketing!
Keep reading this article to get your head around SMS marketing and discount tactics to develop a long-lasting and mutually beneficial relationship with your customers. 
We have also put together some ready-to-go templates you can easily alter for your business. 
How does SMS marketing work?
SMS marketing is entirely permission-based, meaning subscribers need to opt in to receive promotional messages from you. 
While this sounds like a limitation, it is a massive benefit of SMS marketing as you will only be reaching out to customers who have already shown a great interest in your brand. 
Another thing to remember is that one SMS message is limited to 160 characters.
Once again, it might set some limits, but no one wants to read miles-long messages. So the key is to keep your messages simple and on point and instantly grab readers' attention.
Some other benefits of SMS marketing:
Text messages are opened up to 98% of the time. Compared to other advertising options, the SMS open rate is much higher. For example, emails are opened only around 20% of the time.
Integration with other marketing channels. SMS can work effectively, but it can also boost other channels' results. For instance, when email marketing is your strength, you might want to send an SMS reminder for customers to read your email newsletter, which will help with its open rate.
SMS are mobile-friendly, and customers don't have to be connected to the internet to receive messages from your brand. This means that you can deliver your message pretty much at any time. 
Opportunity to engage in conversation with customers. SMS is an excellent channel for receiving feedback, too. Research shows that, on average, consumers will only respond to a survey via SMS in about 5 minutes. 
With some of these benefits in mind, you can slowly start planning to set up your first SMS discounts campaign.
To maximise your chances of boosting sales:
Make sure you include the critical elements of SMS with customer discounts. 
Personalisation
Personalisation makes SMS marketing work magic for a straightforward reason – people usually use SMS for personal interactions. 
Build your sales promotions ideas around what different groups of people would be interested in and look at customers' previous preferences to hit the mark.
And don't forget to include the recipient's name when reaching out. This has a positive impact on your campaign's open rate. 
Timing
Timing for SMS is crucial, so include it in your SMS discount tactic. 
Different businesses have different goals, so there's no one set rule for sending out promotional SMS messages. 
But no matter what you do, think of what your customers are doing at a particular moment and if they could take your desired action when they receive your text.
For example, if you run a restaurant and offer customers discounts at lunch, it makes sense to text in the morning when people have not yet decided where to eat. 
If you're in retail and wish to promote an upcoming weekend sale, send the discount alert at the beginning of the week so they can plan accordingly. 
Call-To-Action
CTA-s cannot be overlooked. You won't see the desired results if you have put together a perfect attention-grabbing message but fail to indicate what the customer should do next. 
Always include a CTA (e.g. "Shop Now", "Claim Your Discount", "Add To Cart", etc.). 
Clever CTA-s also allow you to play on urgency, urging customers to get moving as soon as they receive your text. For example, "Buy While Stock Last", "Offer Valid Only Today," etc.
And don't forget to add a link at the end of your message as a shortcut to whatever is offered. 
Link shorteners
Links taking subscribers where they need to claim their discount must be included in your messages to maximise the chances of making a sale. 
As SMS messages can contain limited characters, it's advisable to use a link shortener so that the link would not take up too much space. 
And remember, you will get the best results if you plan correctly. While SMS messages might seem quick and short, they must be clever to work. 
The key here is to apply time management skills together with a bit of creativity. 
Now that we have grasped some central elements of SMS marketing, let's go forward and go over some ideas for offering SMS discounts to get started with sending discount messages to customers. 
Different discount types
There are many ways to get shoppers' attention and offer customer discounts. Here are the primary seven that you can implement in your SMS marketing strategy. 
Percentage discounts
Bundled discounts
Free shipping
Cart Abandonment offers
Holiday discounts
Buy one, get one free
Percentage discounts
Inarguably, percentage-off deals such as 25% off or 50% are one of the most popular and effective discount types. 
What is excellent about percentage discounts is that they can efficiently apply alongside almost any other discount type to grab customers' attention.
For instance, you can offer customers a 20% discount as a welcome gift, add a percentage deal if someone has left items in their cart, apply a discount to specific items, or even a storewide sale.
Percentage discount template #1
Thank you for subscribing to receive weekly updates from us, Anna! Here's 15% off your next order as a little welcome gift. Get Started: [Insert Link]
Percentage discount template #2
Don't miss out on our storewide sale, Anna! Shop now and get your favourite products up to 25% cheaper. Browse the store: [Insert Link]
Percentage discount template #3
Hi Henry! Are you excited about the upcoming holidays? Well, you should be! Use a code HENRY20 before Sunday and receive a 20% discount on your cart: [Insert Link]
Bundled discounts
Bundled discounts are an upsell and cross-sell strategy that invites people to buy more items to benefit from bundled pricing. 
For instance, a merchant might be selling shampoo, conditioner, and a body wash for $5 each, meaning that by purchasing the items separately, the customer would pay $15 in total. The merchant could offer a bundled discount by selling all three items together for $11. 
This discount is precious as you can increase the total number of items you sell, increasing your average order value. 
Moreover, you can bundle popular and less popular items to get your slow-moving inventory off the shelves. 
Bundled discount template #1
Do you want to refresh your wardrobe, Anna? Grab a new summer dress and get fabulous shoes for half the price! Get the deal: [Insert Link]
Bundled discount template #2
Great news, Henry! Our most popular headphones are now paired with your choice phone screen protection glass. Buy now and save $20: [Insert Link]
Bundled discount template #3
Hello, Anna! Check out our newest storewide mix-and-match deals. Combine your favourite items and get up to 15$ off. Check out the deals: [Insert Link]
Free Shipping
Free shipping is guaranteed, as 9 out of 10 customers claim that free shipping motivates them to shop online. 
While customer expectations are high regarding free shipping, it cannot always be offered. However, offering this option now and then can show results in your sales numbers. 
Free shipping template #1
Today is a special day, Anna! Would you please choose your favourite items and get them delivered for free? Get the deal now: [Insert Link]
Free shipping template #2
What's up, Henry? Have you thought about doing a little reno in your house? All building materials will be shipped free this week. Buy Now: [Insert Link]
Free shipping template #3
Hi, Anna! Thank you for being a loyal member of our community. From now on, shipping is free using the code "SHIPANNA". Shop Now: [Insert Link]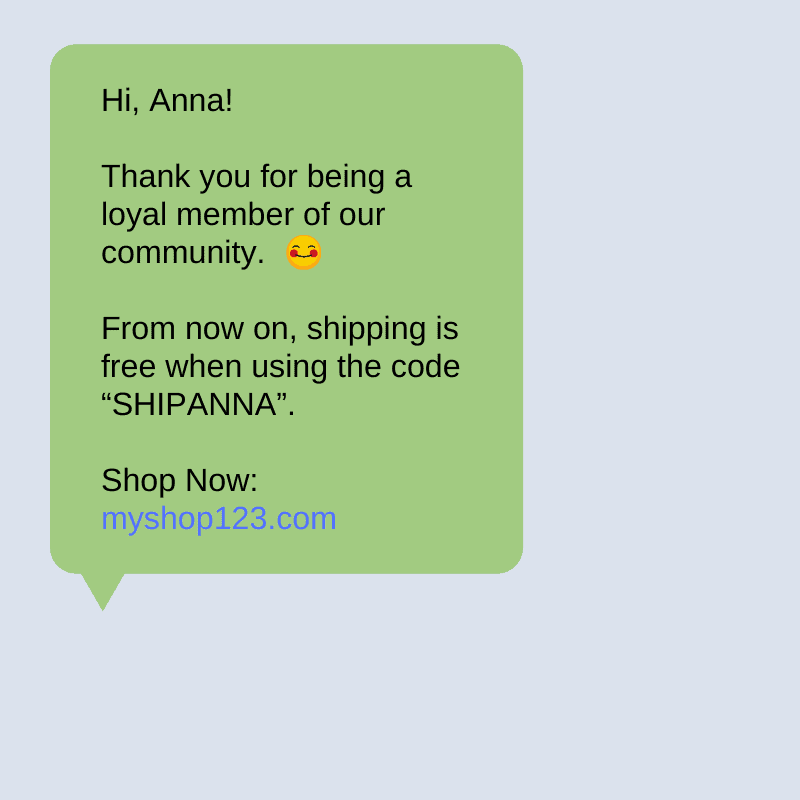 Cart Abandonment Offers
Cart Abandonment offers to belong to automated message sections triggered when someone has selected products in their cart but has not completed their purchase. 
You should add this type of discount to your sales tactic, as in 2020, the cart abandonment rate was as high as 88%. 
Imagine the boost you can have in your sale numbers if you can turn around even a tiny amount of these abandoned carts.
Abandoned Cart Template #1
Hello, Anna! We noticed you had left some items in your cart. Get back to shopping and receive a 20% off your purchase. Get the deal: [Insert Link]
Abandoned Cart Template #2
Hi, Henry! Items in your cart will be reserved for the next hour. Complete your purchase and receive a 10% at the checkout: [Insert Link]
Abandoned Cart Template #3
Did you forget something, Anna? Three items are waiting for a new home in your cart. Here's $10 off to ease the process: [Insert Link]
Holiday discounts
There are many holidays celebrated throughout the year, and celebration equals gifts. Make sure you are one step ahead of your competitors and your customers.
Remind customers about the upcoming holidays and offer ideas about what they could give their loved ones.
Holiday Discounts Template #1
Hi, Anna! Be prepared for Christmas early this year. Use the code "XMASANNA20" and get 20% off all stock until the end of the month. Browse Store: [Insert Link]
Holiday Discounts Template #2
Hello, Henry! Are you excited about Valentine's Day? You should be! Get a personal gift for you SO now and receive a special treat from us: [Insert Link]
Holiday Discounts Template #3
Treat yourself this Easter, Anna! Find items with Easter eggs in their description to unlock a special discount: Search for eggs: [Insert Link]
Buy one, get one free
Buy one, get one free can go hand in hand with Holiday sales when people browse for gifts. But of course, it can work at other times, too and could be a clever tactic to make some of your slow-moving stock more appealing. 
Buy One, Get One Free Template #1
Hello, Anna! Get ready for winter. Please choose your favourite scarf, hat or gloves and get another pair on us! Check out winter stock: [Insert Link]
Buy One, Get One Free Template #1
Hi, Henry! Surprise your family and friends with our delicious chocolate boxes on Christmas. Get shopping now and receive the second box for free: [Insert Link]
Buy One, Get One Free Template #1
Are you feeling hungry, Anna? Come to our restaurant with your friend this weekend and one of you will eat for free! See the menu: [Insert Link]
Extra tip: Special promo codes
Try to include in your discounts a unique tactic: Promo codes! As you might have noticed in our previous templates, we send a unique promo code to the customer now and then.
Promo codes can effectively tick the personalisation box and make customers feel special and appreciated. 
To Sum Up
When planning your SMS marketing campaign, keep different discount types in mind. 
There's no harm in testing which discount tactic works and when they perform the best. This is what you should be doing to get the best out of your campaigns and your offers. 
And, of course, keep the list of crucial SMS elements at the back of your head – personalisation, timing, CTA's and creation of urgency, link shorteners to see your sales go up.