7 Best Digital Marketing Services for Freelancers
Owning a business can be exhausting, especially if it's just a startup and you manage everything independently. You would have to hire new employees, maintain client relationships, find new deals, and whatnot!
While dealing with all of this, it is even more tiring to take care of digital marketing as it is complex. Getting help from a professional who can deal with these seven effective digital marketing services would be an outstanding idea!
This article explores seven highly effective services provided by freelance digital marketers. Search engine optimisation (SEO) improves a website's visibility on search engine result pages. Freelancers adept in SEO can optimise websites to attract organic traffic and boost search rankings.
Social media marketing is another essential service for engaging with target audiences and building brand awareness. Freelancers can create compelling social media campaigns, manage profiles, and analyse performance metrics.
Additionally, pay-per-click (PPC) advertising enables businesses to reach their target audience through targeted ads, and freelance marketers can set up and optimise PPC campaigns to maximise conversions.
Email marketing is also a valuable service where freelancers can craft engaging newsletters and automated email sequences to nurture leads and drive sales. A professional and prudent Email Blast can lead you to the market's mainstream. Conversely, content marketing involves creating high-quality, informative content to attract and engage audiences.
Furthermore, freelance digital marketers can provide conversion rate optimisation (CRO) services to analyse and improve the effectiveness of websites in converting visitors into customers. Lastly, freelance marketers can offer analytics and reporting services to track key performance indicators, identify areas of improvement, and provide valuable insights to businesses.
1 – Social Media Marketing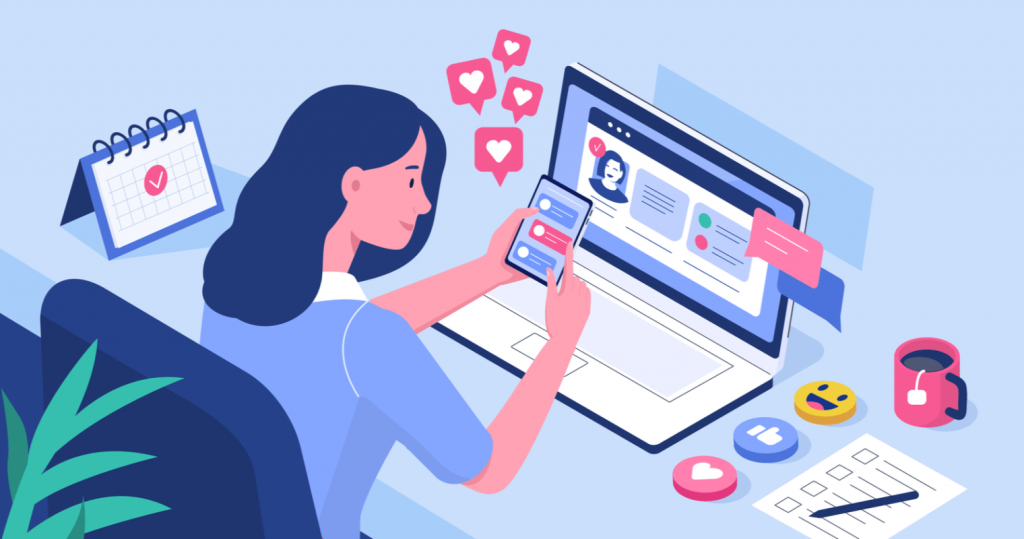 When Mark Zuckerberg created Facebook in his Harvard dorm, he probably had no idea that he was about to change the world. Over the years, social media platforms have not only changed the way we think, communicate, or behave but also changed the way businesses work.
Marketing is an essential aspect of any business that has seen a remarkable shift during the Internet era. Many companies have started using social media to spread their message.
In 2021, there were 7.88 billion people worldwide, and 4.48 billion people reported using social media. That's a large number of people, but it is not possible to reach every one of them because;
A – they might not be your target audience, and
B – everyone has different interests.
Because of this reason, the algorithms of different social media platforms make additional adjustments for every individual. You might see many dog posts on Instagram if you love them. As a digital marketer, you would only find a few individuals who might like your services because 4.48 billion people cannot require services as most are minors.
So, the challenge is to conduct successful social media marketing, allowing your target audience to see your services and get more sales. Unfortunately, you might not be able to do it effectively alone, so you'll have to freelance this digital marketing service.
But it is good to stay ahead and equip yourselves with the proper knowledge because you can hire the right agency or freelancer with the appropriate information.
Best Platforms for Digital Marketing Services
There are dozens of social media platforms, but having a presence on only some is wise. You must understand different platforms, their work, and their demographics.
LinkedIn
LinkedIn is a platform that's dedicated to professionals. So, you'll only find passionate people here. This social media platform is heaven for marketing that offers corporate services, as they can easily find clients here.
Facebook
With billions of users, Facebook can be an attractive platform for a successful digital marketing campaign. It also allows you to monitor and analyse the data for effective campaigns.
Instagram
Instagram is mainly used by millennials or Gen Z, so if your firm offers any services, it can be a great way to spread the word. You can also use influencer marketing, as it's popular on this platform.
TikTok
Most TikTok users are under 18, so other suitable advertising platforms might exist. However, getting more clients through TikTok is possible if the required audience is targeted correctly.
Two Methods of SMM
There are two ways of marketing your services on almost any social media platform. These are organic marketing and social media advertising!
1 – Social Media Advertising
You'll have to pay for a social media platform to display your ad. It allows you to reach more people who might be interested in your services. You can display ads in different formats, such as images, carousels, videos, stories, etc.
Social media platforms can charge you in different ways. For example, they may charge through cost-per-click, cost-per-impression, or cost-per-engagement.
2 – Organic Methods
Then we have organic marketing, which needs more effort and better strategies because it is a non-paid marketing method. Although risky, if it works out, you will get loyal followers who eventually become your customers.
To do this, you'll have to create the best content pieces. This may include infographics, blogs, videos, podcasts, images, etc.
Plus, the social media manager must be familiar with the latest trends and updates of the algorithms. It might not be possible to keep up with these requirements. So, hiring someone else for the service can be an exceptional idea.
Communication With Clients
You don't have to put your name on social media and wait for people to become your clients immediately. You'll have to answer their queries and respond to comments, which takes a lot of time and communication skills.
2 – Search Engine Optimisation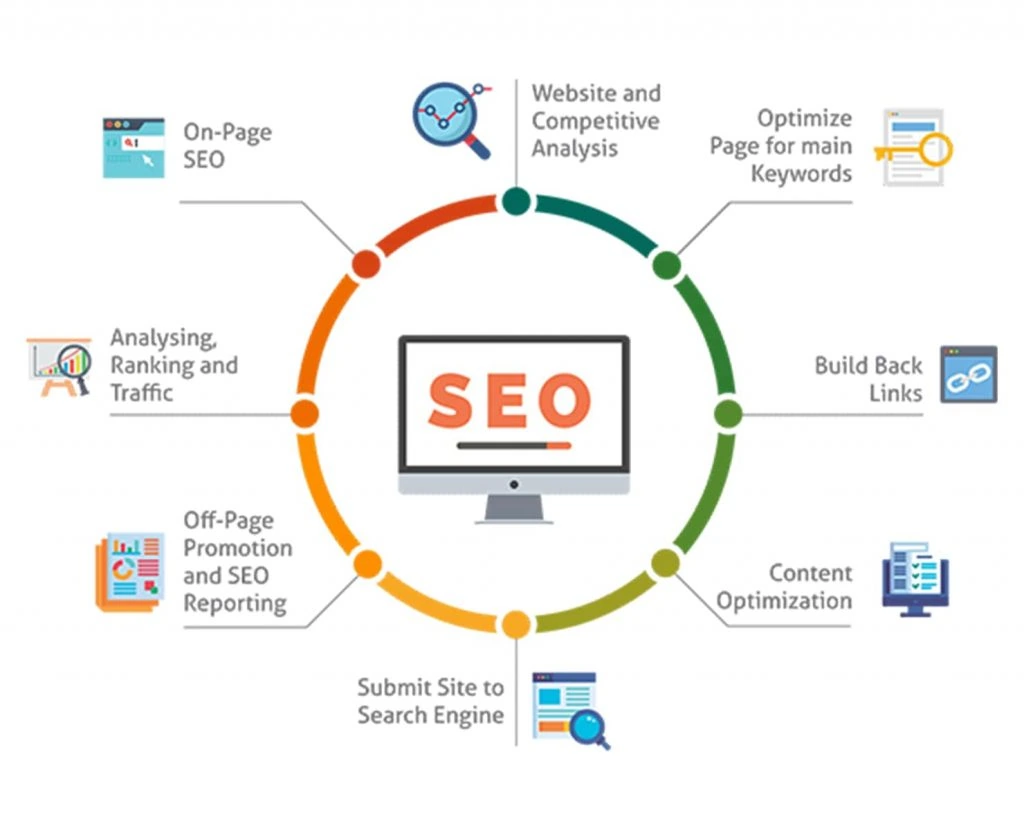 Many people say that Google is dying because of the hype around the Chat GPT. But Google will be staying for a long time. Therefore, you'll still have to focus on the SEO part of digital marketing. This method is quite complex but can generate many leads if used effectively. If your store or service has a website and wants to reach more people, then SEO is for you!
It is the process of optimising your website in a way that reaches more people and ranks higher on the search engine. So your website should appear on the search page whenever someone searches about it.
Two Types
On-page optimisation and off-page optimisation are two different ways to rank higher on a search page.
On-Page Optimisation
Meta tags, content optimisation, and URL structure are the main elements of on-page optimisation. The meta tags, i.e., the title and description of the website, should have relevant keywords.
Similarly, the URL should be concise and must include the relevant words. A web page's proper formatting, headers, and keyword density come under the umbrella of on-page content optimisation. Web Design is the new earning trend in freelance markets.
Off-Page Optimisation
Link building is a part of off-page optimisation. This means that influential and reputable backlinks are used. This helps prove the content's authenticity and allows the search engine to give you a favour.
Simply put, this part of SEO is done to build the name or reputation of the firms and stores. As mentioned earlier, it can be done through link building. However, there are other types of off-page optimisation as well.
Measuring the Success
The success of SEO services can be checked through key performance indicators or KPIs. This includes the organic traffic on the website, keyword ranking, conversation rate, etc.
3 – Pay-Per-Click
This is just like the social media advertising method discussed in earlier sections. However, pay-per-click ads are placed on search engines and social media. When someone clicks on the ad, the e-shop is charged for it. This way, money will be well-spent. Plus, you will only spend money on people who might think about buying services.
The competition is high since many people search for the same keyword daily. To prevent any issues, the bidding method has been used. This allows advertisers to create ads and then bid on specific keywords. Once they get the spot, they'll only have to play when someone clicks their ad.
Here are the key platforms for PPC (pay-per-price) advertising:
Google Ads – This is the most popular way to conduct PPC advertising.
Bing Ads – It also allows you to place an ad on the search results of Bing.
Social Media Platforms – As mentioned earlier, the social media platforms like LinkedIn, Facebook, Twitter, etc., offer PPC services.
Use of ROI
Different PPC platforms can give details of performance metrics such as ROI or return on investment. By doing this, a digital marketer can track the number of clicks, impressions, conversions, and other KPIs.
Finding the Right Freelancer
Pay-per-click services can be complex. So, it's understandable if you can't do it yourself. Therefore, if you have decided to get help from a professional, here is the process of finding the best clients;
Search for the best talent on freelancing platforms like Upwork, Fiverr, and Guru, or assign this task to a PPC agency that will handle everything.
Make a list of the best freelancer or agencies you found. Review their portfolios and case studies.
Check their authenticity by looking at the ratings on their profile. Their previous clients mostly give these ratings so that they can tell a lot about their skills.
Then conduct the interviews to assess their skills. During the interview, negotiate the pay rate so you can be on the same page.
4 – Email Marketing
Emails are a staple of the professional world, so using them makes much sense. This is perfect for a firm that has services for the corporate people.
Mostly, email marketing is done to maintain a connection with your existing or potential customers. You can find an email list from a resource or build it from scratch through subscriptions.
For example, when you subscribe to a service or provide our email on a website, you'll receive promotional messages. This is a part of an email marketing campaign.
Following are the key elements of a successful email marketing campaign!
Email List
It is a list of subscribers who have opted to receive emails from your organisation. You can gather these people through sign-up options, lead magnets, or social media advertising.
Email Content
The content of the email has to be engaging and informative. You can share the latest news, services, offers, case studies, or educational content with your email list. Three things need to be considered while writing a great piece of email content;
Well-written,
Visually appealing, and
Optimised for mobile phones.
Analysis
The final and most important element of (almost) every digital marketing service is to analyse the campaign results. This determines the processes that should be skipped in the next campaign.
It will help you to compare your goals with the outcomes. Click-through, open, and conversation rates are good elements to figure out.
5 – Influencer Marketing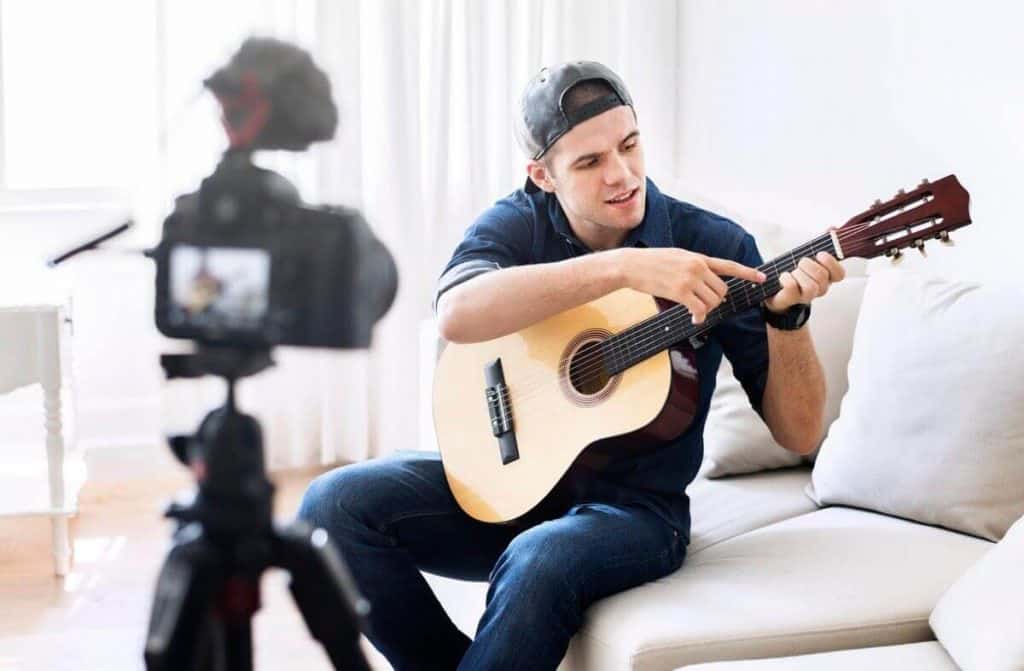 90% of marketers are known for using influencer marketing, and why wouldn't they do it? The influencer industry has been booming lately as they have many followers.
Influencers share their opinions with the public. Therefore, people tend to trust their words more.
Entrepreneurs can benefit from this information by asking influencers to pitch their services. However, because of their strong influence, you cannot ask any influencer to promote your services.
For example, the audience of a beauty influencer is (technically) different from your target audience. So, the main challenge is to find the most suitable influencer for your campaign.
A critical aspect of Influencer marketing is that you would only have to create a little content, as the influencer or the content creator will take care of this. Since they know more about their demographics, they will be able to create the most relatable, relevant, and to-the-point content for the audience.
Steps to Implement Influencer Marketing for E-Stores & Services
To carry out a successful influencer marketing campaign, you must start by identifying the objectives. Then, you would have to identify your target audience- corporate clients or someone who might need your services.
Find the Relevant Influencers
Now that you have established criteria, start finding influencers with your relevant audience. List them down and begin narrowing the list by keeping those who are authentic and relevant.
Start Collaborating With Them
Contact the chosen influencers and express your interest in a potential collaboration while outlining the mutual benefits. These are the things that you should talk about while negotiating the deal with an influencer;
Content ownership,
Compensation, and
Disclosure Agreement
6 – Content Marketing
The internet works because of the numbers. They run in the background and are processed by the machines. However, most people are only concerned with seeing images, videos, text, infographics, etc. These formats can be used to spread the word about the service.
This is done by a method called content marketing. It can be done through websites, social media, videos, etc.
Blog writing, organic SMM, social media advertisements, email marketing, etc., are nothing without content marketing. So, to execute those campaigns more effectively, you must learn the art of content marketing.
How to Utilise Content Marketing For E-Stores
To have a successful content marketing campaign, follow these steps;
Specify a Goal and Audience
For some people, this step might seem unnecessary and generic. However, it is an important step that cannot be missed because if you do that, you'll go in a lost direction.
Let's grasp the importance through an example. A firm would never want to market its services to someone who doesn't need them. It will waste money, resources, talent, and energy.
But if you have information about your potential customers, you will be able to target them in a more specific and creative way. So, first of all, you need to write about the desired outcomes you want from a campaign.
Then enlist the demographics of your target audience using the services you provide. Make sure the demographics of your competitors' analysis are as well. This will give you a much better and more clear idea.
Identify the Most Suitable Format
As we mentioned earlier, content marketing can be done in several ways. You can choose social media or create a blog page on your website to promote your service.
An informative blog or article can be written to build loyalty and a deep connection with the customers. While writing blogs, you can insert information about your services so that they might turn into your clients.
Start Making the Content and Optimise it.
Brainstorm the ideas that can work well for your niche, which might be legal in your case. Plan everything in extreme detail, as good planning always gives better results.
Create the content, edit it, and optimise it according to the search engine or algorithm. It can be tricky, but hiring the right freelancer or agency will be a piece of cake.
Analyse
After posting your content, monitor the analytics to ensure everything works best. But if they aren't, make some changes in your strategies.
7 – Affiliate Marketing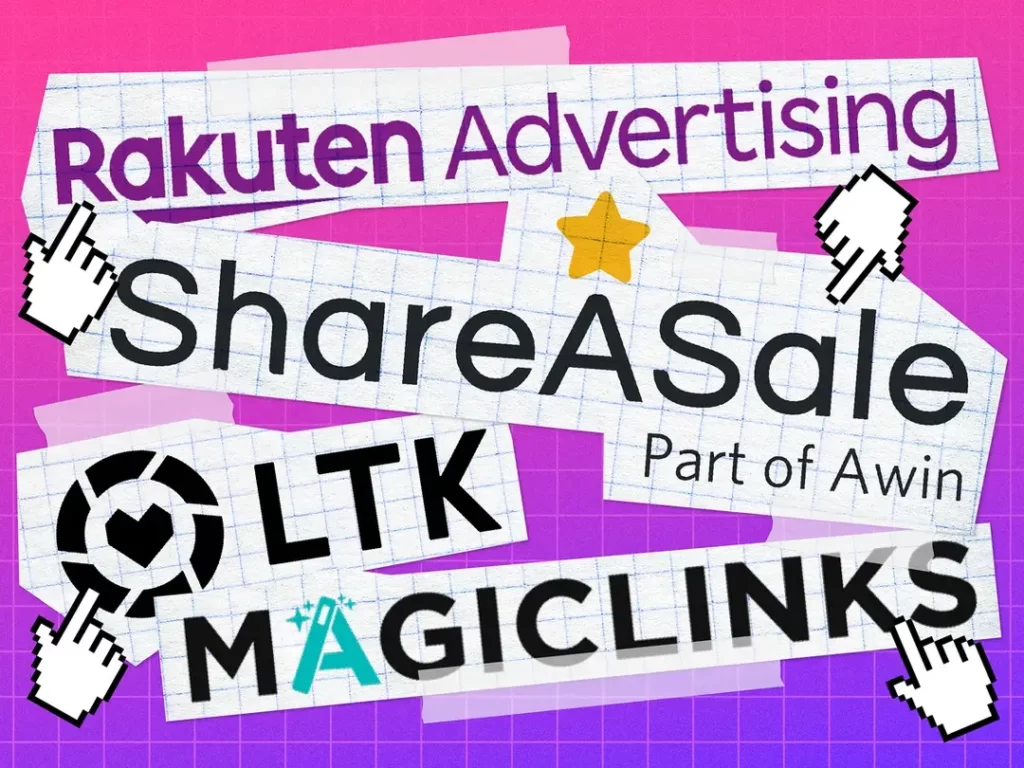 This is a performance-based marketing strategy where businesses collaborate with people who can promote their products or services. In return, these people earn a commission for each sale or lead generated through their marketing efforts.
For example, if your firm has affiliate programs, YouTubers or bloggers (who have some followers) can sign up for these programs. If they give you a customer or a lead, you must pay them a small commission of 5%, 20%, or even more.
Affiliate marketing is a great way to reach your potential customers while spending less money. If the customers trust the affiliates, you get a chance to boost the reputation and credibility of your store.
Elements of Affiliate Marketing
Here are four elements of Affiliate Marketing you should know about!
Advertisers
The affiliates are the ones who create this program and provide promotional material, such as product information or links. In our case, the advertiser would be the influencer.
Affiliates
Affiliates can be marketers, bloggers, influencers, or anyone who has – some amount of – following on the internet. They promote the services of advertisers through channels like websites, social media platforms, email marketing, or content marketing.
Tracking
Each affiliate is given a unique code or tracking link that helps identify their referrals. So when a potential client clicks on the affiliate's link and makes a purchase, the conversion is tracked, and the affiliate is paid a commission.
Structure of Commission
As an advertiser, you can determine the commission structure for your affiliates. It can be based on the percentage of the sale value, a fixed amount per lead, or a combo of both.
Steps to Implement Affiliate Marketing
Start by defining the objective and goals of the affiliate marketing campaign, such as increasing website traffic, generating more leads, or driving more sales. Then set the goals using KPIs (Key Performance Indicators) so that you can track the progress later on.
Identify your target audience and build the structure of your affiliate program. This will include the guidelines for affiliates, commission rates, and other necessary details.
Prepare the resources and marketing material such as banners, text links, email templates, landing pages, etc. Find suitable affiliates and start working with them.
Finally, analyse your results and see if they fulfil your goals. If they don't, then you'll have to make some changes to your next campaign.
Conclusion
Dealing with clients can be hectic for owners, but finding more clients through digital marketing can be tiring, especially if they don't have much information about it. Freelancers and agencies come to rescue these people and provide their services for them.
Effective services of digital marketing SEO, SMM, content marketing, affiliate marketing, email marketing, etc. If all these words sound new, taking advantage of freelance agencies or people is a great idea.