The Ultimate Guide To Creating a Brand Book For Your Business
When you first launch a business, creating a brand book is probably not at the top of your list of priorities.
Heck, it probably isn't even in your top 10. It sounds tedious, time-consuming – and possibly even unnecessary. 
However, not all of that is true. With the help of this guide, creating a brand book will be a) much less tedious and b) a lot less time-consuming.
This guide will sharpen your focus on what you need to do … and it will also demonstrate why creating a brand book is necessary. 
Why You Need a Brand Book 
A brand book has long term benefits for any business. It's essentially a document that helps your whole organisation stay on top of brand identity.
This includes your sales teams, your marketers, your designers – and even you. 
Without a brand book, your branding might struggle to remain consistent. And as you know, customers look for consistency when it comes to branding. It's super duper important. 
A brand book includes lots of things related to your brand, such as: 
Without a brand book defining each of these elements, you might find that your sales team is using one tone of voice, while your designers are using another. Not cool and not beneficial at all. 
Overall, then, a brand book is what strengthens your company's unique values and personality.
It helps you to sharpen your focus and it promotes confidence and trust among your audience. It also enables you to tell the story you want your customers to hear.
Moreover, it saves you from having to constantly remind everyone what your brand is all about.
And instead of having to repeat yourself to new employees all the time, you can instead just hand them your brand book. Easy. 
How To Create a Brand Book For Your Business 
Define Your Mission 
You can't create a brand book unless you know what your brand's mission is. 
Now, creating and sharpening your mission isn't always easy, and a lot of businesses fall into the trap of relying on buzzwords. 
Avoid buzzwords like the plague. 
Instead, have a think about your organisation's purpose. Why does it exist? What difference is it looking to make in the big wide world? 
What sets you apart from everyone else? Where does your company fit in? 
Define Your Vision 
A vision is your guide. It shows you where you want your company to go, and how you want it to get there. 
Here's what Sergio Arboledas from MintTwist says about the importance of defining a clear company vision:
"A clear company vision is crucial for business growth. It's used to formulate top-level strategic objectives, medium-term goals and to align the three pillars of your organisation; operations, marketing and finance. At MintTwist we look to engage with our clients beyond the conventional design and development agency relationship, becoming a partner to the people and companies we work with. It is our mission to create digital campaigns that are not only innovative and market leading – but most importantly, deliver commercial success."
Have a think about how big (or small) you want your company to be. Do you want to be HUGE? Or are you happy with being fairly small?
For example, do you want to branch out and offer different kinds of products and services to the ones you're offering at the moment?
Think about the future, too, and consider the kind of legacy you want to leave. 
Define Your Brand Persona 
Brand persona is the same as brand personality. It's what sets the tone across all your channels, from email to website to social media.
If you don't nail your brand persona, you'll risk sending out mixed messages to your customers. 
It might sound strange but try to picture your brand as a person. What kind of person would it be? Would it be a vibrant, fun-loving person? Or would it be someone serious and sombre? 
A better way to craft a strong brand persona is to thinking of as many as 5 adjectives that best describe your brand. Perhaps you can think of another 5 that don't represent your brand, too. 
Just be descriptive, and maybe start with as many words that first come to mind. For example, let's say I need to come up with adjectives that best describe the SEO company.
I might use words like empowering, intelligent and useful. Get creative and brainstorm to generate the ideas that "click". Perhaps, encourage your team to help you out.
The traits you come up with are the traits that will guide your future branding decisions. 
Define Your Target Audience 
Before you can create a really good brand book, you need to properly understand who your target audience is. Who's using your products? Who's visiting your website and consuming all your content? 
Here's what Magda Blaszczyk from Nozbe says about defining the target audience.
"Acquiring a new customer is the most expensive part of the whole marketing thing. With that in mind every marketer should try to narrow down the group with whom they work. It is much more effective to offer a service or a product to someone who might actually need it. 

In order to define the target group of our marketing efforts at Nozbe, we first talked to and analyzed who are the people who use our productivity app at the moment. We also tried to determine what Nozbe offers them and how they benefit from using our to-do app. This way, we created a list of problems Nozbe users struggled with before they turned to us. 

Based on that (and much of Google Analytics work), we created profiles of our potential customers."
Define Your Logo Usage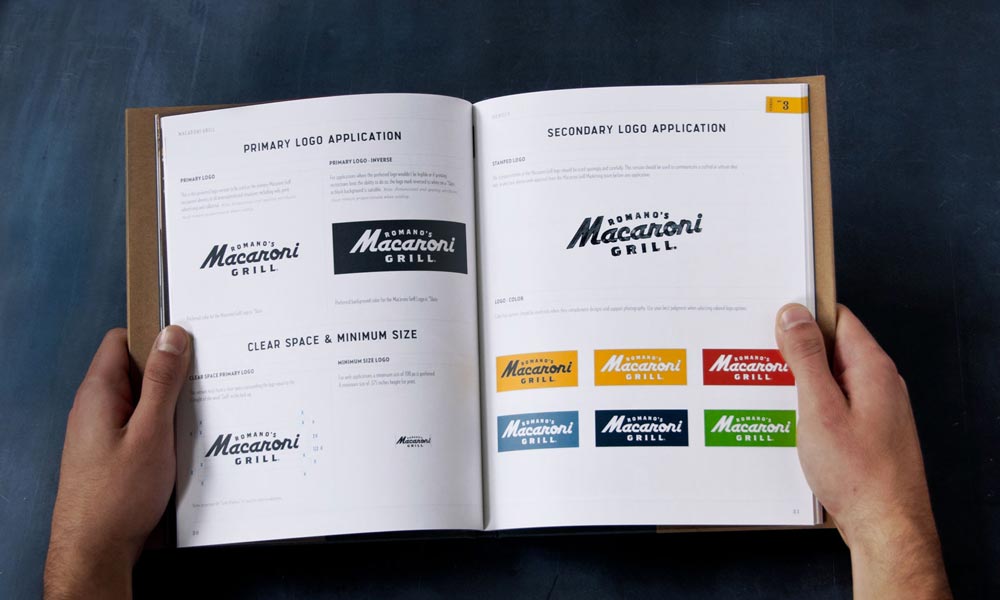 You've already got a logo design (hopefully). But have you thought about optimising it in different environments? 
See, a brand's logo isn't always the same on every single channel, platform or otherwise. There can be dark versions of it and light versions of it. There can also be different sizes, too. 
Sometimes, for example, a logo won't fit with the rest of the palette in a particular medium. 
Let's imagine my brand's logo is usually pink and white, but that it needs to fit in with a designed brochure that is much, much darker.
Instead of sticking our usual logo in there and hoping it fits, we can take a look at our brand book and see that we've got a darker version of our logo for moments like this. 
Choose Your Colours 
For your brand to have a consistent feel and look, you need to define your colour palette. 
Preferably, you need to make it as limited as possible. In fact, it's a good idea to go with four main colours at the most.
Here's a general rule of thumb you could follow when deciding on your colour palette:
A light colour for your backgrounds
A dark colour for your text
When creating your brand guide, be sure to include all necessary information so that anyone on your team can recreate your colours accurately. You should also write down when and how each colour can be used.
Define Your Typography
By now, you should have already decided on your fonts. In your brand book, you then need to decide when specific fonts will be used, as well as how.
This includes guidelines for use of colour and size, as well as which typefaces are acceptable. 
You'll notice that brands typically have two primary typefaces at the most, as well as a complementary typeface. Sometimes they'll also have a substitute typeface. 
It's just good practice to have one font for your logo and other fonts for other uses, as it helps to create contrast. 
In the typography section of your brand book, you should also be specific regarding whether you want your copy to be centred all the time, or whether it should align left or right at times. Detail things like spacing, too. 
Define Your Tone of Voice 
The key to defining your tone of voice is to identify a list of words that your company wants to be associated with, as well as a list of words that it doesn't want to be associated with.
Take a look at your brand persona and target audience as you do this. What type of language fits with both? 
It's also a good idea to take another look at your list of adjectives (see above) and create a tone of voice around that. 
And how about the messages you've created so far? What works best for you? Pick out the good ones and expand on them. 
Define Your Images
There are a couple of things to consider here.
For one thing, you need to decide what types of images your brand will be using. For example, are you going to stick with just photos, or will you also incorporate illustrations, infographics and other types of graphics (diagrams, perhaps?) into your branding.
You'll also need to decide how and when you'll be using them. 
As well as that, your brand book should include information on how your images will be edited, as well as which colours will be paired up with them.
For example, will your images have a coloured border, and if so, what colour? 
To help you out, take a look at your analytics to see what types of images have performed well for you in the past.
If you're still not sure, take a look at your competitors to see what images they tend to go with. 
Create a mood board of images, too, and see what type of images really nail the mood of your brand and what it represents. You might find, for example, that aspirational images really nail it. 
Conclusion 
Creating a brand book takes time and effort, but it's well worth it. It will help you nail the kind of consistency and cohesion that customers look for.
It can become a foundation for building an effective omnichannel marketing system. Not just this, but it will save you so much time by ensuring that your whole team knows what to do.
This will also strengthen your company's values and improve bonds within your team. 
If you would like assistance in creating a brand book for your business be sure to get in touch!
Author Bio: Aljaz Fajmut is a digital marketer, internet entrepreneur, and the founder of Nightwatch – search visibility tool of the next generation. Follow him on Twitter: @aljazfajmut.