Top 10 Best Remote Work Tools for the Modern Home Office
Many professionals embrace remote working as an alternative to traditional office hours. It's an approach that works for individuals, teams, and businesses alike, and it's an option that offers plenty of benefits for employees, companies, and the planet.
"You don't have to leave the office. You have to work smarter." – Tim Ferriss, author of The 4-Hour Workweek.
We've all heard about remote working, but you might not realise how much impact it can have on your productivity. With the rise of virtual teams and collaborative projects, finding the best tools to ensure you get the most out of your remote working experience is essential. 
The following is my list of essential remote work tools and services for the modern office and why you need to use each.
This list is designed for freelancers, remote workers and those who prefer to work from home and travel frequently.
1 – A Powerful Computer or Laptop
If you are looking for a powerful computer or laptop for remote work, I recommend the Macbook Pro. It has a reasonable price, is light, and has excellent build quality, making it great for everyday use.
Should you get a laptop or desktop?
You'll get more done on a laptop, but you don't have to worry about whether the power source is portable. Most laptops will run indefinitely, but losing all your work and data could mean a power outage. 
Having the capability to recover from a power outage is critical. It's a hassle to carry around an external battery pack and charge it whenever you need to plug it in. And there are certain work situations where a desktop makes more sense, like if you plan on using the computer at a client's office or for writing, editing, and compiling images. 
It would help if you also had a lot of hard drive space for a laptop, and you won't be able to save files on a desktop because you don't have access to the hard drive.
What Makes A Good Laptop For Remote Work?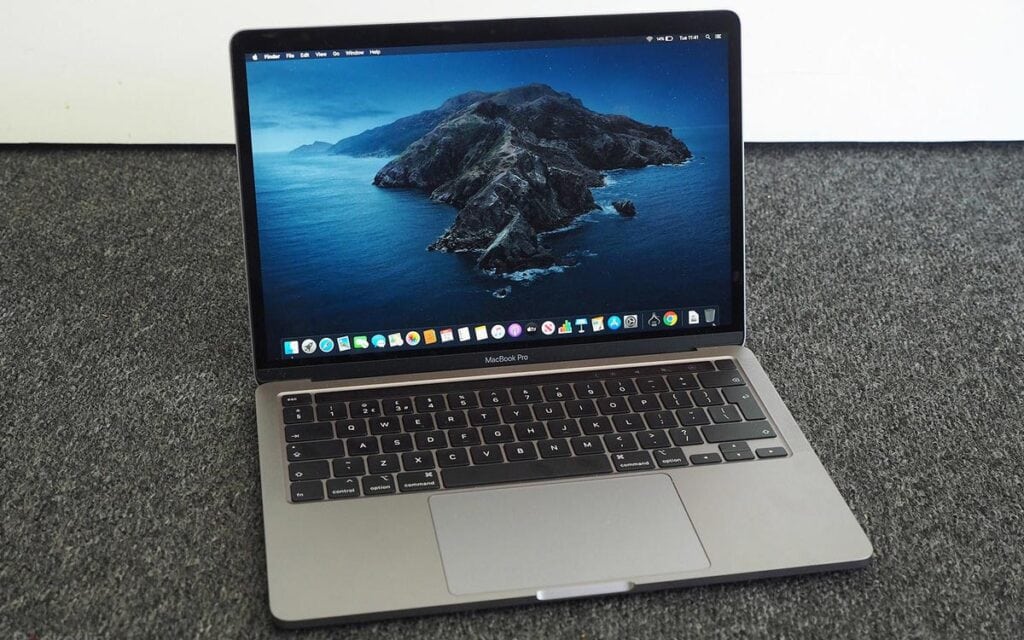 So, what makes a good laptop for remote work? In my experience, there are several key areas that I look for in a laptop before purchasing it. 
I look for at least 16 GB of RAM to ensure the machine can handle any tasks that might arise while working remotely. I am looking for an SSD (solid-state drive) because I'm sure I'll run multiple programs simultaneously. The display size matters too, but I usually find that 15 inches are fine.
2 – Fast, Reliable Wi-Fi Connection
Most remote workers know the importance of having a reliable connection at home. The reason is simple: if they lose internet access, they can't work. 
A reliable internet connection allows us to work from wherever we are without being constrained to an office. The problem is that most home connections aren't reliable.
Wi-Fi is becoming essential to our work and play lifestyle
We now live in an always-connected world, where we need access to Wi-Fi at work and home. And while Wi-Fi is essential to most people, the reality is that most don't take advantage of the technology because they just don't know what to do with it. 
With the average office worker spending 80% of their day staring at a screen, it's a wonder more people aren't tapping into the vast possibilities of this technology.
Get a High-Speed Modem
The internet is fast, but the modem can limit your online experience. The solution? Buy a high-speed modem that supports Ethernet cable, Wi-Fi, and ADSL broadband connections, like a D-Link Modem. 
It connects over copper wires (cable) and wireless connections (Wi-Fi) and simultaneously supports 1,500 devices.
Buy a Range Extender
Remote work can have downsides, whether in a large city or the middle of nowhere. Without reliable internet, it's challenging to work efficiently. However, having a range extender can make that task a bit easier. 
A Wi-Fi range extender can be an intelligent choice if you live in a place that doesn't offer reliable internet. They can extend your Wi-Fi's reach to 150 feet away from your router. So if you're out of luck with a Wi-Fi network, you'll be able to connect to one.
3 – An ergonomic keyboard and mouse
Ergonomic keyboards and mice are designed to reduce strain and help you type and move your fingers and arms. They are made to accommodate all kinds of people's body shapes, sizes and preferences. 
While you'll never find a perfect keyboard for every person, a suitable ergonomic model can help you work better without causing pain. Some popular ergonomic models are Ergotron K760L Keyboard, Ergosoft ErgoLogic Mouse, and Kensington ErgoLogic Mouse.
What to Look For in an Ergonomic Keyboard and Mouse
When searching for ergonomic keyboards and mice, keep an eye out for reviews and reports from reputable third parties that test products on people and compare the results to conventional equipment. 
These tests are beneficial if you're looking for a mouse with adjustable distance and hand placement settings.
The keyboard and mouse's ergonomics are essential because how you use them affects your productivity. Many people don't realise this, but the way you type and click affects the muscles in your hands. 
It takes muscles to type; if you type with poor posture, you overload those muscles. Poor posture can cause carpal tunnel syndrome, repetitive stress injuries, and tendonitis.
4 – A comfortable office chair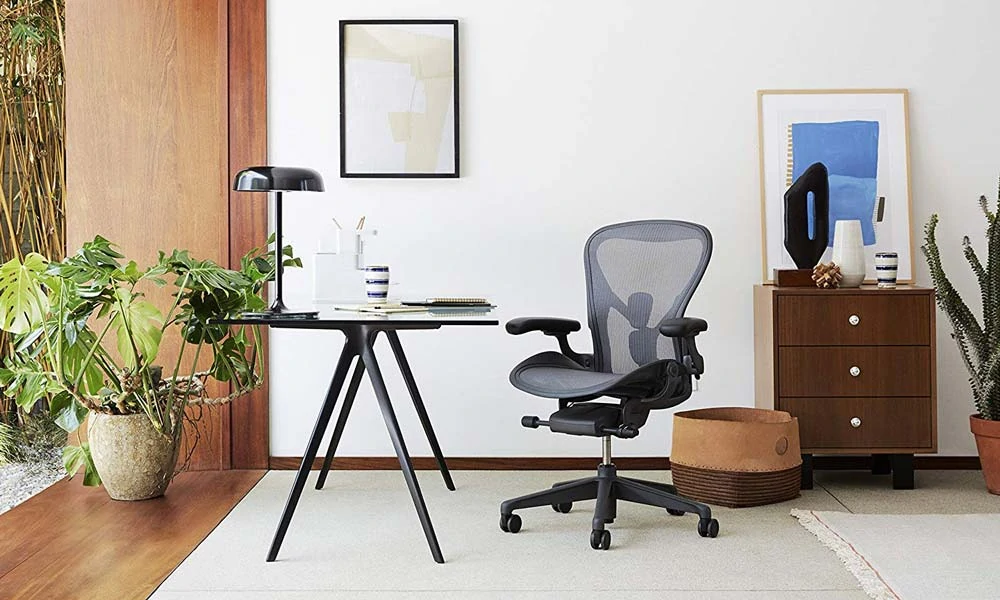 Finding the right chair can mean the difference between being comfortable and not. Office chairs come in all shapes and sizes, from basic adjustable seats to super comfortable ergonomic options. 
While some people feel great sitting in an office chair, others may need to adjust their position to achieve optimal comfort.
Whether you sit in an office all day or your desk is at home, there's a good chance you've looked longingly at the office chairs at work. They look comfy. They look nice. And they cost a whole lot of money. 
The good news is that you can make your own comfy, stylish chair at home. The bad news is that it might take some patience.
Identify Your Pain Point
The best office chairs with back support are ergonomically designed and offer maximum comfort. The chairs also provide good posture and improve the user's overall health. 
Most people spend about 8 hours a day sitting at work, and the most comfortable chair will help them relax and keep up productivity.
Choose the Best Chair from the Best Brands
Office chairs aren't just a luxury. They're an essential part of the office environment because they have to support and comfort employees during their workday. 
So you can imagine the importance of choosing the right chair. And since there are so many different models, you can't rely on just one model or brand to do the trick. 
You need to know each chair's benefits, including adjustable height and back support. This is why you need to research the different brands of office chairs and determine which ones are the best.
Don't Be Fooled by Cheap Office Chairs
Many people buy chairs for their home office, thinking that the cheap ones they buy will last forever. That's simply not true. 
There are several problems with cheap chairs:
They don't last as long as their expensive counterparts.
They can often cause back or neck injuries.
They're not always comfortable.
Cheap office chairs may be inexpensive, but they certainly aren't affordable.
5 – A desk that lets you work remotely
It's no secret that working remotely is something many businesses embrace these days, but it can still be tricky. You must have a comfortable space to work, whether sitting down or standing up. 
Your desk is probably your most significant investment when working from home, so don't skimp out. 
Investing in a quality desk chair and good lighting will make a big difference, especially if you spend a lot of time at your computer. You'll also want a space for your food, drink and any other items you may need close to your work area.
Keep the desk setup simple and ergonomic
Keep your remote working desk setup simple; keep it minimal and ergonomic. Think of your desk space as a blank canvas on which you'll paint a colourful picture. As a general rule, the fewer objects sitting on your desk, the more space you'll have to move around.
Consider a Standing Desk
People who spend all day sitting at a desk are likely to suffer more from back and neck pain than those who take regular breaks, according to a study published in Medicine & Science in Sports & Exercise in 2017. 
The researchers surveyed more than 3,000 people who work at desks in New York City and answered questions about their sleeping habits, exercise routines, and overall health. 
After adjusting for other risk factors like gender, age, and obesity, the participants were divided into two groups based on whether or not they were diagnosed with chronic pain. 
People who reported more than three hours per day spent sitting in front of a computer were 2.6 times more likely to suffer back pain than those who took breaks.
It's essential to take advantage of ergonomic benefits when working from home. An ergonomic standing desk can help reduce your back injury risks and carpal tunnel syndrome. In addition, it allows you to keep your computer up high and away from your arms and neck.
6 – An office printer that doesn't suck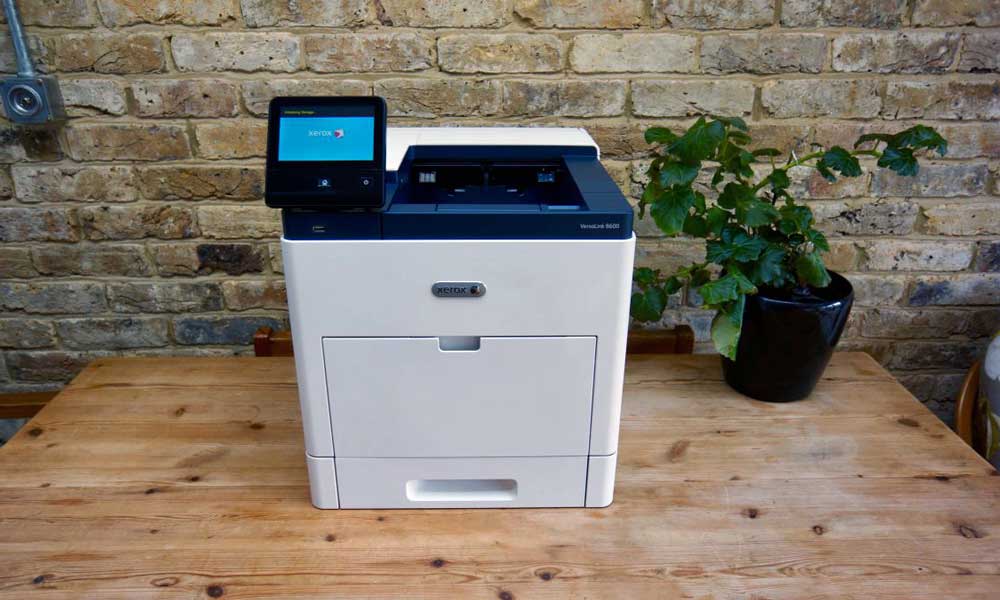 Most office printers are designed to work either in a stand-alone or networked mode. The printer must function in stand-alone mode when working in a home office. You can connect your home printer to the printer port on your computer using a USB cable or wireless network card.
So, where should you start looking for the perfect home office printer? If you're just starting to explore this space, we'd recommend checking out our favourite picks on Amazon. 
From all the options, you'll be able to find something suitable for your specific needs and budget. In the meantime, if you have any questions, feel free to leave them in the comments below, and we'll see if we can help!
Which Type of Printer Is Best?
A recent National Association of Printing Ink Manufacturers (NAPIM) survey found that inkjet printers have continued to dominate the market share. They continue to offer superior performance, low running costs, and the ability to connect directly to a computer via Wi-Fi. 
The most popular models are the HP Officejet, HP Deskjet, and Lexmark printers.
Consider a few things when deciding on the type of printer you need. 
The first is the size. Most printers have a range of sizes, so you need to choose what size is right for you and your business. The next thing to consider is the number of print jobs you'll use. You'll want to ensure that you're purchasing a printer that can handle multiple print jobs simultaneously, as it'll help you keep your workflow smooth. Finally, look at the type of paper you'll be printing on. There are several different paper options available for you to choose from.
Is Inkjet or Laser the Best Choice for You?
If you're considering getting a printer but don't know if laser or inkjet is better for your needs, this post will help you decide. Laser printers are faster and produce sharper results. They are also more expensive. 
However, one significant advantage of laser printers over inkjet printers is that no toner is needed. This means laser printers are maintenance-free and cost less in the long run. 
Another reason inkjet printers are considered the lower end of the spectrum is that they're generally cheaper than laser printers. 
Laser printers can range anywhere from $150 to $200, depending on your model, and inkjet printers typically start at $100. However, you'll always need toner cartridges for your printer, which can cost as much as $30 each. 
The only way to tell if an inkjet or laser printer is better for you is to consider how often you print and what size printouts you produce.
How Much Can I Save by Switching to an Inkjet Printer?
A significant benefit of an inkjet printer is that it has a fast print speed compared to other printing methods. One of the significant benefits of this speed is that running an inkjet printer costs meagre, as ink is used only during printing, not every day. 
This means you can save money by switching over to an inkjet printer. An inkjet printer typically costs between $30-$100 per month, while laser printers can cost anywhere from $200 to $1000 per month. If you plan to print approximately five pages daily, you'll need to change your ink at least every 30 days.
7 – A whiteboard and markers
Some of the best tools for remote working include a whiteboard, markers and a tablet, all of which can be taken anywhere with you. 
A whiteboard is a fantastic tool for brainstorming ideas and making lists, especially for new businesses where you may not yet have a firm product or service idea to work off. 
Using a marker rather than a pencil will give you more space and allow you to draw freehand quickly. And a tablet allows you to capture and store any ideas or notes quickly you come up with.
Determine How Much Space You Have
There are plenty of home offices that have whiteboards attached to the wall. I've seen the home offices of artists, architects, designers, and inventors. 
Sometimes, an entire room is dedicated to just a whiteboard, but a corner of a room or even a closet is used more often than not. Regardless of where a whiteboard is located, you must ensure enough space. 
To determine how much space you have, you'll need to decide if the whiteboard will be for your business or for personal use.
Use a virtual whiteboard to communicate with remote co-workers
When you're working remotely, communication is vital. The problem is that many teams don't have access to a whiteboard. This makes it difficult to share ideas, collaborate, and brainstorm. 
But a whiteboard app helps solve this problem by letting you collaborate using nothing but a smartphone, tablet, laptop, or desktop. You can draw, annotate, collaborate, and discuss ideas in real time.
8 – Paper and pens
It used to be that pens and pencils were the only options available to writers. Still, today's technology and the advent of digital writing tools have created a wide variety of devices that can help you get your thoughts down on paper.
The best pen for you might depend on the type of work you're doing at home. If you're working on graphic design projects, a pen with a broad tip will help you get into the right mindset. 
But if you're trying to get some work done on your laptop, you may find that a fine-tipped pen or pencil works better. Of course, whatever kind of pen you use, make sure you keep it close at hand.
A notebook to take notes in meetings or brainstorm ideas
Having the right notebook can be essential to keep track of all the tasks, ideas, and conversations in the meeting. While many people like to use notebooks to jot down ideas and plans, they often don't have a particular purpose when choosing a notebook.
My personal choice is a Moleskine Classic. I love the pocket size, the quality of the paper and the ability to add pages easily if need be. My only gripe is that the paper tends to fall apart.
9 – Create a system for staying organised
In a fast-paced world where everything seems to be hurrying, it's easy to get overwhelmed and lose sight of what matters most. 
When working remotely, there are many aspects of productivity to keep track of, from managing your email, scheduling meetings, organising files and documents, and much more. 
You need to set up a system that makes your life easier when working from home. Here are some of the ways you can stay organised when you're working from home:
Automate routine tasks
This is the best time of year to start thinking about how you can automate some of the tasks you perform daily. Here are five steps to take to get started: 
Plan: Determine which jobs you will need to automate and map out the steps involved. 
Research: Get familiar with how automation tools work, where you can find free resources, and each tool's limitations and benefits. 
Set up: Figure out if your preferred tool can be set up to run on a schedule, such as every morning. 
Learn: Read online tutorials to understand how the tool works and how to make the most of it. 
Test: Try it out once you're comfortable using your tool and have done the necessary research!
Be smart about meetings
Meetings are an indispensable part of the corporate culture. But many companies fail to manage their meetings effectively. 
Instead of meeting only when you must make a decision, leaders should establish a process for daily check-ins to keep projects on track and encourage healthy discussions about problems, ideas, and opportunities. A good meeting can make or break a project, ensuring it's productive and successful.
Use a calendar as your primary tool
Whether planning events or working on a project, you should use a calendar that works for you. I recommend Google Calendar, but there are three key things to remember, whatever calendar you choose. 
First, make sure you keep your calendar visible. Make sure it's on your computer screen or that you can easily access it through a mobile app. 
Second, consider how much detail you need to include in your calendar. Will you need to record phone numbers or meeting locations? Do you need to keep track of deadlines and due dates? 
Third, consider who else needs to see what you're planning and ensure everyone is on the same page.
As a side note, I'm not entirely sure that a digital calendar is always the best tool for keeping track of time, but it can be helpful when used for specific purposes. 
I've found that a physical one helps me better organise my life (i.e., by the date, week, or month). As far as productivity goes, a digital one might be more helpful. It's all about how you use it. 
A digital one may help you stay more organised if you're unsure what day of the week it is or you're trying to schedule meetings or events.
Track time spent on specific projects
In my experience, a project manager or a team leader who's in charge of organising a team can sometimes struggle with the concept of tracking time spent on various tasks or activities. 
The problem stems from the fact that time-tracking software is often designed to help managers or supervisors track how much time individual employees spend on projects and tasks. 
Time-tracking software can often feel like an intrusion to individuals who have no idea what the software is for. However, if you're a project manager or team leader, tracking time spent on specific projects is vital to ensure that all of your projects are being handled on time.
Keep your desk clean
Many people who work from home struggle with disorganisation in their offices. This problem becomes even worse for those who work remotely because there is no natural visual cue to indicate that a particular home area is "off-limits."
Some people keep their desks as clean as possible when working from home, so it's easy to see what tasks they need to complete. Others prefer a messy desk because it gives them the feeling of being "at work." Ultimately, whether or not to organise your workspace will depend on your personality.
10 – Noise-Cancelling Headphones with Headset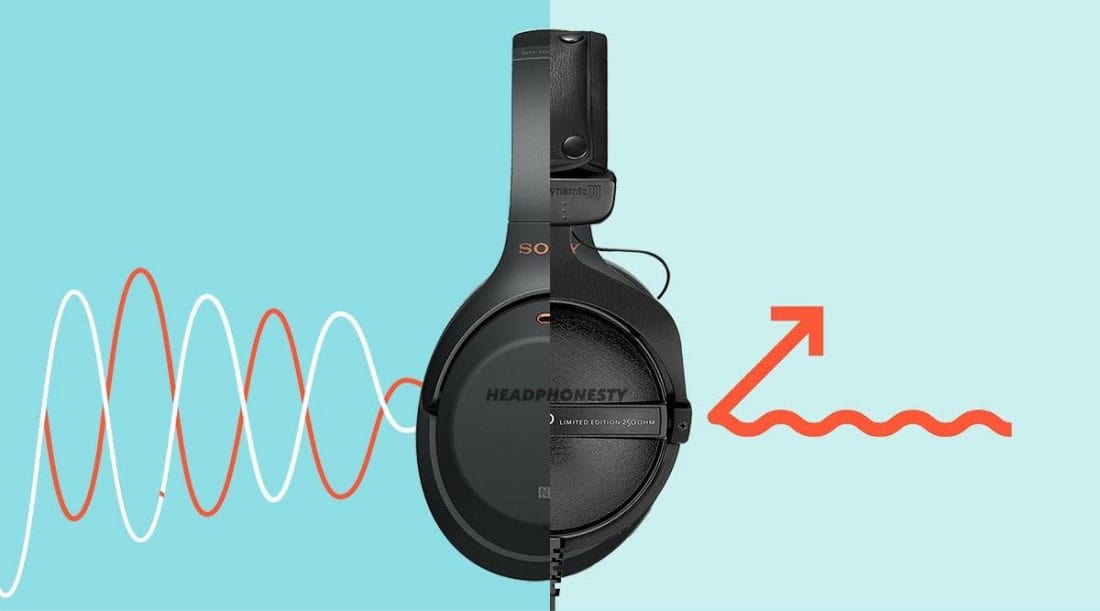 When sitting at your desk working, noise-cancelling headphones will help you be more productive. Noise-cancelling headphones use technology to block external sound waves in direct communication with your ears. This way, you hear only the audio that comes through the headphones.
It's easy to see why headphones are becoming more common in offices and homes. They're convenient, comfortable and allow for privacy. 
However, many people don't realise how vital a great pair of noise-cancelling headphones are when working remotely. They are the perfect solution to a common problem at home or the office but are also essential for those who travel frequently.
Why Headphones Are Ideal Remote Work Tools
It's incredible how often I'll see someone working on their computer at Starbucks with a coffee in one hand and headphones in their ears. 
But if you've ever used headphones while working remotely, you know there's a whole world of possibilities for creativity and productivity when you block out the noise. 
It doesn't matter what kind of music you listen to while working. You just need to keep yourself focused on your task and avoid distractions.
If you're a remote worker or telecommuter, you may be surprised to hear that listening to music while working benefits your productivity. Studies have shown that listening to music can improve your focus and productivity by improving your memory and concentration. 
Listening to music allows you to focus better, but it can help you feel more comfortable and relaxed, taking your time when working.
What Kind of Noise-Cancelling Headphones Should I Buy?
There's no way to tell how a pair of headphones will perform until you've put them on. So when you're picking out a set, it's essential to do your homework and ask yourself these questions: 
Do I need a set of earbuds or earphones? 
How much should I spend? 
How many hours per day should I listen to my music? What type of music do I listen to most often?
There are many different types of headphones and earbuds out there. We all have our favourites. However, if you are looking for a comfortable pair to wear and noise-cancelling, we've compiled a list of the top three we'd recommend.
Which Features Are Important to Consider When Choosing Noise-Cancelling Headphones?
The most apparent feature is how comfortable your headphones are. Headphones are supposed to provide comfort and ease of use, especially if you constantly move around. 
If you're going to be using your headphones for hours at a time, you'll want something that won't cause you to experience discomfort during long periods of use.
Is the sound quality good? Does it have a microphone? Are they comfortable? Do they fit well? How do you know if they'll work? You must answer all of these questions. 
Several noise-cancelling headphones are available on the market, including some of the most popular ones like Beats by Dr Dre, Sony's WH-1000xM2, Apple's W1 wireless earbuds, and Jabra's Elite Sport, Bose QC 35 and the Bose QuietComfort 35 II. Each of these headphones offers something different to consumers, but they all contain similar features for the most part.
Conclusion
Remote working has revolutionised how we work, allowing us to choose where and when. With so many tools to help us connect and work, it can be challenging to know which tools give you the best chance of being happy and productive.
To save you some time and help you make the right choice, I've compiled a list of the top 10 best remote work tools for the modern home office. These are the tools I currently use and recommend to others.
Are you looking for tools to help make your life as a remote worker easier? Get the best remote work tools you need to start working from home today!
Last update on 2023-05-31 / Affiliate links / Images from Amazon Product Advertising API