Working from Home: How to Create an Office on a Budget
Any business managed or operated from home will require some workspace or a home office. 
Working from home comes with numerous benefits, including zero commute time and flexible work hours. 
However, it can also be challenging since there are more distractions at home than in a traditional office setup, ranging from house chores to homework with the kids and television to attending to your family affairs.
This is why it is essential to duplicate an office environment when creating your workspace at home. 
Here is how to create a comfortable work environment at home on a budget.
Find the Most Comfortable Workplace in Your Home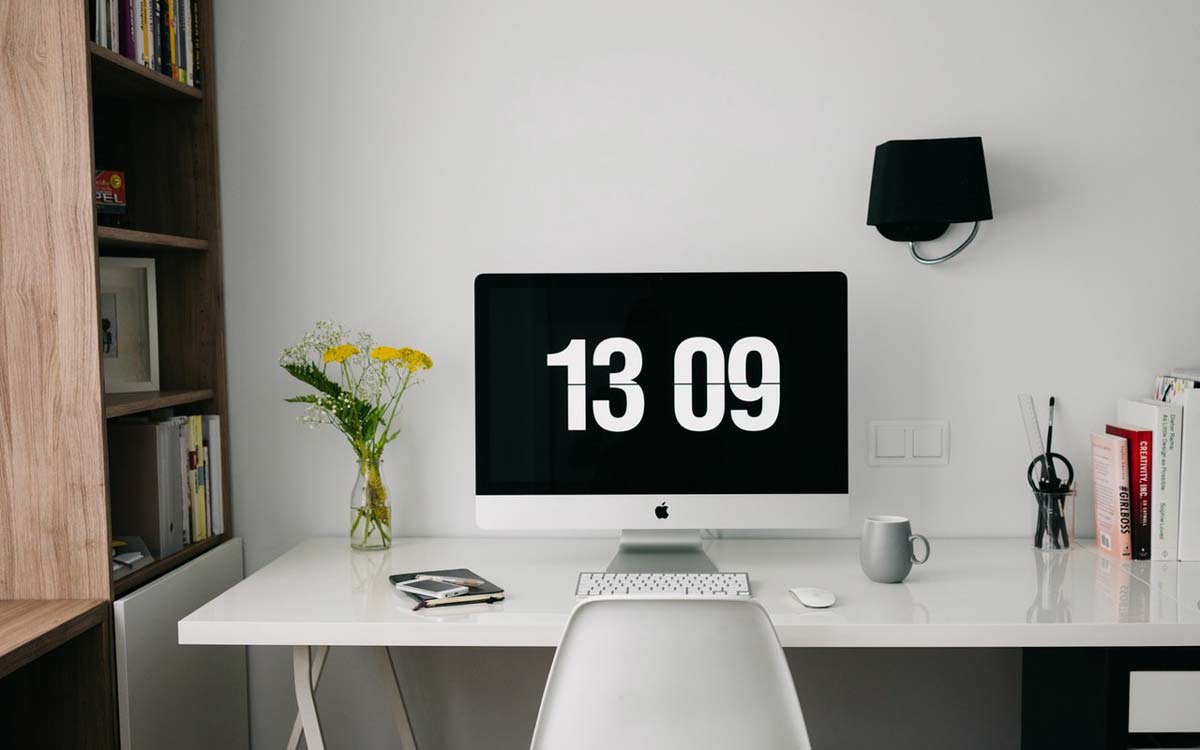 Whether you work as a freelance photographer or a product guides and recommendations expert, you will need a space where you can comfortably run your business and get things done.
While having a dedicated home office in one room in the house would be the most comfortable option, most households are not always possible. 
The second best option is finding a space that allows you to be productive and present in your job without distractions for as long as you need.
The best place should be good for your health in lighting for your eyes and posture for your body and back. 
Some of the best places to set up a comfortable workspace at home include your bedroom, a spare bedroom, the kitchen, the garage, balcony, or living room if you live alone.
Dedicating a spot in your home for work will boost your productivity, as being in this space automatically prepares your mind to work. 
The key is to use this space mostly for work, the same way you have other dedicated areas around the home.
It Needs to Be Quiet
The term quiet is relative depending on the kind of household you have. 
To be productive when working from home, your workspace needs to be away from the chatter and noise in your home. 
This is especially important if you have a house full of kids. 
The best place should also have minimal human traffic to avoid being distracted from your work by what is going on around you.
Eliminating Noise from the Outside
Consider adding insulations to close gaps or replacing hollow interior doors with solid ones to reduce outside noise. 
You can also add an acoustic mat and acoustic ceilings to block noise from above and beneath. 
Consider double pane windows if you want soundproof noise from outside.
Make Changes to Your Furniture to Make it More Comfortable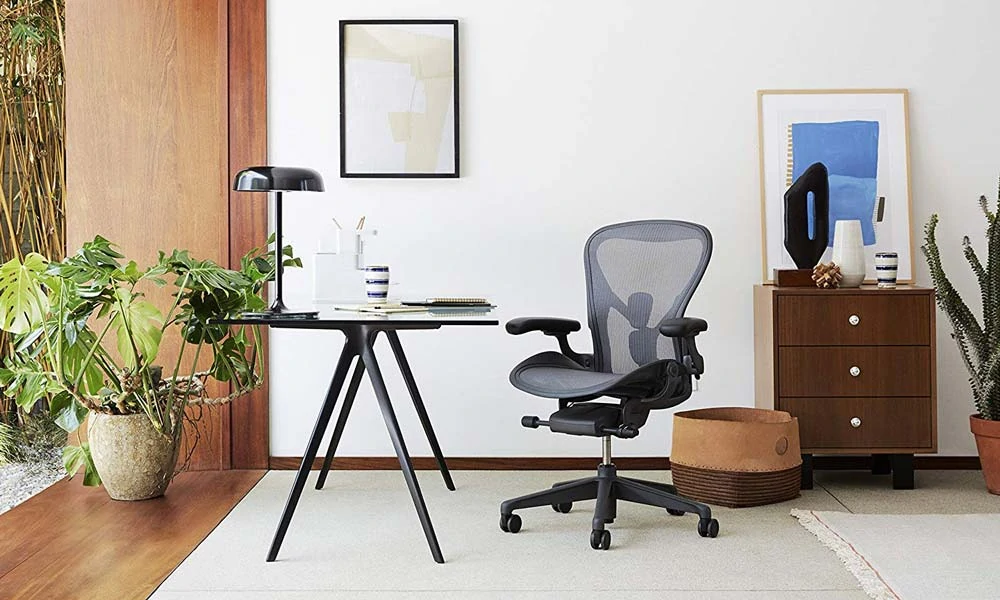 This means you need to invest in a traditional office desk and chair, a comfortable sofa, beanbag, or couch. 
You need to ensure the furniture in your home workspace is comfortable, no matter how many hours you work in a day.  
The furniture you go for needs to have the right support against the neck, eye, and back strain. 
It is essential to be as comfortable as possible and have a professional-looking workspace in your home. 
This way, you get more done by giving the space the look and feel of an actual office setup.
Invest in a Comfortable Chair
An ergonomic desk chair is the most recommended for a home office. You can find affordable ergonomic desk chairs online that are within your budget. 
The type of chair you choose determines the comfort of your workspace at home. 
Remember, you will be sitting on this chair for the better part of the day. Therefore, the right one should support good posture.
Duramont Ergonomic Office Chair - Adjustable Desk Chair with Lumbar Support and Rollerblade Wheels - High Back Chairs with Breathable Mesh - Thick Seat Cushion, Head, and Arm Rests - Reclines
★ MORE ADJUSTABLE THEN ANY OTHER CHAIR IN ITS CLASS — Unlike the office chairs sold by our competitors, which allow you to either fully recline or sit upright, we have a SECOND adjustment lever that allows you to lock in your desired recline angle at ANY degree. That way, you can be assured of finding the perfect comfortable seating position just for you.
★ BREATHABLE MESH - The breathable mesh back on this ergonomic office chair provides support while keeping your back cool and comfortable. Cool air circulates through the mesh keeping your back sweat-free and allowing you to sit in the chair comfortably for longer periods of time compared to traditional chairs
★ FULLY ADJUSTABLE BACK SUPPORT - Having back issues or don't want to develop them? Our unique office chair includes adjustable lumbar support that goes in and out, up and down, and a recline feature that allows you to tilt the backrest back or sit straight. Now you can quickly find a position that makes your back feel the most comfortable!
★ EASY TO INSTALL - Simple instructions enable anyone to put this executive chair together in eight simple steps! Then once built you'll be able to adjust the chair to your individual needs. The chair's pneumatic controls will let you raise or lower the seat and tilt back the backrest or sit straight up. You can easily find the ergonomic position that will allow you to work comfortably for long periods of time
★ HIGHEST QUALITY WITH 5-YEAR WARRANTY - This adjustable task chair is made to last. It has a weight capacity of 330 LBS and is made from the highest quality materials, including a soft cushion seat, sturdy arm and head rests and rollerblade caster wheels that allow you to move easily across the office floor. Get your office chair – and boost your work comfort! Your purchase will be backed by a 100% money-back guarantee. Try this chair for 90 days - if you don't love it, you can return it
Use Support Pillows
It also helps to consider getting support pillows for your work seat. 
These help to support your back, especially when working long hours. 
The best pillows should come with breathable centres and a memory foam interior to offer relief to your back.
Sale
Everlasting Comfort Lumbar Support Pillow for Office Chair Back - Improve Posture While Sitting - Memory Foam Cushion Design for Computer Desk, Car, Gaming, Couch, Recliner
INSTANT BACK PAIN RELIEF CHAIR PILLOW: This office chair cushion offers ergonomic design to promote proper posture, relieve pressure and provide necessary chair back support for a comfortable workday
POSTURE BACK SUPPORT CUSHION: Enjoy optimal posture with our contoured lumbar support pillow for office chair. The extended sides and gentle curve hug your back, preventing pain while sitting
DUAL ADJUSTABLE STRAPS: With the included strap extension, the lumbar pillow can fit chairs up to 32" (81cm) wide and can be easily removed from smaller chairs for a perfect and secure fit every time
CERTIFIED SAFE and DURABLE: Our car seat back support has passed rigorous testing and is OEKO-TEX STANDARD 100 certified. Invest in a quality Everlasting Comfort Seat Cushion with confidence
PORTABLE and CONVENIENT: Transforms any chair; Ideal as a back support pillow for chair, lumbar support pillow for car or couch, desk chair pillow for back, and as a lumbar support for gaming chair
Get Technologies to Support Working from Home
It would be best if you replicated a traditional work office for maximum efficiency. 
This includes setting up your workspace with the required technologies to support your home office. 
Get the best monitor, CPU, keyboard, headset, and mouse for the kind of work you do, plus any other hardware or software you may need.
Most office environments are prepared for internet or power outages using backup internet service and UPS networks. 
Ensuring you have the best connectivity at all times is essential, especially if you do online work.
Investing in the best technologies for your home workspace is the best way to ensure your tasks flow seamlessly and you meet your daily productivity goals.
Sale
Logitech G Pro Wireless Gaming Mouse & G PRO Mechanical Gaming Keyboard, Ultra Portable Tenkeyless Design, Detachable Micro USB Cable, 16.8 Million Color LIGHTSYNC RGB Backlit Keys
Product 1: Made with and for Pro Gamers: G Pro Wireless Gaming Mouse is the result of two years of work with professional esports gamers, combing advanced technologies in an ultra-lightweight design
Product 1: Light-speed Wireless: Pro grade performance overcomes the traditional limitations of wireless latency, connectivity and power to deliver a rock solid, super-fast 1 millisecond report rate connection
Product 1: Hero 16K sensor: Logitech's most accurate sensor yet with up to 16,000 DPI and 10X the power efficiency of previous generation for the ultimate in wireless gaming speed, accuracy and responsiveness. Microprocessor: 32-bit ARM
Product 1: Ultra lightweight: Innovative endoskeleton design creates a super thin yet incredibly strong outer shell, enabling the body to weigh in at a remarkably light and maneuverable 80 grams.
Product 2: Built with and for esports athletes for competition-level performance, speed and precision.
High-Speed Internet
Whether you are running an online store or working remotely from your main office, it is not possible to be productive in your work without an efficient internet connection. 
If you usually have issues with your internet speed at home, consider upgrading your router to enjoy better speeds in your home office.
For better signal strength, place the router off the groups, preferably in an elevated space. 
Ensure there are no objects or clutter around the router interfering with the signal. 
Also, consider placing it away from other electronic devices for better signal strength. 
Generally, a 5-to10 Mbps speed is ideal for anyone working from home.
Get a Laptop Stand
If you use a laptop for work at home, you need to consider getting a laptop stand. 
This rises and lowers the computer to your comfort level, making it easy to work without straining. 
A laptop stand is a sure way of adding comfort to your office at home.
Sale
Nulaxy Laptop Stand, Ergonomic Aluminum Laptop Computer Stand, Detachable Laptop Riser Notebook Holder Stand Compatible with MacBook Air Pro, Dell XPS, HP, Lenovo More 10-16" Laptops
【Heat Dissipation】 With the open back design it offers the best ventilation and airflow needed to cool either your notebook or gaming laptop and preventing it from Overheating. And the rubber pads and aluminum alloy acts as a thermal pad to take the heat of too.
【Broader Compatibility】 Nulaxy C3 Laptop Stand is compatible with all laptops between in 10-16 inches such as MacBook 12/ 13 MacBook Air 13 Macbook Pro 13/ 15 Google Pixelbook Dell XPS HP ASUS Lenovo ThinkPad Acer Chromebook and other notebook PC computer sizes between in 10-16 inches.
【Ergonomic Riser】 The Laptop stand works as a riser to elevate the laptop screen to 7'' and brings it to a perfect eye level to fix your posture. The ergonomic riser will help reduce neck and back pain, reduce eye strain creating extra space giving you the option to work without any clutter on your desk. Note: We suggest you to use an external Bluetooth keyboard and mouse because our testing showed that it might be a little wobbly while you type on the laptop keyboard.
【Sturdy & Protective Design】 Made with premium 5mm aluminum alloy this laptop stand is study and is able to support laptop weighing up to 22 lbs (10kg) and with the large rubber pads on the surface it will hold it steady too. We also have pads on the bottom to prevent it from sliding and protecting your laptop from any unwanted harm.
【Detachable & Simple Installation】 This laptop stand has premium CNC cut aluminum alloy material that will make sure it's easy to reassemble and fits perfectly without any issues. With our easy to disassemble design you can easily detach it into 3 parts and store it to keep your desktop clean.
Buy New Decor at Bargain Prices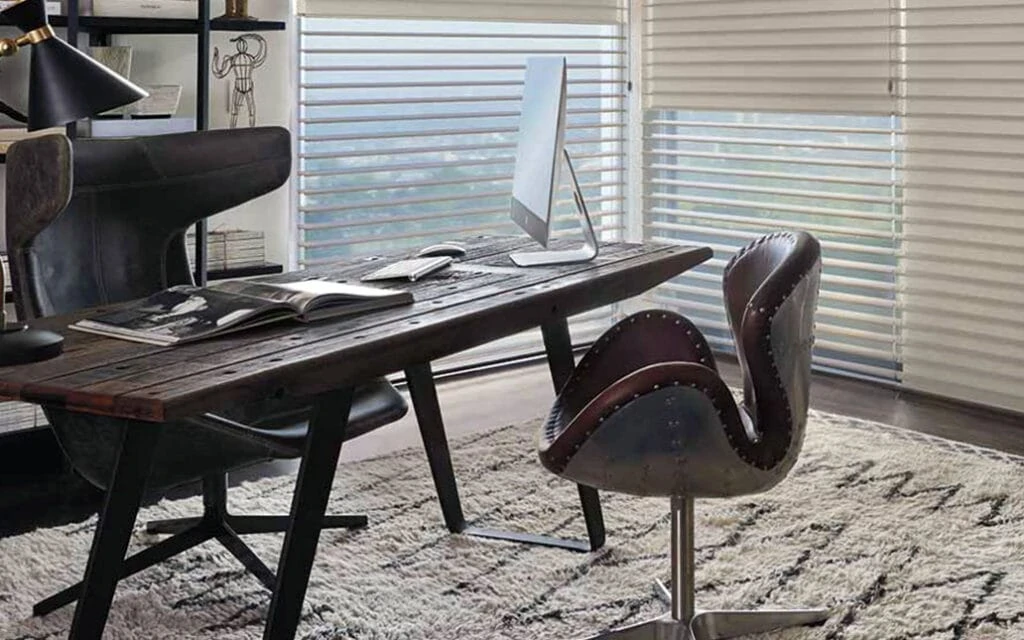 Even on a budget, you can still afford to spruce things up by finding décor for your home workspace. 
Consider getting additional lamps, indoor plants, rags, office desk organisers, and wall hangings for your office space. 
Consider checking online stores that sell office décor at affordable prices or sites that sell office décor at reduced prices.
Adding a plant in your home workspace improves fresh air in the space. 
A succulent or a cactus can be a perfect office plant idea that requires minimal maintenance. 
You can also consider adding a fresh scent to your space. 
This includes the use of essential oils for energy boosts.
Add an Air Purifier
Now more than ever, good health has become a priority. 
Air purifiers are made with filtration systems that capture up to 99.97% of particles in the air, including mould particles, smoke particles, and a slight odour. 
This ensures our home workspace has fresh air at all times. 
Sale
Medify Air MA-40 Air Purifier with H13 True HEPA Filter | 840 sq ft Coverage | for Allergens, Wildfire Smoke, Dust, Odors, Pollen, Pet Dander | Quiet 99.7% Removal to 0.1 Microns | White, 1-Pack
MAXIMUM COVERAGE: Cleans up to 1,600 sq ft in one hr, 840 sq ft in 30 min, 430 sq ft in 15 min. [*Based on average CADR for pollen, smoke, and dust when operating at fan setting 3. Assumes closed room with 8 ft ceiling.] Perfect for large rooms
HEPA H13 FILTRATION: Trusted to remove 99.7% of harmful particles including allergens, odors, VOCs, smoke, pollen, pet dander, dust, smog, contaminants, and more down to 0.1 microns in size. Captures finer particles than HEPA H11 (0.3 microns).
ULTRA QUIET: Choose from 3 fan speeds, with the lowest setting operating virtually silent. Runs at 110 Volts at a min noise level of 46dB and max of 66dB. For the most discreet operation, enable sleep mode to completely dim the unit's panel lights
EASY TO USE FEATURES: Includes a sleek touch screen operation panel with 0-8 hour timer, fan speed, sleep mode, filter replacement indicator, and child lock, great for both kids and pets
QUALITY TESTED & BACKED: CARB, ETL, and Energy Star certified. Backed by a USA registered Lifetime Warranty when genuine Medify replacement filters are used. The replacement filter (B07LGDYV3C) lasts 3,000 hours or about 6 months
Wire Management
The last thing you want is to work in an environment where you frequently have to jump over cords and cables. 
Practising safe wire management can improve the aesthetics of a home office. 
All you need is a few zip ties and clamps to manage messy cords and cables, which is budget-friendly when you are on a budget.
Sale
153" Cord Hider - Cable Hider - Wire Covers for Cords - Paintable Cable Concealer, Cable Hider, Wire hiders for TV on Wall - Cable Management Cord Hider Wall -Cable Raceway -White Cord Management
Problem Solved - The days of messy cables all over your house are coming to an end now as EVEO provides you with the cord hider that will make your house look neat! Our cable management kit comes with all necessary components for smooth installation. This cord hider wall mounted tv fits up to 153" of cable (up to 0.95" Wide / 0.5" high - for example: 1 HDMI cables + 2 regular USB/AUX cables). Super steady locked structure and fine finishing our cord hider wall perfectly fits your home decor.
Only 15 Minutes to Install – Make your living room look brand new with just a quick, small, and easy modification. EVEO Cable concealer enables a super easy installation thanks to its unique attach & snap structure. It might take you approximately 15 minutes to install. Choose whether to use tape or drywall anchors & screws. It has connectors that will fit any installation method(straight/T/corner/inner and outer elbow). With its classic style EVEO cable raceway fits best to any type of corner.
Have it Your Way – We've made a cord organizer with a slim & sleek design that will perfectly fit your home décor and your size. For a perfect match, you can even paint the cord cover wall as you wish to match the color exactly to your wall! If you need a different length, simply cut the cable concealer down to your desired length. Now more than ever- so easy and simple to upgrade your living room with EVEO cord management cable concealer.
Safety First – Besides aesthetics & organization aspects, your safety is the primary purpose of our cable concealers. While loose cables are unpleasant to see, they also pose some dangers at home especially to little kids and pets. Our wire organizer makes sure that all spaces with electronics are safe for the little ones to roam around. EVEO Cable Concealer not only contributes to home decor and overall look but also an important protector for you and those you care about.
Only Top Quality Cable Concealers - Organizing your home or office with our wire concealers is super easy and DIY-friendly with its easy-to-follow instructions. Without the need of professional help, you can arrange and hide all the messy wires in your space. We stand behind the quality of our products and that's why, you shouldn't be worrying at all. Rest assured that you do not compromise on quality with EVEO wire covers for cords - cable concealer.
How to Be Productive When Working from Home
Have a Morning Routine
While it is easy to decide when you prefer to start working from home, coming up with a routine to ensure you stick to this plan is not always the easiest thing. 
To be productive, you need to create a routine that builds up to finally getting work done. 
Whether it is taking a cup of coffee first thing in the morning or taking a shower and preparing to go to work, having a schedule is the best way to remain productive when working from home.
Maintain Regular Working Hours
The key to being productive when working from home is maintaining regular working hours. 
It would help if you replicated the same working ethics you use when working in an office space to ensure you maintain a work-life balance. 
If you start early, ensure you also finish earlier, thus making time for other things outside of your work. 
This way, you will be fresh and ready for the next day.
Track Your Time
To ensure your new home workspace is productive, you need to track your time. 
This ensures you meet your deadlines and that you spent your working hours productively. 
Check how long it takes you to complete a task and how this affects your bottom line. 
Keeping track of your time at work will help you know how effective your home workspace is to your business.
You can use time tracking apps to ensure you are sticking to your schedule. 
This also helps to determine the time of day you are most active, and when you are not. 
You can use this information to determine when it is best to work on projects that improve your full concentration.
Remember to Take Breaks
According to the Pomodoro technique, people are more productive when they take breaks when working. 
Consider taking breaks in between your tasks. This helps to reset your mind and gears you for more productivity once you return to your work.
Including frequent breaks in your schedule ensures you improve the mind's agility while reducing mental fatigue. 
It is possible to be productive even when working from home. 
With this guide, you can create a home workspace on a budget while still enjoying the ambience of an actual office.
Set Ground Rules
If you live in a house that frequently has people running around, you need to set ground rules about when you are available and when you need time to focus on work. 
The other people in your house need to treat your home office with the same respect they would if it was an office in a company building.
Setting ground rules will ensure there is minimal interference, therefore boosting productivity.
Cybersecurity Tips for Working from Home
Creating a comfortable work environment at home ensures you practice data safety when working from home. 
When working from home, you make up part of 70% global workforce working from home. 
This means that cybercriminals are always looking for loopholes to exploit to compromise company data or user data.
Secure Your Home Office
Even when working from home, physical security should be a factor worth considering. 
Lock up your home office the same way you would lock a workplace office when done for the day. 
This will ensure your work gadgets are not tampered with, which is essential in protecting your work data.
Amazon Basics Steel Home Security Safe with Programmable Keypad Lock, Secure Documents, Jewelry, Valuables, 1.52 Cubic Feet, Black, 13.8" x 13" x 16.5"
PROTECTS VALUABLES: 1.52-cubic-foot home security safe for important documents, jewelry, cash, devices, and other valuables
RELIABLE SAFETY: Programmable electronic keypad ensures secure, easy operation; back-up key for emergency use; AA batteries required
DURABLE: Heavy-duty steel construction (8-gauge steel door and 14-gauge steel body); 2 live-door bolts and pry-resistant concealed hinges
EASY TO USE: Interior shelf for convenient organizing
MOUNTABLE: Pre-drilled mounting holes and hardware for easy floor and wall mounting
Secure Your Networks
Cyber hackers are always looking for devices protected using weak passwords, especially routers. 
Most people do not bother to change the router password from the default one, making their home network highly vulnerable.
To work safely and comfortably from home, change the router password to something difficult to crack. 
This will make it a difficult target for hackers. 
Also, ensure your firmware is up to date to ensure all loopholes are covered.
Maintain Different Devices for Work and Personal Use
As you try to make your work environment at home as comfortable as possible, you need to carve boundaries between your home and work life. 
This involves using different devices for work and personal use. Having separate devices reduces the amount of data exposed in case of a security breach.
Use encryption on your devices
Encryption is a process that encoded data, making it unreadable to anyone without authorisation. 
When sending encrypted data, only the recipient can decipher the encryption and access the files. 
Encrypting your devices reduces the risk of data loss in case a device is stolen. 
With encryption, the data in your device is inaccessible to unauthorised people.
Enable two-factor authentication
Two-factor authentication 2FA is an access protocol where a user can only be granted access to a device after presenting an authentication code. 
With 2FA, users are required to enter a code as a security requirement after successfully entering the password. This code is sent to the user's email or phone.
Use Antivirus Programs
Hackers use malware programs like ransomware, spyware, Trojans, and rootkits to compromise user devices. 
With a reliable antivirus program, you can keep off malware attacks. 
The antivirus detects malware in your devices and removes it before it causes harm to your device or compromises data.
Conclusion
As you try to create a comfortable work environment at home on a budget, it is equally important to ensure your workspace and devices are protected. 
Most of the tips given in this guide are relatively easy to implement on a budget to ensure you have the safest and most comfortable home office.
Last update on 2023-05-31 / Affiliate links / Images from Amazon Product Advertising API