Guide to Creating the Best Graphic Designer's Home Office in 2021
We know, working from home has become the norm for many people in 2020 thanks to a Global Pandemic that shows no sign of slowing down. 
For some, this has represented a massive change to their daily life, whilst for others, this has been the norm for some time now. 
But one thing we can all agree on, it is going to become more and more popular in 2021 and beyond. 
For some, this will be out of choice to keep themselves safer, whilst for others, it will be a necessity if their employers decide to make employees work from home.
Graphic designers can fall under a few categories, with the main two being they work for themselves (which usually means they have been working from home for a while now), or an organisation employs them. 
For this second type, they might have only recently made the switch to working from home.
With all this in mind, I am going to take you through some steps you can take and guide you through some of the essentials you need to create the best 'Graphic Designer's Home Office' for this coming year.
A Great Laptop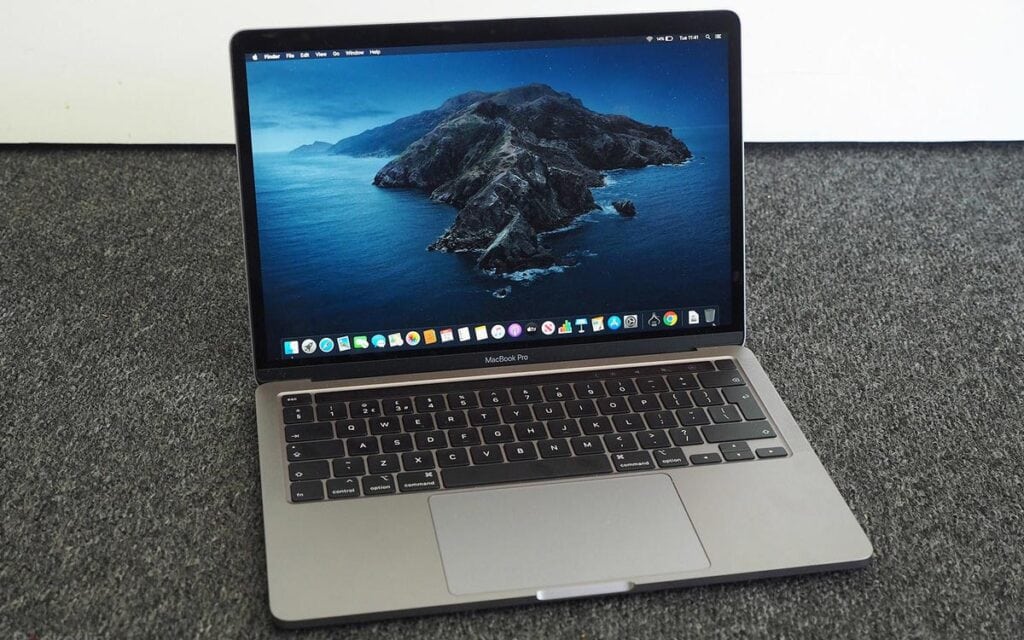 This is crucial. When anyone starts working from home, they suddenly begin to realise the importance of having a laptop rather than a fixed solution. 
This is because their flexibility is completely unrivalled. 
Are you bored of sitting at your desk and want to work from your garden for an hour? Go for it! 
Due to this, a great laptop is crucial for graphic designers. 
Sale
One of the main reasons it needs to be quick and powerful is because it needs to be able to handle running large software packages that most graphic designers use daily, such as Adobe Photoshop and Illustrator.
It's all down to personal opinion on the brand you choose, but the majority of graphic designers choose Apple products. 
Partly because they appreciate the Apple business model. More on that here. 
And partly because their products allow for a seamless transition between devices such as laptop, phone and tablet. 
A Door
I know this idea seems a little left field, and I know for some people, it will not be possible due to the size and space available in their home. 
However, if you have the means to place your office in a closed-off space, you can see some fantastic benefits! 
The perfect solution would be to find a spare room in your home, maybe a bedroom you do not use and create your home office in this space.
One of the most seen benefits from having a private home office is the ability to eliminate distractions. 
When working from home, it is elementary to be dragged into other things when you have a project deadline coming up – think of kids barging into your room wanting to play and other things of that nature. 
When you can close the door to your office, you can find an hour or two of peace to get what you need to get done completed before spending that all-important free time with your family. 
Let's also mention that a door is a great way to add boundaries. 
Let's say you need quiet time in the morning to get everything done; your family will understand these boundaries and respect you need time to get stuff done before they come in and start to distract you.
A Great Environment
Following on from the above statement, it is also critical that wherever you choose to set up your home office is filled with proper ventilation and adequate lighting. 
In many cases, you are going to be spending up to 8 hours a day working, even more, if you have deadlines coming up, so it is crucial that where you choose to set your home office up is ample space and one you feel happy working in.
Another benefit you can see from having the right environment is that it will make you instantly more productive. 
You see countless stories about how companies who moved away from cubicle setups in the late 90s and early 2000s saw an improvement in productivity thanks to better lighting, more open communication and a better workspace. 
Incorporating this into your home office is sure to see you gain the same benefits.
A Secondary Monitor
A secondary monitor is another essential for a successful home office. 
Mainly because adding more screen real estate is a great way to increase productivity. 
Sale
I use one monitor for my work and then have my other monitor open on my emails. 
That way, I can see what emails come in the moment they arrive – if they require urgent action or can be pencilled in to be dealt with at a later date.
Secondary monitors are also great for graphic designers, for example, as they can look at their design inspiration on one screen whilst working on their design on the other.
A Beautiful Rug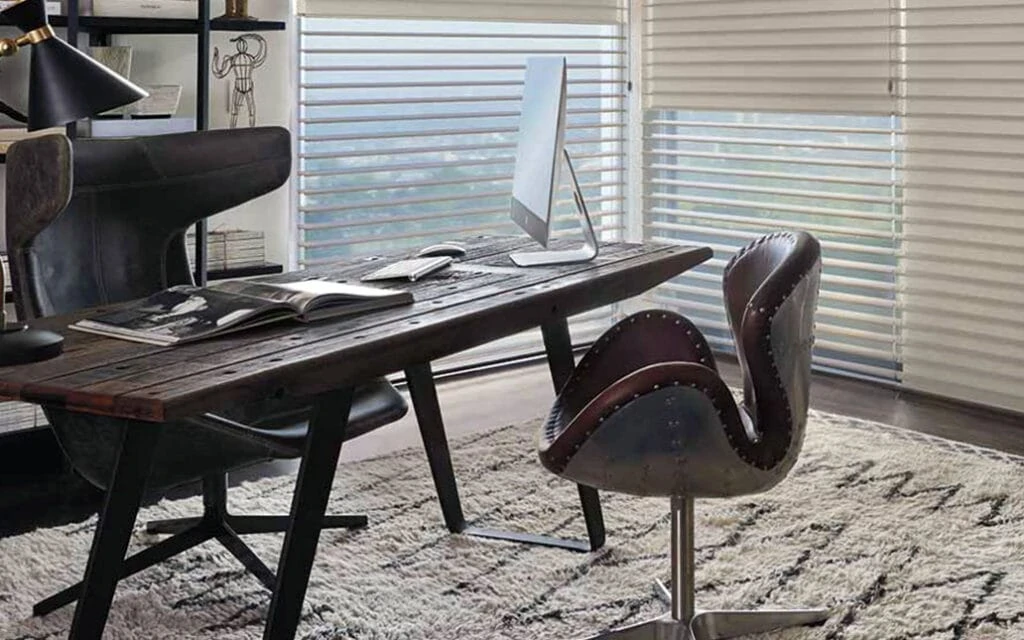 Perhaps an under-appreciated thought here, but there is no reason to ever underestimate the power of an excellent rug for your space. 
Especially if you don't have room in your home for a dedicated home office. 
For example, you have to have your desk in your bedroom.
Using a rug in this situation can be a great way to add depth and texture to your room, but it's also a great way to split up your space if you have one room serving multiple purposes.
There are many types of rugs available to purchase online to suit whatever décor you have in your home. 
Common types bought for home offices include shaggy rugs and sheepskin rugs.
A Filing Cabinet or Station
This is especially useful if you run your own freelance business, rather than work for a company from home. 
Filing cabinets have been used almost as long as offices have been as they are great places to store paperwork that is either not needed very often, or regularly required. 
No products found.
Freelance graphic designers will naturally have client information, tax information and other crucial business information that they need to keep organised, and more importantly, safe.
If you have space to add a filing station to your home office, you will be able to keep critical files safe and organised whilst not cluttering up your home office space, or another storage area in your home such as the loft or garage.
A Leather (Or Faux Leather) Desk Mat
One of the many complaints seen from people who work from a home office is the damage caused to their desk from wireless keyboards, mice, coasters and phone chargers. 
Practically anything that is placed on your desk that moves around frequently will cause scratches and other damage to your desk over time.
One of the ways to overcome this is by investing in leather, or faux leather depending on your personal preference, desk mat. 
Sale
Nordik Leather Desk Mat Cable Organizer (Pebble Black 35 X 17 inch) Premium Extended Mouse Mat for Home Office Accessories - Felt Vegan Large Leather Desk Pad Protector & Desk Blotter Pads Decor
🥇 PREMIUM QUALITY - Vegan PU leather with an amazing texture, feel and colour. Complement your office with this premium desk mat designed with finer details like the black thread stitching and non-slip suede base for extra grip.
💪 COMFORT AND FUNCTION - Get the best of both worlds with our unique cable organizer and stunning design. The comfortable soft cushioning is ergonomic to provide relief on your wrists, forearms and elbows
🛡 WATERPROOF AND DURABLE - The perfect desk pad protector. Protect your desk from moisture and scratches with the waterproof and scratch resistant surface. Also protect your accessories like your phone from scratches due to contact with your desk
✅ PERFECT SIZED - 35 x 17 inches is the perfect desk pad on top of your desk for your 💻 laptop and📱accessories. The black color with subtle pebble texture is the perfect match for any home office decor, study or home desk. Used it as an extended leather mouse pad. It is loosely packaged in a generous sized tube so it will roll flat onto your desk in no time
💯 100% LIFETIME SATISFACTION GUARANTEE - ❤️ your leather desk mat or get 100% of your money back. Please let us know if you have any issues with your desk pad and we will replace it immediately
That way, items that are placed on your desk can be placed on the mat to save damage to your desk. 
Mats like these are more comfortable and cheaper to replace when they start to see wear and tear over time.
Not only this, but you can also make your desk look cleaner by investing in a mat. 
It is a great way to keep things organised in one place on your desk, rather than having items placed all over your desk with no system in place to keep them neat and tidy.
A Mug Warmer
We get it; graphic designers are incredibly busy people. 
Especially when working from home as they may choose to cut down their working hours to spend more time with their family and friends. 
Because of this, they need to stay energised throughout the day.
We already know that hot caffeinated drinks such as coffee and tea are a staple of a graphic designer's diet, so a way to keep these hot drinks 'hot' is another essential for your home office. 
Picture the scene, you have just sat down with a nice cup of coffee, and suddenly get dragged into emails or a design you need to finish off. 
By the time you look up from your screen, an hour and a half have passed, and your coffee is stone cold. 
Disappointing, right? 
Investing in a high-quality mug warmer is a great way to keep your coffee, or whatever hot drink you choose, hot whilst you take care of your work.
Sale
VOBAGA Coffee Mug Warmer, Electric Coffee Warmer for Desk with Auto Shut Off, 3 Temperature Setting Smart Cup Warmer for Heating Coffee, Beverage, Milk, Tea and Hot Chocolate (No Cup)
❤【Adjustable Three-Temperature Setting】: VOBAGA coffee warmer will keep your coffee at a perfect drinking temperature. You can control the temperature by tapping the button, keeping your coffee or milk up to 104℉-131℉-149℉ (40℃-55℃-65℃). Changing temperature is just a tap on of your finger.
❤【Automatic Shut-off & Smart Safety Feature】: This smart cup warmer will shut off automatically after continually working 4 hours. No worry about forgetting to turn it off. The blinking red light indicator tells you the heating plate is hot and will stop until the temperature drops to 97℉ (36℃).
❤【Splash-proof & Large Heating Plate】: The heating plate adopts sealed-insulation technology to prevent splashing water, which also fits most standard mugs well. The 59-inch plug cord will fits on your desk perfectly. Tips: Choose flat-bottom and thin-wall mug so that it can have a good connection to the warmer.
❤【Easy-to-Clean & Portable-to-Carry】: The surface of the heating plate is easy to clean. The coffee warmer is lightweight and will be a ideal choice for gift on Birthday, Thanksgiving Day and Christmas and so on. Let this mug warmer warm your stomach and your heart!
❤【Satisfactory Customer Service】: Your satisfaction is our top priority. Just set your mind at rest to purchase it. Any problems please feel free to contact us. For more information on how to use the warmer, please scroll down to get a User Instruction.
A Sit/Stand Desk
This is perhaps the second most crucial suggestion for creating a great home office. 
When people work from home, there is less of an inclination to stand up at specific points in the day to take a break, and many people can find themselves sat at their desks for hours at a time without moving around.
This is why a sit/stand desk is crucial! 
Stand Steady Tranzendesk 55 in Standing Desk with Clamp On Shelf | Crank Height Adjustable Stand Up Workstation with Attachable Monitor Riser | Holds 3 Monitors & Adds Desk Space (55 in/Black)
EASY HEIGHT ADJUSTMENTS: Take a stand for your health and say goodbye to the pain and stiffness that comes from sitting all day! This stand up desk seamlessly transitions from a sitting to standing height with an easy-turn crank, allowing you to adjust the desktop to your perfect ergonomic height!
EXTRA TALL AND SPACIOUS: The Stand Steady Tranzendesk is a 55" full-size standing desk that can adjust up to 46" high – perfect for anyone up to 6'4" tall! With nine square feet of desktop space, (plus a bonus shelf!) this desk provides plenty of room for your monitors, laptop, keyboard, accessories, and more!
ERGONOMIC MONITOR STAND: The sturdy 55" desk shelf keeps up to 3 monitors at eye-level to help prevent neck pain - so you can be your most productive (and comfortable!) self. The clamp-on shelf can be adjusted to extend outward or inward over your desk, freeing up valuable workspace and increasing your overall desk surface area by over 3 sq. feet!
SLEEK AND STURDY: With its minimalist black frame and modern design, this standing desk is sure to add a high-end feel to any home or office space. The leveling feet and strong steel base will keep your desk from wobbling back and forth as you work, assuring you stand steady all day.
If you are going to be working at your desk for long periods, then it is a great way to ensure you keep your circulation flowing whilst remaining productive. 
Many people even say that combining sitting and standing during the day is the best way to go.
A Drafting Table
If you have space to have more than one desk in your home office, then investing in a drafting table is a great way to utilise this. 
Initially, only thought of for use by architects, this stigma is slowly starting to be broken. 
One of the many advantages these can be used by graphic designers is by allowing them to have a separate space to plan their artwork before they start working on the official design.
Not only this, but some graphic designers prefer to sketch out their plans freehand before starting to put it together via software. 
So investing in a drafting table can be a great place to freehand your artwork before you start putting it together in Photoshop, Illustrator or whatever software you choose to use. 
Sale
ZENY Drafting Table Art Desk Drawing Table Height Adjustable Artist Table Tilted Tabletop w/Drafting Stool and Storage Drawer for Reading, Writing, Crafting, Painting Art
Wood Drafting Table: This art desk is made of heavy duty metal frame and thickened MDF tabletop, sturdy and durable. Wood tabletop provides smooth work surface. The triangle legs provide stable support. The professional drawing table is great for architects and hobbyists
Height and Angle Adjustable: The height of this artist desk can be adjusted from 28inch to 35.8inch with the knob on the leg. Ideal for kids and adults. The big tabletop angle can be adjusted between 0 and 45 degrees. Tilted tabletop design, make your ark work more easy
Double Tabletop: The art table has a main wood tabletop 34 inch by 23.6 inch, big enough for your drafting, painting and other work. There is also a small slide-out table providing a 15 inch by 23.6 inch surface to put your drafting tools, laptop, books or coffee
Large Storage Space: The painting table have 2 slide-out drawers and a storage shelf under the main table to store papers, drafting tools and other stuff. There is a pencil box on the right hand side. When the desktop is tilted, the Pencil Ledge on the table can ensure the pencil and drawing paper do not fall
Multi-purpose Table: This architect desk comes with a drafting stool, height 20 inch. Comfortable foam padding. The main drawing table can be tilted up according to your art work need. Adjust flat, it is a versatile table to read, write or do computer work. Assemble required
That way, whenever you decide a draft is no good, you can throw the design away and start fresh without always having to undo and redo actions in your software suite.
A Graphics Tablet
Following on a little bit from our mention of a secondary monitor, another staple for a graphic designer's desk set up is a great graphics tablet, such as the Apple iPad Pro. 
Whilst these are pricey bits of equipment, the ROI you can see from investing in a tablet is great. 
Especially for graphic designers that work with freehand work. It is so much easier to create fantastic artwork with a digital pen than it is using a mouse.
Providing a graphic designer also has all the required equipment, a graphics tablet can also act as another monitor when there is much work on to ensure they remain as productive as possible no matter the amount of work they have on at any one time.
Conclusion
There are so many things I could write about here to perfect a home office precisely for graphic designers. 
Still, these 11 are the main ones you need to create a truly remarkable space to ensure your 2021 is productive whether you work from home, the office or a combination of the two.
We will see more and more people making the switch to remote work in 2021 and further beyond, this pandemic has taught us that it is entirely possible to make the transition and remain as productive as you were in the office, if not more so.
So, whether you choose to go back to the office in 2021, create a more flexible solution that works for you, or maybe you are even considering going fully remote for the year ahead, these products will help you make the best home office space that any graphic designer could be proud of!
Last update on 2023-05-31 / Affiliate links / Images from Amazon Product Advertising API