The Graphic Designer's Dream Home Office Setup
The blank page stares back at you. The cursor blinks expectantly. Your home office feels cramped and cluttered, not inspiring creativity.
It doesn't have to be this way.
Your home office can become a creative haven, perfectly designed to unlock your best ideas and designs. A place you're excited to spend your days, not one you dread and avoid.
This isn't about buying the trendiest desk accessories or the most ergonomic chair. It's about carving out a space that fits you like a glove. A space alive with possibility, tailored to who you are and how you create your best work.
In this post, we'll explore how to design your ideal graphic design home office. I'll share the gear, layout, and principles to transform a small spare room into a designer's dream workspace.
You provide the creative spirit. I'll provide the blueprint.
By the end, you'll have ideas and insights to create a space where creativity flows freely. An oasis of productivity and inspiration right in your own home.
Let's get started designing the graphic designer's dream home office. A space that celebrates imagination and brings your boldest ideas to life.
The Desk: A Clean and Spacious LaunchPad
The centrepiece of any home office is the desk. This is your command station, where you'll spend hours ideating, designing, and editing. The desk should provide plenty of space to spread out and get organised. A width of at least 60 inches gives you room for dual monitors, devices, notebooks, and more. Depth is also vital—30 inches deep or more allows you to sit comfortably while having space for reference materials.
Aim for a clean, minimalist desk with a large surface area and excellent cable management. A sit-stand desk is ideal, allowing you to alternate between sitting and standing throughout the day. This boosts energy and fights fatigue. A sturdy desk with adjustable height legs, like the Fully Jarvis or Vari Electric Standing Desk, is a wise long-term investment for your health.
Sale
Vari- Standing Desk Adjustable Height (60″ x30′)- Electric Sit-Stand Computer Desk for Work or Home Office- Dual Motor with Memory Presets- Adjustable Desk from Varidesk- Reclaimed Wood
Effortless Assembly in Minutes: Say goodbye to complicated setups. Our patent-pending leg design makes assembly a breeze, requiring minimal tools. You'll have your new workstation ready to use in under 10 minutes
Sturdier by Design: Elevate your workspace with enhanced stability and lasting durability. Our adjustable desk offers a thick, solid one-piece tabletop featuring a rugged laminate finish, complemented by heavy-duty steel T-Style legs
Whisper-Quiet Operation: Enjoy seamless, low-decibel transitions from sitting to standing, thanks to our dual power motor. Experience the tranquility of a quieter workspace
Programmable Convenience: Customize your ergonomic experience effortlessly. With up to 4 height settings and an intuitive LED control panel, our electric height adjustable desk lets you transition to your ideal height with a single touch, smoothly raising from 25″ to 50.5″ high
Warranty Peace of Mind: Invest with confidence. We back our electric standing desks with a solid 5-year warranty that replaces the full product, not just parts and pieces. Please Note: This desk is made up of 2 cartons, the desk frame and the desk top
The Chair: Ergonomic and Ultra-Comfortable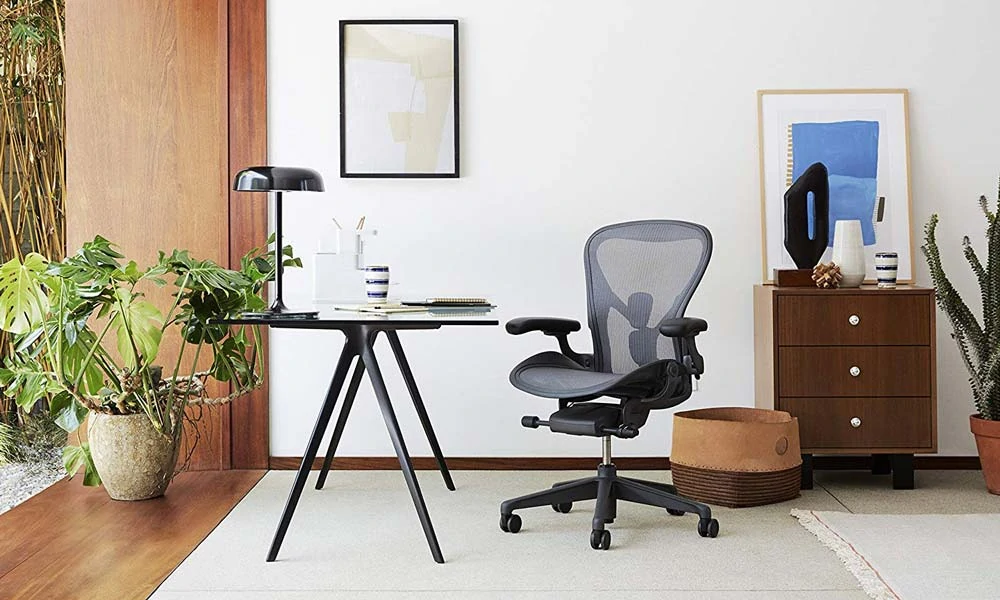 You'll sit for extended periods, so invest in an ergonomic desk chair that supports you. Key factors to consider are adjustability, lumbar support, and seat cushioning. Chairs like the Herman Miller Aeron and Steelcase Leap allow you to customise the fit and are designed with posture in mind.
Herman Miller Aeron Ergonomic Chair – Size B, Graphite
Your purchase includes One Herman Miller Aeron Ergonomic Chair – Size B, graphite color
Chair dimensions: 41″ H x 27″ W x 16.75″ D. Seat heights: 16"-20.5".
Tilt Limiter lets you set the recline range at one of three postures. Tension control lets you adjust the amount of effort needed to recline comfortably. Seat Angle Adjustment changes seat angle from neutral to engaged
Your chair should have adjustable seat height, armrests, tilt tension, and lumbar support. Look for thick padded cushions and a high backrest to cradle your spine correctly. Breathable mesh material prevents heat buildup and sweat. A 5-point base with wheels gives you flexibility to move around.
An ergonomic chair boosts circulation, eases aches and pains, and prevents long-term injuries from poor posture. It's worth splurging on. Your body will thank you after long days of designing.
Lighting: Tailored to Enhance Focus and Creativity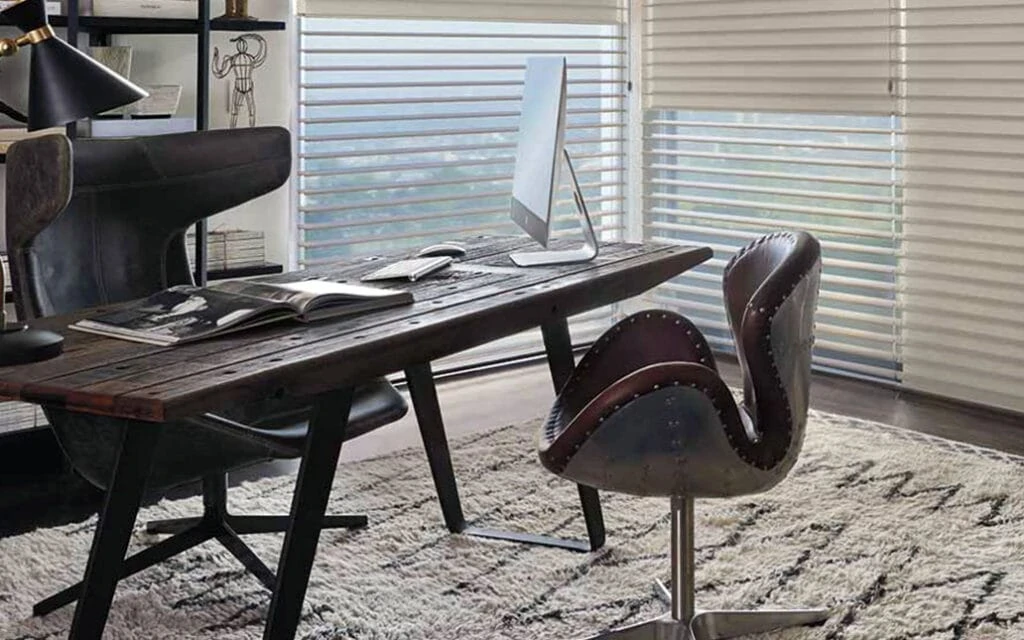 Proper lighting is vital for graphic design work. You'll be staring at screens and doing detailed work, so lighting needs to reduce eyestrain while setting the right creative mood.
Ambient overhead lighting should be bright but non-glaring. Go for diffused white light LED bulbs that provide full spectrum illumination. Dimmer switches allow you to control the brightness.
Task lighting directly on your desk helps when doing intricate work. An adjustable desk lamp with a flexible neck puts a beam of light exactly where you need it.
Accent lighting in floor lamps, string lights, or wall sconces creates a warm glow. This makes the space more relaxing and inspiring.
Smart bulbs like Philips Hue let you customise lighting colours and schedules. Experiment to find the optimal balance based on the task and your energy level. Proper lighting transforms your office into a graphic design oasis.
Computer Setup: A Powerful Machine for Design Demands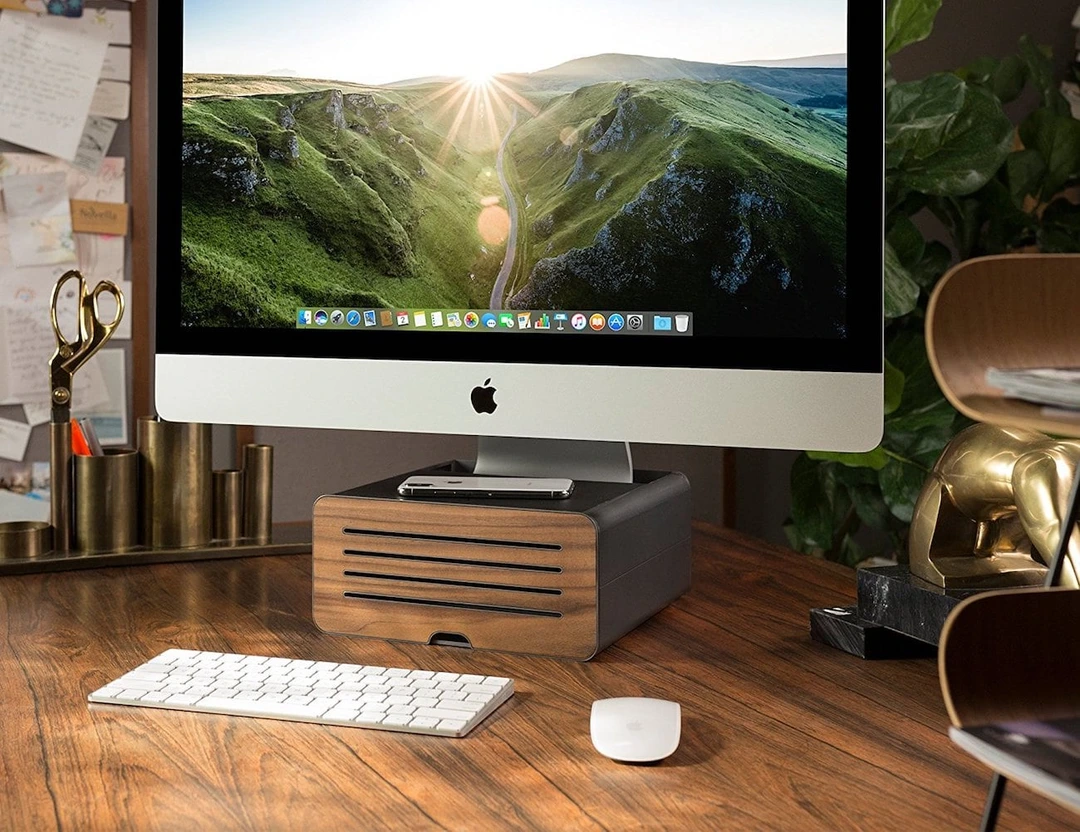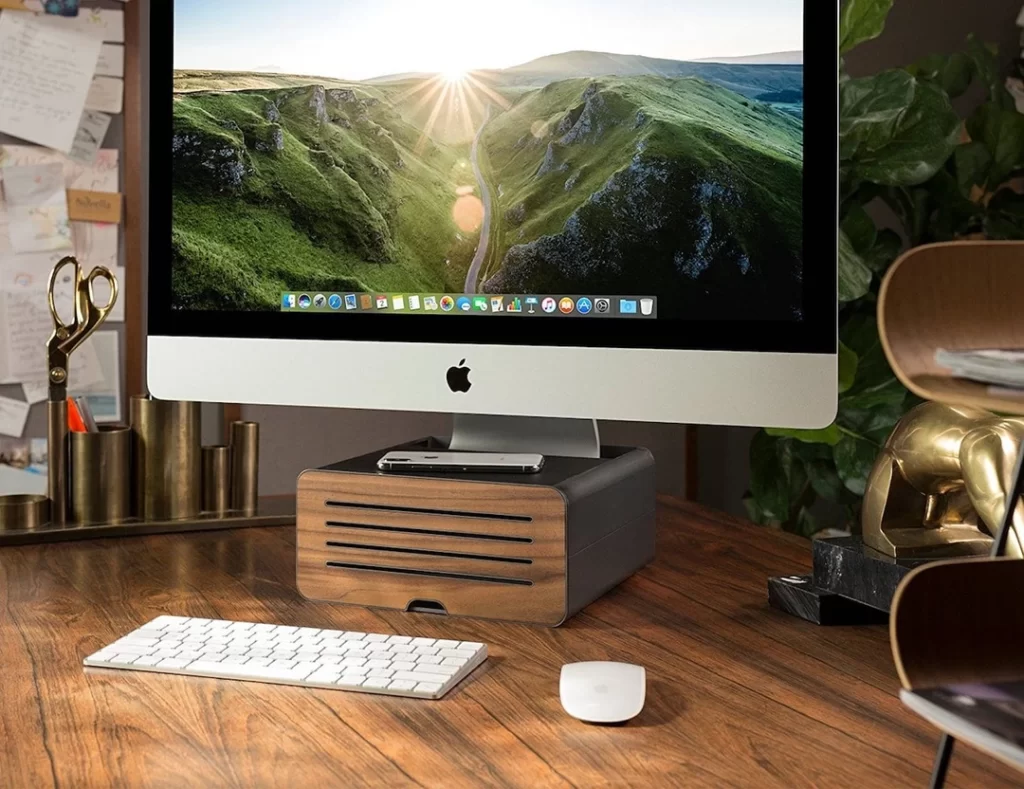 A high-performance computer is non-negotiable. Graphic design software pushes hardware to the limits, so you need a system built for serious multitasking.
For the CPU, go with the highest processor generation you can afford, like an Intel Core i7 or i9. CPU cores and increased GHz directly impact performance. 32GB RAM is ideal—this allows you to run multiple programs smoothly. For the graphics card, invest in a dedicated GPU like NVIDIA GeForce with at least 8GB VRAM. This speeds up rendering and visual tasks tremendously.
When choosing the PC tower, prioritise good cooling and future-proofing. Look for expandable storage bays, USB-C ports, and plenty of connectivity. Popular towers like the Corsair Crystal Series or NZXT H-series check all the boxes.
Finally, a curved ultra-wide monitor takes your setup to the next level. The expanded screen real estate lets you view your entire artboard and interface windows simultaneously. Popular options include the Samsung Odyssey Neo G9 and the LG 38WN95C-W.
Top Accessories and Tools for Optimal Workflow
Every graphic designer has their own set of must-have accessories and tools that streamline workflow. Here are some of the top gadgets and gizmos that maximise efficiency:
Drawing tablet: An essential, like the Wacom Intuos Pro or Huion Kamvas Pro, for natural digital sketching and illustration. The pressure sensitivity and tactile experience boost creativity.
External hard drives: Needed for massive design project files, backups, transferring client work, and archiving old designs. Look for fast, solid state and multi-terabyte drives.
Ergonomic keyboard: Reduces wrist strain with its split-sloped layout. The Microsoft Sculpt Ergonomic Desktop is an excellent option.
Mouse/trackpad: A wireless mouse like the Logitech MX Master 3 gives you smooth, precise control for design work. Apple Magic Trackpads are also popular.
Standing desk mat: If you have a height-adjustable desk, the Ergodriven Topo or Imprint CumulusPro Mat give your feet cushioned support.
Desk organisation: Storage solutions like monitor risers, trays, and drawer organisers help declutter your workspace for better focus.
External monitor calibrator: The Datacolor SpyderX Pro ensures your displays are colour-accurate for flawless graphic design.
Headphones/speakers: Critical sound tools like the Sony WH-1000XM5 cancel noise and let you hear precise audio details.
Interior Design: A Stylish and Inviting Ambiance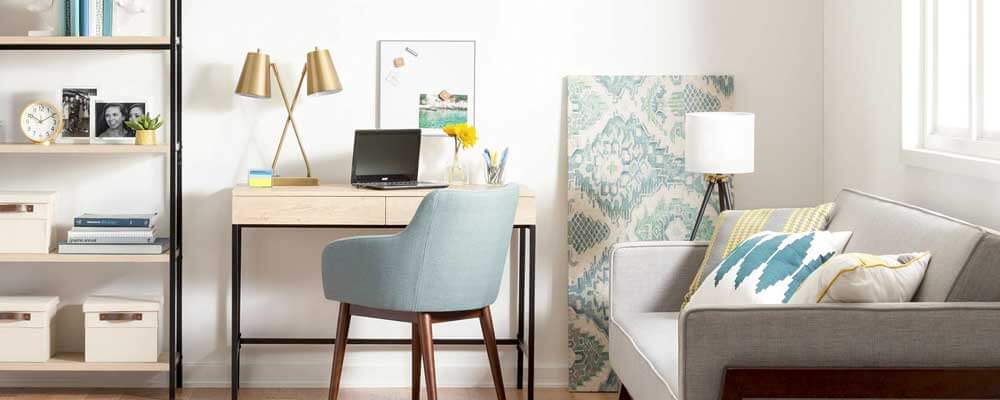 The aesthetic design of your home office should spark joy and get your creative juices flowing. Incorporate colours, textures, artwork, and accessories that make the space feel like your creative hub.
Paint colours set the tone. Earthy hues like forest green, navy, and maroon create a warm cocooning effect. Accent walls in bold paint colours like orange or yellow add visual interest.
Fabrics and textures provide cosiness. Area rugs with graphic prints, woven wall hangings, and soft upholstered seating give your office personality.
Artwork and wall decor surround you with inspiration. Frame illustrations, album covers, or graphic prints. Install floating shelves to display art books, typography references, and collectable toys.
Natural elements inject life. Houseplants such as succulents and snake plants purify the air. A small aquarium provides a calming ambience. Leaves, branches, and dried botanicals offer organic texture.
Soft furnishings take comfort to the next level. Blankets, throw pillows, ottomans, and a reading nook filled with cushions create a cosy nest ideal for when you need a brainstorming break.
Optimising for Health, Happiness, and Productivity
Your home office should make you excited to start each workday. But beyond just looking aesthetically pleasing, optimise your space for these critical elements:
Health:
Choose ergonomic furniture, proper lighting, and organisation systems that reduce pain and eyestrain.
Stand, stretch, and gaze out windows periodically.
Have healthy snacks on hand.
Happiness: Incorporate design details like artwork, music, scents, and textures that spark joy and relaxation. Display inspirational quotes and personal mementoes.
Productivity:
Minimise clutter, noise, and distractions.
Set up systems for notes and file management.
Eliminate lag time by having all tools and resources within reach.
Play energising music to help you power through creative blocks.
Security: Invest in surge protectors, locks on drawers/doors, firewall and anti-virus software, and secure external hard drives to keep your important data safe.
Growth:
Challenge yourself by learning new design skills and experimenting with different mediums.
Continually expand your library of design books.
Connect with a community of fellow designers to get fresh perspectives.
Bringing It All Together: Your Ultimate Creative HQ
Follow this home office blueprint to construct the ideal space for graphic design work:
Furniture: Invest in an electric height adjustable sit-stand desk and an ultra-ergonomic desk chair. Add a curved ultra-wide monitor, desktop computer, and drawing tablet.
Storage: Use vertical file cabinets, shelving units, and corner desks with built-in organisation features. Reduce clutter with trays, racks, and containers.
Lighting: Install overhead LED lights, task lighting, and accent lighting. Use smart bulbs and dimmers for total control.
Accessories: Outfit your desk with external hard drives, a mouse, a keyboard, headphones, and a standing mat.
Layout: Position your desk near windows if possible. Place shelving units perpendicular to the desk to define work zones.
Design Details: Incorporate greenery, artwork, wall decor, fabrics, and soft furnishings. Add personal touches and inspiration.
Health Focus: Provide space to stand and move during work. Keep healthy beverages and snacks within reach.
Follow this framework, and you'll create a lovely, efficient, and creatively charged home office that supports your career success and well-being. Happy designing from your new dream workspace!
Frequently Asked Questions about Optimising Your Home Office for Graphic Design
What size desk should a graphic designer have?
For most graphic designers, an ideal desk size is at least 60 inches wide and 30 inches deep to accommodate dual monitors, specialised equipment like drafting tables or lightboxes, notebooks, reference materials, and more. A spacious desk provides plenty of room to work.
What computer specifications are best for graphic design?
Graphic design is resource intensive, so aim for a higher-end desktop with specs like an Intel Core i7/i9 CPU, 32GB RAM, a dedicated graphics card like NVIDIA GeForce RTX 3060 or better, 1TB SSD storage, and multiple connectivity ports. This gives you serious multitasking power.
What desk accessories does a graphic designer need?
Essential accessories include an ergonomic keyboard and mouse, external hard drives for storage, a desk lamp, headphones, a charging station, a comfortable wrist rest, organisation trays, shelves and compartments to stay clutter-free. Invest in a quality ergonomic chair.
What lighting works best in a home office for graphic designers?
Optimal lighting includes:
Overhead ambient lighting to illuminate the whole workspace.
Task lighting directly on your desk surface.
Accent lighting for a warm glow.
Smart bulbs allow you to customise the colour and intensity. Reduce glare on your screens.
What should I avoid in a graphic design home office?
Avoid clutter that's distracting and gets in your way. Skip flimsy particleboard furniture that won't withstand years of use. Don't overlook ergonomics—poor posture results in aches and pains over time. Insufficient lighting strains your eyes. Outdated tech cripples your workflow.
Conclusion
Creating your ideal graphic design-focused home office requires careful planning and investment in furniture, tools, and layout. Focus on an ergonomic, organised, and aesthetically inspiring workspace that sparks productivity. Your home office is the foundation for your freelance business or remote design job—approach setup decisions with your long-term health and career goals in mind.
Building your creative HQ takes effort but pays off tenfold when you have an energising space you love working in daily. Follow this comprehensive guide, and you'll be well on your way to graphic design greatness from the comfort of your home.
Last update on 2023-12-09 / Affiliate links / Images from Amazon Product Advertising API