Top 10 Best Digital Drawing Tablets for Creatives
Hey there, fellow creatives! Are you ready to take your artistic journey to a whole new level? Today, we're diving into the beautiful world of digital drawing tablets, where imagination meets technology in a harmonious dance of creativity. Whether you're an aspiring artist, a seasoned illustrator, or someone who loves expressing their ideas visually, this blog post is tailor-made for you!
As a creative tech expert, I've enjoyed exploring a plethora of digital drawing tablets, each with its unique features and capabilities. With the growing demand for digital art and design, these ingenious devices have become indispensable tools for artists worldwide. And the best part? They offer unprecedented precision and flexibility, allowing you to transform your wildest ideas into mesmerising masterpieces.
Don't just take my word for it – let me back it up with some compelling statistics! Did you know the global digital art market has seen a jaw-dropping growth of over 75% in the last two years alone? That's right – increasingly, artists are embracing the convenience and endless possibilities that digital drawing tablets bring to their creative process. And it's not just limited to professionals; hobbyists and students alike are also hopping on board the digital art train!
You might wonder, "With so many options, which digital drawing tablet is right for me?" Fear not! In this comprehensive guide, I'll be sharing the top 10 best digital drawing tablets that have captured the hearts and minds of creatives worldwide. We'll explore their standout features, user-friendly interfaces, pressure sensitivity levels, and more to help you make an informed decision that perfectly suits your artistic needs.
Whether you prefer sleek and portable devices or larger drawing surfaces that let your imagination run wild, we've got something for everyone. And trust me; you will want to take advantage of the innovative technologies and cutting-edge advancements that have made these tablets stand head and shoulders above the rest.
So, if you're ready to unlock your full creative potential and experience a new dimension of artistic expression, join me in this thrilling adventure as we explore the Top 10 Best Digital Drawing Tablets for Creatives! Let's dive in and discover the perfect digital companion that will bring your imagination to life in vibrant, digital strokes.
What is a Digital Drawing Tablet?
Before we delve into the top picks, let's clarify what a digital drawing tablet is and why it's an indispensable tool for artists today.
A digital drawing tablet, also known as a graphics tablet or pen tablet, is a device that allows artists to create digital art using a stylus or pen-like tool directly on its surface. These tablets are connected to a computer or other digital devices and act as a virtual canvas, replicating the experience of drawing or painting with traditional tools. They come in various sizes, from trim portable options to large, professional-grade tablets.
Factors to Consider When Choosing a Digital Drawing Tablet
Before you rush to buy a drawing tablet, it's essential to consider several factors to ensure you make an informed decision. Let's explore these crucial aspects:
1. Tablet Size
The size of the drawing area on a tablet significantly impacts your drawing experience. Smaller tablets are more portable and budget-friendly, making them suitable for beginners and artists on the go. On the other hand, larger tablets offer more workspace and are favoured by professional artists for intricate detailing and accuracy.
2. Pressure Sensitivity and Stylus
Pressure sensitivity determines how responsive the tablet is to the pressure you apply with the stylus. More pressure levels allow for greater control over line thickness and opacity, resulting in more natural and expressive artwork. Consider tablets that offer a comfortable and ergonomic stylus, as it affects your drawing comfort and precision.
3. Screen Type: Pen Display vs Graphics Tablet
Digital drawing tablets come in two main types: pen displays and graphics tablets. Pen displays have a built-in screen that lets you directly draw on the tablet's surface, similar to drawing on paper. Graphics tablets, or pen tablets, require a separate monitor where your artwork appears while you draw on the tablet's surface. Each type has advantages; the choice depends on personal preference and budget.
4. Connectivity and Compatibility
Ensure the drawing tablet you choose is compatible with your computer or device. Many modern tablets support USB and wireless connections, offering flexibility in connectivity. Compatibility with popular drawing software like Adobe Photoshop, Corel Painter, or Clip Studio Paint is essential to integrate the tablet into your artistic workflow seamlessly.
5. Budget Considerations
Digital drawing tablets vary significantly in price, and setting a budget that aligns with your needs and skill level is crucial. Beginners may opt for affordable options with basic features, while professional artists may invest in high-end tablets with advanced capabilities.
The Top 10 Digital Drawing Tablets
Now that we understand the key factors, we must unveil the ten best digital drawing tablets currently available. We've curated this list based on performance, features, user reviews, and overall value for money.
1. Wacom Intuos Pro
It's like the superstar of digital drawing tablets loved and admired by artists all over the globe. When you put this beauty in your hands, you'll experience a new level of artistic power and creativity.
First, the Intuos Pro comes in various sizes so that you can pick the perfect fit for your artistic needs. Whether you prefer a compact, travel-friendly version or a more expansive canvas to let your imagination run wild, they've got you covered.
But it's not just about the size; it's also about how it feels. When you draw with the Intuos Pro's pen, it's like magic. The high-pressure sensitivity levels make it incredibly responsive to even the subtlest strokes. You'll feel like you're drawing directly on paper, and that connection between your hand and the screen is marvellous.
And let me talk about the design. The Intuos Pro is a sleek and stylish piece of tech that you'll proudly showcase on your desk. Its aesthetics match its performance. But that's not all – get this, it comes with customisable ExpressKeys! These nifty shortcuts can be personalised to suit your workflow, making your creative process smoother and more efficient.
Oh, and here's the icing on the cake – wireless! No more tangled cords cramping your artistic style. You can roam freely, get comfortable on your couch, and let your imagination flow without being tethered to your desk. It's like a dream come true for artists who love to have the freedom to move around while they work.
But wait, there's even more! The Wacom Intuos Pro also supports multi-touch gestures. So, you can use familiar gestures like pinching to zoom in or out, swiping to navigate your canvas, and much more. It's intuitive and adds a layer of convenience to your overall experience.
Whether you're a professional artist or someone who loves to dabble in digital art, the Wacom Intuos Pro is a game-changer. It's a powerhouse that unlocks your creative potential and elevates your artwork. Once you try it, you'll wonder how you managed without it!
So, if you're ready to level up your digital art game and immerse yourself in a world of artistic wonder, the Wacom Intuos Pro is waiting for you. Get ready to be amazed!
2. Huion Kamvas Pro 24
Let me tell you all about the excellent Huion Kamvas Pro 24 – it's a real game-changer for artists, animators, and graphic designers! Picture this: you have this top-tier pen display with a massive 24-inch screen, giving you all the room to unleash your creative genius and bring your wildest ideas to life.
One of the most impressive things about the Kamvas Pro 24 is its stunning colour accuracy. How important is your artwork to look exactly how you envision it? Well, this tablet has got you covered! The colours are so true-to-life; your creations are popping off the screen.
And let's talk about the drawing experience – oh boy, is it comfortable! Whether you're sketching, painting, or designing, this tablet feels like an extension of your hand. The pen glides smoothly across the surface, giving you that natural, pen-on-paper feel that every artist craves. It's like magic – you won't want to put it down!
But that's not all – this tablet means business. It's not just for hobbyists; it's a serious tool for professional artists. With its high-quality build and top-notch performance, the Kamvas Pro 24 is more than ready to handle even the most demanding projects. So if you're a pro looking to take your artwork to the next level, this tablet is a strong contender you should seriously consider.
And let's not forget the sheer size of that screen – 24 inches of creative canvas! That's plenty of space to let your imagination run wild. Whether working on intricate details or bold, sweeping strokes, you won't feel cramped or limited.
I see it becoming an essential part of your creative setup. Imagine how much more you can achieve with such a fantastic tool. From concept art to animations, graphic design to digital illustrations, the Kamvas Pro 24 is a true powerhouse that'll never disappoint you.
3. XP-Pen Artist Pro 15.6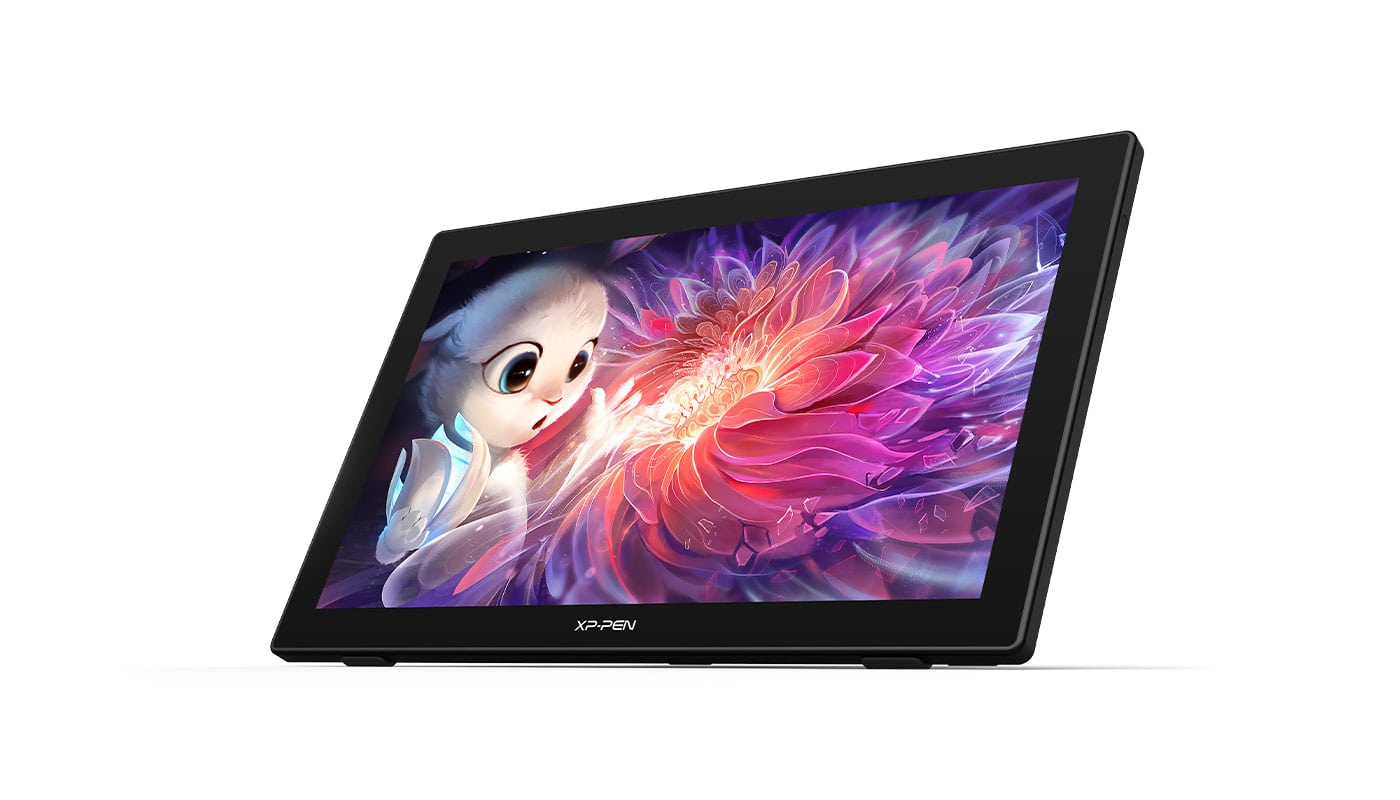 An absolute gem for striking the perfect balance between performance and affordability. Imagine having a digital canvas at your fingertips with a generous 15.6-inch full HD display. It's like your artistic dreams are coming to life right before your eyes!
But that's not all; this gem boasts an impressive 8,192 levels of pressure sensitivity. That's a whole lot of nuance and precision in your hands! Whether you're just starting your creative journey or already honing your skills as an intermediate artist, this device will provide you with the professional drawing experience you've yearned for.
The 15.6-inch size strikes the ideal sweet spot, giving you ample room to unleash your creativity without being too overwhelming or bulky. It's a perfect canvas for bringing your imagination to life, stroke by stroke, and you'll feel like a true digital artist as you get your visions into reality.
With this XP-Pen Artist Pro 15.6, you can explore many artistic styles and techniques, from delicate lines to bold strokes, with effortless ease. Whether sketching, illustrating, or doing photo retouching, this device's precision and control will make your artistic endeavours a sheer joy.
One of the most impressive features of this tablet is its incredible pressure sensitivity. Those 8,192 sensitivity levels can detect the slightest variation in your pen's pressure, making your lines and strokes natural and intuitive. It's like the pen is an extension of your hand, responding with accuracy and finesse to every move you make.
Oh, and how easy is it to set up and use? It's a breeze! So, even if you're not super tech-savvy, you won't struggle with complicated installations or configurations. Just plug it in, and you're good to go. That's a huge plus, especially for beginners who want a hassle-free experience as they delve into the digital art world.
And here's the cherry on top – this beauty won't break the bank. For its quality and features, the XP-Pen Artist Pro 15.6 comes at a price that won't leave a gaping hole in your wallet. It's a win-win situation – you get professional-level performance without burning a hole in your pocket.
4. Apple iPad Pro with Apple Pencil
It's none other than the mighty Apple iPad Pro, a versatile and stylish tablet that brings art and everyday tasks together in perfect harmony. So, picture this: You're a creative soul who loves to draw, paint, and delve into graphic design – the iPad Pro with the trusty Apple Pencil is your dream come true!
First things first, let's talk about that stunning Retina display. It's like having a high-resolution canvas right at your fingertips! Every stroke of the Apple Pencil glides smoothly across the screen, capturing every detail of your masterpiece with utmost precision. And not just any ordinary display, mind you – it's one of those brilliant Retina displays, so your colours pop, your artwork shines, and your visual experience is simply out of this world!
That's not all – this iPad Pro packs a serious punch under the hood. Thanks to its powerful A-series chip, you'll be blown away by its performance. Whether sketching intricate illustrations, working on complex designs, or exploring the world of digital painting, this tablet handles it all like a breeze. No lag, no hiccups, just pure creative flow!
Imagine you're in your favourite coffee shop, sipping on a latte, and inspiration strikes like lightning. You no longer have to wait to get home to your desktop – whip out your iPad Pro and Apple Pencil! This dynamic duo will turn any place into your creative studio. Who said you can't mix work and play? With the iPad Pro, you can have your cake and eat it too!
And here's the best part: It's not just for digital art! The iPad Pro seamlessly transitions into your daily life. You can stay organised, manage your emails, watch your favourite shows, and even take handwritten notes during meetings or in class. It's like carrying a powerful computer and an artist's toolbox all in one slim and elegant device.
Plus, the Apple Pencil is a game-changer. It feels so natural in your hand, just like a real pencil or brush. You can adjust the pressure and tilt for shading and blending, giving your creations a touch of realism. It's like magic flowing from your fingers onto the screen!
Oh, and did I mention how portable it is? You can take it anywhere, slip it into your bag, and let your creativity roam wherever you go. It's the perfect companion for the modern digital artist who's always on the move.
5. GAOMON PD1560
It's a fantastic budget-friendly pen display that's perfect for all you aspiring digital artists out there! Picture this: a sleek 15.6-inch screen ready to bring your creative ideas to life. Who wouldn't want that?
Now, let's talk about its secret weapon – the 8,192 levels of pressure sensitivity. Yes, you heard that right! It's like having a magic wand in your hand, allowing you to create masterpieces with the subtlest strokes or powerful, bold lines. Whether sketching, painting, or doing detailed work, this pen display won't disappoint you!
But wait, there's more! One thing that sets the GAOMON PD1560 apart is its thoughtful design. The adjustable stand is a game-changer, my friend. You can now say goodbye to awkward angles and wrist strains because this nifty feature lets you find the perfect drawing position that suits you. No more "ouch" moments – just pure comfort!
And hey, since it's an entry-level option, it's perfect for those just starting to dip their toes into the vast ocean of digital art. This friendly and approachable pen display by your side will make the learning curve manageable.
Not to mention, GAOMON has always been known for delivering quality products without breaking the bank. So, you're getting reliable technology and saving some hard-earned cash. Now, who wouldn't want that sweet deal?
6. Microsoft Surface Pro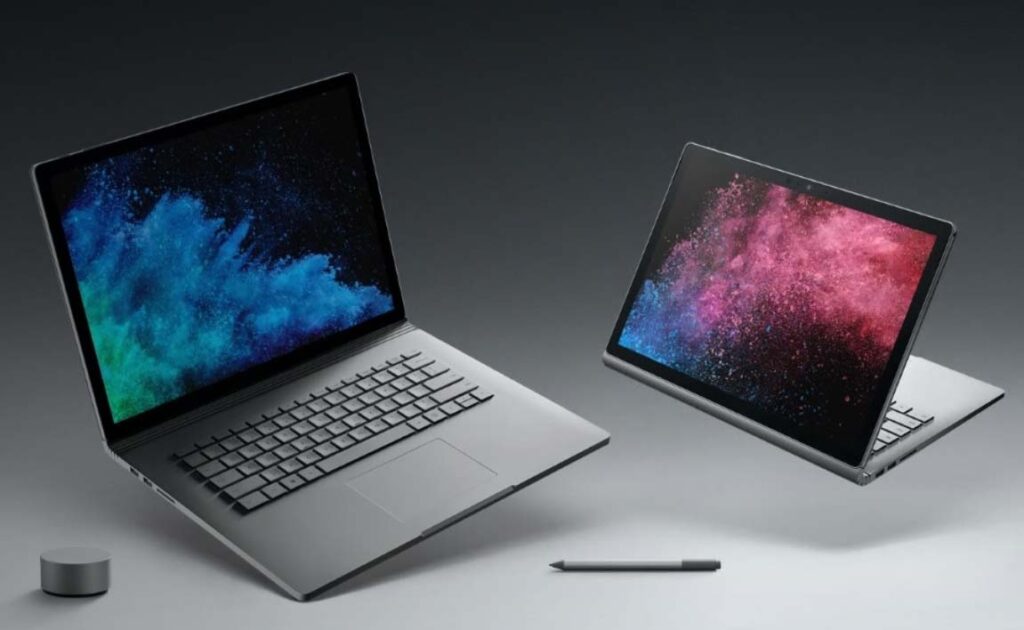 It's perfect for all you artistic and creative folks who are always on the move, looking for that versatile gadget to help you unleash your creativity.
First things first, let's talk about that super cool responsive touchscreen. You won't believe how smooth and intuitive it is to use. It's like your fingertips are dancing on the screen, and the Surface Pro keeps up with all your moves! Whether sketching, painting, or editing, this touchscreen is your ultimate artistic partner.
And guess what? You don't have to limit yourself to just finger painting. Oh no, that's where the magic of Surface Pen compatibility comes in! This nifty little accessory is like the digital version of your trusty old pencil, only way more high-tech and packed with features. It's like having a whole set of art tools at your fingertips. You can vary your strokes, adjust the pressure, and get all those tiny details right. It's like a dream come true for digital artists.
But wait, it gets even better. Picture this: a lightweight and super portable device, making it a breeze wherever you go. That's the Microsoft Surface Pro for you! Whether you're off to a café to find inspiration, hopping on a train to a new city, or just lounging on your couch, this little wonder is right there with you, ready to turn your creative ideas into reality.
So, if you're into digital art creation or creative work, the Microsoft Surface Pro is one compelling choice you want to take advantage of. It's like the perfect blend of power, portability, and artistic freedom, packed into this sleek and versatile device.
Who needs a separate tablet and laptop when you can have it all in one fantastic package? Get ready to take your creativity to a new level with the Microsoft Surface Pro! It's like having an artistic studio that fits right in your bag. So, what are you waiting for? Unleash your imagination and let your creativity flow with the Surface Pro by your side!
7. Huion Inspiroy H950P
If you're looking to dip your toes into the world of digital art without breaking the bank, this little gem is just what you need.
First off, let's talk about that unbeatable price. The Huion Inspiroy H950P has a wallet-friendly tag that won't leave you wincing. So, if you've been hesitant about investing in a graphics tablet, worry no more!
But don't let the affordable price fool you; this tablet is powerful. With an impressive 8,192 levels of pressure sensitivity, your strokes will be ultra-responsive and precise. It's like having your favourite traditional art tools in the digital realm! Whether sketching, shading, or adding intricate details, this tablet will feel right under your pen.
One of the things that sets this Huion tablet apart is its compact design. It's slim, sleek, and light as a feather, making it incredibly easy to carry around. Whether you're heading to a coffee shop for a change of scenery or taking it on the go for a creative getaway, the H950P will be your trusty artistic companion.
Oh, and let's remember the active drawing area! It offers plenty of space to let your creativity roam freely. You won't feel cramped or restricted while creating your masterpieces. The tablet's smooth surface provides a delightful tactile experience that'll immerse you in your art like never before.
Another fantastic feature is its compatibility with both Windows and macOS. So, no matter which operating system you prefer, this tablet has your back. It's plug-and-play, which means you'll be up and running in no time without any hassle or complicated setup.
Now, I know what you might think – "Sure, it sounds great, but how reliable is it?" You'll be pleased to know that Huion is well-known for producing top-notch graphics tablets, and the H950P is no exception. It's built to last and withstand the test of time, ensuring that your creative journey is uninterrupted and long-lasting.
The Huion Inspiroy H950P is a budget-friendly, powerful, and portable companion for aspiring artists and hobbyists. Its impressive pressure sensitivity and sleek design make it a worthy contender in the world of graphics tablets. So, whether you're a budding artist or a creative enthusiast looking to take your art to the next level, this little gem is here to bring your ideas to life.
8. Parblo Coast16
Let me tell you about the awesome Parblo Coast16! It's like a digital artist's dream come true. It's a sleek, stylish pen display with a decent 13.3-inch full HD screen. That means you get to work on your art with crystal-clear, vibrant colours and sharp details that will make your creations truly pop!
Now, let's talk about sensitivity levels. Brace yourself for this because the Parblo Coast16 packs a severe punch with mind-blowing 8,192 pressure sensitivity levels. Can you believe it? That's like having an incredibly precise virtual paintbrush in your hand! Whether you're a seasoned artist or just starting, this feature lets you control your strokes with utmost precision, making your artwork look natural and lifelike.
But wait, there's more! One thing that sets the Parblo Coast apart is its incredible portability. It's designed to be thin and lightweight, which is perfect for artists on the move. So, if you're the kind of creative soul who loves to find inspiration in new places or enjoys sketching outdoors, this display will be your trusty companion wherever you go. Imagine sitting at your favourite café or in a beautiful park, letting your creativity flow while the Parblo Coast16 effortlessly captures every stroke of your pen.
And let's remember comfort because eye strain can become a real nuisance during those long drawing sessions. Thankfully, Parblo thought about this too! The Coast16 has an anti-glare display: no more annoying reflections or harsh glares to distract you. You can immerse yourself entirely in your art without discomfort, just pure artistic bliss!
3.9. XP-Pen Deco Pro
One of the first things that caught my eye was its sleek design. It looks stylish and professional and would be a great addition to any creative workspace. It's not just about the looks – this tablet means serious business regarding performance!
How important is pressure sensitivity for digital artists? Well, the XP-Pen Deco Pro gets it! With 8,192 pressure sensitivity levels, you'll get precise and natural control over your brush strokes. It's like working on an actual canvas but with all the digital perks!
Oh, and let me tell you about its customisable shortcut keys. They're a real game-changer! You can set up these keys to match your unique workflow, making your artistic process smoother and more efficient. It's all about personalisation, baby!
The user-friendly interface is something that stands out with this tablet. XP-Pen has done a fantastic job making it easy for artists of all skill levels to dive in and start creating their masterpieces. No complicated tech hurdles here – just pure creative freedom!
And you know what's even better? It's compatible with most major creative software out there. Whether you're into Photoshop, Illustrator, or any other digital art tool, the XP-Pen Deco Pro has your back!
Imagine having all these fantastic features at your fingertips – you'd be unstoppable! It's like having the perfect artistic companion, always ready to bring your ideas to life.
All in all, the XP-Pen Deco Pro is a must-have for any digital artist. It combines style, performance, and user-friendliness in one sleek package. So, if you're serious about your art and want to take your creativity to the next level, this tablet is worth checking out!
10. VEIKK A30
What's cool about this tablet is that even though it's super budget-friendly, it keeps the quality of your artistry high. With an impressive 8,192 levels of pressure sensitivity, it feels like you're sketching on paper – you can apply varying levels of pressure to get those smooth, precise lines or add some artistic flair with bolder strokes. It's like having a magic pen that adapts to your drawing style!
Let's talk about its drawing area – it's a real game-changer. You get this generous canvas to unleash your creativity, making it easy to bring your ideas to life without feeling constrained. Whether you want to create intricate illustrations or doodle away freely, the VEIKK A30 has your back.
And here's the best part: it's super portable! You can carry it anywhere: to the park, a coffee shop, or a friend's house. Its compact design makes it a breeze to slip into your bag, and you'll never have to wait to get inspired – whip out your VEIKK A30, connect it to your device, and you're all set to immerse yourself in your creative zone.
The VEIKK A30 is the perfect companion for beginners starting their digital art journey. It's user-friendly so that you can handle complicated settings and configurations. Just plug it in, and you're good to go!
It's not just for newbies; even seasoned artists who want a handy secondary tablet will appreciate its functionality. Sometimes, you don't need all those fancy bells and whistles; you want a reliable and affordable graphics tablet that does the job well. The VEIKK A30 hits that sweet spot!
Comparison Table: The 10 Best Digital Drawing Tablets
To help you make an informed decision, let's summarize the key features of the top 10 digital drawing tablets in a handy comparison table:
Conclusion
Investing in a digital drawing tablet opens up a world of creative possibilities for artists, whether you're a seasoned professional or just starting your artistic journey. The right tablet can enhance your workflow, improve your skills, and turn your imagination into digital masterpieces.
This guide explored the top 10 digital drawing tablets, each with unique features and capabilities. Consider your artistic needs, budget, and preferences carefully before deciding. Remember, the best tablet for you may not necessarily be the most expensive or feature-packed but rather the one that complements your style and artistic aspirations.
So, don't wait any longer; grab the perfect drawing tablet and let your creativity soar to new heights. Embrace the digital art revolution, and your artwork might inspire others to follow in your footsteps. Happy drawing!
Last update on 2023-09-22 / Affiliate links / Images from Amazon Product Advertising API