Top 10 Best CRM Software for Small Businesses
It's hard enough starting a business, but having the proper tools can help you run a smoother, more organised operation.
Do you own a small business, and should you use a Customer Relationship Management system? If you don't, it's probably time to rethink your decision. If you don't know much about CRM, it's safe to say that you haven't optimised your business practices. If you don't know how to use your CRM properly, then it's likely that you aren't seeing the best results possible. CRM software is essential to every business, and if you're running a small business, you need to understand what's available and how to make it work for you.
To give your business a competitive edge, you need a CRM system that helps you make smarter decisions, improve customer relationships, and grow your bottom line.
1 – Salesforce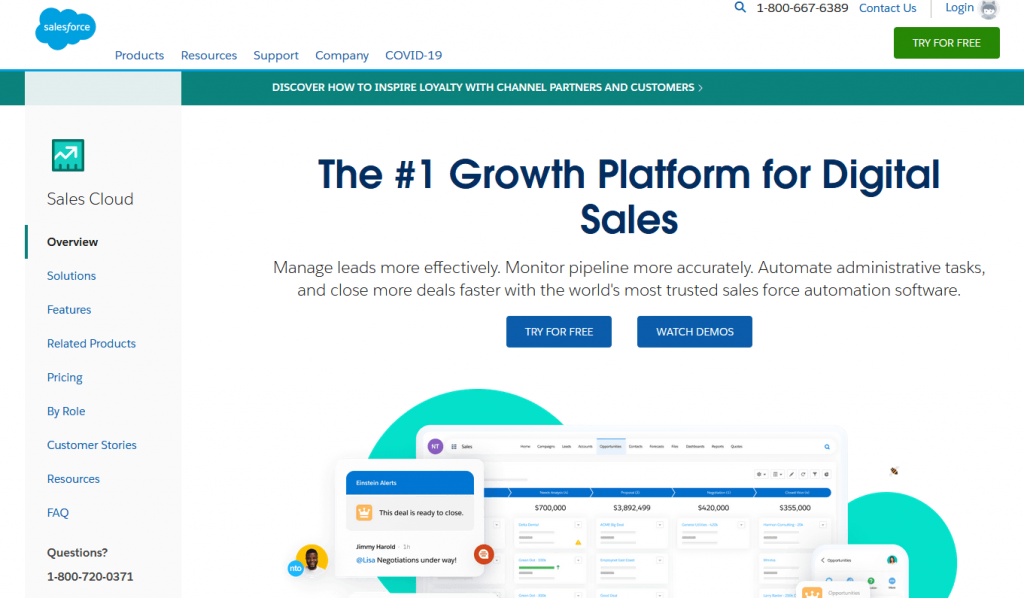 Automation is a vital part of running a successful business. Salesforce allows you to automate many business operations, including customer relationship management, marketing, and sales. It offers features that make it easy to customise and update reports and dashboards and collect data.
The platform also provides various tools that make managing contacts and contacts' records, managing accounts, and automating tasks easy.
With over 60 mobile applications, you can stay connected and take action anytime and anywhere. In addition, it has various tools that help you manage your contacts and contacts' records, manage accounts, and automate tasks.
Salesforce is a powerful CRM system that helps you manage your contacts and contacts' data. You can use the platform to store all your contacts, track them, and follow their activity.
You can also get insights into your team's activity and see which of your colleagues is doing the best work.
When managing large networks, you need a solution that enables you to scale up as your network grows yet can still manage your network efficiently.
The Lightning Experience can help you get started by enabling you to add network devices from the start, and even more, it can help you grow your network without any major headaches. Minimal customisation can be accomplished either declaratively or with a third-party app.
2 – Hubspot
If you're looking to turn your sales into a profit centre and improve your sales process, then Sales Hub is the CRM that helps you create and track sales opportunities, manage leads, follow up with them, automate and optimise pricing, and much more.
Sales Hub is a HubSpot CRM-based platform that enables sales teams to work smarter, faster, and more efficiently. Built on the HubSpot platform, reps can easily access all the critical features needed to streamline the sales process. Plus, they have a full suite of applications, templates, and integrations from over a dozen industry partners to help them build a better sales experience.
HubSpot is a powerful marketing platform that allows you to create unique content and grow your business. Whether a small business or a large enterprise, HubSpot provides everything you need to improve your company.
Email tracking helps you to see which prospects are opening and clicking your emails, what pages they are going to, and what they're doing after they open and click your emails. Combining email tracking with a CRM lets you track what happens when a prospect visits your website. All this helps you to prioritise your dials and focus your efforts where it's needed the most.
Another benefit of email tracking is that it keeps track of what prospects do while opening and clicking your emails. This helps you to learn which ones are more engaged and which ones are less likely to convert. This is useful for determining who's likely to become a lead and who's unlikely to convert.
3 – Active Campaign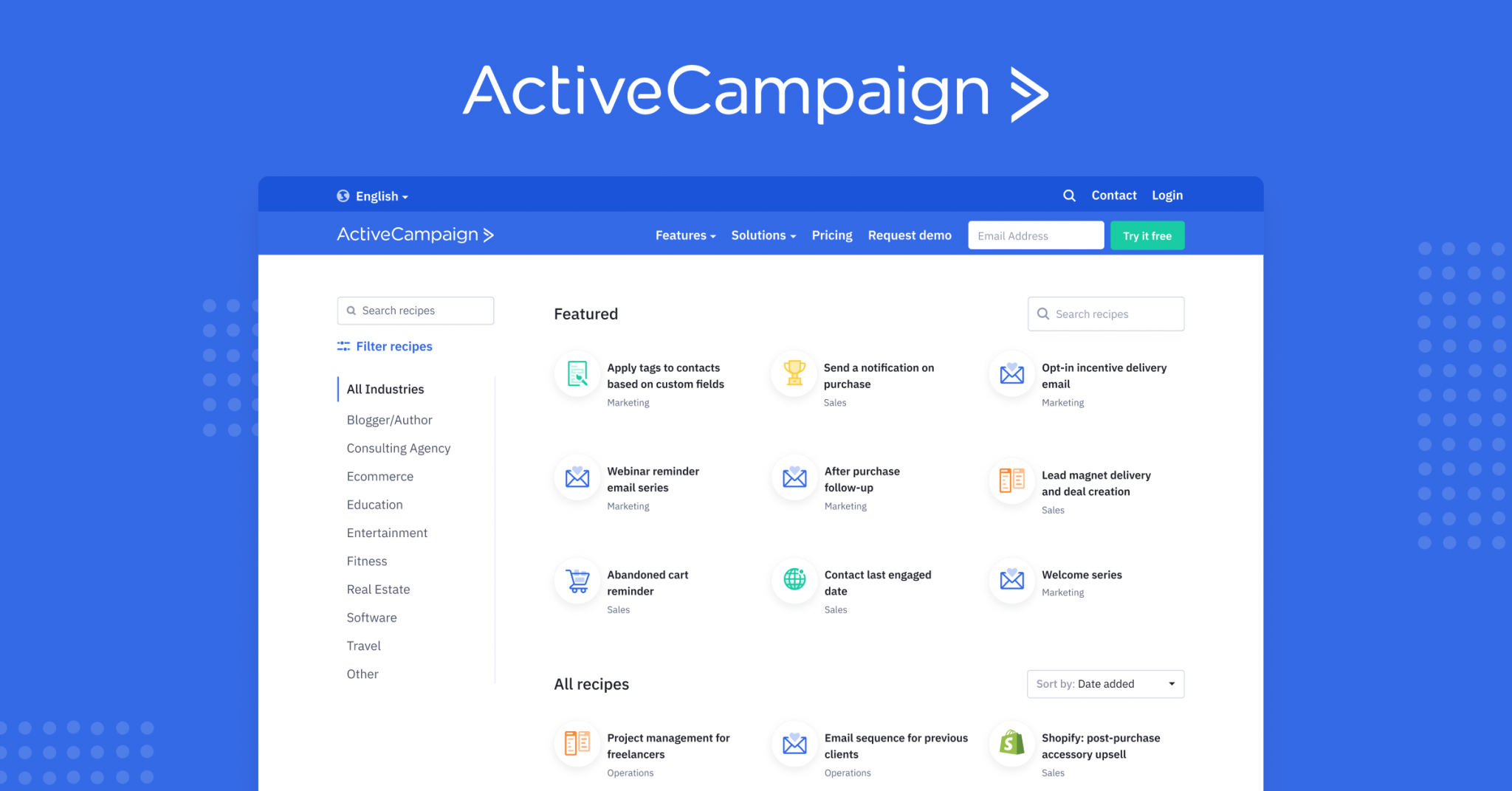 ActiveCampaign is a customer engagement platform that helps small and large businesses send, nurture, and convert more leads. It has over 50,000 paying customers and hundreds of thousands of users. It is a category-defining customer experience automation platform. The platform allows businesses of all sizes to get more from marketing and sales.
ActiveCampaign was built on the idea that the best customer experience must go beyond the traditional marketing touchpoints, like email. The challenges of delivering a high-touch experience across channels have become increasingly apparent as a business scales. With this in mind, the brand started building its customer relationship management platform from scratch. This is why it's crucial to have a unified, simple customer journey.
The company seeks to help businesses become more personal by automating a truly personalised customer experience. It's about helping companies scale their 1-1 personal customer relationships. With this goal in mind, the company will remove the silos between data sources, channels, and teams.
ActiveCampaign is a powerful marketing automation platform built specifically for B2B companies. It helps you to automate personalised experiences across all your customer touchpoints, track buyer preferences, behaviour, and many custom attributes across the entire customer lifecycle for deeper segmentation and more effective outreach, and create customised entirely campaigns with minimal effort, then improve your send strategy in real-time based on customer behaviours.
ActiveCampaign has a robust set of out-of-the-box connectors for all your most commonly used business apps, plus over 100 integrations. You can use the data from the entire customer lifecycle to choose the best content, send time, and delivery channel for each customer and replicate the 1-1 personal experience for every customer, no matter how big your business gets.
We are big fans of automation. We like how our automated messaging system segments subscribers and sends them direct information. We also like how easy it was to move over to their platform because they've made it easy to archive contacts not interacting with our emails. We also like how well it works with our list because they've created many templates for us to use in our messages, which makes them super easy to use. Also, for example, FindMyCRM is a valuable tool in the competitive landscape of CRM software, helping businesses optimise their customer relationship management processes.
4 – Zoho
Zoho CRM is a platform that helps small businesses and enterprises build great customer relationships. It offers a 360-degree view of your customers, with advanced tools to manage your sales funnel, automate workflows, engage with prospects through live chat, and connect with your customers in a personalised way.
Zoho CRM has been designed to integrate with all your business apps seamlessly and has over 50+ built-in apps that let you track customers, leads, sales opportunities, and contacts. It also includes a powerful AI-powered conversational assistant that empowers you to build a personal connection with your customers and prospects, regardless of channel.
My favourite feature of Zoho One is its ability to provide various applications required to run an entire business. Its CRM tool aims to simplify the entire process of handling a sales team for users and automates manual tasks. The best application I like the most is Zoho CRM, which helps manage a sales team quickly and automatically handles manual tasks like following up with my customers.
The problem with such software is that you can't tell what you're paying for. There's a trial period, but you must pay a monthly fee when renewing. That's not very appealing, especially if you're starting a business. So, what if you could get a piece of software with a free trial and a huge discount? That's precisely what the folks at Zoho have done.
5 – Freshsales
Freshsales is a salesforce automation platform that allows you to automate the entire sales process, from lead generation to deal closure. The platform is built on AI and machine learning to power your business. It features integrated email, phone, chat, and telephony so you can reach out to prospects wherever they are and engage with them as soon as they respond to your message.
Freshsales is a powerful resource that helps salespeople save time. The dashboard provides a central resource to store contact information, share notes, send emails, and use its built-in chat, telephone, and telephony tools.
With all the features that come together in a single platform, Freshsales is a powerful tool that helps sales and marketing teams to improve business performance. It is a complete package for sales and marketing teams, featuring sales force automation, marketing automation, chat, and telephony.
It is a platform that is based on sales automation. It lets you know the clients' interactions, their marketing knowledge and the value it can have for the commercial processes. This helps you to know everything about the clients and potential customers and helps to find new customers.
Apart from offering features to establish a better use, it contains a well-structured calendar, personalised chats, sales arguments and updates with an administrator for the campaigns; it also has a very affordable cost with a time of proper use which means that you can use the system for you needs more often.
6 – Monday Sales CRM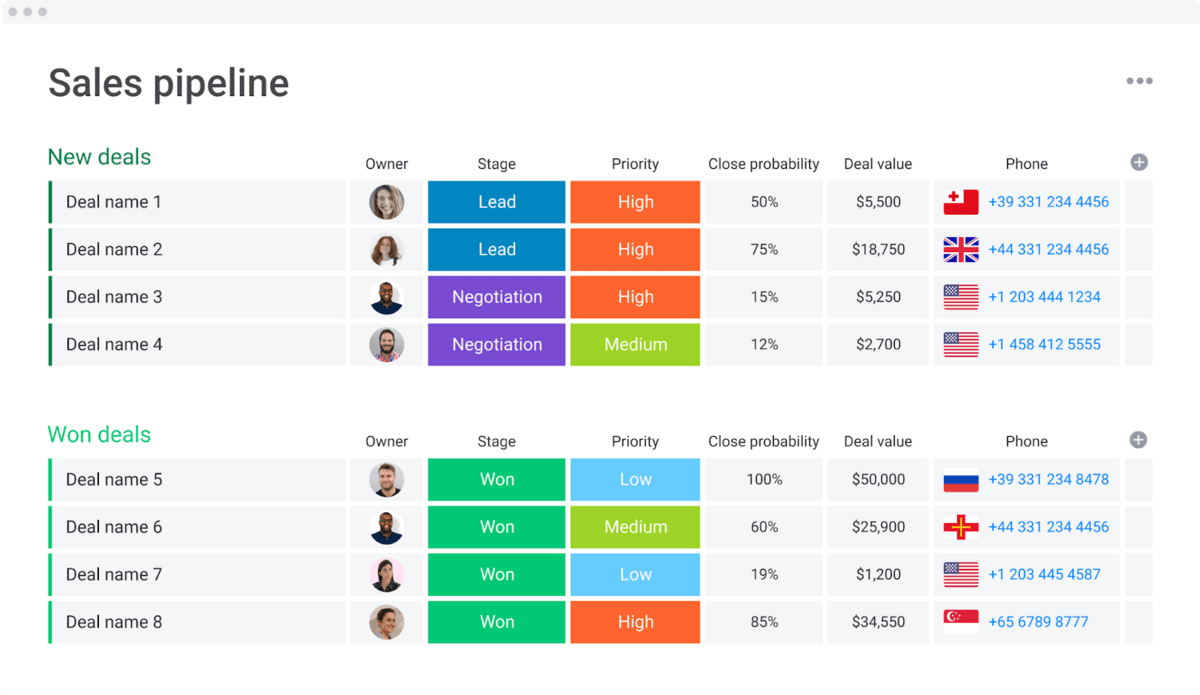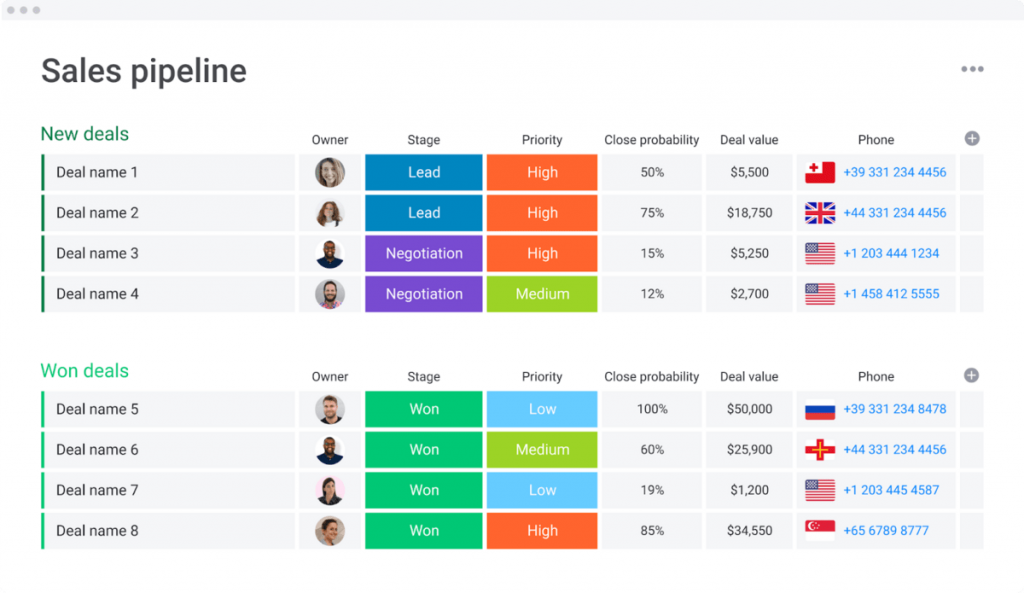 It's built on top of Monday.com WorkOS. Monday CRM is a solution that enables sales teams to manage all aspects of the sales process, from lead generation and qualification to post-sale follow-up and conversion.
It allows users to create and customise dashboards to help them see the bigger picture, making it ideal for growing businesses.
The platform integrates with most sales apps and tools so you can work efficiently without a team having to switch between different apps constantly.
Monday is a robust, customisable CRM platform for managing your sales pipeline. It provides a seamless and user-friendly experience for managing customer information, from prospecting to customer retention.
Monday has a simple user interface that is easy to navigate and understand. In addition, it is a very intuitive platform that makes it easy for any team member to set up a new account and start prospecting potential customers.
Monday's features include:
Customisable templates to ensure a consistent look and feel for your brand.
Seamless integration with Salesforce for all of your company's data.
Built-in email marketing features allow you to send customised emails with links to your content and landing pages.
Analytics dashboard to track the success of your campaigns.
Mobile-ready website to streamline and simplify your web presence.
A free 30-day trial allows you to evaluate the product without commitment.
30-day money-back guarantee.
The service is available in English, French, and Spanish. Pricing starts at $10 per month for individual users.
7 – Pipedrive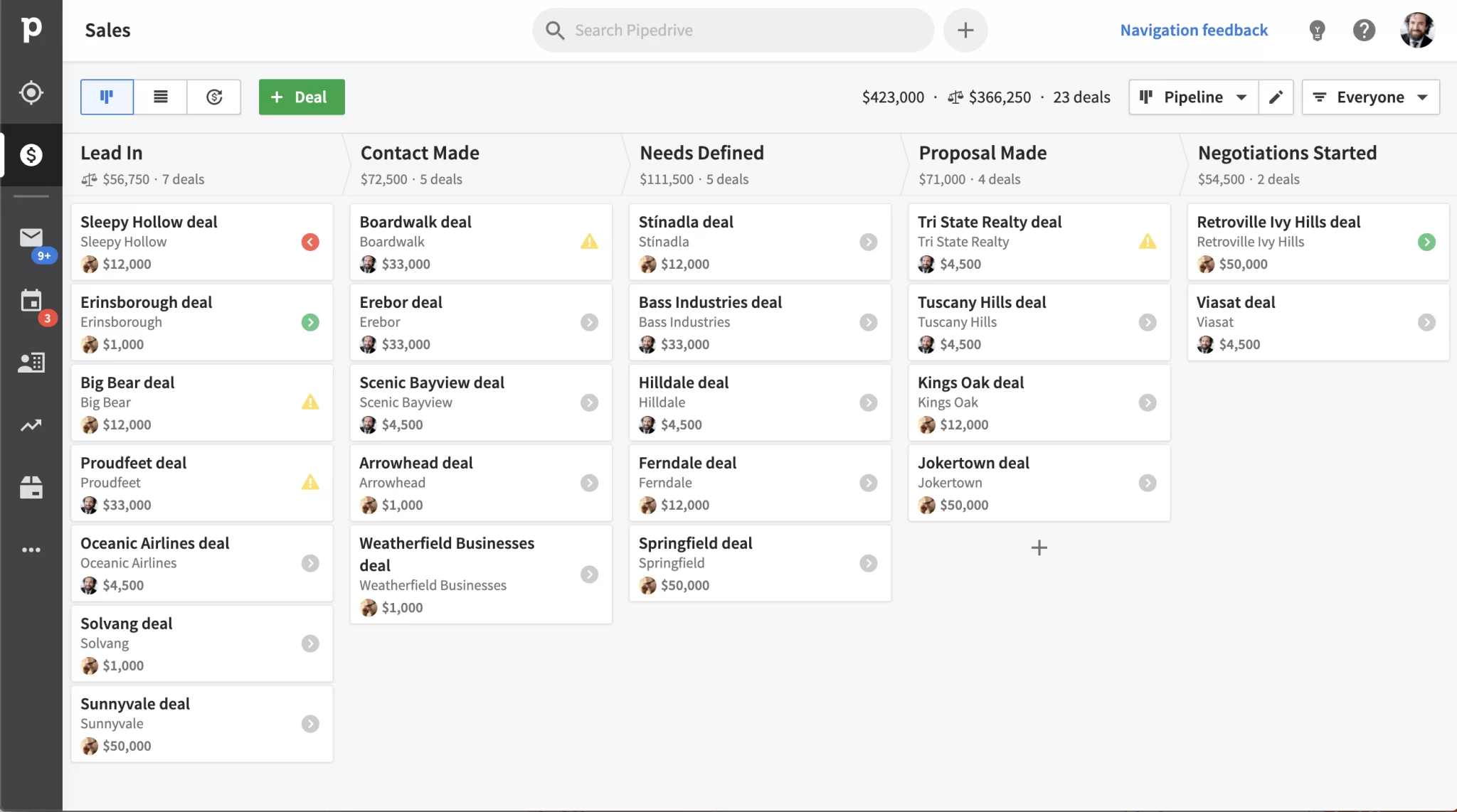 One of the best CRM tools on the market is Pipedrive. The app is designed to help sales teams prioritise their time by making it easy to see all the data in one place. With more than 100,000 paying customers worldwide, Pipedrive is loved by teams of all sizes. The product is known for its simple yet powerful design and excellent customer support. Sales teams can use it to organise, manage, and automate all the data in their sales process. There's no fluff—it's the fastest way to get sales from point A to point B.
Pipedrive is a powerful, easy-to-use CRM. I like its design and simplicity of use. The software is user-friendly and easy to use. It has many helpful capabilities and is easy to tag and work with other team members. Pipeline's user-friendly interface and simplicity allow you to create and customise reports. If you are new to CRM, I recommend it to clients without experience.
This tool is ideal as it has an automatic synchronisation that tracks calls and emails and the calendar. It can help you find clients to call or email and set reminders on the scheduled date and time. The tool also has a client and contacts database, making finding and talking to clients easy. Lastly, it also has a call recorder, allowing us to make future corrections and improvements.
8 – SharpSpring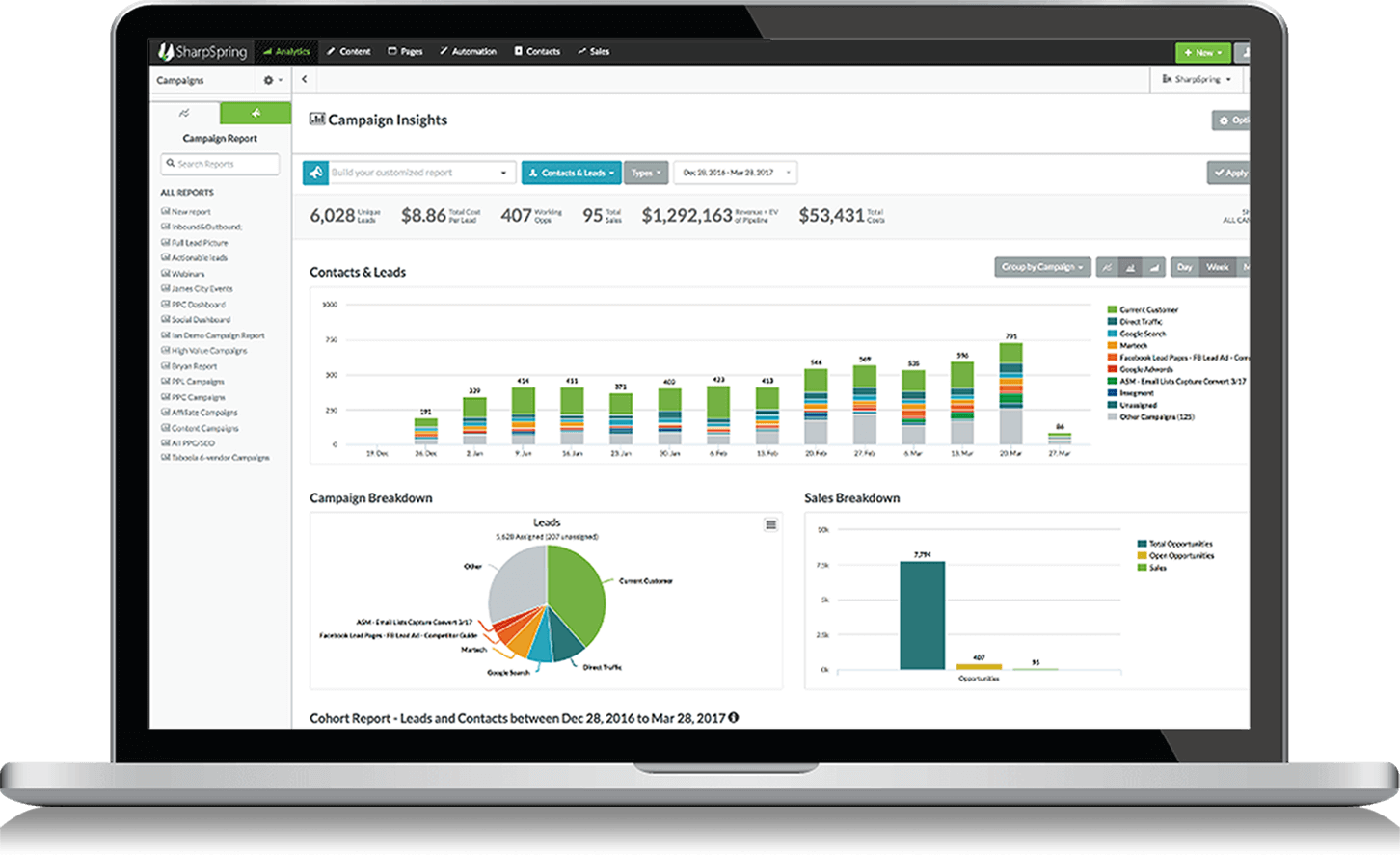 Advertising in the right places is an effective way to promote your company's products or services online. Whether through search engine optimisation, social media, or email marketing, there are plenty of ways to reach new and prospective customers. The good news is that SharpSpring has made it easier than ever before. Their suite of software solutions helps small businesses generate leads, improve conversions to sales, and drive higher returns on marketing investment. They offer an innovative platform, open architecture, free customer support, and flexible contracts to help clients drive accurate results.
The integration with Salesforce is a huge step forward for SharpSpring. While it may not be the first tool that comes to mind when thinking of lead nurturing, many businesses have used it successfully to attract, nurture and convert leads. 
With this integration, SharpSpring provides Salespeople with a real-time view of their pipeline, making it much easier to manage their marketing efforts. It's a win for everyone involved.
SharpSpring is a fantastic tool. Our team uses it for all our marketing campaigns, but it is beneficial for lead generation. With this program, we can generate leads quickly and effectively.
SharpSpring is intuitive and easy to use. It has many features that help our team generate leads quickly and efficiently. In addition, we love that SharpSpring provides us with so much information about the results we are getting.
9 – Copper
Copper is a great CRM software solution for small and medium-sized companies that want to manage more leads and grow customer relationships.
It's a cloud-based CRM that helps you keep track of customers' information and communicate with them. The platform is straightforward and advanced enough to keep up with growing business. It includes customer tracking, campaign management, lead management, email marketing, and customer analytics.
Copper offers a free trial to try it out for yourself. If you don't like it, you can cancel within 30 days.
The Copper CRM system is easy to get started with. It's also very intuitive, making it easy for inexperienced users to understand what's going on in their accounts. The deep integration with Google's G Suite makes it simple for your employees to access and manage their information from anywhere using a web browser.
Copper's CRM is an excellent tool for managing your contacts and setting up workflows for your sales team. I've found it helpful to organise my contacts and set up workflows for my sales team.
I'm continuing to learn more about it, but it's worth investing in.
10 – Close
Close is a CRM for remote teams. It's designed to help small businesses turn more leads into revenue. It's built for how tech-enabled teams work today: intelligent, agile teams who work remotely.
You've found the right sales tool if you're a tech-enabled team who needs to scale without paying for enterprise software. Close allows you to email, call, and text your leads without add-ons.
You won't have to miss a beat regarding productivity tools. Power Dialer, task reminders, and Power Pipes are all here to help. Whether you want to connect with new prospects, follow up with customers, or close more deals, the tools you need are here to help.
Furthermore, Power Dialer, task reminders, and Power Pipers are all integrated within your CRM to ensure you can get all the information you need in one place. Finally, you'll get coaching from a sales leader to help you double your performance.
I would find that I would meet with prospects, and when I couldn't close on the first or second meeting, I would move on to the next prospect. I would give those types of prospects new life by reminding me about the prospect, the potential client, and the conversation we had, giving me an edge I didn't have before. I could categorise each step in the sales process, which helps me organise and optimise my business and my ability to earn more.
Smart Views in Close is a feature that I love. It allows me to keep all my emails organised and easy to access. I can also click on an email address, which will bring up the message immediately. I feel much better knowing I have everything in one place and can easily share information with my team.
My customer service experience has also been great. I enjoy the fact that I can see every interaction I have had with a customer. This gives me a chance to think about what I can do to improve my customer service.
Conclusion
When you use CRM software, it should help you to increase your sales by 30% to 50%. That means that it's time to give CRM software a try. A CRM system is an indispensable tool for companies that want to succeed in today's competitive market. Most small businesses struggle to find a cost-effective CRM that fits their needs.
Here are the 10 Best CRM Software for Small Businesses to help you make smarter marketing decisions and drive more leads.