The Rise of Animated Video Marketing Strategies
Modern advertising is an easily adaptable feat, but it takes a lot to truly nail your strategy in line with today's saturated online market competition. 
So, how does one not only adapt to the world of modern advertising but stand out as well?
What is Animated Video Marketing?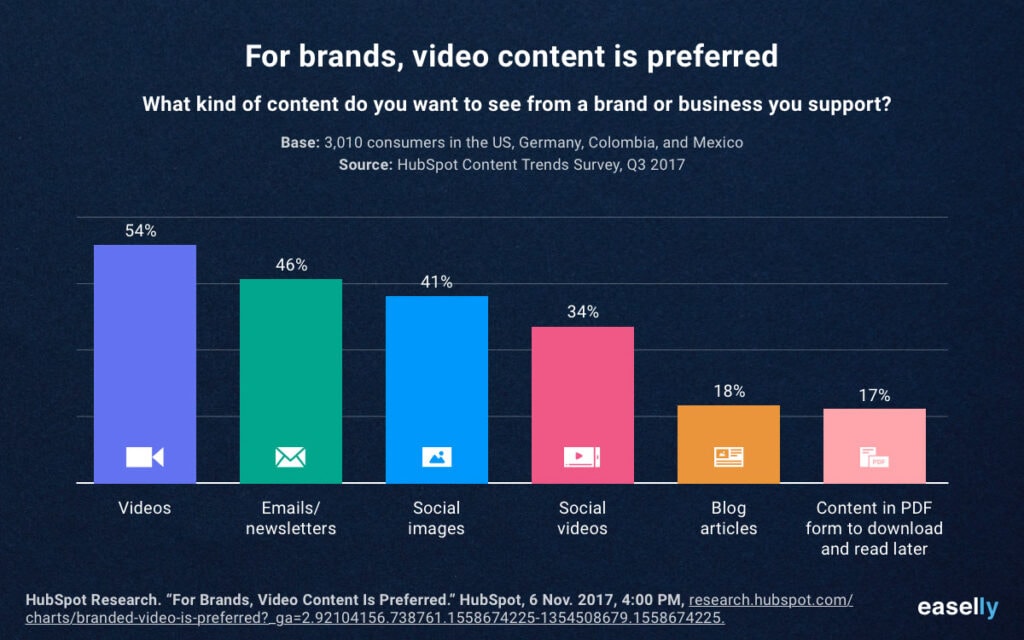 It's time to get creative with your marketing strategy. The use of animation can be the perfect way to do this.
Google report that 6 out of 10 people prefer to watch online videos than television. 
The global pandemic of 2020 saw a drastic change in online content strategy, with the popularity of animated-video marketing reaching new heights alongside other trends. 
Research by Wistia suggests that Though video uploads did begin to slow down in the following months (May-August), the overall number of uploads is still 88% higher than before the pandemic.
Many of us became desperate for new means of entertainment; thus, marketers jacked this and executed new video-based marketing strategies instead of traditional text-based marketing.
Why Is Animated Video Marketing So Effective?
Animated videos are sprinkled with funky animations that strike a chord with the millennials of our generation in particular. 
Trends show an upward rise in the use of animated videos in digital marketing strategies. Why is this, you ask? Let's take a look, shall we?
Promote your brand
Animation is a reliable tool to piece together your brand story. An excellently delivered marketing video will do wonders to convince and compel your target audience to go a step further and take your desired Call to Action. 
It is no doubt the simplest and easiest way to communicate any complexities within your brand's message, ironing out any concerns along the way through the use of pleasant characters and light-hearted music.  
An animated explainer video allows for sprinkles of humour throughout the duration, allowing for emotional values to be displayed, encouraging maximum engagement and interaction from the intended target audience. 
It's simple: animation can bring concepts to life and educate the viewers about what your brand offers in a genuinely easy-to-digest way. 
The Red Bull chain of adverts is famous for its comedic value. The use of distinct cartoon characters has become a staple motif for the brand recognised immediately by consumers as Red Bull.
Be seen and heard
We're not Isaac Newton, but we think this equation captures it pretty well: Audio + Visual = Better Engagement Retention -> More Sales.
Arguably the driving reason for the success of animation marketing, animated messages are a lot easier to digest and remember than many other marketing methods. 
Through animation, you can pair your marketing intentions with emotion, stories, music, and memorable visuals to enhance audience engagement in ways that cannot be achieved so easily through live-action videos.
Consumers naturally buy what they can see and hear over what they read on a page, which automatically improves customer conversion chances.
Through pleasant music, unmatched sound effects, and added extras such as character noises, your animation's visual aesthetic can be enhanced by the wonders of sound.  
This feature cannot match the text on a page and even still images, hence the animated videos' sudden increase in popularity. 
As humans, we appreciate a sense of belonging, and a strong voice that helps brands execute their stories can resonate with this.
An additional reason why animated characters have replaced human actors is their simplicity: It is difficult for topics to be effectively explained within a short period without the aid of animation effects and audio narration.
Multiple scientific studies have shown that people retain information at least 60% better when they receive it in video format combined with audio.
With its bold colours and vibrant character-led animation, this 2D motion graphics animation explains how to claim deals on the McDonald's app. 
The video cleverly uses sound effects such as a clicking timer, popping noises when item quantities increase, and cashier sounds when money is received. 
The subtle background music helps to keep audiences engaged as a means of negating a sense of emptiness.
The main character uses the app in a "show and tell" manner to encourage viewers that it is that simple. The consistent use of green ticks throughout the video helps with this approach. 
As consumers, we can easily relate to the protagonist in the explainer video and are thus inclined to believe that we will find the app easy to use.
Capacity for emotion
It is common practice to attach levels of emotion to animations. In the wake of Covid-19, 2020-2021 has seen many marketing campaigns connect to family values and appreciating your loved ones. 
2021 has been a year in which marketing strategies have seen an enormous shift: from traditional marketing campaigns that prioritise sales to building relationships and growing brand authenticity to optimise the consumer's experience.
As discussed in our previous point, the animated video's ability to combine sound with visuals encourages audience interaction at various levels, particularly striking an emotional connection with their intended audience. 
Establishing an emotional connection is a two-fold strength: not only does it encourage the customer to partake in your planned call to action, but it goes even further to develop a sense of trust between the customer and you.
Warning: We can always rely on Disney for a tear-jerker.
The power of the story is here, with characters placed at the very core. Family, nostalgia, tradition, and togetherness are captured in a mere 2 minutes: four concepts we all emotionally connect to. 
Through dazzling animation, incredible detailing, and a captivating story that takes viewers on a journey of the emotional rollercoaster of the characters, Disney has once again nailed the potential for emotional connection.
Limitless creative possibilities
One of the most appealing points about animation is the scope for creativity. If you can think something up, you can animate it, no matter how wild. 
You could even feature as a cameo yourself if you wish! This is in sharp contrast to live-action content, which is restricted to real-life possibilities.
Animated explainer videos don't necessarily have to be solely animated. 
The combination of animation with live footage can be an impressive way to capture concepts with technical subject matters and subsequent sophisticated graphic requirements. 
The world is your oyster with animation capabilities: mixing, matching, and trying and testing different styles is a fun process.
Effortlessly timeless
Animated videos are far more flexible than other video formats because they can obtain a more evergreen quality. 
It can be much easier for live-footage videos to be outdated because of context issues within the real world. With animation, you can create a world of your own and encourage a style that will remain timeless and fit various audiences.
This Heinz advert inspires pleasure and positive energy. Despite being created four years ago, it still looks wholly current and relatable and could quickly be released in 2021. 
Many animation trends can last for years, meaning that this style is perfect if you look for recyclable content. 
Sells all by itself
Another key benefit of the animated explainer video is that it can negate the pushy salesman approach. 
Companies usually have three objectives in mind when making an explainer video for their products: explaining something, educating, and entertaining. 
That selling the product is not a key objective is paradoxically a powerful selling tool. 
Bolshy, in-your-face sales approaches often turn people off. Animation can genuinely bring an upbeat tone to your video style in an effortless manner, totally omitting any form of intimidation. 
Not only this, but the notion that you are explaining your product shows customers that you care about their comfort when interacting with your brand, as opposed to just shoving a product in their face. 
The explainer video removes the need for you to sell your brand to potential customers directly. Animated explainer videos are well known for their success in improving customer satisfaction and loyalty.
Animation is subtly brilliant. As aforementioned, the key to success with animation marketing is storytelling since it removes your videos from fitting only in a corporate space and makes them more likely to connect with your audience on an emotional level. 
Labelled "Stories of Better," we watch an entire story of Toyota. This approach is superior to what could have been a pastel demonstration of a single model of car that could have been easily lost in today's modern advertising world. 
This excellent animated video marketing example diverges from the traditional 'salesy' car commercial and focuses on the real-life value that will genuinely connect with the audience.
Easy to digest
Are you trying to convey the complexities of rocket science to an audience of beginners? There is no topic that an animated explainer video will struggle to break down into simple visual scenes for you. 
The beautiful combination that finds audiences learning and being entertained simultaneously marks the capacity of the animated explainer video as unparalleled to any other content piece. 
This explainer video for a small technology company within the medical industry is the perfect example of how even the most complex concepts, like automated robotics treating neurological disorders, can be broken down for the watcher.
Cost-effective
The cheaper a marketing strategy, the better, as it often means a much higher return on investment. As luck would have it, animation falls neatly into this category, except for those that are absolutely top of the range. 
When working with animation firms, they will help you navigate spending budgets and provide the service that matches what you are willing to spend. 
Over the past few years, a trend has moved away from live-action and toward using animated video marketing strategies. This drift is driven by cost as well as technology.
Why?
For one thing, using human actors is far more expensive than creating animated characters. 
The newest generation of explainer video software makes it easier for talented artists to create clips that grip viewers' attention and tweak all the right emotions.
The story is narrated, the problem solved, and the benefits explained in less than two minutes. 
Human actors can't move so fast, and besides, they require larger paychecks than an animated character. The audacity!
Wrapping Up
When used effectively, a marketing video can become a valuable lead generation tool, motivating potential customers to move further in a marketing funnel encouraging them to invest in your brand.
Integrating animation into your video marketing strategy is a sophisticated way to make your brand stand out in a highly competitive online industry.
Data clearly shows that the global pandemic of 2020 has stimulated video adoption and consumption for businesses. 
If you haven't done so already, get investing into more video content across your marketing strategy. As well as being entertaining, explainer videos, in particular, are great tools for education and can drive traffic from all angles.
2021 is about customer engagement through telling your story. Please get to know them, listen to their needs, and find out what they want to see! 
Make your animated video marketing strategy more authentic, human, and personalised than ever before. This year it's time to experiment, and there is no need to fear!