Top 10 UX Tools UX Designers Should Know About
New UI/UX design trends are introduced every year; hence it becomes vital for UX designers to stay updated with the going trend.
The majority of players start to follow the trend; it's inevitable because of the oversaturation.
Designers can check modern trends from time to time to cater to the growing requirements of their clients.
Business entrepreneurs mostly hire UX designers who can offer the best solution helping them to cater to their business requirements efficiently.
If you want to know about modern UX tools, then explore the article entirely.
Knowing UI/UX trends is vital as it helps you offer virtual pleasure and useful digital products.
There are a few critical aspects that you can consider while choosing UX tools; these factors include:
Usefulness;
Usability;
Collaboration;
Integration.
Forrester's report suggests that a well-designed and standard solution can have up to 200% higher visit order conversion than a low design site.
Visit to lead conversion rate can result in 400% higher sites with the best user experience.
The brand starts to recognise the impact of ROI and having a presence online.
At the same time, UX has become mainstream and can longer be considered as a competitive advantage, helping brands to improve their profit margin to a great extent.
Check the list of top UI/UX trends that have shaped the year and create more buzz in the future.
UX Tools: How to Choose the Best Option as a UX Designer?
UI and UX are two different terms of web design, yet both go parallelly hand in hand.
When it comes to UI, then the main focus is the design interface, whereas when it UX, then the main focus is product or service.
UI and UX tools provide designers with everything which they need including mockups, prototypes, hi-fi wireframes, and much more, helping them to build a fantastic business solution with ease.
It mainly focuses on how the user experiences the content; UX tools can help structure the architecture best.
As it's conceptual, UX tools can help a designer design and plan the map about how content and brand will affect the user experience.
According to the survey, Sketch is a leading UX tool that has gained popularity and catches up in the market in recent years.
Choosing the right tool is critical to describe the thoughts and collaborate amazingly with the customers. With an end number of options available, choosing the right UX tool is not an easy task.
Each UX tool has its functionality and use; its reach features and cost make them stand out from each other.
If you want to choose the best UX tools, then there are various factors that you need to take into consideration; these factors include:
Learning Curve;
Sharing;
Usage;
Easy of Use;
Cost;
Fidelity.
There are many more factors which you need to take into consideration to make a smart choice.
Whether you require a mockup for developing a video streaming app or need something that supports solving complex interactions, you can find everything right away if you have a proper understanding of UX tools.
List of Top UX Tools UX Designer Can Use
The UI/UX design trend is evolving rapidly, and it sounds challenging to stay updated with the current trend.
But if designers fail to stay updated, then there are great chances that they will fail to achieve success in the present market.
Checklist of the best UX tools that you can find handy for the designing process.
Designers who are looking for a full suite of UI design tools can go for InVision.
It's the best UX tool that satisfies all their design requirements by offering them great functionality with dynamic elements and animations.
With easy use of UI and UX tools, it becomes easier for them to communicate with ease.
It also makes it more comfortable for designers to share their work, receive feedback, create documents, and much more.
The team gets a digital whiteboard that enables them to get a better idea and sign off before moving forward.
InVision's team is continuously making changes and improving the platform for helping designers to leverage the best.
The platform makes it more accessible and more comfortable for you to interact and animate to static images.
Designers can upload multiple files, including different types such as JPG, PNG, PSD, GIF, etc.
It also offers users push & pulls interaction with apps like JIRA, Trello, Slack, and many more.
Cost:
Free for a single project;
$15/month for three projects (starter);
$25/month for unlimited Projects (Professional).
Runs On:
Prototypes for:
The kingdom of Adobe XD reigns in the creative cloud, making it hard to knock it off of the status as royalty in software design.
Adobe XD offers vector-based tools for mockups and prototypes with an interface that is quite familiar to individuals who use other Adobe products.
The real-time collaboration makes this UX tool a perfect choice for UX designers.
Adobe XD offers multiple and sophisticated tools to the UI designers; it also possesses the stock of dynamic elements, whip-up interactions, and other things that you can integrate with mockups or prototypes.
Adobe XD is a rare design platform that can combine various disciplines, externally anything lacking.
With this useful tool, you can easily reuse, draw, and remix and develop artwork to build wireframes, layouts, screen layouts, production-ready asserts, and interactive prototypes.
You can easily design a prototype as per a Spotify clone or other app development. Prefer to transit, interact, and share stakeholders and teammates to test, feel, and look for your design.
Cost:
Runs on:
OS X;
Windows;
Android;
iOS.
Prototypes for:
Figma enables designers to build dynamic mockups and prototypes, helping them test the usability and sync up all progress.
The UX tool enables multiple people to work and view project updates at the same time.
It works much like Google Docs, allowing you to check what is happening in real-time collaboration.
You can check work in progress and others' work as well on the platform.
Figma was launched in 2016, whereas InVision was introduced in 2011.
According to a design tool survey carried out on 2,800 designers during 2018, Figma is mostly used by designers worldwide compared to InVision, especially in interface design.
Users can quickly get familiar with how it works and much more with a few simple taps on the platform.
Cost:
Runs on:
4 – Origami Studio
Created by Facebook, Origami Studio helps designers to build a fantastic product as per clients' needs.
Photoshop and Sketch designers can prefer to use Origami Studio as it allows you a link, animate, and transfers anything you need.
You can export the prototype element with one click, making it easier for engineers to copy-paste the project whenever required.
Designers who need advanced prototyping tools can use Origami Studio as it has a lot to offer them.
You can integrate Origami Studio with Sketch if you are working parallel with the platform for developing an app or webpage.
It lets you bring in layers and copy & paste everything to hang-ups.
Cost:
Runs on:
Prototypes for:
Photoshop and Sketch have quite similar functionality, enabling you to manipulate and edit images of your choice.
It allows you to easily change sizes, layout, styles, etc., allowing you to avoid painful hand tweaking with ease.
UX tool workflow makes it easier for you to create high-quality and beautiful artwork.
It makes the reputation of different elements such as bars, bubbles, buttons, etc.
Most designers might hear of being familiar with the use of UX tools.
It saves time for designers and makes a tedious task much more comfortable than ever before.
You can use any of the tools with Sketch to leverage a competitive advantage.
Cost:
Free trial;
$99 for the full version.
Runs on:
Prototypes for:
6 – Axure
Keep track of workflow, and the prototype has become more comfortable with Axure.
It features a smooth interface, helping you explore each minor and major detail easily.
It offers numerous UX tools features; it enables designers to test the functionality and put everything together for designers' easy handoff.
It becomes easier for everyone to keep up-to-date information about the project with Axure and make essential changes in real-time, making Axure the best choice for UX design.
It possesses various features, including:
Dynamic content for leveraging hover functions;
Conditional flow for checking conditions;
Math functions such as removing, adding, and many more that reflects the amount;
Data-driven sorting;
Adaptive views;
Animations.
Cost:
30-day free trial;
Pro: $29/month ($495 to purchase);
Team: $49/month ($895 to purchase, per user);
Enterprise (includes on-premise solutions): $99/month.
Runs on:
Prototypes for:
If you're looking to speed up your design process, then you should switch to Webflow.
It provides you with the power to design that also without knowing CSS or HTML coding.
Drag & drop functionality and an easy-to-use interface make it easier for you to do whatever you imagine.
Using this UI/UX tool can help you build a unique platform; it saves your time and effort to code HTML and CSS code.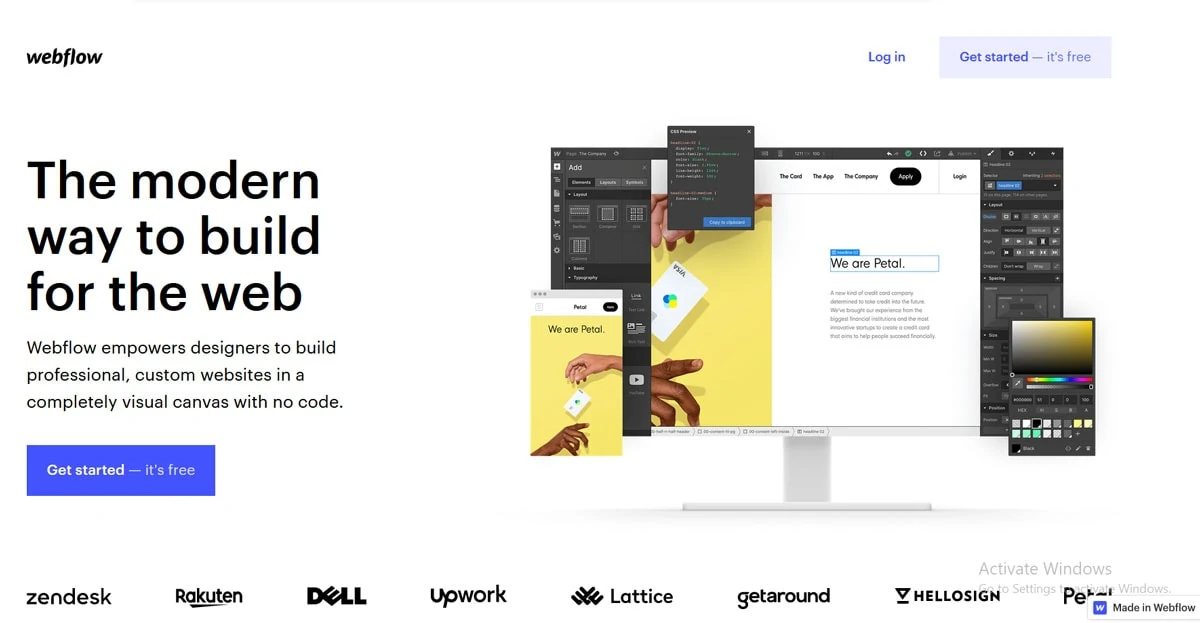 Webflow primarily focuses on animations, responsive web design, interactions, and much more at the same time.
You can easily design, build, and publish an entire business site using the visual-based UI.
You can refine your UI mockup and production-ready website with few clicks.
Webflow enables you to export code in CSS, JavaScript, and HTML.
Cost:
Free for 2 Unhosted projects;
Personal: $16/month;
Pro: $35/month.
Runs on:
Prototypes for:
A Framer is a popular UX tool based on code, making it possible for designers to prototype anything resulting in a beautiful and fantastic design.
You can enjoy a seamless workflow by previewing, sharing, and version control facility.
Framer supports Photoshop, Sketch and preserves design layers as well.
Additionally, Framer's app provides designers with a live preview facility along with changes performed.
Framer offers different plugins in-store, providing designers features such as kits for integrating social media platforms such as Twitter and Snapchat.
Designers can embed various media types, including grids, components, and other elements that they require.
Cost:
Free trial for 14 days;
$15/month.
Runs on:
OS X;
iOS;
Android;
Windows 10 Mobile.
Prototypes for:
Web-based tool Atomic requires Google Chrome as it doesn't have any desktop app.
UX designers can use the tool using Safari, Firefox, or any other browser.
It provides you with the flexibility to control and adequate interaction with just a click of a button.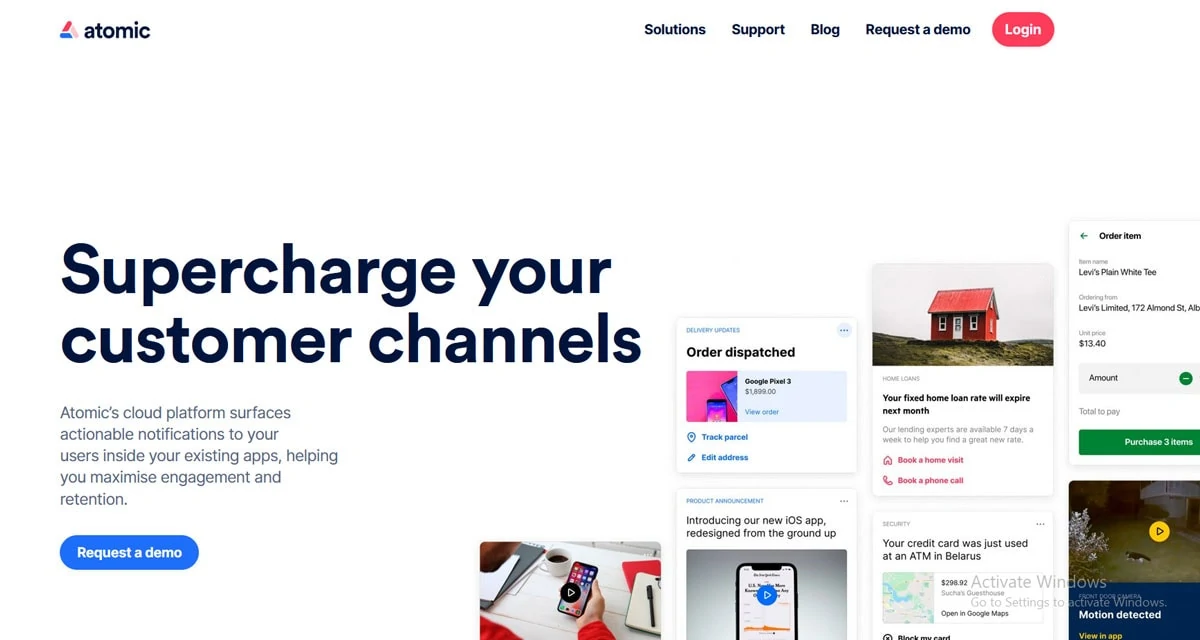 The platform also makes it easier for you to make essential changes and provides easy access to all designers.
You need to download the app for collaboration; the UX tool's best feature is its history.
It enables you to rewind and explore previous iterations from any point.
Cost:
Free for 1 prototype (30 days);
$19: Unlimited prototypes (1 user);
$99: Unlimited prototypes (10 users).
Runs on:
Prototypes for:
The UX tool makes it easier for you to build a low-fidelity wireframe.
It has a user-friendly interface; even people without experience can use the platform to design the best solution.
Balsamiq possesses both UI and UX; it stands out from other solutions due to its low fidelity wireframes.
The UX tool replicates the convenience and speed of developing mockups.
Designers get access to more than 500 premade items and icons.
Users can use fast and simple shortcuts to enhance productivity and speed for creating mockups.
Cost:
Free trial for 30 days;
Web app: $12/month;
Single User: $89;
Volume License: Varies by several users.
Runs on:
Prototypes for:
Ending Note
Due to changing technology and web design trends, it became essential for users to stay updated with every minor and major change taking place.
Keep on checking updates on UI/UX trends to stay updated and leverage the best functionality and features.
Listed above are some of the best UX tools that you can consider using to ease your designing efforts, save time, etc., during the designing and development process.
But the list isn't here; there are many more you can consider using; check on the web to find the best UX tools that ease your designing task.
Author Bio: The founder of Alphanso Tech, Gaurav Kanabar, has a passion for writing. He has written on various topics, including streaming app development, cybersecurity, modern technology, finance, and many more.