11 Top Mobile App Development Companies
The internet is now brimming with impactful web developers. Getting yourself a profitable, original mobile app development company to get the job done used to be a rarity. 
You must have been through much research to land here on this article – 11 Top Mobile App Development Companies.
Mobile app development has seen more upsurge than any other type of digital service in the recent two years.
There are now examples of major brands that prefer their smartphone better than a website for a computer. 
Now, it's not about race, for it is a preference, but statistically, the opportunities are shining if you consider having your own app. 
Here presented a handpicked list of top, excellent and professional performance-rated mobile app development companies. Learn more as we proceed to go below.
11 Top Mobile App Development Companies
FATbit Technologies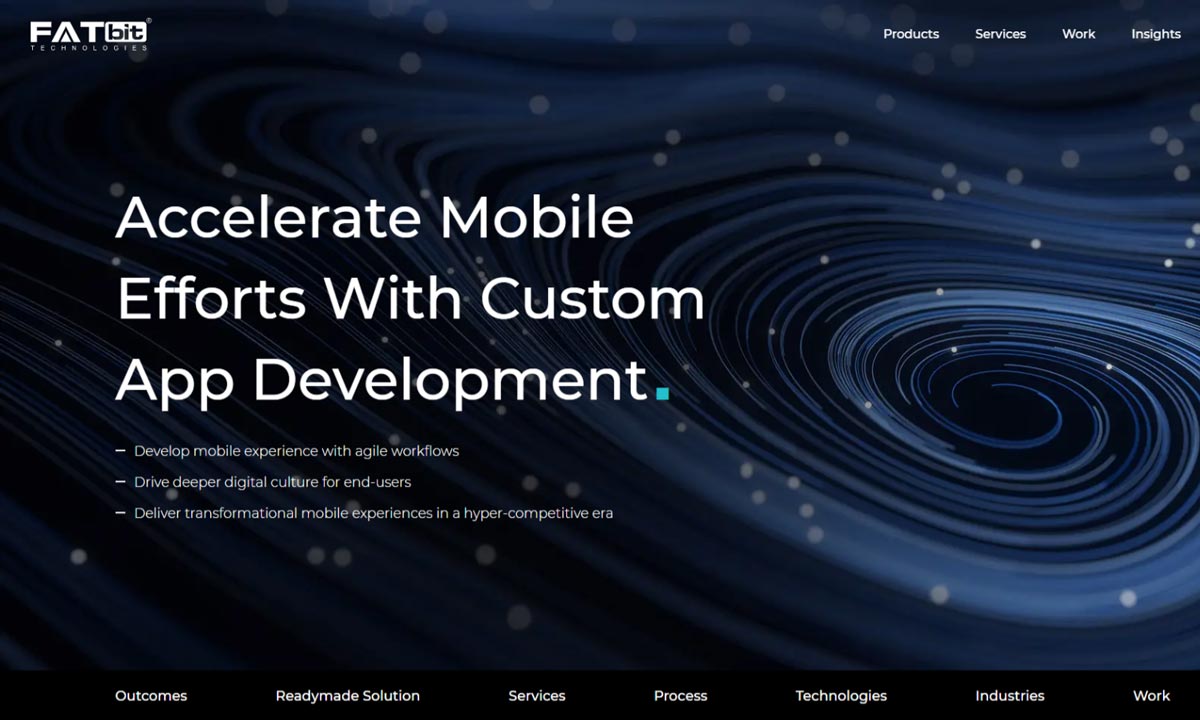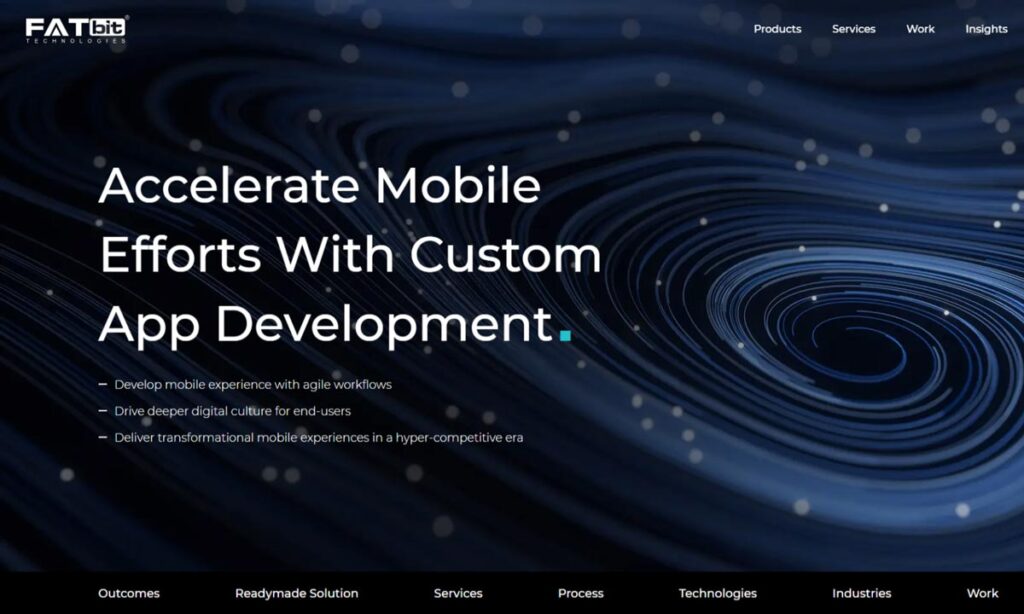 Founded in 2004, FATbit Technologies have an immense portfolio and experience to secure a good hold on the mobile app development industry.
Developing over an amplitude of digital services, FATbit has earned the trust of recognised agencies.
A team of more than a hundred and a half carefully selected employees deliver the highest quality work. 
FATbit has delivered more than five thousand software and applications to date. FATbit Technologies excel in Android app development and hybrid mobile app development. 
With FATbit, you wouldn't need to worry about your app's looks, functionality, and branding as they have a world-class system of user experience design.
FATbit provides very efficient and dedicated mobile app support and maintenance with the completed project. 
Besides, suppose you already have an app and still want additional prospects. In that case, FATbit can also perform genuine mobile app testing to determine the domains of distress and then work on the convenient features prominently.
Prometteur Solutions
Prometteur Solutions, from and in India, are a leading web and app developer agency. Prometteur was founded in 2013, so it is a new and modern name in the app development agency.
However, their portfolio carries some prominent names worldwide. They emphasise their focus on the development of apps for Android and iOS alike. 
Their mobile app development fields have covered education, travel, finance, telecommunications, real estate, entertainment, and other projects relating to different domains.
Preferably they have a separate and dedicated UI/UX solutions department which looks into the job, separately or cumulative of the projects, as the case may be.
And being a company established not so far ago, their pricing is unbelievably affordable, and it is a must to check for start-ups in and around India.
Algoworks
Algoworks is a colossal development brand in the digital sector. However, with mobile app development, Algoworks specialises in game development. 
The two go hand in hand, but it always requires a proper developer to practice the details for smoother glitch-free games.
They also develop healthcare, finance, marketing, and communications apps. Besides, Algoworks has a unique client-involvement strategy. 
They share the development status at each step with the client to get real-time feedback, thus saving time later for modifications.
Algoworks was founded in 2006 and has offices in California and India. Algoworks has worked with Coca-Cola and eBay, including hundreds of high-status brands.
Hedgehog Lab
Hedgehog, the developers behind the online experience of Mitsubishi Motors, is a critical consideration for mobile app development. 
Apart from Mitsubishi, the Hedgehog Lab has achieved enormous appreciation for its works with and for popular names worldwide. 
Their portfolio includes EDF energy, Santander Bank, and the most popular Financial Times. Budget is not a problem here compared to the quality of service one receives. 
Hedgehog Labs has grasped much attention from renowned agencies like Glassdoor, The Top UK Developer, App Design Awards, and many more. 
Hedgehog, in 2016 also received an award – RAR Digital Awards for Best On Budget Award. This UK-based mobile app development company has three offices worldwide.
Hedgehog Lab is our suggestion for cross-platform projects if you are looking for hybrid app development.
Dotcom Infoway
With about 20 years of experience in digital services, Dotcom Infoway has witnessed growth from cell phones to smartphones in the industry. 
Dotcom Infoway has worked for Sony Music and Motorola in shaping innovation. 
Their portfolio is filled with names of popular brands that rely upon Dot Com Infoway for the trust they bring to curate the atmosphere of digital services.
Dotcom Infoway has also been prominent in IPL, Amazon India, ICC, and Universal Publishers for mobile app development. These are but just a few names. Dotcom Infoway has offices in India and the United States. 
Brightec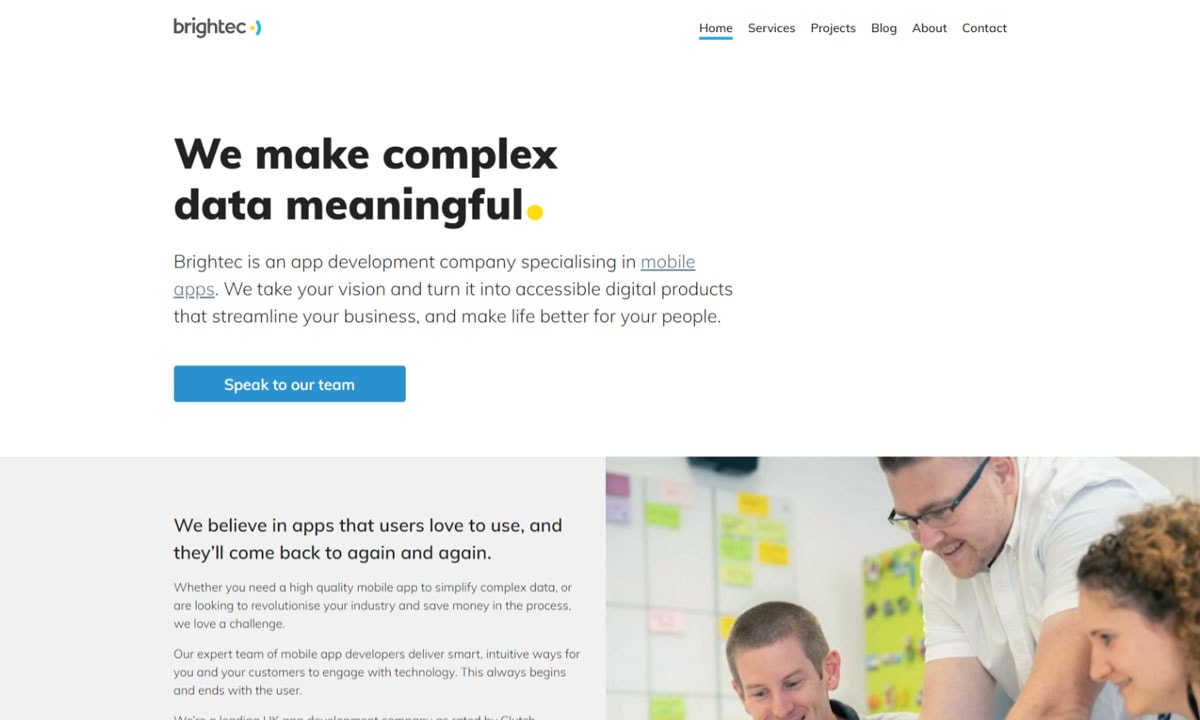 This English company is a leading name in the mobile app development industry. They ensure high-quality project delivery with the finish of some of the most educated and well-practised tech-geeks that bejewel the team. 
Now, for individual platform app development, this is the name to cling to as a priority. They excel at making apps and the system environment for platform-specific apps.
As shared, their work mechanics are Discover, Define, Develop, and their ongoing development ideology. 
It is a suitable process because it always involves an element of innovation that leaves the clients and its user in awe. 
Their team is relatively small, so they are always busy with many ongoing projects, but this shouldn't stop you from conversing with Brightec to discover if they can accept your project.
Remember that their rates may vary, and they charge per hour, it can be around $100-400 depending on the size and demand of the project. 
IT Craft
This decade-old mobile app development agency, ITCraft, is based Warszawa in, Poland. Apart from that location, ITCraft owns offices in Bydgoszcz, Torun, and London also. 
Their notable work in automation services for administrative functions is the key attraction, bringing clients to them globally. 
Looking at the names of the location, please do not believe that language will be a problem.
Their portfolio represents projects like DHL and LUX Med from Bupa Group. If you are aware of the Rossman and the Makro C&C, ITCraft has worked for them as well, which makes it stand in a respectable position, if any, in the mobile app development market.
Konstant Info Solutions
Konstant Info Solutions is a name in mobile app development. It has worked for United Nations, Del Monte, Volkswagen, Citrix, Nestle, Wonder, and Scholastic, among many other projects they have successfully delivered. 
These projects in the portfolio have made Konstant the first choice of many onlookers for their respective web and app development needs.
Konstant Info also won the 2018 Best Mobile App Development Agency from the Tabby Awards. 
In 2020, Clutch nominated Konstant Info Solutions as the Top App Developer in India. There are many awards to talk about which they have received but to know about their work is to see that they excel at ERP and CRM apps and are used within a network chain of multiple thousands. 
Konstant Info Solutions, founded in 2003, is in Jaipur, India. 
STRV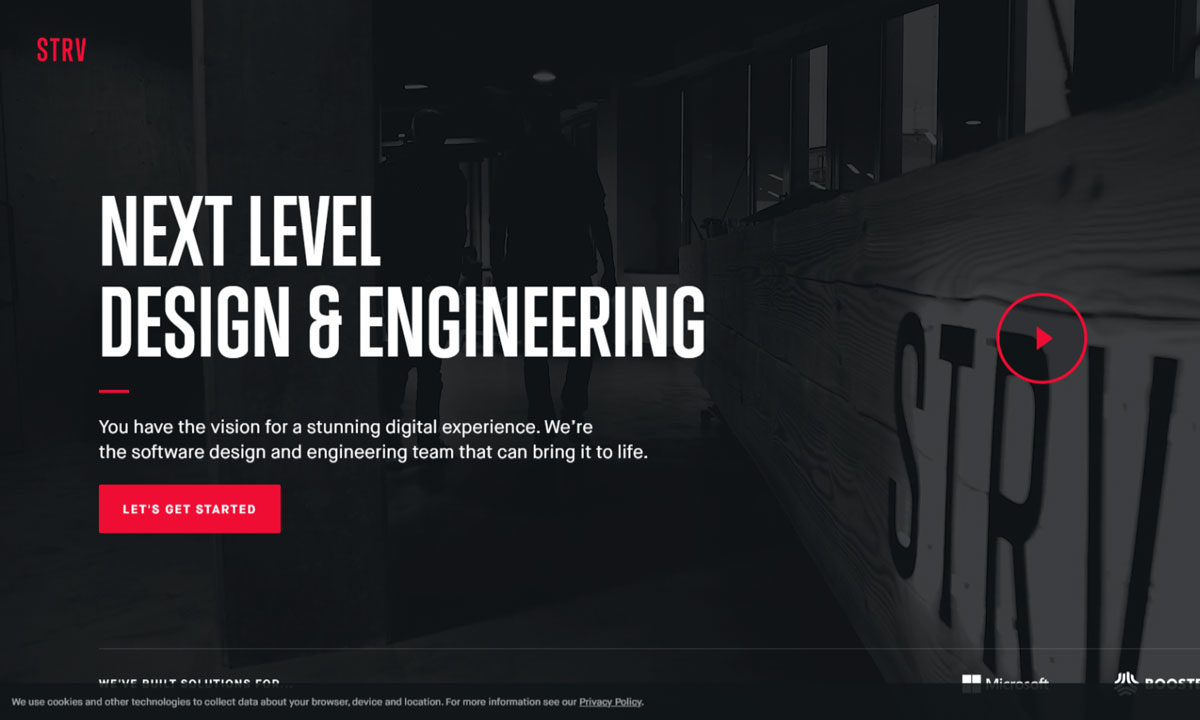 STRV, founded in 2004, is a foremost choice of Clutch Reviews, which has given it a 4.7/5 rating in 2021.
STRV does everything, from low-range to large-scale businesses, whatever requires support. 
STRV is also responsibly proactive in the field of Software design. 
It is an American company that started in LA, California, in 2004. Their annual project delivery is minimal (less than a hundred) as they believe in quality over quantity. 
STRV has also worked for Microsoft, Legal Zoom, and Class Dozo. It is also a Google Certified Agency. STRV is a superior choice for those with specific design demands. 
Zealous System
For scaling your business or start-up, the Zealous system is the perfect choice for small and developing businesses.
Zealous Systems was founded in 2008 and now has office branches in India, New Zealand, and Canada. Having offices in different locations ensures that your app will get the most out of STP-Segmentation, Targeting, and Positioning Value.
This is a business model which helps you know your target audience better.
Their choices and dislikes, their needs, and their platform preference if you are considering a platform-specific application.
The Metropolitan College of New York, New Zealand Tertiary College app, and brands like Audi have given opportunities to the Zealous System. They have led to the successful growth of their work value.
ValueAppz
Founded in 2016 under the parent company Signity Solutions, ValueAppz has gained intensive experience in on-demand delivery app development.
The company is established in the USA and India and has clients worldwide. 
Their on-demand delivery app development covers top industries like food, grocery, beauty, home services, fitness and health, taxi, and education.
The USPs include highly competitive pricing with source code, multi-currency, and multi-language support, a dedicated customer success team, and ready-made market solutions.
With its quality yet cost-effective solutions, ValueAppz is the best for startups, small businesses, and enterprises looking to enter the on-demand delivery industry to enhance their brand growth. 
Their portfolio represents engaging on-demand delivery apps like Home Services, Daily Grocery, My Digi Salon, Foodys, and Veg Organics.
What Areas Necessarily Demand a Mobile App?
If you own a business, be it real estate, finance, or education. A mobile app for your service will be your knight in shining armour, and the global situation has proven the saying in the last year.
There has never been a better time for medicine or healthcare to emphasise the digital outlook of providing such a service.
Mobile apps are most beneficial for marketing, delivery, or fin-tech overall. Besides, start-ups with the aims of providing travel-related services or ticket bookings, so to say, can even start first with the app at hand, as entertainment fields had prospered over the mobile apps when everything seemed to shut off. 
Should I Prioritise Android or iOS or Both? Cross-Platform Mobile App Development
Depending on the target users and the budget criterion, this question can have many answers. 
However, the best way is to have a cross-platform mobile app development.
Generally, this is a hybrid development in which developers skillfully integrate all components into a single .net code. 
This can further be implied to create Android, iPhone, and other framework applications. However, this is a complex process and must be performed only by experienced and professional web developers for the best results. 
This might be a bit more expensive than the individual app development process. However, if one looks at it, this expenditure is an investment only. 
Besides, you will save a reasonable sum when you prefer cross-platform mobile app development instead of an individual collection of apps for different platforms. 
Still, our experience suggests you must prioritise Android mobile app development if your budget is stringent. 
You can do this research precisely by taking surveys and demographic segmentation to analyse your target geography and the majority of the user preference. 
Children and teens are on iOS, working-class individuals and college students are on Android and Windows (PC), business professionals and VIPs are on iPhone, and older individuals are on Android again.
Closure
We wish that your venture reaches the top for which you have put so much effort into the research. And for that, we have included the very best of the best names for you. It would be best to share this with those needing this advice.
Upon finding, you will come across a million words on the internet promising an effective app development, but always be aware of the sharks in the ocean.
So to speak, if you feel you have something to share or have any questions, do not hesitate to share your comments with us below.