How to Attract Clients and Start Earning as a Freelance Designer
Getting started as a freelance designer is hard.
No one will tell you what to do, and clients won't simply come to you. At first, there's a high chance no one will know who you are.
However, this is not a reason to feel unmotivated, but rather an opportunity for you to work harder and smarter.
Given that we live in a technological age, there are many things you can do to increase your visibility and put your work out there.
From social media to creating a website and using online advertising techniques, the possibilities are endless, and they are 100% adjustable to your needs and budget.
With this being said, we created a list of the top 5 things you can do to increase your visibility, attract clients and start earning as a freelance designer.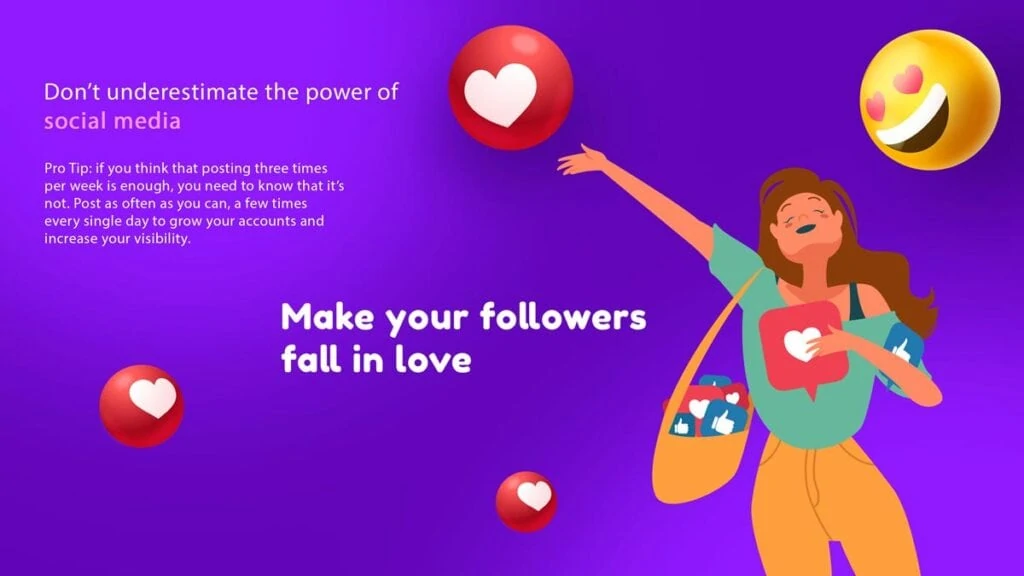 To give you a general idea and create an overall impression about why you should focus on social media, here are a few things you should know:
45% of the population is active daily on social media (that's 3.5 billion people)
In the US alone, Facebook is the Market Leader (68% of adults are Facebook users)
Daily usage by generation: Millennials – 90.4%, Gen X – 77.5%, Baby Boomers – 48.2%
An average of 3 hours per day is spent on social networks and messaging.
73% of marketers believe that social media marketing has been "somewhat effective" or "very effective" for their business
54% of social browsers use social media to research products
71% of consumers who have had a positive experience with a brand on social media are likely to recommend the brand to their known ones
Daily active Instagram Stories users increased from 150 million in January 2017 to 500 million in January 2019
And these are just a few, to paint you a picture.
With this being said, being on social media is a must if you want your work to get out there.
Create social media accounts across all platforms and be consistent.
Post your work, services and useful information daily and make the most of it – after all, it's free, and it only requires a bit of your time.
Pro Tip: if you think that posting three times per week is enough, you need to know that it's not. Post as often as you can, a few times every day, to grow your accounts and increase your visibility.
2 – Create content for others
It may sound a bit off the tracks but creating content for different people or brands is a great way of putting yourself out there.
When you make content for others, you expose more people to your work (this includes potential clients).
Offer to help people with the things you're good at and ask them to give you credit for it.
In time, people will start seeing your name (or your brands' name), and your visibility will grow.
3 – Create a portfolio website
You can't be a freelancer designer and not own the most unique, outstanding, and never-seen-before design portfolio website.
Let your work conquer new possibilities, attract clients, impress people and speak for you with a portfolio website.
A website will not only allow you to display important information such as your products, services, policies and portfolio; if done well, your website will sell your talent for you and attract clients in just a few clicks and scrolls.
How?
Creating an online portfolio with cutting-edge design features and professional tools will make your work stand out.
There's a very intuitive solution to meet the needs of anyone who doesn't have coding or web design skills: Wix's free portfolio website builder; allows freelance designers like you to show off their work with a suite of advanced tools and features that are high performing and also very intuitive to set up.
Using the intuitive drag and drop technology that Wix has developed over the years and the pre-made templates and professional website design features, you will have the freedom to create an online portfolio that speaks for yourself, attracts and converts.
The tool allows you to choose from dozens of customisable layouts so that you can professionally showcase your work.
Here are a few things you can do to express your style and attract clients through your portfolio website:
Display images, videos and text
Make media pop with animations, hover effects and more.
Keep your work safe through built-in image protection.
Upload or stream videos from YouTube, Facebook and more
Display standalone or multiple videos using video channels
Allow visitors to subscribe to gain access to your content.
Connect your social media accounts in one click
Get secure and reliable web hosting.
Add customisable contact forms
Use built-in analytics and learn about your visitors
Get a customisable, outstanding mobile experience
The best way to attract clients is by letting your work speak for you; dazzle visitors from the very first moment they land on your website through a vivid, responsive, animated website that beautifully presents your work in the way you want them to see it.
Ensure that your portfolio website is updated with your most recent successful projects and always create fresh content to keep your website exciting and engaging.
Add testimonials from satisfied clients, if possible, to establish yourself as a reliable professional who gets excellent results.
When potential clients decide whether or not to hire you, your portfolio website will make all the difference.
4 – Network in person
Attend as many online conferences, webinars and sessions as you can and talk about your work.
Join Facebook groups and connect with people on LinkedIn.
Interacting with people and building relationships will always be one of the best ways to showcase your work and make people trust you and your brand.
Show people how much you love what you do, how dedicated you are, and invest time in building relationships relevant to your interests.
5 – Position yourself as an expert
No one can attract clients and sell your work better than you can. Work your way up and build your image to start seeing the expert you are.
For instance, you can write an eBook and get it published on Amazon; show your expertise on the topic and let people know just how good you are at what you do.
Even more, you can showcase it on your website and across social media channels to attract even more trust.
If writing is not a top skill for you, try creating an online course (on your own or a platform such as Udemy / Skillshare) or building another kind of information product (videos, files, etc.).
Besides creating an image for yourself as an expert, eBook and information products are another way of generating extra revenue.
Whether you're ready to be a full-time freelance designer or just getting started by doing it part-time, these five tips will help you boost your efforts to attract clients.