DIY Website vs Custom Website Design for Restaurants: Pros and Cons
The idea of trying to attract customers without a digital presence is equivalent to moving to a deserted island and hoping that all the neighbours come to see you. 
People aren't finding your business on the Internet if you don't put it somewhere that people know to look for it.
According to the latest eMarketer research, most respondents said they used the Internet to find products and services from businesses, and only 8.4% said they found new stores in physical locations. 
It means people have become tech-savvy, and it has become imperative for entrepreneurs to have a solid online presence. Digitisation has affected many business sectors, and the restaurant industry is not immune. 
The restaurant sector has undergone profound changes in the 21st century, mainly due to new restaurant technologies. 
Like a growing wave, new technological tools and solutions are increasingly improving and transforming how restaurant businesses are managed. But the very first step towards this change has a user-friendly website. 
If you're in the restaurant business, your web presence will give you an edge over your competitors who don't have one or use their website ineffectively to promote the business. 
For your restaurant or bar to be as successful as possible, you need to have a website. 
Whether you offer the best menu items or the hippest atmosphere, a website can turn some foot traffic into large crowds. 
Be careful, however. It would help if you had more than a basic website to see the best results from your restaurant. To indeed be successful, you'll need a website that's low in bounce rate and high in conversion rate.
Creating a website today is no more a daunting task as many options are available on the Internet. 
Let's move ahead and discuss the pros and cons of a readymade or custom design website. Still, before that, it would be beneficial to throw some light on the significance of having a website for the restaurant business. 
Restaurant Websites Provide Some of the Undeniable Benefits
Every restaurant business owner aims to save money while maximising profits simultaneously – this is the basic rule of the business. Having a user-friendly website is the first step in creating an online vision.
"Why do I need a website for my restaurant business?". If you are running a restaurant, this is the most common question pops up in your mind. 
There is already a Zomato listing, your Facebook page, and you are visible to passing traffic. The benefits of having a website are something you don't realise. 
However, popular food delivery services won't promote your business, so that you might get lost in the competition.
Whenever you're tired of making the food yourself and want to eat something prepared by someone else, what's your first move? Getting online. 
Many people start ordering online, and hence restaurants have become more conscious of building an advanced delivery solution as it helps them boost order volume and sales and keep business afloat in tough times.  
Getting up to a restaurant website to peruse the menu, check for takeout and delivery options, and place an order was often true before COVID-19. 
Still, now that process has gotten even more significant. You can be sure that many of your potential customers will look for an eatery with a website rather than yours if you don't have one.
As Covid-19 drew to a close, creating a website with an audience's mindset has become even more critical as most restaurants could not rely on their physical spaces to find and retain customers. 
Fitness studios run classes online, restaurants deliver through social media, and businesses build new revenue streams. 
Having a website for your restaurant business offers some unmatched benefits, such as 
It's the virtual welcome mat 
Menu items 
Online reservations
News updates and promotion
It's crucial amid a pandemic 
In fact, by 2025, Experian Economics predicts that online sales will reach levels not previously expected until 2035 – marked by a decade of digital acceleration that will continue to affect our economy for decades to come. 
Without wasting much time, move ahead and discuss the ultimate winner of the battle: DIY website or custom website design. 
What to Choose: DIY and Custom Built Websites
Modern DIY website building platforms threaten to make website designers' jobs obsolete. Often website designers are asked how they can compete. A metaphor is often required to contextualise the answer since it is, in fact, quite simple.
Unable to understand? Let's take a real-life example. What is the difference between a self-portrait taken on a smartphone and a professional headshot taken by a professional photographer? 
Consider a comparison between eating out at a decent restaurant and grabbing a trio at McDonald's drive-through.
Now you might understand the difference between the two types, but to give you more clarity, let's discuss the meaning, pros, and cons of both platforms so, at the end of this blog, you can decide which one is best for your restaurant business. 
What is a DIY Website or a Readymade Website?
Building, designing, and launching your website yourself is what stands for DIY Website. Your content – text, images, and branding elements – including your logos, colours, and fonts – are added to the chosen platform.
DIY website creators such as Squarespace, Wix, or Weebly, etc., allow restaurant business owners to create websites in a jiffy. 
This platform saves time, resources, and money from an extensive range of theme options to widgets to dedicated support. Moreover, building a website on these platforms does not require any coding knowledge. 
These builders are seen more as tools than as finished products. Building a house may require a builder to use a hammer. But that doesn't mean you can build a house just because you own a hammer. 
But restaurants that lack an online presence and do not want to spend massive money on custom website design opt for DIY website designs. 
We will help you to pick the best DIY website builder from the bunch. Below popular DIY website builders are very intuitive, affordable and most have a free plan. 
Squarespace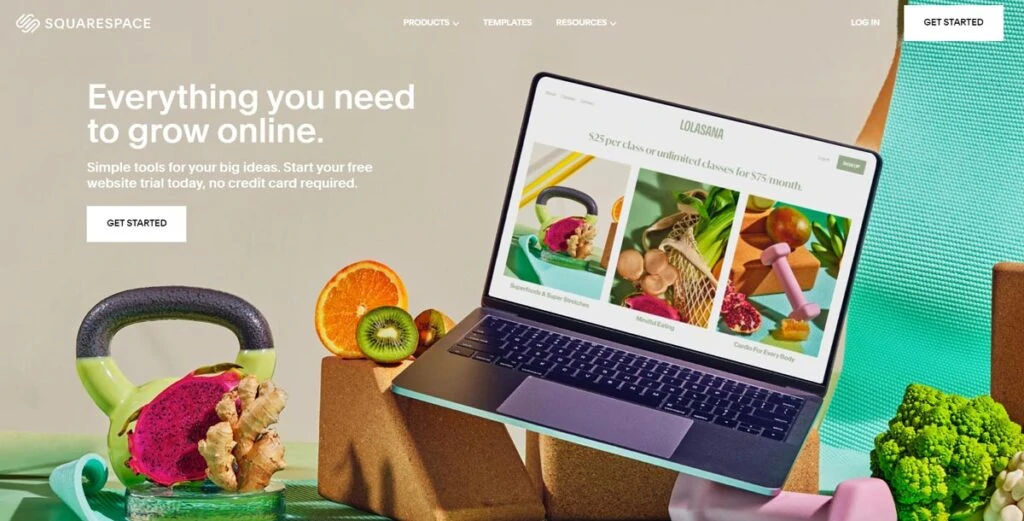 It is the best do-it-yourself website builder for those who want various options and tools to make their own website. 
Squarespace offers so many customisation options that it could almost give beginners analysis paralysis! Some users will appreciate that Squarespace automatically optimises their sites for smartphones. 
Pros
Pricing: Starts from $12 per month for 20 website pages 
WordPress
Creating websites with WordPress is the industry standard, and you can use it to build almost anything. The platform has had plenty of time to perfect itself since it was one of the first DIY website builders. 
From alluring themes to plugins and much more, restaurants can use WordPress to build a fantastic website. 
Pros
Low price
Customisable 
1000+ themes
Plenty of features 
Pricing: Free and paid plans start from $2.99 per month.
Wix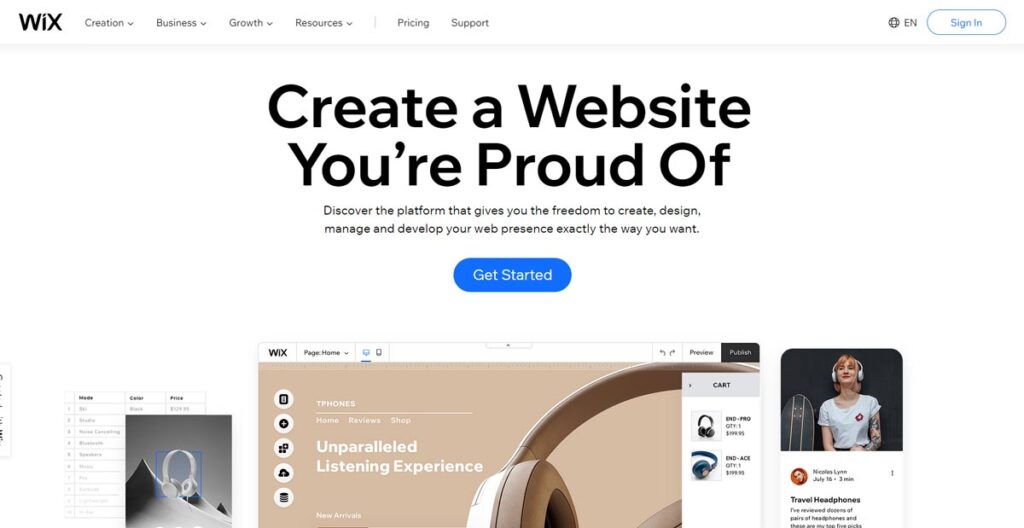 Wix makes building a website as simple as the spelling of its name. Wix is one of the best because even a beginner can easily design a site that looks like it was designed by a professional. 
A drag-and-drop tool allows site builders to add headers, texts, photos, animation, or videos, as well as a variety of fonts and more to create a professional website in any tone or style.
Pros
Drag-and-drop elements
Amazing features and plugins
Themes
Easy to use
Affordable plans
Pricing: Basic plan costs zero, and the premium plan starts at $5 per month
The above website builders are popular in the market and the first choice of restaurateurs. However, many other builders such as Jimdo, Shopify, etc., rule the market but above mentioned are the best ones. 
So, what are the benefits of using DIY websites for your restaurant business? 
Pros of DIY Websites 
Utilise premium templates at a small investment 
Learn the platform
Affordable
Easy customisation 
No coding knowledge required
They seem competent enough to do the job. Its pricing is probably the first benefit that most clients will notice – usually, a small monthly subscription will suffice for most, around the same as your Netflix account.
In addition to their beautiful templates, they also offer a wide range of options for businesses of all types. But what is missing? Let's go through its cons. 
Cons of DIY Website Builders
Although it might sound cheesy – for sure it is – having the ability to communicate with a human being who understands your requirements and responds accordingly is much more valuable than having a machine process data. 
So, this is all about DIY website builders; now it's time to focus on custom website solutions. What is the meaning, and what pros and cons come with it? 
What is Custom Website Design?
A custom website design is at the other end of the spectrum. Having a custom design requires a more significant commitment of time and resources. 
Still, it gives restaurants credibility and sets them apart from their competition by offering an extremely high level of design and functionality.
Put an end to rigid templates! With a custom-built website, your website is tailored to meet your needs, and there are no limitations – your website looks and feels exactly how you want it. 
Moreover, a professional website designer does not make common mistakes and come up with a perfect picture. 
Using your preferences, they are created from the ground up, so your website's visitors are genuinely able to grasp your business's essence. An impression is lasting, as the adage goes.
Advantages of Custom Website Solutions
However, building a custom website is not easy as it seems; restaurants need to hire a professional website design company. 
Without any ado, have a look at what benefits custom website design offers to restaurant business owners, 
More flexibility in design enable restaurants to stand out in the crowd
Fewer restrictions in functionality
Secure (like protection from hackers and ongoing updates)
Easier maintenance 
Effective usability
Better user experience
Makes a statement 
For example, if a restaurant offers a mobile ordering facility with contactless features in custom website design, it can change according to market conditions. 
While in DIY website builders, it seems daunting because first, restaurants need to check whether this kind of option can be integrated smoothly or not. 
But every coin has two sides, custom website solutions also have some limitations, and we need to focus on that before choosing the best option for your restaurant business. 
Cons of Custom Solutions
Now, you know both platforms' meaning, pros, and cons; based on their features and plus and minus points, it would become easy for restaurants to choose the one that fits their business requirements and standards. 
But are there any parameters to choose the one option? Yes, to make your task more accessible, we have mentioned some metrics that help you choose the best choice for your business. 
Parameters that Help You Choose the Best Option for Your Restaurant Business
Go through the following table, and you will be able to make a decision quickly. 
For those who want a website for the sake of having one, a DIY website builder may be the best option. 
If you want to have an attractive, custom-designed, high-performance website that showcases your brand and directly supports your restaurant's bottom line, choose custom solutions. 
Build Your Restaurant Website Today
It is now much clearer for you what defines a tailor-made, custom website instead of one that uses a readymade template or theme. Restaurants are hard to run, even in the best of times. 
We aren't in the best of times right now and probably won't be for some time. You must create an intuitive, practical, and attractive restaurant website right now to stay afloat. 
Author bio: Nirav Parmar is an online marketer and blogger having hands-on experience in crafting creative content. His creative writing skills are fantastic as his ability to write engaging content attracts the readers. His enthusiastic approach to researching the facts related to the topics is phenomenal. He knows all the latest trends of delivery business, strategies to digitalise SMEs, changing market dynamics etc.