10 Strategies to Scale Your Digital Marketing Agency
The new normal is one of the countless phrases that have entered the lexicon in recent months. It refers to dispersed teams, autonomous workflows, and an entirely new approach to risk management in a business sense.
The COVID-19 pandemic is mainly responsible for ushering in this new way of thinking. However, while many industry sectors have suffered these changes, digital marketing agencies are uniquely positioned to thrive.
Many businesses that have hesitated to adopt digital platforms and online campaigns are now rushing for a place at the table. As such, the demand for digital marketing agencies is soaring.
While many marketing agencies are happy with bolstered profit margins, others are looking to capitalise on this growing appetite for marketing by scaling up their operations.
Even though the new normal has provided ripe pickings for digital marketing agencies, it also presents unique challenges that must be considered.
If you're serious about scaling and want to minimise risk, read on for some essential tips on making a success story of your scaling-up strategy.
1 – Keeping Up with Changing Client Needs
Before you think about scaling, you first need to focus on the needs of your existing clients. Few industries have emerged from the COVID-19 pandemic unscathed, and many sectors are reconsidering their priorities.
Any digital marketing agency looking to stay afloat will need to pay attention to the evolving demands of its clients. Thankfully, this is relatively easy to do.
Redefining your agency's buyer persona is an essential step. Use your existing client book to steer this re-evaluation. Identifying changing trends is easy by keeping an eye on client behaviour.
Has there been a notable upswing in critical feedback during client meetings? Is there a significant shift in their priorities?
If the signs of change exist, your agency must evolve to maintain healthy client relationships and secure new business.
Even though it's hypothetical, a buyer persona should provide an in-depth overview of your ideal target customer.
When refining your buyer persona, think carefully about the changing behaviours of your existing clients. Are product lines or service offerings changing? Are the customer habits of your clients evolving?
Once you've drawn up a clearer picture of who your customers are now, you can start rethinking how you do business with them in the future.
2 – Bigger Isn't Always Better
Many businesses looking to scale upward make the mistake of assuming larger workforces and increased resources make for better results.
This isn't always the case. To minimise risk and slash expenditure, look inward and consider how you can optimise your existing resources and workflows.
Your existing teams may already be working efficiently. However, there's almost always room for improvement.
If you're finding it hard to identify shortcomings from an outside perspective, don't hesitate to approach your employees and encourage them to suggest how to improve their workflows. 
All day-to-day operations can be streamlined, from document creation to meeting agendas.
If you're gearing up for expansion, you must consider bringing new talent into the fold. Hiring can prove time-consuming at the best of times. To expedite the process, rethink your hiring practices.
Unless your company is tiny, you'll unlikely have time to manage recruitment. To ensure your vacancies are filled with top-tier talent, ensure your hiring teams are fully briefed.
If precursory telephone interviews aren't a staple feature of your hiring process, make them so. This will save you countless wasted hours interviewing unsuitable candidates.
Making use of applicant tracking software is also something to consider. As your agency scales upward and your need for new talent increases, it's helpful to have a ready-made pool of potential candidates to dip into.
3 – Remote Working is Here to Stay
The COVID-19 pandemic may have necessitated a shift towards home working as the standard, but remote work is no longer transitory. 
The office-based work model is a thing of the past, and many agencies are looking toward remote-focused models when scaling up.
This isn't just to facilitate a growing appetite for home working. A remote model can prove incredibly adaptive for a digital marketing agency anticipating future growth.
The biggest hurdle agencies face with this model is managing teams remotely. Unless you've implemented invasive tracking software to monitor your employees, you must be confident that your teams can perform autonomously.
However, fostering productive remote working practices isn't tricky. Establish clear lines of communication, especially if you're collaborating on time-sensitive projects.
You'll also need to ensure your remote teams have sufficient resources to guide them. Reassess everything from your onboarding guides for new hires to white paper templates to create client and project-specific briefs.
4 – Showcase Your Brand's Successes
Any self-respecting digital marketing agency will know how to build a winning brand. However, you mustn't neglect your branding to succeed in a post-pandemic world.
Scaling a brand involves more than bolstering your workforce and investing in new physical assets. To present yourself in the best possible light, you should constantly update your online presence with your most recent success stories.
This is especially relevant if you want to demonstrate your agility and responsiveness to the new normal of business.
Use your website and social media channels to showcase how you've consistently risen to the challenge and exceeded expectations in a demanding climate.
Ensure you're fully leveraging client testimonials, and don't be afraid to show yourself off by publishing case studies.
5 – Monitoring Workflows Remotely
If you're adopting a hybrid model, you must ensure your employees remain productive. We've already touched upon tracking software, and while some agencies are hesitant to adopt them because of invasiveness, they're a necessary evil.
Let your teams establish their work schedules to offset the overbearingness of tracking tools. This will help lay the groundwork for a culture of trust. 
Once your employees have decided on their preferred working hours, you can use monitoring tools to ensure they're effectively using their time.
The best monitoring software will also allow you to anticipate potential bottlenecks before they cause any disruption.
6 – Essential Tools for Scaling Your Business
If you plan on scaling up your digital marketing agency, you'll need all the right tools to make the transition as smooth as possible. Consider the most crucial software tools to you and how well they perform. 
Communication tools are invariably the most crucial asset to internal infrastructure, so focus on these first. If your current tools aren't fit for purpose, consider upgrading or replacing them.
Even the most modest-sized agency may include multiple departments. Ensure you're talking to leads from every corner of your business to identify the most crucial tools for day-to-day operations.
If you're looking to up your creative output, you'll likely need to invest in new licenses for existing software. If budgets are tight, you can also explore free-to-use alternatives.
Be wary of replacing tried and tested tools entirely. Instead, carry out short-term pilot schemes to determine effectiveness before rolling them out.
7 – Diversify Your Services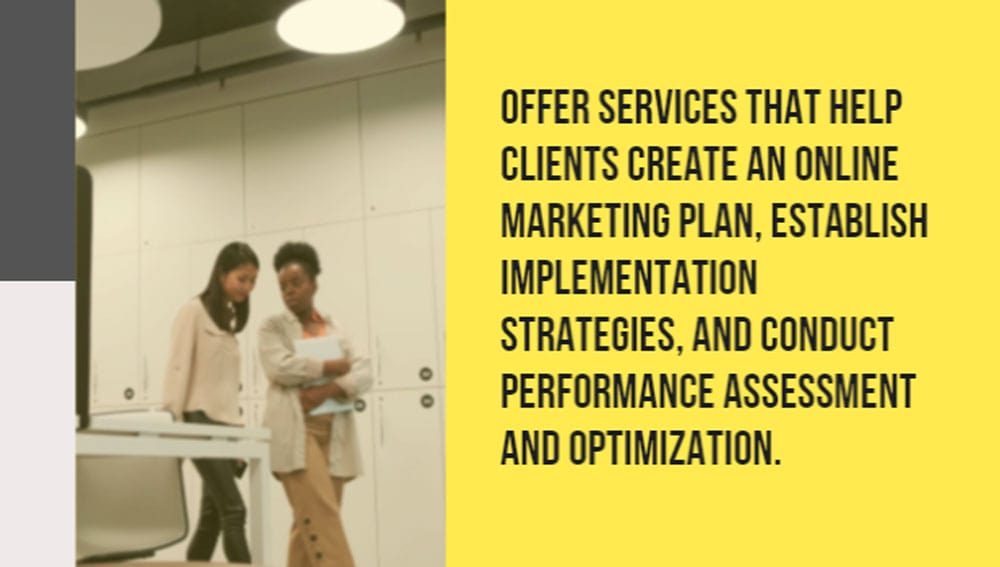 If you want to optimise your output, consider restructuring your service offering. Tiered service packages are an excellent way to streamline your existing workflows while ensuring new clients know precisely what they're getting.
Start with a basic package tailored toward budget-conscious customers before outlining a more comprehensive package for bigger businesses.
You should also consider offering enterprise-level solutions if you have sufficient resources and expertise.
Adopting a tiered approach will make your services more attractive to potential clients and help you maintain customer satisfaction.
New and existing clients will know what they've signed up for, and provided you're delivering, everyone remains happy.
It makes sense to offer short-term free trials across all service packages. Take this approach, and you'll likely secure a lucrative agreement with an initially hesitant client. Clients can also upgrade their packages at a later date.
8 – Don't Neglect Your Existing Clients
Any digital marketing agency considering scaling up needs a solid base of happy customers. As you focus on taking your organisation to the next level, it can be easy to forget your existing client book and take your eye off the ball.
Although scaling requires considerable commitment, you should never abandon the needs of your existing clients. Neglecting long-standing client relationships at this point can derail your scaling efforts and ruin your reputation.
It's important to remember that scaling isn't solely about securing new business. Evolving your digital marketing agency can make existing businesses more lucrative.
At the bare minimum, you should continue to deliver the same commitment to your existing clients. However, it would help if you were aiming to exceed expectations during this transitional stage.
Turn a long-time client into a success story. Let the results speak for themselves and demonstrate to your clients how they've benefited from your growth.
Do this, and you should have little trouble generating new leads and landing lucrative referrals.
9 – Avoid Taking On Too Much
One of the main goals of scaling up is to secure business. However, an expansive client network and low-level profits aren't necessarily indicators of success.
It's important to continue generating leads and landing new clients as your scale upwards but avoid accepting piecemeal projects that will only spread your resources too thin.
Establishing your agency's niche and buyer persona is vital to any scaling exercise. Use these as guidelines when it comes to accepting new work. 
If potential projects aren't entirely aligned with your future ambitions, don't be afraid to say no.
Declining work outright has the potential to damage your reputation. Therefore, be delicate when dismissing projects that aren't aligned with your scaling-up strategy.
If you've networked with similar agencies in the industry, consider referring prospective clients to them.
10 – Adopt an Outside Perspective
Keeping a clear head is crucial when scaling up a digital marketing agency. If you've always adopted a hands-on management style, now is the time to step back.
Getting too immersed in everyday operations and projects on an ad hoc basis will leave you blind to what's happening.
Once you've put a bit of space between you and day-to-day operations, tracking the progress of your scaling-up endeavours will be far easier. 
This distance will also allow you to ensure key milestones and objectives are being realised. An outside perspective can also prove valuable in a more general sense.
Hands-off management will open your eyes to more minor operational issues you may have continued to overlook for years.
Putting Your Plans into Practice
The shift toward remote working may have dampened many scaling-up ambitions, but there's never been a better time to implement your plans. 
The new normal in business certainly presents unique challenges, but these are easily navigable.
Before actively scaling up your business, focus on determining your niche and defining your buyer persona. With these in place, you'll know precisely what clients to accept.
It's also crucial that you maintain positive relationships with your existing client base. Remember your commitments, and don't let service levels slip.
Keeping good with current clients isn't just essential for ensuring a steady flow of revenue; it will also protect your brand's reputation.
When taking active steps toward scaling, focus on optimising and streamlining your existing workflows and practices. This is even more relevant if you're adopting a remote or hybrid work model.
If you're fully embracing remote working as a standard of the new normal, remember that remote monitoring tools must become a staple of day-to-day management.
Scaling presents the perfect time to experiment, but you must avoid being too thin and play to your strengths. Provided you follow all the advice outlined above, your digital marketing agency stands a solid chance of succeeding. 
Author Bio: Paula O'Gorman is Promotive's Design & Marketing Manager and is responsible for planning, leading and coordinating the activity of the marketing agency. She graduated with a distinction in Design & Communication from Waterford Institute of Technology in 2003 and immediately joined the Cantec Group. Starting as a junior graphic designer, she now manages her team at the senior management level.