Top 10 Best PDF Tools for Non-Designers
You will almost certainly need to create PDFs. Developing catalogues, marketing brochures, or sales materials as PDFs is the de facto standard for working with documents; you will encounter it daily.
However, making PDFs may appear intimidating if you are not a design expert. Don't worry; you can quickly convert or split pdf with these top PDF tools.
1 – Adobe InDesign Creative Cloud (CC)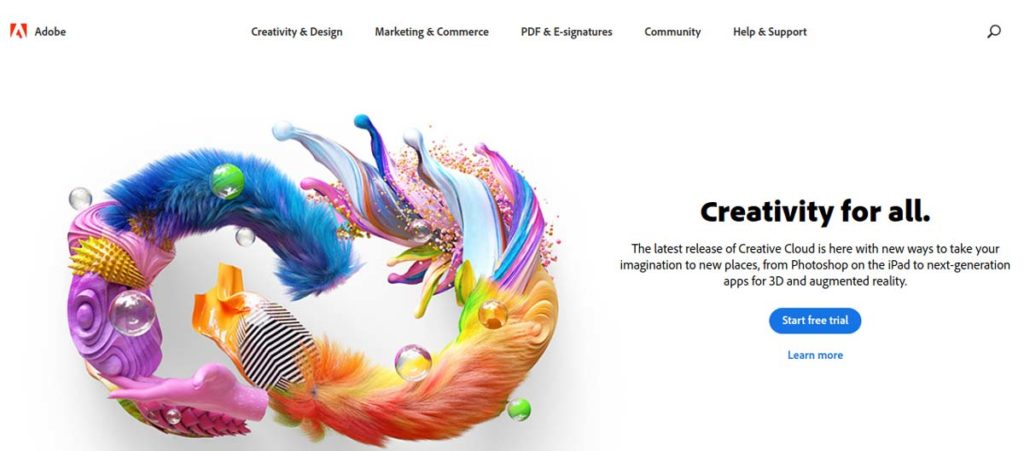 Key characteristics are typesetting tools and seamless connection with Adobe Photoshop, Adobe Acrobat Reader, Strong layout and template development capabilities, and other Adobe products.
They are Best for Multi-page brochures, catalogues, periodicals, and ebooks with a distinct style, high-quality print and web layouts, and substantial content and images.
Adobe InDesign is professional-level design software available for both Mac and PC. It's the first option for many designers, publishers, and marketers. 
Moreover, It's the most well-known and extensively used PDF-creation program and can also be used to split pdf.
This software has a learning curve, but even if you're not a design expert, you can quickly understand how to create a document and split a pdf through a pdf splitter.         
2 – Google Slides
Key features of Google Slides: Backdrops, Google Slides Themes, text boxes with layers, borders, collaborative work, images and forms, and presentation mode are all pre-designed.
They are Best for Basic marketing papers and presentations, including photographs, graphs, and text.
Google Slides allows you to create portfolios, brochures, invites and presentations directly and guides you to split pdf in your online browser. 
It also enables you to convey yourself, your data effortlessly, and your thoughts through different fonts and presentation styles. 
Succinctly, numerous people may work on slides at the same time, you can watch people's changes as they happen, and every update is saved immediately.
3 – Canva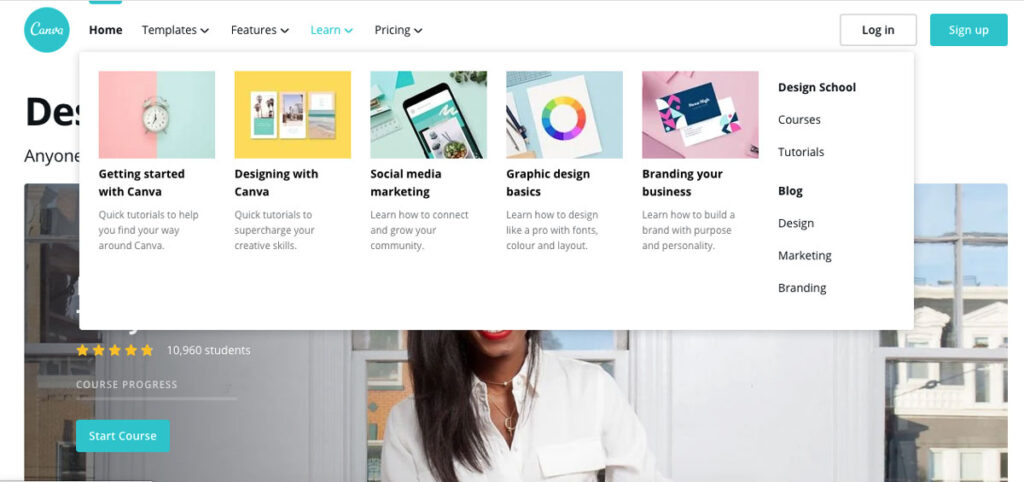 Canva's key features include pre-designed templates, stock photographs, photo filters, icons, and shapes, a drag-and-drop image editor, the ability to scale and match your designs, and the ability to build and store your brand templates. 
They are known for various sales, internet marketing, and social media products.
Canva is one of the most well-known online design tools, with simple features and capabilities that allow you to quickly create web content, even if you are a non-designer.
Canva provides a wide range of content kinds for web marketing. You'll discover practically anything you need, from brochures and mail templates to papers, ebooks, etc. If you don't have one, you can always make one.
Canva is what you need to produce accessible and effective PDFs for your sales and marketing efforts. However, if you want, there are also many tools to extract pdf into separate pdf pages. You might begin by reading their helpful general guide.
4 – Lucidpress
Critical features of Lucidpress include many ready-made templates, drag-and-drop flexibility, real-time collaboration, an extensive font collection, and design and editing pdf file capabilities.
They are best for Brochures, presentations, eBooks, newsletters, reports, Online marketing, advertising flyers and sales, and any other brand marketing materials. 
Lucidpress is a graphic design programme for the web. Its interface is intended so that even individuals with little to no graphic design experience may quickly generate their stuff. 
Lucidpress allows you to save and manage your brand assets, which you can use to create your company's marketing materials, such as new or split pdf files.
5 – Venngage
Key features include many charts, design templates, symbols, and pictograms, the ability to input data straight from spreadsheets, customisable infographic templates and themes, a drag-and-drop PDF editor and a pdf cutter.
They are best for Online marketing and advertising papers, including many infographics and Pdf files.
Venngage is a web-design tool that focuses on many forms of infographics, including informative, statistical, geographical, instructional, charts, and more. So, if you have a lot of information to give, Venngage can assist you.
6 – Nuance Power PDF 3
The Key features are document creation and scanning into PDF, direct text entry, dragging and dropping pictures and graphics, electronic signatures, collaboration capabilities, and Power PDF's OCR.
They are best for Basic business PDF document generation, editing, and internet marketing.
Nuance Power PDF 3 is a simple and easy-to-use PDF program used to create, edit, and split pdf for Windows. Most users will be able to get up and running quickly. 
With this, you can create multi-page documents and forms to collect information and work on the same document in real time.
Indubitably, the primary goal of PDF is to allow document sharing between multiple operating systems and devices. Creating, converting, exporting files, and comping pdf was never a simple task. 
Sharing documents across several computer systems was quite tricky a few years ago. It is a popular document format all around the world.
7 – PDFelement
Since PDFelement enables you to produce PDFs from scanners, clipboards, and files and create blank PDFs and PDF portfolios, it is at the top of the list. 
It can also let you transform, sign, edit, merge, and compress pdf files in addition to producing them. To modify your documents, you may use markups to underline, strike out text, highlight, and add bookmarks, headers, footers, and links.
PDFelement also has an OCR capability to convert scanned PDF files into fully editable digital PDF files or other formats (Word, Text, and PowerPoint). 
You may also make fillable forms by using the fill-in form functionality. Then you may distribute your document.
The papers may then be shared online or printed. 
It's no surprise that PDFelement is regarded as one of the finest PDF editors and pdf shrinkers for Windows.
Wondershare PDF Converter Pro is one of the best PDF producers available. It enables you to convert files from and into various other file formats (PowerPoint, Word, text, image, and HTML) and shrink pdf.
You can also convert Password-protected PDF files. You may also use a password or other permissions to secure your files. It is free for educational or personal use and has a user-friendly interface.
9 – PhantomPDF by Foxit
Foxit PhantomPDF is a free PDF maker as well. It does, however, include advertisements. If you need to convert and print documents, you might wish to utilise them. 
You may also use this tool to sign and encrypt your PDF files and merge and compress pdf into a single file. 
Also, you can convert your files to a Connected PDF file and then edit or update your documents. Foxit Reader allows you to configure your toolbar and view, modify, or fill in your files. 
You may give feedback and comment on or generate PDF files, including PowerPoint, Excel add-ins, or Word.
10 – Cute PDF
Cute PDF is a trustworthy PDF maker. You may use it to edit files or manage images or photos, which you can alter using the numerous options it offers. 
The application may be installed as a printer driver and requires a PS2PDF converter and a pdf compressor; however, it provides excellent functionality to generate an editable, clean PDF file. 
Using the programme, you may import data from a memory buffer and export it to different file types. You may safeguard your papers by encrypting them, and you can also customise the settings to meet your specific requirements.
11 – Pdfforge
Pdfforge is a free PDf maker that works on Mac and Windows computers. It enables you to scan photographs, organise and personalise PDF files, edit and convert documents, and much more. 
You may use the tool to produce various file types ( JPG, PNG, TIF files, or PD), merge numerous documents into a single file, compress pdf or resize your photographs until they are the required size. 
You may use this free PDF generator to encrypt and safeguard your files with a password or adjust your security settings to prevent unwanted access to your files.
12 – 7-PDF Maker 
It is a free PDF maker that allows you to produce high-quality PDF files. This software transforms several file types into PDF files, including Word, Excel, Images, PowerPoint, eBooks, etc. 
It also allows batch conversion of files to PDF and compresses pdf, saving significant time. You may use this tool to make PDF files without needing a printer.
The PDF files that are produced can be password-protected. The portable version of the 7-PDF Maker works just like the desktop version, which is a fantastic feature. It is compatible with Windows operating systems, including Windows XP,10, 8, 7, Server, and Vista.
A JPG file is often saved when you save a photo to your phone or computer. If you require a PDF version of your photo, you may quickly convert it using software installed on your computer, phone, or tablet. 
You may also utilise Adobe's free online JPG-to-PDF file converter for a quick and easy solution and a pdf merge to merge pdf easily. This tells you how to convert a picture to a PDF file on a computer, a Mac, an Android device, an iPhone, or an iPad.
PDF Tools On Microsoft Windows
Launch the Photos app and select your photo. You may accomplish this by double-clicking the image.
If you don't see "Images" in the upper-left corner of the new window, it may have been launched in a different programme. Close the window, right-click the photo you want to open and choose Open.
Do you want to include numerous photographs in the same PDF file? Yes, you can do this using a pdf combiner. 
Click See all images in the window's upper-left corner, choose in the upper-right corner, and click each photo you wish to add.
Select the "Print" option. It's a printer-shaped icon in the window's upper-right corner.
From the "Printer" drop-down option, choose Microsoft Print to PDF. You may find this menu in the upper-left area of the window.
If you choose numerous photographs, they will be put on their own sheet in the file. Click the arrows above the preview in the right panel to see how each page will look. However, you can also merge pdf if you want all these pictures in a single file.
Press the Print button. It's located near the bottom of the menu. This will launch your file browser.
Give your PDF file a name. Fill in the "Filename" text box towards the bottom of the window with any name you wish to give your PDF document. Try giving it a meaningful name so you can find it later.
Choose a saving location. On the left side of the window, click the folder where you wish to store your PDF. Make sure it's somewhere you can quickly locate it again if you need it.
Save the file. You may find it at the bottom-right corner of the window. The image has now been saved as a PDF.
If you choose multiple photos, they will all be included in the file.
Launch macOS Preview on your Mac. 
You may find this software in the Applications folder or by searching "Preview" in Spotlight on your Mac's Dock.
Select Open from the File menu. It's at the top-left corner of the screen, in the menu bar. 
Choose the image(s) to be converted. If you only want to convert one image, choose it by clicking it once. You can also merge a pdf containing all the images in a single pdf file.
Select the Open option. It is located near the bottom of the window.
If you picked numerous photographs and wanted to modify their order, immediately drag them up or down in the left sidebar.
Fill in the "Save As" text box at the top of the window with any name you wish to give your PDF document. Try giving it a meaningful name so you can find it later.
Choose a place for saving from the "Where" drop-down menu. Choose a location to save your PDF document (for example, Desktop).
Save by clicking the Save button. It is located near the bottom of the window. The selected image has now been saved as a PDF file.
If you choose more than one photo, they are now all included in the same PDF but on separate pages, but you can merge the pdf via the merging tool in it.
I hope this article helps you choose the best PDF tools for non-designers.