The 5 Best Bullet Journals For Keeping Your Plans Straight
A bullet journal is a diary or notebook with dividers for organising notes, appointments, and important dates. Bullet journaling has become a trendy approach to keeping track of one's schedule, but you can also use it to keep track of other activities like finances or personal growth.
If you're not using bullet journals yet, you should be.
Bullet journaling has become wildly popular lately, not just in the world of creative types. You probably already have a notebook or planner on hand. But if you haven't taken the plunge, there's no time like the present. It's easy to start, and there are plenty of different books and apps to choose from, depending on what works best for your lifestyle.
From calendars and scheduling to travel planners and to-do lists, these bullet journal apps make it easy to organise your thoughts in a way that's uniquely yours. You can add in things like your personal life, health and fitness goals, and everything else you need to stay organised in one place, easily accessible in the palm of your hand.
Have you tried using bullet journaling as a planner? It's a system of writing down your daily plans and goals. In this article, we will look at the best bullet journals and apps for Android and iOS so that you can keep track of your goals in one place.
What is the Bullet Journal Method?
The Bullet Journal Method is a technique that involves using a bullet journal to track your daily activities and other tasks. This tool was developed by Ryder Carroll, who has taught hundreds of thousands of people to use his system.
After struggling with other methods and tools that didn't help her get organised or stay motivated, he created the method. After she tried out the Bullet Journal Method, he became obsessed with it and started sharing tips on his website.
Sale
Bestseller No. 1
How Does the Bullet Journal Work?
Using a bullet journal is a simple task. It requires very few supplies, and it doesn't require much maintenance.
To begin, create a layout for your bullet journal. Choose a theme and stick with it, or pick a different one every day.
Once you've chosen your theme, think about what you want to accomplish daily. Write down these goals on sticky notes and put them where you can see them.
When you complete your tasks, use stickers or highlighters to highlight them. Use your favourite pen, coloured pencil, marker, or Sharpie.
Once done, you can add your date to each page to know when you've completed it. You can also add dates to the side margins of your pages to mark when you completed your tasks.
As you work, consider adding pages for projects or errands you need to complete. These can help you organise your life and keep track of your tasks.
Use the spaces on the side of your page to write or draw something fun. Use various colours and shapes to give your pages a fun, creative look.
You can use your bullet journal to organise everything from grocery lists to a to-do list. Use it to plan for your next event or to plan your meals, or your next workout.
Top 5 Best Bullet Journals
1 – Paperage Dotted Journal Notebook
PAPERAGE Dotted Journal Notebook, (Sky Blue), 160 Pages, Medium 5.7 inches x 8 inches – 100 gsm Thick Paper, Hardcover
BEST-SELLING HARDCOVER JOURNAL: This medium 5.7 in by 8 in dotted notebook features durable and water-resistant vegan leather cover, rounded corners, 160 pages, inner expandable pocket, sticker labels, ribbon bookmark & elastic closure band.
PREMIUM PAPER: Made with high-quality, 100 gsm acid-free paper in light ivory color, our journal paper is thicker than average notebooks & writing pads, so you can confidently use most pens, pencils, and markers without ghosting and bleed-through.
LAY FLAT DESIGN FOR WRITING EASE: Our thread-bound notebook is designed to lay flat, making it easier to write for both right and left-handed users. Artistic bullet journaling, note taking, and drawing has never been more convenient.
INNER POCKET: Includes an expandable inner storage pocket to keep track of appointment cards, notes, receipts, and more. Personalize your journal cover & spine with the sheet of sticker labels included.
VIBRANT & BOLD COLORS: Our journals are designed in a variety of beautiful and fun colors available in a selection of page styles, including Lined (for notetaking & journaling), Blank (for sketching), and Dotted (for bullet journaling).
This notebook has become one of the most popular options in the market today. Many people use it to record notes and ideas, while others use it for personal development. This is an excellent choice if you are looking for a good notebook.
Many other features make this notebook a great option. One of the most obvious things is the variety of colours available. There are eight different colours to choose from, including brown, black, blue, green, pink, purple, red, and white.
You can also choose between four different page sizes. The smallest size is 10 x 8 inches, while the largest is 12 x 16 inches. You can also get it in three different formats. This includes standard, lined, and spiral-bound notebooks.
A bullet journal is a perfect choice for those who write a lot. You can quickly get inspiration from this journal, which has various tools and features. For example, there are small pockets for sticky notes and pens, a special pocket for stamps, and blank paper for drawing. It has a small pocket to keep track of the number of days left in the month.
The pages of the journal are dotted with different-coloured dots. The dots are light enough to write on but not too light so that you can bleed through the page. The cover is very colourful. It comes with a black marker, but if you want to use your colour, you can quickly get one for about $10. It's worth it because it adds to the overall appeal of your journal.
2 – Rettacy Dotted Bullet Grid Journal
Sale
RETTACY Dotted Bullet Grid Journal 2 Pack – Dot Grid Hard Cover Notebook with 320 Pages, 120 GSM Thick Paper, Smooth PU Leather, Inner Pocket, 5.75" × 8.38" (Black & Pink)
2 Pack Dotted Bullet Grid Journal-Total comes with 2PCS dotted journals with A5 size "5.75 × 8.38",80 sheets/160 pages per pack,total 320 Pages.
120GSM Quality Paper-RETTACY dot grid notebook adopts 120gsm Paper with smooth touch,the pages are thick enough,no bleeding through.
Sturdy Leather Hard Cover-The premium hard cover make the notebooks more durable and touched comfortably,and the durable hard cover will help to protect the pages inside and provide a comfortable writing surface.
Dotted Journal Features-Each Journal comes with an Elastic Closure,1 Pen Holder Loop,2 Bookmarks,1 Back Pocket,1pcs Journal Stencil and humane Rounded Arc Corner Design.
Great Use-The dotted inside makes this perfect for bullet journaling,the A5 dotted journal is a great size for carrying around.
This 2-Pack Dotted Bullet Grid Journal comes with dotted journals with A5 size "5.75 × 8.38", 80 sheets/160 pages per pack, a total of 320 numbered pages.
The dot grid notebook adopts 120gsm Acid-free Paper with smooth touch; the pages are thick enough, so there is no bleeding. The premium hardcover makes the notebooks more durable and touch comfortably, and the hardcover will help protect the pages inside and provide a comfortable writing surface.
The notebook's 28 dots across and 41 dots lengthwise, or 27×41 spaces, are an ideal size for writing down notes, reminders, and meaningful quotes. The last eight pages or so are perforated. It includes two ribbons in distinct colours (mine are black and grey), a loop for a pen, and a back pocket with two sets of stencils.
The cover feels like faux leather, and stickers adhere to it well. The paper is of good quality; I haven't yet accidentally torn anything. It has held up well to add bulk from putting stickers or glueing postcards to the inside pages.
3 – LEUCHTTURM1917 – Official Bullet Journal
LEUCHTTURM1917 – Official Bullet Journal – Medium A5 – Hardcover Dotted Notebook (Emerald) – 240 Numbered Pages
BULLET JOURNAL: Leuchtturm1917 brings to you a journal with all the quality of a Leuchtturm journal formatted with the Bullet journal method, Track the past, order the present, design the future
OPENS FLAT: This thread-bound notebook opens flat so you can write and draw at all angles without compromising the integrity of the spine
FINE DETAILS: Secure your content with the elastic enclosure band and inner gusseted pocket. 3 page markers are included for easy access to specific pages
QUALITY SINCE 1917: Experience and consistency are important requirements for quality. Quality gives ideas a solid foundation on which they can develop. We are convinced that small details can make a big difference
The Bullet Journal system allows you to track past, present and future. This system is ideal for you whether you are trying to organise your time or life. It gives you a structure to record everything you do and provides a system for planning and scheduling.
The Leuchtturm1917 A6 Pocket Notebook is ideal for the Bullet Journal system because it is an 80-gram notebook of A6 size. In addition, it is designed to open flat, so you can write and draw at all angles. The elastic enclosure band and inner gusseted pocket are made to hold your content securely.
This is a nice notebook. There's much room for writing, and the paper is relatively thick. It's also not too thin, which makes it easier to use for sketching and art. The front and back covers are printed, which is unusual for a notebook.
The quality of the paper is high, and the notebook feels sturdy. However, there are some design flaws, and I won't lie to you. Some pages don't have any ink transfer. You can easily see through some pages when you write on them. I think it's only a tiny problem, so I don't mind.
I've had this book for a week and a half and haven't experienced any bleeding or smudging. The only thing I dislike is the thickness of the paper. If you're using a fountain pen, you might find it challenging to write on some pages. Other than that, this is a lovely notebook.
4 – Ottergami Classic
Bullet Dotted Journal Set | Hardcover 150gsm Dotted Notebook | A5 Dot Grid Notebook | Dot Notebook Journaling Kit Includes: Stencils, Rear Pocket & Pen Holder | The Classic by Ottergami
Hardcover Vegan Leather Journal Set: Each A5 dotted journal kit includes 3 journal stencils. Elastic closure, pen holder, expandable inner pocket & matching ribbon bookmark. An ideal journaling kit for staying creative on the go
Ultra-thick 150 GSM Paper: Silky smooth ivory colored paper, resistant to ink bleed, feathering & ghosting. Pages can withstand the weight of decorations & stickers, making it an ideal planner notebook, art journal or bullet dot journal
Dotted A5 Journal: Ottergami's dotted notebooks are the perfect size for popping in your bag, with serious note-taking capacity – featuring 192 pages. A stunning standalone dotted notebook or diary for all your bullet journaling set needs
Lay-Flat Dotted Notebook: This vegan journal notebook is the ultimate in stylish journal accessories, with 180 lay-flat design for smooth one-handed note-taking & soft pages. This dot journal notebook fulfills the feeling of luxury
Designed in the UK: Our UK team designs high-quality bullet dotted journals. Each journal comes hand stamped with the Ottergami logo. Our scrap books & notebooks for women & men are for those who love artistic journaling
I've been excited about my new bullet journal because I love how it looks. I'm looking forward to using it to keep track of my plans and goals. The feel of the journal is fantastic, and the pages are the perfect size to jot down notes and make sketches.
If you're looking to start a bullet journal, there are a few things to consider. First, a bullet journal is about keeping a daily record of your life. You may want to use a spiral-bound book because it can be convenient for organising your day.
It's great for recording your thoughts and ideas, so you can reflect on them and plan your next steps. You can also use a planner that fits a lot of different styles.
Some people prefer to use pen and paper to record notes, but apps on the market can help with this. You should use a notebook to write down your goals, plans, and tasks.
5 – Moleskine Classic Notebook
Sale
Moleskine Classic Notebook, Hard Cover, Large (5″ x 8.25″) Dotted, Black, 240 Pages
CLASSIC MOLESKINE NOTEBOOK: Moleskine classic notebooks are perfect notebooks for writing journals, a daily diary, or note taking in college classes or meetings. Moleskine notebooks are beloved by travelers & bullet journalists for their slim design.
DURABLE COVER & ELASTIC CLOSURE: Hold writing projects & notes in your Moleskine notebook with an elastic closure band & inner storage folders. Leather-like classic Moleskine cover & thick, ivory paper pages are perfect for writing with fountain pens.
GIFT QUALITY NOTEBOOKS: Moleskine planners, journals and notebooks come in hardcover or softcover and colors like black, red, blue, green and brown. The binding and cover have a durable finish, designed for daily journaling, writing and sketching.
DELUXE QUALITY PAGES: Moleskine's thick, ivory paper pages in a hardcover Moleskine notebook, softcover Moleskine notebook, cahier or volant journal, or Moleskine planner are perfectly textured for writing with a ballpoint pen, fountain pen, or pencil.
MOLESKINE QUALITY: We're dedicated to culture, travel, memory, imagination, & personal identity—both physical & digital. We bring this commitment to our notebooks, bags, apps & smart pens & notebooks.
This notebook has been around for decades, so it's likely you already own one, or you've seen one in the past.
The classic design features an elastic closure, a ribbon bookmark, and a padded back panel for storage. Choose from ruled, plain dotted and squared notebooks to suit your needs. The expandable back pocket makes room for notes, cards, and mementoes.
The Moleskine Classic is a luxury, handmade journal with a range of papers and a pen. You'll receive a classic Moleskine notebook, paper, pen, and a travel guide with a premium Moleskine notebook. The guide is printed on reusable paper that can be written on and then reused to document your travels.
You can also use the paper to write down places you've travelled, the mode of transport, and experiences. The book is crafted from smooth, soft, vegetable-tanned leather and features signature red-gold stitching that makes the book feel high-end.
The Classic is an exceptional gift for any traveller and would make a great addition to your collection.
Top 5 Best Bullet Journal Apps for Mobile
We asked our readers and got great responses. Here are the top 5 bullet journal apps they voted for.
1 – Airtable
Airtable is cloud-based spreadsheet software for organising, scheduling, and collaborating. With it, you can create custom dashboards that help you manage your life and connect with coworkers and team members.
Here are some highlights of this app:
Create Custom Dashboards: Create complex reports based on your data with built-in filters, charts, and calculations.
Connect with your Team: Collaborate with your team by sharing and commenting on spreadsheets.
Manage your Day: Use a calendar to create task lists, track appointments and meetings, and sync with your smartphone.
Track Your Time: See exactly how much time you spend on different projects. Set up recurring events that automatically update your tasks and calendar with each new appointment.
Get Organised: Create custom fields in your tasks, notes, and calendars to make your life organised and easy to follow.
2 – Evernote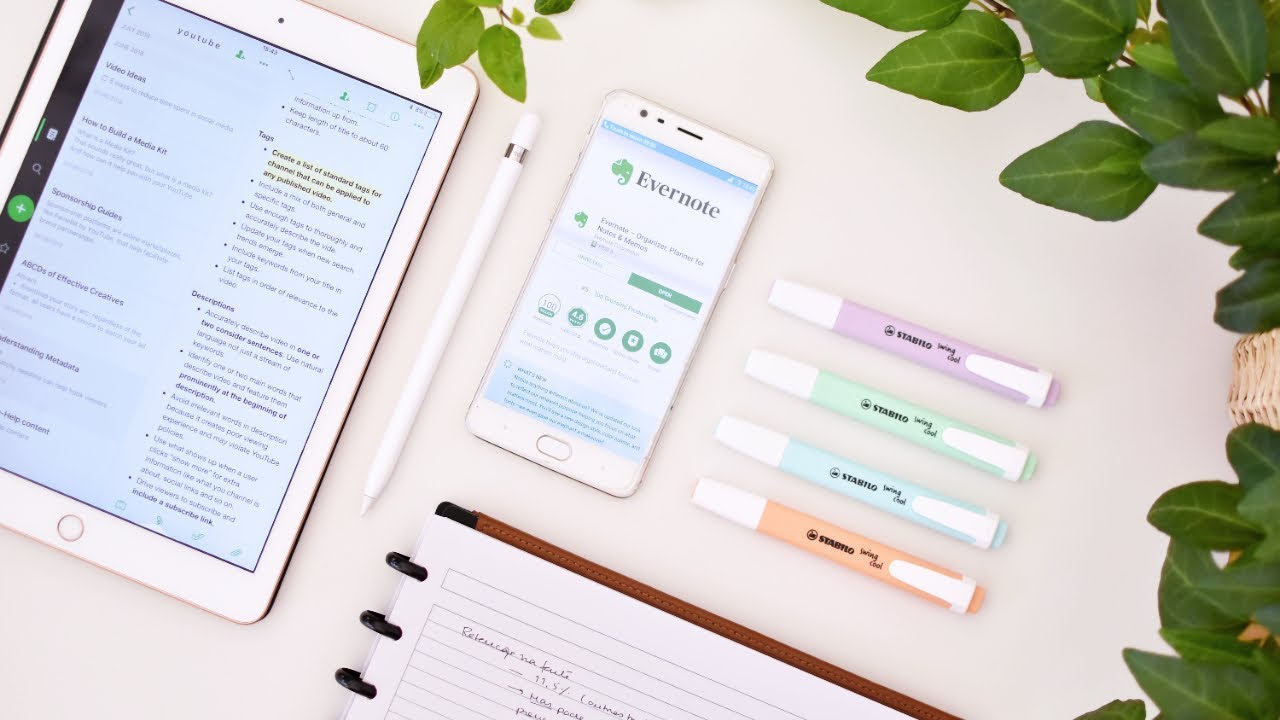 Evernote is a note-taking and information organisation app with a powerful search tool that makes it easy to find any information—from websites, images, videos, and documents to audio clips and voice memos.
Here are some highlights of this app:
Create a Digital Notebook: Keep your ideas organised and easily accessible across your devices.
Capture a Moment: Take a photo with your phone and share it immediately. Add a caption, timestamp, and location or type it in with your handwriting.
Search Your Way: With Evernote, you can search for text, images, audio, and video. Quickly find notes pictures, and more relevant to your interests and needs.
Create a New Document: Create a new document, add an image, add a title, and write or draw right in the document.
3 – Todoist
Todoist is a task management app that helps you prioritise and organise your busy life. It allows you to set a reminder and follow a daily, weekly, or monthly schedule.
Here are some highlights of this app:
Plan Ahead: Set reminders to remember important deadlines, appointments, and events on your calendar.
Organise Your Life: Use filters and tags to keep your life organised. Easily add new tasks, set priorities, and sort your tasks by project, time, due date, or priority.
Share on Social Media: Share your tasks on Facebook and Twitter, and collaborate with your friends or team members.
View History: Go back through your list of completed tasks to see what you accomplished.
4 – Penultimate
Penultimate is a personal productivity suite designed to help you get things done. Whether managing your daily to-do lists or writing a business plan, Penultimate helps you be more efficient and productive.
Here are some highlights of this app:
Set Up Goals: Create a list of daily, weekly, or monthly goals. Then, use the Reminders feature to keep track of your progress.
Schedule a Meeting: Manage meetings by creating a short, private calendar. You can also add a note to the calendar.
Organise Your Files: Organise your work by dragging and dropping folders into the workspace.
5 – Microsoft OneNote
OneNote is a digital notebook that combines a word processor, presentation, and research tool. Use it to write, collaborate, and keep all your notes in one place.
Here are some highlights of this app:
Take Notes: Write down your ideas, take screenshots, and create mind maps. You can add notes, draw on the page, and make handwritten notes.
Keep Track of your Progress: Use the task list feature to plan your next steps and keep track of your progress.
Collaborate with Others: Work with others using your notebooks, or share them with a group.
How to Improve Productivity with Bullet Journals?
Bullet journals are one way to track and analyse the information in your life. There are many benefits to keeping a bullet journal, including looking back at the past year. It is a great tool to help you organise your thoughts and memories and keep you on top of daily tasks.
There are many different types of bullet journals, but they all contain three things: a paper notebook, a pen, and an open mind.
How Do I Get Started with a Bullet Journal?
Getting started with a bullet journal is best by buying a few supplies. While spending hours customising your bullet journal may be tempting, getting started with an essential notebook and a pen is better.
Get the Bullet Journal Supplies
You first need a notebook or binder to hold your bullet journal. Ensure the notebook is sturdy yet light enough to carry around easily.
A highlighter is another critical component of a bullet journal, so getting a pen that can write on various surfaces is vital. You can use a pencil or a pen if you prefer.
Getting a stapler and a hole punch to staple the pages together is also helpful. A hole punch is inexpensive, but it is essential to ensure the pages are kept in order. You can also use a hole punch to create a section for your weekly or monthly pages.
Create a Bullet Journal System
A bullet journal is more than just a notebook or a place to track your day-to-day activities. It is a tool to help you record your thoughts, feelings, and ideas.
To begin, you need to choose your system. There are three central systems for organising the pages in your bullet journal: date, page, and event.
The date system organises the pages into the month, week, and day. This format is ideal for those who want to plan their day and week ahead of time.
The page system organises the pages into topics or sections. You can use this system if you want to organise your bullet journal by specific topics, such as "health," "family," or "homework."
The event system organises the pages by dates. For example, you may want to start a new page for each vacation or birthday.
Your bullet journal is a personal tool to keep your thoughts, feelings, and ideas organised. Choose a system that works best for you.
How Do I Keep My Bullet Journal Organised?
If you are a new or seasoned bullet journaler, it is vital to keep your journal organised. You can accomplish this by sticking to a system or adding your organisation.
Sticking to a system
Using a system makes it easier to keep your journal organised. For example, if you keep your journal every month, it may be easier to use the month as your system. You can also add a page for a week or a page for each day of the week, using the date as your system.
Adding your organisation
If you are a new bullet journaler, you may find it easier to keep your journal organised by adding your own. A good starting point is to stick to a system and then use that system to add to your organisation. For example, you may use your monthly system to organise your week and then add your system for a day, like a daily list of tasks.
You can add a system or organise your journal using the following steps:
1. Pick your system. The most common systems include:
Date – Use this system to keep your journal organised by month, week, or day.
Page – Use this system to keep your journal organised by topics or pages.
Event – Use this system to keep your journal organised by dates.
2. Create your system. It is essential to follow the set system to keep your journal organised when using a system.
3. Add your organisation. Once your system is established, it is essential to use your system to add your organisation. For example, if you use a daily system, you may want to use that daily system to write down your daily tasks.
Conclusion
Bullet journals are easy to stay organised when you have many ideas. You can write down everything you want to achieve, whether saving up for a house, starting a business, or just achieving your fitness goals.
You'll have an excellent visual representation of your goals when you're done. It's a great way to stay motivated.
You can make your bullet journal with basic supplies, but plenty of options are available if you're looking for a high-quality option.
Bullet journals are fantastic and easy to use. These are the five best bullet journals on the market today.
Last update on 2023-12-06 / Affiliate links / Images from Amazon Product Advertising API