Top 10 Mobile Apps to Boost Business Productivity
Did you know that the average worker is only productive for 2 hours 53 minutes in a typical 8-hour working day?
Yep—you're only productive for less than six hours a day.
It can take over twenty minutes to regain concentration after a moment of distraction.
And distractions are abundant in the digital age.
From email to instant messaging to social media—it can be hard to get through a day without any of these productivity killers.
So, how can you overcome distractions and remain productive at work?
Well, the easiest and most effective way to boost productivity in the workplace is to have the right set of productivity apps in your arsenal.
Keep reading to find out the best free and paid productivity apps available.
Top 10 Mobile Apps to Boost Business Productivity
Free Productivity Apps
1. Todoist (Android, iOS)
2. Evernote (Android, iOS)
3. Freedom (Android, iOS)
4. Trello (Android, iOS)
5. Habitica (Android, iOS)
6. Be Focused (iOS)
Paid Productivity Apps
1. Due (iOS)
2. Just Press Record (iOS)
3. Cloze (Android, iOS)
4. LiquidText (iPad)
Free Mobile Productivity Apps
Free productivity mobile apps help you to supercharge your employees' productivity without spending a dime.
Here are the top free productivity apps to get you started.
1 – Todoist (Android, iOS)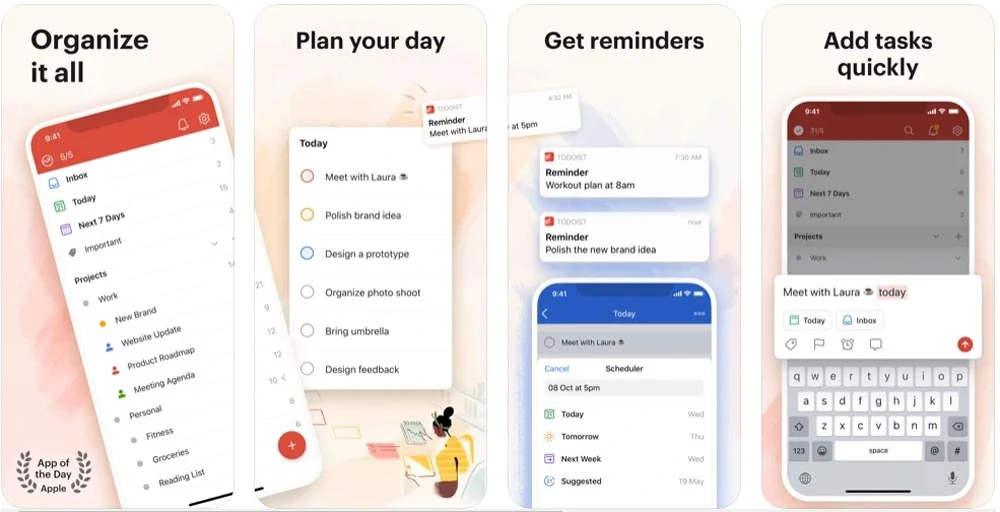 Todoist is one of the best time management apps for Android and iPhone devices.
The free account allows you to collaborate with up to five people per project, and you can manage up to eighty projects.
This app is excellent for managing a team as you can assign tasks to your team members, set deadlines, and add project details quickly.
Plus, you'll get a notification whenever a team member completes a task or leaves a comment.
The company also provides powerful visualisation tools to track your progress by creating detailed daily and monthly graphs.
The free version of Todoist mobile apps is available for everyone.
If you want to gain access to advanced features like backups and automatic reminders, upgrade to Todoist Premium for $3 a month.
2 – Evernote (Android, iOS)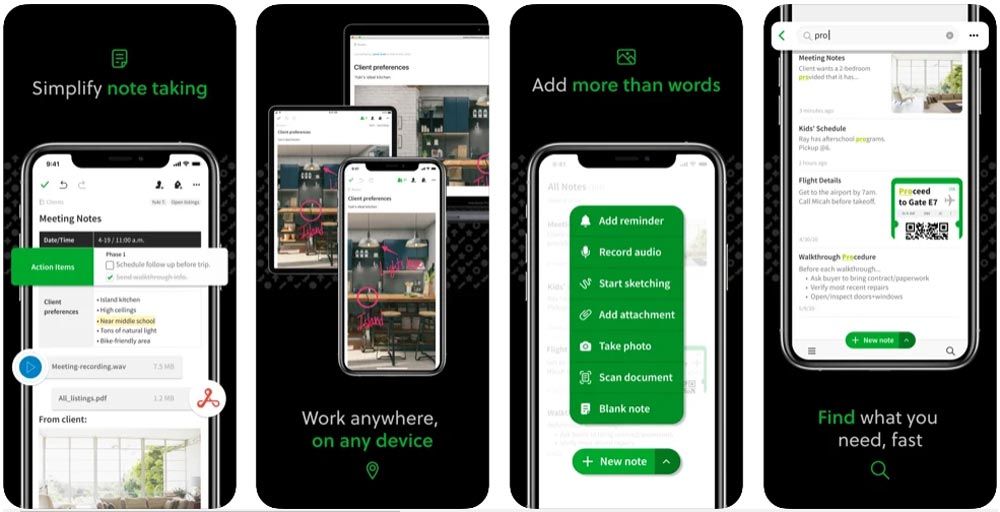 Evernote is one of the best productivity apps for organising tasks and taking notes and has earned its place as a top notes organiser and daily planner app.
The beauty of Evernote is seen in its ability to keep important information secure and easily accessible.
With Evernote, you can capture notes by writing, sketching digitally, uploading PDFs, taking photos, recording audio, and more.
One of the key selling features of Evernote is that when you search for a specific keyword, the app not only looks for it in your texts but also in your pictures gallery.
For example, if you take a picture of a For Sale sign, then search for the word "sale," the app will scan your content and include it in the search results.
You can also use Evernote to share important notes and files with others, thus increasing team productivity.
3 – Freedom (Android, iOS)
Freedom's mobile apps were designed for a specific purpose: Boost users' productivity by letting them self-block from time-wasting websites.
The company claims that users gain an average of 2.5 hours a day by blocking time-wasting websites.
And it makes sense, considering social media tops the list of the things that steal employees' attention.
Freedom enhances your productivity by blocking mobile apps and websites that generally suck up your time.
You can even block internet access in general if you don't want to fall into the temptation of browsing while working on non-internet-related tasks.
You can get all the basic Freedom features for free. However, if you want additional features like advanced scheduling, upgrade to Freedom Premium for $6.99 per month.
4 – Trello (Android, iOS)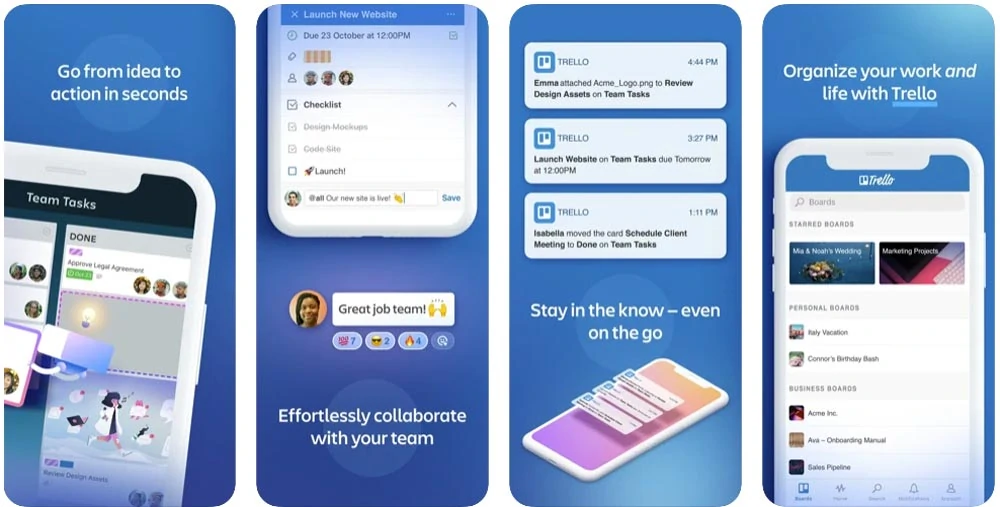 Trello is an excellent app for process-based tasks and projects.
This Kanban-style work management app allows project managers to set up projects and assign tasks to team members with ease.
With Trello, users can break big projects down into smaller chunks by creating "boards and cards" for every task.
Cards can be organised into columns, representing anything you want—from to-do lists to tasks to different stages of a project.
Once a task is completed, that card gets moved from one column to the next.
Here's a typical real-life scenario of how this process might look like.
Bianca is responsible for managing the writers and the overall content development docket.
To manage the content funnel and all the articles produced, she creates a Trello board with five columns: "topic creation," "writing," "ready for review," "approved," and "published."
As each task is worked on, it makes its way from the "topic creation" through the stages in between to the "published" column when the project is finished.
By streamlining workflow and enhancing coordination, Trello can also boost employee morale and reinforce company culture.
You can access all the basic Trello features for free. The company also offers a Business Class package with additional features for $10 a month.
5 – Habitica (Android, iOS)
Habitica is one productivity app that you'll love if you're a gamer.
The app uses gamification to help boost your productivity at work.
With this app, you're not just getting things done. You're also defeating monsters.
The app will set you up to a good start by allowing you to create your avatar.
Once you have made your to-do lists, the app turns every item on the list into a monster that you have to defeat by completing those tasks.
Habitica also lets you form a team and work with your co-workers within the app.
This fosters teamwork while enforcing accountability because if a task is skipped, it doesn't just reflect on your avatar. It affects everyone on your team.
6 – Be Focused (iOS)
Adding regular breaks into your working day is essential to remain productive all day long.
Built upon the Pomodoro Technique, the Be Focused app advocates short breaks between sessions.
It gets things done by breaking down work into intervals separated by short, five-minute breaks.
Users can add tasks, configure breaks, and track their progress throughout the day, week, or specified period.
Users can even customise settings to maximise productivity.
For instance, you can start, skip, or pause intervals to suit your working style.
In addition to regular breaks between sessions, it's also vital to ensure you're having enough sleep.
Multiple studies have shown a direct correlation between sleep and work performance, with experts recommending at least seven hours of sleep at night.
Paid Productivity Mobile Apps
Free apps can have their fair share of drawbacks, including limited functionalities and pop-up ads.
For these reasons, many businesses prefer to take the paid route to benefit from an app's full functionalities.
If you want to get the most out of your employees, these paid productivity apps will do the trick.
7 – Due (iOS)
Due is an app that remembers everything, so you don't have to.
With several notifications coming from multiple apps, it can be easy to miss an appointment reminder or deadline. But not with Due.
The app will not only let you set reminders easily; its persistent nature will ensure you don't forget anything.
Due will repeatedly notify you of overdue reminders until you mark them complete or reschedule them. Its simplicity of use is also remarkable.
You don't have to open the app to mark a reminder as done; you can do so right from the notification panel.
You can use Due with your favourite project management software to track progress and better manage your team. The company offers a one-week free trial, after which you pay $7 per month.
8 – Just Press Record (iOS)
Just Press Record is a handy one-tap recording app for iPhone, iPad, and Apple Watch.
This award-winning app brings one-tap recording, transcriptions, and iCloud syncing to all your devices.
This app simplifies your daily life by bringing all the tools you need to capture notes in one place.
You don't need to hire an audio transcriber or download another app to do an audio subscription for you. Just Press Record has you covered!
With this app, you can quickly turn voice recordings into text and even finetune your audio by cutting out the parts you don't need.
Most importantly, it brings a record button everywhere, allowing you to capture every moment effortlessly and sync those moments across your devices.
Just Press Record is available to download for $4.99 at the Apple Play Store.
9 – Cloze (Android, iOS)
Cloze is a contact and relationship management app that tries to manage everything about your business in one place.
The app automatically keeps track of your email, phone calls, Evernote, Facebook, LinkedIn, and a dozen other services.
It organises this info by contact, company, meeting, etc., making it easy for you to stay updated on what your contacts are doing.
Cloze also features a sophisticated learning algorithm that lets you know who is important to you and when it's time to reach out, so you'll always be on top of your customers and pipeline.
Cloze offers four pricing plans starting at $17 per month.
10 – LiquidText (iPad)
LiquidText is a potent document editing tool for the iPad.
This app provides a versatile workspace for users to review, annotate, compare, and search documents on their Apple tablets—then apply the results when writing reports.
With LiquidText, you can jot down notes or annotate right on the document by simply highlighting, underlining, or crossing things out in the workspace.
Additionally, you can use LiquidText to pull out excerpts and compare pages of different documents to establish a common ground.
You can then share results with your co-workers by exporting your project workspace to PDF, Word, or full LiquidText file.
The Bottom Line
If you want to scale up your business, choosing your team's best productivity apps will set you up for success.
We encourage you to investigate each of these productivity apps, sign up for the free trials, and see if they can help you achieve more in less time.
Author Bio: Mark Quadros is a SaaS content marketer that helps brands create and distribute rad content. On a similar note, Mark loves content and contributes to several authoritative blogs like HubSpot, CoSchedule, Foundr, etc. Connect with him via LinkedIn or Twitter.