Top 6 UI Design Trends To Follow
Designers have a lot to think about in the next few years when it comes to UI design trends. With so many advancements in technology, it's hard not to get excited by all of the opportunities for creating sleek, inspiring interfaces.
What does User Interface Design mean?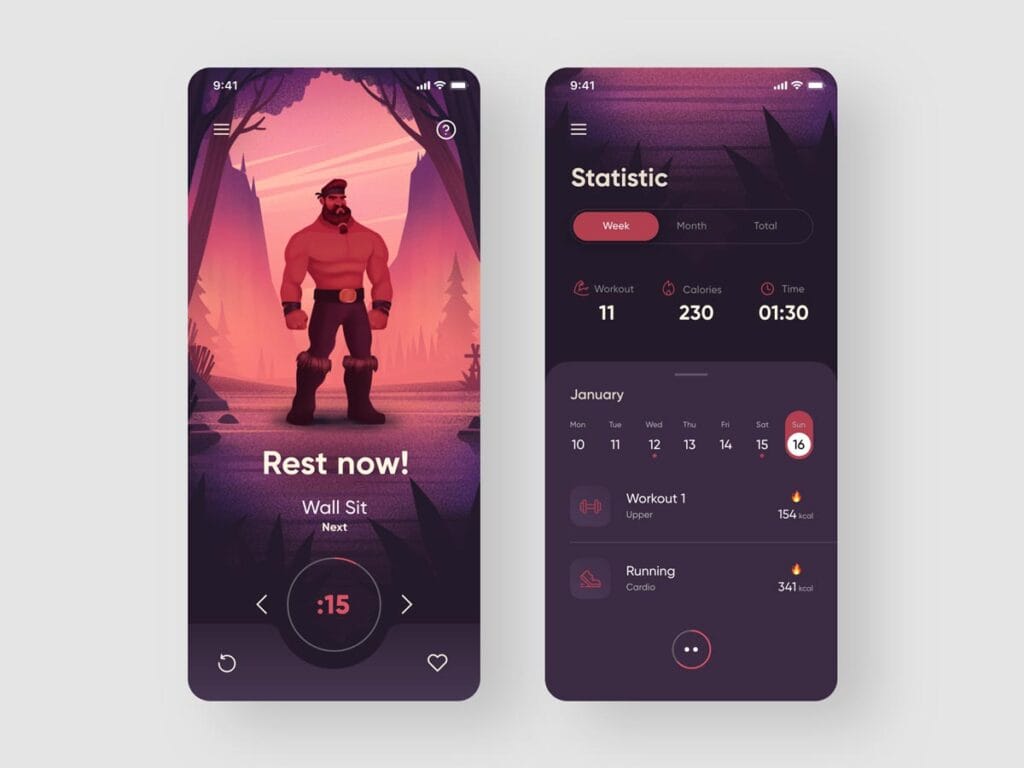 A user interface can be generally defined as any device that allows users to interact with a system. The most common user interface is computers and smartphones, where input devices are typically keyboards and mice. 
Still, web pages serve as another example of interfaces since clicking links is one way users communicate their intent to view content on websites. 
All interactions between humans and machines can be thought of as user interfaces in some way – from a front-end app or a command-line interface to a machine that helps a factory operate.
Importance of UI in Your Business' Success
User Interface (UI) is one of the most important aspects of any digital product or service because it makes them accessible and user-friendly. 
And with the introduction of Virtual Reality, Augmented Reality and more personalised experiences across devices – it's never been more critical for an interface to be visually appealing while also functional. This is where UI design trends come into play.
Here are some tips that you can put into consideration when designing a user interface:
1. Simplicity Is The Key
The best way to make sure that your site has lots of visitors is by making its design simple. Do not overload your design with too much text, colours, and features because this makes your website or app complicated to use. 
Your users will find it hard to navigate through the different pages if you have much stuff on the page.
2. Limit The Number Of Links On One Page
Limit the number of links that you put on one page because there is no need to put numerous links in one place. Don't try putting 70 links into a single page even though they are categorised according to their usage type. 
It will be better to create an index so that people can access them easily whenever they need them without needing to go through other pages, again and again, to get what they want. 
If you have many links, allow the users to access them through a drop-down menu.
3. Don't Use Frames And Optimise Loading Time
When designing an interface, the first thing that you should avoid is frame because it only adds unnecessary complexity and confusion for your users. It breaks the continuity concept on Web pages. 
Furthermore, if you have frames within your web page, then it takes some time to load as compared to those that do not use frames which makes your website less user friendly as well as slow loading time will also irritate users, and they won't come back to your site again due to frustration.
4. Add A Search Feature
You must always try adding a search feature to make navigation easier for your site visitors to find what they are looking for much quicker and more straightforwardly. 
It is also good to add search bars on the top of your site's pages so that people looking for specific things like a particular product, service or anything else can easily search and get it quickly.
5. The Value Of Colours And Shapes
Colour plays a key role when designing a UI interface because different colour makes different types of impact on visitors. Thus, you should carefully choose colours by understanding the user's perspective and which colour will more effectively arouse positive emotions. 
Blue can make users feel relaxed, whereas yellow would make them feel cheerful and happy about their purchase. 
When designing an interface, you must use appropriate squares, rectangles and circles because people like and relate to these shapes more than triangles and lines.
6. Placing CTA Buttons Or Calls-To-Action
It is essential to place CTAs, as it is vital for driving traffic to higher sales conversion rates than other marketing channels such as social media or print advertisement. 
Moreover, it can help in simple lead generation or even upselling and cross-selling. Visitors can purchase accessories along with the main product they have already bought from your online store. 
Therefore, a successful UI designer should always ensure that their website contains a clear call-to-action using brightly coloured buttons so that users can initiate the checkout process quickly without any difficulty.
Top 6 UI Design Trends To Follow
1 – Dark Theme
It may sound surprising but dark themes are expected to be among the most popular UI design trends. 
Why? It makes sense because it assists reading and makes content stand out. People generally spend more time looking at dark-themed pages than bright ones (where the white background is the only light source). 
Dark colours are easier to read on mobile screens, especially in sunlight. And there's one more reason to prefer dark themes – they create an excellent contrast for colourful images/animations, perfect for getting people's attention!
The dark theme is dedicated to those who like darker visuals and aesthetics; they are becoming trendy. However, the dark theme is about how it looks and its meaning. 
It's related to being more productive and creative by putting various tasks on a blank canvas. The "dark" colour doesn't negatively affect human beings—it helps us stay focused, calm our minds, and work on something complicated without stressing too much.
2 – Virtual and Augmented Reality
Another of the UI design trends that will take the world by storm is virtual and augmented reality. 
Designers need to stay ahead of this technology because it might bring significant changes to the web and other industries like healthcare, manufacturing etc.
Virtual/augmented reality will change how we interact with computers, people, and objects.
Though VR has been around for ages now, many people are still hesitant to try them out because of their high-price tag or low quality. 
But recent breakthroughs in this field brought some success into the industry, making it easier for companies like Samsung or Google to launch their products at an affordable price range that almost everyone can purchase. 
Not just that, VR has a great future ahead, as many experts predicted to be the next biggest hit in technology after smartphones. 
So if you want your business or product to stand out from other competitors, take a leap into this trend and open up new realms for your business.
3 – Personalised Experience
There are now more ways to learn about your visitors than ever before – from Google Analytics, custom tools, chatbots, and personalised emails. 
This is called personalisation, which represents a new era of the web where users have an individual experience tailored especially for them! 
The most prominent success example here is Amazon – everything on their site is based on what you bought previously, so it's easier to find related products.
To satisfy their customers' individual needs and requirements, businesses need personalised experience to solve all kinds of problems—from buying issues to technical issues or communicating with customer care services right at one's fingertips via chat box or email ticketing system instead of waiting on hold for hours together during peak hours. 
So instead of having a standard interface across every single page throughout the site, businesses should provide a dynamic experience that changes according to users' online behaviour.
4 – Micro-Interactions
Micro-interactions are simple actions taken within an app or website with concrete results but are usually used to complete tasks/features secondary to the project's primary purpose. 
For example, think of buttons that when you hover over an item with your mouse, a small window pops up and shows the price and description of that particular product.
Micro-interactions (which in my opinion should be called macro-interactions) are features that provide an opportunity to add extra value to your web projects, such as email sharing, zoom functions, or video embedding.
Micro-interactions play a significant role in improving user experience and can make or break any product. These micro-interactions, such as how a button glows when clicked or changes its colour to reflect different actions—can make all the difference. 
They demonstrate attention to detail and quickness by the software (or hardware) because people quickly forget about great experiences but can hardly ignore bad ones. 
So businesses need to focus on creating compelling micro-interactions to delight customers with every action involving their brand or product. 
For instance, if you're designing an eCommerce site, try adding subtle effects like "continue shopping" text floating up when someone adds items to the cart—it will do wonders for your customer's shopping experience.
5 – Neomorphism
Neomorphism is when designers add elements of novelty (randomness/unpredictability) into their designs by changing typography or colour schemes to make projects feel more natural and humanised. 
For instance, one day, most websites use sans serif typefaces only, while the next day, we see a lot of handwritten fonts and bold colours instead of thin lines and pastel tones. 
It's all about how designers can experiment with different looks and feels every day.
This involves removing all elements from a page other than those necessary to a product or service function. 
As a result, fonts have become crisper and more legible and spacings more exacting to not take up any wasted space. 
With many items stripped down solely to their essentials, users have been able to concentrate upon the content being displayed rather than worrying about how each font size interacts with another.
6 – Mobile-First Design
Mobile-first design is now more than just one of the UI design trends; it's an absolute necessity since even websites without extensive content are becoming cluttered on desktops while they're super easy to use on mobile devices. 
It's much better for your clients if you emphasise responsiveness in your work, so consider when contacting new clients or networking online.
Developers are becoming much more interested in the mobile aspect of apps because it is believed that many users are finding it easier to use their smartphones for searching purposes rather than their PC.
The layout of a web page must be simple, clean, and crisp to be easily viewed on multiple devices. It is also vital that text remains sharp and legible regardless of the screen size to access the information.
Bonus Point
Scrollytelling
A new trend in web design is taking over the industry, called Scrollytelling. It involves storytelling through scroll-based interactions rich with animated elements to illustrate what's happening on-screen at any given time. 
Scrollytelling is interactive infographics taken to the next level. The user experience becomes far more engaging as content moves around the page as you use your cursor or finger gestures to explore what is being shown on the screen.
Scrollytelling uses HTML5 evolving capabilities for better video playback, and custom-built libraries like TumultHype allow for smooth swiping between pages without needing page refreshes.
Conclusion
Whether for a mobile app, website or some hardware device—UI design is an integral part of the development process because it can make all the difference between a product that people love and one they hate. 
So designers need to know about the latest UI design trends to keep up with the latest technologies and support businesses' strategies by creating great designs that will drive engagement and increase conversions.
We firmly believe that the primary goal of UI/UX design is to help users achieve their goals. For this purpose, we track and analyse trends to provide our customers with a distraction-free experience when using an online news portal or service marketplace like ours!
What fresh UI design trends have you noticed? Be sure to leave a comment below to let us know.