A Guide to B2B Website Design Best Practices
Competition increases with the ticking clock time; if you belong to the professional service industry, everyone works hard to create opportunities to benefit from the competitive advantage. 
However, in the rush of the competition, various professional website development companies and professionally trained employees are unaware of the complexity of the Business to business industry, also known as the B2B business. 
82% of the professional products or services purchasers assessed, analysed and evaluated the rating and "The word" of the website to check the engagement and reliability of the company, according to the Hinge Research Institute. 
The word in technical terms often refers to the content provided on the website, which should be unique and original. As originals attract buyers and buyers attract originals, it is a magnetism relationship. 
Although, a company's website is crucial for establishing the information it delivers. It also institutes trustworthiness, which is more significant than many firms believe. 
Experts suggest that 9 out of 10 buyers will dismiss a company before ever speaking with them. You'll probably be ruled out if your website doesn't adequately convey how you can solve a buyer's problems.
That is a problem. Because from large size businesses to small size business, individuals have become familiarised with very complex and diverting consumer websites and demand the same from commercial websites.
There is no doubt that B2B website design is at its rising stage due to increased digital consumption. Therefore, you must establish your websites and earn the audience's trust to increase sales.
The following is the best guide that could help you to make better design business practices. 
1 – Create Quality Content and Highlight The Best Leads
If you want to keep your audience engaged, blog posting is the best technique to deliver insightful information to consumers to gain their trust. 
Though a blog post should be publicly accessible to anybody to attract readers, you may want to collect additional information, such as an email address, before enabling people to download premium material.
"Gating" content is the term for this method. Gated content necessitates the completion of a form. Visitors will get frustrated if you ask for too much personal data. 
Still, they are typically prepared to offer their names and email addresses in return for great material – and these are some of the most critical pieces of information you can gather.
How will people locate your password-protected material in the first place? Include appealing and relevant offers for premium material, such as eBooks, in your publicly available content (i.e. blog entries), in the middle or at the conclusion, where it will be noticed but not obtrusive. 
Contain appealing and relevant offers for premium material, such as eBooks, in your publicly available in the centre or at the conclusion, where they will notice it but not obtrusive.
2 – Establish Informational Content
People search on Google for the problems that help them to solve them. However, by providing informational or educational content, you are helping the customers and yourself and your website because the answer to customers' questions leads them to your website, which increases the visits to your page and increases traffic through content, increasing engagement. 
These activities benefit the company by maintaining a high rank on Google and the pay-per-click system.
Keeping all the content organised helps the customers understand the framework and layout of your website, which helps them find whatever they are looking for easily. 
However, never share materials intended to do cross-marketing, such as sale sheets, internal company news, and presentations, which turns away the customers' interest. 
To keep them engaged, it is essential to utilise a customer-focused strategy and answer the questions they need to hear, not what you need to tell them. 
Likewise, create research studies and webinars to demonstrate expert content. Modernise your library with new information on an unvarying basis to show your commitment to education and industry interaction.
3 – Use Search Engine Optimisation (SEO)Tools
It is essential to hire an expert SEO to keep your website in the highest ranking possible. Without a great team of SEOs, making your content heard by the audience worldwide is like climbing Mount Everest for the first time, so you need strategic approaches to optimise search engine indexing. 
You can evaluate your SEO experts based on the practices mentioned below:
Assess the context of photos on your site; use the "image alt" HTML tag. This will boost user ease of understanding while also assisting Google in comprehending the information of your photographs.
Make sure each page has its title and the most essential "meta" explanation so that Google (and seekers) can figure out what it's about.
Examine the time it takes for a page to load. A great user experience (UX) is essential for the internet. Ensure your website design, plug-ins, and other elements are optimised to utilise your host service provider's fastest download rates.
Study Google Search Analytics to track your site's progress and use the information to boost traffic and create more relevant content. This might be a fantastic area to concentrate on if people converge to blogs on a specific topic.
Take account of relevant keyword phrases. When people seek knowledge like yours, what terms do they use to find it? Include these phrases in your site's content as well as its metadata. However, instead of cramming in as many keyword words as possible, use just the most ordinary and appropriate ones.
More than any other component of internet marketing, SEO best practices are rapidly and continually developing. 
It is essential to hire a complete team of SEOs that helps to build your business with strategic search engine indexing. 
4 – Optimise your B2B Website Design for Mobile
Experts suggest that young people search for daily life questions by using their phones to get information to answer a random thought in their minds. 
Likewise, keeping accessibility in mind gives access to your website to the people using it through cell phones, as it helps in B2B business specifically. Make your website user-friendly on mobile devices.
People are increasingly using mobile devices to view B2B website design layouts. Because the displays on these devices are smaller, site designs that are attractive and useful on a laptop or desktop display may appear confused and unintuitive on a mobile device.
Prioritise mobile-friendliness in your design to provide the utmost possible experience for your visitors. After all, people who negatively experience using a mobile device to view your site will leave soon and are unlikely to return. 
Furthermore, Google regulates ranks and presentations search results with "mobile-friendly" tags based on mobile-friendliness. 
What can you do to make sure your website is mobile-friendly? Responsive web design is the answer. 
This approach employs CSS to develop web pages that adjust fluidly, beautifully, and effectively to the proportions of a database server, resulting in a positive user engagement for all visitors. 
Therefore it is essential to access every source possible to increase engagement with your B2B website design. 
5 – Include a Call to Action (CTA) before Publishing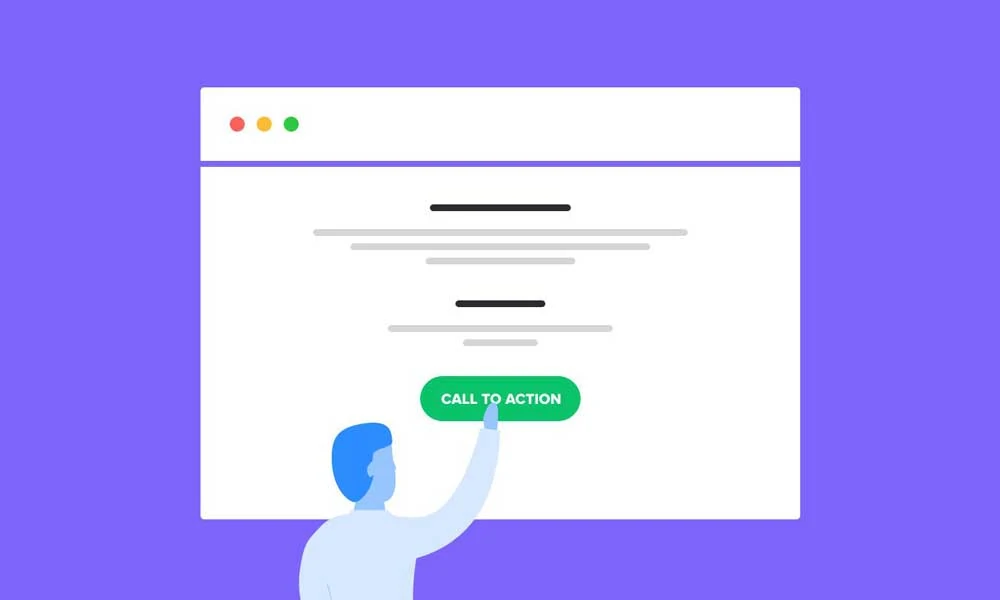 A call to action is significant for providing a practical example of the storyline you built above because words are only worthy if they prove something truthful and efficient. 
The CTA is proof of the message provided as it helps give your message a new direction on practicality based; in other words, it is also known as EBP Evidence-based practice. 
Although, it doesn't only concrete your context but also helps your website get cross-promotion through blogs ending with CTA's. 
Visitors to a B2B website design who want to learn more or investigate services are sometimes left unsure how to proceed. They will leave if they can't figure out how to contact you (or whatever else they want to do).
This is why it's critical to provide clear, appealing calls to action that direct visitors to a specific job and explain what they should do next. Colourful, informative buttons usually represent these. 
Create an offer strategy as you plan your website (or website upgrading), emphasising which calls to action will be put on which pages and why. 
Deliberate this a road plan for the target personas you want to interact with on your website. Also, think about the most relatable CTA action phrases that could be the question of your customers. 
CTAs should stand out from the rest of the page and be simple to grasp, regardless of where they are placed. 
"Get my free evaluation" rather than "Submit" is a good example of descriptive, specific, and active wording. Although, you could use the frequently asked question, also known as the FAQs, to help the people understand better and promote your motive throughout it.
When each piece of information has a clear call to action, there is no ambiguity about the material's specific goal, and the reader isn't left confused or apathetically clicking away. 
Your content piques the reader's interest, and your CTA encourages them to learn more about the subject or become a paying client. 
If you're unclear about what your readers want, it's time to evaluate your personas and enhance your digital approach.
Calls-to-action is part of a thorough science at their most successful. To boost click and conversion rates, use A/B testing to compare visitors' responses to variants on your calls-to-action, experimenting with alternative language, colours, and so on.
Lastly, share your story, make it emotional, connect with the audience, or create a relatable story for the readers. 
The audience wants to hear emotions, struggles and dedication. Also, share your alliances, share every good you are doing, and attach evidence of the alliances through pictures, videos and stories to convey the message that the company aims to do good.
A good brand image also attracts buyers and vice versa. However, your language and practices should also be transparent and ethical because customers notice every detail. 
Therefore, use visuals and words that your target audience will understand. Your design and text should bolster your credibility by demonstrating your firm's knowledge. 
Your logo should reflect the objective of your firm and service offerings and define your proficiency so people know precisely what you know and how you can assist them.
Using keywords and keeping the navigation process accessible is the responsibility of the website developers. SEOs and visual experts make it appear appealing in every possible way to ensure that the website is attractive, easy to find, informational and useful for the visitor. 
Ensure the goals and best practices described above are at the top of your list when you explore a new site or a site update. You will be well-positioned to stand out from the competition if you follow these tips.
To conclude, the website's structure, design, visuals, and content published inside it define the reliability and significance of the website, which helps the customer put their trust in your business, products, and services. 
Or you can also choose any professional website design and development company to help you create the best layout or design for your B2B website design and increase sales while increasing the visitor's engagement on your page. 
Author Bio:  Zeeshan Hussain Bhatti is a blogger by passion and a Digital strategist & Tech Geek by profession; with a tech background and experience in I.T development services, Zeeshan is eager to explore the modern-day tech landscape. Bhatti writes about leading-edge technologies, Artificial Intelligence, Automotive Industry, Logo Designing Services, and much more interest in technology.