Top 7 Social Media Hacks That Still Work
With the ever-rising popularity of eCommerce platforms and the digitisation of the modern world, social media has played a significant role in connecting people all over the world in a matter of a few clicks.
It doesn't matter what your purpose is— be it for communicating with peers, selling products, spreading information and awareness— social's primary purpose is explained perfectly in those two words. Social and media.
Connection, information and platform.
Social media first became popular among youngsters, but over time, it doesn't matter what age you are (technically, kids below a certain age are discouraged from social media as much as possible).
What's great about social media is that almost all of them are free platforms so that you can make an account or two with just a few clicks!
image source: smartinsights.com
At least 4.2 billion people are social media users, accounting for 53.6% of the world's population.
With the current pandemic in full force for more than a year now, people have been forced into a life of in-real-life social distancing that affected our lifestyles, way of living, businesses and practices.
In effect, another form of 'social' became the norm—social media.
A report from Datareportal showed the changes in people's online and digital activities due to the COVID-19 pandemic.
source: smartinsights.com
Now, more than ever, social media is becoming a pillar in communication and connection and marketing.
Gone were the days when we used to throw flyers and post wall-advertising bills. 
With a few clicks on your social account, the right marketing strategy and the perfect social media hacks and tools, your product ads can reach miles— locally and internationally— with just a few clicks.
image source: smartinsights.com
The updated list of the most used platforms by January 2021 shows how people have been affected by the pandemic.
Facebook and YouTube have always been the most used platforms, but the rise of messenger apps like Whatsapp, FB Messenger, and WeChatexplains how the world has been deprived of communication giving rise to digital conversations.
Despite the increase in digital conversations and marketing strategies, you might be wondering about the result of your paid ads. For instance, you might ask why your Facebook Ads might not be delivering. The first few weeks might have delivered high conversion rates, but you later realise the results aren't sustainable. It all boils down to creating sustainable social media tactics.
The right social media marketing strategy will help entrepreneurs reach a wider audience, gain more leads, and convert them into loyal customers.
Making money online has never been easier since entrepreneurs have leveraged social media to their advantage.
This process, known as the sales funnel stage, considers social media and its contents one of the starting points of its whole process.
image source: snov.io
What's a better way to raise your brand's awareness than social media?
For one, it's completely free, and most of all, the audience and target market possibility is limitless and endless.
But the question is: how do you make a compelling social media account?
How do you utilise different social media hacks and all the features and tools to the best of your advantage?
Here, we have listed a few tips and hacks on how to maximise your social media use in 2022.
1 – Use Hashtag Generators
Hashtags have been a common trend on social media sites, most especially Twitter and Instagram.
The internet, especially social media, comprises a plethora of information, posts, and tweets.
Most of the time, it becomes difficult for people with common interests to find each other.
Twitter and Instagram hashtags help users find specific information on a particular niche, topic or product and comb through bazillions of data through hashtags.
Hashtags are an essential part of any organisation's social media marketing strategy.
This helps both the organisation and customers connect, find relevant content, and group together conversations around a topic.
Using a hashtag is not at all problematic. Click on a tag, engage in a conversation and post whatever you want.
Organisations using hashtags can generate a significant increase in engagement compared to those who did not use hashtags.
However, you can also opt to use a wide array of hashtag generators available online.
These hashtag generator tools are called social media growth tools because they use automated programs or AI technology to generate hashtags that will best help grow your social media account.
Most of these hashtag generators do not only give you suggested hashtags but also provide cross-promotion tactics, clickable website links, auto-follow and auto-like bots and a responsive support team.
These tools will help you find the most attention-grabbing hashtags to add to your social media posts that will help you grow your account and eventually boost your sales.
Some of these hashtag generator tools include HashtagForLikes, Kikcsta, Ingramer and many more, usually with a fee after a free trial.
You can also opt to use hashtag analytic tools to see how your hashtags are performing, their engagement rates and how the audience is reacting to them.
2 – Invest in Keywords
If you're someone involved in digital marketing, you're probably aware of how keywords are very crucial in the visibility of your product or website.
Keywords are essential in keeping you in the search engine results. But is any keyword enough?
Unfortunately, finding the right keywords for your type of product, business and niche can be a challenge; that's why using keyword research tools will help identify what kind of keywords will best help get your content on the front page of the search engine.
What's funny enough is that 'keyword' can be a bit confusing and misleading because when people try to look, for example, to buy the best ski boards, they will search 'where to buy ski boards' or 'best ski boards near me' and that's not just a word.
In utilising your social media, finding out the best keywords will help you understand your target audience's thought process and eventually help them discover you.
You'll communicate with your audience better when you know their wants and needs and how they engage through keywords based on those wants and needs.
Most of the time, people punching in keywords in social media want engagement and conversation rather than punching a query.
So it is crucial to consider the difference in approach in the use of keywords in social media compared to search engines.
With the right keyword and the right approach to audiences approaching your keywords, you'll be able to grow your social media account in no time.
Image source: wordstream.com
Some keyword research tools like Google AdWords (which is free, by the way) and other keyword tool alternatives will give you SEO consultation and show you keyword ideas, feedback for suggested keywords, and the statistics on these keywords like search volume, average monthly searches, level of competition and how much people are paying for those particular keywords.
3 – Create engaging content
Keywords are not the end-all-be-all of search engine optimisation.
Without excellent and engaging content in your blogging platforms and social media accounts, you can throw your keywords down the drain.
Social media and great content go together hand in hand. But first, what constitutes great content?
High-quality content. This means that from your topic, and your overall idea down to the most technical aspect of your content like spelling, grammar and flow, your content must be informative and provide insights to your audience.
Engaging and easy to read. People on the internet don't spend too much time on one website. If you don't get their attention, they'll spend no more than 2 minutes skimming your entire content, defeating its whole purpose. This is why your content should be engaging. Involve the reader! Make them think. Talk to them. Please don't write a technical paper but instead write like you're talking to them. This makes your content easier to read and follow, and the chances that your content influences your audience is more incredible.
Include visual aids. Wordy write-ups are too much for people on the internet, especially when they know what they're looking for. They won't spend so much time reading through a bizarre amount of words. Still, visual aids will help them get the gist of an article, make the entire structure easy to the eyes, and allow interested readers to read further if the visual aids interest them. According to Sprout Social, 68% and 50% of consumers chose images and videos as the type of content they engage with.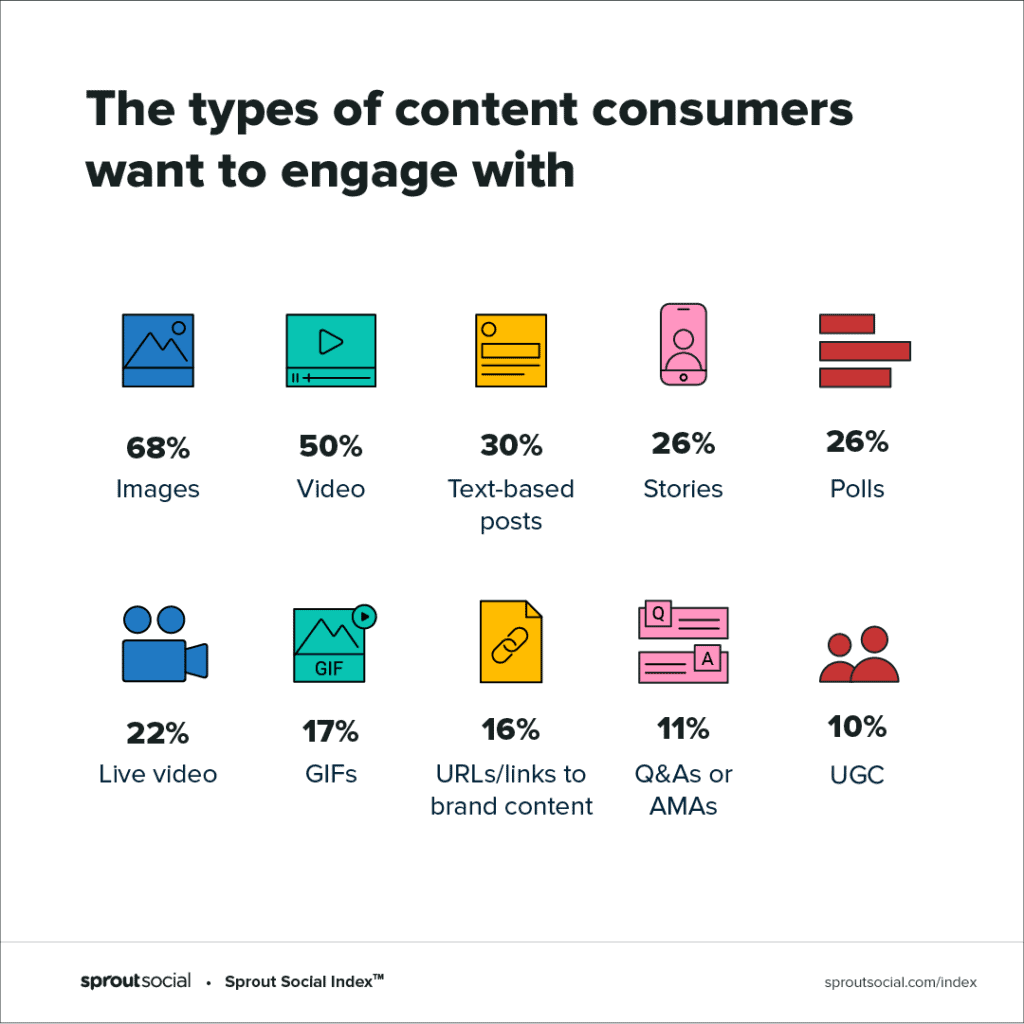 Image source: sproutsocial.com
Creating content and leveraging social media to target readers through various social media tools and techniques can help you establish your brand identity among your audience.
4 – Interact With Your Audience
In managing a social media account, you must always keep in mind the very reason why social media exists: conversation.
Sure, you're putting out exciting posts about your blogs, information about your products, etc.– and that's good and all, but you're not making use of what social media does best.
Say you've got your hashtags and keywords down, and now your target audience has found your social media page. The next thing you do? Interact.
Make sure that you are generating conversation not just between you and your consumers but between audiences as well.
How do you do that? Engage with your audience and reply to their posts as humanly as possible (you wouldn't want your consumers to think they're talking to a robot). Share content that generates buzz.
One good example is the recent collaboration between McDonald's and the supergroup BTS.
The tweet about their recent collaboration generated 330 per cent more interaction than the fast-food giant's last post.
Under the replies are various brands replying with the same tweet and generating almost the same increase in interaction from fans.
The social media manager also created conversations around its collaboration branding by putting in a superscript 7 and a purple heart– distinctly identified to BTS and their fans.
It is also important to note that the social media strategy of the company makes sure to prioritise interaction with the audience in a 'stan/fan' tone — because believe it or not, generating buzz and conversations begins by making your audience feel like there's a human behind the account that's also as equally passionate about what they're promoting.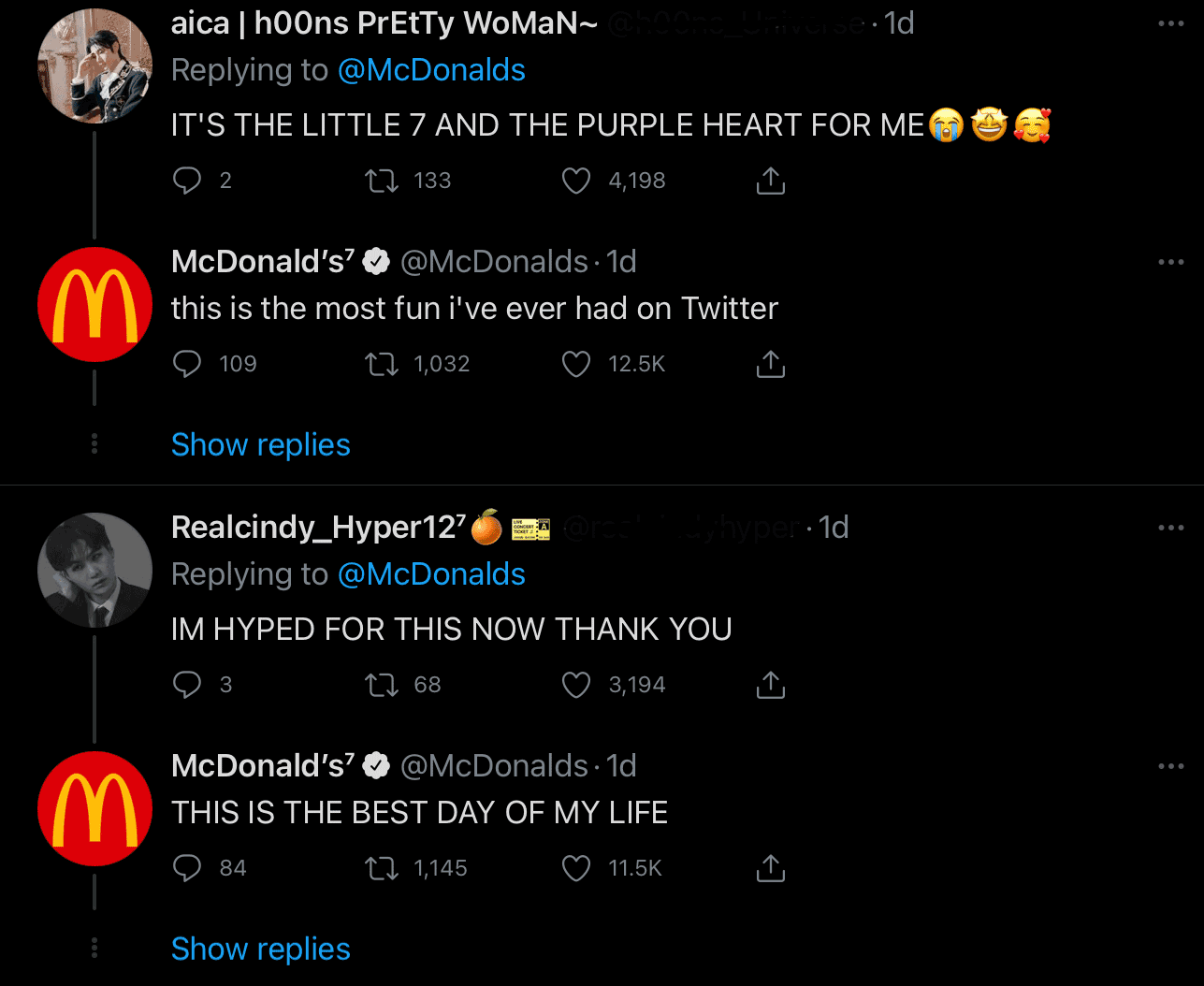 If you have quite the financial resources, social media advertising is still one of the most sought after advertising methods— and yes, it still works even in 2022.
Facebook, Twitter, Instagram, YouTube and TikTok all have paid ad options you can choose from to put your brand and your products nearer to your chosen target audience.
Admit it or not, without a viral content strategy, it's still tough to market yourself through organic marketing.
It takes much time, effort and patience with an unassured outcome.
Paid ads in social media, on the other hand, might be costly, but makes sure that you achieve your goals of brand awareness, marketing and traffic generation and sales.
It is crucial to think carefully about which social media platform to choose when choosing paid ads.
After all, trying to advertise on all of them would hurt your resources and would be highly impractical.
For example, if your product targets older people, it might be better to choose Facebook as your paid ad platform.
For most millennials and Gen Z's, Instagram would be the number one go-to social media platform where you'll be able to get the most audiences.
Look at this report from Hootsuite on the advertising audience of Instagram in 2020:
Image source: hootsuite.com
6 – Discover Social Media Stories
Have you ever heard of Instagram Stories, Facebook Stories, Twitter Moments, YouTube Reels, etc.?
If not, you might be missing out on the loop in one of the social media trends that's all the rage not only by regular social media users but marketers alike.
Stories allow you to post anything, and viewers can only see this content for the next 24 hours.
Why?
It's because the name itself, Stories, allows unlimited possibilities to market your brand without actually disturbing the peace of your main social media feed.
If your main social media feed is much more restricted, you can go all out through the Stories feature.
Depending on the app, marketers and organisations can utilise this feature to engage with their audience in a much more informal and friendly way.
How? Show them behind-the-scenes shots or making processes, your team, how you work, ask them suggestions, create a poll— basically engage in conversations in a more relaxed manner while also establishing your brand, increasing engagement, followers and eventually potential leads.
Did you know that there's a treasure trove of content that can be found in your entire social media activity?
How does your audience interact with your content on Instagram compared to Twitter, how many times your post is liked or how many more followers do you gain from one platform than another?
All these data can be compiled together through social media tools and help make informed business decisions by studying growth metrics in social media marketing.
Social media statistics and analytics will help you identify which posts are liked more at a specified period, thus helping you identify which time of the day is best to put out a new post.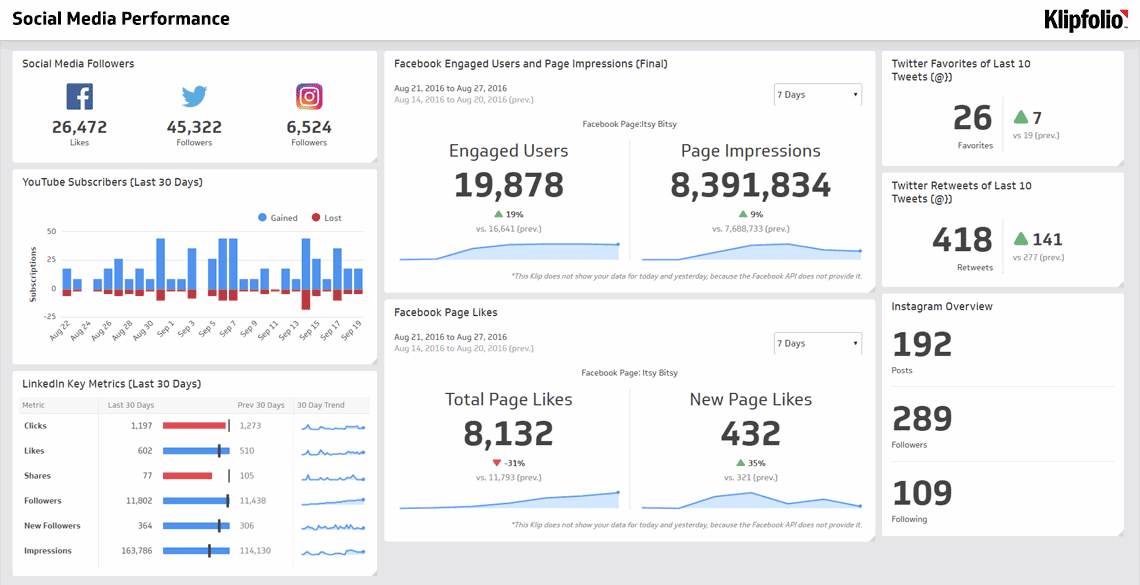 Image source: klipfolio.com
Knowing which social networks work better and gaining more responses will help you gauge the traffic and sales you are getting from each social media platform.
Is it time to cut attention away from one platform because your target audience isn't there?
Knowing which platform to prioritise in terms of social media marketing to boost traffic and increase sales is crucial in studying social media analytics.
When choosing social media analytics tools, it's crucial to determine the features you need, such as the following:
Social Media Monitoring: Choose a social media analytics tool that can help you monitor and track all interactions on your social media accounts.
Data Aggregation: This feature gathers data from different social media networks. Data aggregation provides relevant data for large-scale sales and marketing analysis.
Platform Analysis: This feature is essential in determining your social media performance on a specific platform, such as Facebook, Instagram, or Twitter.
Overall Analysis: It's advisable to choose a social media analytics tool to provide a good overview of your overall social media presence. By doing so, you'll know if your tactics are working or not.
Campaign Analysis: This feature analyses individual social media campaigns on multiple platforms.
Reporting: A good social media analytics tool can generate usable and easy-to-understand statistical reports, visual data, and spreadsheets. In this way, you can make more informed social media marketing decisions.
Conclusion
Social media was and will continue to be one of the most powerful marketing tools of any kind, type, and business size.
There are many ways to utilise social media to your advantage.
As listed above, with the right social media hacks and strategies that are perfect for your brand, you'll be able to build brand awareness, traffic and sales.
While some of these costs money, you can choose from online a lot of free options.
Most importantly, it is crucial never to forget that the core of these social media hacks is to make the most out of it—conversations.
Before social media, there were various eCommerce marketing methods to grow your business.
Social media wasn't initially meant for brands; it was meant for people to have conversations.
Conversing to your audience like real people, sharing your stories, and asking questions—basically talking to them like a human— will help leverage social media to your advantage.
When your audience sees you as a reliable and approachable organisation, you'll be able to establish your brand and build awareness of it.
Once you've established your brand, ride in the momentum and increase your traffic but posting your website links all over your social media—and watch your sales grow.