7 Ways of Developing Your Personal Brand Through Videos
Video marketing is getting more and more popular as time goes by.
Today, video content seems to be one of the most efficient ways of promoting businesses on social media and not only.
A picture can "speak a thousand words".
Imagine the power of a well-made video if only a picture could do that.
Not surprisingly, 52% of marketers suggest that their video marketing campaigns represent the most efficient form of marketing, resulting in the best possible ROI.
Moreover, approximately 43% of Web users expect more video content in their news feeds.
These are not the only relevant statistics that give video marketing a natural flavour.
You can check more in the previous link. Nevertheless, let's aim our attention towards an interesting combination:
Personal Branding & Video Marketing
Along with the popularity of video marketing, personal branding has developed new angles of manifestation.
Today, you can develop your personal brand by creating more video content than any other content. You can create your personalised videos using any video-making tool or make a video online using in-built templates.
Why more video content?
Because it is very efficient for both business branding & personal branding.
Russell Brand, an influential social media presence, uses video to present his content in the best possible manner.
His facial expressions, tone of voice, and body language enhance his messages.
Even if you are not Russell Brand, putting yourself in front of a camera is excellent for your branding efforts.
Your followers will no longer read a text; they will look straight into your eyes while you speak to them.
Moreover, it is the same with clients; the better you connect, the more you will benefit from their offers.
Dana Michaels, General Manager at UkBestEssays, shares one of his observations:
"In the present moment, our company receives five times more video scripts orders than it did in 2016. The rate at which video marketing grows is pretty impressive and noticeable. Our writers are forced to adapt to the current marketplace conditions. Otherwise, they are losing their full value proposition."
Now let me ask you a question.
Are you presently using video marketing to promote your personal brand in the best possible manner?
Now the second question.
Are you doing good enough?
So now the third.
If you do use videos, are you taking advantage of – let's say – out-of-the-box video strategies?
Also, see these video game logos.
Either way, you are reading this article because you want more information on video marketing and personal branding.
Without further ado, here are some less-known ways of leveraging the incredible power of videos to upgrade your personal brand performance.
1 – Develop a Video Presentation of Yourself
Most of the "About Us" pages are presented with plain text.
Well, this aspect is soon about to change.
Considering that your presentation page is one of the most viewed pages on your website, adding a little extra taste through a video presentation of yourself will pay off big time.
Also, don't think just of your site.
YouTube, Facebook, and LinkedIn – these social media platforms encourage video content, giving it a bit of extra reach compared to text content.
On YouTube, for example, you can feature your presentation video so that every channel viewer will notice it right from the start.
Here's what I suggest.
Start doing your research and learn more about video presentations.
There are several important details you must take into consideration for your presentation to make an actual impact.
Your eyes, voice, body language, and words have a tremendous impact on your presentation's quality and overall efficiency.
2 – Acquire Video Testimonials (or References)
Testimonials are essential for your personal branding strategy.
If you are in a stage where you are looking for more clients or jobs, testimonials (or references) are a must for you.
Whenever people apply for different jobs, they include some references in their job applications.
In other words, they praise themselves by suggesting someone recommended them.
However, there's no actual proof, so most of these references go unnoticed or are not considered seriously.
If you collect video testimonials from employers or talented individuals in the field, the impact you will make is much more substantial.
So how should you go about it?
Well, you should directly ask the people willing to refer you for a video testimonial instead of a written one.
Most people will be afraid of doing that because of their lack of experience and resources, so ensure that you provide them with all the information and tools they need to succeed with this operation.
If you come prepared, you will likely be turned down less frequently.
3 – Video Pitches (or Proposals)
Whenever pitching new clients, you can use videos instead of text.
By doing so, you are going to benefit from more things.
First off, the clients that you are going to approach will appreciate your out-of-the-box approach.
Trust me; a tiny percentage of professionals are taking the time and effort to create incredible proposals.
So that is a mistake because this is the most critical part of an employment/contract possibility.
Consider putting yourself in front of the camera whenever you pitch a client.
You can personalise everything much better when you create videos than when you write text.
You can use your eyes to suggest the passion that you are holding, and you can throw a few jokes here and there.
Conveying emotions through videos is much simpler than any other form of content, so give it a try as soon as possible.
4 – Communicate Through Videos instead of Audio/Text
Are you communicating through text only?
If that is correct, here's a quick suggestion: use video messages while communicating with your clients and professional peers.
Phone calls are the most common right now, along with text messages.
These are the most convenient ways to communicate quickly and efficiently.
However, if you have high expectations of your personal brand, you had better start considering the actions that aren't "that easy".
What I am suggesting here is that you should not neglect video messaging and video calling.
Whenever you get the chance to approach an influencer, client, employer, or professional, suggest this less conventional way of communication.
Be confident, receptive, and involved; you will make the best impression.
5 – Create and Distribute Valuable & Quality Content
Even though you are not promoting a big business, you are still marketing some business – a personal one.
Personal branding does not mean merely displaying and representing your services and skills.
You ought to present something more for your traits to be fully recognised.
You need to develop your content, which should be filled with valuable information for your target audience to digest.
This represents hard work, which is why content creation is often neglected.
However, if such a few professionals publish relevant content in their niche, don't you think this would be a big bonus for your image?
6 – Show Some "Behind the Scene" Moments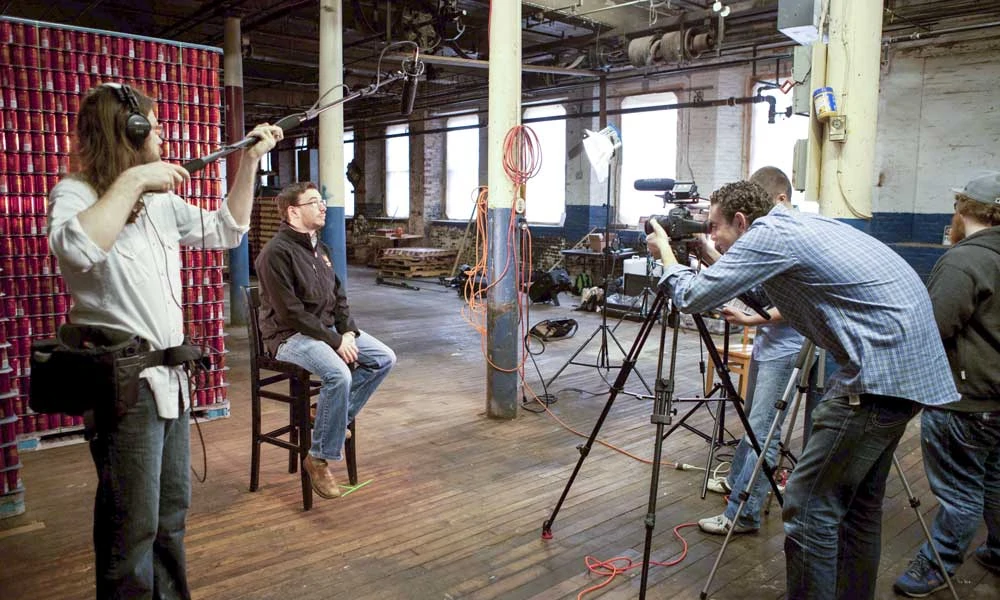 Have you ever considered giving your followers the chance to see your work?
When I am speaking of work, I am talking about actual work.
You can film yourself working on a challenging project.
Throughout this video, you can share gold mine information through the "live solutions" you find for your problems.
This way, all potential clients and business partners can easily observe your skills, traits, and potential.
There's no better way of doing it!
Show them what you have (as they say), and you will notice incredible results.
7 – Develop Video Courses
Here's a great way of making money out of your personal brand.
No matter what services you offer, there's a possibility of training.
What you will do is teach people specific things.
For example, you can teach people to play the guitar, to be better at a sport, or to understand and practice something better.
Now, this would require you to plan your courses so that it leaves room for more.
So if you can present such things on your website, you are not only going to earn big bucks off of passive sales, but you are also going to stand out of the box completely.
Takeaways
Take it as you want, but video marketing happens to develop at high speed.
A great marketer once told me:
"Stick with the marketplace, and the marketplace will reward you for being loyal."
Better said, the business market is constantly changing; if you want to make the best of it, you had better follow its rules.
In our case, video marketing should be treated with respect and care.
I suggest you start now, as it is always better than later.
If you have already begun, make sure to improve your ways consistently.
Soon enough, you will be a master video creator that can efficiently promote himself/any other business through amazing videos.