Todd Navigation
Logo Redesign and Corporate Identity for a Bangor Business
Background
Todd Navigation is an International Admiralty Chart Agent for marine navigation and is the largest independent chart distributor of nautical publications in the UK.
They work closely with UKHO to trial new services and are highly knowledgeable in the application and use of the entire range of Admiralty products.
Objective
Their existing Branding was inconsistent and appeared in a variety of methods, across different media, leading to an overall confusion of Brand message.
They approached Inkbot Design to discuss a redesign of the current Todd Navigation logo, along with an expansion of sub-Brands and simplification of the Brand Identity.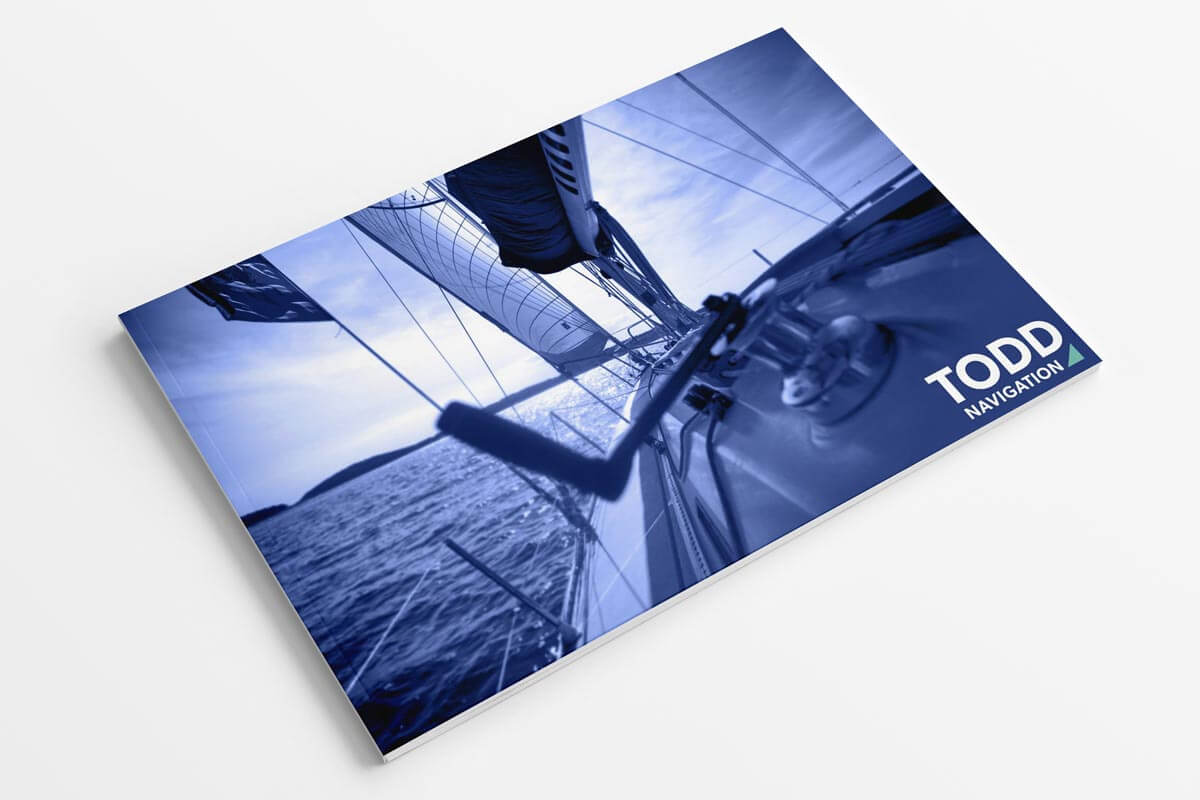 Outcome
The simplified mark, reminiscent of a combination of a ship's sail and navigational symbol, offers an improved adaptability, legibility and improved colour scheme for both web and print.
Todd Navigation's products, denoted by the sub-Brand "ToddNav" are colour-coordinated and act as a representative of the parent Branding through their format.

I find Inkbot Design a great place for ideas and general information. A vary informative site..Well recommended
Gary Finley
13:33 22 Oct 17
Ink bot design has demonstrated superb skill in all areas of design. If you need a logo, web layout or general, branding project done, they're the

firm to use.

read more
Doug Wolfgram
12:23 22 Oct 17
I give this agency my highest rating for extensive knowledge and consistent service.
Odin Wallace
12:02 22 Oct 17
Inkbot's design work is world renowned, and his blog posts are clear to read.
Rosalind.J. Lee
14:54 23 Oct 17
Convenient and easy to find location using Google maps.
John Sullivan
14:20 22 Oct 17
Inkbot Design has tons of info and GREAT designs, check them out!!!
William E Spicer
14:02 01 Nov 17
Stuart delivered a logo for my business a few years ago and I'm really glad I went with him as the design has stood the test of time and I've used it

extensively across social media etc. Highly recommended

read more
Brian Deeney
20:26 08 Nov 17
Most excellent information about Graphic Design, Logos and Business Marketing! Kudos Stuart Crawford
Mott Marvin Kornicki
22:32 10 Apr 18
Great website with an abundance of well-written informative material. Keep up the good work!
Warren Fowler
13:51 26 Apr 18
Does your Branding need a Refresh?