History of the Lego Logo Design Evolution
For every company across the world, the logo design plays a substantial role. It drives brand awareness and creates the company's sense of identity. Most company logos may seem so simple before our eyes. In many cases, we take them just as mere means of identification.
In most instances, these logos represent specific meanings, which are generally the company's key ideas and beliefs. The finest versions of the logo designs you see today have probably travelled a long way. They started many years ago but have undergone lots of transformations to become what they are now.
In this article, we have described the Lego logo design history. We will explain how the whole idea came about and also the factors that made the logo to keep on changing with time. But before we get started, what is LEGO? What does it do? How and when did it all begin?
Need help building your Brand?
Get in touch with a Creative Graphic Design Agency Today!
The History of the LEGO Brand
LEGO is a Denmark-based company that specialises in the manufacture of a wide range of toys. Lego is famous for its popular interlocking building blocks and the LEGO movie that are excellent means of recreation for the LEGO juniors in all parts of the world.
LEGO Creator Expert Ford Mustang 10265 Building Kit (1471 Pieces)
Build and customize your very own 1960s Ford Mustang GT, featuring dark-blue bodywork with white racing stripes, 5-spoke rims with rugged tires, detailed interior, V8 engine and customization add-ons!
Customize this "American muscle car model" with the included supercharger, rear ducktail spoiler, beefy exhaust pipes, front chin spoiler and a nitrous oxide tank
Measures over 3-inch (10cm) high, 13-inch (34cm) long and 5-inch (14cm) wide
1471 pieces – For boys and girls aged 16+ and for fans and big kids of all ages
This LEGO Creator Expert Ford Mustang 10265 set can be built together with all other original LEGO sets and LEGO bricks for creative building
The company was established in 1932 by a Dane, Ole Kirk Christiansen. During the establishment time, Kirk's son, Godfred, served as his right-hand man.
The most surprising thing to learn, however, is the fact that Lego was never started as a big company. LEGO started just as a small business, making wooden toys, ladders, ironing boards, and stools. But since the establishment in 1932, Lego has grown into a sizeable, trustworthy organisation with overwhelming global recognition.
Today, you could easily walk into a LEGO store anywhere and purchase some of the latest LEGO classic products.
The LEGO origin is attributed to two Danish words (Leg Godt), which stand for "Play Well." These are the two Danish words that were written in capitals, and the name "LEGO" was born.
LEGO Logo Design Evolution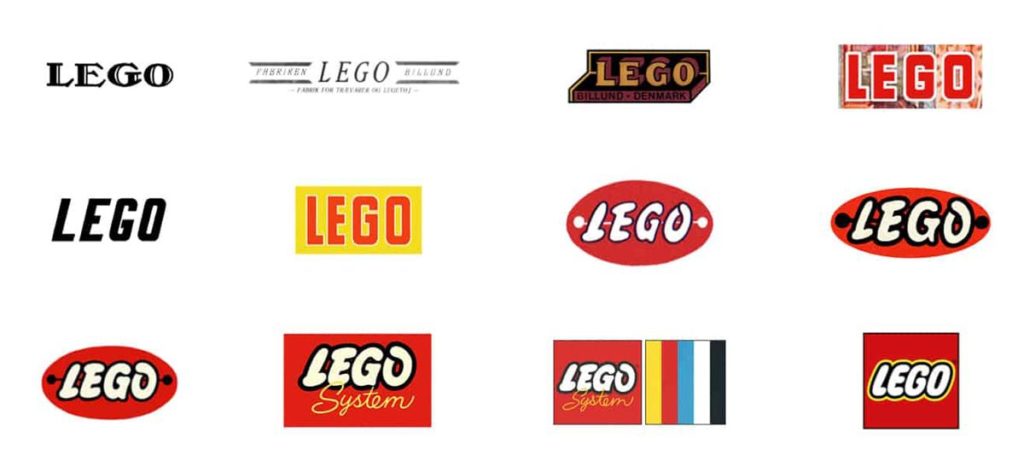 The first official LEGO logo was designed in 1934 after the establishment of the company in 1932. Since then, the logo has undergone numerous transformations but not necessarily on the LEGO logo name. If companies were ranked based on how many times they had changed their logos, then LEGO would honestly emerge the best.
Two main factors drove the transformation of the LEGO logo ideas. These included the introduction of new products in the company or the entrance into a new market, especially the United States.
During the logo evolution, the key aspects which were continually being modified are the typeface of the letters, the shape of the logo, and the colour. It's worth noting that the font never experienced many changes throughout the journey.
The LEGO font almost remained the same apart from that on the first LEGO logo and towards the end of the evolution. In terms of shape, the first LEGO logo did not include any kind of form. It was composed of only the letters "LEGO," making it the simplest variant of all.
However, in the course of the journey, there were massive changes in the shape, which included Circular, Oval, Rectangular, and then the final, square shape.
Just like the shape, the colour of the letters also experienced an array of modifications. The colour changed from black to orange, yellow, red, and then to white, which we see on the logo even today.
Additionally, the evolution of colour also included modifications of the outline, as we've explained in detail in the sections below.
History of the LEGO Logo Design
This is the most incredible section of this piece, pointing out LEGO worlds logo concepts as one of the best. We're going to learn how the LEGO logo appeared as well as the year when it happened.
We're going to start from 1934 when the first logo was unveiled and then take you through up to 1998 when the final and the present iconic form was designed. Let's begin!
1934 to 1936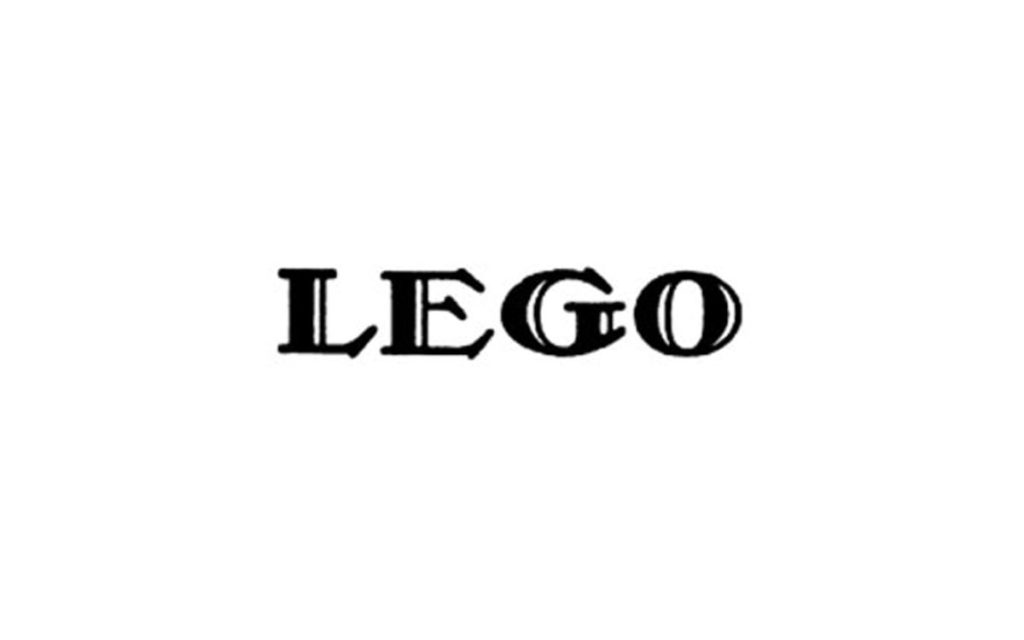 This is the period within which the first LEGO logo was designed. As we have already mentioned in the above section, this was the purest form of all the designs.
The logo consisted of the company name "LEGO," written in bold-black colour and not enclosed in any kind of shape. This design is the one that served for a short time. It went for about two years, and then LEGO designed a new logo.
1936 to 1946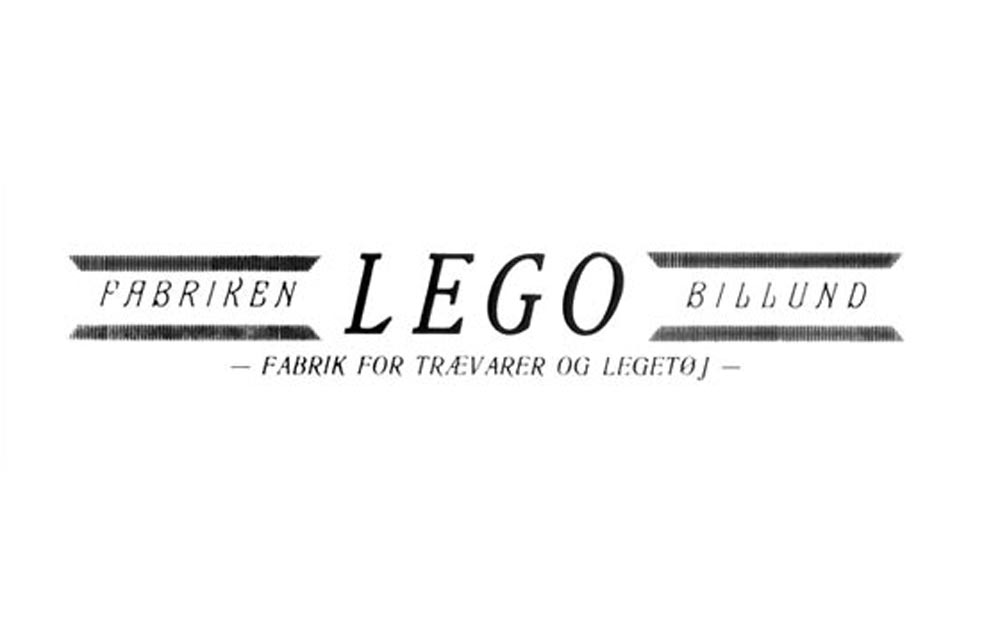 This is the time during which the need for LEGO to include the logo on its products arose. This left the company without an alternative but to redesign the logo so that it could easily be included in the products.
This LEGO logo new idea was also text-based but included a little more details. The logo comprised of the italicised brand name, "LEGO," positioned in between two parallel lines on both sides. This was one of the longest-serving LEGO logos and remained active for about a decade.
1946 to 1950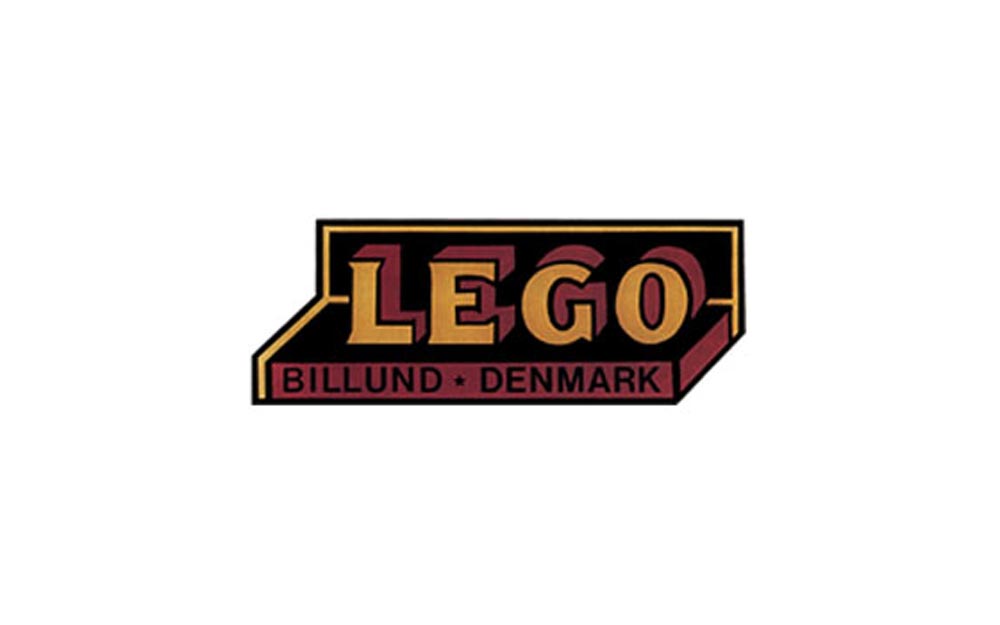 The year 1946 marked quite a tremendous transformation in the LEGO logo design history. This was the time when the company unveiled its first-ever colourful logo. It was also a text-based type but of two different colours, orange and black.
The two colours were a symbol of high confidence, happiness, and energy, and they made the logo look more presentable and official than the earlier versions.
During this period of the logo evolution, there were up to two different LEGO logo variants. The first one took the form of an Orange LEGO-lettering blended with a black cursive "Klodster" at the bottom.
This variant was extremely modern and with a great sense of professionalism and expression of the company's commitment.
The second variant came in a three-dimensional design. Its finer graphical details and the addition of a brown and black base gave it a traditional toy-package look. For this reason, the logo was used mainly on the wooden toys and not in documents as the first variant.
1950 to 1953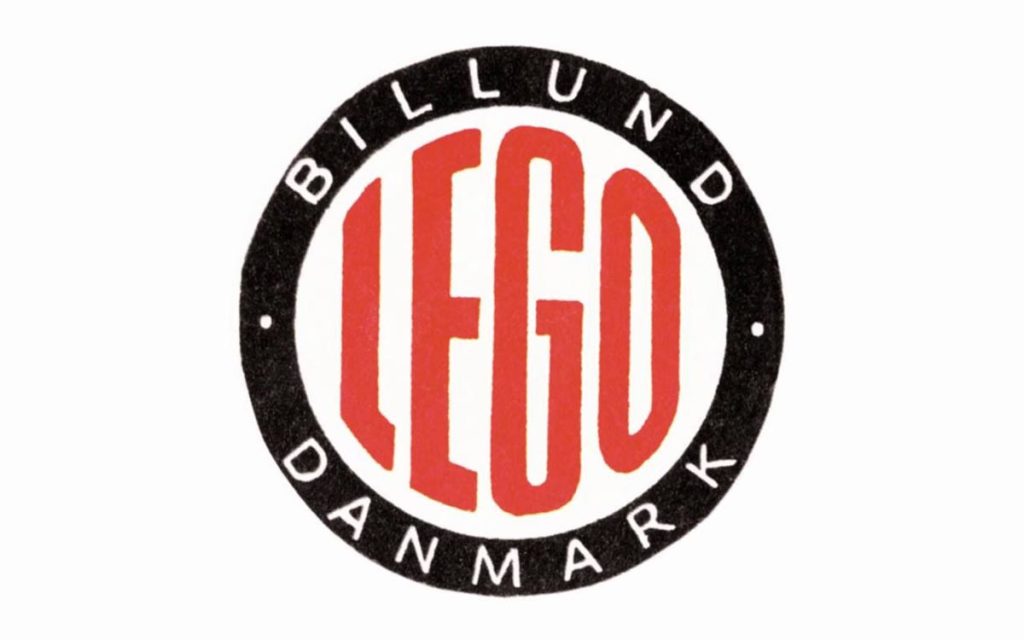 Remember what we mentioned at the beginning of this section? We stated that the transformations in the logo designs were propelled by either introduction of a new product or getting into a unique market setting.
Therefore, the introduction of LEGO plastic toys in late 1949 was never going to pass unanswered. It's what pushed them for the designing of a new logo in 1950.
This new emblem was a way of celebrating the latest company's discovery and also for attaining a new, better identity.
It was designed in a circular shape with a very thick black outline. Inside the framework were the words "Billund Denmark," written in white colour, then in the central part of a white circle, the brand name "LEGO" was displayed in an extremely stylised manner.
1953 to 1955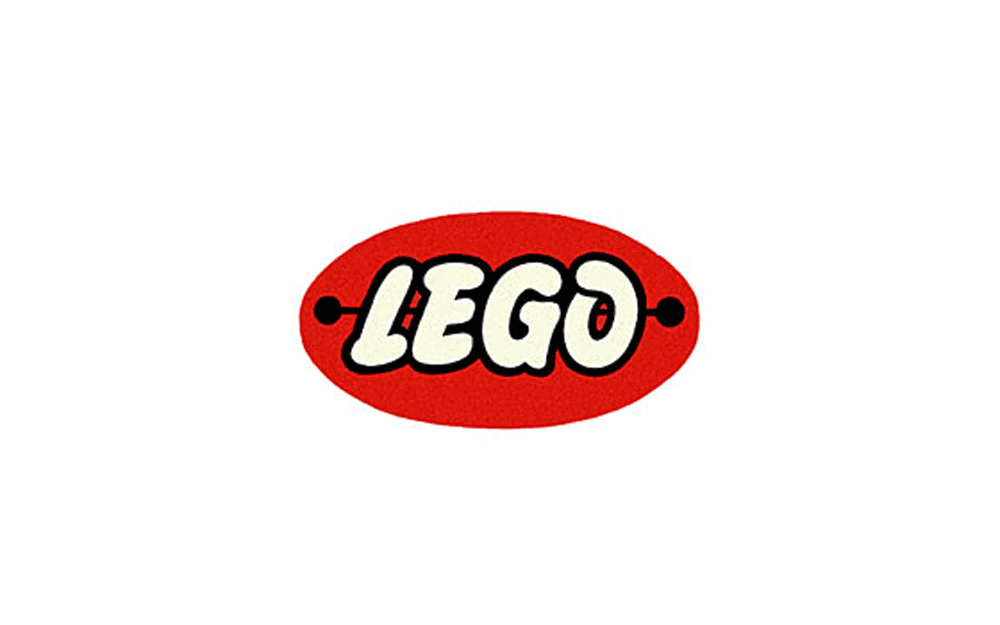 This is probably the time when LEGO tried to associate its logo with the end-users of its products. According to information published on the LEGO website and other LEGO news outlets, the emblem was designed to inspire the kids with great joy and a sense of friendliness. Below are some main reasons why children need to play with toys, after all.
During this period, the LEGO logo design included three different colours – red, yellow, and white. The model took two shapes, either a rectangle or an oval.
Their first design was the red LEGO-lettering with a white outline placed inside a yellow rectangle. It was a very fresh and attractive design.
The other two variants were in the form of red oval shapes. They resembled each other in almost every aspect except the colour of the brand name outlines and straight line that stroke through the LEGO-lettering.
The first one in this category comprised of the brand "LEGO," written in white and with a skinny black outline.
The line that stroke straight through the brand name, in this case, was white and somehow thick. The other one was the LEGO-lettering also written in white but with a very thick black outline. The striking line was also thick but black.
1955 to 1960
This is the age during which LEGO logo evolution never recorded significant changes in the logo design. It involved the perfection of the previous versions to create a greater sense of brand identity.
But most importantly, during this period, the logo experienced the transformation of shape from oval to rectangular in late 1959.
Very remarkably, the colour of the word-mark was also changed to yellow, and the black outlines were made bolder.
1960 to 1964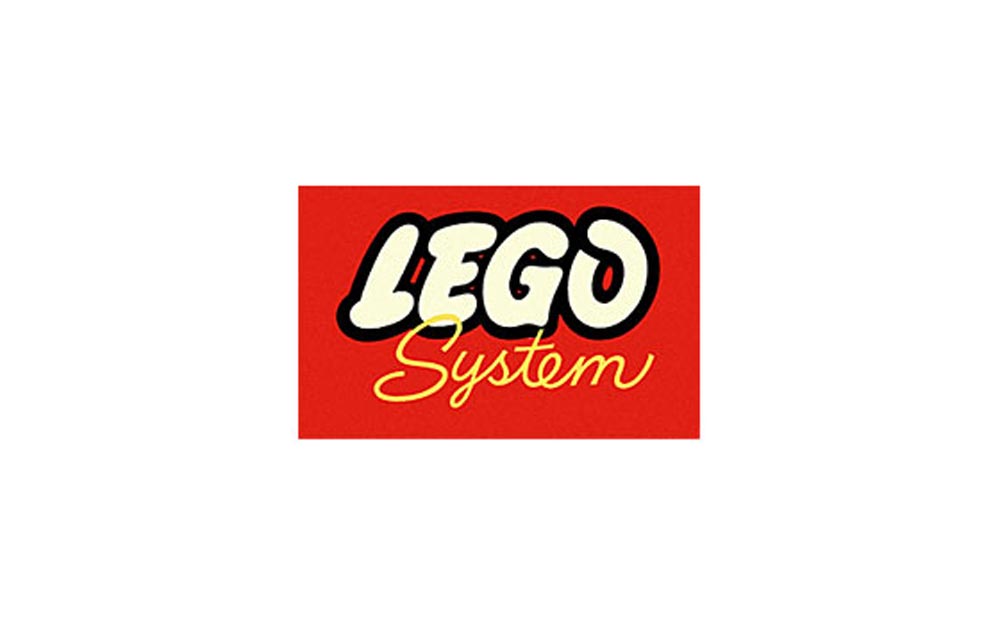 We would like to underline the fact that the LEGO logo received minor modifications from 1960 onwards. This is mainly why if you try comparing the versions of this period with the current one, then you'll realise a considerable resemblance.
This is where LEGO decided to say goodbye to the earlier oval designs entirely.
The emblem emerged in the form of White LEGO-lettering with black outlines inside a red rectangle. Then, there was something more to this logo design; it had the "System" inscription added at the bottom of the LEGO brand in the rectangle.
1964 to 1972
This age recorded probably the most colourful logo of all the designs. The rectangular design from the previous (1960 – 1964) era was joined with another rectangle, decorated with up to 5 different colours.
The five colours were yellow, red, blue, white, and black vertically arranged in that order. The first 1960/64 rectangular logo was put on the left joined with the second highly coloured one on the right. Colourful lines were a symbol of joy.
1972 to 1998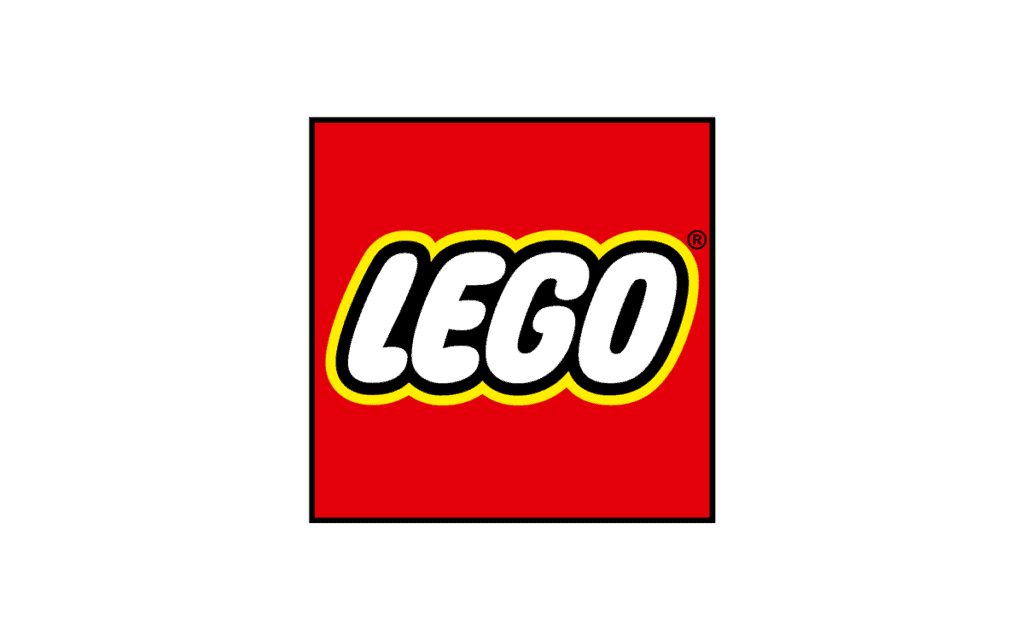 The entry of LEGO into the US market 40 years from its establishment, catalysed further logo modifications despite the design consistency that was already coming in.
Surprisingly, the LEGO logo creator decided to change the multicoloured rectangular part of the logo resulting in a red squared logo.
The LEGO-lettering at the centre was in bold with double black & yellow outlines. While these changes made the LEGO logo look more robust, the overall picture remained incredibly kind and friendly.
1998 to Date

This era of the LEGO logo story has never experienced significant modifications. Only some finer details have undergone little changes so that the logo remains relevant as per the company's present agenda and values.
Some of these changes include squeezing the LEGO-letters together and making the whole emblem a bit narrower, and it's LEGO's iconic image we see today.
The history of the LEGO logo design is one of the longest and most diverse concepts ever seen. So, is there any other information you believe we should have included?
And, by the way, could you please share with us one crucial thing you have learnt, we'll be so glad!
Sale
Bestseller No. 1
LEGO Classic Medium Creative Brick Box 10696 Building Toys for Creative Play; Kids Creative Kit (484 Pieces)
Kids will spend hours engaging in pretend play with this medium-sized building kit. This build your own play toy allows kids to create toy trains or tiger figurines with this classic collection of LEGO bricks in 35 different colors
This creative toy for boys and girls includes windows, toy eyes, 18 tires and toy wheel rims that can be placed on a green baseplate for kids to role play; plus the container can be used as toy storage
Kids can use their imagination to bring to life any building toy they want with these colorful toys, fostering kids playtime and building creativity throughout the process
Kids won't have to stop the role play with just the LEGO Creative Brick playset as these building toys are compatible with all LEGO construction sets for creative play
In this creative kit with 484 pieces the green baseplate measures over 3 inches long and 6 inches wide; for boys and girls between the ages of 4 and 99 years old
Sale
Bestseller No. 2
LEGO City Space Mars Research Shuttle 60226 Space Shuttle Toy Building Kit with Mars Rover and Astronaut Minifigures, Top STEM Toy for Boys and Girls (273 Pieces)
Build an exciting space shuttle toy model that offers plenty of imaginative action possibilities and a Mars rover with articulated grappling arm to retrieve geodes!
Includes 2 LEGO City Mars astronaut minifigures, plus a helidrone and storage drone
Research shuttle measures over 3-inch (9cm) high, 9-inch (23cm) long and 8-inch (21cm) wide Mars rover measures over 1-inch (5cm) high, 2-inch (7cm) long and 2-inch (6cm) wide Helidrone measures over 1-inch (4cm) long and 1-inch (3cm) wide Storage drone measures over 1-inch (3cm) high and 1-inch (3cm) long Mars scenery build measures over 1-inch (3cm) wide
273 pieces –Astronaut construction toy for boys and girls aged 5+ and for fans of LEGO toys and kids of all ages
This LEGO City Mars Research Shuttle 60226 outer space toy set makes a great gift for kids and can be built together with all other original LEGO toys and LEGO bricks for more creative play
Sale
Bestseller No. 3
LEGO Architecture Statue of Liberty 21042 Building Kit (1685 Pieces)
Bring a symbolic centerpiece to your home or office with this Statue of Liberty model
Delivers a rewarding building experience to all with an interest in architecture, travel, history and design
Features a detailed pedestal and iconic Lady Liberty statue complete with crown and golden torch
Statue of Liberty model measures over 17-inch (44cm) high, 5-inch (14cm) wide and 5-inch (14cm) deep
1,685 pieces – For boys and girls over 16 years old
Sale
Bestseller No. 4
LEGO Hidden Side Wrecked Shrimp Boat 70419 Building Kit, App Toy for 7+ Year Old Boys and Girls, Interactive Augmented Reality Playset (310 Pieces)
Introduce youngsters to the exciting world of LEGO Hidden Side: A unique play experience that combines the open creative play of LEGO building toys for kids with an augmented reality app
A great boys' and girls' birthday, Christmas or occasional gift, the Wrecked Shrimp Boat playset lets kids build their very own nautically-inspired shrimp boat that can split into two for hours of fun
This augmented reality toy for kids includes 4 minifigures: Jack Davids and Parker L. Jackson with smartphones, Captain Jones and Jones Jr., plus the ghost dog, Spencer, and an albino alligator for ghost-hunting adventures
Ghost playset for boys and girls aged 7+ This Wrecked Shrimp Boat 70419 toy building set can be built together with all other original LEGO toys and LEGO bricks for creative play
A tablet or mobile phone is required to get the full interactive play experience, but not included. Compatible with selected iOS and Android devices. Compatible with select mobile devices
Sale
Bestseller No. 5
LEGO Marvel Avengers War Machine Buster 76124 Building Kit (362 Pieces)
Build the posable War Machine Buster mech toy, with an opening minifigure cockpit, 6-stud rapid shooter, 2 detachable stud-shooting cannons, 2 flick missiles and gripping hands, and battle the Outriders!
Includes 4 minifigures: a War Machine figure and Ant-Man, each featuring new-for-March-2019 Avengers team suit decoration, plus 2 Outriders
War Machine Buster mech model measures over 6-inch (17cm) high, 2-inch (6cm) long and 5-inch (14cm) wide
362 pieces – Marvel superhero toy construction kit for boys and girls aged 7+ and for fans and kids of all ages This LEGO Marvel Avengers War Machine Buster 76124 building set for kids can be built together with all other original LEGO playsets and LEGO bricks for imaginative play
Recreate exciting action from the Marvel Avengers movies with this fun-packed creative building toy
Bestseller No. 6
LEGO Ideas 21319 Central Perk Building Kit (1,070 Pieces)
Here's a LEGO brick-built version of the famous Central Perk café packed with authentic details to inspire hilarious memories of the classic Friends TV show and to show off to your own friends
In the box: a buildable Central Perk café studio set, plus Ross Geller, Rachel Green, Chandler Bing, Monica Geller, Joey Tribbiani, Phoebe Buffay and Gunther minifigures with cool accessories to role-play memorable scenes
This collectible 1,070-piece LEGO toy makes a great Friends memorabilia gift for fans and offers a rewarding building experience for adults aged 16+ who love to build solo or share the fun with friends and family
This LEGO Ideas Central Perk 21319 Friends TV show merchandise is compatible with the LEGO construction toys, bricks and characters that you already own so you can create your own mash-up models and unique stories
This colorful Friends TV show gift item measures over 4 inches (11cm) high, 11 inches (29cm) wide and 8 inches (22cm) deep, and will make a big impression when displayed in any room or office
Bestseller No. 7
LEGO Ideas International Space Station 21321 Building Kit, Adult Set for Display, Makes a Great Birthday Present, New 2020 (864 Pieces)
Challenge your construction skills with this LEGO Ideas ISS (21321) display model, featuring 2 rotating joints with 8 adjustable 'solar panels', posable Canadarm2 and other authentic details to discover as you build
This ISS model comes with a stand, 2 astronaut microfigures, a brick-built mini NASA space shuttle and 3 mini cargo spacecrafts to create a spectacular display and rekindle nostalgic memories of childhood LEGO projects
Includes a 148-page booklet featuring fascinating facts about the International Space Station, the spaceship model's fan creator and LEGO designer, and a celebration of the LEGO Ideas theme's 10th anniversary
A super treat for yourself, birthday present or holiday gift idea for space fans, adults aged 16+ or any experienced LEGO builder, this 864-piece set offers hours of creative fun, whether built solo or with friends
This ISS (International Space Station) toy building kit for adults, measuring over 7" (20cm) high, 12" (31cm) long and 19" (49cm) wide, makes a beautiful display model that will catch the eye of every passerby
Bestseller No. 8
LEGO Life – Create, share & discover
Stretch your building skills and free your imagination with LEGO challenges.
Design your own awesome LEGO minifigure for your profile, choosing between tons of cool outfit combinations.
Check out images of what others are building – then try them out with your own LEGO bricks!
Buddy-up with LEGO minifigures like Aaron from LEGO NEXO KNIGHTS, Emma from LEGO Friends and Master Wu from LEGO NINJAGO by following their profile and liking their posts!
English (Publication Language)
Bestseller No. 9
LEGO Crocodile Locomotive 10277 Building Kit; Recreate The Iconic Crocodile Locomotive with This Train Model; Makes a Great Gift Idea for Train Enthusiasts, New 2020 (1,271 Pieces)
This LEGO Crocodile Locomotive (10277) model kit is perfect for adults looking to build a vintage locomotive model or for anyone who loves trains and is looking for their next hobby project
Enjoy a rewarding challenge as you bring this buildable model train to life, then explore the features and functions packed into this set, which celebrates the classic Crocodile Locomotive train
Discover amazing details with authentic features true to the original Crocodile Locomotive; The 2 LEGO minifigures with tools, display track and plaque provide lots to explore after building the classic train
Ideal for model train fans, railway enthusiasts and LEGO lovers, this building kit for adults makes a creative gift or birthday present to transport building fans to a world of total relaxation
This train model measures over 6" (16cm) high, 20.5" (52cm) long and 3.5" (8cm) wide, making it a beautiful display piece to show off with pride
Bestseller No. 10
LEGO City Ice-Cream Truck 60253, Cool Building Set for Kids, New 2020 (200 Pieces)
Kids can create sunny, summer-day fun with this LEGO City Ice-Cream Truck designed to inspire creative, independent role-play based on everyday life
This fun-filled set for kids sparks creative play with a brightly colored ice-cream truck, ice-cream lady and skateboarder minifigures, plus a dog figure
Little builders can help the ice-cream lady drive the truck, serve ice-cream cones and popsicles from the serving hatch, and help the skateboarder perform cool tricks!
This easy-to-build LEGO City building set sparks imagination, offers endless build-and-play fun, and is a fun-filled holiday, birthday or anyday gift for kids ages 5+ who like ice cream trucks and toy trucks
When built, the ice-cream truck measures over 4" (11cm) high, 5" (15cm) long and 2" (6cm) wide
Author Bio: Ellen Royce is a well-known web designer. She has developed immense interest in this field and helps several minds like her to excel in web designing. She has designed many outstanding website pages. In this article, she has tried her best to help out those who are willing to try their hands in web design.
Last update on 2020-07-14 / Affiliate links / Images from Amazon Product Advertising API