How to Survive as a Creative During the Pandemic
It is no secret that freelancers and small businesses have been suffering in these difficult and weird times. 
While we saw countries beginning to open during the summer of 2020, the second lockdown in autumn/winter in my countries put a damper on our hope for 2021 without Covid-19. 
Graphic designers, whether they are freelance or not, have also been deeply affected by the pandemic. However, there is still hope for the future. 
Take advantage of your creativity.
Fewer clients and fewer projects have led some graphic designers to reconsider their career. 
But graphic designers should take full advantage of the situation. 
Because of Covid-19, there has never been a greater need for information about hygiene, social distancing and much more. 
The infographics are seen in commercials and on posters, which has been immensely helpful for many people. 
That is where the demand for graphic designers comes in. 
Making infographics for social distancing, hygiene and queuing etiquette is necessary to inform people and a way for you to get on a new project. 
And infographics do not have to look strict and boring. 
Some graphic designers have made cute stickers to remind people to wash their hands, whilst others have made small postcards with Covid-19 puns on them.  
A time to rebuild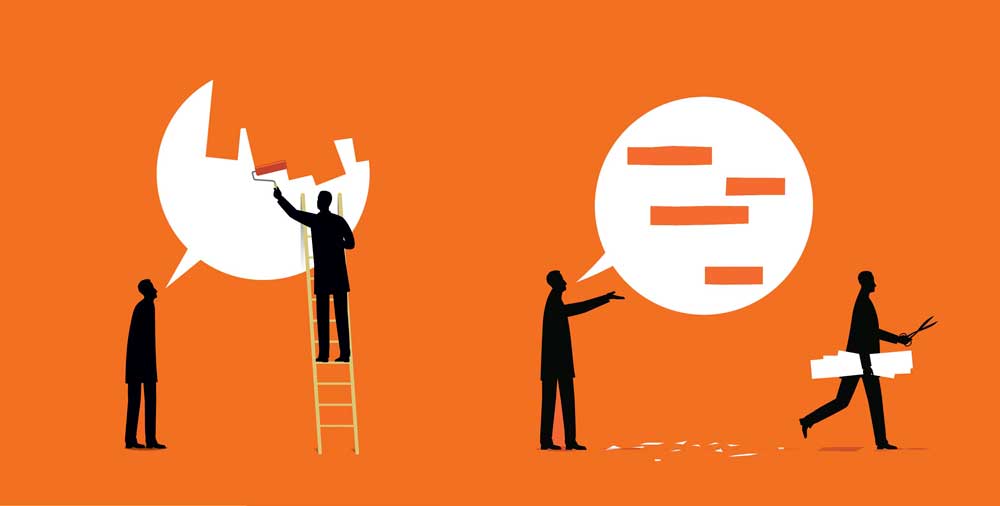 Whether you are a freelancer or working in a business, it is natural to reconsider your whole brand during the pandemic. 
Maybe you need to look at your general brand reputation? 
Perhaps you need to reinvent or revamp your portfolio? 
Regardless of where you need to do some work, you might as well use the time at home to give your brand an upgrade. 
Now is the time to reflect and set goals for your business. 
Many designers have changed their plans around the world, and some freelancers have been interested in getting in full-time work, others have thought about setting up their own business. 
It is also likely that there will be more upcoming freelancers, seeing as the demand for freelancers is higher. 
You are the only person who can decide that. But it is a good idea to reconsider looking at the pros and cons of continuing the work you are doing now.
How to stay productive
Now that you have gotten tips on reflecting on your current work, the next question is: How do you keep the motivation to stay productive? 
There is no singular answer to this. But there are a couple of ways to help yourself stay productive. 
One thing is to change up your whole work environment. 
If you work from home, make sure to have space, where there are little to no distractions. 
If you have family members or a significant other at home while working, don't be afraid to set boundaries for them, when you want to work in peace. 
We don't know how long we will be working from home, so it is a good idea to invest in a good chair and an excellent desk.  
Sale
Hbada Home Office Desk Chair with Flip Up Arm, Breathable Mesh Back Lumbar Support Task Chair, Ergonomic Office Chair with Adjustable Height & PU Wheels, Swivel Computer Desk Chair, Black
Space Saving _ If you're looking for a office chair that can save space, then this is the perfect option for you! It has armrests that can be flipped up and slide the desk chair under the desk when not in use. Now you don't have to worry about your limited space! Get this space saving chair and enjoy the extra room!
Soft & Wear Resistance Cushions _ This chair features thickened layers of natural sponge cushions , which makes it soft and highly elastic, not easily collapses, and abrasion-resistant fabric wrapping can be used for a longer period of time.
Breathable and Supportive Back _ The back of the chair is made of breathable mesh fabric, which prevents sweat and discomfort when sitting for long periods. The ergonomic backrest is designed to fit the natural curve of the lower back, helping back support to maintain your posture.
Silent and Flexible_ You can rotate the button under the chair to adjust the Rocking tilt angle , and the heavy duty base with smooth and silenced rolling casters smoothly rotate 360°, so that you can move around your work space with ease.
Versatile Features_ This simple and elegant design makes it the perfect addition for any home décor. Max Capacity 250lbs and is suitable for people of average size (5" - 6"), making it ideal for working from home, studying or even sewing. It is also easy to assemble.
Remember your mental health.
Even though the previous section was about productivity, it is also vital to know when to take a break. 
One of the best things you can do for yourself during a pandemic is to take care of your mental health. 
Yes, you may feel the urge to work continuously to compete with other graphic designers, but your mental wellbeing is way more important. 
There are different ways of taking care of your mind, whether reading a book, watching a good movie, or finding the best online slots to play in the UK. 
Regardless of how you choose to spend your time, it is crucial that you remember to take some time off. 
Even though none of us expected this situation, we should be optimistic about the situation. 
As mentioned earlier, graphic designers play an essential role since they deliver infographics and relief through fun posters and postcards. 
Maybe you feel entirely alone at this time, unsure of how to survive as a creative graphic designer. 
But remember, that this is truly a time for collaborating with others. 
There are tons of platforms online for freelance designers, where you can share ideas and challenges and share your sentiments towards this strange time.
Graphic design is an opportunity to share hope and support and remind ourselves that we all need to stick with each other.
Last update on 2023-06-01 / Affiliate links / Images from Amazon Product Advertising API