History of the Microsoft Logo Design & Brand Evolution
In the world of technology, the Microsoft logo design is considered as one of the most famous logos, and it has been printed on millions of PCs, websites, and software boxes. 
However, there was a new logo revealed to the world on August 23, 2012, for the people to get used to seeing instead. 
It was published on their blog and rolled out to the world to replace the old one quickly. 
Hence, the logo design was the first massive change in the past 25 years. 
It is time to take a look back over the past 37 years of evolution for its history how the Microsoft logo has been developed and changed through time.
Below is a brief history of the evolution of the Microsoft logo design with some fantastic happenings from the company. Let us start with the launch.
The Launch of a Legend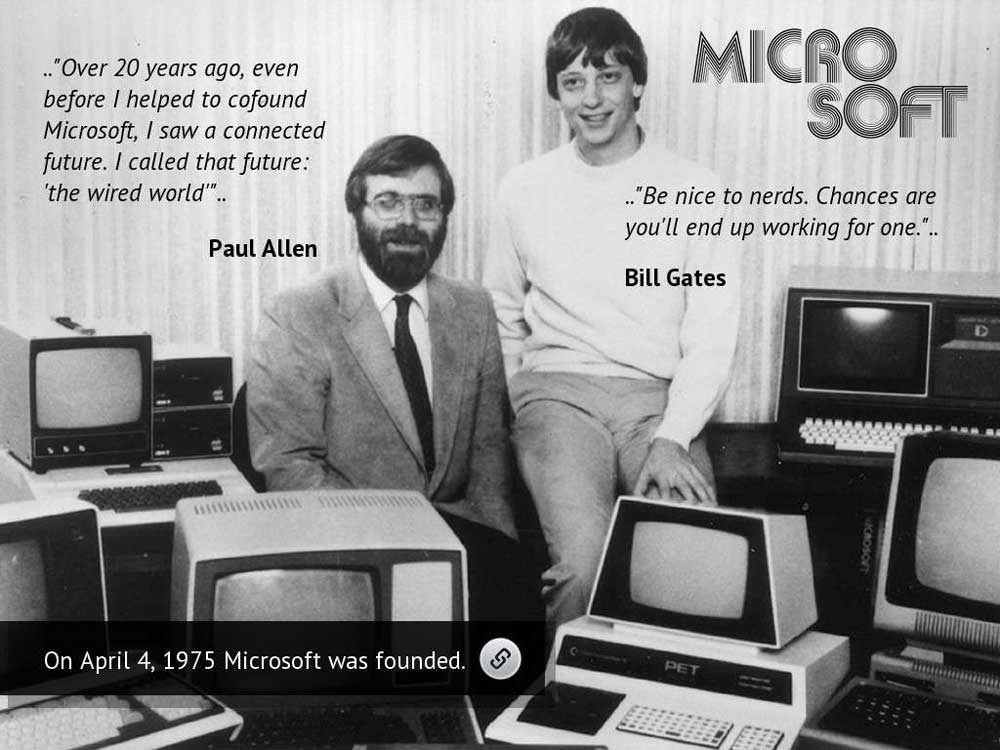 Undoubtedly, Microsoft has made the best use of its logo throughout the years. 
In 1975, two young men named William Bill Gates, and Paul Allen decided to start a computer software company while both of them were studying at Harvard University. 
Just like many entrepreneurs, they were not interested in completing the studies for their four years of a degree. After only one year of study, Gates dropped out of Harvard.  
Three decades later, in a valedictorian speech given by Gates at Harvard University, he said: 
"I do not know what you all want to hear from a Harvard dropout." 
Further, he joked that if he was invited to deliver a speech at the beginning of graduation instead of the end, many graduates might not be there. 
The statement clearly emphasised Gate's practical approach to making money. 
He believed in taking some basic knowledge of the industry to build a business by practical implementation along with some real-life experiences instead of learning academically and urging to creating something great. 
Indeed, Gates was skilled and smart. 
Also, he had an exceptional grasp of computers and technology. 
However, he was not a qualified programmer. 
Therefore he hired a person to create a DOS (simple operating system to put on an IBM computer to sell. 
Fortunately, Gates was an excellent negotiator and had succeeded in convincing IBM's board and president to let him license an operating system that can help them to market their new corporate computer systems with astounding speed.
The Making of a Dream
At the time of closing the deal, Gates said to the board members, "We want full rights on the operating system." IBM agreed to the terms stating, "The future of computers is in hardware; not software."
Thus, the above statement lacked the vision to say, the least, and how companies were missing the boat on being the cutting edge of technology. 
As per their decisions, they made three decades ago when the technology was new. 
Gates paid $54,000 for the full licensing rights to a programmer on the DOS system and sold it to IBM successfully so they can put on their computers. 
This was the first sales boost Microsoft saw. 
Moreover, it helped to get their business off the ground in a significant way. 
The Gates-Jobs Connection
Soon, Gates heard that another young man was making a more significant impact on the technology, much bigger than he was. 
The man was Steve Jobs, who just released his Apple 2 computer at a symposium. 
Gates decide to follow him and was waiting to see what Jobs was up to. He asked him to work for him, where he could learn the concept of UX at the heart of software. 
There, it came to an ordinary person and computers, and Gates got the idea for a Windows operating system that was going to be a massive success in the future. 
"People may say that Gates stole the idea from Jobs. However, it is essential to remember that technology was too new for people in those days, and consequently, people were trying to figure out things and trying to throw away hard drives." 

Scott Trevor, IT head
While Gate's system took off the Microsoft Company to reach financial heights more than they have ever imagined, their operating system is still is the best mainstream of computer operating systems across the globe. 
1975 – 1979: The Logo Emergence
Since 1975, Microsoft has been succeeded in building itself as one of the most prolific software companies across the world. 
As mentioned above, the creators of the company have formed a critical and consistent part in the windows operating system and its suite of office application of how people run businesses, manage data, lead success exponentially and strike the evolution of brands. 
As Bill Gates and Paul Allen founded the company on April 4 1975, its first logo was a groovy one for that era. 
None other than the founders created the logo. 
They use a programming language to generate their first logo for the company. 
The round edges and concentric lines from all caps word mark were influenced much by a disco aesthetic timely to that era. However, it was destined for change.
1980 – 1982: A Radical Rebrand

It was the beginning of a new decade when Microsoft was succeeded to form a lucrative partnership with IBM. 
They were becoming increasingly popular as the new generation of revolution among computer programmers and hobbyists. 
To remain appealing and visually relevant to the newly emerging industry, they put effort into a brand new logo when the bolder look was created.  
That was the phase of a heavy metal band name logo. Microsoft launched Xenix in 1980 as its updated version of the UNIX operating system. 
With sharp edges, exaggerated stems, and diagonal lines on letters M, R, and F, anyone could easily believe that the company is producing some heavy metal music as opposed to software. 
However, many people approved the new look of the logo, which lasts for just two years. After that, Microsoft started to use classic typography.
1982 – 1986: Birth of the Blibbet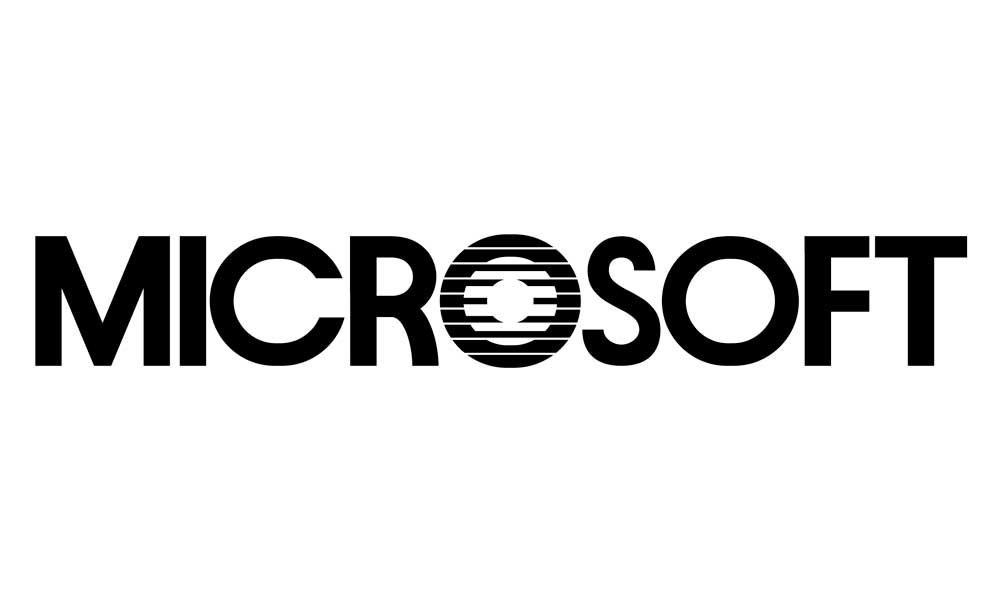 In the sleek of the emergence of classic typography with a modern image suitable for mass communication, the wordmark of the logo was then distilled into a geometric and solid sans-serif font. 
The letter O was carved out the series of parallel lines. Employees nicknamed the icon as "Blibbet." 
The logo became a blockbuster of Microsoft's flagship of operating systems. The logo emphasised on a green background.
During this period, Microsoft launched Microsoft Windows in 1984. It was a joint project with IBM. 
In 1986, fortunately, when the company went public, it created 4 billionaires and 12,000 millionaires overnight.
The Blibbet served as a standalone logo and was placed on every company stationary. 
Soon, it became a cult phenomenon among alumni and employees. 
As per Larry Osterman, lead engineer at Microsoft then, there was a Blibbet burger served at Microsoft's campus with a spearhead campaign launched by employees and Mr Dave Norris (CTO then) to "Save the Blibbet" when a new logo was proposed in 1987. 
Regardless of its brand loyalty and popularity among insiders, the Blibbet was a quaint footnote in the branding history of the company. 
1987 – 1994: The Pac Man Logo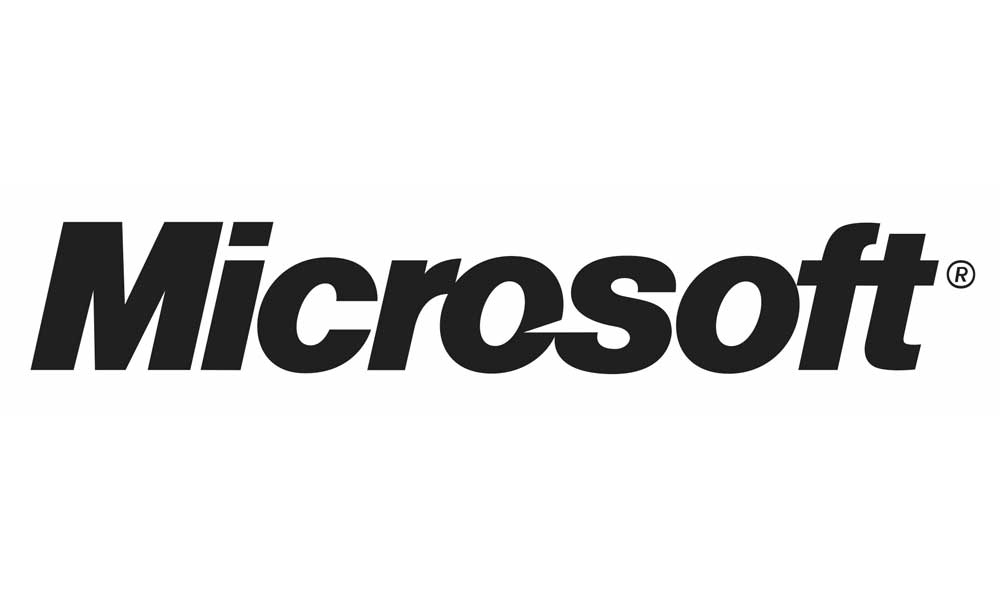 With the end of the 80s, windows had become a global face successfully. 
Scott Baker, an in-house logo designer, was tasked for a purposeful rebranding to represent and justify the new era of a rapid shift in computing and the company's vision, mission, and goals ambitiously. 
Scott sheds some light on his inspiration with his own words: 
"The former logo (the 'Blibbet') was more in keeping with how we saw our company five years ago. The new logo, in Helvetica italic typeface, has a slash between the "o" and "s" to emphasise the "soft" part of the name and convey motion and speed."
The logo designed by him was given a nickname of the Pac Man logo. 
It emphasised the word "Soft" with a slash between O and S, F and T were then joined together. 
Microsoft's logo's central part remained unchanged for the next 25 years. 
It was just altered with tweaks to accompany assists. In 1990, The Microsoft Office suite was introduced.
The use of title cased and bolder wordmark logo departure branding from all previous logos. 
As per its silver craved triangular sides, employees dubbed it with the affectionate nickname. 
Also, the logo becomes the most enduring and widespread logo enjoying a 25-year run. 
There were just the additions of taglines through 2006 – 2011. 
1994 – 2012: Slogan, Passion, and Future
In 1994, the slogan "Where do you want to go today?" was also added. 
While on August 24, 1995, Windows 95 was launched. Moreover, the Xbox360 games console launched in 2001. 
Then in 2006, the slogan changed to "Your potential, Our passion." 
In January 2007 the infamous and short-lived Windows Vista was launched. While in 2010, Windows Phone OS started replacing Windows Mobile. 
After five more years in 2011, it was time to get a new slogan. "Be What's Next." was used This time with the same logo. 
With the change, The Metro design language took up to rebrand all products, services, logos, and websites.
2012: The Brand that Windows Built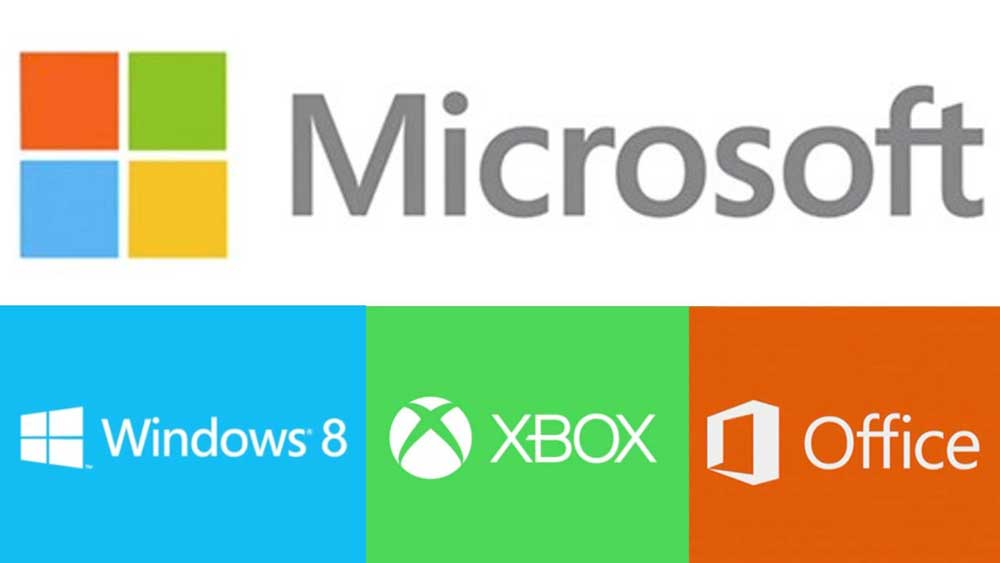 A much anticipated and a new brand was launched on August 23, 2012. 
Instead of hiring a professional firm or tapping down in house designers, the team brainstormed, and the colourful logo was a result of collective employee creativity. According to Microsoft:
"The brand should evolve to visually accentuate this new beginning, as the company prepares for the launch of its new products. The logo takes its inspiration from our product design principles while drawing upon the heritage of our brand value, fonts, and colours."
The logo was finally launched with the two elements, including the symbol and logotype. 
The logotype uses a Segoe font in a grey tone while still keeping the F and T merged. 
The emblem logo design made from four bright colours, including red, green, yellow, and blue in a square window shape. 
They were said to be intended to express the company's diverse portfolio of products. 
With the superior blockbuster logo, Microsoft launched Windows 8, Windows Phone 8, new Xbox Services, and a new version of MS Office in 2012 as well. 
Moreover, the most exciting thing about the symbol was that the famous four-box icon not just represented a colour-coded suite of Office applications (blue for Word, green for Excel, red for PowerPoint, and yellow for Outlook) it also served the success of Windows. 
It was the first time Microsoft used its typeface created by designer Steve Matteson which was Segoe UI. 
The font was not only used for all designing materials and marketing stuff, but it was also placed within the software and operating systems of mobile and desktops. 
How the Microsoft logo has worked for the company
Undoubtedly, Microsoft is an exceptionally successful company. 
Although they have seen some weak points as well, today, their net worth is still around $69.3 billion. 
Also, it has helped Bill Gates to get the honour of being the world's richest man. 
Instead of donating the money to many philanthropic organisations and charities, at last check, Gates' net worth is still around $85 billion.
Today, the Microsoft logo has gone through a massive journey of evolution. 
It still stands for the innovation in technology that has brought the computer to every ordinary person by its accessible and easy to use windows operating system. 
Since the inception of the idea, several windows versions have been introduced, and they continued to add things up. 
The alterations, updates, and additions were purely based on what users want in their operating systems. 
As technology changes and grows from the past four decades, their logo stands as an iconic symbol of quality and trust. 
Their operating systems have enabled people to access the world of exceptional technology thought the Windows of Microsoft. 
Conclusion
From the origins of developing cutting edge tools for developers to the widespread utilisation behind every door, Microsoft has come across a long journey of evolution. 
This evolution is reflected in its logo as a robust branding strategy and a desperate willingness to embrace change and creating a winning formula.
Author Bio: Claudia Jeffrey is a qualified IT specialist and an avid writer. She has worked with many reputed organisations during her professional career. Currently, she is working as Assistant Manager For Research & Development at Crowd Writer.