14 Tips to Create a Perfect Landing Page That Converts
Creating a landing page for your online business should not come as an afterthought.
After all, this is where you will bring the traffic you have generated through your online ads and other online marketing efforts.
However, we know that creating a landing page that converts can be challenging. And when we say "convert," we mean generating sign-up, subscription, or sales for your business.
Thus, you should stay clear of plenty of pitfalls if you want to produce a perfect landing page.
But what is a landing page, anyway?
What is a Landing Page?
Also known as the "lead capture page," a landing page is designed to turn visitors into leads. These are people who are likely to buy from you or hire your services.
What makes it different from other pages on your website is that it fulfils the following criteria:
Its only purpose is to convert website visitors into leads. No more, no less.
It allows you to capture visitors' data in exchange for an offer. For example, you can ask for a site visitor's email in exchange for an ebook.
Other than a form, a landing page does not contain any distractions. This includes your navigation bar and website chatbot.
And since a landing page is designed to turn visitors into potential customers or clients, it is imperative that you have one for your business.
The Importance of a Landing Page for Your Business
As mentioned earlier, a landing page is what turns your website visitors into leads. That's because this static page can help you create an excellent first impression for your business.
Imagine this scenario: If you are launching a new online course, a landing page can be your litmus test. The number of sign-ups you get can indicate whether people would be interested in enrolling in your class or not.
However, a page with a form and a call-to-action button will not be enough. There are other factors you should consider to boost your landing page's conversion rate.
Otherwise, you are not maximising your landing page for your business.
14 Tips to Create a Perfect Landing Page That Converts
There is no straightforward way to create a perfect landing page. Nonetheless, there are common denominators to those that convert well.
This post has listed 14 tips on creating a perfect landing page to boost your conversion rate.
1 – Clean and Organised Design
Your portfolio website's look, colour, and structure can significantly impact your landing page's effectiveness. It will also affect how it will drive conversions.
Your primary goal with your landing page is to make it easy for a visitor to convert.
All your web design elements should work together to encourage conversion. Meaning, you should make it easy for your visitors to take the necessary action.
This includes signing up for a newsletter, downloading an ebook, or booking a coaching session.
An excellent landing page design should have an intelligent use of colour and eye-catching imagery.
Button colours like green or red are believed to increase conversions. That's because they contrast with the background and your overall brand colour.
There are also a couple of elements that you need to test to ensure that you have a great landing page. This includes colour, placement, and size to see which has the most effective landing page layout.
2 – Simple and Minimal
Before developing your landing page, make sure that you choose the right design, to begin with.
You will come across a handful of design templates online. And by patiently checking on them, you will come across one that will let you say, "Ah, this is perfect for me!"
When picking, look for clear, simple, and, most of all, well-organised designs. That way, your customers will not be easily lost or bored.
If it takes a long time for your visitors to understand what you offer or how you are offering it, they will likely hit the backspace button.
In the same way, you should keep your offer simple as well. Contain your offer on a single page, and then explain and design it most straightforwardly.
3 – Trust Signals
The most effective landing pages use many trust signals. That's because these indicate to your prospects that your website is safe and trustworthy.
Trust signals take many forms. For instance, a classic example of a trust signal is testimonials. Capitalising on word of mouth assures site visitors of the endorsements of past customers and clients.
Trust badges are another powerful tool that you can incorporate into your landing pages. These are usually logos from well-known brands which you've probably worked for in the past.
Other examples are recognitions or endorsements you've received, groups or organisations that you're a member of, and so on.
Often, trust badges serve as an endorsement of your trustworthiness and skills.
4 – Mobile-friendliness
Another thing you need to take note of is ensuring that your landing pages are well-fitted and can be easily used on both desktop and mobile.
More than half of online traffic these days comes from mobile devices. Hence, it is your job to boost your landing page's conversion rates.
According to Google's data, 53% of mobile website visitors will leave if the page doesn't load within 3 seconds.
What's more surprising is that approximately 70% of landing pages take about 7 seconds to load.
In other words, beautiful and attractive landing pages are worthless if no one will stick around to see them. So, don't make the same mistake.
5 – High-Quality Visuals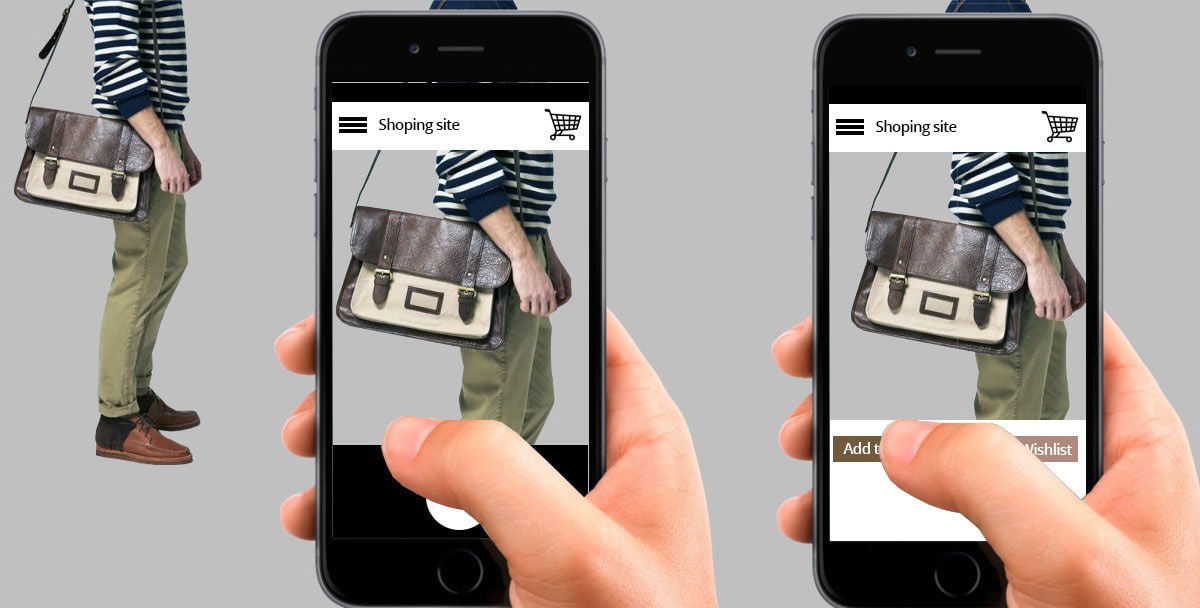 Remember what we said that you only have a couple of seconds to capture your site visitors' attention?
Well, people process visuals a lot easier than texts, so incorporating these on your landing page works well to your advantage.
If you're using images like banners or a header image, it should be eye-catching and visually complement your offer.
Similarly, another significant visual element that you can embed into your landing page is videos.
That's because they are great for simplifying complex ideas. Plus, they are more engaging than a blog post.
It would be best if you kept in mind visuals have to be responsive to mobile devices. Not only will your landing page look good, but it loads quickly, and it's easy to navigate.
It certainly does require much extra effort on your part, but it's worth it, especially with your conversion rates. You'll be grateful that you took the time.
6 – Tailored for Target Audience
The most important thing for conversion rate optimisation is alignment.
That's why your products and offers must match the needs of your prospects.
If you are not providing a solution to your audience's problem, do not expect a high conversion rate.
7 – Compelling Headline
A headline of your landing page should be the first thing that you see.
That's why you should make it as robust as possible, as it can make a significant difference to your conversion rates.
If your ad copy and headline are precisely the same, a compelling headline will bring in more traffic to your landing page.
8 – Matching Ad Copy
If your ad or your landing page's headline doesn't match, visitors can get easily confused and bounce off your page.
That's why your ad copy and headline should be the same, or at least similar, to avoid any confusion.
This makes convincing a website visitor to convert more straightforward. Besides, it enhances your AdWords quality score and reduces your page's bounce rates.
9 – Clear and Concise Ad Copy
When it comes to your headlines and descriptions, focus on making your message as clear and concise as possible. This may be easier said than done. But it is also crucial to the overall user experience.
A study found out that the average human attention span is only limited to eight seconds.
That's why you need to focus on what are the benefits that you can offer in plain and straightforward language.
10 – Above the Fold Positioning
Ideally, you should place all essential information and your call-to-action at the very top of the page.
However, above-the-fold information is meant to hook your visitors and encourage them to move forward.
By doing so, your website visitors are sure to see your most important message first. From there, they can scroll down and proceed with filling out a form to get what you are offering.
With that being said, this doesn't mean that your landing page couldn't have any content below the fold.
11 – Provide an Enticing Offer
Enticing your prospects with an extra offer will guarantee high conversion rates.
In exchange for this email address, you can provide them with a discount or a helpful resource like a free trial or an ebook. There are endless options.
Just make sure that the content that you're providing will heavily relate to your products and services.
However, convincing that your offer is worth it is one thing. But encouraging your visitors to sign-up is another.
Mind you, a long and drawn-out lead capture form can be cumbersome. Hence, do not discourage your site visitors by asking too many questions.
Ideally, your lead capture forms should be short. It should only ask for the prospect's first name, last name, and email address.
Then, depending on your landing page's goal, sometimes you'll need more information than necessary. This means that what you're offering is worth the exchange.
12 – Killer Call-to-Action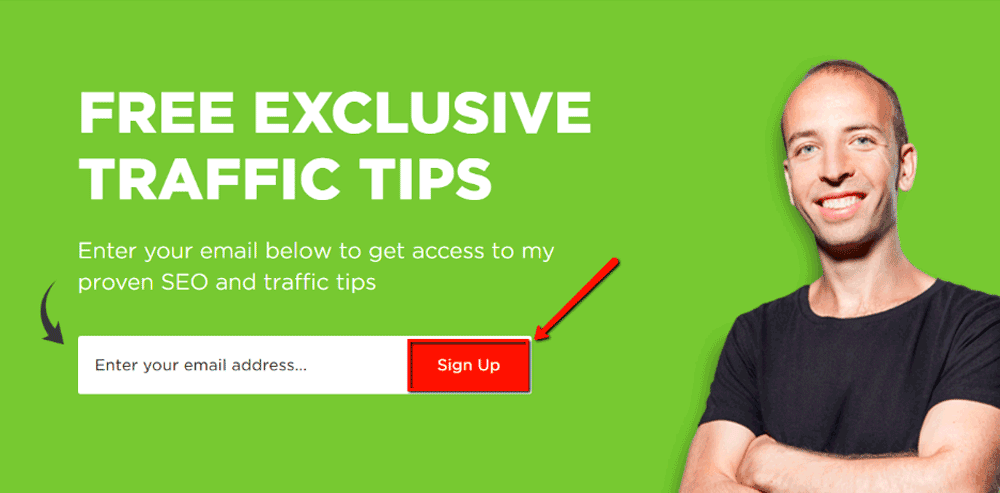 Your call-to-action, or CTA, is the essential part of your landing page. This is often the button that users click whenever they need to fill in their personal information after filling out a lead capture form.
When creating the copy of this button, make sure you use words to drive people to take a specific action. This often involves creating a sense of urgency.
Usually, a strong CTA employs a strong command of verbs, numbers, or words that provoke the reader's emotion to take action.
When it comes to the CTA design, fonts need to be legible and consistent. Your CTA button should also be big enough to stand out at first glance, and the copy should also be easy to read.
Now, when it comes to colour, you should apply colour theory in the marketing world. It should fall in between the category that makes a significant impact while mirroring your brand at the same time.
For instance, picking contrasting colours are said to be more actionable and generate more conversions. A great example of this is orange and green.
13 – A/B Testing
If your landing page already contains all the crucial elements, the next thing you need to do is to A/B test the copy, visuals, CTA, and the overall design.
You should review every page's performance metrics so that you'll reach your optimal conversion rates. Just make sure that you also test one landing page at a time to get to see which has made a significant difference.
Although not as vital with A/B testing, you should note other optimisations that you need to prioritise as well.
You also need to optimise your copy for search engines and reduce your landing page's overall load times, especially on mobile.
Even the slightest delay in your overall load times can significantly impact your conversion rates. To evaluate the speed of your landing page, you can check out Google's PageSpeed Insights tool.
14 – Thank You Page
No matter what industry you're in, everyone will always appreciate a heartfelt thank you.
Make sure that your landing page is not different as well.
Once someone has completed a form, place a pop-up that says thanks, or create a thank you page, as it goes a long way.
Over to You
Listed above are the 14 factors you should consider to create a perfect landing page.
But keep in mind that a perfect landing page has no distractions. Plus, it should have a simple form, compelling call-to-action, and clear and concise copy.
Lastly, you must have an offer that is worth exchanging an email and other contact details.