7 Best Blogging Platforms: Find the Right One for You
Are you planning to start a blog and wondering which platform to choose? With so many options available, deciding which one to choose can be overwhelming.
A blogging platform plays a crucial role in the success of your blog, and it's essential to select the right one. This article has compiled a list of the 7 best blogging platforms to help you achieve your goals.
From free options to more advanced platforms, we have covered everything to find the perfect fit for your blogging needs. Whether you are a beginner or an experienced blogger, this article will help you make the right choice and set up a blog that stands out from the rest.
1 – WordPress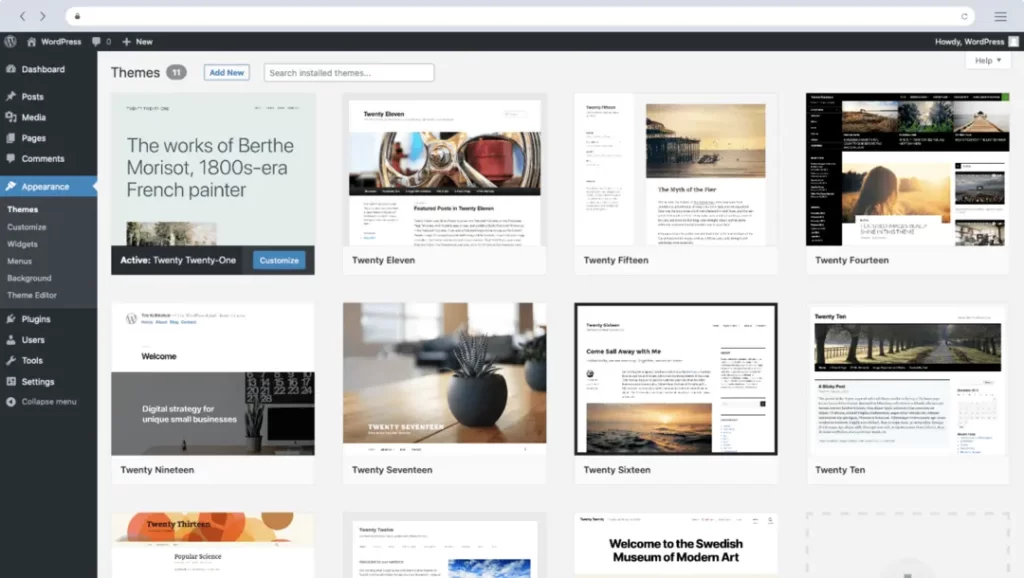 The realm of the online world is expansive, constantly growing, and increasingly saturated with content. In this vast sea of information, how can you make your online presence stand out, heard, and seen? With WordPress, the world's most popular blogging software, you can establish your online presence within minutes!
Starting in 2003, WordPress now commands a whopping 43% of the market share among websites on the internet. Though, it's easy to mistake WordPress.org for WordPress.com, a blog hosting service with a different scope of operations.
WordPress.org is an open-source, free, self-hosted, and highly customisable platform, giving you complete control over every aspect of your website. Whether you are a blogger, entrepreneur, or just embarking on your digital journey, WordPress meets all the requirements to cater to your needs to build and scale your website. Its self-hosted characteristic gives you ultimate independence, as you need to sign up with a WordPress hosting provider. Therefore, WordPress provides the perfect framework for asserting your digital footprint.
WordPress has a distinct advantage over other blogging platforms regarding flexibility and versatility. With thousands of themes, you can give your website a unique look and appeal that stands apart from the crowd. Besides, most popular WordPress themes offer built-in customisation options, providing complete design control and flexibility without typing a CSS code.
WordPress offers numerous plugins that add new features and functionalities to your site so that you can run your blog like a pro. These plugins are powerful additions that can transform your blog from ordinary to extraordinary. Over 55,000 WordPress plugins are available, making them the go-to source for optimising your site for search engines, customising forms, adding galleries, and more. Check our extensive list of must-have WordPress plugins for all websites.
WordPress is also search engine friendly, enabling you to create SEO-friendly URLs, categories, and tags for your posts. The platform offers a plethora of SEO plugins for additional optimisation, quickly allowing you to tap into the lucrative world of search engines.
In addition, it is easy to monitor your website's performance and gauge your statistics with Google Analytics-powered website analytics. This tool helps you track your website metrics to make informed decisions on how to grow your new blog traffic and subscribers.
Lastly, WordPress's drag-and-drop editor makes creating content on your website easy. This editor also provides options to embed dynamic content, such as videos, social media feeds, Google Adsense, graphs, charts, and much more, without requiring technical know-how.
As with all things, WordPress has some drawbacks too. Managing your site comes with a learning curve, as you must familiarise yourself with the WordPress admin backend for the best experience. Additionally, it would be best to manage your backups and security, as the platform offers the ultimate independence.
To get started, you'll need a domain name and web hosting. WordPress software is free, but you need to invest in a domain name that usually costs around $14.99 per year, and a hosting service generally starts at $7.99 monthly. As an official WordPress-recommended hosting provider, Krystal offers web hosting and a free domain name, allowing you to get started for as low as $2.75 per month.
In conclusion, WordPress is an excellent choice for personal and professional blogs. Its flexibility, customisation options, and user-friendliness make it the ideal website building and optimisation platform. So, take your time; dive in and create your online journey today with WordPress.
2 – Wix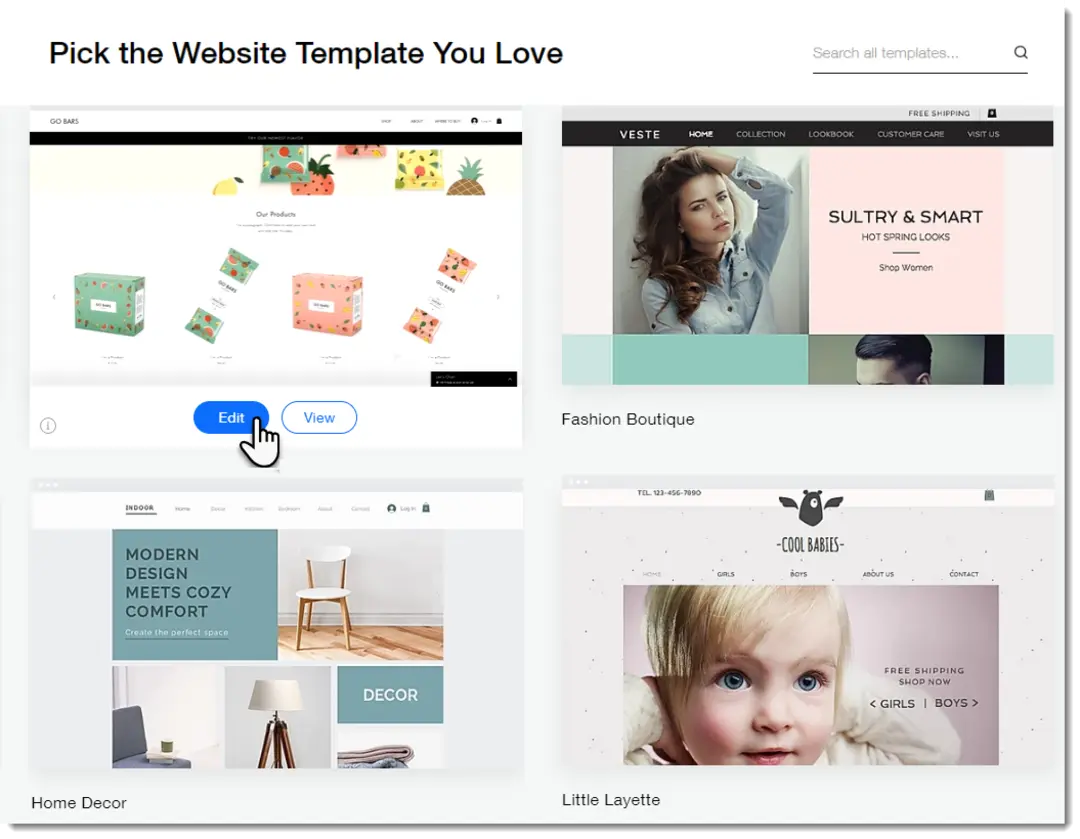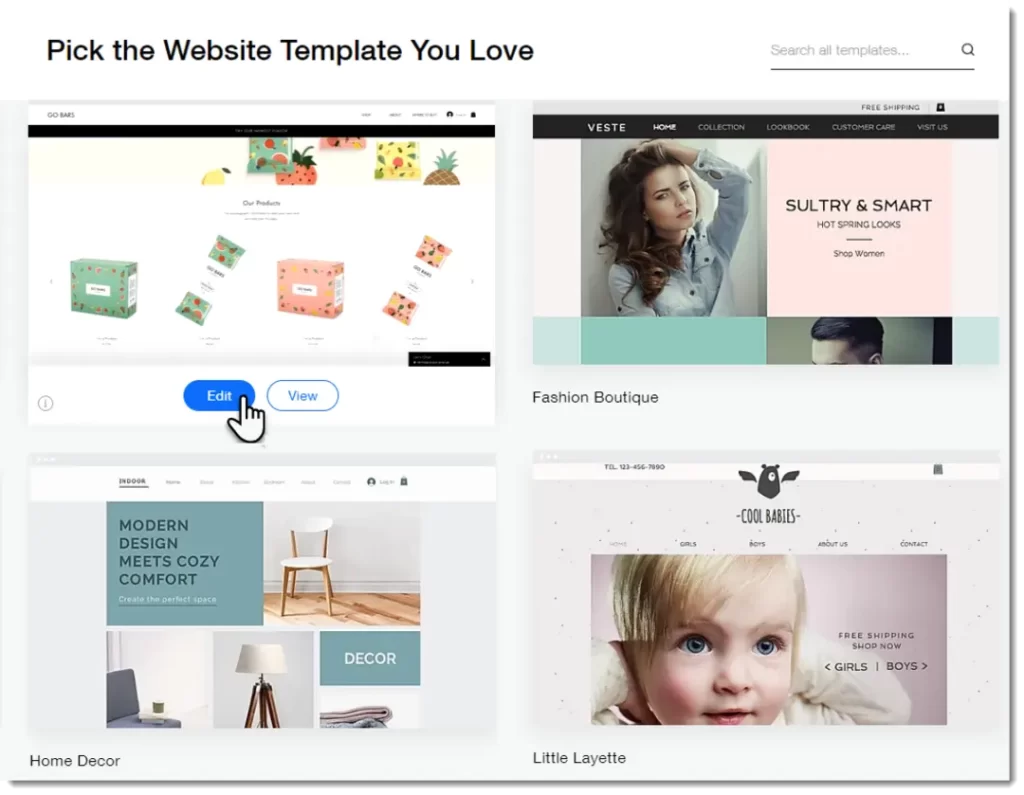 In the world of websites, it's essential to have a platform that caters to your requirements and provides an easy solution to your website-building needs. Wix is a popular, hosted website-building platform that provides just that solution!
Their drag-and-drop website builder offers a seamless solution for small businesses to quickly and easily create a website. Additionally, if you're interested in starting a blog, you can easily add one to your website by adding the Wix Blog app.
Wix.com was founded in 2006 to provide an easy-to-use website-building platform enabling anyone to create a stunning website with no coding skills required. Today, Wix boasts over 2.1 million sites across the globe.
Customisation is critical when building a website. With Wix, you can take advantage of dozens of templates and third-party add-ons, allowing an unparalleled level of customisation that takes your website to the next level. Building your site with Wix's easy drag-and-drop tools requires no coding or HTML skills, making it easy for anyone to get started.
When it comes to ease of use, Wix shines. Setup is quick and easy, allowing you to jump right in and start building your site in no time.
Like all platforms, Wix has some drawbacks, such as a limited free account and showing Wix branding and ads on your site. Free third-party apps are also limited. Also, once you choose a template, you cannot change it. Even WooCommerce features are limited on paid plans, making scaling your online store's success sometimes challenging.
Pricing-wise, Wix provides a basic website builder for free. You'll get a Wix subdomain with a free Wix account, such as https://username.wixsite.com/example. Though, you can add a custom domain for $4.50 per month. Premium plans start from $8.50 per month and go up to $24.50 per month, making it an affordable option for building and scaling your website.
In conclusion, Wix rises to the website-building challenge, providing an excellent platform for small businesses and entrepreneurs to create online stores easily. Its drag-and-drop website builder, customisable templates, and easy-to-use features make Wix a superb choice for anyone looking to make their website-building journey successful.
3 – Squarespace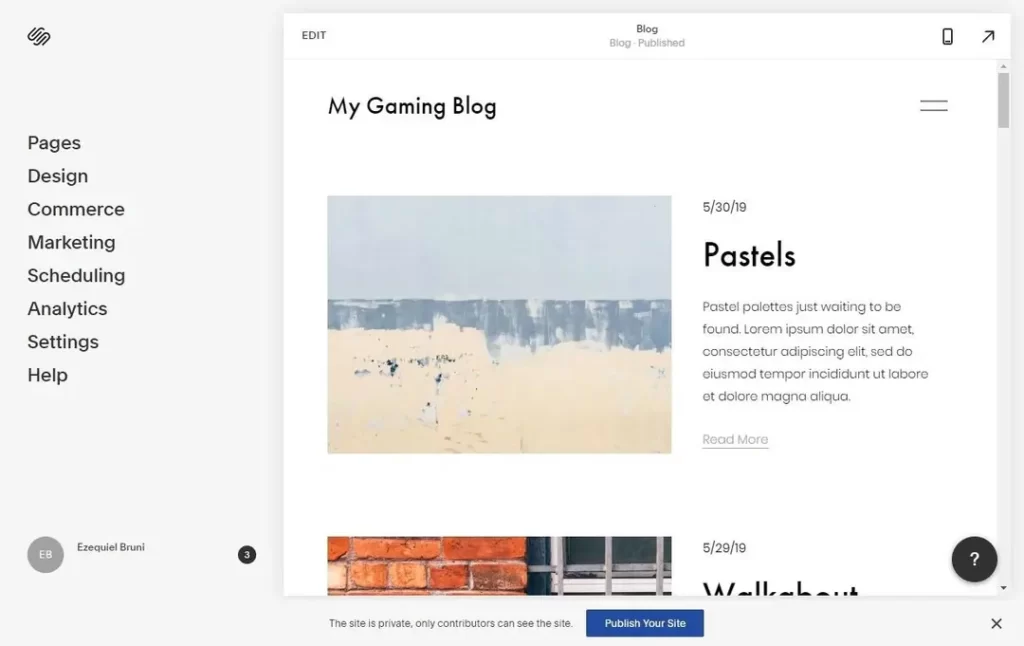 Unlike most competitors, Squarespace is an all-inclusive platform allowing you to create a website without purchasing a domain or hosting. Starting your blog on Squarespace is as easy as typing in WordPad, giving a seamless experience for newbies. In addition, Squarespace's website builder affords you the ultimate beginner-friendly expertise, allowing you to create a website in no time with great ease.
One feature that has made Squarespace a top choice for bloggers is its beautiful templates. The platform advertised its services with the 'Build it Beautiful' slogan, and its templates speak to that sentiment. You will find numerous colour palettes and font packs that will enable you to create an appropriate appeal for your website. The designer templates Squarespace offers have won multiple awards and include different design elements and galleries for customising the look and feel of your website.
For those who are not tech-savvy, third-party plugins can be a source of concern since they may need technical knowledge to fix issues that arise. That's different from Squarespace, which offers in-built features for your blog. Squarespace stands in contrast to WordPress, where plugins are essential for a functional website. This approach eliminates the risk of website breaks that may be caused after an update, providing more peace of mind for bloggers.
Like WordPress and Wix, Squarespace offers a drag-and-drop website builder, simplifying the website creation process. You only need to drag the design element and drop it at the desired location on your website page – it's that easy. With the real-time display feature, you can see whatever you build in real-time, allowing you to work without any confusion. Plus, the drag-and-drop feature eliminates the need for complicated coding, making your blogging process more comfortable and stress-free.
Squarespace recognises the importance of time management and professionalism, allowing you to schedule your blog posts. Moreover, its multi-author feature enables you to have multiple contributors on your blog. In contrast, the comment moderation feature ensures you maintain the desired vibe on your blog with minimal effort. Lastly, the platform offers Accelerated Mobile Pages (AMP) support, allowing for efficient blogging, including faster loading times for mobile users.
If you are still trying to decide whether Squarespace is the right platform for you, fear not. Squarespace offers a 14-day trial period to explore its features before deciding whether or not to pay for it. Best of all, you don't even have to provide your credit card details to take advantage of this trial offer, giving you the flexibility to make an informed decision depending on your experience with the platform.
In conclusion, Squarespace offers an excellent solution for bloggers seeking a seamless website-building experience. Its beginner-friendliness, attractive layouts, absence of third-party plugins, drag-and-drop functionality, scheduling features, and free trial period afford you everything you need to create a fantastic blog quickly and easily. Gone are the days when building a blog was a complicated task – Squarespace makes everything about blogging a breeze.
4 – Medium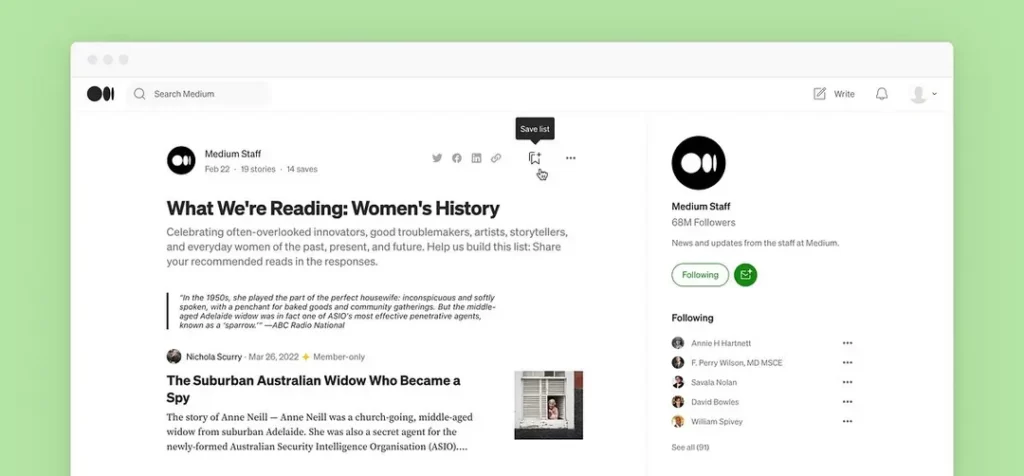 The world of blogging is always exciting, and with various platforms, it can be challenging to decide where to start. However, Medium stands out as an ideal platform to kick-start your blogging career, offering a ready-built theme, audience, and high domain authority- making it perfect, especially for beginners.
Medium presents an excellent opportunity to use the platform as a springboard for your blogging journey, thanks to its ease of use, user-friendly interface and handy prompts, which could boost your confidence in writing. It provides an excellent opportunity to build your blog audience, experiment with your creativity, and explore your writing skills.
If you are not yet sure whether you want to become a blogger or not, Medium has got your back! It offers the best option for testing the waters for free! This way, you can decide if blogging is the direction you want to take. Plus, you have nothing to lose but a sea of opportunities to gain.
Once you get the ball rolling, it's entirely up to you. You could either continue to build your audience on Medium or move on and start your blog. However, It's important to note that while Medium provides a great starting point for bloggers, there are some downsides to using the platform.
The most obvious downside is that they have all the control and ownership of your content. Yes, Medium can decide when to take your content down, stop paying, or take any other action with the content as they please. This may not be a huge issue; this is a deal-breaker for others.
Another potential downside is the competition. Medium has some outstanding writers, making it more challenging to notice your content. Navigating through competition could be a hurdle, and you might have to double down on your efforts to break even.
In conclusion, Medium excitement lies in being a perfect starting platform for aspiring bloggers. It presents a ready-to-use structure, audience, and reputation that money cannot buy. The best part is that it provides an excellent opportunity to determine if blogging is right for you, all for free! However, the platform's downsides should also be considered, and they include ceding control of your content and having to compete in a very crowded pool of authors. Nevertheless, Medium remains a fantastic option for those starting blogging.
5 – Craft CMS
Craft CMS is undoubtedly the future for developers looking to build custom digital experiences on the web and beyond. The platform puts the content at the centre of its expertise, offering a flexible, user-friendly content management system that provides digital teams with blank slate foundations to help foster their creative aspirations.
Compared to other CMS tools, such as WordPress, that tend to come with a backlog of unnecessary, outdated code, Craft CMS provides developers with complete control over HTML, CSS and JavaScript, empowering them to create customised websites without design limitations. This creative freedom is a crucial selling point for developers, allowing them to hone their coding skills and build better websites.
But that's not all. Craft CMS also has a highly intuitive interface, providing content authors with a streamlined, effortless experience. For example, the 'live preview' function in Craft CMS allows content authors to see their changes directly on the backend interface, eliminating the need to open a new page to view their work. This feature saves time and bridges the digital information gap, delivering greater clarity between backend content management and the result.
One of the critical benefits of Craft CMS is its user-friendly interface, designed to simplify the content management process across all levels. The platform's intuitive interface means that even non-technical users can easily create, edit, and publish content without coding knowledge. Moreover, the platform's drag-and-drop functionality makes it easy for users to upload media files such as images and videos, further simplifying the user experience.
Craft CMS's flexibility and ability to integrate seamlessly with other tools and systems make it stand out. The platform's robust APIs help developers build custom applications that integrate easily with other platforms, going beyond website management to deliver an all-in-one holistic solution.
In conclusion, Craft CMS is the perfect content management system for digital teams looking to develop custom websites with complete creative freedom. Its intuitive interface, live-preview function, drag-and-drop functionality, and seamless integration with other applications and platforms make it the ideal choice for digital agencies, large-scale development teams or individual developers looking to hone their craft and create state-of-the-art websites. Craft CMS is undoubtedly the future of custom web design and development. Choosing it as your CMS is a step towards building your audience's best digital experience.
6 – Ghost
For writers and other digital publishing content creators looking for a reliable and easy-to-use open-source blogging platform, Ghost is a perfect choice. With a sharp focus on simplicity and a dedication to keeping its interface clean and clutter-free, Ghost has remained one of the most user-friendly platforms.
Unlike other content management systems that often come overloaded with useless features and packed with unnecessary code, Ghost has designed its platform with the end user in mind – making it accessible to beginners and content creators of all experience levels. Ghost's simplistic approach is precious to novice writers who might start and need a user-friendly and visually appealing site.
While Ghost initially focused on blogging, they've recently added membership and newsletter features, making it an excellent tool for content creators looking to monetise their following. Ghost's membership feature allows creators to add a payment gateway and sell access to their content, helping to monetise their efforts effectively. This feature is handy for writers looking to make a living in the digital age, enabling creators to earn the money they deserve for their content.
Ghost's newsletter feature is equally impressive, providing creators with a way to send their subscribers visually stunning, professional-looking emails. Ghost's newsletter feature ensures content reaches a broader audience, keeping followers informed of the creator's latest work, leading to increased engagement and more opportunities to monetise content and build a name for oneself.
In conclusion, Ghost is a fantastic platform for writers and other digital publishing content creators, offering a simple yet effective way to create a stunning website and monetise great work. Whether you're a beginner looking to create quality content or an experienced creator looking to expand your digital footprint- look no further than Ghost. With its clean interface, impressive feature set, and intuitive design, Ghost is an innovative platform designed to enhance the work of all content creators.
7 – Linkedin
Blogging on LinkedIn is more than just promoting your business or sharing your knowledge. It's also about building relationships with potential customers and establishing yourself as a thought leader in your industry. The beauty of LinkedIn is that it provides a platform for professionals to network and engage with each other meaningfully – and blogging is a great way to do just that.
Another critical factor that makes blogging on LinkedIn so unique is the platform's reach. With over 900 million members worldwide (as of 2023), LinkedIn allows you to reach an influential and diverse audience. This means that your content has the potential to reach a much broader group of people than it would on a regular blog or website. In addition, LinkedIn's algorithm is designed to promote content that drives engagement, meaning that the more interaction your post receives, the more visible it becomes.
But this increased visibility also means the competition for attention is much higher. It's not just about creating good content anymore; it's about creating great content that captivates your audience and provides real value. To achieve this, LinkedIn bloggers must create informative and engaging content. This means crafting headlines that grab attention, writing clearly and concisely, and using visual elements like images and videos to help break up the text.
Ultimately, blogging on LinkedIn can be a powerful tool for anyone looking to establish themselves as an authority in their respective industry or to promote their business to a broader audience. But to do so effectively, bloggers must put in the effort to create content that truly resonates with their readers. However, the rewards can be significant with a strategic approach and a commitment to creating great content. From building new relationships to attracting new customers, LinkedIn blogging can potentially transform your business and career profoundly.
Conclusion
In conclusion, choosing the right blogging platform is crucial to the success of your blog. Whether you are a seasoned blogger or just starting, it pays to research the platform that best fits your needs. The seven platforms we have discussed – WordPress, Wix, Squarespace, Medium, Craft CMS, Ghost, and even Linkedin – are all great options, each with unique features and benefits.
According to recent statistics, WordPress is the most popular blogging platform, powering over 40% of all websites. However, other platforms like Squarespace and Wix are gaining traction, with user-friendly interfaces and customisable features that make them attractive for beginners and experienced bloggers.
Regardless of your chosen platform, producing quality content and engaging with your audience regularly is essential. By doing so, you can build a loyal following of readers who look forward to your content and are more likely to share it with others.
So, take your time, explore your options, and choose the platform that best aligns with your content strategy. With the right platform and content, you can take your blog to the next level and achieve your blogging goals.