11+ Excellent WordPress Alternatives to Consider
WordPress is one of the most popular platforms for websites and eCommerce shops.
It powers over a third of the internet.
But, although it's the preferred option for millions of users worldwide, it's far from being the only reliable hosting platform available.
There are instances where WordPress might not be the best option for you.
In such a case, there are various other alternatives you can choose from.
Below, I've listed 11 excellent WordPress alternatives to consider.
The list is divided into four parts to help you choose according to your needs:
Website Builders
Blogging Platforms
eCommerce Platforms
CMS Platforms
Website Builders
1 – Wix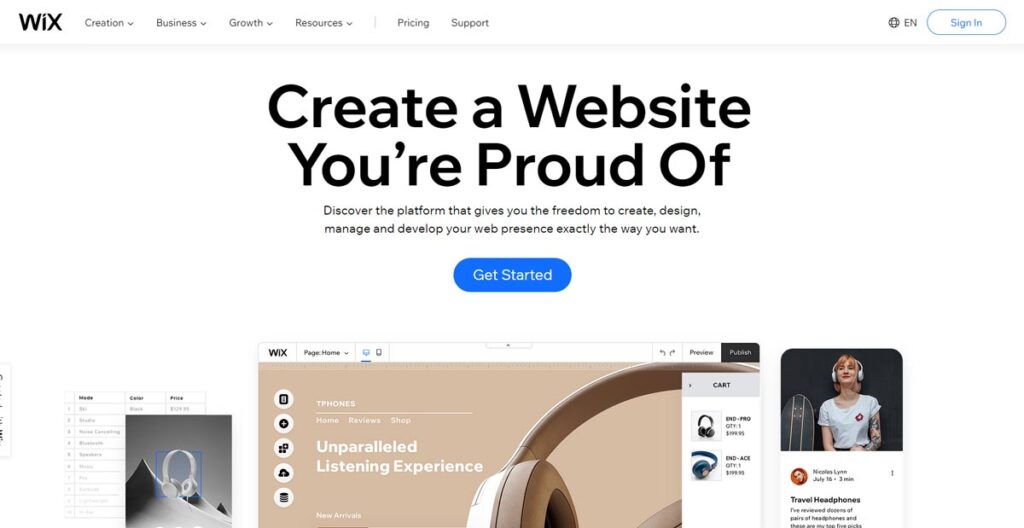 A hosted website builder that is easy to use (Starts at FREE).
Wix is a user-friendly website builder that you can use to create various stunning designs – even with zero technical experience.
It comes with a simple drag-and-drop editor that makes customisation a breeze.
The website supports multiple languages but, compared to WordPress, lacks some flexibility, and it may not offer the best option for anyone running a large website.
Pricing: Wix offers a free plan, and pricing starts at $13/month if you want to remove ads on your site and get a free domain.
Who is Wix ideal for?
Wix is great for someone who wants a site builder that is easy to use and doesn't require a long learning curve.
2 – Squarespace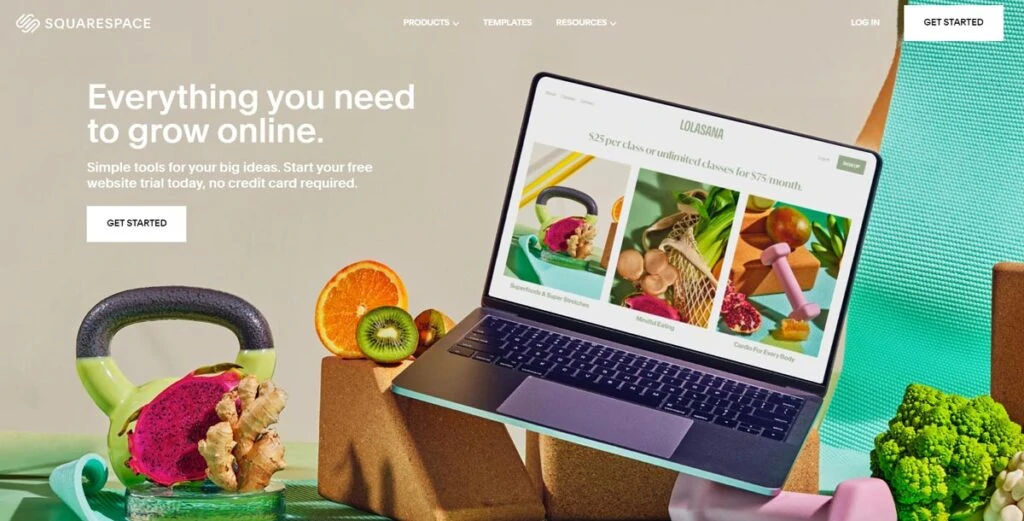 A hosted website builder with excellent customisation features (Starts from $12/month).
Squarespace is another famous hosted website builder designed to make it easy for beginners to create websites, blogs, portfolios, or eCommerce stores.
The all-in-one platform offers award-winning designs and an intuitive visual page-building experience.
Shopify and Squarespace are considered by many to be the top competitors to WordPress.
However, unlike WordPress, Squarespace isn't as flexible with plugins to extend your website's functionality.
Also, adding these in Squarespace may be a bit expensive.
Ultimately, this may not be the best option for someone requiring an extensive website CMS.
Pricing: You can get started on Squarespace for free, and when you're ready to upgrade, pricing starts at $12/month and includes a free domain.
Who is Squarespace ideal for?
Squarespace is perfect for a small website like this one that sells a HIPAA Guide with a requirement for a website builder that is easy to use – even for beginners.
Consider hiring a specialised agency like Lucrative Studio to customise and optimise your website.
3 – Jimdo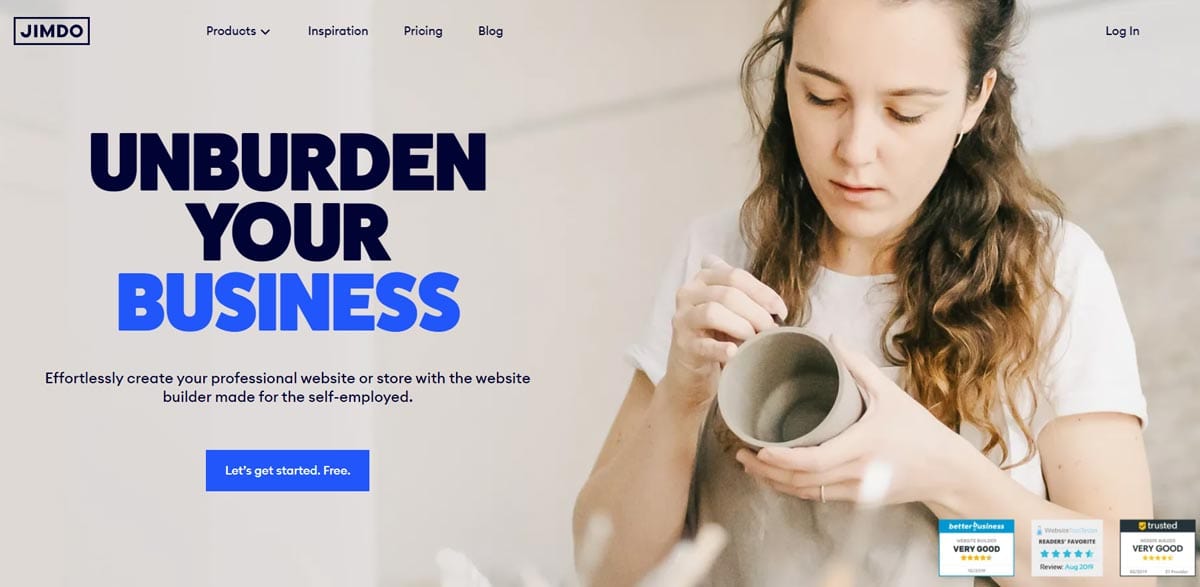 An all-in-one hosting solution and website builder (Starts at FREE).
This hosted website builder is unique because it creates an essential website for you based on a simple questionnaire.
If you want predesigned templates, choose the "Creator" mode. You can then use the simple drag-and-drop editor to design your unique pages. 
This affordable, easy-to-use option would make a great alternative to WordPress.
Pricing: There's a free plan available, but search engines won't index websites created using the free plan.
Upgrade to a premium option for just $5/month and get an ad-free experience and a free domain.
Who is Jimdo ideal for?
Jimdo is an excellent option for freelancers and smaller businesses just starting online.
For instance, this site that sells a predictive dialer tool is a perfect candidate for this website builder. It doesn't contain many large media files (such as videos or podcast audio). The site only has a few pages of written content and a blog.
Blogging Platforms
4 – Jekyll
A reliable, open-source static website generator (Starts at FREE).
Jekyll differs from the other WordPress alternatives on our list because it's a site generator where you first provide the content. Then Jekyll renders it to create a completely static website.
Pricing: The software is free, and sites built with it are superfast, even under heavy loads, even when compared to WordPress websites.
Who is Jekyll ideal for?
Jekyll is the right option for you if you know a little something about programming.
You may find it a little challenging if you are not a developer with at least a basic knowledge of tools like Markdown, Git, or SVN.
A site that focuses on the dark web might find this ideal WordPress alternative since Jekyll offers more robust security than other platforms.
5 – Blogger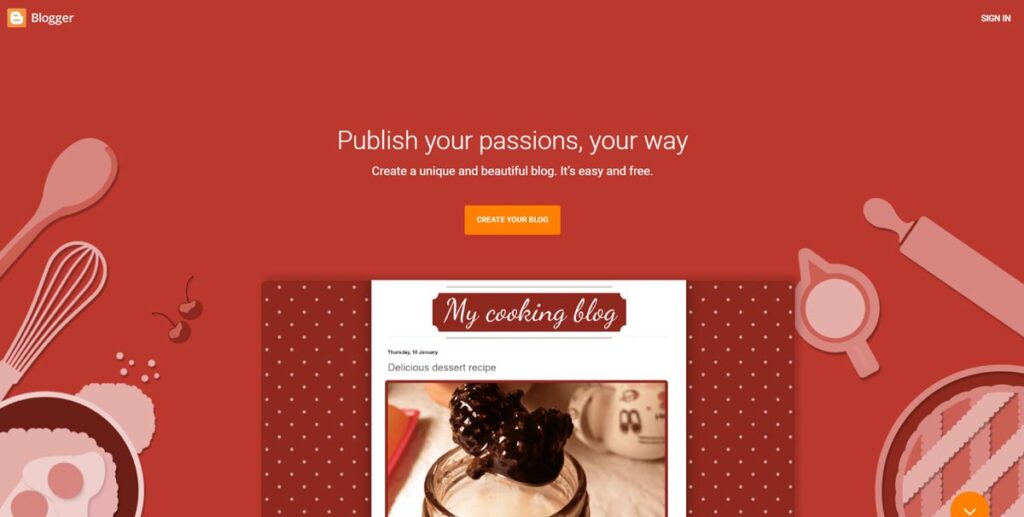 A popular hosted online publishing platform for new bloggers (Starts at FREE).
As suggested by the name, Blogger is for online content publishers.
Google owns the platform, so you can easily make money on your website with Google AdSense.
Blogger has all the features required to run a successful blog. For instance, you can connect a custom domain and choose from various beautiful templates.
But, it may not be the best solution for many websites.
Pricing: Blogger is free to use, even when you connect a custom domain.
Who is Blogger ideal for?
Blogger is great for new content publishers who want to test the waters before committing to a paid plan.
eCommerce Platforms
6 – Shopify
A popular, all-in-one eCommerce platform (Starts at $29/month).
WordPress isn't just for building websites and blogs. Nearly 28% of all eCommerce websites online are powered by WooCommerce.
If you are looking for an alternative to WooCommerce, Shopify is a great option.
Shopify offers a free trial for 14 days with no credit card required so you can test out the software.
Who is Shopify ideal for?
Anyone who wants to keep up with the latest eCommerce trends.
Shopify is the optimal choice for you if:
You want an option for showcasing an unlimited number of products
You want to integrate PayPal and other marketing tools easily
You want to use Shopify POS for easy a payment transaction
You want advanced reporting, discount code options, and real-time shipping options
7 – Magento
A popular WordPress alternative for building eCommerce websites (Pricing available from the website).
Magento has a flexible modular design for building user-friendly, SEO-optimised websites and online stores.
Setting up Magento is much more complex than WordPress, but it supports all major payment gateways and is fully responsive on any device.
Pricing: Available from the website.
Who is Magento ideal for?
Magento is perfect for big companies that want to create an eCommerce site.
It's mainly designed for larger eCommerce websites like this lingerie store with thousands of products to showcase.
8 – BigCommerce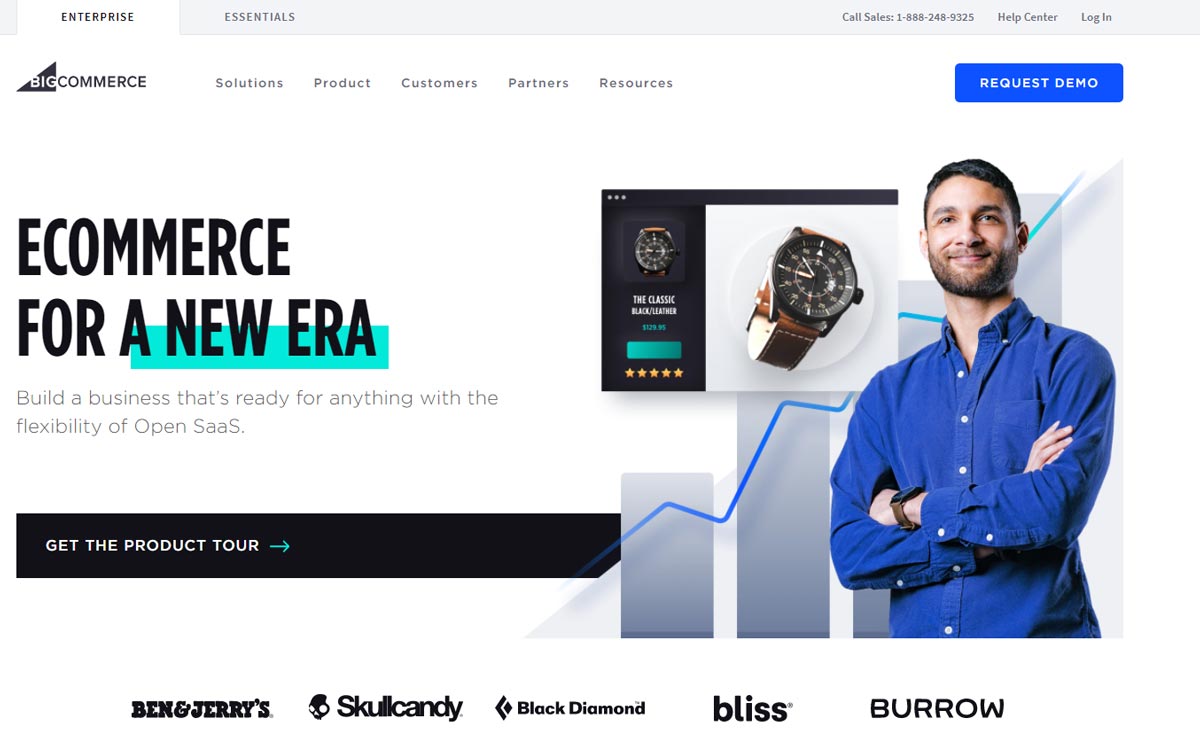 A hosted eCommerce solution for setting up an online store (starts at $29.95/month).
This is yet another famous name for eCommerce platforms.
It's a hosted solution that lets users set up their own online business for selling products and services.
According to eCommerce statistics, BigCommerce has over 60,000 online stores across 120 countries.
The platform is designed to make it easy for everyone (beginners and experts alike) to build their website and create an effective sales funnel.
Pricing: BigCommerce offers a free 15-day trial, so you can see which plan is right for you.
Who is BigCommerce ideal for?
BigCommerce is perfect for anyone who wants to boost SEO, drive traffic, convert sales, and take the guesswork out of running an online store.
CMS (Content Management System)
9 – Ghost
Open-source, hosted online solution for content publishers (Starts from FREE).
Ghost CMS is targeted toward online content publishers.
This lightweight, open-source platform is also fully hosted for those who prefer an all-in-one solution.
Compared to WordPress, it doesn't offer the same level of customisation. However, it may still be the best choice for professional bloggers who prefer a fully hosted alternative.
Pricing: You can download Ghost for free but must secure hosting. Prices start at $29/month for the hosted option.
Who is Ghost ideal for?
Ghost is an excellent choice for a simple website like this one that sells a sales enablement tool that requires a lighter, faster way to publish content for better SEO performance.
10 – Drupal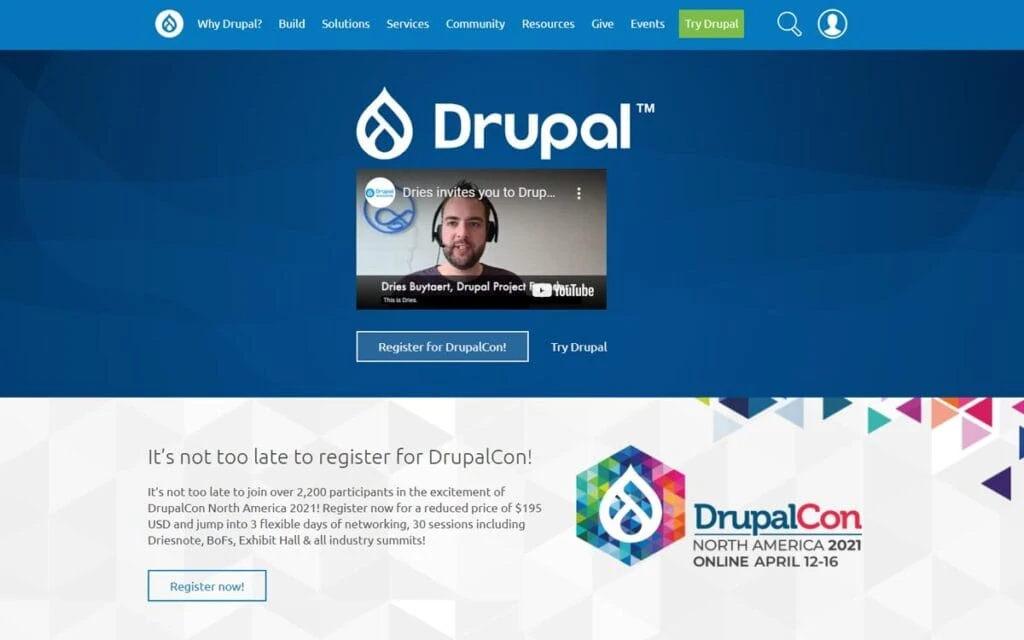 A popular, open-source CMS for bloggers and content publishers (FREE).
Drupal has been steadily gaining popularity over the years, and many people consider it the ideal open-source CMS alternative to WordPress.
The platform comes with many modules to help extend its functionality and various themes to choose from.
A significant advantage of Drupal is that it can handle large amounts of data, and the software offers greater user control than WordPress.
However, it's not user-friendly, so beginners face a steep learning curve.
Pricing: The software is free to download and use.
Who is Drupal ideal for?
Drupal is an excellent choice for large enterprises and experienced developers who require advanced functionality and high flexibility to build custom solutions.
11 – Joomla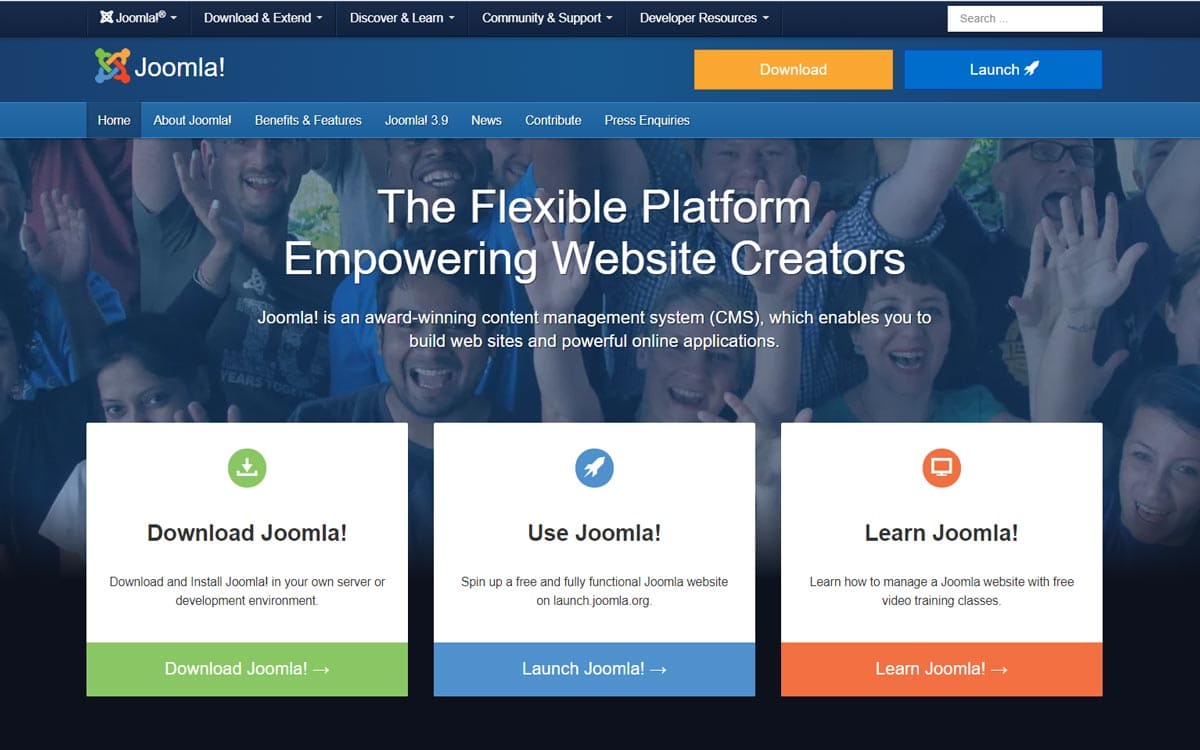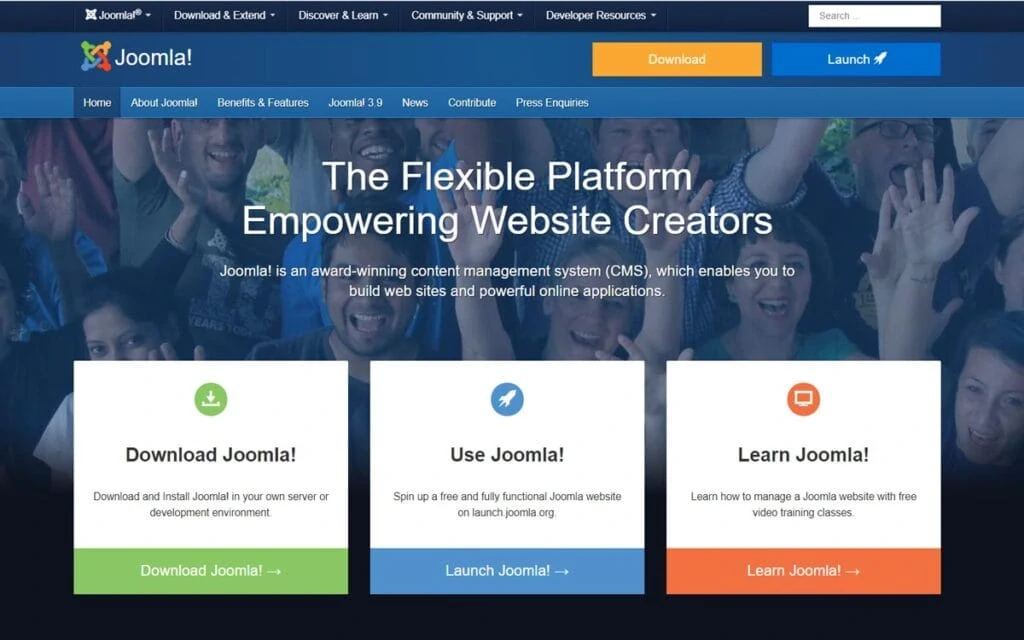 Open-source CMS for enterprise-level websites (FREE).
Joomla is the second most downloaded open-source CMS (after WordPress).
It comes with dozens of plugins, like the eCommerce WordPress plugins and extensions designed to extend your website's core functionality.
For instance, you'll be able to find a similar tool like this WordPress guest blogging plugin on Joomla with all the same functionalities.
It also has a page builder that you can use to create your website easily.
Joomla also comes with many valuable functions straight out of the box. This includes robust access management features, as well as a multilingual system.
However, compared to WordPress, Joomla has a steeper learning curve, especially for total beginners who have never created a website before.
Pricing: Joomla is free to download and use.
Who is Joomla ideal for?
Joomla! is the perfect option for enterprise-level websites.
Bonus: Pixpa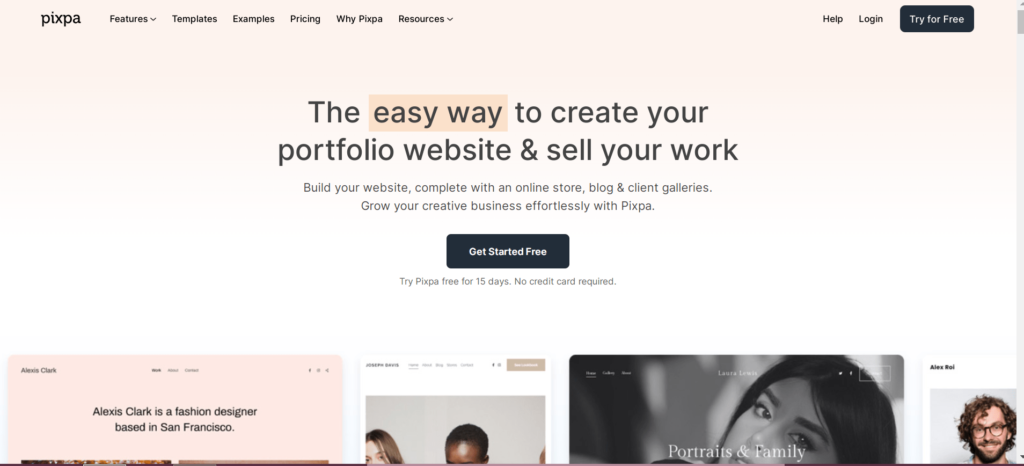 Pixpa is an all-in-one platform for creators and small businesses to create beautiful, professional websites with a built-in online store, blog, and client galleries. Pixpa's versatile platform has everything you need to showcase your work, share ideas and sell your stuff online without any coding knowledge.
Building your website on Pixpa is super easy. Begin by signing up for a 15-day full-featured trial. Pick a template of your choice as the starting point. Pixpa offers a multitude of stunning, pixel-perfect, mobile-friendly templates.
You can customise your site design using a simple and powerful visual style editor. Adding pages to your website is a breeze with Pixpa's drag-and-drop page builder. With many built-in tools such as SEO Manager, Marketing Popups, Announcement Bar and much more, you don't need any extra plugins to start growing your traffic and converting more leads.
Pixpa Pricing
Pixpa offers all-inclusive, simple, affordable pricing plans with no hidden costs. While no free plan exists, subscriptions start at just $7/month, making it one of the most affordable yet feature-rich platforms. All plans offer ample resources, unlimited bandwidth, SSL certificates and 24/7 support.
Pixpa Customer Support
Alongside the product, one of the strong pillars of Pixpa is its 24/7 support through live chat and email with a response time of under 5 minutes, ensuring help is always at hand. Pixpa's support goes beyond just answering questions, as they try to help users build their websites how they want. There is a comprehensive help centre as well with guides and step-by-step tutorials.
Pixpa's Highlight Features
Modern, minimalist and responsive templates:
Pixpa's beautiful, responsive templates that are modern and minimalist in design aesthetics are one of its core USPs. All templates are mobile-friendly and can be fully customised without touching any code.
Built-in Online Store – Sell products, downloads, services & images:
Pixpa also offers a full-featured e-commerce store builder with all the tools you need to run your online business – products and inventory management, discounts, taxes, shipping, abandoned carts, and easy order processing. Unique additional feature photographers would love is Pixpa also offers the ability to sell images as downloads and prints with automated order fulfilment.
Client Galleries for Photographers:
Pixpa's Client Galleries platform offers collaboration & sales tools for photographers. Pixpa enables photographers to share, proof, deliver and sell images as prints and downloads to their clients using a fully digital workflow.
Affordable cost:
With plans starting at $7/month and top-end plans costing just $16/month, Pixpa is one of the most affordable website builders. It also offers a 30-day money-back guarantee on all new subscriptions.
Summary
To sum up, Pixpa is your go-to option if you plan to showcase your portfolio, create your small business website or start selling with an online store. Pixpa's all-in-one platform saves you time and money with all the features you need in one seamless, robust platform.
Conclusion
WordPress may be the favourite tool of millions of web creators worldwide, but it's not perfect for every site.
If you want a reliable alternative to WordPress, choose from the list above to find the platform that meets your needs.
Are there other WordPress alternatives you might recommend? Share your thoughts in the comments below!