App Icon Design Guide – How to Create Perfect App Icons
Mobile apps are no longer designed as an afterthought, as they used to be a few years ago.
These days, you have mobile apps designed even before you think of other branding elements for the business.
The reason being, if you are not on mobile, you are not in front of the user's eyes. That is indeed a fact!
An excellent mobile app is one that is well defined and designed, as a significant portion of the app's conversion depends on the user experience design and the user interface of the app.
However, you cannot ignore the app icon design, which also plays a vital role in making the app popular and recognisable.
If you get confused between the app icon and logo, then you are not alone, as both are part of the brand's image and identity.
However, both icon and logo are different, and you need to understand the intricacies of the two before we move on.
The app icon is a part of the branding for the app.
It is the icon that appears on the screen first and makes you recognise the app on the app store.
It is the element that helps you know what the app is all about and relate to it.
Your brand's logos are scalable vector designs that are generally designed for the billboards and letterheads, while the app icons are raster outputs that are carved for specific sizes, and frequently used inside a square canvas.
Both are branding elements, but they differ in the approach you take to create them as well as the tools used to design them.
When you are designing app icons, you create them in varying sizes ranging from 29×29 pixels to 1024×1024 pixels.
The reason being they are used in multiple places for multiple purposes, and you need these different sizes for the best fit.
There are various types of icons available in the app marketplace.
Here are three distinct types of icons that you should know.
The Universal Icons
These are icons that have been universally accepted to symbolise a particular aspect of the mobile app.
For instance, the icons used to represent home, shopping carts etc. are universal.
You will not find two different apps using different icons to represent these.
These icons are easy to recognise and lower the learning curve.
The Conflicting Icons
These icons have conflicting meanings.
For instance, the heart icon, as well as the star icon, are used to represent the "add to wishlist" or "mark as favourite" functionality in the app.
However, it is not easy to interpret the meaning without the app mentioning it to you.
The share icons are also different on different platforms.
You will see that these icons that carry various purposes on the different apps are tended to as conflicting icons.
Unique Icons
This is the variety where the icon has been designed to represent only one visual and that too by a particular app or OS.
It will take you some time to figure the icon out, but once you have, it is easy to interpret and use the icon.
Now that you are aware of the different app icons, let's get started with the tips to design a catchy icon that will help increase the downloads.
1 – The Icon Should be Recognisable
The first thing you should think about when designing the app icon is that it should be recognisable.
Among the different app icons that are present in the app store, ensure that your app icon design is different and relatable to the target audience.
When you place your icon amidst other app icons, people should quickly identify the icon as yours. How does this happen?
When you decide to follow the simple rules of visualisation that include attractiveness, simplicity and interpretable, then you have got the right design.
You should ideally follow the specific guidelines mentioned for the platform so that you have the perfect icon.
When working on the recognition aspect of the app, make sure you follow these points.
It would help if you did not design a complicated icon, as that might make it less recognisable.
An intricate design can make the audience turn away from the app.
When you have an icon design in mind, you should ideally try the various palettes and design variations.
Choose a select few from your target audience, and show the design variations to them.
Find out which icon design stays with them.
If you want to get more ideas into how you can design a perfect icon, then choose your favourite icons and find out why they work.
Think on these lines – what makes them perfect, what makes them recognisable, and what sets these icons apart from their competition?
An answer to this question will help you design the app icon.
2 – Consistency is the key to memorable designs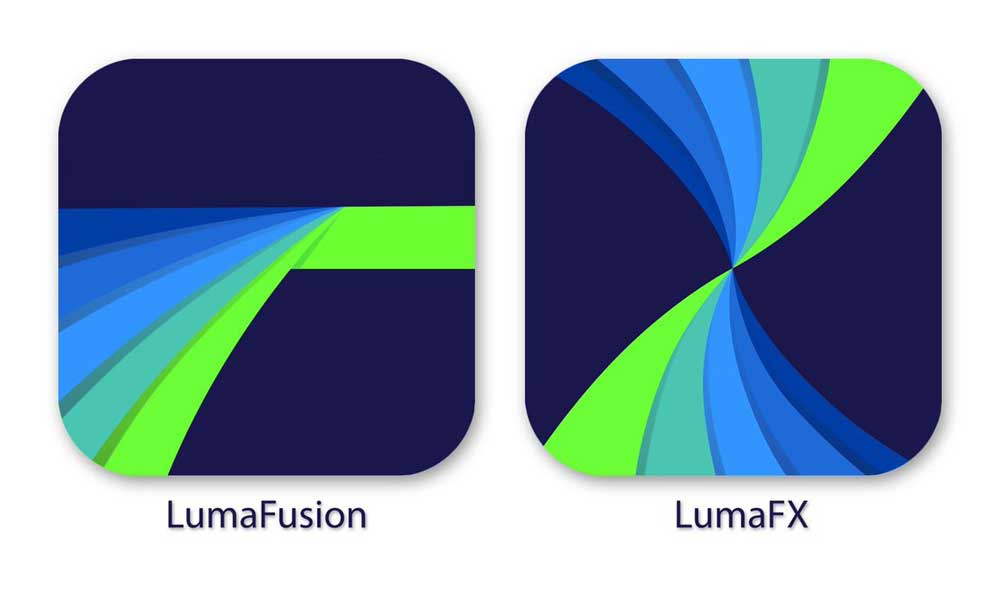 As we have already mentioned earlier, the app icon is an extension to your mobile app.
It would help if you ideally designed the app icon keeping this statement in mind.
For a great and practical design, you should include all parameters of design to create the app icon that you used for the mobile app.
When you create a sleek version of the app and convert it into the icon, you get more retention and make the app icon design memorable.
There should be some level of similarity yet some amount of distinctiveness between the icon and the app.
To create a consistent app icon, here are a few points that you need to remember.
The design and the colour palettes that you are planning to use for the app icon should be similar to the one you have applied to the mobile app.
This will make sure that the app icon speaks the same language and tone that you have induced to express your mobile app.
If you have used monochrome tones for the mobile app, ensure your app icon design also reflects similar colours.
The other way to rope in consistency is by effectively translating what your app does into an icon.
For instance, if your app is for the food niche, then you ought to use icon designs and images that connect with the niche and the role it plays in there.
3 – No Image, No Words, Only Icon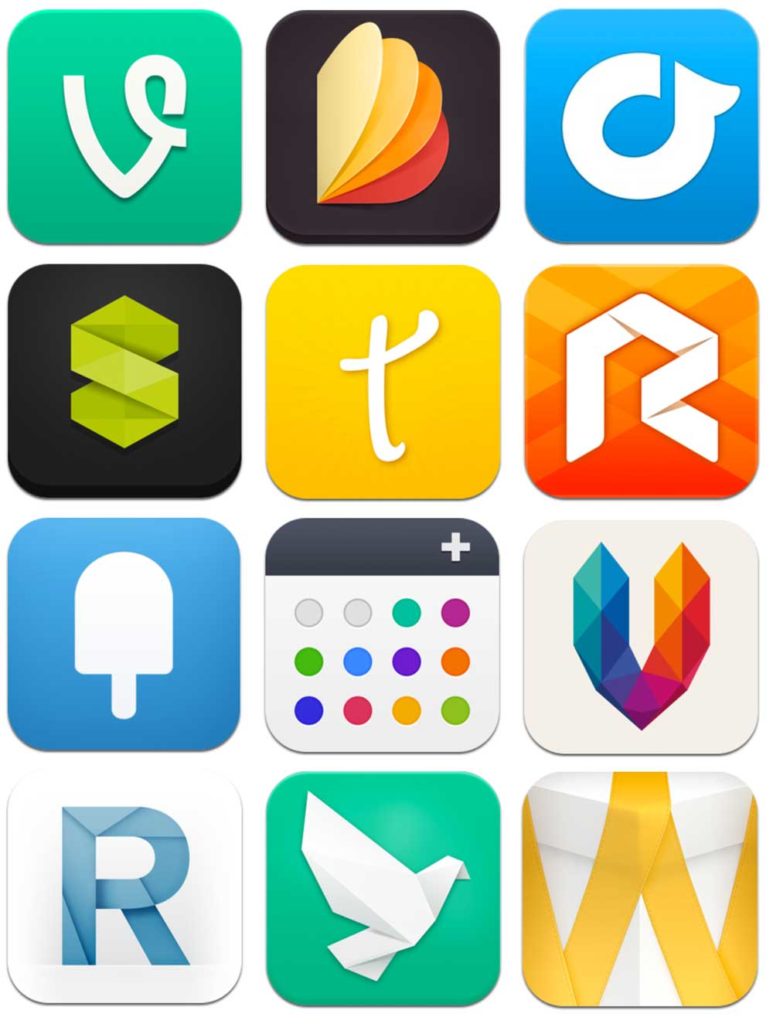 For those who think an icon is an image that is placed in a square box, stop working on this myth.
An icon is much more than just an image.
It is a visual representation of an app idea that will connect the users to the actual app, and win you downloads.
However, when you are designing an app icon, you should not only avoid thinking of it as an image but also avoid using words in the icon.
Why? The icons are supposed to be visual representations of what you are planning to convey through the app.
If you mix words and pictures in the app icon design, you might make it a cluttered icon, which fails to connect with the users.
The distinctiveness of the app icon is also questioned as a result.
Your intentions may be helpful but, what you are conveying is not what the users are looking for.
Here are a few things that you need to consider when thinking words to design the app icon.
A pictorial concept of the app as an icon will take up less space, will consume fewer parts of the square box, and will connect better. Use the picture instead of the words.
A single letter icon is a good idea and might work for you.
Think of the "in" in LinkedIn's icon, and you will realise what we are talking about.
You can create such meaningful and exciting icons using words.
Don't try to fit in the logo or the company's name in the icon box, as that is a far cry from what you are looking for.
4 – Go for a scalable app icon design
The last thing to consider when designing an app icon is the scalability of the design.
You should make sure that the design can be redefined in various formats, and sizes as you might need to use the icons in multiple places.
For instance, if you have designed the app for both Apple Store and Google Store, then you ought to define the app in different resolutions and sizes, specific to the guidelines mentioned by the individual app stores.
The app icon should look good on different phones as well as retina-display devices, where the app will be accessed.
It is essential to indulge in simple icon designs so that you don't feel that the icon is squeezed into a small square.
When you are planning your app icon design, make sure you think scalability and whether scaling it would give out the requisite results.
Before finalising the app icon design, make sure you try it out on the different devices and in various sizes.
Your icon design should ideally focus on a single shape or structure.
The idea is to use this structure and try to retain the different contours and qualities while scaling it up.
Finally, check the app icon for the various backgrounds, and see how it looks.
So, what does a good app icon design consist of?
A good app icon design is one that is memorable, easy to recognise in the crowded app market, and easy to scale for the different devices and operating systems where it will be used.
When creating the app icon design, the key to making it popular with your target is to keep simple and easy to interpret.
You will be tempted to use a palette of colours but, it is a good idea to keep the colours limited to what is used in the app design so that your audience connects well with the app.
So, next time you start planning for the app icon design, make sure you follow all the four points stated here so that you create a design that connects with your target market.
How to Create the Perfect App Icon Design
The first thing for creating a perfect app icon is to understand what exactly it is and the job that it performs. An app icon should be regarded as the visual anchor for your product. It works as an integral piece of app branding. The app logo should attract attention and stand out, but ideally, it ought to communicate the essence of your application as well.
App icons aren't the same as logos. They may share branding-like qualities, but you're operating under a different set of restrictions when you create one. It's a vital distinction for a designer to make. Logos can be seen as scalable vector pieces of branding for billboards and letterheads.
App icon design can be done with such tools as Sketch, Photoshop, or Illustrator. Apply Pixels also offers some useful PSD templates that can help you get started quickly.
Why Does App Icon Design Matter?
Your app is an Additional Communication Channel. Studies show that people absorb the ideas behind images better than text. When you are making app icons, developing a memorable and effective one will help customers better understand the purpose of your application. 
They Allow You to Stand Out from the Competition. If you can create an app icon that stands out among its competitive counterparts, you will have gotten some users on your side. 
They Strengthen Customer Loyalty. The best app icons broadcast a positive image of your service. If you can come up with one, then your loyal users will learn to look for it when seeking out products and services within your niche.       
It works as a Marketing Tool. All the above reasons to create a high-level app icon lead to this one. With a memorable app logo, you have another marketing tool that will help you to promote your mobile service in the crowded application market successfully.
How to Design an App Icon
Analysis by Association
Before you make an app icon for your project, you should try to pinpoint the emotions and overall feeling that you're trying to convey through your mobile service. Then, attempt to come up with symbols that call those feelings to mind. The best app logos feature images that can be understood intuitively by your users.
Learn Your Audience
The application icon for a local food service is going to differ from one intended for an international market. In the latter case, use universal symbols that will be equally perceived by individuals from different parts of the world and will not be offensive to anyone. Best icon app design practices include being sensitive to the feelings of your potential customers.
Know Current Design Standards
As you are thinking about how to create an app icon design, you do not necessarily have to follow any rules, other than with the submission size. However, both Apple and Google have guidelines for how they want your app to look, so it's best that you adhere to them. 
Google has implemented a design language called Material Design. It is an extensive set of guidelines to create a cohesive visual interface and iconography. Apple has come up with something similar for iOS that they refer to as Human Interface Guidelines. These suggestions are handy for iOS designers. However, they are not nearly as detailed as those for Material Design. These are logical places to start if you aren't sure about apps logo design ideas. 
Colour Matters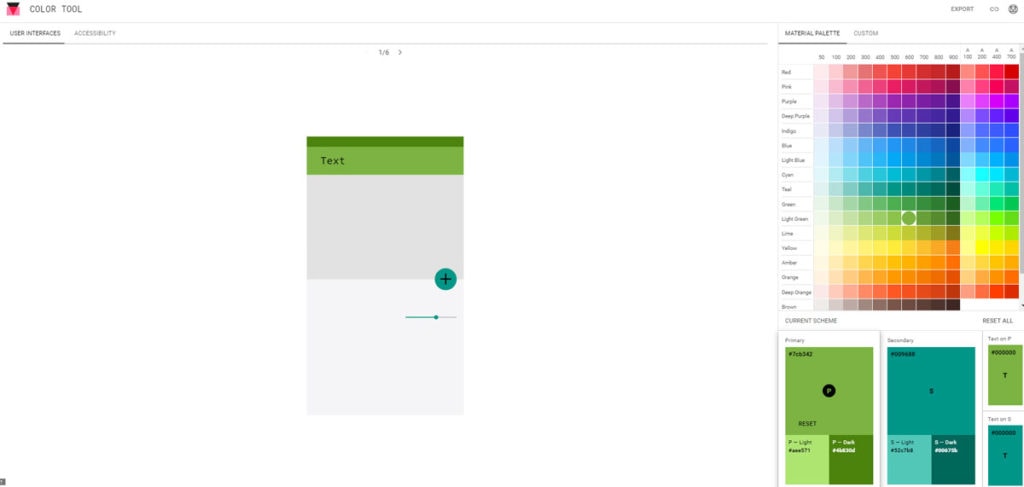 The right colour choice will determine how your logo is perceived. Try not to use more than two contrasting colours if you want to make an impactful logo. When trying to come up with icons ideas, ask yourself these three questions:
Is there a particular colour that emphasises your brand's individuality?
What colours characterise your application?
Is there a colour used by other apps in your area? You should try to choose something distinctly different from your competitors.
It's also worth noting that Google has set conditional restrictions and developed sets of combined colours in Material Design. 
Scalability
A critical aspect of an icon is scalability. Because the image is displayed in several places throughout the platform, and in different sizes, your creation should maintain its uniqueness and legibility. 
An app icon design should work at multiple resolutions, retaining concept legibility across size ranges. Overly-complicated icons that try to convey too much are subject to poor scalability. If you want to create app icon ideas that will make an impact, make them simple enough that they're easily scalable throughout the entire application. 
Source: Human Interface Guidelines
More Tips
While still in beta, try out the design on different devices and in multiple sizes and contexts.
Choose simplicity. Focus on one object, preferably a unique element or shape that retains its qualities and contours when you scale it.
Make sure it looks good against different backgrounds.
Source: Material.io
Keep Details to a Minimum
As you are looking at how to design an app logo, remember this: the logo isn't a photo. Excessive details should be regarded as superfluous. With a small image, tiny details will merge into a shapeless mass. The icon should be a symbol, understandable and straightforward. Strive for minimalism.
Consistency
Try to create consistency between your app icon design and the app design itself. Proper icon design is an extension of the app UI/UX design and general purpose. Consistency between the icon and interface will strengthen the visual narrative. 
You want your icon to work harmoniously with the functionality, essence, and design of your application.
More Tips
You can ensure consistency between app and icon by aligning their colour palettes and using a similar design language. A green interface could be reinforced by a green app icon, for instance.
Another way to tighten the connection between an app and its icon is that the app logo should speak directly about the app's functionality.
Icons should be made consistent across a suite of related apps.
Recognisability
With application icon design, you're trying to come up with something creative and exciting. It should accurately convey your company's intentions. The app logo design needs to instil a sense of connection on both an emotional and a functional level if you expect it to grab and hold anyone's attention.
More Tips
Remove details from your icon until the most basic concept remains. 
Try out design variations. Line them up on a grid and look them over, seeing which aspects catch and hold your eye.
Consider your favourite app icons. Figure out what you like about them and what makes them stand out.
Informativeness
If you want to make an app icon design that will be as effective as possible, think of your primary service function and render it as a simple image. With this approach, your user will understand what the product is for, even before they read the description.
Icons for music players often use images like instruments or note symbols.
For example, the Gmail logo makes you think about email even if you haven't known it before. The same Google calendar logo reflects the calendar app idea. Or Amazon has a picture of a shopping cart. Don't mislead users. Deliver exactly what the app icon promises.
Uniqueness
Your icon will continuously compete with others for the user's attention, so you want yours to stand out. You're relying on your skill, but you're also trying to beat out the choices of others who are engaged in a similar task.
More Tips
Think about what everyone else is doing in your niche, and consider going in a different direction. Do your research. Make sure that what you've come up with doesn't look like a copy of a competitor's concept.
A single glyph on a one-colour background seldom makes a unique and compelling logo. Try various compositions and colours. Attempt to come up with new and innovative metaphors.
Colour is a way to reframe a concept that is frequently overlooked.
Whatever your design style, striving for uniqueness often becomes a supreme exercise in creativity.
Whether creative or conventional, app icons have one unifying property. They are all intended to grab the attention of potential users in a limited amount of time. It is a challenge, and you have to be up for it.
It is intimidating to try and represent your app through a single piece of graphic design. As you think about how to make an app logo, the tips outlined above should help. You should also be sure to workshop your logo and get some feedback on it before you take it live. 
Make the Right Typographic Choice 
Typography is essential with app icon design, especially within the application itself. When searching for something within the app, confusing typography will frustrate your user. If the one you have chosen is illegible or makes the customer's eyes tired, you need to make a new selection.
Fonts that fit apps best are those with few edges. They should also be wide enough for easy reading. Don't use bold letters or ones that appear artificial. You're aiming for a smooth reading on the part of your users. For the logo, though, you should avoid any text whatsoever. The app's logo or icon must be self-explanatory.
Contributors
Sourodip Biswas is a digital marketing professional at Space-O Technologies, a leading app development company, specialising in eCommerce app development. He adores mobile app technology and regularly shares his insights by writing blogs on various websites. In his leisure time, he loves gaming and is always eager to learn new things.
Slava Vaniukov, Co-Founder and CEO at Softermii, has over 9-years of experience in the web and mobile development industry as a Software Architect. After getting extensive experience as a Senior Tech Lead, Slava joined forces with like-minded professionals to start his own company. Besides that, he is one of the authors for the Softermii blog and tech blogger featured at a wide range of other web resources.