Visual Marketing – Photography vs Videography
We've used visuals for communication, marketing, and sharing experiences for millennia, from cave drawings to hieroglyphs and ancient art to modern photos.
The written word has long been considered one of the most powerful things in existence. 
However, the fast-paced world we live in now tends to gravitate to the quicker gratification afforded by visual content. 
According to MDG Advertising, 60% of people are more likely to consider buying a product or hiring a service that has an image in search results.

MDG Advertising
What we see has a more significant, emotional, and longer-lasting impact than anything else.
Unsurprisingly, salespeople have been turning to visual forms of marketing for decades. 
What started with vintage posters and magazines have evolved into televised advertisements, newspaper prints, and billboards.
For many years, photography was one of the only visual elements available to marketers. 
However, affordable tools and applications have made it easier to create and share video content on the internet and via social media. 
Through these mediums and platforms, we're able to interact with viewers in new and engaging ways.
Viewers are "craving slow, deep, and immersive experiences ." Carefully crafted visuals are the key to communicating with the target audience about how to fulfil those wishes at the destination.

Crowdriff
The dilemma now is whether to use visual storytelling via videography or photography. 
Which is more effective? Does one suit your needs better than the other? Instead of choosing an option at random, read on.
We're going to look closer at these two visual marketing methods to find out which one would work better for you.
The Power of a Moment: Photography
Photography is uniquely powerful; it captures a single moment in time and freezes it for eternity. 
When you look at some of the beautiful and artful images available on stock media and social sites, it's easy to understand why native tribes used to believe it could steal your soul.
In visual marketing, a well-executed image can tell a thousand words. 
A single image may take another form when combined with another piece of content.

Rock Content
That's entirely the point; to narrate a story without text, but by using only a single moment. 
Whether you're working with a professional photographer for a product shoot or merely trying to take the perfect selfie, it's a hard trick to pull off.
However, if you manage to succeed, photographs can be a powerful medium to tell your story. 
That said, there are a few pros and cons to using it as your preferred visual marketing method.
Relatively Quick to Capture and Process
Snapping a photo is quick. You point and shoot. That said, it's not exactly easy. 
Capturing the perfect picture can take anything from a few minutes to several hours. 
Aside from taking it, there's also make-up, props, and lighting to consider. There's also post-editing, which can also take a few hours.
However, various tools make it far easier to take amazing photos for marketing and social media. 
There is a tonne of information online. 
For example, Facetune explains how to take the perfect selfie, while other websites explain how to prepare your make-up or turn simple items in a room into props.
With the right tools, it takes a lot less time to get a photo from shoot to share than it does video.
In a 2018 study, the Social Media Examiner asked marketers to select the most important form of content for conversions and they overwhelmingly chose "Visuals." Venngage also surveyed marketers on their plans for 2019 and found that original visual elements performed best and drove the most engagement far more than stock photography.

Crowdriff
Smaller File Sizes and Load Times
One of the most significant benefits of photos is that their sizes are relatively small. 
A smaller file is much easier to share via various platforms and takes less time to load for the viewers.
Whether you're posting on your website or social media, you only have a few seconds to capture the attention of your audience. 
If a picture fails to load fast enough, you'll have lower success rates as people move on to the next image, video, or page.
Many social sites take steps to secure faster loading times for their viewers. 
Twitter, for example, limits images to 5MB while allowing GIFs up to 15MB.
Must Convey a Clear Message Quickly
An image is a static capture of a single moment. 
That one visual instant is all you have to convey your marketing message. 
Remember, the power of a picture is that it can spark the imagination of those who see it. 
It's the magic of photography; to tell a story while still leaving just enough about it to remain a mystery.
Unfortunately, in visual marketing, that means that you have to strike a tricky balance. 
It would be best if you told your story clearly without destroying the photo's charm.
Considered by Some as Outdated
Amateur videography is becoming a lot more common. As video becomes increasingly more popular on various platforms, people expect content to be entertaining, have audio, and involve motion.
Movement and sound play an important role in capturing the attention of your viewers. It engages more than one sense, making them more appealing. 
As a result, some have started to consider the use of photographs in marketing as outdated.
Of course, it depends on how you use images in your marketing. 
To claim that it's old-school means that you don't understand how to keep your pictures relevant.
Storytelling in Motion: Videography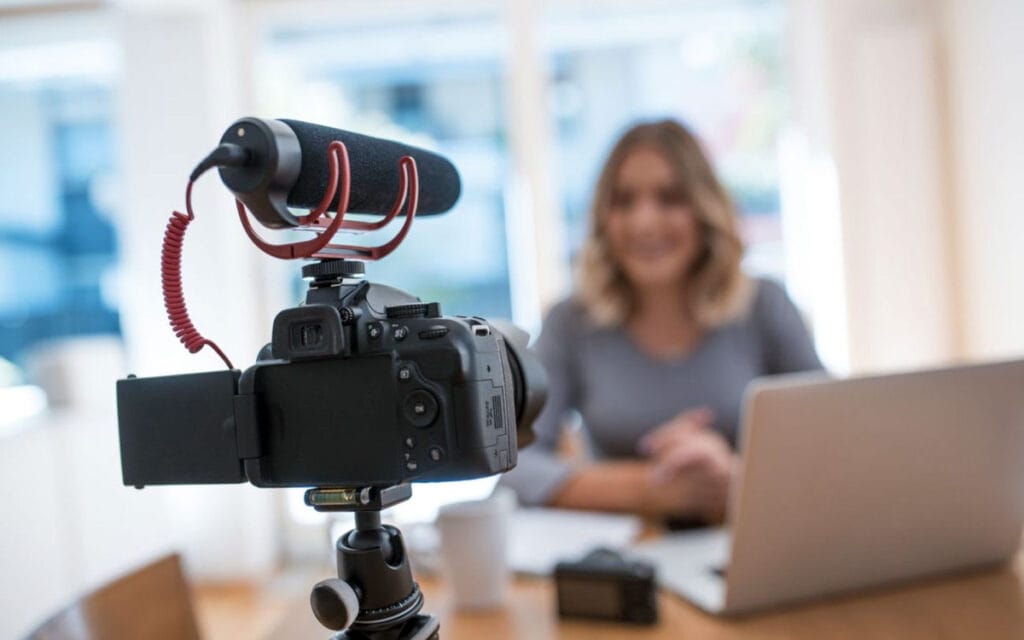 Photography might not be dead as a marketing medium, but videography is undoubtedly making big waves. 
Statistically, audiences prefer to view video content over photos and text posts. 
Visual content is 40x more likely to be shared across social media.

Tinuiti
Even salespeople claim that it's far more successful than other visual advertising forms, with 93% claiming that they received new customers because of it.
Like photos, a video has its own unique magic. 
Unlike images that leave almost everything to your viewer's imagination, moving content focuses on creating an emotional narrative. 
Whether they're inspiring, informative, or funny, there's always a focus on eliciting a heartfelt response.
Naturally, there are some upsides and downsides to using videos in your visual marketing strategy. 
While it might be more engaging, is it worth the time and effort? Let's find out.
Engaging Storytelling Capabilities
A photo consists of one image, but a video can create a complete narrative, filled with effects and sounds. 
You could even add text and create interesting scenes through cuts and lighting.
Many videos on social media and Facebook, in particular, are watched without the addition of sound. 
Instead, they add short subtitles to narrate the story. 
The bonus is that the content is already optimised for hearing-impaired audiences.
The Dodo is one channel that uses a combination of these to significant effect. 
By using small animations to indicate sounds, short moving subtitles, and simple soundtracks, the page creates some of the most engaging visual content on Facebook.
Tends to Be More Memorable
The goal of any visual marketing is to create something memorable. 
You want your viewers to remember your content long after actually seeing it. Ideally, they should feel inspired to look for more of your videos or intrigued to find your brand online.
If this is one of your main goals for visual elements, videography is likely your best option. 
According to Hubspot's survey, 43% of viewers think a video is more memorable than any other type of visual marketing content shared by companies.
People find videos engaging, and since it tells a story, they're more likely to stick around. 
Many social platforms, like Facebook and YouTube, will recommend similar posts to viewers. 
If you create a few of these that your audience enjoys, these sites are more likely to show more of your content.
As they grow familiar with your brand through various videos, you're more likely to gain followers and customers.
Can Be Expensive and Time-Intensive to Create
Due to the increased popularity of video content, many people and businesses now include it in their visual marketing strategies. 
Unfortunately, it's usually a time and cost-intensive process, scaring many away from using it.
However, there are many tools available to make video visual elements more accessible. 
These apps can help you add effects, scene cuts, and some even have royalty-free music. 
However, it still takes more time to film a short ad or story than to take a quick snapshot.
If you're going all out, you'll also need to fork out money for lighting, editing, and effects. 
If you're short on time and need to create high-quality visual content, creating a quick video might not be the most straightforward thing to do.
If you have the data and research on your product or industry on-hand, data visualization can be a powerful tool to get that data in front of prospective customers in a meaningful and easy-to-digest way.

Tinuiti
Which One Is Better?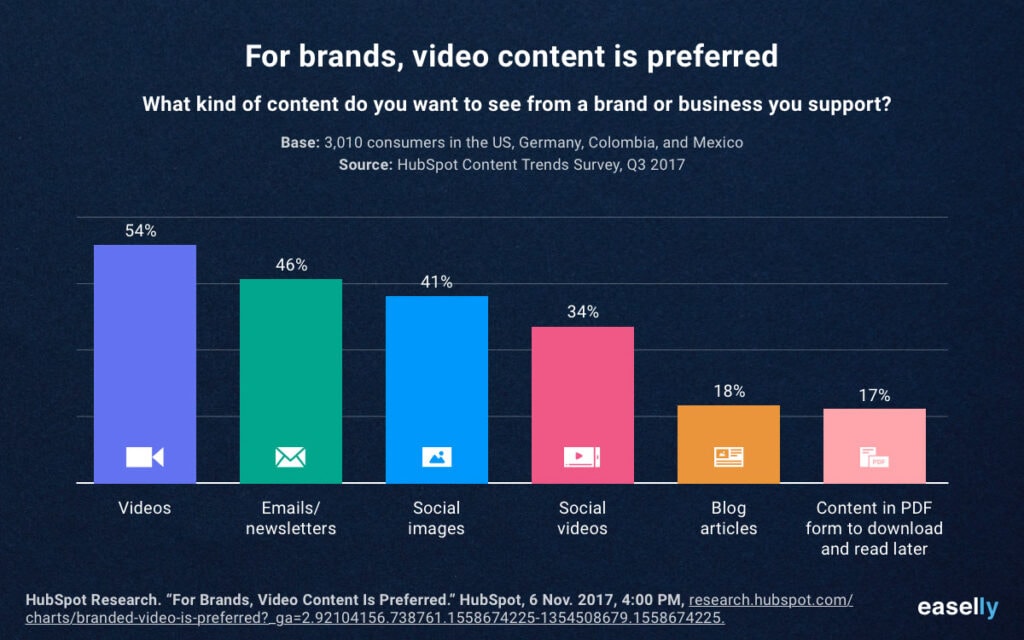 It's essential to understand that photography and videography are incredibly different, despite being forms of visual marketing. 
However, the question is whether one is distinctly better than the other. The answer?
No.
Videography and photography are two very different mediums, and both can be used in unique and creative ways. 
If your goal is to create a compelling visual marketing strategy, including elements of both would be better than focusing exclusively on one or the other.
Video has a particularly strong reach on social media: Facebook gets 8 billion video views daily, while video on Twitter is 6x more likely to be retweeted than photos.

Tinuiti
Photography has a magical way of setting your viewers' imaginations alight. 
You can create incredible images and advertisements, elicit emotion, and tell a story. 
However, the more you try to do with a single photo, the bigger your challenge will be.
With videography, you'll be able to tell your story far easier. 
However, you'll need to invest time and effort to create something memorable, informative, and emotional.
Final Words
Whether you decide to use only one or both, always remember to focus on your chosen method's strengths. 
Don't try to tell extensive narratives with photos, and don't try to oversimplify your videos. 
Most importantly, select a medium that works with your marketing platforms and tools.
Finally, always remember to delight and inform your viewers with valuable content that they'll enjoy. 
If you can do that, your visual marketing strategy will be off to a strong start.
Many times, customers don't even realize this emotional reaction is happening. "Ninety per cent of all purchases are made subconsciously, meaning they are driven by emotional processes, not intellectual ones," said Lazar. ""For the consumers that no longer have the time to educate themselves, it's the logo or visual branding that will trigger the sale." Because visual cues are processed so quickly, any marketing campaign that involves visual elements needs to be carefully considered.

Business News