Kapferer's Brand Identity Prism Explained
Having a robust and recognisable brand identity is essential for distinguishing yourself from the competition, and reaching out to your target audience on a subtle, subconscious level.
Namely, by crafting your brand identity in a certain way, and using particular elements of that brand such as the logo design, tagline, tone, or colours, you are trying to communicate a set of values that your name represents to your audience.
Although these visual elements reflect some indefinite concepts and help people grasp the essence of your brand and relate to it, a company's brand identity is not the same thing as a brand image.
The two differ in the sense that brand identity is how you want your audience to perceive your company, product, or brand, while the brand image is how they view it.
Brand identity is in a way 'active', meaning that it can be projected, and its efficacy can be measured, thus allowing you to change and fine-tune your strategy and improve the results.
Developing and maintaining a strong brand identity requires consistent messaging. Bringing your brand's physical attributes, company culture, and brand voice in line with your target audience, your ideal customer's expectations, and your ideal buyer's aspirations create a strong brand that cultivates customer loyalty and builds lifelong fans. – Merlin One
As this whole process is complicated and multi-layered, knowing and understanding the critical elements of a brand is a must to build a successful brand identity.
Kapferer's Brand Identity Prism dissects the notion of brand identity and explains its elements in detail.
Kapferer's Brand Identity Prism Overview
Back in 1996, Jean-Noel Kapferer, a professor of marketing strategy at HEC Paris, came up with the idea of representing brand identity as a hexagonal prism, with each side standing for one of the following essential elements:
Physique
Personality
Culture
Relationship
Self-image
Reflection
Successful brands manage to project a positive and coherent image into the minds of their consumers, which means that all of these six facets need to be carefully intertwined and aligned so that each contributes to establishing and maintaining brand essence.
All this has the purpose of strengthening the brand, and making it more recognisable and memorable, which will, in turn, result in creating a consistent, long-lasting impression of your name.
A powerful brand will have a positive brand image, and this will significantly affect its perceived quality, without which it would be virtually impossible to build customer loyalty and trust.
Since fostering customer loyalty is pivotal in growing your business, it is clear that you need to master this marketing concept and work on establishing your brand identity.
Let's not forget that money makes the world go round.
Since all your branding, marketing, and sales efforts ultimately translate into profits, it is worth noting that according to statistics, 80% of your company's future revenue will come from 20% of your existing customers.
You had better try and woo them into staying with you for keeps.
Physique
The first facet of the brand identity prism refers to the underlying physical characteristics of your brand.
Its role is to shape and outline how the ideas and values behind your name will be incarnated and embodied, and which visual features they will have.
In other words, the physique of a brand turns abstract and intangible characteristics into something visible.
This helps consumers associate the company with a set of visual details and representations.
When you are thinking about how you would like your audience to perceive your brand, and what emotions you would want it to evoke, it is through the physique element that you can promote all these things.
For example:- how men and women differentiate certain brands as being masculine or feminine. (cio-wiki.org)
For example, when we see an iPhone, the first things that come to mind are elegance, style, and aesthetics.
Apple tried and succeeded in reflecting uniqueness, excellence, and visual appeal, which are its core values, through its products.
An iPhone is essentially a sum of Steve Jobs' visions of a brand whose products are beautifully designed, of superb quality, and always one step ahead of the competition.
Personality
As its name suggests, this element is about the character of a brand.
An imaginative way of explaining this concept would be to close your eyes and try to imagine your brand as a real, flesh and blood person, and describe it.
Is it a man or a woman? Is it laid-back and relaxed or professional and businesslike? How about their age and their level of education?
All this can help you identify not only your brand personality but also your target audience which will be able to relate to it.
For example, Jaguar is a brand that has built its reputation on luxurious, high-end cars designed to attract people who want only the best quality, comfort, and the highest level of safety, and who can afford all that.
On the other hand, Jeep is a brand of sturdy, four-wheel cars for people who love adventures, nature, and challenges.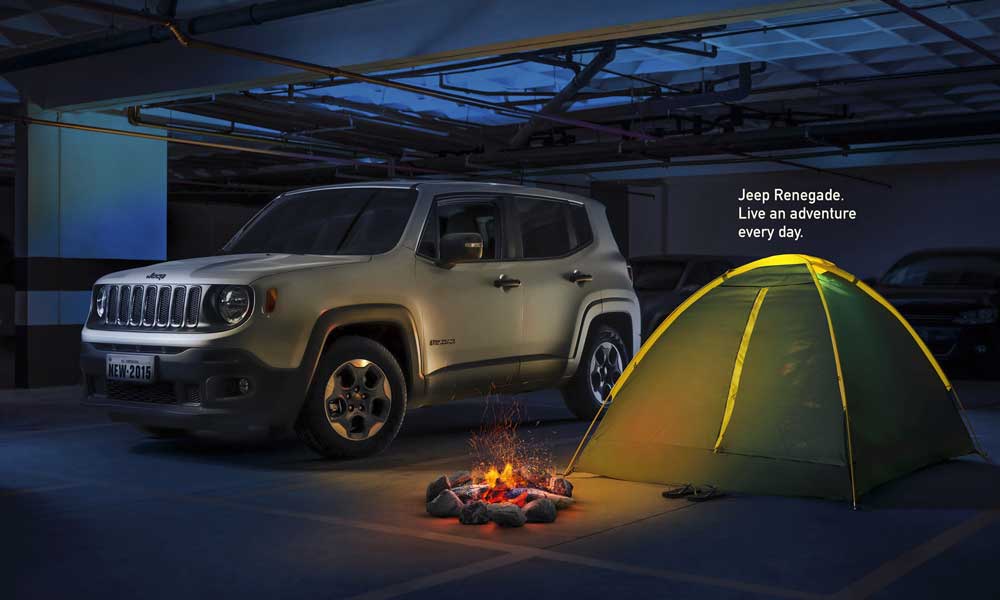 The success of these two brands lies in the fact that they always deliver on their promises – a smooth, luxurious, high-class ride or an adrenaline-filled experience, respectively.
Famous brands also hire celebrities to endorse their products and lend them their own, personal aura.
To express your brand personality, you can use a specific tone, attitude, style of writing, or colours.
Coca-Cola uses its iconic typeface and a deep, red colour to communicate joy and happiness that the brand personifies.
Culture
According to the brand prism concept, culture is the aspect that refers to the culture and values of the country from which the brand originates, and its demographics.
That is why Opel, Mercedes-Benz, or BMW always insist on well-known German engineering, precision, and punctuality, thus reflecting the values of their target audience to appeal to them.
Japanese car giant Toyota took this idea to a whole new level in 2001, establishing a set of principles called the Toyota Way.
They incorporated some traditional Japanese cultural and philosophical concepts, such as "kaizen" or "continual improvement", thus honouring the culture of their home country and its hard-working people.
However, Kapferer gives other brand identity prism examples which emphasise that some brands managed to capitalise on the fact that they are believed to have originated in a different country.
Famous American brand 'Mars' has managed to make Dutch people believe that it is from their country and to adjust its culture so that it promotes Dutch values.
Relationship
Naturally, this element is about the relationship between a brand and its customers.
Again, there are all kinds of relationships, and it is up to you to decide how you would like to connect with your target audience and what human trait you would give to that relationship.
Would you call it a friendship? How would you manage that relationship and cherish it? What tactics would you use to engage your customers? How do you treat them?
Let's retake Apple as an example of an entirely established relationship with its countless, devoted customers.
Namely, the brand is a champion of building loyal, long-term relationships with its customers, because it puts them on a pedestal and makes them feel as if they are members of an elite club.
A brand is likely to have several buyer personas but they will have a go-to subset of their target market that they use in their messaging. – Woven
Paired with superb customer service, this attitude has garnered the brand a fanatic following and a stellar reputation, while its products can be seen as to die for.
However, apart from this external relationship-building aspect, what's also important is the relationship between the elements that affect brand identity internally, that is the company itself.
For example, an SEO agency from Hong Kong has explained the importance of combining two digital marketing segments in an article dealing with the relationship between SEO and content marketing.
Self-image
Self-image is about how customers of a particular brand see themselves, and brands can benefit from incorporating this self-image into their identity.
That is why it is essential to target your audience with laser-like precision, and know whom you pitch to.
A psychological mechanism according to which people buy brands to achieve the best version of themselves is fertile ground for many companies to play on various cards.
'Cards' such as sex appeal, confidence, classiness, or elegance convince their customers that by opting for their brand, they will become sexy, confident, classy, or elegant.
Schweppes, a famous soft drink brand, intended for a more mature audience mainly because of its distinctive, bitter taste.
They reflect its customers' image of themselves as active, independent people who know exactly what they want with its "Separates men from the boys and women from the girls" tagline.
Reflection
There is a subtle but substantial difference between self-image and reflection.
Whereas the former is about the customers' idea of self, the latter is how brands perceive their audience.
Reflection might be described as a set of stereotypical notions of a brand's customer base, used for promotional purposes, and highlighted in ads and commercials.
Customer Reflection: What does the target audience look like, or the brand's ideal buyer? 
Customer Self-Image: The customer self-image flips the customer reflection on its head, instead of representing the customer's ideal self. – Merlin One
It could be said that brand reflection represents the typical user of a brand.
For example, according to some research studies, a Porsche's typical customer is male, arrogant, and a bit snobbish.
People who purchase this brand are affluent, and they want to show their status by driving such an expensive car.
That is why this brand's marketing efforts are mostly directed at this particular demographic, and marketing messages belonging to this income group.
By having a good command of these six elements of brand identity, you can position your brand accurately, build equity, acquire new customers, and keep your existing ones.