What is a Vision Statement? Here's How to Write One
In the modern world, having a vision statement is crucial to building a successful company or organisation.
Your organisation's highest goal is the driving force behind your mission statement. When we write it, we think about our vision: what does it look like for our organisation? When we write it, we think about how we can get there: what does it mean to achieve it? 
The purpose of a vision statement is to summarise what your organisation is trying to do and to establish the why behind its existence. 
It will help you accomplish a few important things, like creating an inspiring organisational culture, communicating your goals clearly, and motivating your employees.
Writing a vision statement is a great way to clarify what you want your organisation to be, look, and feel like over time. It's also a powerful tool for motivating and inspiring people around you, leading to greater productivity and higher energy levels.
What is a Vision Statement?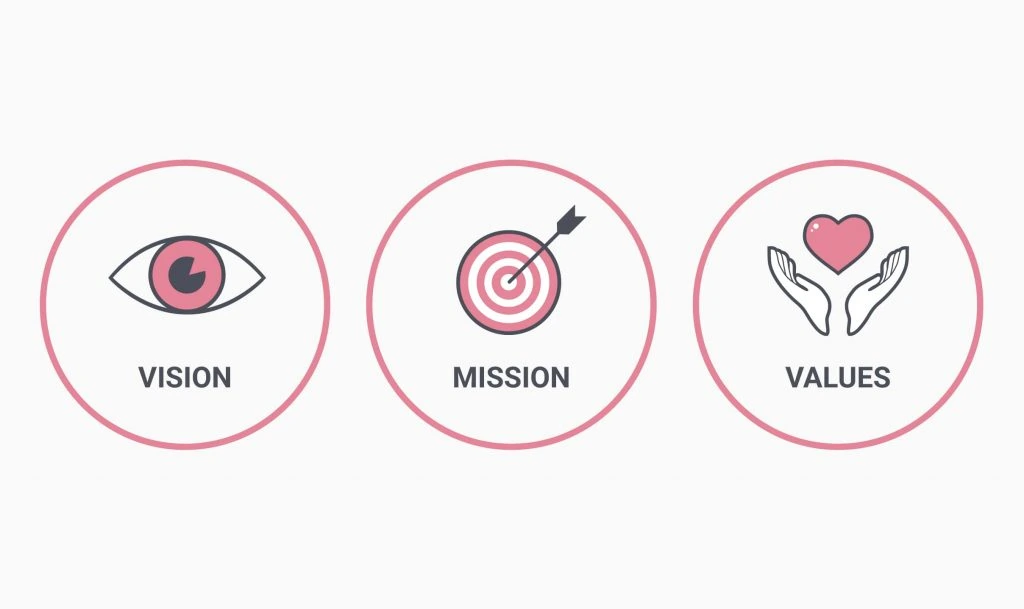 It is a statement that describes your business purpose or goals. This will help to inspire your business plan. A vision statement should be written using language that defines the services you will provide and the impact you will make. It should include details of what you will deliver and how you will achieve your purpose and goals.
Your vision statement should:
Inspire you
Reflect your values
Be clear
Be specific
Be unique
Be positive
Tell a story
Include specific details
Give a sense of direction
Show confidence
A good vision statement is an ideal place to begin. When writing your statement, think about the following:
What will your company do? How will you achieve this?
Whom will you serve?
What will your customers expect?
What skills do you need to create your vision?
How will you measure success?
What is your business model?
Who are your competitors?
What does your industry look like now, and what will it look like in the future?
How will you make money?
If you are still unsure, here are some examples:
"Our business will help our clients build successful, happy families by providing a high-quality service in an easy-to-understand format."
"We will provide a personalised service to customers who value quality."
"Our business will make people laugh and be happy!"
"We are a leading provider of bespoke wedding stationery."
"We will provide a professional and innovative approach to our client's needs."
"We will deliver the highest levels of customer service by working closely with our clients."
"We will provide a friendly, efficient service with no hidden costs."
"We will be the best and most trusted wedding supplier in our sector."
"We will be a family-run business that offers excellent customer service."
"We will provide a complete service for all occasions."
"Our vision is to be the market leaders in our industry."
"Our business will be a family-run business where staff are passionate about what they do."
Why Should You Write a Vision Statement?
A vision statement should give the reader a clear idea of who your company is and what your company does. It should answer the question, "What is the vision?"
Here is a sample of a vision statement:
"We will always provide our clients with world-class customer service while maintaining a clean, safe workplace."
The first sentence tells the reader who you are (a company), and the second sentence tells what you do. A vision statement should be short. Here is a more extended example:
"We will be the leader in providing the most innovative product to customers worldwide. Our goal is to improve the lives of our customers through our products and services."
Vision statements should be written by those who know and understand the business.
Remember, the purpose of a vision statement is to describe who you are and what you do. It should never include your competition, not be "sales driven", and not be too detailed. You may use many words, but it should always include your name and your business's area.
When you write a vision statement, remember that the reader is a potential customer and that you want to show them what you do and offer.
You may want to add another sentence to the vision statement, which tells the reader who you are and how you plan to achieve this. For example:
"We are committed to providing world-class customer service. We will always strive to exceed our customers' expectations."
Finally, here is a short vision statement which you can adapt to suit your business:
"We are a world-class company focused on improving customers' lives."
How to Write a Vision Statement
When starting a new business or project, it is a good idea to create a vision statement that will serve as the blueprint for your company's future. This document will act as the blueprint for everything you do. It will guide you in making business decisions and help you determine where your company is going.
Here are some tips on how to write a vision statement:
Start with the end in mind. Before writing down your vision statement, ensure you know exactly what your company wants the company to achieve. If you don't, you will never be able to create a coherent vision statement.
Make it clear. Make sure your vision statement is clear and concise. It should be short, simple, and easy to understand.
Focus on your strengths. Be honest about what your company does well, and don't try to be someone you aren't. By focusing on your strengths, you can develop a vision statement highlighting your company's unique value proposition.
Keep it short and sweet. The length of your vision statement shouldn't exceed one page.
Use words, not numbers. A good vision statement should use words instead of numbers. Numbers don't tell us anything about a company's direction. Instead, they give us a snapshot of the past and present, which won't necessarily indicate where the company is going.
Explain how the vision fits into the company's overall strategy. You should include the reason why your company exists. Why did you start your business or launch your product? Is it because you wanted to make money, or was it something else? Whatever your motivation, explain why you started your business or launched your product.
Include the people. Your vision statement should also describe your company's values and the people behind it. When you clearly understand your company's values and the people behind them, you will know whether you are on the right path.
Be clear about your goals. Your vision statement should be specific about your goals. It would help if you defined precisely what your company wants and when to achieve it.
Benefits of Having a Vision Statement
A vision statement is one of the most critical steps to achieving your goals. If you haven't written one before, here's why you should!
A vision statement gives you a clear, simple message to guide you through life. The key is making sure it inspires you and is something you can be proud of. It should inspire you to strive toward your goals and help you stay focused.
It provides direction
A vision statement sets your direction for life. Your values, beliefs and objectives form your compass. A clear vision statement provides a clear picture of how you want to live your life and makes it easier for you to achieve what you want.
It helps you plan
A vision statement tells you where you want to go and why you need to get there. It helps you plan your next steps, keeping you focused on the right track and ensuring you have enough time to reach your goals. Without a vision statement, you could easily be lost in the maze of life, taking many wrong turns and wasting time on dead ends.
It provides a framework
A vision statement provides a framework to guide your life and keep you on track. It keeps you focused and ensures you never lose sight of your goals. If you find yourself stuck in a rut, a vision statement can be a helpful reminder of where you are heading.
It motivates you
A vision statement inspires you to work harder, set and meet new challenges, and achieve more than you ever thought possible. It gives you a reason to keep going when life seems to be against you. Without a vision statement, you might feel like giving up, but it will be much easier to keep going if you have a clear goal to work towards.
What does your vision statement say? Think about what your dream life would look like. What are the things that you want to achieve? Be realistic, and include things you can do today. Write down what you think it would take to make your vision come true.
Think about how you would feel when you achieved all your dreams. How would you feel if your life were just how you wanted it to be? Would you be happy?
Make a commitment
Think about the things you want to achieve and write them down in your vision statement. It can be easy to drift off course and forget what you set out to do. To avoid this, commit yourself to achieve all your goals.
Once you've written your vision statement, make it the centrepiece of your life. Make sure it is somewhere you look regularly, so you don't miss it.
If you think about your vision statement often, you can see whether you are moving in the right direction.
Take action
Once you've committed to your vision, start taking small, achievable actions to move you toward your goals. 
These actions can be anything from making a cup of tea to making a new friend. It doesn't matter how big, or small your steps are; take action.
You will set yourself on the right path by working towards your vision.
Examples of Vision Statements from Big Brands
Life is Good: To spread the power of optimism.
Sweetgreen: To inspire healthier communities by connecting people to real food.
Patagonia: We're in business to save our home planet.
American Express: Become essential to our customers by providing differentiated products and services to help them achieve their aspirations.
Warby Parker: To offer designer eyewear at a revolutionary price while leading the way for socially conscious businesses.
InvisionApp: Question Assumptions. Think Deeply. Iterate as a Lifestyle. Details, Details. Design is Everywhere. Integrity.
Honest Tea: To create and promote great-tasting, healthy, organic beverages.
IKEA: To create a better everyday life for many people.
Nordstrom: To give customers the most compelling shopping experience possible.
Cradles to Crayons: Provides children from birth through age 12 living in homeless or low-income situations with the essential items they need to thrive – at home, school, and play.
Conclusion
A vision statement isn't a marketing strategy, a marketing tool, or even an attempt at establishing a corporate brand. It's the story behind your company, mission, and purpose. It's who you are and why you exist. Every company has a vision statement, even if they haven't articulated it yet. They may be aware of it, but they're probably not sharing it with their employees or potential new clients. To make your company stand out from the crowd, share your vision with everyone who interacts with you.
Learn how to write a Vision Statement to grow your business and improve your life.