5 Must-Have Tools for Starting a Podcast
What makes podcasting great is that it has low barrier entry. It also requires minimal overhead and experience.
For instance, you can start a podcast by recording your episodes in your closet using your phone.
You only need an outline of what you want to discuss to stay on topic and not babble. You can download free tools to edit your audio before uploading it on a podcasting platform.
Depending on your budget, there are various podcasting tools that you can acquire. If you are curious about those must-have tools, keep reading.
1 – The Best Microphone for podcasting You Can Afford
There is no denying that a good microphone is an essential podcast tool for beginners. That's because it allows you to produce superb quality audio, which is already half the battle.
Remember: The better the audio quality of your podcast episode, the less time you spend editing. This can help you save precious time, which you can use in producing more episodes.
Moreover, the quality of your audio can help enhance your audience's listening experience.
If you are curious what are the best mics that you can purchase, here are some of our recommendations:
Audio Technica ATR2100x
Sale
Bestseller No. 1
For less than $100, you can have a handheld microphone with a USB-C digital output and XLR analogue output.
It has a durable metal construction and a smooth, extended frequency response. Hence, it is ideal for podcasting, whether you are doing it at home or as a nomad podcaster.
This means that you can do some mic drops with this microphone.
The USB output lets you record your podcast straight to your laptop or desktop. On the other hand, the XLR output will enable you to connect your microphone to an audio interface.
Samson Q2U
Sale
Due to some licensing issues, the Audio Technica ATR2100x is unavailable in some countries. You can use the Samson Q2U handheld USB microphone as an alternative.
It costs less than $80 and also provides USB and XLR output. The best part is that you can also use this microphone to record an episode using your phone.
This microphone also boasts a cardioid polar pattern. This means it can pick up sound in front of the mic while minimising ambient sound.
2 – High-Quality Headphones
It may not look like it, but headphones are also necessary when starting a podcast. This does not matter whether you are recording alone, with a co-host, or a guest.
You cannot use your computer or smartphone as your audio output. This will cause your mic to pick up the sound, also called bleed or spill, which can mess up your recording.
And a messed-up audio recording means that it will be challenging to edit.
Second, a decent headphone allows you to monitor your recording. You can prevent being too loud or soft in your episode. Simply put, using a headphone enables you to produce consistent audio quality.
Luckily, you do not have to buy high-end headphones to get started. You can use whatever earphones or headphones you have and consider upgrading along the way.
3 – Long-distance Audio Recording Tools
The format of your podcast show will determine the setup you will need. This means that you will need two microphones and headphones if you have an interview format show.
But what if your guest lives miles away from you? This is where long-distance podcasting tools can come in handy.
SquadCast
For $20 per month, SquadCast makes it easy for you to do a long-distance podcast interview. They produce the best audio quality due to lossless audio.
It also allows you to have two separate tracks (one for you and one for your guest), making audio editing easy as a breeze.
Zoom
If you do not have the budget, we recommend using Zoom.
It does not have the lossless audio that SquadCast has, but it has better sound quality than Skype. Plus, unlimited one-on-one video conferencing is available on the free plan.
However, remember to enable separate track audio recording for your convenience.
Podcastle
Another great remote podcast recording software is Podcastle. It allows you to get high-quality audio by recording you and your interview guests locally and with separate tracks.
With Podcastle, you're assured that your episodes will sound like they've been recorded in a professional studio.
Depending on your podcasting needs, you can go with Podcastle's free or paid packages.
4 – Audio Editing Software
Say you already recorded your first few episodes. The next step is to edit them. There is various audio editing software available in the market, but here are some of our recommendations:
Audacity
Audacity is a powerful free and open-source audio editor commonly used by podcasters to edit their episodes. With its comprehensive audio editing tools and effects, Audacity allows users to record, cut, splice, mix, and master audio files.
Though it lacks some of the more advanced features of paid digital audio workstations (DAWs), Audacity provides a remarkable amount of functionality for a free program.
One of Audacity's standout aspects is its sheer depth of editing capabilities. Users can cut, copy, paste, and delete sections of an audio file with sample-level precision. An unlimited number of tracks can be added to a project, allowing for simultaneous narration, music, sound effects, and more editing.
Effects like equalisation, compression, and noise reduction give podcast editors extensive sonic control and polishing capabilities. Support for VST plug-ins even allows third-party products to expand Audacity's tools.
However, this depth of features comes at the cost of a steep learning curve. With so many tools and parameters available, new users can quickly feel overwhelmed by Audacity. Simple tasks like reducing background noise require grasping unfamiliar concepts like spectral editing. The editing interface, while powerful, is decidedly bare-bones rather than intuitive.
Audacity needs to include more usability features typical in paid DAW software. There are no track folders, audio transient detection, or the ability to stretch audio to fit a beat. Workflow is very manual and will likely seem tedious to users accustomed to more automated editing.
GarageBand
All Mac computers and laptops come pre-installed with GarageBand, Apple's free digital audio workstation software. GarageBand provides an intuitive and user-friendly interface that makes it easy for even novice users to create, record, and edit music and podcasts on their Mac.
While less fully featured than premium DAWs like Logic Pro or Pro Tools, GarageBand still offers many tools and effects for arranging, mixing and mastering audio projects.
It has an extensive library of virtual software instruments, drum kits, and loops that users can incorporate into their compositions. GarageBand also has basic recording capabilities, allowing users to connect microphones, guitars, keyboards or other instruments directly to their Mac to capture audio.
One of GarageBand's standout features is its simplicity. The clean, uncluttered interface has just a few main windows, like the mixer, track editor, and loop browser. This makes navigating the software very straightforward compared to more complex DAWs.
Apple has streamlined the editing process with features like Smart Controls that let you easily adjust settings like volume, reverb or distortion through simple knobs and sliders.
5 – Podcast Host or Platform
A podcast host is where you publish your episodes and make them accessible to your listeners.
There are dozens of podcast hosts where you can post your recordings to ensure they are listed on Spotify, Google Podcasts, and Apple Podcasts.
Anchor
Owned by Spotify, Anchor is a beginner-friendly podcast host that allows you to record, edit, and publish your episodes.
From there, your podcast can be quickly listed on listening platforms like Spotify, Google Podcasts, and Apple Podcasts.
The best part? This host is free!
Buzzsprout
For $12 monthly, you can list your podcast on various listening platforms through Buzzsprout.
They have one of the best-designed dashboards, simplifying your podcast publishing without feeling limited. Hence, you can spend more time producing episodes than uploading your audio.
Other Podcasting Equipment
The tools listed above are the essential equipment you need to start podcasting. However, the following can help enhance the audio quality of each of your episodes:
Foam Ball or Pop Filter
A microphone is a sensitive device. It can pick up many sounds, including your breathing and the pop of air that comes out of your mouth for /p/ and /s/ sounds.
You can prevent your mic from picking up these unwanted sounds using a foam ball or pop filter.
A foam ball is that foamy cover that you put on the microphone. It can cost less than $10 but can help you improve audio quality. Meanwhile, a pop filter is a screen you place in front of the microphone with the same purpose.
Microphone Boom Arm
A boom arm is where you attach your microphone for better placement. That way, you do not have to hold your mic and ensure better audio quality for your podcast.
However, you do not need something fancy for your boom arm.
The small mic stand with your Audio Technica ATR2100x or Sams on Q2U will suffice if you do a solo podcast. Should you get a boom arm, we recommend the Samson MBA38 and the RODE PSA 1.
Sale
Samson MBA38-38" Microphone Boom Arm for Podcasting and Streaming (MBA38)
Highly adjustable microphone boom enables horizontal and vertical positioning for optimal microphone placement
38" of maximum arm reach gives users max microphone placement flexibility, ideal for podcasting, broadcasting, streaming and voice recording setups
Boom arm offers 5/8"-27 mic clip threading for easy microphone integration
Can be easily attached to a desk or tabletop with sturdy C-clamp mount or fixed permanently to a surface with flange mount
Internal springs provide effortless and silent microphone positioning which is vital in live recording situations
Audio Interface
An audio interface is a must if you often record a podcast episode with a co-host guest in a studio.
This kind of podcasting setup requires that you use two microphones.
However, it is not recommended to plug two mics into one computer as it prevents you from having two audio tracks. This means that editing your episode can be challenging.
You would not want two people to share your mic because of the same issues.
Moreover, different people have different voice qualities. Some have a round, deep voice, while some have a timid voice. It can pose many issues when you only have one audio track to audit.
You should run your microphones to an audio interface using XLR cables.
If you wonder what audio interface to buy, you can opt for the Focusrite Scarlett 2i2.
Bestseller No. 1
For $180, it is one of the most budget-friendly audio interfaces you can find. If you have the budget, consider the RODEcaster Pro, which costs $700.
Bestseller No. 1
RØDE RØDECaster Pro II All-in-One Production Solution for Podcasting, Streaming, Music Production and Content Creation,Black
Fully integrated audio production studio for streamers, podcasters, musicians and content creators.Headphone Output Power : 250mW. Network Connectivity : Wifi 802.11g/n/ac 2.4GHz and 5GHz, Ethernet 100/1000.
Ultra-low-noise, high-gain Revolution Preamps (-131.5dBV EIN, 76dB gain)
Four high-quality Neutrik combo inputs for connecting microphones, instruments and line-level devices
Nine individually assignable channels with six broadcast-quality physical faders and three virtual faders
High-performance quad-core audio engine
5 Quick Tips to Remember Before Starting a Podcast
Now that you have a list of must-have podcasting tools, it is time to record your first episodes. But before you begin, make sure to keep these tips in mind:
Have a Podcast Outline
One of the common mistakes that a podcaster makes is rambling. When you talk endlessly without noticing that you are moving away from your topic.
Hence, it would help to outline your episode before you start recording.
You do not need to write your outline verbatim unless you have a scripted podcast format like Serial or Hardcore History.
Nonetheless, your outline must include the sub-topics you want to talk about. That way, you would know how your episode should flow. This can also come in handy when you publish podcast show notes.
If you have a guest or co-host, share your episode outline. That way, they can also have an idea of the episode flow.
Pick a Place to Record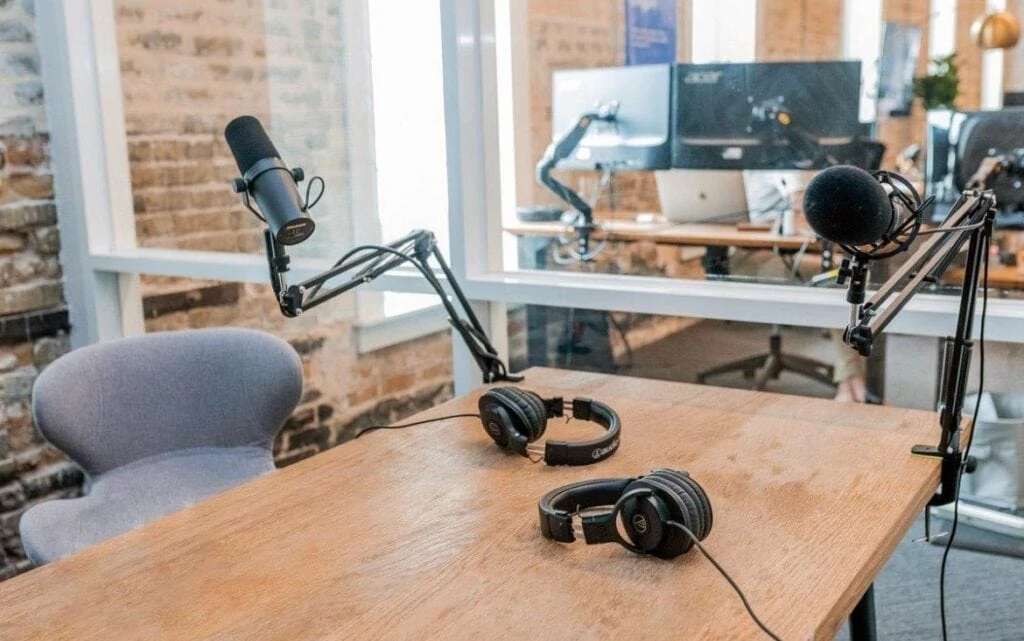 Not everyone can set up a podcast studio. However, it does not mean you cannot do it at home.
The rule of thumb here is to ensure that there is as little noise in the room as possible. That way, you have less unnecessary sound to edit from your episode.
We do not recommend recording in the bathroom or any small space with plenty of flat surfaces. Flat surfaces mean more reverberation, which means you will hear echoes in your episode.
Instead, make sure that your room has plenty of reflective surfaces. This includes clothes, carpeting, and furniture. You can even hang black-out curtains around your room!
That's because these materials can absorb sound, reducing the reverberation your microphone can pick up. This also explains why some podcasters recorded their first few episodes in a closet.
We believe picking the best place to record is more vital than what microphone and headphones you should buy.
That's because the best way to ensure that your podcast has a crisp audio quality is to prevent unnecessary noise from happening in the first place.
Set Up Your Recording Equipment and Tools
Of course, you want to ensure everything is ready before you record your episode. Here are two ways to set up your podcast recording tools:
Using USB Microphone
Plug your microphone straight into your computer's USB port. Once done, go to your audio editing software's settings and highlight your mic as the input.
Using XLR Microphone
Using an XLR microphone, you can hook it up to your computer using a USB interface. Another option is to plug your mic into an external audio recording device and save it on an SD card.
Once done, plug your SD card into your computer and import the audio file for editing.
Regardless of the setup, make sure that your mic is turned on.
Know Your Microphone Techniques
Aside from having an ideal recording studio and setting up your podcasting equipment, it also helps that you know your microphone techniques.
Doing so ensures that the volume of your voice remains constant.
It also prevents your mic from picking up plosives (the /p/ sounds) and sibilance (the /s/ sounds). Lastly, you would not want to sound too loud or soft in your recordings.
To do that, here are four quick tips that you need to remember:
Position your microphone at least four inches away from your mouth.
If you naturally sound nasal, consider positioning the mic before you. That way, your mic can pick up a whole and upfront sound.
On the other hand, place your mic off-axis so it can also pick up high audio frequency.
Move away from the mic when you're not speaking. You would not want to hear Darth Vader in your recording.
Pro tip: Practice your mic technique and experiment on this before recording your episodes.
Grab a Drink
Always have a glass of water nearby. This is to ensure that your voice will not run dry while recording. Doing so provides smoother and more natural-sounding audio.
Refrain from drinking carbonated drinks when recording to prevent hiccups and burps. There is no need to worry about mistakes and stammers, as you can always edit it out later.
Bottom Line: Produce an Excellent Show
Starting a podcast does not require spending thousands of dollars.
Sure, your episodes must have a crisp sound. Nonetheless, people will listen to your podcast because of your content.
This also explains why podcasting can be integral to your branding and content marketing campaigns.
Hence, having a podcast topic worth listening to is more vital than buying $600 worth of audio interface.
Do not let the lack of podcasting equipment stop you from recording your first episode. Maximise whatever tools you have before starting a podcast, and then go from there.
Last update on 2023-12-01 / Affiliate links / Images from Amazon Product Advertising API