Professional Letterhead Design Services
A nice Letterhead design is one of the most important elements within standard corporate stationery.
Every time a company sends a letter, invoice, bill or receipt, they will use branded paper with their details on the letterhead design.
Having a professional letterhead design template is important to uphold the company's brand to the recipient.
The majority of printed letterheads are A4 in size (210mm x 297mm) although A5 (148mm x 210mm) is common. Other bespoke sizes can be used if a unique letterhead effect is in order.
For the best impact, use a custom envelope which presents the companies image upon it.
Even the logo design and web address will work to brand it.
Even though some say print media is dying, company letterhead design we provide to clients can work as a PDF. This means you can use it for everything from emails to reports and brochures.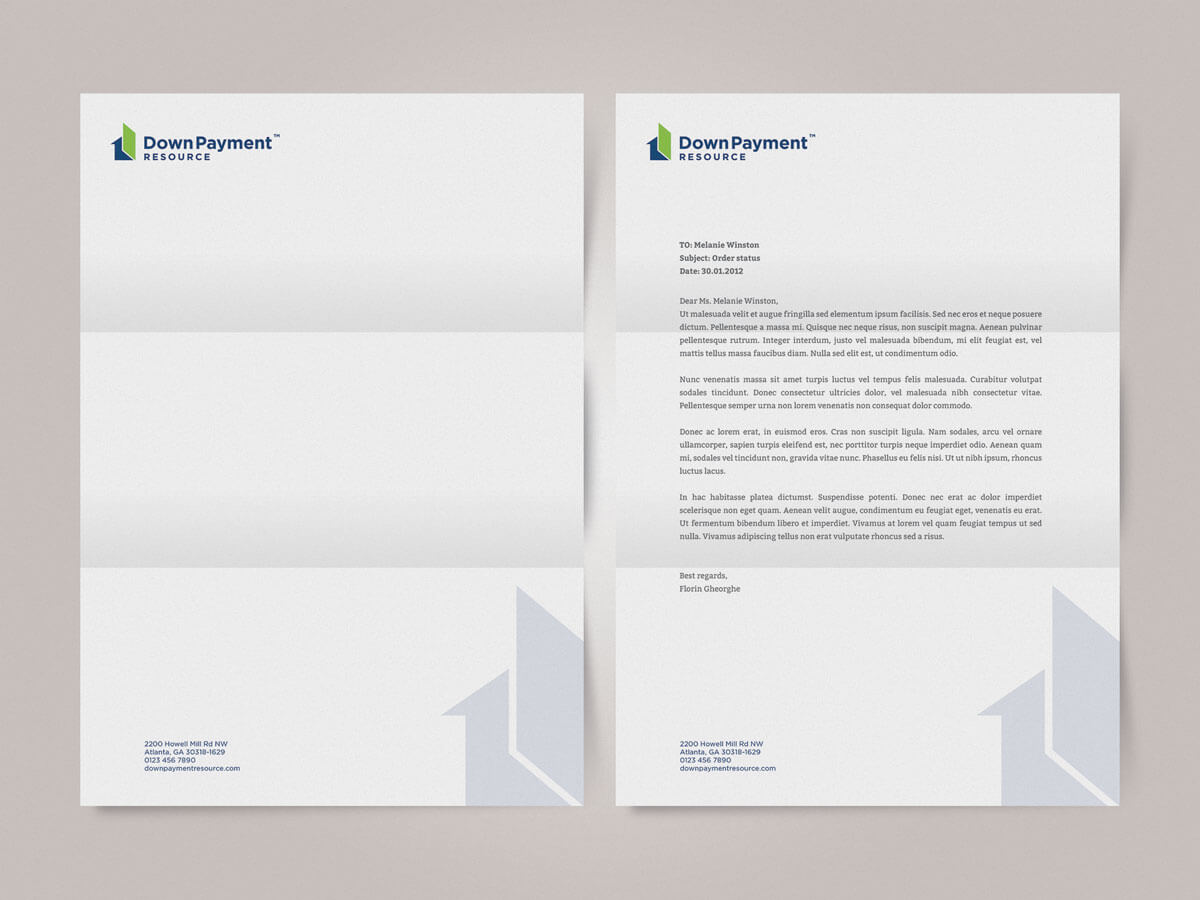 Professional Letterhead Design Samples
There are several standards in regards to page dimensions and legal requirements which impact layout.
We design the letterhead or invoice to your standards, be it US or European. This means your local printer will have the correct files they need when the time comes to printing – avoiding any potential format issues.
If you would prefer to use an online letterhead printer I can prep the files set to their dimensions – saving you time and effort of converting formats. Usually, we include the letterhead template and envelope within an extended branding package. But if page layout is all you need, we can quote for that.
If you would like a quote for stationery design (business card design, professional letterhead design, envelopes or compliment slips) get in touch. Either via the logo design quote form or through the contact page.
He listens and really takes note of what you want to achieve, he is creative and inventive and quickly produced lots of beautifully presented ideas for us whilst remaining within the boundaries specified. We were really impressed with both his creativity and the professional way in which he works. We recommend him very highly.
Letterhead Design and the Importance of Creating a Good One
A professional business letterhead is a critical component of any successful business. For many companies, it represents the first impression a customer gets. 
Your letterhead is often your first contact with your customers, so it must convey your professionalism in your design. It would help if you made an excellent first impression, and your letterhead design can help you achieve this. 
However, a poor design can also have the opposite effect, turning potential customers away rather than attracting them. The keys to creating a good letterhead are:
A well-developed logo. An effective logo makes each letterhead design unique and compelling. The most striking element is the bold graphic at the top of the letterhead, with the contact details beneath. Your logo design needs to be distinguishable from all others on your sheet of paper; a distinctive element that gives your brand away. A logo that's too small or too big also doesn't accomplish its branding purpose, as large font or an irregular shape doesn't fit with the rest of your branding.
Neat and lucid design. As with any other element of your branding, your letterhead design needs to flow from one page to the next, using logical layout and consistent lettering. If you choose to use a coloured background, your contact details should be easy to spot out. You should minimise the visual clutter at the top of your page and stay clear and concise throughout. If your brand is about speed, you may want to add graphics (like a calculator or a map) that makes your page aesthetically pleasing to the eye and functional.
Clean and simple design. Although it's rare, some designers skip over their letterhead design's cleanliness and sophistication, which can be a great way to make yourself stand out in a crowd. For the most part, letterhead design should be free of clutter and legibility. The contact details should be clear and easy to read, with the font size being slightly smaller than regular print letters. A few well-placed words and a cleaner, more professional finish completes the design.
Neat and readable layout. Your letterhead layout should be relatively short, just a few lines at most, and it should have a good design that flows well. Your graphic designer will need to show you how to adjust the spacing and your text's colour, but this is a necessary and straightforward set of guidelines to follow. The graphic designer can work with you to customise your letterhead design for maximum effectiveness. You want your letterhead to read as professionally as possible, so having a layout that flows smoothly is a must.
Appropriate use of fonts. Just because you want yours to look professionally done, does not mean that you have to put on a font you don't like or one that is difficult to read. It would be best to choose the most appropriate fonts for your industry, so choose a font with a simple, clean design, which does not include any ligatures (which can look very sloppy). Avoid using elaborate fonts or scripts as letterheads – they tend to look dated and overused.
Great call-to-action. The most effective letterhead designs have a clear call-to-action – a clear call to action that encourages people to take action. This could be an image or a short, powerful quote. It could be a promise, a testimonial or a discount.
Eye-catching fonts. Eye-catching letterheads are a fantastic way to draw attention to your branding. Once upon a time, stationery was a simple black-and-white piece of paper with a list of contact details printed on it. Today's letterheads add an element of fun to your business identity, so try a few fun fonts and layouts. This will undoubtedly help attract the eye of potential customers, which in turn can be your company's most valuable asset.
Looking to spruce up your company Letterheads?