Search Marketing Tips To Boost Your Rankings and Drive Traffic
Search marketing is the process of promoting products and services by using search engines. It encompasses both paid search advertising and natural search engine optimisation.
It's always tempting to spend a lot of money on paid search ads, but free search engine traffic beats paid search traffic almost every time. Why?
Because paid search traffic costs money, there's no guarantee it'll bring back more customers. On the other hand, the traffic you get from organic search is free and untargeted. As a result, organic search traffic will always provide more long-term value.
With Google's recent algorithm changes, it has become increasingly difficult for companies to rank on the search engine results page (SERP). As a result, many companies are now turning to paid advertising as a viable alternative.
But with so many options available, it can be challenging to decide which strategy is right for your business. So, we've compiled a list of tips to help you make the right choice and drive traffic to your website.
Why Is Search Marketing Important?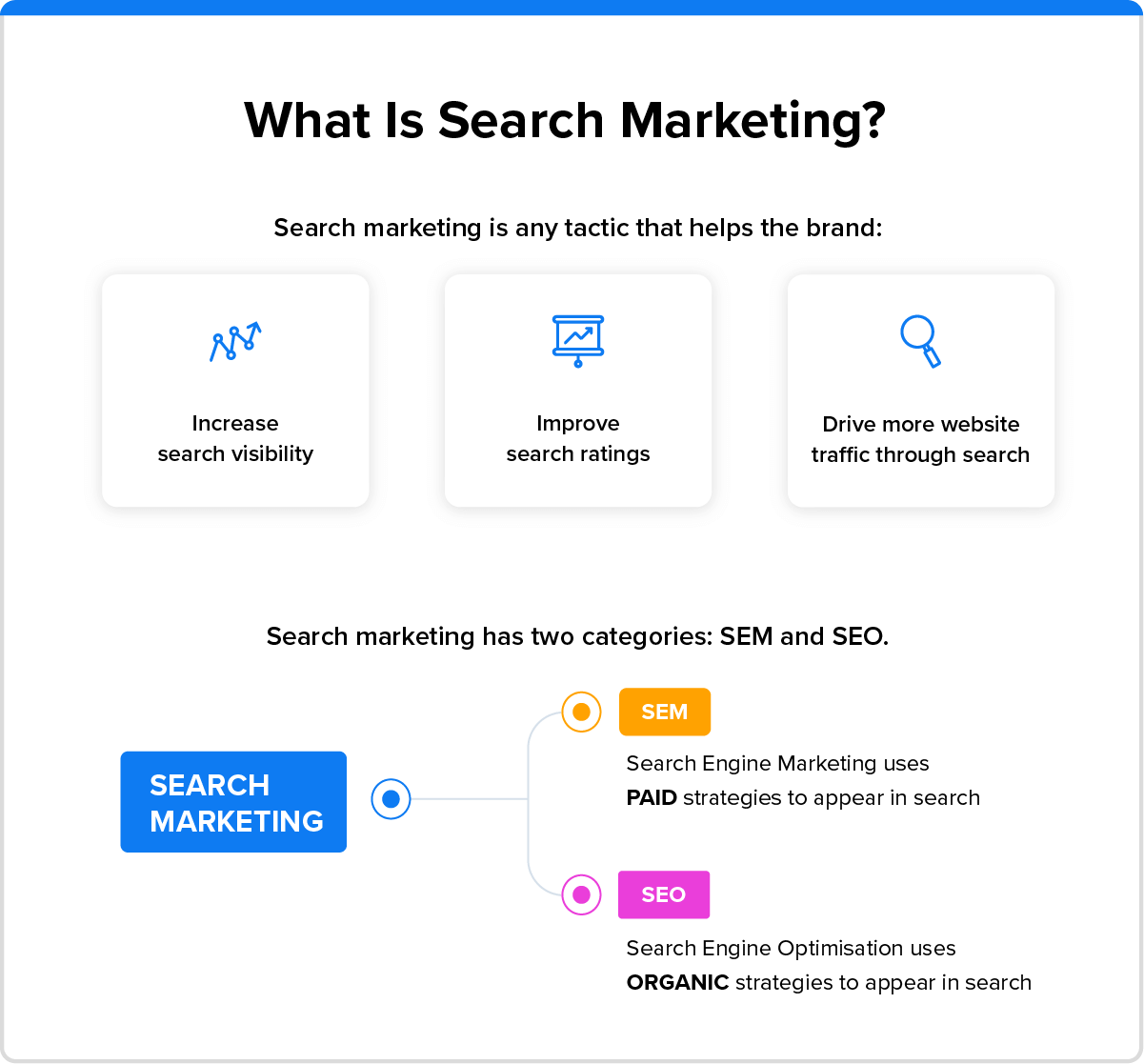 Search marketing uses search engines such as Google, Bing, Yahoo, and others to find and connect with customers through online advertising, email marketing, and more. The goal is to create content and information that gets people to click, read, watch, listen, or buy.
Search marketing effectively reaches potential clients and can do wonders for your brand's visibility and overall success. But just like anything else, it comes with risks and benefits.
For example, you may pay less to rank higher on search results pages, but more visibility could mean more competition and, therefore, more chances for you to lose business. You'll need to balance these concerns to find the right mix of search marketing strategies that fit your budget and goals.
Here are four reasons search marketing is vital for brands today.
1 – It's Still A Smart Investment
Search marketing has become increasingly crucial to brands over the past decade. According to research from OnTheMap, the average US consumer searches for local services 1.8 times per week. And according to the latest research from CDP, search marketing budgets increased by 6% and are projected to increase further.
The reason is that consumers are spending more time on their phones and less time on television and other media. This shift means that people are turning to search engines for answers and inspiration—and brands can take advantage of that opportunity.
2 – Consumers Are Empowered to Find You
Consumers have access to more information than ever before. If interested in your brand, they can type your company name into a search engine and get more information than ever before.
A recent study found that 93% of consumers look online before buying. And a survey found that 71% of consumers use mobile devices and search engines to research companies before purchasing.
You can't afford to miss this opportunity to connect with potential customers.
3 – Consumers Have a Short Attention Span
Consumers are bombarded with information every day. They're inundated with advertisements and promotions on social media and from email marketers.
They may even be confronted with a barrage of ads on a single website, such as when shopping online.
This makes it critical to deliver a message that sticks with potential clients. You must be able to connect with them on a deeper level.
4 – The Internet Is a Visual Medium
People don't like to read text; they like to see things. People spend more time looking at websites than reading the information on those sites.
A study found that 82% of consumers visit websites to find visual content, such as product images, videos, and infographics. Another study found that more than half of online shoppers are more likely to buy a product after seeing a video ad.
It's a numbers game. You want your website to stand out so potential customers can quickly recognise and remember your brand.
Bestseller No. 1
What Is the Best Way to Reach Potential Customers?
The best way to reach potential customers is through search engine optimisation. SEO is improving how your content and website appear in search results, which is the cornerstone of any successful marketing strategy.
SEO starts with keyword research. A good SEO team will work with you to define keywords that your target audience is searching for.
Once you've identified your keywords, your next step is creating relevant and authoritative content. This content should include your identified keywords and any secondary keywords relevant to your business.
Your content is optimised by adding keyword-rich headlines, subheadings, and paragraphs throughout the article. The goal is to make it easy for a human being to find and understand your content.
Finally, you use social media to promote the content that you've created. Social media platforms such as Facebook, Twitter, Instagram, and LinkedIn are great ways to get your content in front of potential customers.
SEO or Organic Search Marketing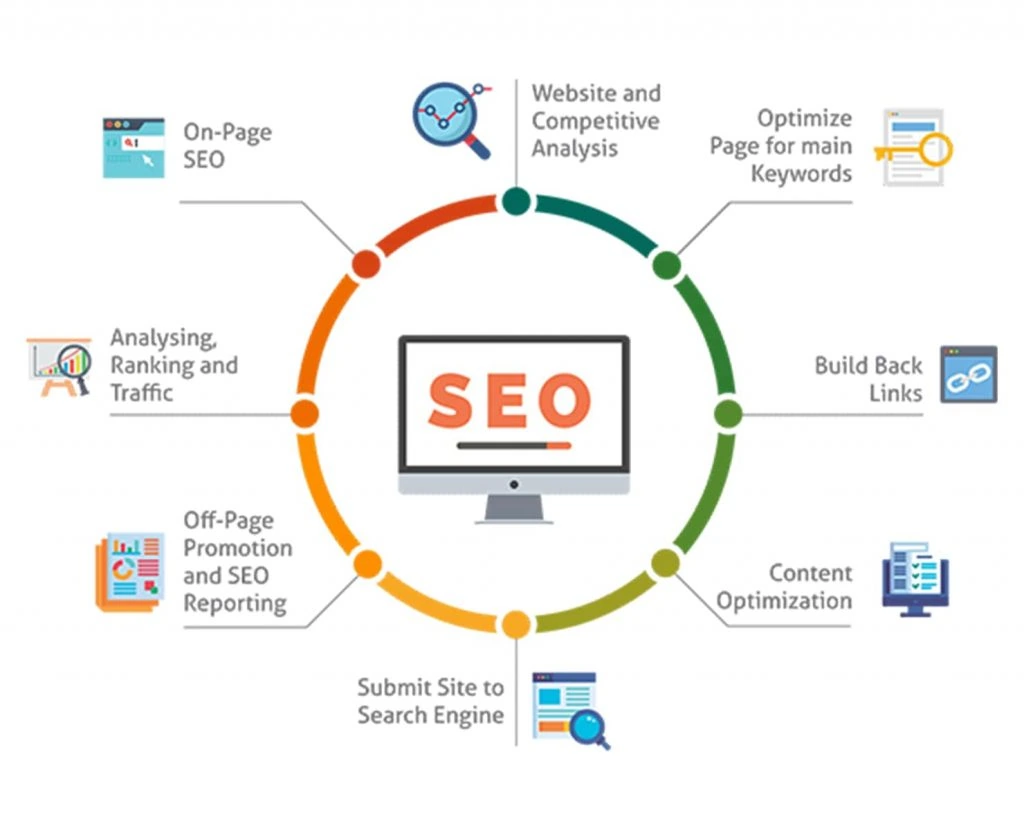 SEO (search engine optimisation) is the practice of optimising web content to rank higher in search engine results. This is generally considered to be the first step in the marketing process.
Generally, you want to build a high-quality, well-optimised website that offers valuable content relevant to your potential customers. This can be achieved by speeding up your website or creating linkable content.
SEO is used to build a strong foundation for a successful web presence. This helps you get found on Google and other search engines and builds a solid foundation for your business.
An SEO expert can help ensure your site appears at the top of a search results page when a customer is searching for your products and services. This is also known as organic search because the customer searches for your product or service by typing terms into the search bar.
How Do I Start?
While it's true that anyone can build a quality website, the challenge comes in creating a site optimised to perform well in search engine results.
It's not as simple as having a good-looking website or posting content on social media. You must create a high-quality website that can compete with millions of other websites.
It would help if you also took the time to understand how the search engines work and what they're looking for when they rank websites. If you don't, you could end up paying for a search ranking that isn't bringing you any traffic or customers.
Once you've got a robust website, it's time to start working on your SEO. The first step is to research keywords related to your products or services. Once you have the keywords, you can build a list of the pages on your site that are relevant to those keywords.
Next, you'll need to figure out which pages are the strongest. This means looking at things like content and your site's overall structure.
Finally, you'll need to ensure that your pages are optimised. The goal is to make the most of your content by creating practical, relevant, and engaging pages.
There's also the matter of link building. It's not enough to post good content on your website; you must also ensure that other websites and blogs link to your content.
Once you have that in place, it's time to start working on your SEO. The first step is creating a list of keywords related to your products or services. Then, you can build a list of the pages on your site that are relevant to those keywords.
Once you've got a strong website, it's time to start working on your SEO. The first step is to research keywords related to your products or services. Then, you can build a list of the pages on your site that are relevant to those keywords.
This is where a little knowledge about search engines comes in handy.
You'll need to know the essential elements of SEO, such as keyword research, content creation, and link building. If you're unfamiliar with these elements, you'll be better off finding someone with the necessary expertise.
A search engine optimisation expert will be able to help you set the right course for building a high-quality website and ensuring it ranks high in search results.
The goal is to create a high-quality, well-optimised website with helpful content relevant to your potential customers.
Bestseller No. 1
The Importance of SEO
SEO is one of the most effective marketing strategies available. A well-optimised website will increase your chances of attracting new customers and improving conversion rates.
With the right SEO strategy, you'll also be able to target the right audience for your products or services. If you're doing a good job, your website will appear at the top of the search results when a customer searches for your products or services online.
There's no question that SEO is critical to your success. With the right strategy, it's possible to see significant traffic, conversion rates, and sales improvements.
So, choosing a reputable SEO company is essential if you're ready to start your SEO. While there are many companies out there claiming to provide high-quality SEO services, there are only a few that offer actual results.
If you choose an SEO company that focuses on providing long-term results, you'll be more likely to see improvements in the long term. And you'll also be more likely to see a return on your investment in the form of new business and increased profits.
PPC (Pay-Per-Click) or Paid Search Marketing
SEO and paid search marketing are two different forms of digital marketing that many companies use today. SEO helps businesses rank higher in search engine results, while PPC (pay-per-click) helps businesses generate leads.
Paid search marketing is similar to SEO in that both are online marketing strategies but differ in their use. Advertisers pay for their keywords to appear on a search engine results page (SERP) when using paid search marketing. Paid search marketing uses various tools to determine which ads to show to potential customers, including Google Adwords, Bing Ads, Facebook Ads, and other paid advertising platforms.
There are two primary reasons to use SEO versus PPC: the budget and the return on investment (ROI). A typical SEO campaign takes time to build organic traffic to a website, but with PPC, you can spend your budget, and your campaign can start generating leads immediately.
PPC and SEO are excellent online marketing options; you'll need to choose between the two depending on your budget and return on investment. Here's how to choose between the two:
Sale
Bestseller No. 1
Ultimate Guide to Google Ads
Marshall, Perry (Author)
English (Publication Language)
268 Pages – 11/24/2020 (Publication Date) – Entrepreneur Press (Publisher)
SEO vs PPC: How to Choose
1 – ROI
SEO is a long-term marketing strategy that relies on organic traffic to grow your business. The more organic traffic your business receives, the more money you can make through increased conversions and sales. With PPC, you pay for clicks, which is like paying to reach out to potential customers who may not even be searching for your product.
PPC marketing can be very profitable but requires a lot of upfront investment. Your ROI may not be as high as with SEO, but the immediate returns will likely be higher.
2 – Budget
The cost of SEO is often low, so it's a good option for small businesses with limited budgets. In comparison, PPC is typically more expensive, so you'll have to spend more upfront to get the same results.
3 – Traffic
SEO is an organic marketing strategy, meaning it's free and generates traffic automatically. In comparison, PPC requires you to pay for clicks and only gets visitors actively looking for your product.
PPC and SEO work well together, but if your company is ready for a significant shift, you should consider moving to PPC.
Wrapping Up
The truth is that most people have little to no idea how search engines like Google work. It's also true that many marketers are struggling to improve their traffic and rankings.
While I agree that you should start simple, I also believe that you should go into it to build towards something more complex.
The way I see it, you shouldn't just focus on the basics; you should try and learn as much as you can about search engine optimisation. This will give you an advantage when you eventually move on to more advanced techniques.
Want to learn more about search marketing? Sign up for my free newsletter to get weekly tips and insights!
Search Marketing FAQs
What do search engine optimisation (SEO) and search engine marketing (SEM) mean?
SEO and SEM are two ways to increase the number of people who see your website. SEO is done to help your website show up when someone does a web search. SEM is done to increase the number of times your website is shown on other websites.
How can I improve my rankings?
There are many things you can do to improve your ranking. For example, you can:
– Create content for your website that is relevant to the keywords that people search for
– Optimise your website for search engines
– Submit your website to the search engines
What is the difference between organic search and paid search?
Organic search refers to the way people find your website through the web. Paid search refers to how people find your website through sponsored links on other websites.
How can I promote my website?
There are many ways to promote your website. One of the most effective ways is through search engine optimisation. Another effective way is to use social media sites such as Facebook and Twitter.
How do I write good content?
The best way to write good content is for the reader. Ensure that your content is helpful to the reader and includes keywords.
Last update on 2023-09-25 / Affiliate links / Images from Amazon Product Advertising API