Small Business SEO: Get More Customers, Sales and Leads
Small Business SEO is a set of methods and strategies used by SEOs to help small businesses gain greater visibility within search engines and increase their chances of getting new customers.
Small businesses often need help gaining more customers, making more sales and generating more leads. And why not? With so many other things to worry about, finding the time or energy to put into your online marketing takes time. We understand that feeling, and we're here to help. In this guide, you'll discover how you can get more customers, sales, and leads for your small business.
If you're a small business owner, you know there's always something else that needs doing. You've got to keep up with the latest trends, you've got to be on top of your emails and social media accounts, you've got to do your taxes and your books, and you've got to take care of your staff.
But then there's the day-to-day stuff, like getting your products to market and maintaining your website. The last thing you need is a stack of bills.
But if you want to do more than survive, you must make more sales.
And that's where small business SEO (Search Engine Optimisation) comes in.
How SEO Benefits Small Businesses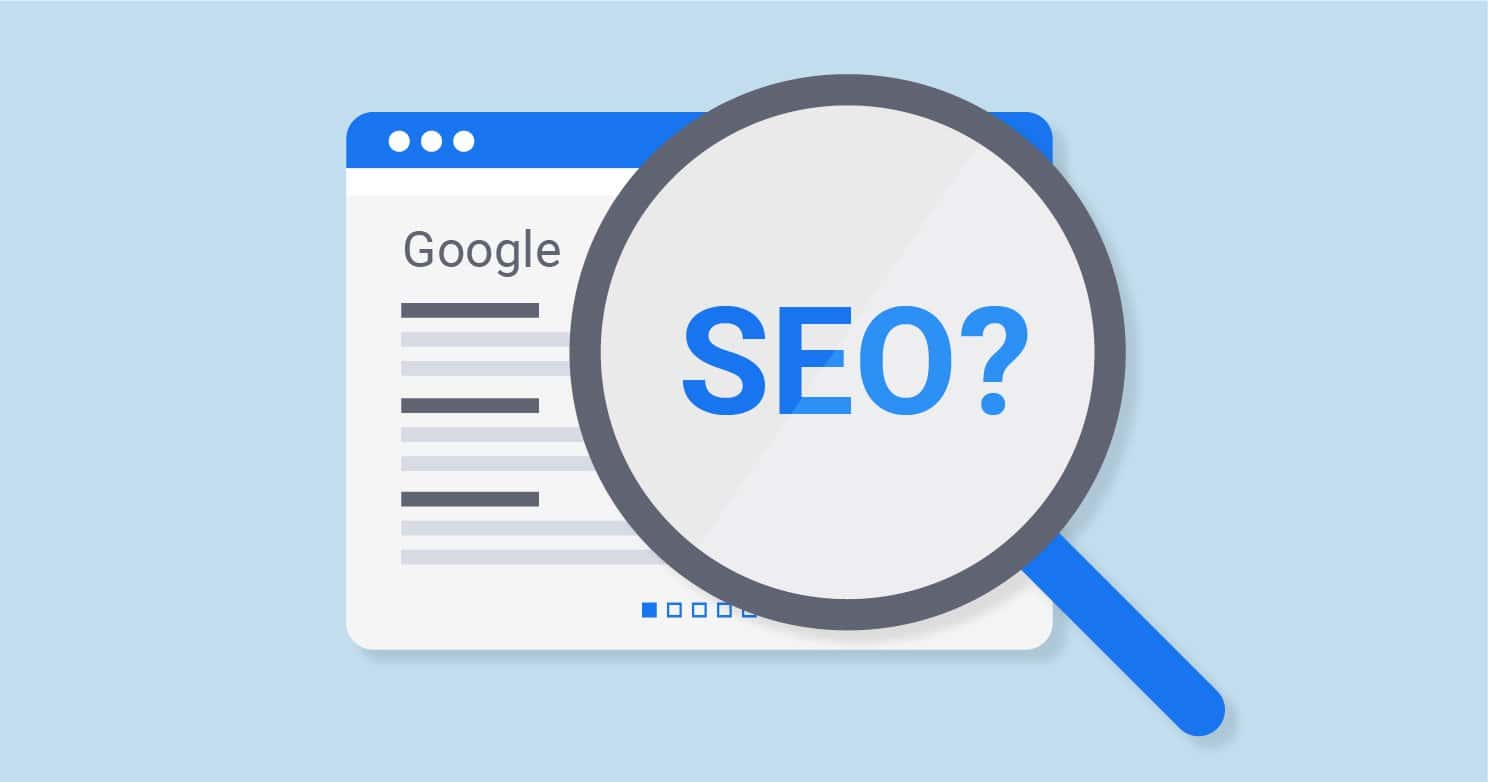 A well-optimised website is a great way to build brand awareness and drive traffic. An optimised site is designed to work harmoniously with search engines' search algorithms, such as Google, Bing, and Yahoo. This makes it easier for people to find your business online.
Google, Bing, and other search engines use a variety of factors to rank websites. These factors include content, page authority, internal linking, and keyword density. SEO considers these factors and provides solutions that rank a website higher in search results.
Optimising a website for SEO increases the chances that someone who searches for your product or service will click on the link that directs them to your website. When your website receives more clicks from search results, it means more people find you through the search engine, and you'll likely receive more traffic.
Customers will see your website's listing first when they find you through a search engine. If the listing ranks highly, it is more likely that a customer will click on it and visit your website. If your site is optimised for SEO, the search engines know that you have the right content and that the site is high-quality.
Sale
Bestseller No. 1
How Do I Start Optimising My Website?
Optimising a website for SEO requires a commitment to constant improvement. SEO is a constantly evolving field, and changes in search algorithms can impact the success of a website's SEO.
The first step in optimising a website for SEO is to have the right content. Content is a significant factor in SEO because it determines the site's quality. It also contributes to the authority of the site. Sites with high-quality content tend to rank higher in search results.
Another vital part of small business SEO is internal linking. Every website needs to have a unique URL. The URL is the address of your website and is used by search engines to determine how highly a website should rank in search results. URLs should be short and easy to read.
In addition to having unique URLs, each webpage on your website should include unique keywords. This ensures that when someone searches for a product or service, they are more likely to find your page. You can use an SEO tool to determine which words and phrases are relevant to your products and services.
Another important aspect of SEO is keyword density. Keyword density is the percentage of words related to a specific topic on a page. Keywords should appear in the page's content, subheadings, images, and links. Too many keywords may seem like an effective SEO strategy, but it may not benefit the user.
SEO is a valuable tool that can help small businesses grow. It is a strategic way to get new customers and improve the reputation of a business.
Where To Start With Your SEO Journey as a Small Business
First things first—there's no perfect small business SEO strategy, but there are specific strategies that work well for different types of websites. When starting, you want to choose an SEO strategy that matches the goals of your website and business.
That said, there are several areas to focus on as you begin your SEO journey. These include:
Getting found by potential customers
Building a community of engaged customers
Increasing conversions
Improving your rankings and visibility
While these three areas overlap, they're distinct and require a unique strategy to meet your needs. For example, suppose your goal is to grow your customer base. In that case, improving conversions can help you get more leads while increasing your rankings can help you gain more visibility among people looking for your products or services.
What Makes A Good Small Business SEO Strategy?
Once you've decided what you want to accomplish and identified your needs, it's time to look for a proven strategy. The key is to find an SEO company that understands your goals and challenges and can provide a solution that fits your needs.
In addition to being well-versed in SEO techniques, an expert should be willing to talk to you and share insights on your business goals. A good SEO strategy includes the following:
Listening to your needs.
Offering relevant recommendations.
Taking feedback into account as you improve your site.
How Long Should Your SEO Strategy Last?
SEO may be the ideal option if you're looking for a long-term plan. While it's common to see campaigns last from 6 months to a year or longer, it's crucial to consider how long you want to keep up with your SEO strategy.
For some, a seasonal change or other significant events in their business may make it necessary to take a break from SEO. While you may miss out on some opportunities in the interim, it's important to remember that you'll have plenty of time to catch up later.
Your SEO Strategy Can't Compete With Google
No matter what you do, it's important to remember that Google is your ultimate authority. While your SEO strategy can increase your exposure and attract new customers, your site is going nowhere.
Google is constantly evolving and improving its search results. That means your strategy needs to evolve too. Getting caught up in the excitement of new developments is easy, and you must remember to evaluate your SEO performance and adjust your strategy accordingly regularly.
Small Business SEO Guide
On-page SEO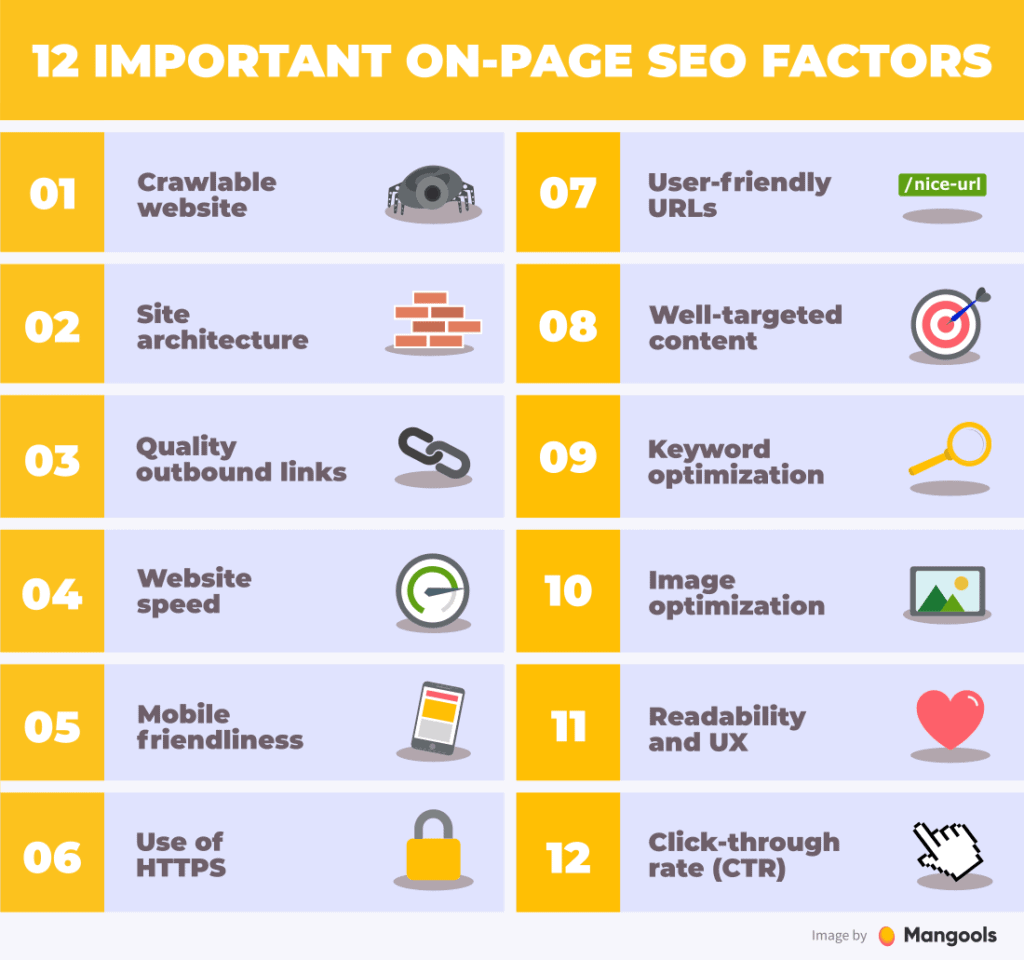 Search Engine Optimisation is increasing the traffic directed toward a website by getting search engines like Google, Bing, Yahoo, etc., to find your site and link to it on their results pages.
On-Page SEO means optimising the content of your web pages for both human readers and search engine spiders. There are two types of on-page optimisation. Internal and external.
Internal On-Page Optimisation
This means optimising the content on your websites, like the text of your pages, the images on your pages, and links to other relevant content. This on-page optimisation benefits your site, so it's less crucial to internal on-page SEO than external optimisation.
External On-Page Optimisation
This means optimising the content on third-party sites, like the text of an article you're linking to and the links that point back to your page. This type of on-page optimisation improves your search ranking on sites with the same or similar content as yours but needs to be more visible to people who aren't looking for your product or service.
Here's an example. If your business sells dog toys, and you have a page dedicated to dog toys, you could link to a page on the American Kennel Club website that tells you about the breeds of dogs. The content of this page is relevant to you because it talks about the kinds of dogs you'd want to buy a toy for. So, you'd optimise on-page by including text, keywords, and links to the American Kennel Club website.
SEO is much work, and it's easier to know if it's working if you regularly check your search rankings. However, it's important to remember that it's a long game, and it takes time to see the results. So, don't expect to see a significant increase in traffic overnight. You'll notice a positive shift in your search rankings after six months.
Best On-page Optimisation Methods
Use Keywords
Keywords are the words and phrases people use to find websites like yours. They're usually related to your products or services. For example, if your business sells dog toys, you might use the keywords "best dog toy for large dogs" or "great dog toys for toddlers."
You can optimise your pages for these keywords by including them in the title, the body text's first paragraph, and any link's text.
Include Keywords Throughout the Content
If you're going to include keywords in the text of your page, it's important to spread them out evenly. Don't just use them in the title, the first paragraph, and the last sentence of the page. Use them in the first sentence, the second, the fifth, and the tenth.
Use Headings and Subheadings to Break Up the Text
Headings and subheadings are great ways to organise and structure your content. Use them to break up long paragraphs into easy-to-digest chunks. The critical thing to remember is that your headings should be unique, especially if you have more than one heading on a page. Make sure that your headings are bold or italicised and that they're all different colours.
Use Links to Other Relevant Pages
If your website contains a page about a specific product, include a link to that page in the footer. Or, if you have a page about your business history, include links to the pages about your team, your mission, and your company culture. The key is to link to related pages, so the visitor can skip multiple pages to get to the one they're interested in.
Check Your Page Title and Meta Description
Your web page title appears in your browser's address bar when someone clicks on a link on your site. It should be short yet descriptive. Make it enticing, but make it short enough, or it's likely to be cut off.
Meta descriptions are what appears below the page titles. They help search engines decide which of your pages is the most relevant for a particular keyword or search.
They should be at most 80 characters, but make sure they're compelling and descriptive. Include a relevant keyword somewhere, but keep it short and straightforward.
Use Descriptions in Your Images
Images are a popular way to draw people in, so they're a great way to get attention on your pages. But if you want people to click on your images, they need good descriptions. Your text should describe the picture, tell people what the image is, and give some information about it.
Don't use text in your images unless necessary because it will only cause the image to take up valuable real estate on your page.
Off-page SEO
If you're trying to rank high on Google, your goal should be to generate organic traffic. But, many people need to be aware of what off-page SEO is, which can be a big problem.
Search engine optimisation improves a website's search ranking by optimising its content. Content is the stuff that exists on your website, including text, images, videos, and more.
Off-page SEO refers to the processes that occur outside of your website. This includes social media, press releases, coverage, and other online marketing efforts. These are all things that Google considers when evaluating your website's content and deciding how it ranks on the SERPs.
If you want to dominate the SERPs, it's essential to understand off-page SEO. Here's what you need to know.
First of all, what is off-page SEO? Simply put, off-page SEO is any content or activity that happens outside your site. In other words, off-page SEO includes social media, press releases, press coverage, and more.
While off-page SEO is not directly related to your website, it does play a role in your search rankings. Some studies suggest that 80% of search ranking is based on off-page factors.
Bestseller No. 1
How Off-page SEO Helps Improve Your Rankings
The importance of off-page SEO for your business will depend on what type of business you run. If your business is highly seasonal, for example, or your products sell well in one specific geographical region, you may not need to concern yourself with off-page SEO.
That said, you should still think about your off-page efforts. The following are ways in which off-page SEO can help your search rankings:
It builds your brand.
Google values well-written, informative content. It's no secret that Google loves websites with strong brand identities, so if your content is well-written and shares information that helps your brand stand out, it'll help boost your rankings.
It encourages link-building.
Links are essential for search rankings, and you can get them by doing lots of things, including writing blogs and guest posts, sharing your knowledge on social media, and participating in forums.
However, not everyone can afford to pay for links. Off-page SEO can also help you build links. You'll naturally attract links from other sites by producing engaging and relevant content.
It attracts attention
In the same way that off-page SEO is not a direct measure of your business, your site's on-page SEO is not a direct measure of your business. However, it still plays a significant role in determining how often you appear on Google's SERPs.
As such, it's a good idea to ensure your on-page SEO is on point. This includes a compelling, easy-to-read, user-friendly website with a clear call to action.
Technical SEO
Technical SEO uses various technical tools to build the backlinks needed to rank highly on Google, Bing, and other search engines. If you've ever tried to build a website, chances are you've heard about small business SEO. This is the term used to describe getting your website to appear on the first page of search results, such as Google or Bing.
Most businesses realise they need to do something to promote their business, whether it's social media marketing or paid advertisements. However, many businesses need to figure out where to begin, making it hard to profit. Some people even hire experts to perform SEO services for them. While this is certainly possible, it is also costly.
Fortunately, there are ways to get the same effect without spending money. This involves using specialised SEO techniques.
What Does Technical SEO Do?
As mentioned earlier, the goal of SEO is to get your site to rank highly in search engine results. This is done by building links that point to your site. You can generate these links in different ways. For example, you could pay someone else to do it. Alternatively, you can build them yourself. The main difference between the two options is that the second option is free, while the first is not.
If you want to use technical SEO, it's essential to do so wisely. There are several rules that you must follow. The first is that your content must be unique. You need to use the same material repeatedly to help your site. Instead, it will cause your rankings to go down.
You should use unique and original content that relates to your business and helps your visitors. Another rule of thumb is always to ensure that your site is optimised. This means it's formatted correctly and doesn't have errors or misspellings.
Once these rules are followed, you can focus on generating high-quality backlinks. These backlinks are built by using different methods, such as:
Commenting on blogs and forums
Creating guest posts on other sites
Creating articles and sharing them on social media
Using press releases and other content creation
Using email marketing to create a list of subscribers
Using your website to advertise on other sites
Another important aspect of using technical SEO is to keep your link-building going. This is done by regularly monitoring your backlink profile and checking to ensure that your backlinks are still being built. If they aren't, it's time to start all over again.
This process isn't easy or quick. It takes a lot of time and effort, which is why many people pay experts to do it for them. You should consider using this service if you need help ranking.
Local SEO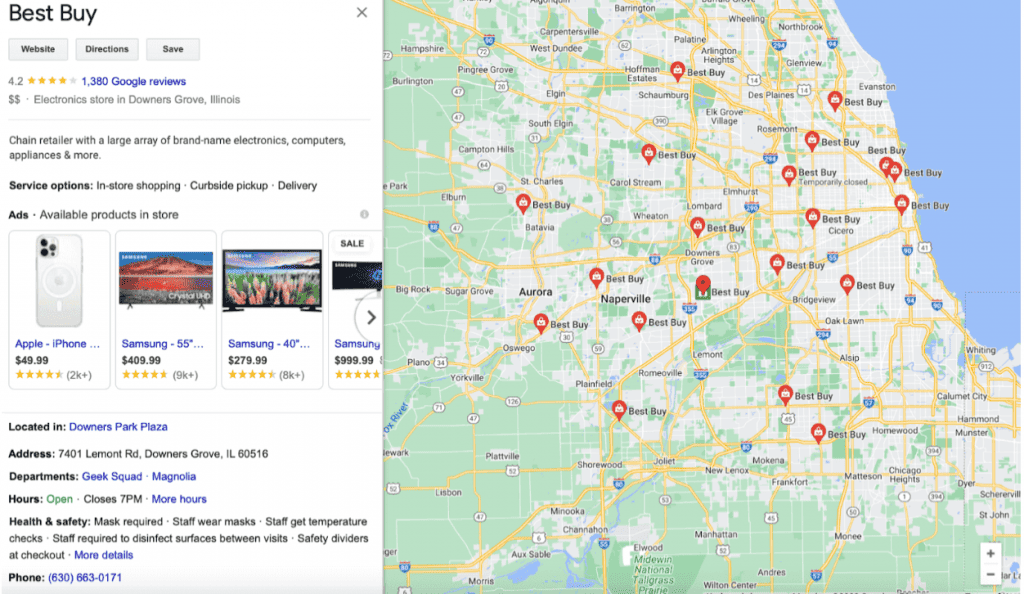 Local search refers to searches performed on a mobile device, including those conducted using Google Maps and Google Search. These searches are typically done when people are looking for local businesses and products.
Local search results are essential for any business that wants to reach customers actively seeking its services or products in their neighbourhoods. To rank well on local search, it's crucial to understand local search signals, such as location, demographics, reviews, and keywords.
How Can You Make Local SEO Work for Your Business?
Bestseller No. 1
Local SEO is an integral part of SEO for businesses across every industry. While many businesses might have a basic understanding of how SEO works, they need to figure out what to do to make SEO work for them. If your business doesn't have a local presence on the web, it's essential to start by thinking about the following questions:
Where are your customers?
Where are your competitors?
Are your customers local?
The first step to getting started with local SEO is conducting market analysis. Your goal is to find out where your customers are searching on the internet.
While it's common to focus your market analysis on the general web, your customers may search for a specific service or product. If this is the case, it's crucial to identify the type of local search that will attract the most customers. To do this, you'll need to know where the most popular searches are and what terms or phrases people use when searching for these products or services.
10 Small Business SEO Tips
These small business SEO tips are easy to follow and will get you to higher website rankings.
1. Optimise for People
You should continuously optimise your website for the people looking for the products and services you provide. That means you must ensure that your website is mobile responsive and that your pages load quickly. The faster your website loads, the more likely people will want to stay and browse the site for extended periods.
2. Create A Page for Each Product
Each product that you sell on your website should have a page on your website. This page will be similar to any other pages on your site. Make sure that you give precise and detailed information about the product.
3. Have A Clear Call To Action
A call to action on your website is an integral part of the process. That call to action should encourage visitors to take action on your website and buy your products or services. The call to action should be prominent, and you should put effort into it.
4. Include Contact Information
If your website doesn't include contact information, then potential customers will not be able to connect with you. Add your physical address, email address, phone number, and social media links.
5. Include Keywords On Your Pages
Keywords are essential for search engine optimisation. When you use keywords in the content of your web pages, that will make it easier for your site to appear higher up in the results of a search.
6. Use Social Media Links
When people search for a product or service on their mobile devices, they will click on the social media links available on your website. If you still need to do so, you should start using social media links on your website.
7. Put Up Videos
Video is one of the most popular types of content online. That is why video is an integral part of the modern marketing strategy for businesses. A video is a great way to capture a visitor's attention and keep it there.
8. Offer A Newsletter
Offering a newsletter to your visitors is a great way to keep them engaged with your brand. You can use a free tool like Mailerlite to create and send newsletters. You can get more customer engagement and build your email list.
9. Use Landing Pages
Landing pages are an essential part of a successful small business SEO strategy. A landing page is a page on your website that is designed to bring in new visitors. If someone is on your website but decides to leave, that is a lost opportunity for your business.
10. Use Mobile Responsive Design
Mobile responsive design is one of the most important things you can do for your website. Mobile responsive design will ensure that your website is designed for various screen sizes. Your website should display well on smartphones, tablets, and desktop computers.
Essential Tools For SEO

Regarding search engine optimisation, tools like Google Analytics can help with traffic data, social media analytics, and keyword research. However, many people need clarification about how these tools work, why they're helpful, and how they relate to SEO.
Semrush
If you're looking for a tool to rank higher in search results, Semrush is worth checking out. The tool provides valuable backlink data of competitors for all-time links, or you can select a specific timeframe to get a better idea. It provides keyword density, research, and volume that help you understand your selected field and how to rank well with your competitors. I've used Semrush to find better ranking analyses of my clients. Fortunately, I have achieved some goals by using this tool. All SEOs should be grateful to Semrush.
Ahrefs
Ahrefs is one of the most crucial tools for any digital marketer. It's a perfect tool for tracking ranking and keyword research with exact data. There are various robust features and intuitive interfaces, but the backlink analysis feature is the most useful. The backlink analysis is a great feature and is very easy to use. The interface is also straightforward, which makes it even more helpful.
Moz Pro
If you run a small business, it's a safe bet to say that you're looking for software to help you stay on top of your SEO efforts. The most powerful tool you'll ever need to maximise your search engine rankings is Moz Pro, an all-in-one SEO platform you can use on your desktop and mobile devices. In addition to its comprehensive features, you'll receive free monthly access to Moz Pro's premium content and weekly SEO tips.
Wrapping Up
Many factors go into determining whether or not your website will rank high in search engine results. The majority of them are outside of your control.
However, you can do a few things to improve your chances of ranking well. One of the biggest mistakes I see people make is trying to rank on keywords that aren't profitable.
It's okay to use the right keywords for the right reasons. But if your primary goal is to rank high for keywords that are not generating sales, you are doing yourself a disservice.
Learn more about small business SEO and get your free guide!
FAQs
What is the most effective way to increase sales for my small business?
The most effective way to increase sales for your small business is to get new customers and leads. To do this, you need to have a website optimised for search engines. It would help if you also had a solid online marketing strategy.
What's the most common mistake new businesses make when they start a website?
The most common mistake new businesses make when they start a website is focusing only on the look of their website. They spend too much time on the design and need more time on the content. They may also need to pay more attention to the importance of SEO.
What is Search Engine Optimisation (SEO)?
SEO is a strategy that helps your business be found by people looking for products or services like yours. This can help you get more customers, sales and leads.
What is the difference between On-site SEO and Off-site SEO?
On-site SEO is done on your website, whereas off-site SEO is done on other websites. For example, you should include links to fishing-related websites if you sell fishing equipment.
What are the benefits of SEO?
The benefits of SEO are twofold. First, it will help you attract new customers. Second, it will help you retain existing customers.
What are the challenges of SEO?
The challenges of SEO are twofold. First, it's work. Second, it's a long process. It takes time to create content that is high-quality and relevant.
Last update on 2023-05-31 / Affiliate links / Images from Amazon Product Advertising API