7 Outdated Branding Practices You Need to Stop Using Immediately
When did the last time your firm revamp your logo, website or even eight-letters-long tag line?
If your answer lay between 5 to 6 years ago, then probably it's time to quit with these outdated branding practices instantly.
In the era where digital marketing and branding are stepping ahead in innovation every minute, one should never underestimate the power of the latest branding trends and techniques that majorly effect on businesses today.
Be it a startup business or even a firm making six digits figure revenue; one must adopt the most updated branding and marketing tactics that secure firms from the negative impression on customers.
By rebranding or revamping, we mean to avail the incredible advantages today's branding trends comes along.
From Instagram stories to 3D billboards a lot can be done using the lively patterns that boost sales and build a positive connection between customers and brands.
Most startups opt for the cheaper branding services that cost more when it comes to customer retention and re-building the brand.
In that case, we are going to discuss what significant mistakes startups businesses make and how we can overcome using affordable yet quality resources available today.
So let's crosscheck if your brand is not following any of the following outdated practices:
1 – Using Free Stock Images for Marketing
The line between marketing and branding will always remain blurry.
In simple words: What your audience feels about your brand is depends on how you represent your business (branding).
A platform where you share details about your product and services is (marketing).
When it comes to branding, the message should be relatable to the audience as blood relates to veins.
Though print and social media have given a gazillion way to do your product marketing, however, compromising over the quality would significantly affect your branding in the long run.
Therefore, using a free medium to create attractive images, or incorporating overly used concepts would take away the uniqueness and positive vibes from your brand that would end up leaving a poor impression on new visitors or customers.
Decline the need for using free images that instantly ruins the first images instead hire a photographer or use the quality camera to capture original photographs of your staff workplace or even a cup labelled with your company name would ensure users that you have worked on your branding efficiently.
Most small businesses use free images on Ads campaigns and later complains about why they are unable to generate any leads.
To put your blood and sweat in your business, start taking quality images with a personalised touch that cannot be copied or replicated by any of your competitors.
You might need a fewer image to upload on a website or social media.
However, the advantage of keeping your branding real and authentic will eventually gain trust by customers.
2 – Typical Voice and Brand Persona
If you look back and think of popular childhood brands, what comes to your mind?
Is it just a logo? Alternatively, the jingle you probably sang a hundred times?
Humans tend to remember things for a longer duration if anything emotionally influences them.
To emotionally influence your target audience it is essential to understand that we are no longer intrigued by typical TVCs.
Instead, today a creative concept that flows from TV commercials to social media effectively engages the audience.
If your overall brand persona is significantly lacking the latest trends of commercials and creativity that captures the attention of the audience, you might be losing new customers who are looking forward to experiencing quality services that can only be expressed with quality voice and persona of your brand.
The primary aspect for making your brand look modern, and up to date is to make it more user-friendly by adding voice-search features, a Chatbot on to your site.
Add secure methods to let customers connect you from social media platforms that give the feasibility and ways to build communication between visitors and brand.
3 – Website Is Unresponsive and Boring
A website works for your business 24/7; no employee would do that.
If your website is unresponsive and certainly does not appeal to your target audience, it is undoubtedly repelling your potential customers.
The research report stated that 50 per cent of the global mobile searches occurs from mobile.
According to 2018 research by Google, 53% of mobile users leave a site that takes longer than three seconds to load.
If your website does not fit to the mobile responsiveness requirements, it is probably making your customers annoyed and frustrated.
Besides affecting your branding quality, the poor performance of the website also affects your business ranking in search engines that is one of the core reason why all business are must create a presence online.
Therefore, if your site is taking ages to load and has complicated it's time to connect with the leading software companies in Dallas to revamp your website with powerful UI/UX into the most popular and technically robust form.
With the term boring, we are no longer insisting on making it fun land in any way.
4 – Unappealing Business Collaterals
Good design is good business – if you are stepping into the marketing with the bulk of flyers and pamphlets that does not mean you will get noticed easily.
Today, each competitor in marketing is finding ways to get business collaterals to prepare with creative ideas that grasp attention instantly.
One of the most frequently used business collaterals is business cards that carry the first impression which shouldn't be compromised at any cost.
So before passing on your contact details or even a recent offer you are excited to sponsor, it is necessary to comprehend and research for the latest design that is currently circulating in your business circle.
The best way to get it done as per the modern techniques is to have QR-code that enables people to capture and save details in their mobile which leaves no chance to miss your contact information.
With QR you can also encrypt the website details that help people to know your business in more details.
With stunning designs based on the trends of 2019, you can get assistance from branding firms that are efficient in creating appealing and eye-catchy design for business brochures and business stationery that matches with your business persona amazingly.
5 – Email Lacking Style & Connection
Nearly 3.8 billion people use emails for everyday interactions which entail marketers to produce content that generates sales.
So if you are continually sending out emails and waiting to get the response, it's time to check if what mistakes you have made throughout the campaign.
Most businesses expect that revenue would be generated only if you pitch clients only when you have bumper offers and discounts on your website.
However, that is not the case especially if you are willing to keep the audience hooked for the longer duration.
From blogs to recently achieved targets and happy clients, share what made your team and contented with style and persona that represents your business personality.
By styling and persona, we mean to be unique regardless of how minimalist design you choose for business.
With such personalised details, it helps customers to know your firms from a unique perspective that builds trust and loyalty between customers and brand.
One of the best example to understand how the customers get influenced by the business is Marie Forleo American life coach and a motivation speaker.
From website to emails, from social media to blog post and from her online TV shows to her everyday story, Marie never goes out of her branding styles and eventually helps her build the empire which is familiar to her business and motivated to stay connected.
6 – Time to Revamp the Logo Design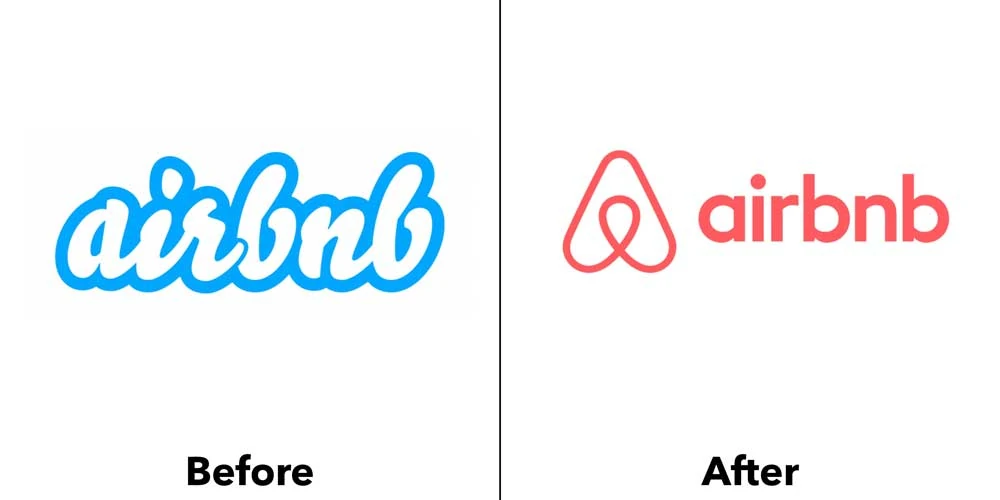 Except for the age of your brand, nothing 'old' matters when it comes to your business.
The first thing that your customer interacts with is the company name and its logo design.
You might have paid a thousand dollars for a creative logo, but what counts is the versatility of the logo.
A trendy and timeless logo is the one that gets easily flexible for with the occasions, offers, and celebration.
A good example to mention is here the Airbnb logo that is adaptable and can be adjusted with themes as per the occasion and the events happening around.
A good quality logo is one that becomes the part of the design like it is designed for that piece.
From black and white to green and black, your logo should dazzle in every hue and with every saturation that comes with the adhesive colour palette.
It should go with the flow even it is upside down or written in reverse form it should be readable and energetic to captivate attention.
7 – Monotonous Social Media Theme
We understand that most firms come with a limited budget to spend on social media marketing.
However, the demands in marketing are increasing and how other brands are managing is no more a big secret.
In times when incredible yet free platforms are available, there is no excuse to keep your social media dull and inactive.
Most design firms and even software companies in Dallas TX offers free social media marketing services as it has become one of the complementary services come with a variety of packages available online.
So if you have never tried Canva or Pic Monkey that offers easy and quality graphics elements to create social media post, business proposal, and posters, so get started as it's time to unleash the inner artist and create an attractive and quality post to keep your brand active on social media platforms.
Conclusion
Branding is an integral part of every marketing strategy and business and neglecting your branding might harm your sales and impression in no time.
Therefore, to achieve an adhesive yet impeccable branding services avoid using outdated branding practices that are no longer effective and useful per the trends and digital platforms we come across each day.
Author Bio: Jenna Dove is currently working as a Digital Marketing Executive at KoderLabs which is leading software development company in Dallas TX. We work in a variety of IT services including UI/UX, Customized Software, Artificial Intelligence, Machine Learning and AR VR.