8 Tips to Integrate Out of Home Advertising and Digital Marketing
Advertisement is essential for every business owner who wants to create brand awareness. 
There are various types of ads that can be used depending on your objective. 
It has been noted that outdoor advertising is one of the popular ways people can advertise their products and businesses using billboards. 
While traditional roadside billboards remain the dominant form of outdoor advertising, OOH campaigns can also include so-called street furniture, such as mall kiosks, news racks, bus shelters and anywhere else people congregate. – Intelligent Office
What is out of home advertising?
Out of home advertising forms the largest ecosystem when it comes to creating brand awareness, and it has been determined to amplify the significance of online presence.
Typically, people spend most of their time working outdoors or engaging in other activities, which makes outdoor advertisement quite relevant to the public. 
Someone will not miss to check out an advert along with the bus stops, on vehicles and trains. 
This method works pretty well when integrated with other platforms. 
The best way to incorporate out of home advertising is with online marketing to create an enduring impression which has a significant impact.
In a world that is endowed with mobile devices and other digital platforms, it will be susceptible to blend out of home ads and online marketing. 
Digital OOH units can also be tracked throughout the day, similar to any other digital ad, delivering analytics results much faster than traditional methods allowed. "This applies to anything from roadside billboards to jukeboxes in a bar," Frank said. "It spans the gamut of sizing." Smart cities stimulate growth Cities are becoming more connected than ever before, offering interactive digital kiosks with maps, free Wi-Fi and local destinations. – Marketing Dive
Studies have also shown that 17% of people are likely to check out an ad using their smartphones. 
On the other hand, many people also get to know about a particular product using an outdoor advert. 
Therefore here are some of the tips that will help you to integrate digital marketing with out of home advertising. Let's get into it.
Social media forms one of the largest platforms where people can advertise their products and services online. 
There are various platforms with a different number of users, but collectively at least one person can access a particular social media platform. 
Ideally, you need to have well-crafted content to stay relevant on social media. 
You can also utilise Google Ads for local business, but before that, it is crucial to create your brand awareness so that people can follow you and get to know what you are promoting on social media. 
That is why you need to integrate and out of home advertising with social media since it yields better results.
By doing this, you will have more people trying to follow up on what you had advertised on a billboard. 
You can also include hashtags or some leads to social media to allow your audience to get in touch with your campaign even on social media. 
The primary thing to do is to ensure that the billboard is strategically placed in a visible location that enables more people to look at it.
As people get to view the social media feeds rated in the billboards, they will create an engagement that can be quite outstanding. 
Some big companies have learned how to use digital platforms to make the outdoor campaign relevant. 
It can result in some trending hashtags and content on various social media pages. 
This is one way you can blend the outdoor advertisement with social media. 
Always ensure that people follow up on what you are campaigning for in your outdoor advertisements.
2 – Combination of short term impact and long-term presence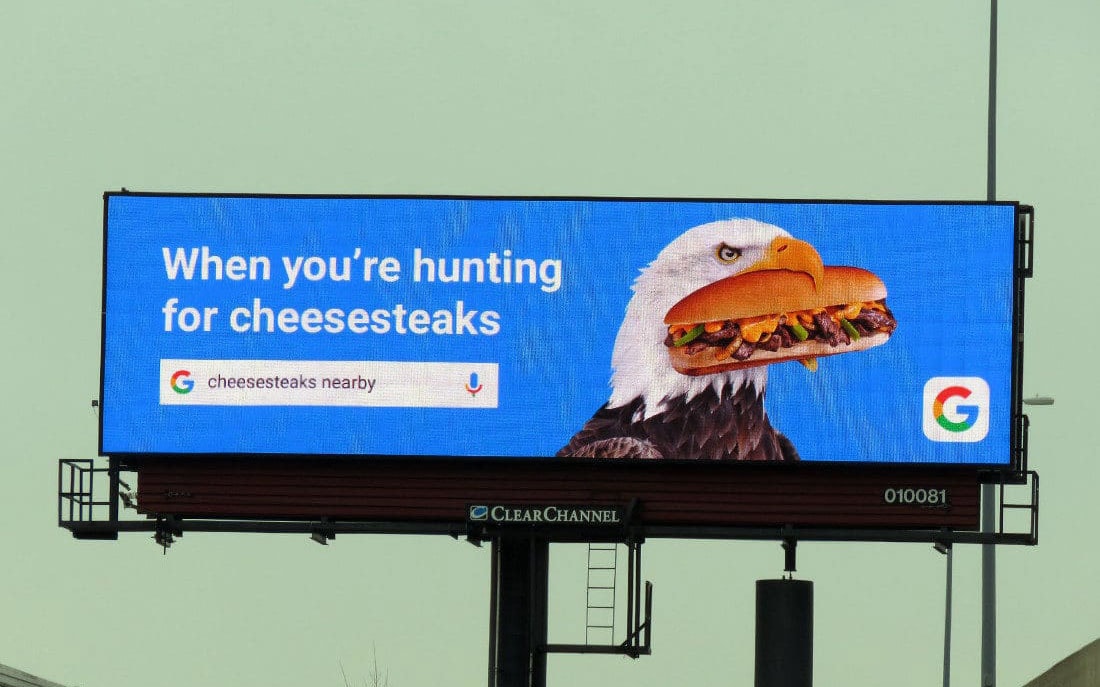 Technology greatly influences online advertising, but the truth is that establishing an online presence can be very demanding because you will be required to meet several factors for you to reach a target audience. 
For instance, you need to generate SEO and quality content to thrive on an online platform. 
All these require determination and hard work to get through attending training and establish a skill set to allow you to use some parameters like an SEO to reach your audience. 
This might take a long time for a small business before creating your brand and awareness, unlike more prominent brands that have already established consumer trust.
Out of home advertising can be a real deal for any business that wants to enhance brands' legitimacy in the market domain. 
It is almost impossible for someone who has viewed your outdoor advert to ignore compared to the online advertisement. 
Research has shown that approximately 80% of people come across billboards and other outdoor adverts, making it a better platform for creating brand awareness.
However, the real challenge to this kind of advertisement is operating on a limited budget. 
The more amount of money you invest in an outdoor ad will yield better results. 
The largest company in the space is Gas Station TV with 27.5 million monthly viewers at more than 1,100 stations across the US, according to Nielsen. In addition to a large number of viewers, the audience profile of TVs at gas stations is unique. (en.wikipedia.org)
If you are a small business owner, it can be hard for you to sustain the costs of outdoor advertising. 
It is a perfect way to increase brand awareness, but once you stop advertising due to the challenges of renting the ad space, your advert will not be available to your audience. 
That is why you need to integrate the online advertisement using well-optimised and crafted web content because it will not disappear even when you stop investing in it. 
This sets a long-term presence for your brand.
Running an integrated campaign will create traffic and brand awareness hence being an effective way to establish your brand presence. 
Most people are likely to get in touch with your brand after exposure to out of home advertising. 
Eventually, you will create a long-term presence as a result of a combination of the two forms of marketing.
3 – Embrace technology
Technology has revolutionised marketing. 
More people are getting to understand its significance when it comes to marketing. 
In the past, printed posters could be used, but their effectiveness cannot match digital signs. 
There is a way in which technology can be used to provide live, proactive, and connected broadcast that can reach a wide range of audiences with memorable and personalised messages. 
It can be achieved through creative profiles that include interactive, dynamic, linear, and exponential. 
The widely used profile is linear, with approximately 20-second spot run operating in a loop. 
Such a medium can be used to achieve more by blending it with dynamic campaigns utilising the infrastructure to bring out the reflection from the real world of events and the environment. 
Its combination can also be targeted and narrowed down to the gender or other parameters using direct technologies like just touch and mobile integration.
You can also use technology to engage directly with the consumers where they can offer updates, discount exclusive, promotions, and other useful information about the brand to ensure consumers stay updated. 
Running such a campaign is quite helpful because digital billboards can capture more content than ordinary OOH. 
OOH (out of home) is enjoying significant upwards momentum, with savvy marketers devoting more of their budgets to OOH campaigns. – Broadsign
Your audience will eventually be able to get the information; hence it is a perfect way to complement out of home advertising. 
It can be used to drive sales, raise awareness, or powerfully communicate a message. 
The audience will be able to follow your brand and have a chance to get more insight and even purchase your products.
4 – Expand an outdoor ad-context using digital means
Integrating digital innovations and out of home advertising is a perfect way to reach out to your audience. 
The best way you can do this is to expand the outdoor ads by making the information interactive and brief. 
You can achieve this using motion pictures and reels of text that are well-crafted and easy to read. 
Combining an online campaign with the OOH should be nicely laid out to inform the consumer about the product and service. 
People might get tired of looking at a billboard that contains the same message now and then. 
That is why digitalising your ad helps in expanding the context of your outdoor advertising.
5 – Track its success
One of the biggest mistakes that marketers make is the failure to track the success of the campaign digitally. 
It is essential to ensure that there is a way in which outdoor campaigns can be tracked using digital means to ensure that the information being posted on the posters and other platforms is being accounted for. 
Having such a strategy will help you have feedback on the effectiveness of your ad. 
You can achieve this by creating a landing page that will be displayed on the poster. 
The online visitors who will check out on the landing page will indicate the success of the ad. 
You can achieve this by using a hashtag that will be replicated online. 
You will be able to see how many People have tagged or comment. 
You can also track your ad campaign by using a unique promotional code that has some promises and exclusive discounts for anyone who responded to the ad. 
When consumers use the code during online purchases, you can analyse the response brought by your out of home advertising.
6 – Leverage your audience understanding
Before placing an ad, it is essential to understand various factors that influence its success. 
When integrating the two forms of marketing, it is vital to consider the understanding of your audience. 
There is a big difference between an ad in an urban setup and rural areas. 
So you need to identify the travel patterns and the demographic of your audience so that you can optimise the media placements. 
This also gives an environmental graphic design and layout on the behaviour in the market. 
Gather for the interest of the audience so that you can align all the parameters and tendencies that will lead to your ads' success. 
Besides, please don't use the complex digital media in areas where you feel it may not resonate with the target audience. 
Try to be simple for you to pass the message conveniently.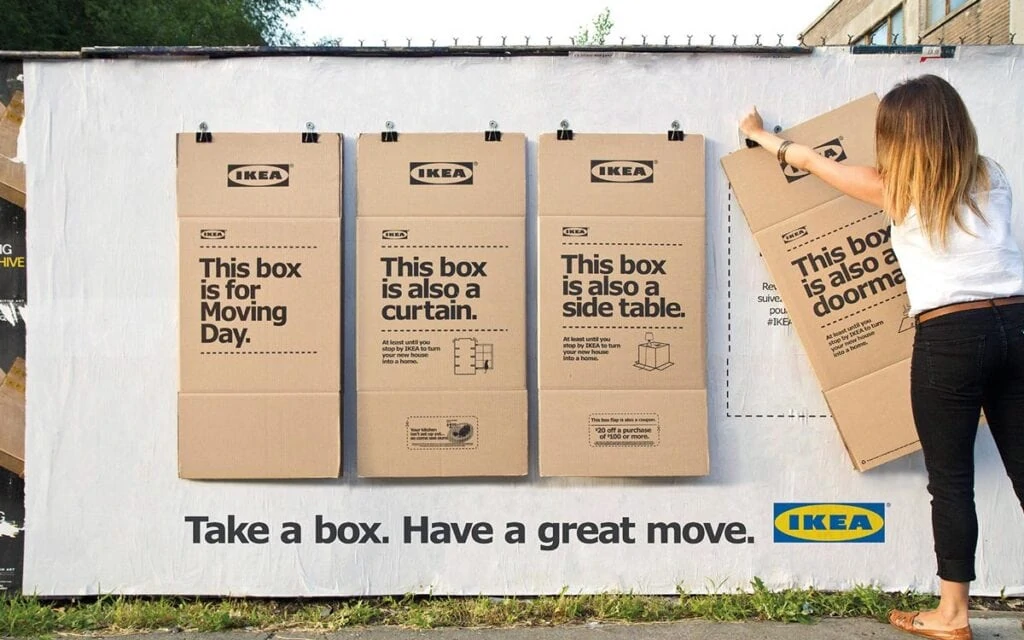 7 – Harmonise your formatting
Formatting is essential when it comes to out of home advertising. 
They usually come with different unique formats with their benefits depending on the location, time, and the audience. 
Static out of home placements is a standard format that is being used. 
However, the introduction of digital out of home opportunities has prompted digital formats because of their interaction and flexibility. 
The digital designs can also incorporate video, audio capabilities hence eliminating the installation and production costs of physical materials that are quick to turn around. 
It also requires less production time since you can incorporate comprehensive visuals that are directly set for a particular audience. 
Digital formatting can also target a wider audience area because of its elaborate content.
8 – Incorporate creativity
Creativity is essential in marketing, especially for out of home advertising. 
You need to reach your target audience in the best way possible by driving a message within the shortest time. 
For you to be creative, you need to consider some creative development aspects, including the format and the size of the media and the opportunities you are presented in the platform. 
You should also have well-balanced imagery and a design that is well focused and easy to understand. 
Vibrant imagery will also be an added advantage because it makes your ad engaging, attracting the target audience. 
This is meant to achieve visibility by keeping your ad well-crafted and readable by all the audience. 
Creative development should be incorporated using digital means where it will create an opportunity for digital imagery. 
Creativity should be optimised for sustainable success. 
This will work well for your brand, especially if you set up your small business or run your first ad campaigns. 
Always keep in mind your target audience and the channel used to achieve your brand optimisation. 
You can also incorporate other experts to help you develop creative content that will yield positive results.
Conclusion
Incorporating digital advertisement with out of home advertising has lots of benefits. 
A successful integrated campaign will target mass audiences, increase brand awareness, and bring an interactive session where consumers can get in touch with your brand. 
It will also make your advertising channel easy and engaging because each has its benefits. 
Research has shown that most consumers spend at least 70% of their time outside their homes, making it ideal for integrating digital with outdoor ads. 
By doing this, you will have a boosted and effective online campaign that will bring more benefits to your brand and create an interactive session with the digital world. 
Every marketing demands commitment and logistic decisions to achieve your goals. 
Always try to make your ads better and bigger. 
The out of home advertising tips that I have shared in this article will help you run a successful marketing campaign to help your brand grow.
Author Bio: Sally Smith, the woman who loves to read and write. With the rise of the age of social media, it led her interest to centre around digital marketing and blogging. At present, she is delighted to work with many aspiring small business owners.