How To Land Graphic Design Internships?
Internships are the best way to put your knowledge and skills into practice and to overcome difficulties encountered in the work process. 
Internships can also play a crucial role in the choice of profession, help to become more competitive, develop professional skills and expand horizons.
For aspiring graphic designers, an internship is just one step away from working in the dream industry. 
It's the best way to expand an educational experience into the professional world of design, build valuable connections with specialists in that field, and work under the supervision of an experienced graphic designer.
An internship contributes to a broad understanding of the values, skills, and commitments necessary for achieving success within the design discipline. 
It also increases your chances of securing a professional position in your chosen field. 
Graphic design interns, as a rule, are eager to join the teams they worked with and passed through the difficult path of improving their knowledge and experience.
What Do Graphic Design Internships Include?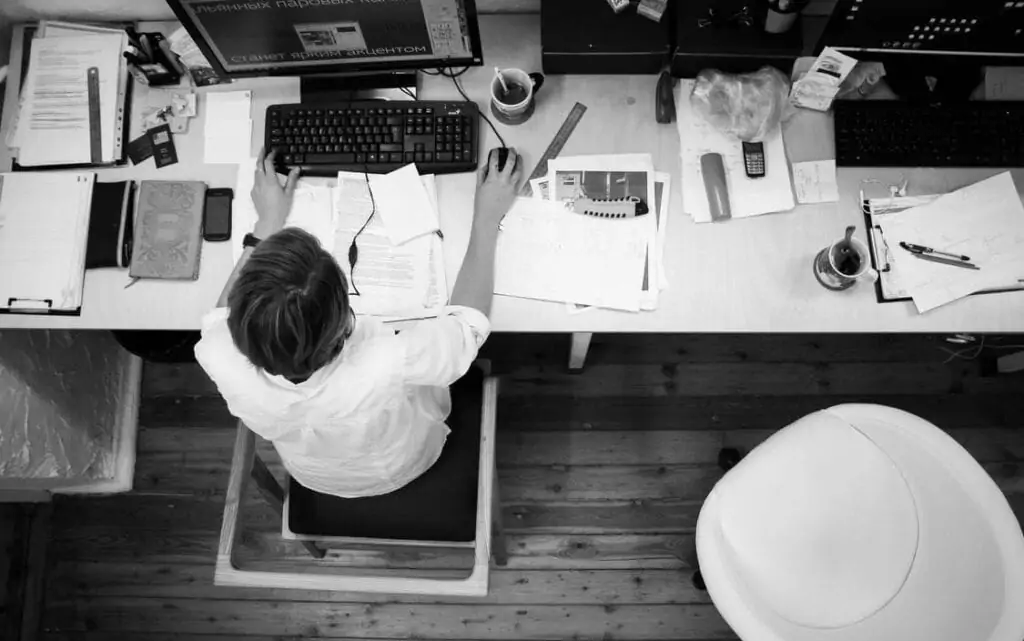 There are many benefits of completing a graphic design internship. 
Internships help students more easily get jobs out of College, improve graphic designer's skills in a professional setting, and support growth as individuals. 
Here are some knowledge and skills that future graphic designers gain from internships:
Cross-departmental work experience: Working with different departments of the company during projects expands your understanding of the whole work process: how the work is organised, what are the principles of division of responsibilities, what part of the project the department is responsible for, who oversees the current work, how priorities are selected, deadlines are set, who are the participants, and so on. It means that you gain practical knowledge about different stages of the project and your role in achieving the current and ultimate goals of the company.
Competitive and innovative knowledge: Graphic design is an ever-changing and evolving industry, and its techniques and tools are improved and updated every month. This means that if you want to be a competitive candidate, you will have to develop some skills not included in your college educational program. Graphic design internships are a great way to learn new actual tools, specialised skills that industry professionals use. The gained knowledge will help you improve, give more effective solutions to the problems that have arisen and make further work more professional.
Practical knowledge: The specifics of your work and the tools used mainly depend on your intern's company. Some design companies will ask you to submit a marketing project supporting the business, while others will create a logo.
But in general, almost all types of graphic design internships help to expose to the daily processes involved in professional practice as:
Customer relations
Collaboration with photographers, illustrators, and copywriters
Soft Skills: In addition to professional design knowledge, your internship also gives you the ideal opportunity to perfect your soft skills. They include the skills of interacting with colleagues, communicating with clients, as well as the ability to manage time and work effectively properly:
Communication and Listening Skills 
Teamwork
Motivation 
Leadership abilities
Time management and Risk management 
Networking
Creativity 
Administrative Skills: If you have never worked in an office, it will take some time for you to learn the norms of the work environment. An internship is your opportunity to integrate into the team, establish constructive relationships with colleagues, improve your teamwork, organisational and strategic planning skills.
Professional orientation: You can find more information about the graphic design industry from books, newspapers, or many websites, but only your own experience can help you understand your career choice is correct or not. So an internship is the best way to confirming or denying your professional choice.
Overcoming employment barriers: The most common difficulty in starting a new career is keeping up confidence in your strengths, being diligent, and enduring the heavy beginning of the study. An internship experience helps overcome this psychological barrier, allowing you to positively impression your colleagues.
Meeting new people: A graphic design internship allows you to meet professional designers ready to share their tips and practical knowledge with you. Regular meetings broaden your worldview and allow you to get answers to all questions arising in the work process.
Competitive and attractive employment candidate: Work experience in any field is highly valued. It makes the candidate more competitive and serious about the job. All the practical knowledge and skills acquired during the internship, knowing the whole work process from the beginning to the end and being directly involved in it, getting acquainted with the administrative tools, building skills of constructive interpersonal relations, teamwork, acquiring organisational and managerial skills make the intern an attractive and strong candidate for any employer. Graphic design internships prove you are practically familiar with the whole process of work. With the correct time management, you can contribute to the achievement of the company's goals.
How To Land Graphic Design Internships?
Quality internships can help you get started in your career by turning from a graphic design student to a skilled designer. 
To land the internships, take the process as seriously as you would the job search. 
The first step is to identify the companies that may be hiring interns; the next step is making yourself the most attractive candidate.
Many reputable companies tend to fill their team with young, talented, and all-purpose designers.
Follow some tips written below for searching and landing a graphic design internship:
1 – Start by asking your school (College or university) about internships 
First, your internship search should start at school. 
Speak with your career centre advisor, who can help guide you in the right direction about open internships for college students and notify you which internship will satisfy your degree. 
In many cases, companies apply directly to advanced school careers or related centres, providing internship descriptions and participation requirements. 
So you can find fresh news in your career services department. That's why you need to be very consistent not to miss the internship opportunity.
2 – Attend Career Fairs
Job fairs are an efficient way to meet many employers in the same place and be included in the database of different employers with the expectation of receiving a job or internship offer soon. 
It is a unique opportunity to establish direct contacts with the company's program managers, well-versed professionals in the field and get answers to all your questions. 
There are also virtual Career Fairs that help connect organisations to young designers for mutually beneficial work. 
During the virtual Fair, potential clients gather online to view student portfolios via Zoom screen share. 
So believe in yourself, take part in the competition, show your work and get an internship!
3 – Follow your College's events
Representatives of advanced companies often meet with students in educational institutions, present their company's activities, answer all questions related to the company's field, offer their internship programs.
Regularly follow your College's list of events. Attend performances by professionals in your field and always try to get their business cards if you can.
Getting an excellent internship – is to build a working relationship with all levels of graphic designers.
4 – Use Online Job Sites
There are many online job boards where we can find a vast amount of information. 
But these aren't just websites for jobs; they're also an excellent resource for internships. 
For the most helpful result, narrow your search criteria as much as possible. 
Seek only by "internship" phrase or add "internship" to professions or fields, for example, "Graphic design internships", "Digital marketing internship", etc. to get results like on this page.
These sites include not only local but also foreign companies' internship announcements. 
Sometimes the world's leading international companies offer short-term internship programs that are the best chance to succeed in the industry and become a competitive candidate in the future.
5 – Look for Graphic design internships on company websites
If you have a specific company, you prefer to work with in the future, visit its website regularly and follow the updates. 
Even if you do not find any internship announcements on the company website, try to contact them directly for possible projects.
And if you have not yet decided on the choice of company, then look at national and local companies, make a list of the companies where you'd like to intern, and then visit each company website and find a separate section for internships. 
Bookmark these pages and check these pages once a week. 
In this way, you'll know about announced internships and can get started on the application process as quickly as possible. 
To increase your chances of being selected, it would be suitable to apply to several companies and agencies simultaneously.
6 – Connect with experienced and advanced students
Talking to professors and counsellors is often very rewarding, but it is also helpful to reach out to students who have recently been on the same quest that you are currently doing. 
If you have experienced friends, ask them how they did their internship. They can often provide advice and encouragement, explain everything step by step. 
Whether you can't reach out to anyone you know personally, you can likely find social media groups for graphic design students and professionals. 
In many cases, there are people in these groups who are ready to provide valuable insight into the internship application process.
What Is Necessary For Students To Apply For An Internship?
A graphic design internship seeking and applying for it is usually a long-term process that requires careful planning, perseverance, and a positive attitude. 
This process is not as simple as updating a resume and sending it to as many prospective companies as possible. 
Moreover, this is excellent work that involves selecting preferred companies and types of internships, making a professional and appealing resume, preparing for interviews, and so on.
Here are tips for guiding you through the internship applying process and helping you with developing strategies to reach your goals.
Research the company you are applying for
Researching the company will give you an insight into their current and future projects, strategy, plans, short-term and long-term goals, partners, clients, productions, and during the interview discussing these points will make you more competitive.  
Moreover, it gives you helpful information you can refer to in your cover letter or interview.
Write a visually appealing cover-letter
A cover letter is the main pointer to getting your resume noticed or discarded. The best way to introduce yourself is to show you are genuinely excited about the internship, particularly in their company.
A well-written cover letter must be free of all grammatical errors, not too long or too short, so make it as straightforward as possible by specifying what is needed.
Make a strong resume and prepare for an interview
A good resume is vital because it is your chance to show your qualifications and skills, why you are the best fit for that Internship. 
When applying, you must be careful that it includes all the necessary information, is submitted on time. Otherwise, it will be immediately rejected by the organisers. 
So, for making the best impression and becoming more competitive is very necessary before starting work on writing or updating a resume to follow these tips:
review resume examples from the Graphic design industry
select a style and format that will outline your advantages
choose a readable font 
keep it short: no more than two pages
include only the most relevant and important information first
Include all your contact information so that employers can easily connect you
before sending a resume, proofread it
As for the interview, be prepared, arrive on time in office-appropriate clothing, take all the necessary documents, control your emotions, be kind and polite.
Author Bio: Anna Sardaryan is a Master of Public Administration, a freelance copywriter at Jooble, and a great lover of flowers. She likes writing about everything: culture, philosophy of life, travelling, marketing.