Top 12 Creative Content Creation Tools
The audience and search engines appreciate creative and unique content. Find the right tools to generate creative content and gain organic traffic.
Creative content creation is an exciting way of promoting your online business and services. You can promote content via a blog spot or a social media account. In either case, the content has to gain your audience's attention to get leads from online competitors.
Creative content does not mean you have to add colourful graphics or vibrant images to your content. But you also have to present unique written content and structured material for better readability for your audience. Moreover, you must stay in touch with the trending topics and leading businesses in your niche to stay ahead of the competition.
But it isn't easy to achieve creativity in your content without the right tools. This article will share the top 12 tools for making creative content your audience would love. We will also discuss the working of each tool to elaborate on how you can apply them in innovative content creation.
What are the Elements of Creative Content?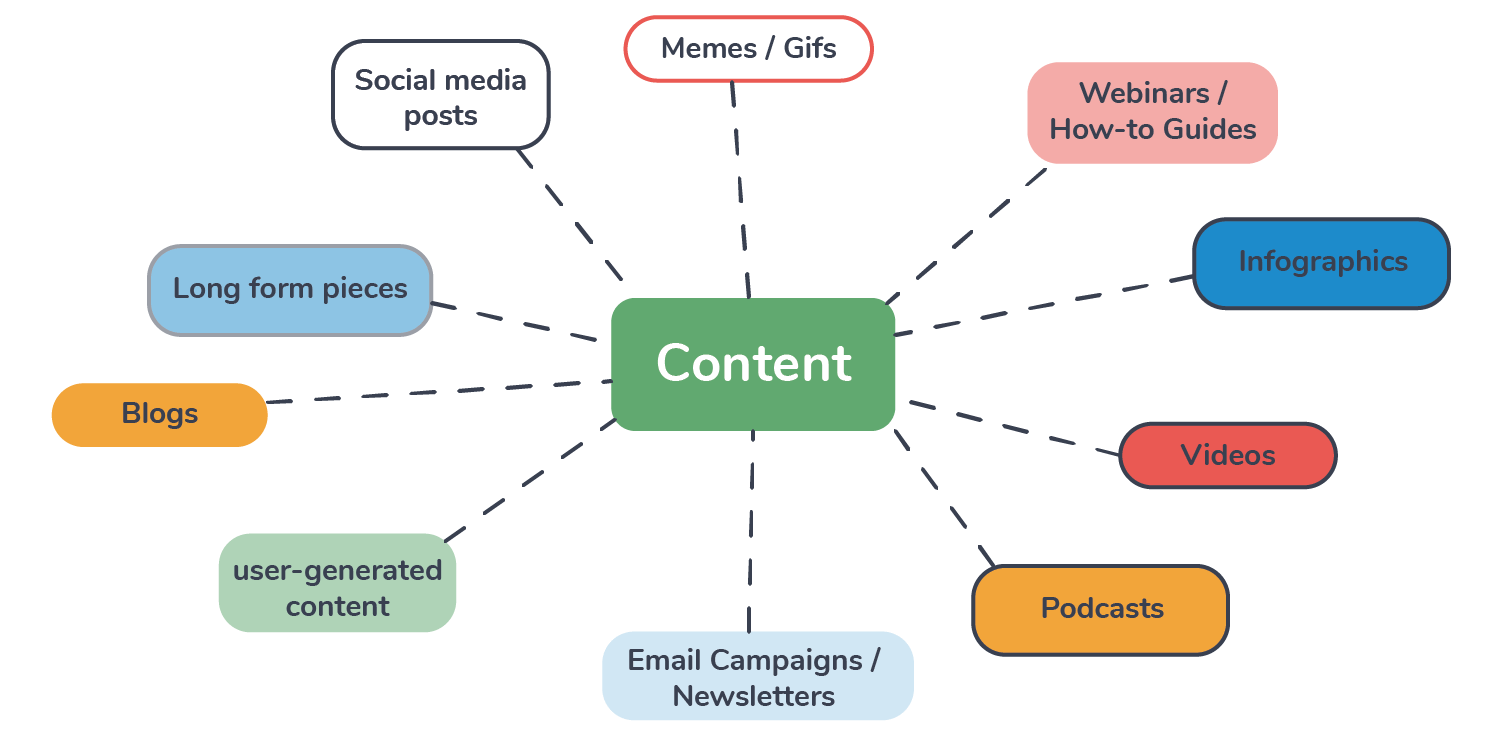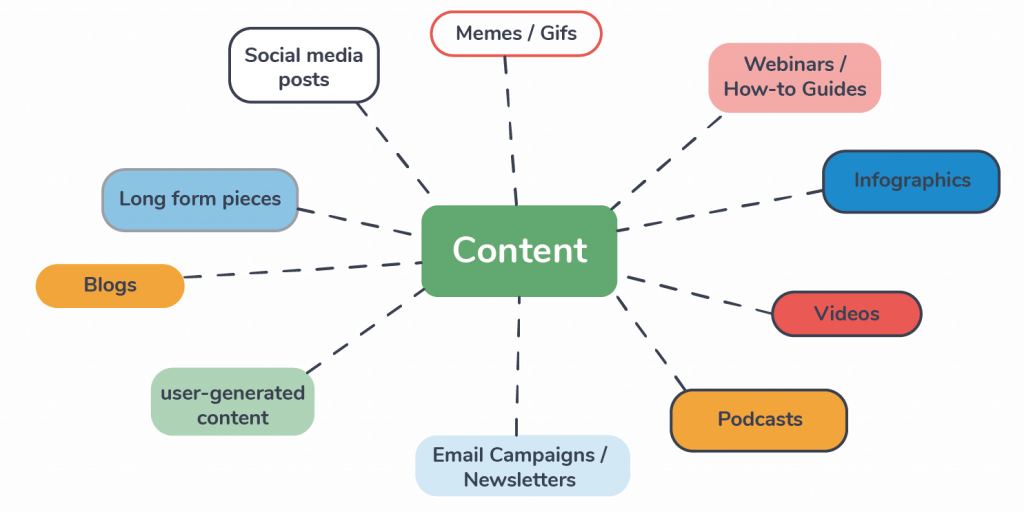 We can apply creativity in any field involving direct interaction with our audience. People are always looking for something fresh yet informative that can add value to their queries. Therefore, adding the following elements to your content is necessary to make it unique and readable.
The content has to be unique from the competitors.
Written content should be easy to read.
The content should be according to the guidelines and policies defined by search engines.
Your content should be interactive with structure and formatting.
Written content has to be free of plagiarism.
It is best to create content that is relevant to some trending topic.
The information discussed in your topic should not be irrelevant.
What Type of Tools do you Need?
It would help if you created a pre-planned strategy for creative content creation to achieve your goals steadily. To fulfil all the factors of creative content, you will need the following tools.
Tools that provide you with data on trending topics.
Competitors analysis tools.
Content research and keyword research tools.
Writing and editing tools.
Graphics designing and imaging tools.
Tools for checking the quality of your content.
12 Best Tools to Make Creative Content
There are numerous tools that you will find online to create unique content. However, you may not find sufficient time to try out all of them.
Therefore, we have compiled a set of the top 12 tools used by professionals for creative content creation. Each of these tools would help to make your content more innovative in a certain way. At the same time, some other tools would be helpful to ensure the quality of your creative content.
Google Trends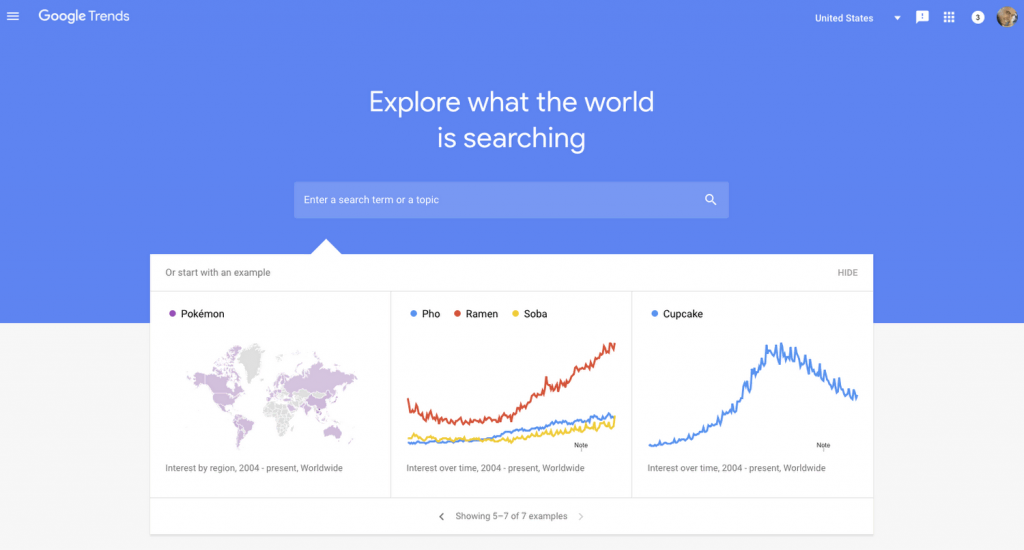 The top of our list begins with the oldest yet easiest tool that can assist you in content creation. Google trends can provide data on the latest trends, allowing you to research a topic's performance over time.
This tool may not be prevalent, but it can help you to spot patterns and create a roadmap for your content creation strategy. Google Trends will provide insights on the most trending news and relevant content. Such online tools can help you find creative terms and topics to feature in your content.
How does it Work?
Google Trends is as easy to use as the Google search engine. First, you need to choose a regional location from the menu. Then enter the topic in the search bar and press enter; it is that easy. Within seconds, the tool will provide you with a detailed graphical representation of data portraying the topic searched by your audience.
Google Trends will give you thousands of related topics even if you enter a single keyword. So, if you want to make unique titles, Google Trends would be the right choice. Google Trends is entirely free to use with a Google Account.
Features
Provides data on related topics.
Gives data on related queries by the audience.
Gives detail on overtime interest of the topic or term searched online.
Gives data on interest by region.
It gives the option to search trending topics by region.
Besides the graphics, the central part of your webpage or social media is the written content. Written content is the area where you can be creative with factual information. This is why you may need a tool that helps you write boring or formal information into a creative one.
A paraphrasing tool can provide your assistance in generating unique and creative content quickly. This tool includes all the necessary options and features that will support you in creative content generation.
How does it Work?
The paraphrasing tool is the best writing assistance that you can find online. With the Paraphraser, you can easily upload your written copy of the content in the input box or upload the content file containing text. Choose the appropriate language and select the 'Creative' mode.
Click the 'Paraphrase Now' button for creative content with easy-to-read vocabulary. The output would be guaranteed unique with improved readability, so you can achieve two tasks with one click using this online tool. The result can be downloaded in a text document file, making it even more convenient.
Features
Supports multiple languages.
Offers four different writing styles, including the creative mode.
Allows uploading a document file.
Option to download the output paraphrased text.
Available as an online and mobile app.
Canva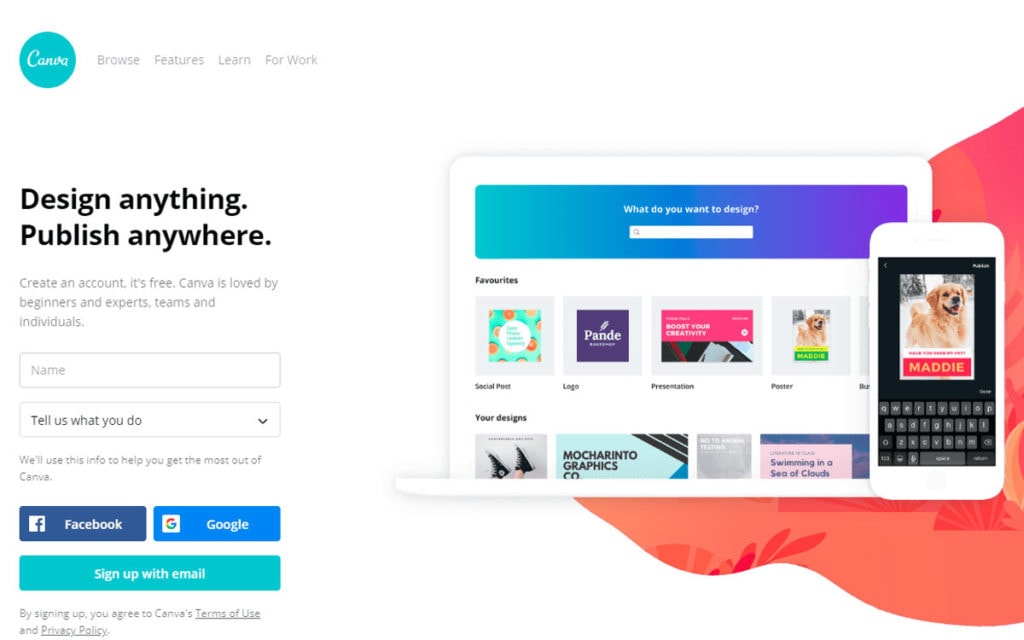 Creative content is incomplete without the right touch of colours and graphics. Therefore, you will need a tool that also covers your artistic needs. The Canva online graphic tool is your free designing companion that gives you a range of prepared templates and logo makers. You can use it to make creative infographics, logos, site banners, etc., to give your audience an interactive experience.
The first impression of any business or organisation is imposed on its logo design and name, which says a lot about the company. You can take the example of Coca-Cola or McDonald's, as they have a recognisable logo representing their brand. Similarly, Canva can provide you with diverse options and templates for a logo design to make your company's logo grab some attention.
How does it Work?
Using Canva is as easy as using Microsoft Paint. You will get all the options to include text, crop pictures, add images, and highlight sections with a wide range of colour pallets. Sign-up for free content, and you will get access to its free version.
You can also purchase the Canva Pro version to unlock a wide variety of templates and options which provide an actual professional experience, even for beginner writers. You can download the graphical output design in a supportable file format that works seamlessly for all devices and operating systems.
Features
Magic Resizing feature for a perfect template.
A wide range of pre-made editable templates.
Option to mix the colour palettes.
Editable logo design templates.
Background erasing tool for cutting unnecessary entities.
Portent Idea Generator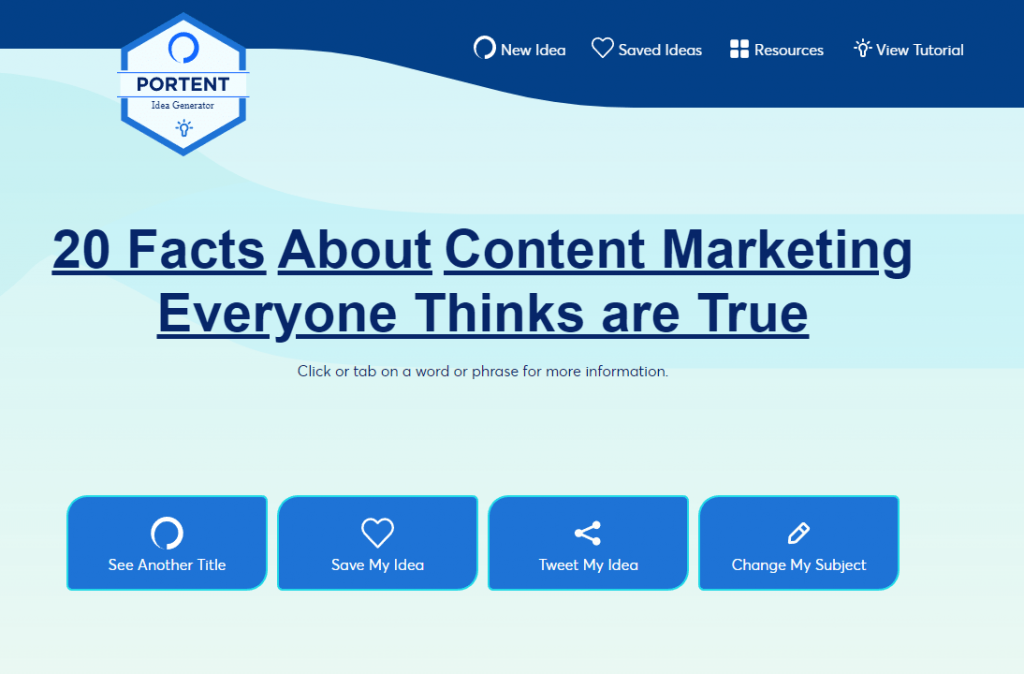 If you are running out of ideas for your blog post, then a portent idea generator can be at your service. This online topic-generation tool is the best assistance you can find for creating numerous topics. This tool provides a wide range of topics and titles, which adds to the creativity of your content.
The best thing about this tool is that it is free to use, so you will not have to worry about any login or trial-based usage restrictions. This idea generator is recommended for guest posting, video generation, blog post idea generation, and much more.
How does it Work?
The tool works on a pretty simple principle of searching. You have to enter a keyword or two, and this tool will generate new titles for you. Once the output is generated, you can save, share, or regenerate the title with just one click.
Even though the tool seems pretty accurate, it might suggest some unrelated topics sometimes. Therefore, adding more than one keyword in the search bar is recommended to get desirable results.
Features
Free access to all of its features.
Easy to use interface.
It helps to generate multiple ideas against each keyword.
Allows saving old ideas for further access.
Regenerates hundreds of innovative ideas with one click.
SEMrush Writing Assistant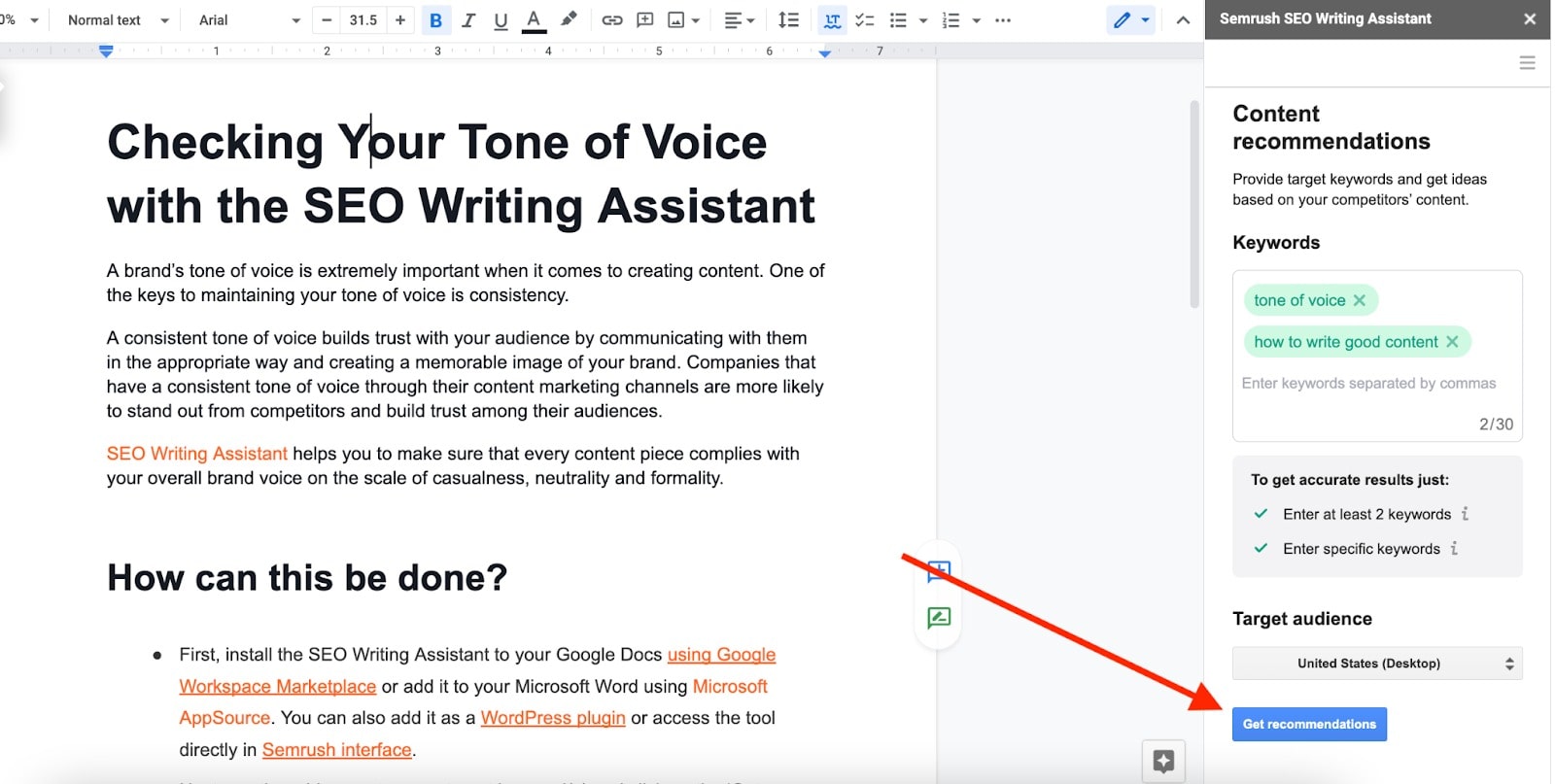 Evaluating your written content's tone, readability, and optimisation may seem challenging. It is vital in content creation as these factors affect the audience's interaction with your platform, which works for blog posts and website content.
The SEMrush Writing Assistant provides complete insights into the quality of your content with its add-on extension. This tool works with online assistance to evaluate the extent of creativity in your content. With the help of this tool, you can improve the quality of your content to the level where it meets all the aspects of quality content.
How does it Work?
This tool works with an add-on extension with any text editor, whether it is Google Docs, Microsoft Word, or WordPress draft. The tool gives you complete insights into your content's tone, readability, optimisation, and uniqueness by comparing it with the top-ranked sites.
This way, you can improve your content's quality by changing your writing style. Having SEMrush Writing Assistant on your side is like working with a full-time text editor. It gives you full advice to guide you on which area the quality of your content lacks or matters.
Features
It helps to maintain your brand's voice by analysing content quality.
Indicates the targeted keywords in your content.
Checks for the optimisation rate of your content.
Provides score on the readability of your content.
Shares metrics on the tone of voice and overall writing style.
Plagiarism Checker by Prepostseo
Another essential tool for evaluating your content's creativity would be a plagiarism detector. Creative content is only valuable until it is unique from something already published online. Duplicated/plagiarised content will not gain any recognition from an online tool. You may get permanently penalised for posting content online.
In this case, the plagiarism checker by Prepostseo can significantly assist you. This tool can provide complete details on unique and duplicated sentences in your content. By evaluating your content for plagiarism, you can identify and improve the areas that require improvement. Eventually, you can be more creative with content creation by removing duplicated content for unique content.
How does it Work?
This online plagiarism checker follows a straightforward step-by-step approach to check plagiarism from your content. You can directly input the content or choose to upload a document file of any format. Moreover, you can mention any links or click the quotation checkmark to filter from plagiarism checking.
Once you have selected all the options, click the 'check plagiarism' button, and the tool will start scanning your content for duplication. A detailed report will give you a unique plagiarism score in less than a minute, with a complete summary of links similar to your content.
Features
Free plagiarism checking for up to 1000 words.
Includes a URL filter to exclude them from checking.
Option to exclude quotes from scanning.
Allows downloading plagiarism report for free.
Highlights the plagiarised content with a detailed summary.
Ubersuggest is an online tool that is used for keyword research. However, this tool can help you find innovative content ideas for titles and topics that grab the audience's attention. This tool can be immensely helpful in creating creative content as it fetches innovative ideas from the terms searched by the audience online.
In addition to providing the latest ideas, Ubersuggest gives you topic insights based on regional data and featured snippet questions. Using Ubersuggest, you can also attain the latest topics from the Google Keyword Planner and Google Suggests by applying a simple filter.
How does it Work?
This online tool works on elementary principles. Ubersuggest expands the primary keyword by attaining suggestions from Google Ads Keywords Planner. The tool will provide short-tail and long-tail keywords within a few seconds.
The output results are generated in terms of long-tail keywords that can be used as blog posts and article titles. Furthermore, you can use short-tail keywords as LSI keywords or short headings within the body of the content.
Features
Provides detailed summary on long-tail and short-tail keywords.
Fetches data from Google Keyword Planner.
Provides ranked suggestions from Google Ads Keywords Planner.
Accurate results and insights on famously searched online terms.
Helps to generate titles and topics for blog posts.
LeadFWD
This website elaborates on what it does in its name as it sounds like 'Lead Forward.' It is the best online assistance you can find to explore potential customers and learn what they are looking for online. You can learn creative ideas by maintaining the relevancy between your platform's content and online search intent.
Understanding the user's persona can lead you to create creative content. All this information implies that you are creating something that would bring more clicks and interactions from the audience.
How does it Work?
This tool is convenient and useful for online marketers and leads generations to flourish the customer base in their organisations. Using advanced AI technology, this tool will analyse the areas where your visitors spend their time the most.
By collecting this data, you can improve the content with creative ideas in the area where the audience interacts the most. This way, you can compel your audience to spend more time on your website.
Features
Provides support for email marketing.
Content Marketing suggestions.
Analyses site for most interactive areas.
It helps to understand the user's persona.
Provides digital analytics for graphical representation of data.
Yoast SEO
Yoast SEO should be essential to your creative content generation toolkit if you run a WordPress website under your hosting. This tool is top-rated among WordPress developers as it provides a range of advanced features to evaluate and improve content quality.
How does it Work?
WordPress developers can download the free extension as an add-on for their website. This tool will give better insights into how content generation can be conducted. Moreover, it evaluates the content for readability and provides insights on if it's creative enough or not.
However, the content writing feature is just an add-on. The tool works for website optimisation. Moreover, it is valid for WordPress websites only. Therefore, this tool's usability is minimised to a limited user.
Features
Provides readability check.
Helps to perform keyword optimisation.
Provides insights on content quality.
Gives internal link-building suggestions.
Increases page ranking under technical configurations of SEO.
Readability Test by WebFX
A content writing tool with a readability check becomes a huge plus. With the Readability Test tool, you can evaluate the score on the quality of your content to see how creative you can get with your ideas. By assessing the quality, you can make it more engaging for your audience.
How does it Work?
This tool is powered by specific readability algorithms that score your content based on fluency, sentence readability, keyword adjustment, and length. Analysing text makes this tool special from other writing assistive tools.
Moreover, it helps to perform URL and comprehensive readability analysis for your content. By fetching all the details and data from the report, you can improve the quality of your content to meet the ideal creativity levels.
Features
Enabled with ReadablePro Algorithm
Provides writing assistance for content creators.
Economic packages for digital marketers and copywriters.
Boost readability by improving grammar and sentence structure.
Gives credible data by performing keyword analysis.
Answer The Public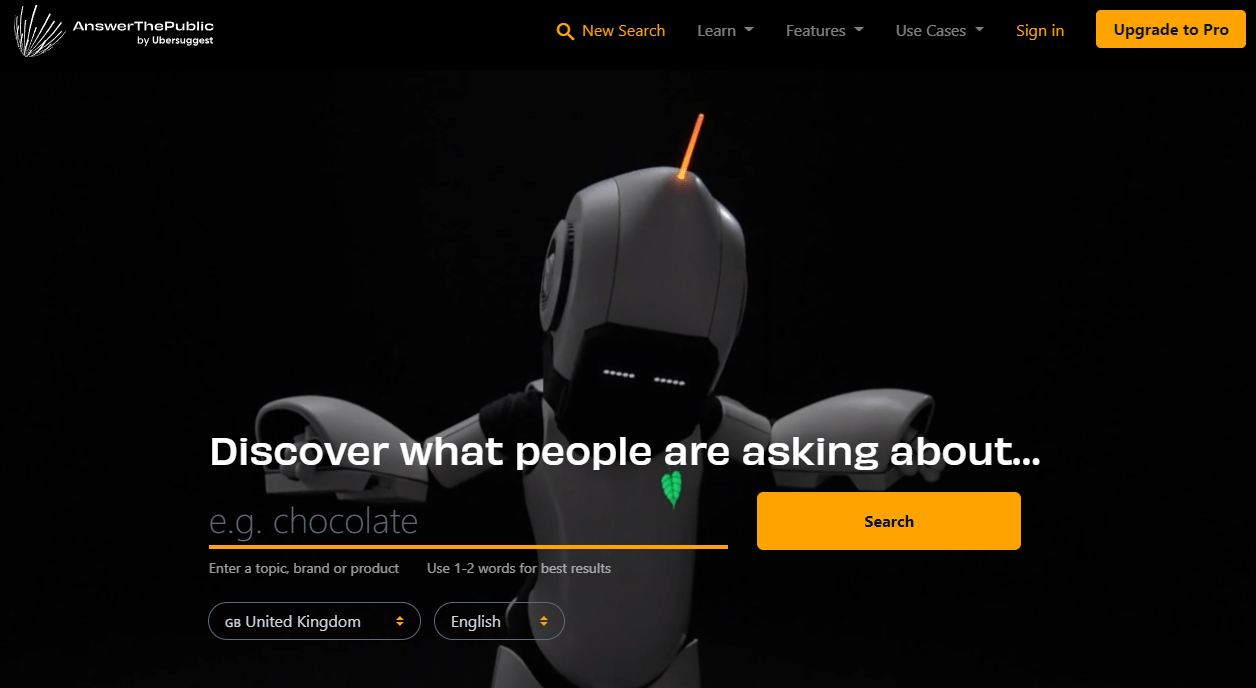 The ultimate goal of every marketer is to provide convenience for their audience by creating personalised content. Such type of content ultimately drives more engagements and leads to increased conversions. As a search tool, you can discover audience queries and generate creative topics for your blog posts.
How does it Work?
The tool works in collaboration with the autocomplete data fetched from search engines like Google and Bing. It summarises all the terms searched by various audiences against the phrases and keywords you've searched from this tool.
This tool holds great value for content marketers, SEO experts, and anyone affiliated with content writing. With this tool, you can better understand customer needs and requirements. With this information, you can generate creative content that meets the needs of your audience.
Features
Unlimited daily searches under a paid plan.
Represents data in a unique format.
It helps to generate new keyword ideas.
Allows the option to compare keyword data against various searches.
Present results based on regional and linguistic aspects.
Thesaurus.com
Thesaurus by Dictionary.com is one of the most trusted tools to enhance creativity and productivity in your writing. This online tool has been functional for the past two decades and is considered one of the earliest online content-writing tools.
How does it Work?
The tool works very efficiently to provide solutions for grammar and writing tips. It helps to evaluate the quality of your content by making it more unique. Using this tool, writers can expand their vocabulary and writing style effortlessly.
Any individual who is affiliated with English writing and proofreading can benefit from this tool. However, this tool is more focused on improving the quality of content in terms of fluency and readability than SEO elements.
Features
Provides complete support for enhancing writing style.
Gives an extensive range of synonyms.
The appropriate tool for academic writing.
It also checks for duplication from various online sources.
Provides complete support for beginner writers.
Conclusion
Creative content writing is required in various fields of our lives, including academic affairs and marketing. The goal of creative marketing is to give the readers a joyful yet informational experience through written content. Moreover, you can add a little touch of graphics to make things more interactive.
This article featured all the necessary tools for writing unique and creative content. We also discussed the working and features of every tool so you can apply them appropriately in content creation. We hope this article provided you with valuable insights into the usability of content creation tools.