How To Invest in Graphic Design as a Small Business
Small businesses know about leaving a lasting impression. But how many actually invest in graphic design?
Looks are everything when it comes to attracting customers and building your brand. However, many businesses don't understand how perfectly executed graphics impact market viability. For this reason, many overlook the importance or restrict their budgets in favour of other expenses. Worse yet, some businesses try to handle their own graphic design with mixed results (doing more harm than good).
While you may feel that most customers can see past your shoddy designs, the reality is that your aesthetic appeal – even from just a series of web pages – is strongly correlated with commercial appeal. In short, poor designs work against you.
The answer to poor design is investing in design to boost your business. From customers attracted to your brand to those who see that you've covered all your bases, investing in graphic design is often the "secret sauce" when it comes time for customers to do business with you.
There are numerous ways to invest in graphic design for your business. This article will discuss why good graphic design is vital for your company, how to incorporate it into your business and how to find the right graphic designer for your needs.
Understanding the ROI of Great Graphic Design
Graphic design costs real money, so it's essential to understand how much of a return on investment (ROI) you can expect by focusing on the visual aspects of your brand. Knowing the benefits of well-designed and attractive graphics will motivate you to revamp your business's looks.
Let's take a look at what good graphics can do for your business:
Communicates the quality of your brand on first impression
First impressions matter in business – and you don't get an option for a "do-over."
Before interaction with your business occurs, whether online, in-person or through physical marketing materials, potential customers immediately get a sense of the quality of your brand before experiencing your products and services. Bad graphic design? Bad first impression.
Transforms your business into a cohesive brand
The way your business is perceived as a trustworthy brand that knows what it is doing depends on your graphics and visual presentation.
Suppose you've ever dealt with a company that didn't have a clear visual identity. In that case, you may have been put off by what most business owners perceive as oversights rather than a genuine lack of caring about what their business looks like.
This approach may have been acceptable for local companies with an established customer base or those looking to capture a target audience that inherently trusts a more "honest" and "folksy" presentation, but those days are over.
Considering nearly 25% of business is conducted online, missing out on ⅓ of possible sales because your company skimped on a better visual presentation is unacceptable.
There's also an unconscious effect of graphics whether a potential customer decides that your brand is high-quality, low-quality, or completely unrelated to what they're looking for. High-quality, consistent visuals? High-quality, consistent profits.
Boosts your conversion rate
When running a successful business, having a high conversion rate is essential to thriving in today's economic landscape, where the cost of living has risen dramatically within the last two years. The more visitors you can attract to your business with great graphic designs, the greater the likelihood that you can persuade potential customers to do business with you.
Regarding the benefits of graphic design mentioned above, all of them point towards upping your conversion rate. Striking graphics will stop potential customers and give you a glimpse of their attention. But graphic design goes further than just making things look pretty. The visuals serve as a call-to-action to get customers to perform a business transaction or go further down your sales funnels.
Creates a memorable effect
Let's do a quick mental exercise: Think back to the last time you were wowed by graphic design. It could be an attractive website, a well-designed product, or banners that got your attention on the way to work.
Okay, got a few examples in your mind? Those products and services are just advertised to you for free!
Great graphic design creates a striking effect. With each positive impression, your brand and its products/services resonate long after a customer has seen your marketing materials. Sometimes it only takes a single impression, though many marketing experts agree that 5-7 impressions are the sweet spot for long-lasting brand awareness.
Vice versa, we've all seen examples of bad graphic design and the same exercise as above; the chances are your memory reinforces which brands to avoid like the plague.
Good graphic design communicates competency and professionalism to customers before you even engage with them directly. In effect, customers understand that you've covered all the bases.
For example, if your designs are misaligned, or you've left in blatant typos, customers and vendors may start to think that you've let other things go missing in other business aspects.
Remember that startups and new businesses must catch up to established brands, so devoting your budget to graphic design will give you a better chance of gaining market share.
It helps your brand stand out from the crowd
Graphic design is an arms race regarding consumer shopping for services and goods. When given a choice between comparable price points and identical products, the business with the better graphic design always wins.
This is partly because customers continually look for "novelty" and "the next big thing." By using a graphic design that associates your business with this concept, you immediately separate yourself from competitors that seem old and outdated.
It saves you time and money
There's a big reason why the entire global graphic design industry was worth around $43.4 billion in 2021 ($12.7 billion in the US). It's because the work of graphic designers gets results for businesses that don't have their own design staff and in-house talent.
By creating reusable media, templates, and branding designed by a professional, you'll recycle and reuse these graphics continually as you advertise your brand. Plus, you'll own the rights to these designs. This means cost reductions and better ROI than outdated designs, poor templates, or off-putting graphics.
Even if the initial designs aren't 100% what you envisioned, they can be a starting point for constant improvement. Making tiny tweaks to the design or aligning it with current trends (such as social media campaigns) is cheaper in the long run, making it more efficient to reach your business goals.
And it should also be noted that working with a designer who knows what's permissible and what's not will save you plenty in legal bills should it be discovered that the visuals you created for your social media campaign were another designer's work.
Types of Graphic Design for Your Business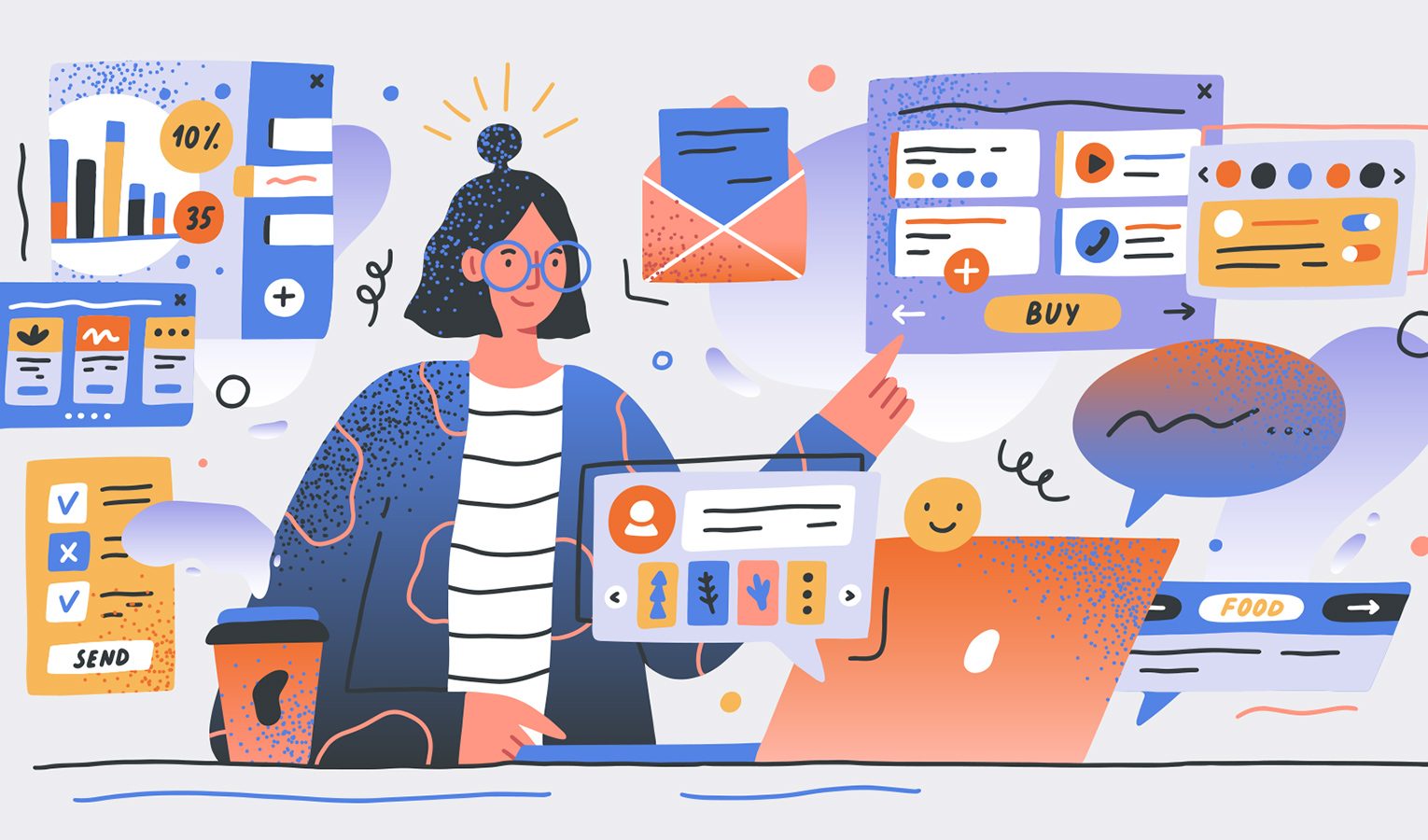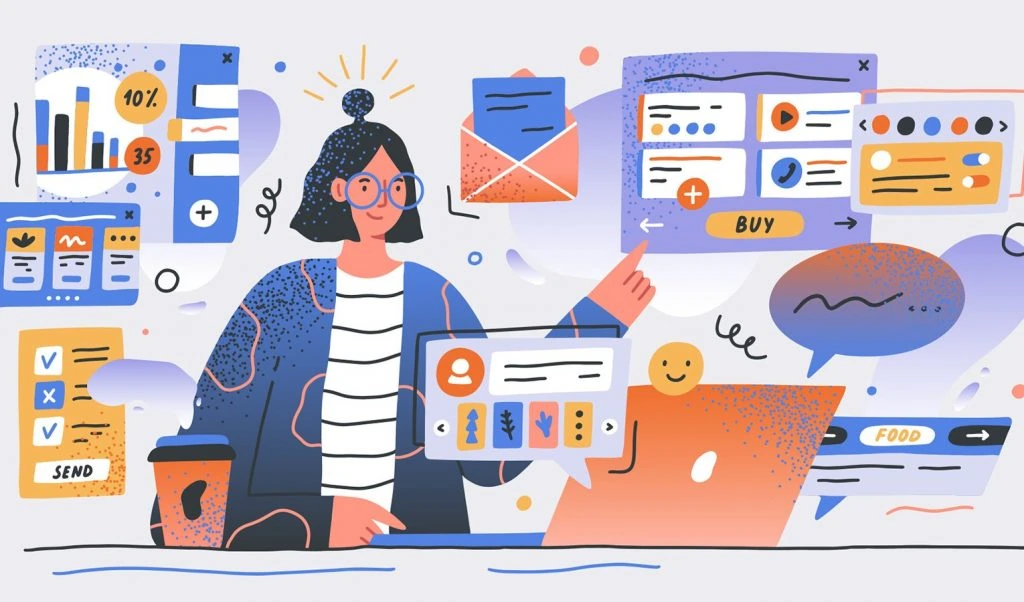 Now that you have an understanding of the many benefits of professional graphic design, let's take a look at examples of where you can incorporate graphic design into your business:
Websites
Mobile apps
Logos & branding
Blog graphics
Digital ads
Infographics
Icons
Wireframes
Stylised web content
Flyers / Leaflets
Compliment slips
Mailers
Newsletters
Letterheads
Calendars
Notepads
Labels
Invoice books
Presentation folders
Booklets
Rubber stamps
Pitch decks
Slide decks
Direct mail

Catalogues
Postcards
Envelopes

Brand guides
Social media graphics
Billboards
Trade show banners
Email graphics
Resumes
Packaging, etc.
4 Ways To Incorporate Graphic Design Into Your Business
Now that you understand how investing in graphic design as a small business reaps significant rewards and where you can use graphic design, the next logical question is: How do I find someone to do graphics for my business?.
To help you understand all of the approaches that small businesses can take, here are four ways to incorporate graphic design into your business:
DIY
If you run a small business and work with a limited budget, one viable option is to create the graphics yourself. With many online courses, affordable college courses, and Youtube sources, good graphic design can be a matter of downloading Photoshop and getting to work!
Pros
DIY work is the lowest-priced way to invest in graphic design for your business. Even with purchasing licenses for popular design programs, producing your work removes overheads from your budget that you can use elsewhere.
Making your graphics gives you a baseline of each graphic design task, including time and effort expended. For example, if you know how long it would take to modify your company logo and create mailers, you can accurately gauge how much you should allot to your marketing budget.
Getting things just how you want them is an advantage. If you're uncomfortable communicating with others, relying on your graphic design talent may produce better results.
Doing your graphic design can be a great way to outline what you're after and hire a professional graphic designer or graphic design agency to realise your vision.
Cons
We all love our work, but it's hard not to suffer from a lack of objectivity. Not everyone has a keen eye for graphic design, and you may hurt your brand with designs you've become too attached to.
Good graphic design that looks cohesive and professional takes a lot of time. From drafting initial sketches, modifying them to fit your vision, and reproducing these visuals in various mediums (i.e., websites, emails, mailers, social media, etc.), you may realise just how much effort it takes.
What to look for in graphic design courses
You pay for what you get when it comes to DIY learning, so look for highly-rated courses with glowing reviews from previous students. If you're taking hands-on courses, look for how often you can get your work appraised by a working professional or get critiques that make you a better graphic designer.
Courses are typically built with a subscription model to make more money (that is their goal, after all). That means that you want concise courses without extraneous material. For example, you should learn the basics of web design platforms, but you don't necessarily need to become a full-stack developer proficient in HTML, CSS, Javascript, PHP, and more.
Hiring in-house graphic designers
With a graphic designer being an integral part of your in-house team, you gain access to a designer solely focused on your brand who knows all the ins and outs.
Pros
On-demand staff work alongside your other personnel to create project after project that refines your vision for a cohesive visual presentation.
Businesses can use a complete or partial WFH/remote work basis to reduce overheads and appeal to the local talent base.
In-house personnel are easier to manage and provide direction, as their work is always available for continual review.
Cons
The best-skilled and most-efficient freelance graphic designers are expensive, often demanding high rates, better equipment, and other amenities.
The hiring process is typically time-consuming, and even after a graphic designer is hired, there's still an issue of whether they fit into your company culture and workflows.
Starting salaries for graphic designers run $60,000 and up, which may be out of budget constraints for many small businesses.
Dismissing an employee can be difficult due to labour laws, where an employee who is fired or laid off may be paid a portion of this previous salary as part of unemployment.
What to look for in an in-house graphic designer
Consider hiring part-time to determine if a graphic designer fits your business. Later, when they've proven their worth, you can switch them to full-time staff for the best results.
Experience working with other businesses and employers is always a plus, as these employees have a track record of success and a verifiable portfolio that gives you an idea of their capabilities.
Hiring freelancers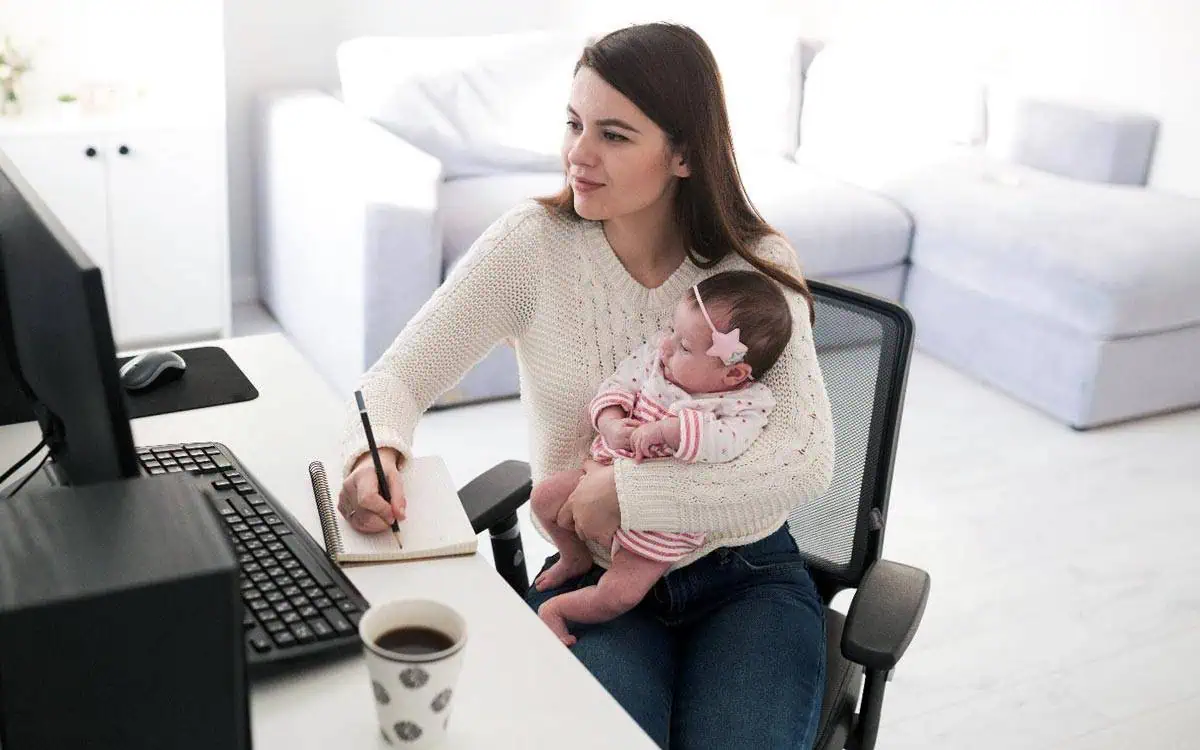 Freelance graphic designers are independent workers that work with your company on a per-job or per-task basis, usually for short-term work. Most freelancers work remotely and can be hired worldwide to meet design needs.
Pros
Freelancers typically offer on-demand working relationships, enabling you to send an email or a message through a work management platform and start assigning work as needed.
Some freelancers are willing to work on a retainer, where your business is guaranteed a set amount of work hours per month in exchange for recurring fees.
Freelancers can often work with a long-term client as a design manager, delegating work to clients and distributing it through their network of designers.
Most freelance designers work from home or remotely, so businesses don't have to waste their budget on office space and other accommodations.
Cons
Managing freelancers is time-consuming, especially if a freelancer is overbooked or they don't offer timely communication.
In most cases, hiring freelancers barely even amounts to a face-to-face meeting or a Zoom call. Expect to feel like "just another number" as freelancers juggle multiple clients, conflicting deadlines, and more.
It's not uncommon for freelancers to disappear or go "radio-silent."
Some freelance graphic designers are oriented to the corporate world, whereas others are more art-centric. Unless you know where your brand stands, freelancers can vary with turnaround times, expectations, and final deliverables that leave more to be desired.
Freelance graphic design can cost businesses a significant portion of their marketing budgets. Remember that graphic design is an in-demand skill, and cutting corners can lead to substandard results.
Online hiring can be hit or miss. Upwork and Fiverr are reliable resources for hiring staff, but remember that you may have to screen multiple candidates to see if they're a good fit.
Because they are freelancers, you may lose out on a graphic designer as they raise their rates, become less available due to workload, or change occupations altogether.
What to look for in a freelance graphic designer
Always verify a freelance designer's recent portfolio. While they may have some great college projects or work they completed years ago, graphic design is continually evolving. Not knowing modern trends and programs can mean delays or backlogged projects until they update their skill set.
When interviewing freelancers, try to look at their past work and ask how much it cost them to create the designs. It helps lock in a creative standard while also giving you an idea of the going rate/FMV for their professional designs. After all, if design stood out to you, chances are that your similar designs will stand out to others, too.
Be clear about their hours of accessibility. If they're domestic, 9 – 5 Monday through Friday is reasonable. However, if the freelancer lives in another time zone, it's important to have overlapping hours where you can expect meetings and communication to occur.
Always aim for transparent pricing in a contract before starting a working relationship. Some freelancers require a retainer to devote their time (usually 50% upfront cost per project), but having the expectations set ensures that everyone has realistic expectations.
Hiring a design agency
Using a third-party design agency is a great way to invest in graphic design for your business. These agencies usually specialise in accommodating most types of businesses and have everything you need to develop your brand's image. Partnering with a design agency is the best option for small businesses, startups, and even large enterprises looking to outsource their graphic design for better brand consistency and results.
Pros
Agencies specialise in handling multiple clients simultaneously, which is scalable to most SMB (small-to-medium business) needs. By devoting or subtracting available personnel, design agencies provide a workforce on demand when you need it. Vice versa, companies devote their personnel elsewhere when your needs are less regular and less demanding.
Design agencies often provide a primary point of contact for designs. This simplifies working with multiple freelancers or in-house designers, where the project manager delegates work to their team, translates your design ideas into reality and serves as an interface when projects don't meet expectations.
Short-term and long-term working relationships are possible with design agencies, as established design agencies can deliver consistent quality.
Top-tier design agencies typically offer other bundled design services as part of their packages. This includes everything you need to deploy designs throughout your digital and physical business presence, including web administration, hosting, video creation, billboard design, conference banners, etc.
Design agencies often work with clients across different industries, so partnering with an agency incorporates more relevant trends and skills that you would otherwise miss (i.e., engaging social media posts, augmented reality designs, and time-sensitive trends).
Cons
Depending on the graphic design agency you choose, their price structure may be less flexible to your needs. They may offer essential services, but you may have to pay extra fees to get professional work done.
Graphic design is a high turnover industry, so quality can vary if a key staff member leaves a design agency.
Agencies that can't scale often can limit your business growth or produce lacklustre designs to provide quantity over quality.
What to look for in a graphic design agency
One of the first things to look for in a graphic design agency is its current portfolio and recent examples of its work. Their prior working relationship with clients should speak for itself with attractive designs. This work gives you an idea of the capabilities of their staff, price points, and more.
Look for scalable design services. The agency should be able to match your needs during busy seasons when you're making tons of designs but offer reduced pricing when demand dies down.
Glassdoor offers reviews about a design agency's working environment. Look at any reviews on Glassdoor from current and former staff to understand whether your project may be delayed due to turnover, if the design agency outsources work to low-paid workers, and other relevant concerns. If you get a bad gut feeling from these reviews, look elsewhere.
Predictable costs from an agency are a priority when working with a design agency. No one likes a hiked-up bill or unexpected surcharges, so either paying for a monthly subscription fee or having the choice of per-project quotes is a good start. Also, look for "unlimited design" services, which enable you to submit as many design requests as you like (perfect for a business that's just starting and needs much work to get going).
Look for versatility. Design agencies should be able to handle all types of graphic design in-house without premium services that are generally outsourced to freelancers or other personnel.
Pay attention to turnaround time and expectations. Delays are inevitable, especially regarding revisions, but you must have clear timelines and delivery dates to execute your business goals on time.
How To Find the Right Graphic Designer for Your Business
1 – Spy on your competitors
There are no rules when looking at what the competition is up to. Look at their graphic design and assess the quality level among their logos, websites, social media, business cards, etc. It will help you establish a baseline of your needs, ultimately making it much easier to find a graphic designer that can either mimic the competition or beat them out in areas where the design may have been an afterthought.
2 – Refine your purpose beforehand
The best graphic designs come from work that matches what you're looking for. That's why it's essential to understand what you're trying to accomplish before speaking with a graphic designer. Because communication is key to getting suitable designs, having some goals is essential instead of attempting to "make things look better." Be specific!
3 – Look for versatility
Graphic design is a catch-all for anything your customers focus on related to your business. Therefore, it makes sense to seek graphic designers who can handle various design applications.
4 – Learn the basics
You don't have to get a degree in design, but understanding the basic principles and the many ways graphic designers can enhance your branding gives you a significant advantage over those who don't.
Conclusion: Getting the Graphic Design Services Your Business Deserves With Inkbot Design
As you can see, professional graphic design is essential to boost your success and establish your brand. By reviewing the tips in this article, you'll be able to make an educated decision that gets the results you're looking for.
If you're ready to take your graphic design to the next level, Inkbot Design is the best choice to start creating striking visuals, compelling marketing materials, and much more. Contact Inkbot Design and request a free quote today!