Facebook Advertising: Everything You Need to Know
Creating Facebook advertising is one of the most effective methods to reach your target audience. You can broaden your client network and increase sales with the correct Facebook advertising approach.
Take our virtual hand and let us guide you through the process of creating and operating your own Facebook ad campaign. We'll discuss the core of Facebook advertisement so that you can formulate a full-fledged strategy to make it work effectively!
What is Facebook Advertising?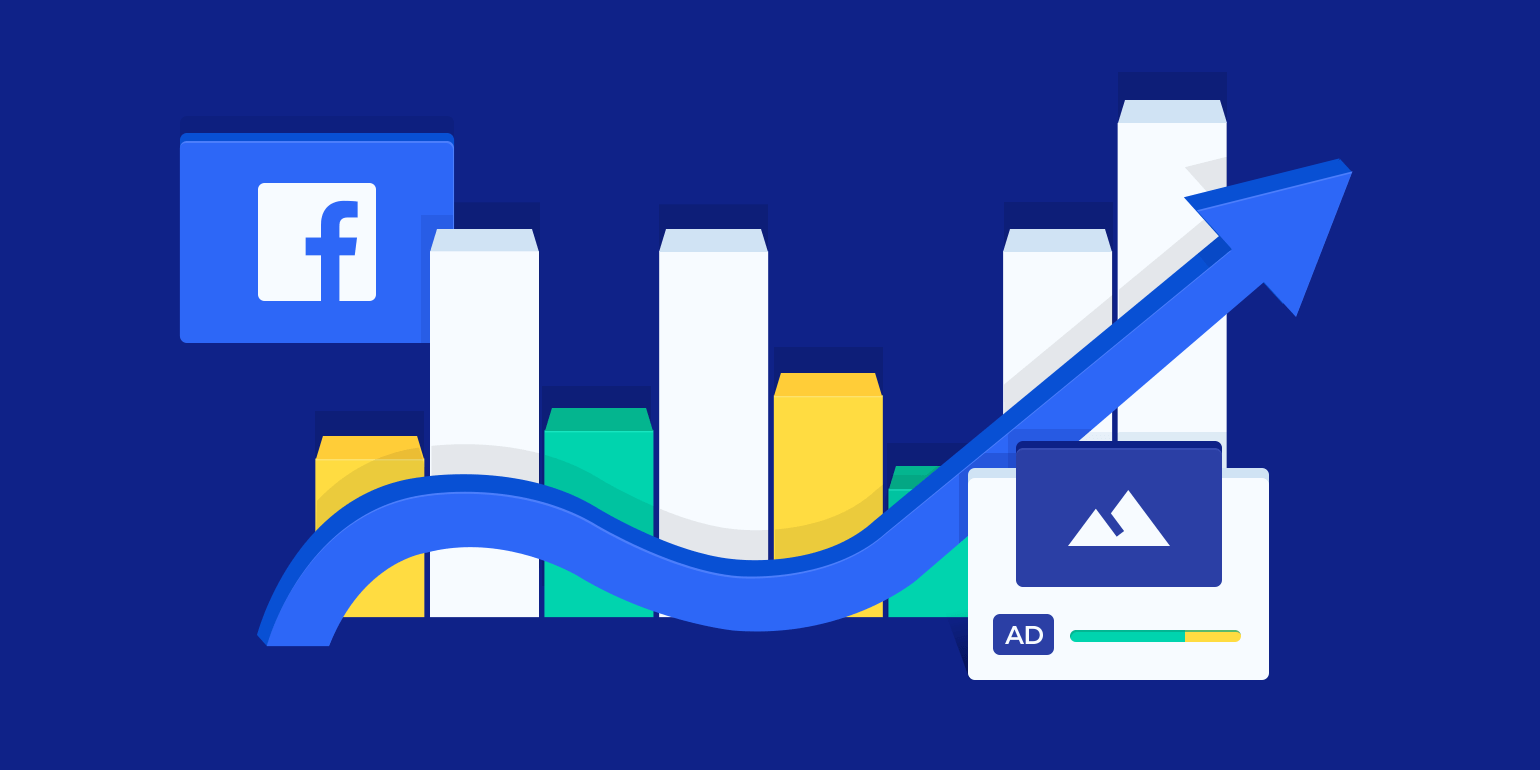 Facebook ads are advertisements generated and posted on the Facebook network to be aimed directly at its users. Facebook advertisements are display ads that can only be viewed by users of the platform who have been chosen using Facebook's targeting capabilities.
There is a tonne of people who regularly see Facebook advertising, with roughly 3 billion active users.
Successful marketing does not reach everyone; instead, it targets the correct audience, and Facebook is tremendously helpful in this regard.
With roughly 10 million active advertisers attracted by its ability to target particular demographics precisely, Facebook generates $28.6 billion in revenue a quarter.
Types of Facebook Ads
To create the best marketing approach for your target demographic, you must understand the various styles of running Facebook ads.
Video Ads: Facebook video advertising use sound and action to bring more attention to your service or product. You can create or upload a video with Facebook's Ad Manager to meet your ad target with videos.
Video commercials do not have to be shot; they may be GIFs or other sorts of animation that showcase your goods most imaginatively.
Poll Ads: Poll advertisements can help you improve your social media advertising game. Mobile-only poll advertising is beneficial for a variety of reasons.
View the number of participants and poll results in the Facebook Ads Manager to achieve campaign goals. When consumers surf Facebook on the move, polls operate on specific mobile devices. The identical ad will still appear on other devices that do not have the poll option.
Image Ads: Image advertisements are the most basic approach to getting started with paid advertising. Use images on your Facebook profile, stock photographs, or build your image ad. These introductory advertisements are ideal for driving traffic to your website, promoting certain items, and creating a fast ad.
AR (Augmented Reality) Ads: Using augmented reality elements in Facebook advertising is an excellent approach to increase brand recognition. These effects include filters and animation, which allow customers to test your product before purchasing it.
They may use these effects to produce photos or films they can publish on social media. Include a call to action to entice people to purchase the item or browse your store page.
Dynamic Ads: Advertise to people that are already fascinated by your items. These are the most effective Facebook advertisements for people who placed your products in their shopping cart but never completed the transaction.
Machine learning is used in dynamic advertisements to scale individuals depending on their behaviours, purpose, and interests.
Instead of manually building ad sets for all of your items, list them in a catalogue and use automatic suggestions to increase sales.
Story Ads: Facebook Stories advertisements are ideal for showcasing your services and products in an attention-grabbing, vertical video format.
Customers can rapidly determine whether your company and product are right for them because of the story's condensed length and concentrated presentation of crucial aspects.
Use Ads Manager or the Meta Business Suite software to develop imaginative, interactive, and quick-working advertising using Stories.
Messenger Ads: The Chats tab includes Messenger advertising; now and again, an advertisement will interrupt a discussion to invite listeners to check out your goods and deals.
You will lead them in the direction you specify using the CTA button throughout the creation process. Use Messenger's worldwide reach to your advantage to achieve your goals.
How Do Facebook Ads Work?
Users are shown tailored Facebook adverts based on their location, profile data, and demographics. For example, if you sell custom jerseys, you will have to look for people interested in dope customised fashion at your location.
After designing an advertisement, you establish a budget and place a bid for each click or thousand impressions. Additional ad forms include carousels (many pictures), photos, videos, and Instant Experiences.
The highest likelihood of achieving your objectives is when users see your advertising on the Facebook sidebar or in their newsfeed.
Although Facebook's other ad alternatives are lovely for increasing brand recognition and engagement, direct response advertisers still prefer advertising that sends visitors off the site.
Is Facebook Advertisement Beneficial?
Facebook currently has over 1.13 billion regular active users, 1.03 billion of whom utilise mobile devices to access social networks. Every day, the average user spends roughly 50 minutes on Instagram, Messenger, and Facebook.
Businesses can target consumers based on location, gender, hobbies, behaviour, demographics, age, and other factors.
Let's break down the significance of Facebook marketing in terms of pros and cons to help you make an informed decision.
Pros:
During the first quarter of 2022. Digital advertisements accounted for 51% of all US advertising spending alone (including Facebook, among other things).
Your Facebook advertisements are now viewed by a wider audience, thanks to Facebook's acquisition of Instagram in 2012.
The capabilities of Facebook Ads provide you with much freedom in the kinds of ads you may make.
You have greater freedom and flexibility in producing Facebook advertisements that accurately represent your company because they are also displayed on Facebook and Instagram's display network.
Finding the best option for your company requires time and research, but it will be worth it.
You may offer your goods and services by using photos and videos to pique the attention of your target market.
More demographic targeting choices, such as likes/interests, income level, towns, regions, age, and others.
Depending on your business, CPC is reasonably priced, and the return on investment is immediate.
The capacity to influence people early in the purchasing process, before they are conscious of their need, while subtly snatching up on those already aware of the requirement.
The Business Manager feature on Facebook makes it simple for advertisers to submit their first ad on the website. The vast audience of active users and the adaptable advertisements deliver quick results.
According to research, 57% of customers feel that social media impacts their purchasing decisions. Of all the social media channels, 44% claimed that Facebook had the most influence.
Cons:
It can be expensive if set up and maintained improperly, although it's less than Google AdWords.Unless you select a lifetime budget, there is no way to target your advertising at specific times of the day or on specific days of the week.
Most appropriate for business-to-consumer marketers.
Reaching consumers too early in the purchasing cycle could result in a decline in your target conversion rate.
The bulk of the sizable prospective audience may not be related to your target market.
How to Create a Facebook Ad Campaign?
It might be a bit challenging to set up Ads on Facebook. Let's go through this process step-by-step.
The Facebook Ads Dashboard is where you can access all the necessary menus, buttons, and tools. You can control every element of your Facebook ads campaign from the dashboard. There is a lot on this page, so be careful to bookmark it for future use.
Create Your Facebook Advert Account
The Facebook Ad Manager is an advanced dashboard that gives users a summary of their campaigns. The dashboard's column-based layout makes it simple to filter through your adverts and generate a personalised view of your results.
Reach, frequency, and cost are crucial metrics easily accessible, evaluating performance as a no-brainer.
Create Your Ad Using Facebook Ad Manager
All your ad sets, advertisements, and campaigns will be featured on the performance dashboard you view after logging into the Ads Manager. This dashboard won't include anything unless you've already generated an advertisement for your Facebook page.
Click the green "Create" button next to the kind of ad you want to create in the Facebook Ad Manager to start a new ad, campaign, or ad set.
Select Objective of your Campaign
You will be prompted to select a goal for your Facebook ad campaign via Facebook's Ads Manager. 11 distinct goals might be anything from boosting app traffic to raising company exposure. Facebook will better understand your goals if you select an objective.
Create a specific tracking URL with UTM parameters using marketing automation software. Customers of HubSpot may accomplish this using the Tracking URL Builder. Once an option has been chosen, Facebook will then provide the ad choice that is best appropriate for attaining this goal.
Select your Target Audience
You'll probably need to test out various targeting choices if you're just getting started with paid advertising on Facebook.
Facebook's targeting parameters are supplemented with an audience definition gauge to assist your focus. This tool calculates a possible reach number by considering your chosen parameters.
Focus on the folks you know will be eager in your service if you're trying to increase traffic or raise brand awareness. Facebook's built-in targeting features are extensive and include options for geography, age, gender, and other factors.
Additionally, you can choose a Custom Audience, which enables you to target customers who looked for a contact in your company's database or went to a specific page on your website.
Facebook gives you the option to keep audiences who respond positively to your advertising so you may utilise them again in the future. You might not need to go further with this stage when you have been running Facebook advertisements for a time.
Time to Set Your Budget
You may specify a daily or lifetime budget for your ad on Facebook. Choose a lifetime budget if you want to run your advertisement for a predetermined period.
Facebook will therefore pace your spending throughout the time frame you specify. The daily minimum for an ad set must be $1.00 and be at least twice your CPC.
You may decide whether you want your campaign to start running immediately and continue or if you want to set the start and finish dates yourself.
You may also establish restrictions so that your advertisements only appear at certain times and on particular days of the week. Turn to the advanced settings to further define your budget.
Optimise Pricing & Delivery Time
Decide whether you want to bid for your aim, clicks, or impressions. By doing this, you'll pay to have your advertisement displayed to members of your target market who are more inclined to take the required action.
Facebook will offer a recommended bid based on the actions of other marketers to give you an idea of what you should aim for.
Based on your cost-per-click and cost per 1000 impressions, Facebook will charge you (CPM). On Facebook, the typical CPC is $0.93, while the typical CPM is $12.58. You determine the advertising cap from a daily cap to a lifetime budget (the total amount you plan to spend on the campaign).
On the other hand, while accelerated delivery makes it easier for time-sensitive advertising to reach an audience swiftly, standard delivery will display your ads daily.
Finally, It's Time to Generate Your Ad
Facebook's Ad Manager will recommend the Clicks to Website ad alternatives to create ads. Links and carousels are the two options available for this ad type.
At no additional expense, you can choose to display a single image ad (Links) or a multi-image ad (Carousel) with three to five scrolling pictures.
The Ads Manager will prompt you to specify how you want your ad to display on Facebook. Facebook requests that users follow the recommended design guidelines when creating single-image ads.
You will be given several ad alternatives, such as Page Post Engagement: if you choose to "boost your posts."
Evaluate Your Ad's Performance
Following the launch of your adverts, you should monitor their performance. Here are some critical indicators to check for (along with their meanings). According to Facebook, site behaviour includes payment details, checkouts, purchases, and adds to the cart!
Depending on how detailed you need to get, there are four major approaches to approach your data when evaluating your advertising data.
Metrics like app installations, app engagement, credit spending, mobile app activities, and cost-per-app engagement may be added to apps to tailor them further.
The effectiveness of your advertising campaigns may also be evaluated using click-through rates and Cost per Click (CPC).
Besides, a high-level overview of account performance for all campaigns is provided. You may further dive into downtime periods and tailor the data you wish to observe.
You may further refine your research by evaluating the effectiveness of campaigns and even single ads. This might assist you in determining which audiences and messages are most effective.
Conclusively, your marketing software will benefit from tracking URLs to track the number of leads—or, better still, customers—that your advertising campaigns have generated.
By going to the Monitoring URL Builder on the Reports Home page, you can also build customised tracking codes for your Facebook campaign.
You'll be able to measure how many visits, contacts, and customers you're producing after your ad opens and you start getting conversions and traffic on your website.
Tips To Create Successful Facebook Ads
Build an Effect Target Audience Strategy
To begin with, audience targeting isn't combined at random in the ideal Facebook advertisement. Testing is used to improve aiming accuracy over time. Here is a straightforward strategy for building a lookalike audience.
Lookalike audiences are influential because they allow you to target potential customers on Facebook using current data, such as those who have already purchased from your website.
Moreover, you should strive for a comparable audience of 1% to 2% if you are marketing to a nation's population. Don't exclude custom audiences of folks who have previously converted for the most significant outcomes.
You could modify your audience targeting technique after completing your first campaign.
You may target users who possess particular devices, those who will celebrate an anniversary in the next two years, or those who have just made a professional purchase under behaviours.
Be Bold, Clear & Loud
The ideal Facebook advertisement doesn't irritate viewers with dull advantages or verbose sales pitches. Use a friendly tone and be loose with the sales tactics. Research has shown that conversational and unambiguous headlines perform the best.
The "text" box, not the "title" field, usually is where your Facebook ad's headline appears. You may have noticed that the "title" of the ad displays under the picture in the third place in Facebook's ad builder.
This would render the title wholly meaningless and the second thing you read in the advertisement.
Be sure that your Ad is Conveying your Message
Too many attempts to combine direct response with brand recognition seldom work unless you're a marketing genius.
CTAs connected to content consumption, such as requesting email subscriptions or following your Facebook page, are more suited for creative brand awareness efforts.
Instead of engaging or entertaining, direct response advertisements work best when they address frequent purchase obstacles.
Refine Your Strategy Every Now & Then
You can modify your audience targeting technique after you've completed your first campaign. To check if they have an effect, add each one at a time. Another strategy is to begin by testing large audiences and then add additional specificity.
Use Accurate Description & CTA(call to action)
The ideal Facebook advertisement knows that compelling individuals to do an action always makes potential customers anxious. Use this area to prepare for typical sales objections.
If your call to action is to "Download your report," a frequent denial from the audience may be that the report is not valuable.
Use Images For Interactive Ads
The ideal Facebook advertisement has a deft balance between language and art. If the headline reads "Make money while you sleep," a stock photo of a person wearing pyjamas holding wads of cash will appear.
Alternatively, if the headline reads "become a social media Yoda," a social media manager decked up in Jedi garb will appear. As a result, the words and art are in contrast with one another and interact.
You can choose the slideshow's square or rectangle form, the amount of time an image is shown, and the type of transition between images (none or fade). Additionally, Facebook allows you to edit the wording as well.
You must submit your Facebook ad campaign within 24 hours and adhere to Facebook's advertising standards. Check out our tutorial on how to set up your first Facebook ads campaign if you're new to Facebook.
Final Notes
Facebook advertisements are incredibly effective marketing strategies. They enable you to create and publish cost-effective advertisements targeting specific client categories.
Don't forget to maximise the platform's ability to be customised and its interaction. You can build the type of interaction that Facebook and your bottom line will appreciate if you actively engage with potential consumers.
Additionally, because most Facebook users are on mobile applications, many of your ad settings may never be clicked on by desktop users. Hence, your ads must be mobile-friendly!
Author Bio: Filip Nikoloski is a Partnership Specialist at Printify. Printify is a transparent print-on-demand and dropshipping platform designed to help online merchants make more money simply and easily.