What are the Real Differences Between Branding and Graphic Design?
Right off the bat, let's start by saying that graphic design and branding are two separate entities and need to be treated as such.
While sounding blunt, it's essential for your business to make sure this is clear.
Of course, some of you may already know this, in which you're fine to carry on, but if you're unsure of the differences, we highly recommend you sticking around.
This is because the branding of your business is one of the most important and significant aspects of your company.
It's how your customers see and will ultimately interact with your business.
Fail to get your branding right, and your business won't last long.
However, that doesn't mean that graphic design isn't incorporated into aspects of branding, there are just some significant differences that could save you a lot of time, money and can help to enhance the growth and success rates of your company.
With all this in mind, today we're going to jump into the very real differences between branding and graphic design, helping you understand everything you need to know to make the best decisions for your business.
Graphic Design is Part of Branding
As mentioned above, graphic design is just one element that goes into making and creating a successful brand.
It's part of the process.
By definition, graphic design refers to the creation of content and visual aids that will then be used to create and nurture your brand into existence and the realms of success.
What Does Graphic Design Create?
Everything that's visual.
From your company's logo and banners to letterheads, website banners, advertising content, and fonts; even down to the design of your packaging, your graphic design team, whether in-house or outsourced, is responsible for all of it.
However, these visual components of your brand will be generated in line with the guidelines that your brand creates, and thus complement each other to create the image that your business has in the eyes of the public.
Combining Graphic Design with Branding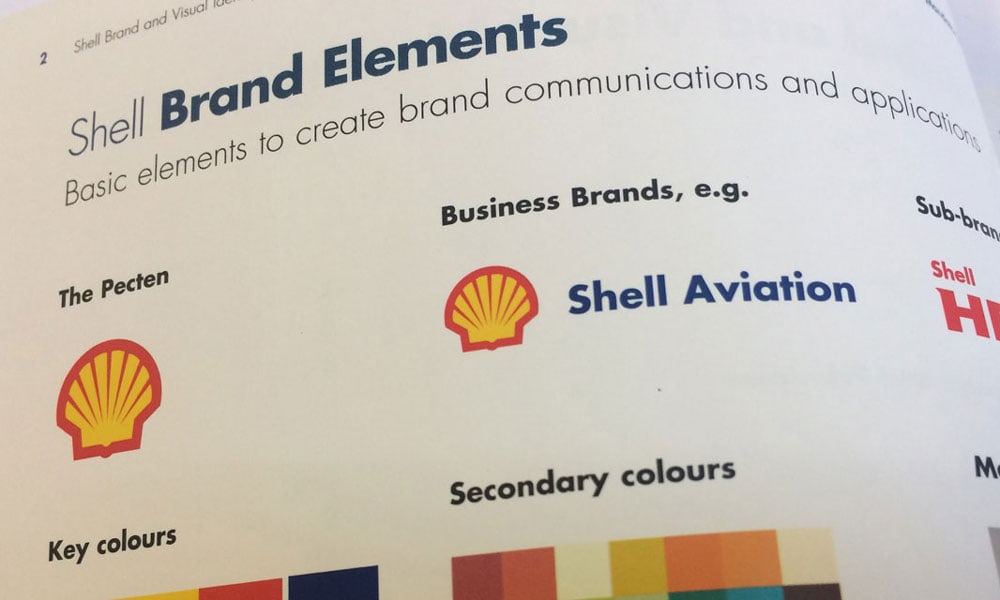 Firstly, you'll want to start with your brand guidelines.
This means developing a strategy on how you want your business to be seen and expressed in the eyes of the public, which of course refers to your leads and potential customers.
Let's look at some examples.
Nike
Through their iconic visuals, dramatic advertisement campaigns and copy like mission statements, vision and taglines (including the worldwide 'Just Do It'), Nike has got their branding down to a tee.
Even the mention of the word Nike probably creates an image in your head of an athletic, perhaps between the ages of 18 and 35, both genders, in smart tracksuits and aesthetics while giving their all to achieve something great.
If this is an image you can agree with when you think of Nike, then this just goes to show the power that their branding has.
Of course, this image (brand) has been created by implementing the graphic design into everything they do.
For example, the font that Nike uses is typically big, bold and holds many impacts.
It's hard to miss, clear and concise, and immediately grabs your attention whenever you see it.
Moreover, the simple Nike 'tick' logo is not really simple at all but hold a ton of subliminal messages and subconscious connotation that connect to anyone who sees it and pushes the positive image of their brand further.
Headspace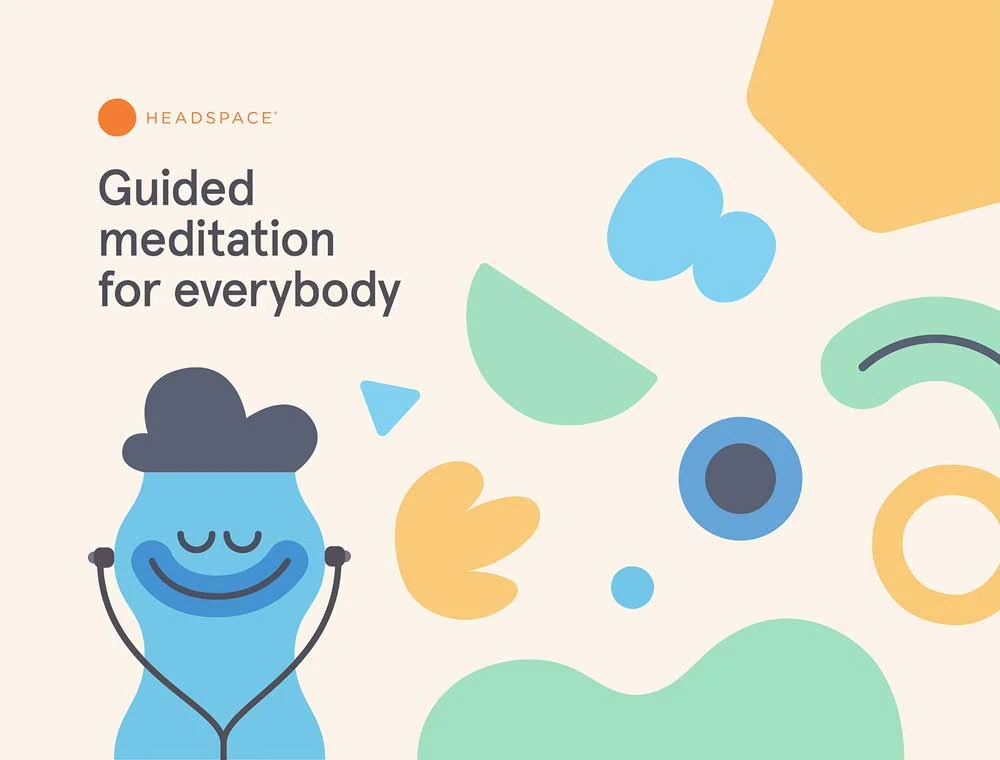 There's no denying the Headspace meditation app has taken the world by storm, especially when you consider it's used by millions of people around the world.
However, the app's success is mainly down to the branding of the company, coupled with excellent user experience and attractive graphic design.
If you head onto the app or the Headspace website, you'll see a consistent orange theme that's calm and relaxing, as well as images that blend nicely together with no abrupt edges or sharp, impactful fonts.
Instead, everything is smooth and flows together, far the opposite of Nike, but still just as effective for this market.
The company also uses a mixture of fonts and graphics mixed with hand-drawn images and sketches that add a human element to the brand, which of course works perfectly for a meditation app.
The guidelines for this brand would have been something along the lines of being calm, relaxed and aesthetically pleasing.
Nothing that shocks or startles a user.
Dropbox
Our final example is one of the world's leading cloud sharing platforms known as Dropbox.
When Dropbox was first released, it boasted a clean and minimal design that helped keep things simple, professional and sleek.
However, back in 2017, Dropbox heavily upgraded its brand to a visually-heavy design that oozes creativity and colour.
This brand aspect is used to promote the number of services and functions that Dropbox has to offer, proving that the only limit to using the service is you yourself.
Of course, there must have been a ton of work that went into the graphic design aspect of this brand switch up, but it seems to have paid off.
When you look at the website or marketing material now, everything is very eye-catching and attractive, and instantly makes you want to know more.
Branding = Body / Graphic Design = Skeleton
The process of graphic design is what makes branding possible.
Branding refers to the image that a business has in the minds of their customers.
For example, if you want to open a coffee shop, how do you want to present yourself to your customer?
Of course, for this, you need to be aware of who your target market is and how they think.
In this example, are you going for cheap and cheerful where people can come before work to get a coffee, or do you want to attract business professionals, families, freelancers and workers, everyday people looking for somewhere to go at the weekend, women, men, young people or older generations, or a mixture of the above?
The graphic design of your ad content, your website, and the interior elements of your café, such as your menus, display boards, and logos, will all be created through the graphic design process.
However, your branding will determine what this is based on your target market.
Will you be chic, stylish and a contemporary coffee shop with books, sleek tables, and chairs and a professional atmosphere, or would you instead go for something more artisan, such as wooden décor, decorative paintings on the walls and flowers on the surfaces?
Obviously, there are lots of different variations of each, but this can all be decided by monitoring and detailing your target market, and then creating what will resonate with them the most.
This idea and vision for your product or service will then motivate and drive your graphic design team to use fonts, graphics, logos and other forms of design which then boost this image.
Is All of This Important?
You'd be surprised with how many people and businesses skim over their graphics, branding ideas, and designs because they fail to see the importance in it all.
Many professional businesses with the best intentions settle for stock imagery and template logos they find online just because it looks nice or suits their budget.
However, it's vital you spend time creating your own visuals and graphic design elements because these, in most cases, will be the first impressions your business has on the minds of your customer.
Any part of your branding will enter the mind of your potential customers, and they'll form an opinion as to whether they want to use you or not.
If you're using stock generated images, templates of any kind, or you haven't designed your visuals around your branding guidelines, you'll create the wrong impression or no impression at all, and this is how your customers will treat you.
In most cases, this will simply lead to your customers avoiding business with you, which will have a negative connotation and impact on how well you succeed.
How to Bring the Two Together for Yourself
Now you know all the differences between branding and graphic design, it's time to piece it all together to create the best results for your business.
As we've mentioned above, it's important to make sure you're researching your target market and brainstorming the type of business you want to have.
From here, list out several key elements that describe the kind of image (brand) you want your business to have.
You can then create content, visuals and all kinds of marketing strategies to suit this business, whether this is online or in the physical world.
These are the guidelines you'll pass to your graphic design teams, who will then create content matching these guidelines, thus creating a branding image that suits the impression you want to give your customers.
All you then need to do is to make sure every other aspect of your business is consistent with this branding image, from your website written content to your customer service attitudes, and you'll have a branding that drives your business towards the realms of success.
Author Bio: Joel Syder is marketing consultant and writer at PhD Kingdom and Next CourseWork. He enjoys helping businesses design branding strategies that bring results as well as creating articles about things that excite him.