The 8 Best MacBook Pro Alternatives
Apple's MacBook Pro has set the standard for high-performance laptops for over a decade. Its sleek, aluminium unibody design and innovative features like the Touch Bar have made the MacBook Pro the go-to choice for creative professionals, developers, and power users.
However, in recent years, the laptop market has evolved rapidly. Powerful Windows laptops from Dell, HP, and Microsoft now rival and surpass the MacBook Pro in specific areas like graphics performance and port selection. Even dedicated Apple users have begun to explore quality alternatives to the MacBook Pro.
This comprehensive guide will highlight the eight best laptops to consider if you want a MacBook Pro alternative in 2023. We'll compare specs, designs, features, and real-world performance across various categories.
Whether you're a creative pro wanting more graphics power, a mobile professional needing better battery life, or a Windows user wanting to see what the other side offers, you'll find the perfect high-end laptop alternative to the MacBook Pro. The contenders include versatile 2-in-1 convertible PCs, mobile workstations, and no-compromise powerhouses.
So, if you want to upgrade from your current MacBook Pro or try something new, discover the eight most capable MacBook Pro alternatives that provide the ideal blend of power, portability, and productivity.
Performance Powerhouses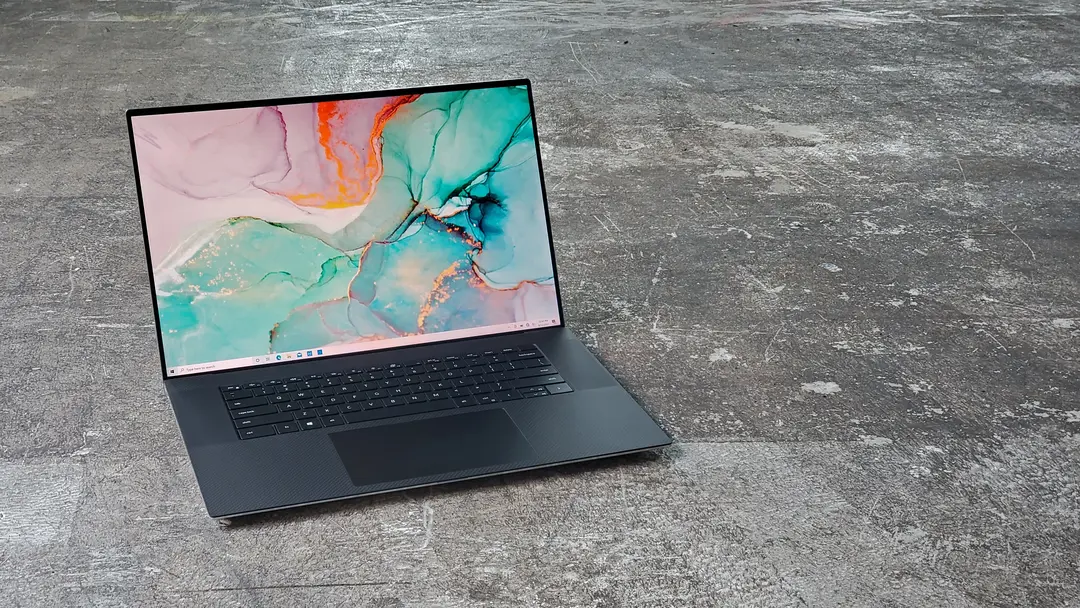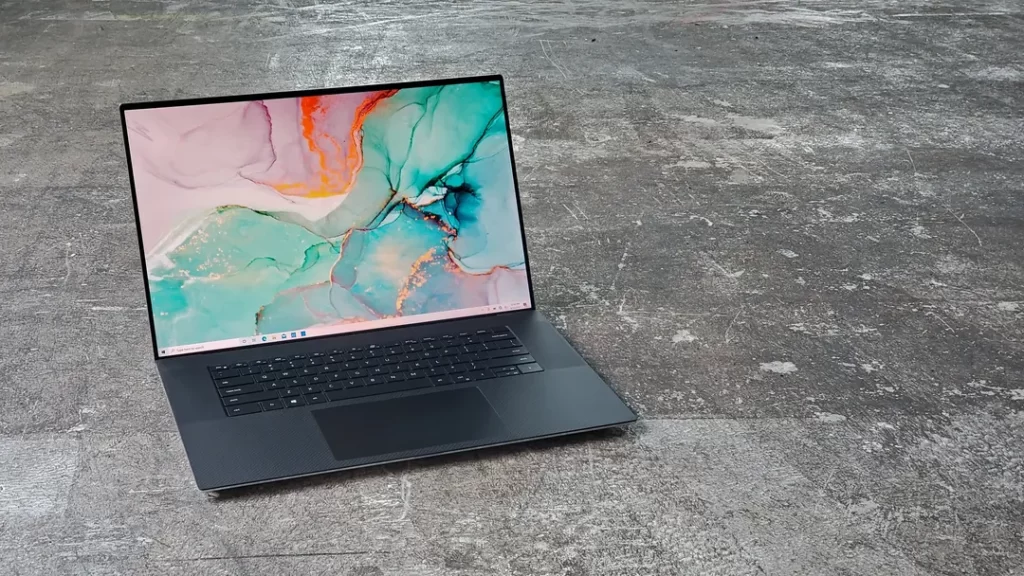 1 – Dell XPS 15
The Dell XPS 15 is a formidable competitor in high-performance laptops, taking on stalwarts like the MacBook Pro. Under the hood, it packs the latest and greatest from Intel and NVIDIA, imbuing the XPS 15 with exceptional processing muscle for intensive workloads.
Benchmark results reveal the extent of the XPS 15's capabilities. In Cinebench testing, its 10th gen Intel Core i7 CPU achieves multi-core scores upwards of 2000 cb, surpassing equivalent chips in the MacBook Pro. The gap widens for single-core performance, where the XPS 15's boost speeds of 4.5 GHz outpace the MacBook's base frequencies.
Graphics show a similar story – the XPS 15's GTX 1650 Ti GPU trades blows with the MacBook Pro's AMD Radeon units. The two achieve comparable overall scores in 3DMark's Fire Strike test, while the XPS 15 pulls ahead in graphics tests. Real-world games see frame rates of 60-80 fps on the XPS 15 at High settings, enabling smooth gameplay.
This raw performance translates to a snappy, fluid user experience. The XPS 15 boots rapidly, instantly launches apps, and efficiently juggles demanding workloads like video editing and data science. Many users switching from the MacBook Pro comment on the XPS 15's superior performance, especially when multitasking. The ability to equip it with 64GB of RAM further enhances its capabilities for intensive creative endeavours.
Ultimately, the XPS 15 stands toe-to-toe with the MacBook Pro as a laptop optimised for power users. From benchmarks to real-world use, its combination of latest-gen Intel and NVIDIA silicon provides:
Performance that surpasses Apple's offering.
Making it an appealing choice for creative professionals.
Developers.
Any user needing a high-performance portable workstation.
2 – ASUS ROG Zephyrus M16
The ASUS ROG Zephyrus M16 offers top-tier performance and display quality, appealing to gamers and creative professionals looking for a versatile alternative to the MacBook Pro.
At the heart of this slim 16-inch laptop is an 11th Gen Intel Core i9 processor and NVIDIA GeForce RTX 3060 graphics, delivering speedy performance for gaming, video editing, 3D rendering, and more. The 16:10 WQXGA display boasts a 165Hz refresh rate and 2560 x 1600 resolution, providing an immersive viewing experience with crisp detail and fluid motion.
For creators, the high-resolution display reproduces 100% of the DCI-P3 colour gamut, which is ideal for photo and video work where colour accuracy is paramount. It also covers 100% of the sRGB range, catering to general users. At 500 nits brightness, it's readable even in bright environments. The 16:10 aspect ratio gives more vertical workspace than a traditional 16:9 display, a boon for productivity.
Gamers will appreciate the M16's 165Hz refresh rate and 3ms response time, reducing motion blur and lag for a competitive edge. NVIDIA G-Sync synchronises the display's refresh rate with the GPU for tear-free gameplay. The Zephyrus M16 handles demanding AAA games smoothly, which is ideal for high-fidelity gaming.
With its professional-grade display, powerful internals, and slim profile, the ROG Zephyrus M16 is a versatile creative laptop with gaming-grade graphics. For users seeking performance, portability, and display excellence, it's a compelling alternative to the MacBook Pro 16.
Design Elegance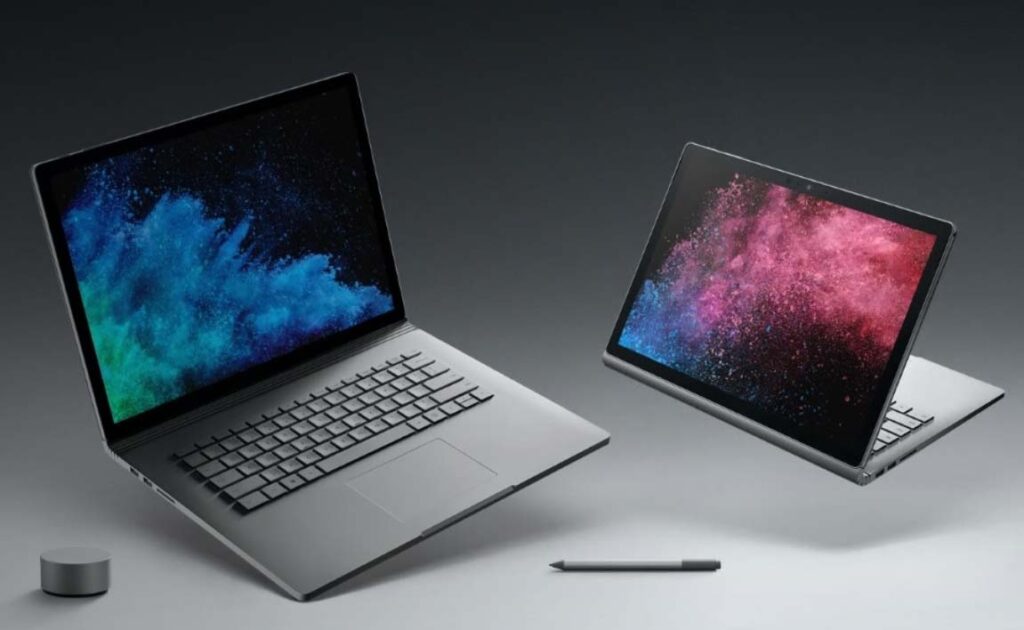 3 – Microsoft Surface Laptop 4
Microsoft's Surface Laptop 4 is the pinnacle of elegant yet powerful laptop design. With its sleek, minimalist aesthetic and premium build quality, the Surface Laptop 4 makes a striking style statement while delivering solid performance.
The design philosophy behind the Surface Laptop 4 focuses on simplicity and mobility. The thin, lightweight magnesium chassis and perfectly squared edges give the Surface Laptop 4 an understated, modern look. Microsoft offers the Surface Laptop 4 in a range of muted, sophisticated colours like Sandstone and Platinum, complementing the pared-down aesthetic.
Despite its thin profile, the Surface Laptop 4 feels reassuringly sturdy thanks to its metal body. The smooth, rounded corners and seamless hinge give the laptop a refined polish. Opening up the Surface Laptop 4 reveals the same attention to detail, with neatly rounded keys on the backlit keyboard and a perfectly centred trackpad. No unnecessary embellishments or chunky bezels detract from the minimalist vision.
This emphasis on portability translates into an excellent everyday carry for busy professionals. Weighing in at just 2.79 pounds, the 13.5-inch Surface Laptop 4 slips easily into a bag or backpack. Frequent travellers will appreciate the compact size and lightweight when trotting through airports. The 14.5-inch model weighs a still-portable 3.4 pounds for those wanting more screen real estate.
Despite the thin, lightweight chassis, the Surface Laptop 4 feels sturdy enough for life on the go. The laptop exudes quality craftsmanship that should withstand being tossed in a bag. The keyboard deck and trackpad don't flex under pressure, and the efficient cooling system prevents the Surface Laptop 4 from getting uncomfortably hot on your lap. The metal exterior effectively resists scratches and scuffs from everyday use. While not indestructible, the Surface Laptop 4 holds up well for a portable laptop.
With its beautiful yet understated design, the Surface Laptop 4 offers the perfect blend of style and mobility for the modern professional. Its premium materials provide durability and resilience for everyday use while maintaining a sleek, refined aesthetic. For those seeking power, portability, and elegance in a laptop, the Surface Laptop 4 hits the mark.
4 – LG Gram 17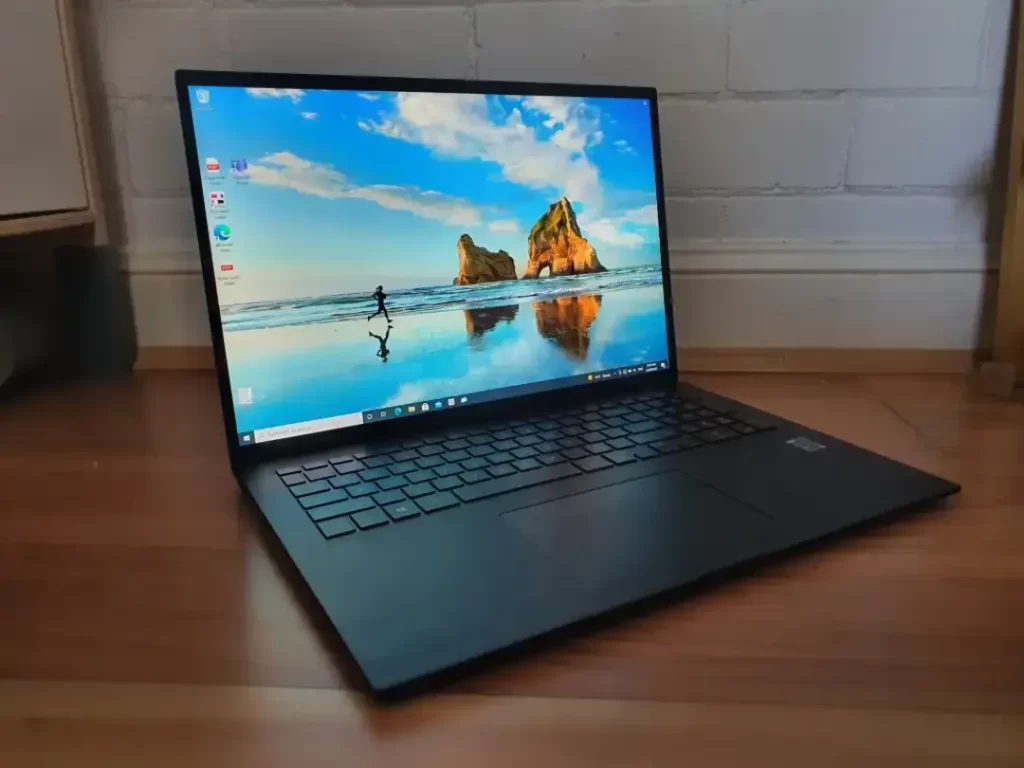 The LG Gram 17 laptop is designed to deliver an expansive 17-inch display in a remarkably lightweight and portable package. At just under 3 pounds, the Gram 17 provides one of the largest screens available on a laptop while still being easy to carry around all day.
The show's star is undoubtedly the 17-inch WQXGA display, with a crisp 2560 x 1600 resolution that provides expansive screen real estate perfect for productivity and multitasking. The nearly bezel-less design means the screen takes up over 90% of the laptop's footprint, maximising the display area. Whether working with multiple windows side-by-side or watching movies, the Gram 17's screen is a pleasure, with sharp details, vibrant colours, and wide viewing angles.
Despite the large display, the Gram 17 is astoundingly lightweight at just 2.98 pounds. This featherweight design makes it easy to throw in a bag and carry around all day without neck or shoulder strain. The slim 0.7-inch thickness also contributes to the portability. Yet, with military-grade durability, you don't have to worry about the lightweight chassis compromising on protection.
Battery life is another major highlight of the LG Gram 17, easily outshining competitors. Thanks to the 72Wh battery, LG claims up to 17 hours of use on a single charge. In real-world testing, 12+ hours was readily achievable even at medium-high brightness levels. This exceptional endurance means you can go through full workdays without plug-in. The fast charging capabilities also allow you to top up quickly when recharging.
With its excellent combination of a large 17-inch display in a slim and featherlight body and marathon battery life, the LG Gram 17 is a compelling choice for those needing a highly portable laptop without sacrificing screen size or performance. The expansive and vibrant 17-inch display, military-grade durability, and all-day battery life make this an excellent option for productivity, entertainment, and portability needs.
Value for Money
5 – Lenovo ThinkPad X1 Carbon
The ThinkPad X1 Carbon has become one of the most reliable and productive laptops today. As part of Lenovo's flagship ThinkPad series, the X1 Carbon upholds the legacy of performance and durability that ThinkPads are known for. With each new iteration, Lenovo has focused on enhancing the productivity features and value proposition of the X1 Carbon.
Regarding productivity, the X1 Carbon shines with its keyboard and trackpad. The signature ThinkPad keyboard on the X1 Carbon provides a responsive and comfortable typing experience. The keys have a nice tactile feel and travel, enabling fast and accurate typing. The large trackpad is smooth and precise, making gestures and navigation seamless. Beyond the keyboard and trackpad, the X1 Carbon offers numerous ports, including USB-C and Thunderbolt 3, to connect peripherals and displays. It also packs powerful internals like Intel Core processors and fast SSD storage to handle intensive tasks and multitasking.
From a pricing perspective, the X1 Carbon presents an attractive value compared to competitors like the Apple MacBook Pro. While configured similarly, the X1 Carbon retails for hundreds less than the MacBook Pro. For example, a Core i5 X1 Carbon with 16GB RAM and 512GB storage costs $1,639.99. A comparable MacBook Pro with a Core i5, 16GB RAM, and 512GB SSD retails for $1,899. This price difference illustrates the value proposition of the X1 Carbon relative to premium alternatives.
For professionals and businesses needing a reliable, portable workhorse, the Lenovo ThinkPad X1 Carbon merits strong consideration. With its balance of productivity, performance, and price point, the X1 Carbon carries on the ThinkPad legacy impressively.
6 – Acer Swift 5
The Acer Swift 5 is a budget-friendly laptop that punches above its weight class regarding performance and display quality. As consumers increasingly seek affordability without sacrificing essential features, the Swift 5 is a compelling option for budget-focused shoppers.
Despite its reasonable price point, the Swift 5 delivers smooth overall performance for everyday tasks like web browsing, document editing, and media consumption. This is thanks to its modern Intel processor and solid-state drive storage, allowing the Swift 5 to boot up quickly and handle multiple open apps and browser tabs without lag or slowdowns. Reviewers have been pleasantly surprised by the Swift 5's snappy performance, given its budget positioning.
In addition to speedy performance, the Swift 5 impresses with its vibrant 14-inch full HD display. Offering 1920×1080 resolution on an IPS panel, the display renders images, videos, and text with sharp detail and accurate colours. The bezel around the display is exceptionally slim, giving the Swift 5 a modern, sleek aesthetic. For a sub-$1000 laptop, this level of display quality is remarkable.
User experiences with the Acer Swift 5 highlight how this budget-priced laptop exceeds expectations. Many buyers comment on how the Swift 5 feels speedy and responsive during everyday tasks, unlike some budget laptops that may feel sluggish when multitasking. The brilliant display earns praise for its colour reproduction and ability to stream movies and TV shows. Overall satisfaction is high among Swift 5 owners who emphasise how the laptop provides excellent bang for your buck.
The Acer Swift 5 hits a sweet spot between price and performance for shoppers seeking an affordable yet capable laptop. Despite some understandable trade-offs given its budget pricing, the Swift 5 delivers speedy performance and an impressive display that matches up well against more expensive mid-range laptops. For budget-conscious buyers who still value responsiveness and production quality, the Swift 5 is a compelling choice.
Operating System and Software Ecosystem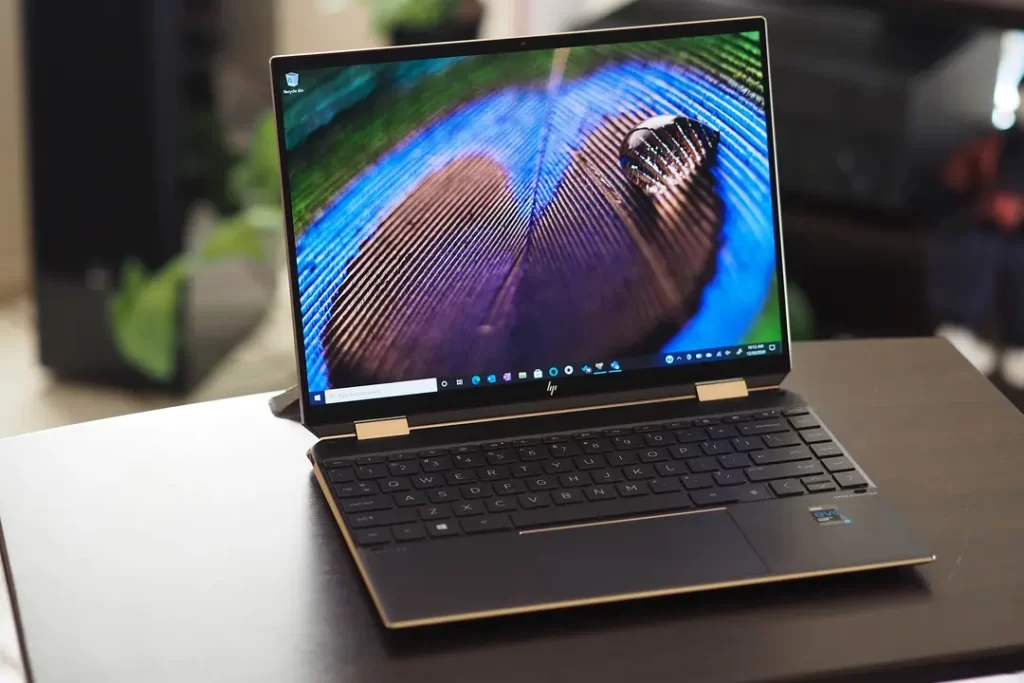 7 – HP Spectre x360
The HP Spectre x360 is a powerful 2-in-1 laptop that provides excellent versatility by seamlessly transforming between a traditional laptop and tablet mode. Running on Windows 11, the Spectre x360 delivers a smooth, enjoyable computing experience whether you need the keyboard for productivity tasks or the touchscreen for drawing, note-taking and media consumption.
Windows 11 builds upon the strengths of Windows 10 while introducing new features that enhance the user experience. The refreshed visual design delivers a clean, modern look with rounded corners, pastel colours and fluid animations. Multitasking is more effortless with snap layouts and new virtual desktops to organise your open apps and windows. The integrated Microsoft Teams chat, and new Focus sessions minimise distractions when you need to concentrate.
For professionals and students, one potential concern with Windows devices is software availability and compatibility compared to Apple's macOS ecosystem. However, in 2023, the Windows app store features most major productivity suites like Microsoft Office and Adobe Creative Cloud. Support for Android apps further expands your options. The Spectre x360 can handle demanding tasks like video editing, 3D modelling and data analysis that may not be possible on lightweight tablets and Chromebooks.
With its convertible design, stunning OLED display, snappy performance and Windows 11 experience, the HP Spectre x360 is an excellent choice whether you need a daily driver for work, an ideal note-taking laptop for college, or a versatile 2-in-1 for content creation and media consumption. It balances portability, productivity and flexibility in a sleek, premium metal chassis. For those needing a capable Windows-based convertible laptop, the Spectre x360 deserves strong consideration.
Price-to-Performance Ratio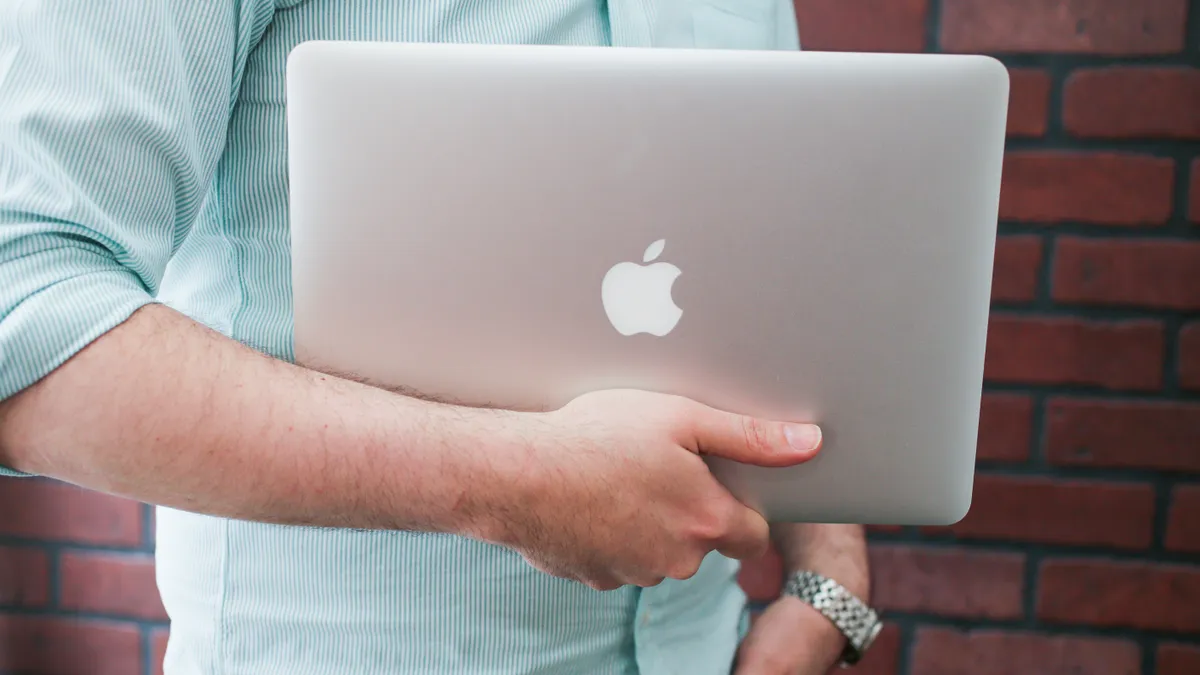 8 – MacBook Air (M2)
Considering alternatives to Apple's premium MacBook Pro lineup, it's worth noting that its own MacBook Air, now powered by the latest M2 chip, offers a compelling combination of performance and value for many users' needs.
At a starting price of $1,199, the M2-based MacBook Air comes in several hundred dollars cheaper than the entry-level 14-inch MacBook Pro, which starts at $1,999. The price difference widens further when you look at higher-end MacBook Pro configurations. Of course, you make some trade-offs for the lower price, as the MacBook Air has a less vibrant display, lacks the Pro's more advanced cooling system, and offers fewer ports. But for day-to-day productivity, web browsing, and general use, the Air delivers swift performance thanks to the 8-core CPU and up to 10-core GPU in the M2.
The MacBook Air's slim, lightweight design also makes it ideal for users who want an ultraportable laptop for travel or use around the home. At just 2.7 pounds, it's easy to throw in a bag and carry anywhere. The Pro is nearly a pound heavier. The Air's battery life is excellent, too, lasting up to 18 hours on a charge, according to Apple, so you can go all day without plugging in.
For many students, freelancers, and general consumers seeking a fast, capable Mac laptop at a reasonable price, the MacBook Air with M2 hits a sweet spot. It lacks some of the Pro's premium features but outperforms entry-level Windows ultrabooks. Before opting for a higher-priced MacBook Pro alternative, it's worth checking if the Air can handle your workflow while saving you several hundred dollars. It offers excellent value in Apple's lineup.
Conclusion
This extensive analysis has looked closely at five strong contenders as alternatives to the MacBook Pro in 2023. Each laptop brings something unique that may appeal to different users' needs and priorities.
The Dell XPS 15 offers blazing-fast performance and a vibrant OLED display in a slim and portable chassis, making it an excellent choice for power users who want top-notch specs. On the other hand, the HP Spectre x360 15t boasts an elegant convertible 2-in-1 design with robust capabilities for both productivity and creativity. Those who value versatility may gravitate towards this flexible laptop.
For those drawn to the Surface Laptop Studio's unique hinged touchscreen and Microsoft's suite of built-in software and services, this innovative device bridges the gap between laptop and tablet. The Lenovo ThinkPad X1 Extreme is a durable productivity powerhouse with enterprise-level security features catering to business professionals. The ASUS Zenbook Pro Duo's dual-screen form factor optimises multitasking capabilities for creators and developers.
While the MacBook Pro remains an attractive premium option for many, it's clear that competition in the high-end laptop space has gotten fierce. The range of strengths exhibited by these Windows alternatives means there are now more choices than ever for discerning users with specialised needs and preferences when selecting a top-tier mobile computing machine this year. Taking the time to carefully match critical features and specs to your workflow and lifestyle will ensure you make the laptop purchase that is the best fit.
Frequently Asked Questions (FAQs)
Last update on 2023-09-22 / Affiliate links / Images from Amazon Product Advertising API