5 Best Budget Laptops for Music Production
Are your musical dreams ready to take flight? Amid limitless creativity, financial constraints often emerge as obstacles. But who said you must empty your wallet to begin your music production venture? Recent data highlights innovation within budget laptops, and we're here to emphasise that.
Picture embracing your musical journey on a laptop that fits your budget and exceeds expectations. Brace yourself as we reveal various affordable options priced under $500. You read that right: crafting remarkable soundscapes, beats, and compositions is well within reach.
Join us as we uncover hidden gems poised to empower your musical creations. Affordable yet uncompromising, these laptops redefine audio creation. Get ready to make your mark in the auditory realm with a laptop that's anything but ordinary. Step into a world where creativity knows no bounds. Are you ready? Your journey starts here, finding the perfect balance of creativity, innovation, and affordability.
How to Choose the Best Budget Laptop for Music Production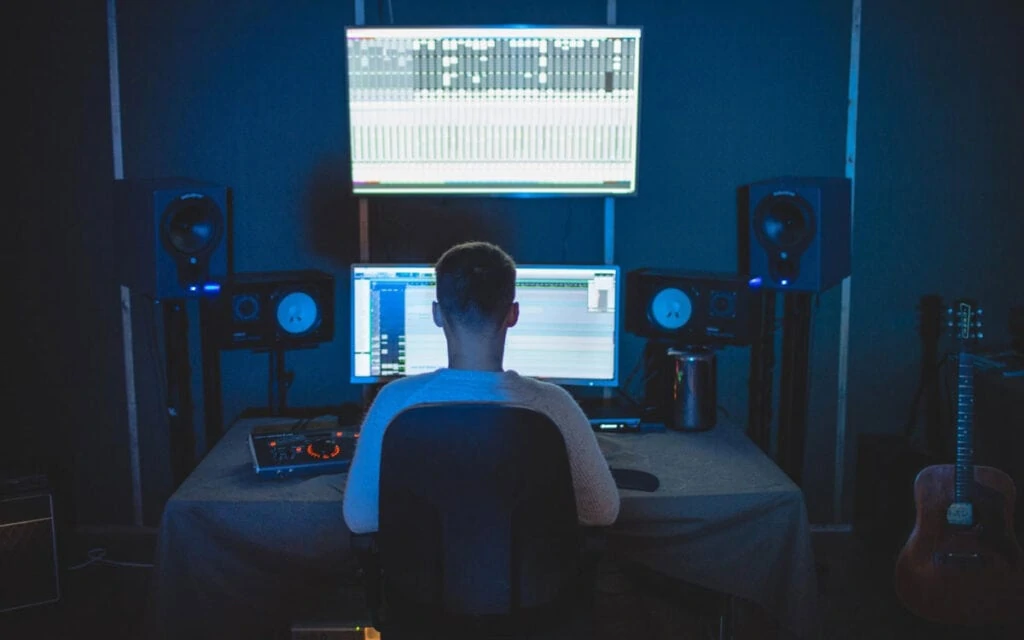 Embark on a journey into music creation with your perfect laptop companion. This guide is your roadmap to selecting an ideal laptop tailored to your musical needs.
This guide will delve into critical aspects of music recording, including essential features like optimal RAM and storage capacities and enhanced audio components. Additionally, we'll highlight the importance of considering the lifespan of a laptop and guide you in choosing a processor that aligns seamlessly with your music creation aspirations.
Optimal Laptop Specifications for Sound Production
The CPU is the engine that drives the laptop's performance, executing commands and determining its multitasking capabilities. In the context of music production, this affects how many virtual instruments you can run, the number of effects you can apply, and the speed at which you can export your finalised tracks.
Intel and AMD dominate the CPU landscape, and investing in higher tiers usually corresponds to better performance. Exploring Intel's i5 series or AMD's Ryzen 5 series is advisable when focusing on audio production and sound design. Even opting for lower-end CPUs can be acceptable if budget constraints are a concern, although it might lead to longer wait times, especially for progress bars during specific tasks.
Turning our focus to RAM, the idea is uncomplicated. RAM dictates the extent of your arrangements and the volume of audio files you can adeptly handle concurrently. A laptop with 4GB of RAM allows for initiating music-making applications like GarageBand or Ableton Live and composing basic arrangements. Still, limitations emerge as the laptop grapples with demanding tasks. For smoother operation, a minimum of 8GB of RAM is recommended.
Regarding storage, a choice awaits between two primary alternatives: HDD or SSD. Hard disk drives provide cost-effectiveness and generous data storage, although their slower speed can limit their suitability for streaming sample libraries. Conversely, SSDs offer rapid rates but come with a higher price tag. Depending on your specific requirements, finding the proper equilibrium between storage capacity and performance is vital.
Critical Features for Optimal Audio Production Laptop:
Processor: Quad-core, 2.4 GHz clock speed or higher.
RAM: Minimum 4 GB (8 GB+ recommended for larger projects).
Storage: SSD for faster performance.
Graphics Card: A dedicated card enhances specific plugin/effects performance.
Screen: High-resolution, colour-accurate for precise audio monitoring.
Operating System: A 64-bit OS is required for most music software.
Additional Considerations:
Portability: Choose a portable model if mobility is needed.
Battery Life: Longer battery life for usage away from outlets.
Price: Set a budget before shopping due to varying laptop prices.
Enhanced Audio Components for Music Production
As your recording journey evolves, you may be urged to enrich your studio setup with supplementary equipment such as MIDI keyboards, home studio mixers, and drum machines. These instruments often link to your computer through USB, emphasising the necessity of having an ample array of USB ports accessible.
In the contemporary landscape, USB-C ports have advanced, providing heightened versatility. This attribute is particularly advantageous when utilising an external hard drive for music production, where the fusion of USB-C and an external SSD streamlines the management of substantial audio or sample files.
Additionally, ensuring pristine sound quality is vital for your recordings. A high-quality microphone is an indispensable addition to your toolkit. A reliable microphone captures sound nuances faithfully, contributing significantly to the overall excellence of your recordings.
When crafting music in your home studio, consider integrating soundproofing techniques. Effective soundproofing reduces disruptions from external noise, enhancing acoustics and ensuring uninterrupted, high-quality sound production. A well-implemented soundproof environment elevates your recordings' precision and polished aspect, whether you're refining vocal instruments or capturing ambient sounds.
Testing Low-Cost Laptops for Music Production
The methodology for evaluating budget laptops intended to create music varies slightly from our assessment of higher-spec machines. Even minor adjustments to a laptop's internal specifications can significantly influence its performance capabilities at the entry-level range. Rather than attempting to cover a wide array of production tasks, budget laptops prove most effective when chosen with a specific goal in mind.
For instance, if your workflow heavily relies on loops and samples, the laptop's ability to swiftly access these elements from external storage becomes crucial. Alternatively, CPU precedes users working extensively with MIDI tracks in their compositions. Employing various digital audio workstations (DAWs), we construct template sessions that simulate different real-world scenarios. This enables us to gauge a machine's suitability for specific user needs.
Beyond performance, other considerations factor into the laptop purchase decision. Elements such as battery life, screen viewing angles, and display brightness are easily measurable, and we incorporate these aspects when formulating our recommendations.
Best Budget Laptops for Music Production
Explore the Acer Aspire 5 A515, ASUS VivoBook Flip, Dell Inspiron 15 3510, HP Pavilion x360, and Microsoft Surface Go laptop series, all carefully chosen for budget-friendly yet potent audio production capabilities. These laptops offer exceptional value and performance, making them ideal companions for novices and experienced producers.
In this concise guide, we highlight the essential qualities of each series, including processing power, RAM capacity, storage options, and audio enhancements. From composing intricate melodies to refining mixes, these affordable laptops are reliable tools for bringing your musical ideas to life.
Delve into our overview of these five laptop series, each selected to provide you with the tools needed for successful music production. Affordable and proficient, they exemplify the synergy of innovation and accessibility in music technology.
1 – Acer Aspire 5 A515
Display size 15.60″
Display resolution 1920 x 1080
Touchscreen No
Processor Core i3/Core i5
RAM 4 GB/8 GB
OS Windows
Hard disk 128 – 512 GB
Graphics Controller
Intel UHD Graphics
Connectivity
4 (1 USB 2.0, 2 USB 3.2 Type-A, 1 USB 3.2 Type-C)/
1 (USB 3.2 Type-C)
Weight 3.64 – 4.19 lb
Dimensions 14.3″ x 9.4″ x 0.70″
Internal Mic Yes
Sound Mode
Stereo
Number of Speakers 2
Battery Life (up to hours) 8-11
Battery Cell 3
As someone deeply immersed in the world of technology, exploring the realm of music production has brought forth a thrilling endeavour. The Acer Aspire 5 A515 series, a budget-friendly option, has ignited my curiosity. Let's dive into these laptops and dissect how they align with the aspirations of budding music creators.
To start, let's direct our attention to the visual appeal. The Acer Aspire 5 features a spacious 15.6-inch screen with a sharp and vivid resolution. This ample screen real estate is a canvas for various music-related tasks. While the absence of touchscreen capability might give pause, it doesn't detract from the overall experience. These budget laptops are equipped with Core i3 or Core i5 processors, primed to handle an array of audio production demands without missing a beat.
Sale
Multitasking prowess is a significant factor here. Choosing between 4 GB or 8 GB RAM ensures seamless transitions between tasks. And the storage possibilities? Ranging from 128 GB to 512 GB, it offers ample space for housing your melody-infused creations and the essential software tools. Although SSD storage isn't present, this laptop's performance still stands commendably strong.
Now, let's amplify the audio facet. The built-in stereo speakers envelop you in a captivating auditory journey. Picture this: pristine sound quality, two speakers harmonising to bring your musical compositions to life. The internal microphone, a versatile addition, brings the recording studio experience directly to your laptop.
Connectivity is vital here. The Acer Aspire 5 boasts numerous USB ports, including USB 2.0, USB 3.2 Type-A, and USB 3.2 Type-C – a hub for your devices. Battery life is impressive, lasting 8 to 11 hours on a single charge, ideal for extended music sessions. It balances portability and functionality with a weight of 3.64 to 4.19 pounds.
With its specifications and budget-friendly nature, the Acer Aspire 5 A515 is a steadfast choice for expense-conscious music enthusiasts. It combines processing power, storage flexibility, and audio prowess, standing as a faithful companion on your musical journey. Whether crafting beats or refining harmonies, this low-cost laptop shows that creative ambitions can thrive without breaking the bank.
2 – ASUS VivoBook Flip
Display size 14″
Display resolution 1366 x 768/
1920 x 1080
Touchscreen Yes
Processor Core i3/Core i5
RAM 4GB/8 GB
OS Windows
Hard disk 128 GB – 512 GB
Graphics Controller
Intel UHD Graphics
Connectivity
3 USB (1 USB 2.0, 2 USB 3.0 / 3.1 Gen1), 1 HDMI, microSD card reader, Audio jack/
2 USB (1 USB-C, 1 Micro USB 2.0), 1 Micro HDMI, microSD card reader
Weight 3.31 lb
Dimensions 12.63″ x 8.54″ x 0.67″
Internal Mic Yes
Sound Mode
Stereo
Number of Speakers 2
Battery Life (up to hours) 9 hours
Battery Cell 2
The ASUS VivoBook Flip series is an excellent choice for budget-conscious music producers seeking an optimised platform. Its distinctive 360-degree rotating screen introduces versatile workflow transitions, while the 14″ display balances portability and ample screen space. The touchscreen functionality adds an intuitive layer tailored for seamless software control during music creation tasks.
Beneath the surface, Core i3/Core i5 processors guarantee fluid performance, crucial for demanding activities like recording, editing, and mixing music. Selecting between 4GB and 8GB of RAM ensures efficient multitasking across various applications, while storage capacities ranging from 128GB to 512GB offer sufficient room for housing music projects and essential software tools.
Integrated Intel UHD Graphics seamlessly manage visual demands, enhancing the laptop's capabilities. Connectivity features like USB ports, HDMI, and card readers ensure easy integration with essential peripheral devices for music production. The laptop's lightweight design, at 3.31 lb, and compact dimensions enhance portability, making it versatile across creative environments.
Including stereo sound and dual speakers elevates the audio experience, crucial for accurate monitoring during music composition and mixing. Notably, the laptop's impressive battery life, extending to 9 hours, ensures prolonged productivity sessions without interruptions.
3 – Dell Inspiron 15 3510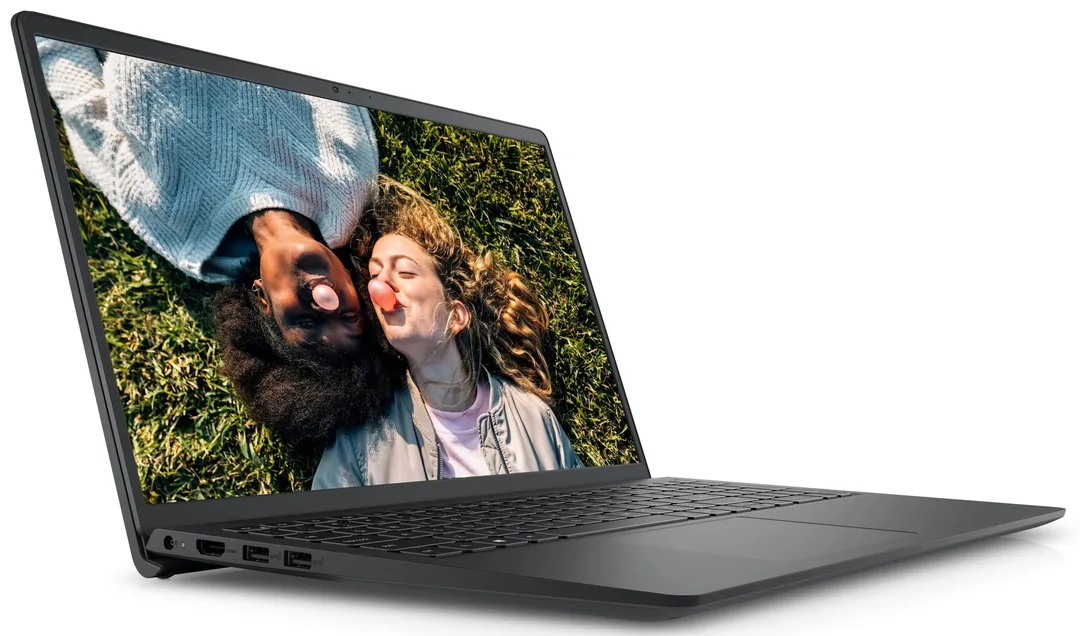 Display size 15.6″
Display resolution 1366 x 768/
1920 x 1080
Touchscreen No
Processor Intel Pentium/
Intel Celeron
RAM 4 GB/8 GB
OS Windows
Hard disk up to 1 TB
Graphics Controller
Intel UHD Graphics
Connectivity 3 USB (1 USB 2.0, 2 USB 3.2 Gen1), 1 HDMI, SD card reader, Audio jack
Weight 3.6 lb
Dimensions 14.11″ x 9.27″ x 0.69″


Internal Mic Yes
Sound Mode
Stereo
Number of Speakers 2
Battery Life (up to hours) up to 8 hours
Battery Cell 3/4
Part of the Inspiron 15 laptop series, the Dell Inspiron 15 3510 offers a compelling choice for music creation, backed by a range of cohesive features. Driven by Intel Pentium or Intel Celeron processors with 4GB or 8GB of RAM, these budget laptops provide a balanced performance for various music production tasks, from recording to editing.
With a storage capacity of up to 1000GB, the laptops ensure ample room for storing music projects, sample libraries, and software tools. Integrated Intel UHD Graphics enhance visual interactions within software interfaces, particularly beneficial for music-making software employing visual cues.
Dell 2022 Newest Inspiron 15 3510 Laptop, 15.6″ HD Display, Intel Celeron N4020 Processor, 16GB DDR4 RAM, 256GB PCIe SSD, Webcam, HDMI, Wi-Fi, Bluetooth, Windows 11 Home, Black
【High Speed RAM And Enormous Space】16GB high-bandwidth RAM to smoothly run multiple applications and browser tabs all at once; 256GB PCIe NVMe M.2 Solid State Drive allows to fast bootup and data transfer.
Multiple USB ports, including USB 2.0 and USB 3.2 Gen1, and an HDMI port and an SD card reader, ensure seamless integration of peripherals such as MIDI controllers, audio interfaces, and external storage devices.
Weighing a manageable 3.6 pounds, the laptops combine portability with high-quality audio experiences through stereo sound mode and dual speakers, vital for accurate audio monitoring and production.
It offers up to 8 hours of battery life and supports extended sessions, enabling deep creative engagement without the frequent need for power outlets. Running on Windows, these affordable laptops grant access to various music-making software and tools compatible with this popular platform, further enhancing its versatility.
4 – HP Pavilion x360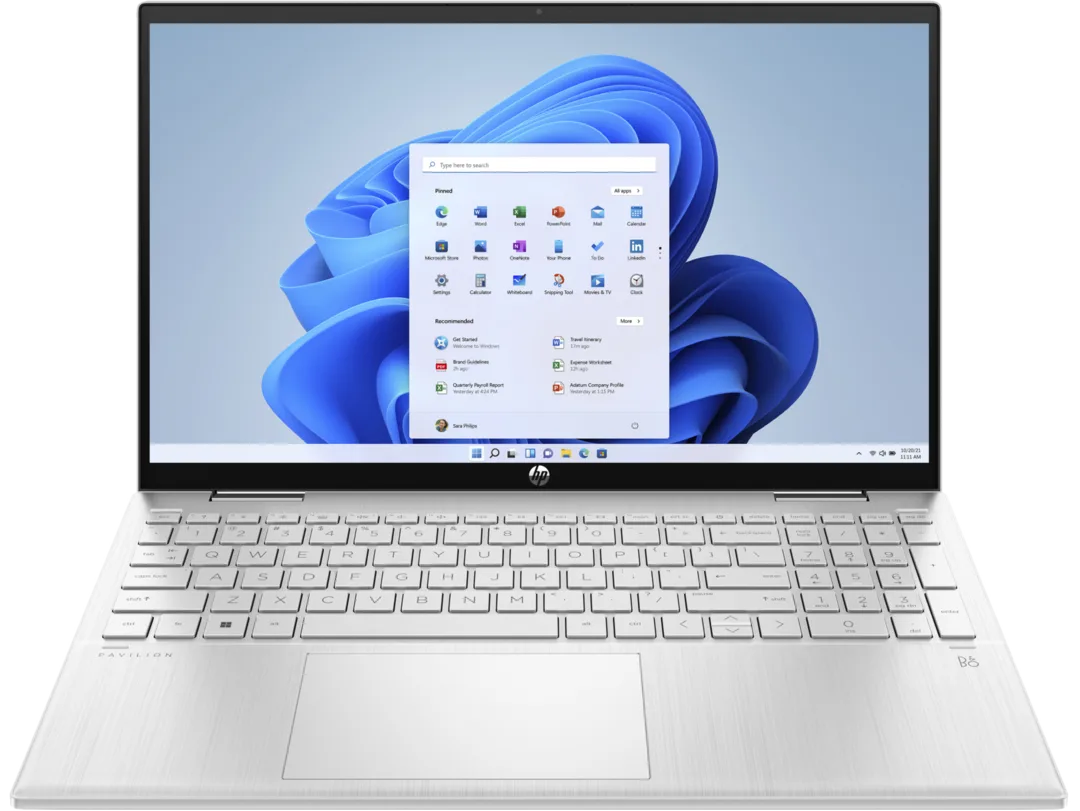 Display size 15.6″
Display resolution 1366 x 768/1920 x 1080
Touchscreen Yes
Processor Core i3/Core i5/Core i7
RAM 8 GB/12 GB/16 GB
OS Windows
Hard disk 256 GB – 1 TB
Graphics Controller Intel Iris Xe Graphics
Connectivity
3 USB (11 USB Type-C, 2 USB Type-A), 1 HDMI
Weight 3.35 – 4.17 lb
Dimensions 12.68″ x 8.27″ x 0.74″/14.08″ x 9.02″ x 0.75″
Internal Mic Yes
Sound Mode
Stereo
Number of Speakers 2
Battery Life (up to hours) Up to 8.5 hours
Battery Cell 3
The HP Pavilion x360 laptop series is an excellent choice for music production. Its robust processors, ample RAM, and high-quality display create a robust foundation for resource-intensive tasks. The touchscreen functionality adds a new dimension to music creation, allowing intuitive interaction with software. Versatile connectivity options, including USB Type-C and Type-A ports, enable seamless integration with MIDI controllers, audio interfaces, and other peripherals crucial for crafting musical compositions.
Sale
HP Newest Pavilion 15.6″ HD Touchscreen Anti-Glare Laptop, 16GB RAM, 1TB SSD Storage, Intel Core Processor up to 4.1GHz, Up to 11 Hours Long Battery Life, Type-C, HDMI, Windows 11 Home, Silver
【Processor】 Intel Core i3-1115G4 (up to 4.1 GHz with Intel Turbo Boost Technology, 6 MB L3 cache, 2 cores, 4 threads)
One distinctive feature is the laptop's 360-degree rotating screen, which provides versatility in workflow transitions and creative arrangements. This feature lets you easily switch between laptop and tablet modes, adapting to your preferred work style and enhancing the user experience during music production.
The laptop's lightweight design enhances its appeal, making it highly portable and adaptable to different creative environments. The integrated sound system with stereo speakers ensures accurate audio representation, which is crucial for informed mixing decisions. The range of storage capacities caters to large project files, audio samples, and virtual instrument libraries, providing ample space for expansive music projects.
Whether you're an aspiring artist venturing into audio production or an experienced producer seeking a versatile and reliable tool, the low-cost HP Pavilion x360 laptop series offers processing power, touch-enabled interactivity, efficient storage solutions, and the unique rotating screen feature that elevates your music-making journey.
5 – Microsoft Surface Go
Display size 10.5″
Display resolution 1920 x 1280
Touchscreen Yes
Processor Intel Pentium Gold/
Core i3
RAM 4GB/8GB
OS Windows
Hard disk 128 GB
Graphics Controller
Intel® UHD Graphics
Connectivity
1 USB-C, headphone jack, microSD card reader
Weight From 1.2 lb
Dimensions 9.65″ x 6.9″ x 0.33″
Internal Mic Yes
Sound Mode
Stereo
Number of Speakers 2
Battery Life (up to hours) Up to 11 hours
Battery Cell 2
Introducing the Microsoft Surface Go 3, a budget-friendly laptop series that seamlessly merges a tablet's versatility with a laptop's functionality. With a compact 10.5-inch display and a sharp resolution, this series is an ideal canvas for various tasks, including music creation. The touchscreen capability adds an intuitive dimension, making software control and interaction smooth and precise.
Equipped with either Intel Pentium Gold or Core i3 processors, the Surface Go three is primed to handle audio production demands effectively. Despite its budget-friendly nature, these laptops don't compromise on performance. The 4GB or 8GB RAM option ensures smooth multitasking, even with resource-intensive applications used in sound design.
Sale
An exceptional attribute of the Surface Go 3 is its tablet capability, facilitated by the screen's rotational function. This adaptability seamlessly transitions between laptop and tablet modes, accommodating your creative inclinations and amplifying the overall user experience. Weighing in at just 1.2 lb, its lightweight design furthers its convenience and suitability for on-the-move music creation.
Streamlined connectivity is facilitated through a USB-C port, headphone jack, and microSD card reader, enabling straightforward integration with essential peripherals for music production. The laptop's stereo sound mode, reinforced by a duo of speakers, guarantees precise audio representation, an imperative facet for impeccable mixing and editing tasks.
The Microsoft Surface Go 3 also boasts impressive battery life, providing up to 11 hours of usage on a single charge. This extended battery longevity is advantageous for prolonged audio production sessions without interruptions.
In conclusion
To draw this exploration of the best budget laptops for music production to a close, it's crucial to encapsulate our findings. Our list has highlighted laptops uniquely equipped to serve aspiring musicians and producers. The array of strengths, from enhanced audio components to versatile USB connectivity, ensures a seamless creative journey.
Affordable yet uncompromising, these laptops redefine audio creation. They furnish essential tools for crafting music and open doors to dynamic collaborations and polished productions. By harnessing their capabilities, your melodies can flourish, rhythms can be precise, and creativity can flow unbounded.
These reliable companions are affordable solutions, ready to amplify your musical vision and drive your aspirations to new heights. As technology harmonises with artistry, it empowers you to propel your musical endeavours to the next level.
Last update on 2023-09-22 / Affiliate links / Images from Amazon Product Advertising API